Mon Dec 31 2018 07:42PM - I've given it a lot of thought, and I've decided to close out the diary. So this will be my last entry. It's been a lot of fun writing about many varied topics like railroading, fishing, walking, and oh so many other things including the main topic of ham radio. The time has come to move on though. Tomorrow will start a new year, 2019. So as I close out the diary for this year, I look forward to another 365 days of writing these entries again starting tomorrow. Probably didn't fool anyone, but I enjoyed trying. HI

Even the ARRL SKN didn't enliven the bands all that much this evening, and it wasn't all that easy getting my QSO, but I did, in an unusual place - 40 meters. I haven't heard as many good signals there in a long while. And it wasn't the doing of SKN. These were just normal QSOs, as was mine with Wayne AK8D.

I hope you all have a very Happy and a Blessed New Year. I hope you can keep all your resolutions. I know I will, because I didn't make any. It's kind of like SKN for me. I use CW every day, and I resolve to do things almost every day as well. I don't just use CW or make resolutions on New Years. -30-


---

Sun Dec 30 2018 07:48PM - The bands were back in poor shape this evening. I did get an answer to my 160M QSO from someone, but the QSB and QRN precluded my copying even his full call. So that was no QSO. Then I went to 80 and called CQ there. Larry WB0B answered me for a brief QSO. I know Larry is active in the TLCN and I appreciate him taking time to call me just before his net time. That completes another full year of daily QSOs. That's 24 full years plus 4 months and 27 days now. I guess tomorrow evening it will be easier to add another day to the streak with all the activity on the ARRL Straight Key Night. I hope so anyway.

I was looking through some old vacation pictures from the time we stopped at Steamtown USA when it was in Vermont. I thought there may have been a picture of me and the Big Boy locomotive, but at least so far, I didn't see any. I also think I may have a postcard picture of it or perhaps a brochure I picked up there.

I hope you have a great New Year's Eve and Day coming up. No plans here. Just another day although a lot of end of month/year, first of month/year work to be done the next couple of days. I'm doing my laundry right now so at least that will be out of the way. -30-


---

Sat Dec 29 2018 08:00PM - For the second time in the last 4 evenings, it took just a single 3X2 CQ to get my QSO. Tonight it was Jeff K3KYR on 80 meters. We had a solid 36 minute contact and could have gone a lot longer, but he wanted to go and visit with his wife a bit.

I think 80 was the best I've seen it in quite a while. It almost looked like a contest was in full swing with many big peaks on the PX3. I hope that continues.

I wanted to talk a bit more about the model railroad museum. It's main display is 40' x 100' and depicts the railroads as they were in 1952 between Pittsburgh and Cumberland, MD. They also house a collection of model trains and authentic railroad items dating back to the beginning of the 1900s. Every gauge model railroad from huge G to tiny Z is represented.

The following is taken from their web site's FAQ pages:

How many trains do you have?

Presently, we own just less than 250 diesel locomotives, and about 90 steam locomotives. Only about 50% of those numbers are in "running order" with DCC (Digital Command Control). The other 50% include new purchases, "spares", and locos which are "shopped".

The freight car fleet numbers around 1900 cars. Of these, probably 1200 are in operating condition… with the remainder being new purchases, items set aside for repair, or cars which must be built from kits and then custom painted for the Mon-Valley System.

Each item is maintained in an inventory database, which will soon be expanded to include the item's maintenance record. The committee has also invested countless hours planning the size and diversity of the fleet… both for the fictitious Mon-Valley System's fleet, and for the proper mix of cars from other railroads across the country.

And:

How many feet of track are on the layout?

We have 6,500+ feet of track (we're not even sure of the exact amount). This includes the four main lines, sidings, yards and hidden track. Most of the track is code 83, but some is code 100.

If those numbers are impressive, it's even more impressive seeing the display itself. I'm glad Mike and I went to see it. Hopefully next year we'll go to Strausburg, PA to ride their operating steam train. Also to near Scranton, PA to the railroad museum there which includes a Union Pacific 'Big Boy' locomotive which I first saw when the museum was in Vermont many years ago. Ever since then I've been fascinated by the Big Boys. They have a wheel configuration of 4-8-8-4. The UP is currently restoring one of the Big Boys (#4014) to running condition and I understand they plan to take it around the country for tours and rides when the restoration is complete which should not be long now. I hope the current railroads can handle such a huge beast. HI.

Oh, after our visit to the museum yesterday, we came back here and Mike and I went up to my attic to look at my collection of model railroad items from the 1950s and early 1960s. I hadn't looked at it for quite some time and didn't even remember having some of the items. Maybe like the UP and the Big Boy, I'll have to restore my collection to working condition. I know it will take a lot of work, as I didn't take the best care of it at the very young age I used it. -30-


---

Fri Dec 28 2018 07:42PM - A picture show of our visit to the Western Pennsylvania Model Railroad Museum near Gibsonia, PA.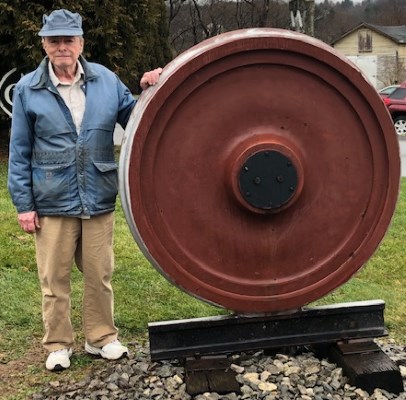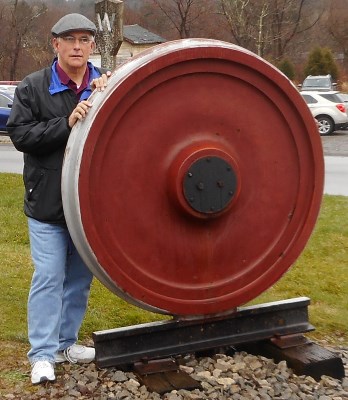 Me and Mike standing alongside a real full size train wheel.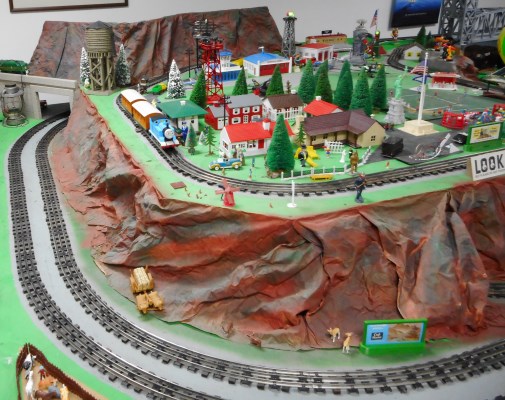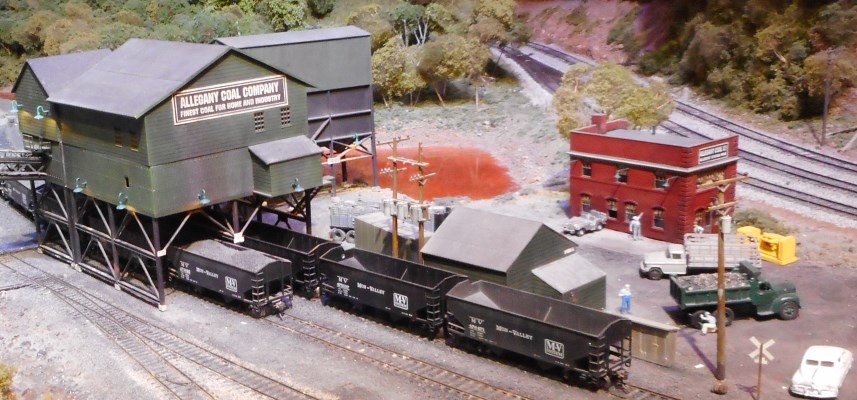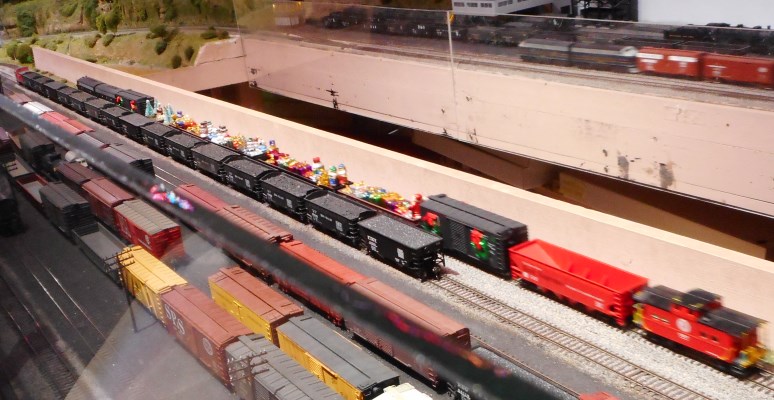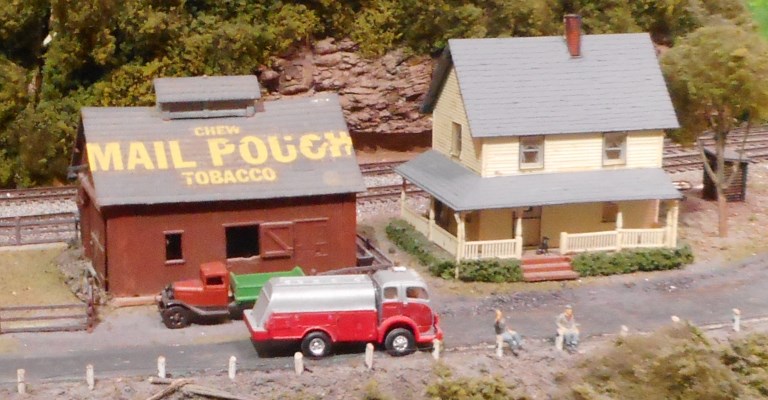 I added this picture because it reminded me of the many Mail Pouch barns we'd see on my dad's rural mail route many years ago in the 1950s.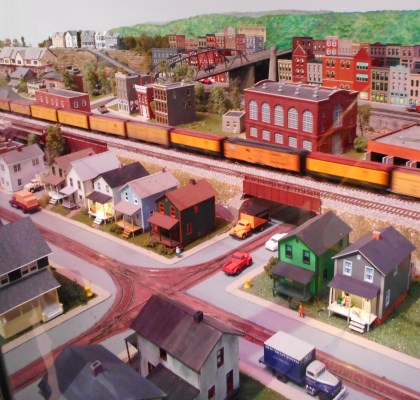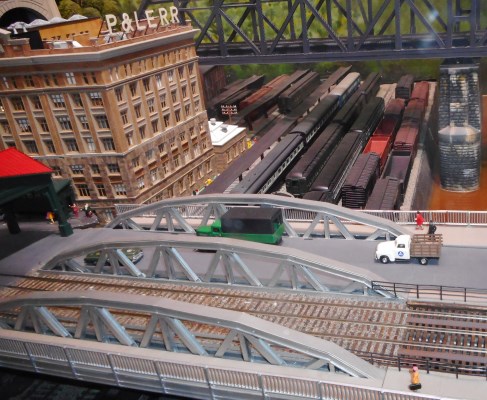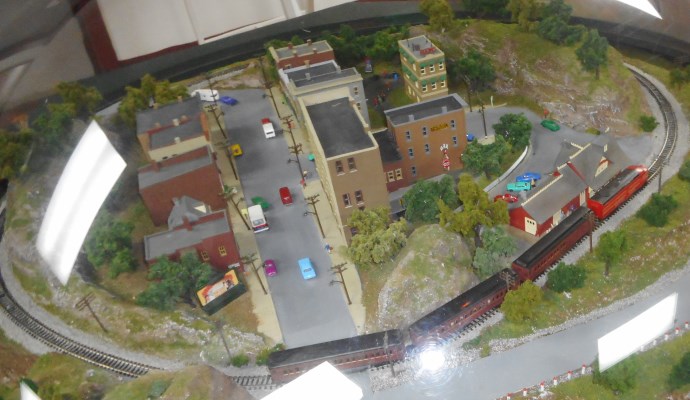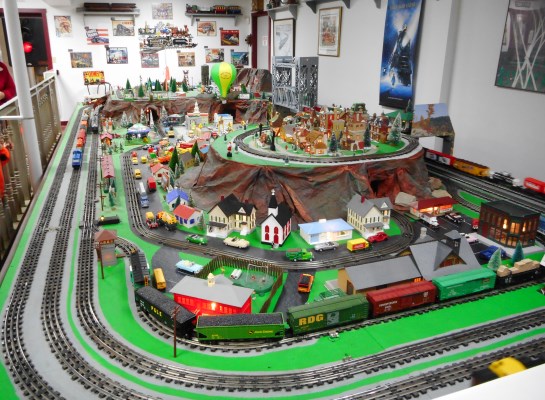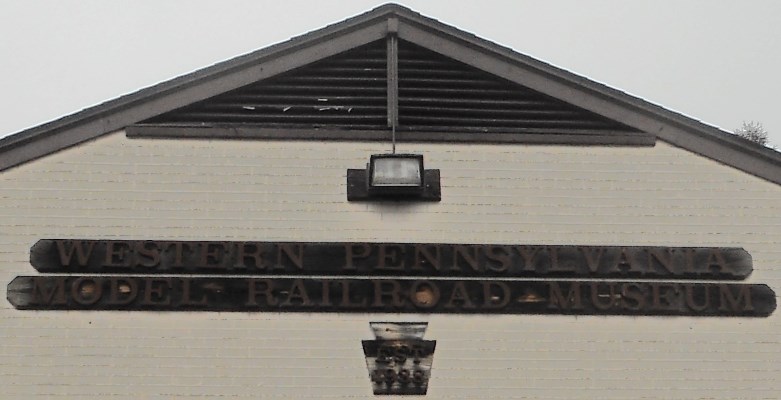 Neither Mike nor I could get a good picture of this banner at the top of the main building entrance. This is the best I could do tweaking it with Paint.net.

The Museum is an awesome place with many dozens of railroads and trains in one giant display depicting the situation in Western Pennsylvania in the heyday of steam and the early years of diesel power also. If you enjoy model railroading, put the museum on your list of must see places. I'll try to have more info in the next few days here in the diary. -30-


---

Thu Dec 27 2018 08:02PM - I have always found 80 meters to be a stable band in the evenings for the most part. However lately I've been experiencing a lot of QSB on the band. Mostly it's slow or very slow where whole sentences will drop out of sight, then come up for the next sentence. I just now had the thought that perhaps it's because my strong local noise is controlling the AGC and not the desired signal. Whatever it is, it makes getting and holding QSOs very difficult. Now it's not always that way and sometimes signals will be stable and strong for a whole 15 minute or longer QSO.

Tonight it was the first case. I called N2JPR and he was almost solid copy for the first round. I only missed a word or two. However the second round was just the opposite and I only was able to copy a word or two. I hate it when that happens.

Tomorrow Mike will be visiting and we'll be going to the Model Railroad Museum near Gibsonia, PA. I'm really looking forward to that with my reborn interest in that hobby. They also have a hobby store as part of the museum. I have no idea what that is like, but maybe I can pick up a few pieces of gear, tools, etc. if it's more than just a store that sells simple things like train kits and the like. I guess I'll find out tomorrow.

I like the looks of the upcoming weather. Not a mention of s@#w through at least next Wednesday, although there will be rain, but I don't mind that one bit. -30-


---

Wed Dec 26 2018 09:29AM - I've had second thoughts about starting my ham radio vs. model railroading series. Since I have a lot of end of month/year, first of month/year chores to take care of during the following week or so, I'm going to wait till after January 2 to get started on it.

Instead today I'll show the Christmas lights picture I promised. Mike arrived around 6:30PM for our tenth annual Christmas lights tour of Kittanning, West Kittanning, Applewold, Ford Cliff, and Ford City. As we drive, we judge the different displays. If one of us says "WOW" when a new one pops into view, that one definitely goes on the list. There were about three that got WOWs this year and several others that got honorable mentions. We didn't start our tour right away, but talked about other matters until 7:00PM when I suggested we go to my shack and see if I could grab a quick streak QSO. I decided to only try for about ten minutes, then QRT and start our tour. I didn't get the QSO, so we headed out. First we went through Kittanning, then it was up to West Kittanning where the first display we saw got a WOW. Next it was back down to Applewold which is a small community along the river between Kittanning and West Kittanning. After that it was Ford Cliff where we had our second WOW display. We closed out in Ford City where the yearly best display resides. Since it wins every year, we retired our "award" for them. We don't have any actual awards, but just pick a couple displays that we like best.

After we got home, it was more talk about things like model railroading. We discussed our plan to visit the Model Railroad Museum near Gibsonia this Friday. That will be my first time to visit that place, and I think Mike's also. Then another shot at getting my daily QSO, this time it was a success after only a few minutes when I found and worked K1MBF in TN on 80. Signals were pretty good in that 0200Z hour. Back downstairs again and more talk about model railroading. We watched a video about a complete working model railroad modeled after the Yosemite Valley Railroad in 1939. The detail this fellow (Jack Burgess) went to is just awesome. Then I asked Mike if he was familiar with DCC (Digital Command Control) for trains. He said no, so we watched a video about that. It was now about 11:30PM and Mike headed on home.

What's that? Oh, the lights picture. Almost forgot. Here it is from the heart of Ford City.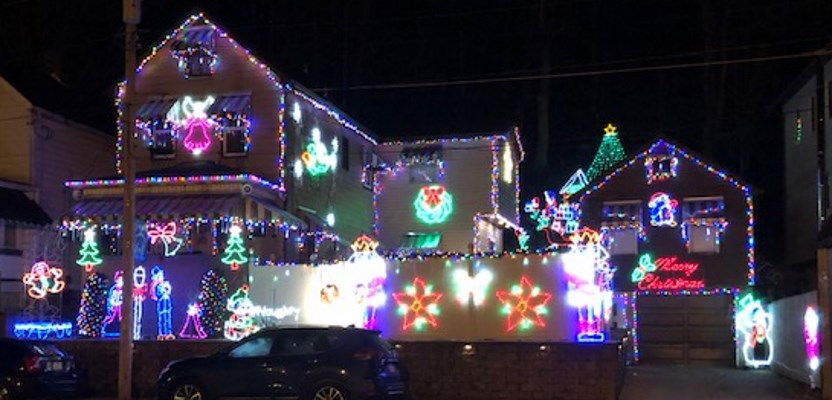 -30-


---

Tue Dec 25 2018 11:14PM - As you see, it's late and Mike and I are still talking here. For the tenth year in a row on Christmas night we drove around town looking at Christmas lights. There have been more lights around in the past couple years. One particular house is always at the top of our list as having the best display. Mike got a couple pictures of it this year. I'll post those tomorrow. Right now I'm going to update my other pages and get ready for bed. -30-


---

Mon Dec 24 2018 10:00AM - Now as I do each year:



MERRY CHRISTMAS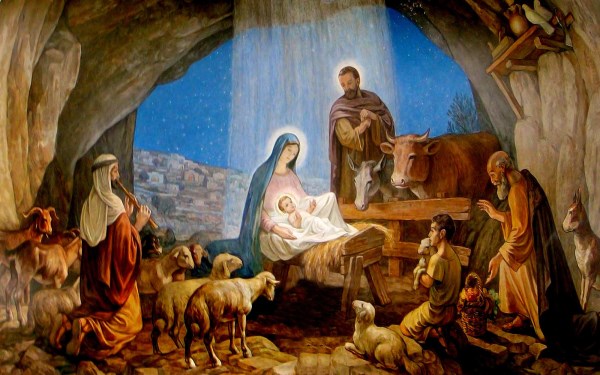 For unto us a child is born,

unto us a son is given:

and the government shall be upon his shoulder:

and his name shall be called Wonderful, Counseller,

The mighty God, The everlasting Father, The Prince of Peace.

-30-


---

Sun Dec 23 2018 07:37PM - I've always liked the saying about ham radio operator that goes something like this - A Ham Radio Operator Is Balanced. I take it to mean that ham radio operators have more interests in life than only ham radio. I'm definitely that way as those of you who follow this diary know. I like to talk about other things here as well as ham radio. My diary readers appreciate that too as I get as many comments about the non-ham items I talk about as I do about the ham items.

I got a very nice email today from Jim who is not a ham, but really enjoys reading my comments on the weather since meteorology is one of his hobbies also. Now that I'm getting back into model railroading, he also enjoys hearing about that. Like many of us he had a nice setup and then got away from it - in his case when his three boys grew up and left home. Recently he got into N gauge as I'm doing here. He is looking for a new house and intends to get a N gauge setup there when he moves.

So yes, I plan on continuing to discuss other non-ham related interests here in the diary.

I hope all of you will have a very Merry Christmas. In tomorrow's entry I'll have my somewhat traditional Christmas (eve) pictures and greetings. -30-


---

Sat Dec 22 2018 07:59PM - A quick streak QSO in the RAEM Contest from N8OO on 40M. Just in case some of you reading this are wondering what is RAEM, let me tell you and refer you to a very interesting story behind RAEM. It is a special Russian amateur radio call sign issued to Ernst Krenkel, a famous Russian radio operator, Arctic explorer,.... Well, I won't reinvent the wheel so to speak. Here is an excellent story about RAEM written by Yuri RW3GA. -30-


---

Fri Dec 21 2018 08:08PM - Ham Radio vs. Model Railroading - Part 1 (Introduction) I guess it would be fair to say that my interest in both of these hobbies started for me at a young age, suffered a lapse of years, then was revived later in life. In ham radio, I started in 1963, continued until the early 70s, lapsed for the most part until 1993 when it returned full force through the present. I'm not sure of an accurate time frame for model railroading, but it was strong from the 1950s probably through the early or mid 60s, then there was virtually nothing for many years. My interest returned very gradually. I think getting a small 'toy' railroad in a box at a hamfest a couple years ago was a starting point, if one be needed for this story. Then last year a visit to a real railroad near Titusville really spurred the interest on. While there I purchased a second small railroad layout, and 'played' with it quite steadily since then. Of course then recently my interest took a big step forward when I got a couple N gauge railroads at a local 'junk' store followed closely by getting a gift of yet another railroad kit from Mike. Now I would say my interest in ham radio and model railroading are pretty close to being equal. That is why I want to make these comparisons between the two hobbies. Then I decided to share the info here in the diary. I think that serves as a pretty good introduction. I think I'll wait till after Christmas to post part 2 which will compare the costs associated with both hobbies.

I want to make it clear that I have no intention of delving over deeply into the subject spending many hours of research on it. This will just be basic info based on my personal experiences over the years.

Meanwhile the streak goes on. Once again 80 was good this evening with a lot of signals showing up on the PX3. I called a couple with no luck. After I called the second one with no luck, I saw a peak just a tad higher and checked it out. It was someone sending my call. It wasn't the station I called, but Bob K8FN who apparently noted I didn't get the station I called, and tried calling me. We've worked several times before and had another nice 25 minute contact this evening. -30-


---

Thu Dec 20 2018 07:47PM - I was thinking about something today, and I am going to turn it into a series of diary entries over the next several days or so. With my renewed interest in model railroading of late, I'd like to analyze and compare my two favorite current hobbies, ham radio and model railroading. I'm going to do that by comparing different aspects of the two hobbies, one aspect per entry. For instance, what does each cost or what outside factors affect each one? I'll probably start the series tomorrow or if not, then wait till after Christmas.

If that turns out to be interesting, perhaps I'll go into comparisons of other of my hobbies like fishing and astronomy, for example.

The bands, especially 80 meters, were interesting tonight. I tuned 80 starting at 0000Z as usual, and all I heard were the usual net stations. So I went to 160 and besides the always strong W1AW, I only heard a weak WB0 station and I think he was calling a Spanish station. So it was back to 80, and now there were several strong stations there including Bob NR8M whom I chatted with for about 25 minutes. -30-


---

Wed Dec 19 2018 07:40PM - It sure was nice to have two mostly sunny days in a row, even though they weren't all that warm. Now tomorrow it's back to rain again. At least as of now it doesn't look like any snow, and my wish for a green Christmas may be a reality. I just wish we could have a full green winter.

I'm hoping to get my new train within the next couple days. I've got my table all set up and waiting. I'm wondering just how deep I'll go into model railroading this time around. We'll see.

Tomorrow I finish my Christmas shopping. I have one gift left to pick up for my neighbors in the other half of my house, then I think I'll distribute most gifts on Friday.

Robert NW2Z was my QSO tonight, and he's still going on his streak also. I'm not sure how long it is, but he didn't start all that long ago. -30-


---

Tue Dec 18 2018 07:35PM - A quick QSO for the streak this evening. It took but 5 minutes to find and work WZ4L in TN on 80. Our NAQCC mW sprint is later this evening. I doubt I'll be able to even hear any QRPp signals, let alone work any. However I will get in and at least call a few CQs to get a participation point. -30-


---

Mon Dec 17 2018 08:19PM - I've always found 160M to be at its best near or at a sunspot minimum which is where we are at now. When I was contesting more seriously than I am now, my results in the 160M ARRL and CQ Contests always pretty much followed the sunspot cycle. High numbers of QSOs at a minimum, and not so many at the sunspot maximums. So if 80 and above don't look all that good, I head to 160 for my streak QSO. That worked nicely tonight when Art K8CIT answered my CQ on 160 after only a few minutes. We had a solid 29 minute chat with only a little QSB. Also my local noise is not as bad on 160 as it is on 80 and other higher bands. That helps a lot.

It was a little chillier today than the past couple days, but I did have to make a couple walks downtown to take care of some business. It wasn't too bad as the wind wasn't blowing all that much.

Other than that, I played with and worked on my model trains today. I'm getting more and more into that hobby. A lot of the equipment is from many years ago, probably in the 1950s, so it does take some work to get it up and running and looking good again. I was just a young kid then and didn't really take care of it like I should have done. I'm looking forward to getting the new train I ordered a couple days ago now. -30-


---

Sun Dec 16 2018 08:22PM - It took almost an hour tonight to get my streak locked in for another day, but I did get Ron K5HZ in Iowa on 80 meters at 0055Z. I was just thinking as the 0100Z hour approached that except for a couple occasions, I have gotten my streak QSO in the 0000Z hour for a long time now. Let's see. The exceptions have been 11/22 03Z, 11/2 12Z, 10/30 14Z, 10/7 01Z, 9/23 14Z, 8/27 13Z. So even with the poor conditions, strong local noise, and my grumbling, there have been only 6 days since August 1 that I haven't worked someone in the 0000Z hour. Yes folks, QRP and CW does work and work well with simple wire antennas. I think that proves it even more than the previous 24+ years of my streak. 'Nuff sed for tonight. Now get on the bands and check out what I say. Don't avoid going to the shack because you think you can't work anyone with conditions as they are at the sunspot minimum. -30-


---

Sat Dec 15 2018 08:22PM - Just about the only good band this evening was 160. Everything higher was pretty much dead or didn't have any signals strong enough to break through my noise level. I got two QSOs on 160 from a couple folks I've worked several times before - John K8JD and Marty N9SE.

It was a rainy day today with just about a steady all day rain. Good thing it wasn't s#@w. I did manage to go downtown a couple times to take care of paying some bills, getting some stamps and I also ordered another N gauge train set from a railfan magazine that still accepts orders by mail and payment by paper checks. That's the only way I do business - check or cash. I don't even have any credit cards, etc. -30-


---

Fri Dec 14 2018 07:25PM - Conditions seemed better on 80 this evening with several fairly strong signals showing up on the panadaptor. I tried a CQ and it wasn't long before I got an answer from Phil K2NPN in NY.

Otherwise it was another mild day, at least for mid-December standards. It got up to 52 although it was mostly cloudy all day. Some rain coming later this evening and it should be off and on all weekend. The key good word is rain, not s@#w.

I posted a new poll today asking about your plans for 2019 in ham radio. I hope you'll cast your vote. The last poll got 58 voters, the most in a while. Every time I think about ending the polls, I get one with a better response and decide to continue them a while longer. -30-


---

Thu Dec 13 2018 08:35PM - Poor conditions this evening. I did manage to work my NAQCC friend Mark WG8Y, but copy was very poor and I really didn't copy much more than his call and my RST report. It was a QSO though to continue the streak. I also got another answer to a CQ, but never could get even his call. This local noise is going to drive me crazy. I suggested to Mike that he bring his KX3 down here with its internal battery pack (which I don't have in mine) and we put a short whip antenna on it and we walk around the neighborhood to try and narrow down where it is coming from. Some day when we get some nice weather and he is available, maybe we can try that.

At least the weather was nice today with a high right around 50 depending on which thermometer you were reading. One showed 48, another 52, and I haven't gotten the 'official' one outside in the shelter yet. -30-


---

Wed Dec 12 2018 02:12PM - OK, now here are the Trolley Museum pictures - most in no particular order - with comments below each one.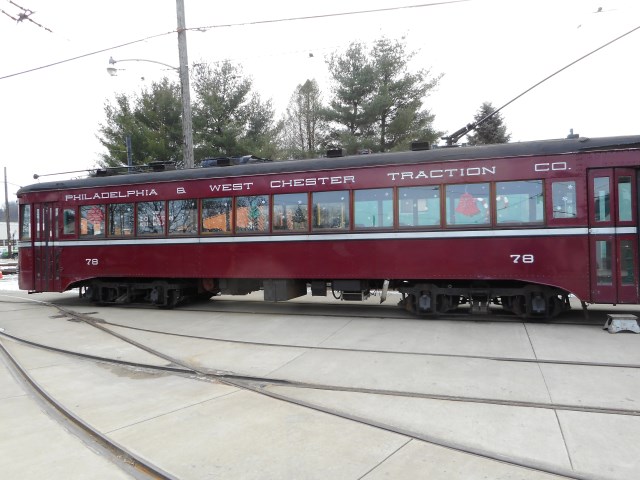 Yuletide Trolley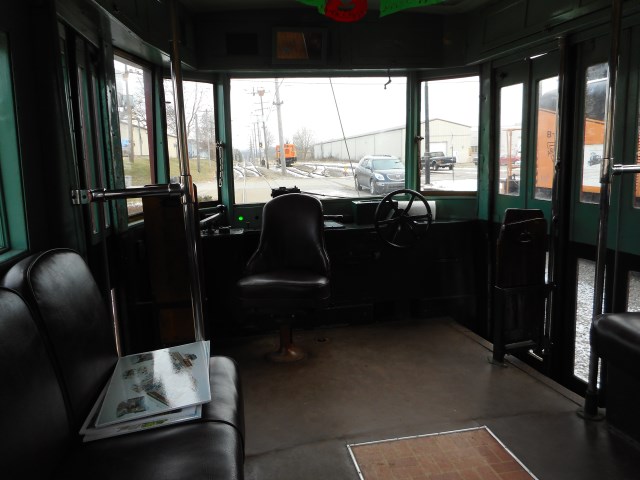 View of the tracks out the Yuletide Trolley front window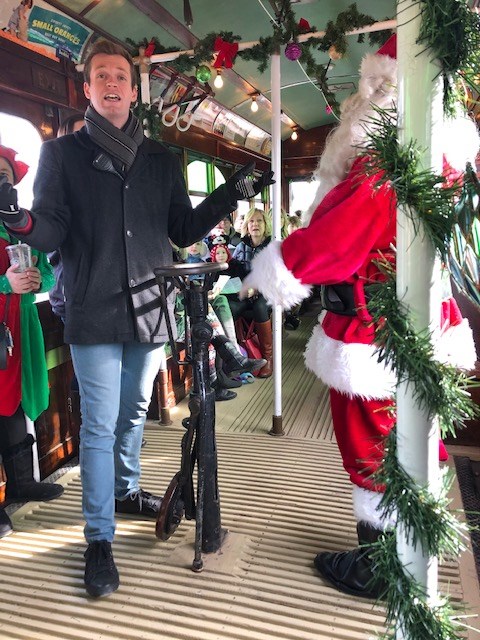 Santa with the powerful voiced announcer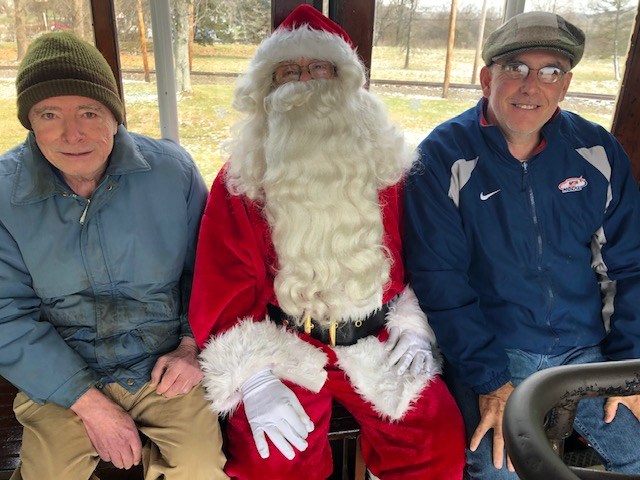 Me and Mike with Santa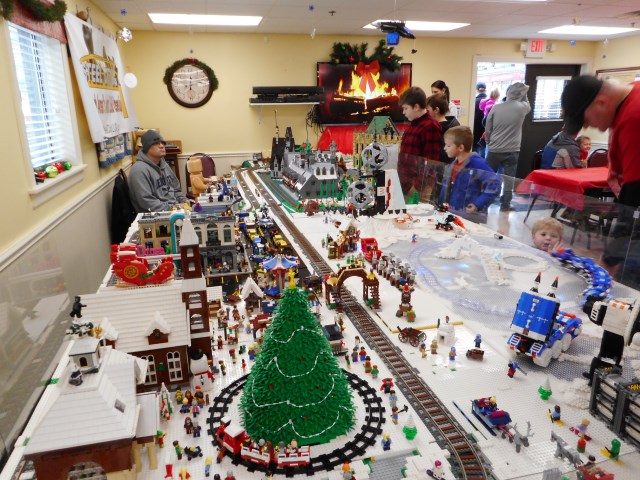 Model train exhibit with the Lego buildings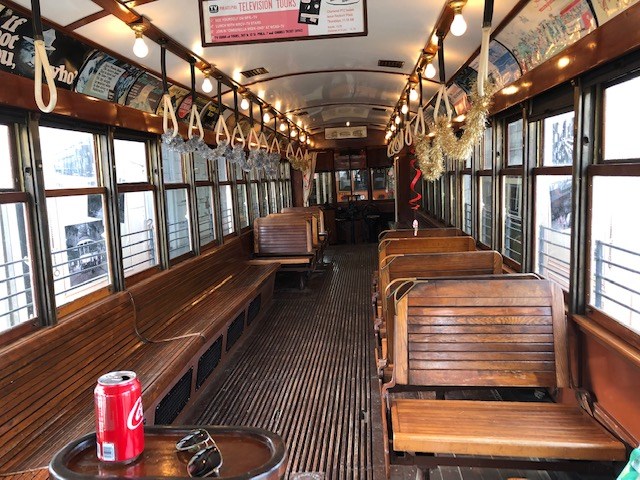 Interior of a very old wooden trolley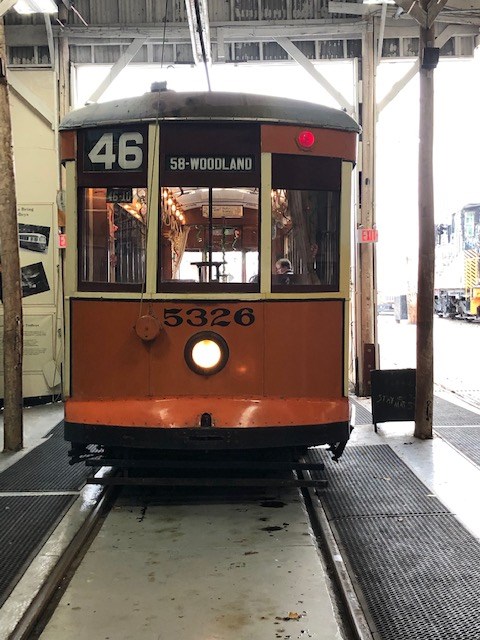 Another old trolley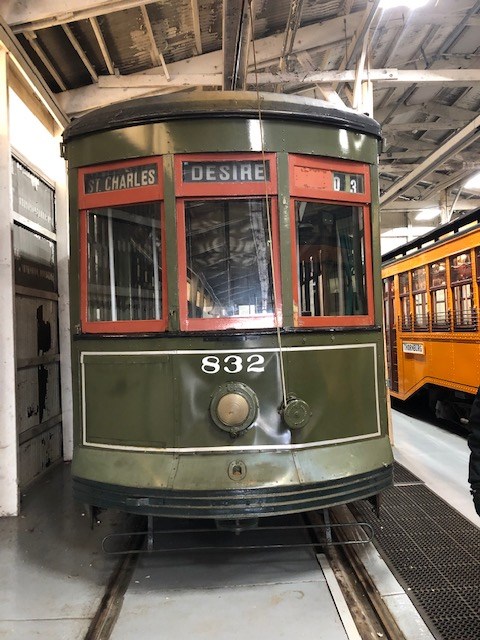 One more old trolley from the movie "A Streetcar Named Desire"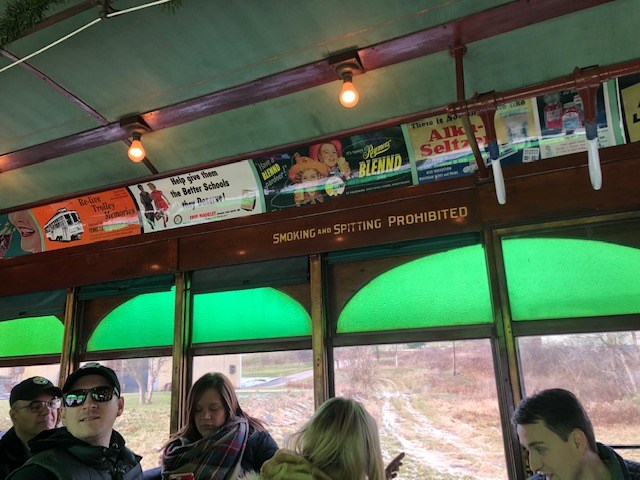 Some period advertising signs on one of the trolleys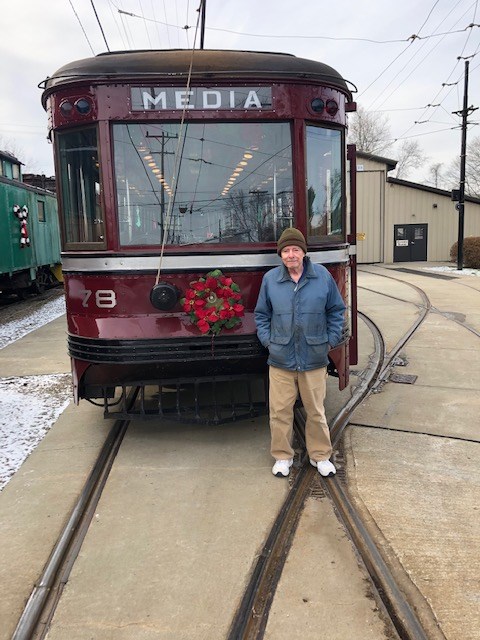 Me in front of the Yuletide Trolley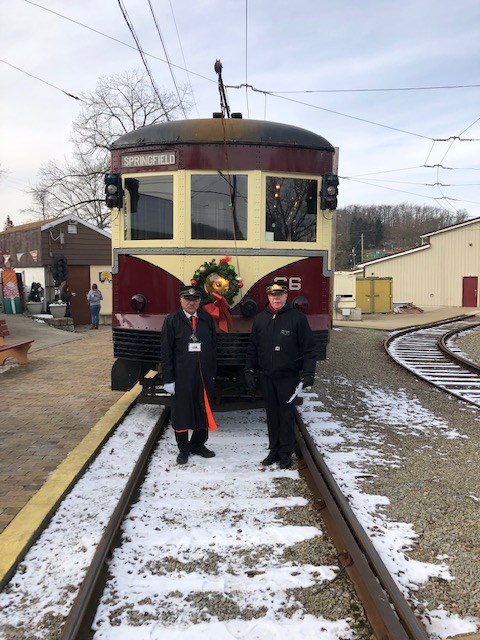 Two of the trolley workers in front of the Santa Trolley

And that's it. Hope you enjoyed the short tour. You should really visit the Museum in person if you are interested in such things. -30-


---

Tue Dec 11 2018 07:46PM - This has not been a very good day. First of all, both engines that came with the train I bought last Thursday are having motor problems. I spent a lot of time working on them and so far, no success. At least the train Mike gave me is still working fine. Then I just noticed one string of lights is out on my Christmas tree. At least it is the 35 light string and not one of the others which are all 50 light strings.

So almost needless to say, I did not get a chance to work on and post the pictures I promised. If tomorrow turns out better, I hope to take care of that.

At least it was a fairly quick and easy streak QSO although QSB killed it prematurely. I worked WB4AEG in GA on 80 meters. -30-


---

Mon Dec 10 2018 10:22AM - OK, here we go. Fleshing out the outline in yesterday's diary entry.

I got up around 7:30 (EST - all times in this entry will be that) since Mike planned on arriving here at 8:00. I wanted time to get a little breakfast since we probably would be at the Trolley Museum a good part of the day. I ran my newly purchased and refurbished N gauge railroad while I was eating and waiting for Mike.

Mike arrived a little past 8:00 and laid his jacket on a chair and told me not to peek. When he came back from the "little boy's room" as we call it, he pulled out a package from under his coat. Lo and behold, it was a N gauge railroad kit which he said was an early Christmas present. So now I had two railroads whereas three days earlier I had none. Wow. Nothing like model trains to bring out the kid in someone (doesn't take much in me). We set his railroad (now on referred to as Train 2, with mine as Train 1) aside since we had to get to the Trolley Museum for our reserved ride at 11:30. We did have a little time to kill before we left and looked over Train 1 and chatted until about 8:40 or so. Then we set out for the Museum. It was an uneventful ride (meaning we didn't get lost nor make any wrong turns) and we played the alphabet game to pass the time.

We arrived at the Museum around 10:15 or so. That gave us a little over an hour to kill. No problem with all the things to check out there. We got our boarding pass, and then checked out the Lionel model train display. I think more than watching the trains, although that was a joy, watching the (other?) little kids reacting to the display was really enjoyable. They had one N gauge railroad which really interested me because of my new N trains. The lady hosting the exhibit told me that was their first time using an N gauge layout. They wanted to fill in a space and didn't have room for an O gauge Lionel there.

Next we wandered through the souvenir shop, and resisted buying all the great items. It was outside next to take some pictures of the various trolleys. We told the conductors / engineers there we were just waiting for the 11:30 ride. The 10:45 ride was just leaving, and they told us we were welcome to ride the Yuletide Trolley which was departing in about 5 minutes following the Santa Trolley departure. We did that and got about a 30 minute ride along with maybe a dozen or so other folks. Santa's cute female elf did her bit on the ride. She showed us the "naughty/nice" book of Santa and checked all the passengers to see which section of the book they were in. Mike and I barely made the nice section, but we were "iffy". We thought Santa's standards might be a little low if we made the nice section at all.

We arrived back at the station and waited around for the Santa Trolley to return and get ready for the 11:30 departure. This one (as well as the earlier one) was sold out with a mix of kids and parents. We both thought the ratio of kids to parents was higher than the previous year we took the ride. As usual, Santa was "late" in arriving and we all sang "Santa Clause Is Coming to Town" at the end of which he arrived just in time and the ride started. We all passed the time singing Christmas Carols and listening to the train "announcer" (who had one of the loudest voices we've ever heard and didn't need a microphone and amp to be heard) telling some awful Christmas puns and stories.

After Santa then talked with all the young kids and got their Christmas wishes, it was photo time where all the kids (young and old) got their pictures taken with Santa. The Trolley stopped for that, and then it was back to the station, singing along the way again. After we exited, Mike and I chatted with the conductor and engineer. One of them was telling Mike about a program they had at the Museum whereby someone can come and learn to operate a trolley, and after that they could become a volunteer and conduct some of the trolley rides. I figured I was too old for something like that, but Mike is going to pursue it and come to the courses in March. Maybe Mike can have more to add to that the next time he ghost writes my diary entry, but that's all I'll say about it here.

Next we checked out some more exhibits, especially one model railroad setup where all the scenery was made from Legos. It featured a Harry Potter theme. It had to be a lot of work to set that up. Back in the souvenir shop, Mike bought a trolley operators book, and I bought an engineers cap to wear when I play with my new trains. Mike wanted to talk to the engineer or conductor again, and we went outside. They told us that we could take a special tour of the car barn if we wanted. Of course we did, and had a nice chat with the tour host as we looked at various old trolleys there.

That concluded our stay at the Museum and we headed to the Mills and had a meal at the Red Robin restaurant before heading home. Back home we shared some pictures we took at the Museum, chatted about many varied subjects, went to my shack where Mike worked WP3C on 30 meters, and then I said I had another card table. He asked what I had in mind, and I pointed the Train2 box. I set up the table, and we set up the train. I think you could fairly say that I like both trains equally. Train1 because I pretty much resurrected it from its grave, and Train2 because it was such a thoughtful gift from a very good friend.

We played with both trains, and did a little work on Train1 tweaking some little things that still hadn't been working 100% yet. After that Train1 got very close to the 100% mark. Train2 was at 100% right out of the box. The only thing is that, the couplers on the train sets are not quite compatible with each other although each will run on the other layout.

And that fleshes out the skeleton of the trolley visit. Mike left and our next visit is on Christmas when we go out and check out the Christmas lights around town.

I was going to intersperse pictures from yesterday in this entry, but now I just decided I'd post them separately in tomorrow's entry since there are so many to look at and narrow down to those I want to use. Then edit and crop those, etc. -30-


---

Sun Dec 09 2018 08:14PM - Just a great day all around today. I'll write it up more fully in tomorrow's entry and just give a synopsis today. Mike arrived around 8AM and after a half hour or a little more of visiting, we headed to the Trolley Museum and arrived there I guess around a little past 10AM. Our reserved ride was at 11:30AM so we had time to kill which wasn't hard to do with all the things to do and see at the Museum. Our ride lasted about 45 minutes on the "Santa Trolley". We hung around the Museum for a while, then headed to the Pittsburgh Mills where we ate a meal at the Red Robin restaurant. Back home here again where we shared some pictures we took, went to my shack where Mike worked WP3C. Then played with my train plus another one that Mike gave me as an "early" Christmas present. Mike left, and I went and got my streak QSO from K8CCG. Now I'm doing my laundry so I'll have time tomorrow to more fully document today. -30-


---

Sat Dec 08 2018 07:47PM - Still hanging in there with the streak nearing 8,900 days now. Thanks go to Brady KD8ZM for tonight's streak QSO. 80 was decent tonight, but not much activity. It must be that a lot of folks have put away their keys for the duration of the sunspot minimum. There sure is not as much activity as there was a couple years, or even one year ago. I don't think it's strictly due to my high local noise level either, although that is a factor also.

Three things occupied my time today. I spent some extra time with Roscoe today while his owner Bruce was driving a charter school bus to a wrestling match which took almost the whole day. I also did some more tweaking and testing of my new train set. I think getting it up and running is more enjoyable than watching it run. HI I also listened to some CDs/DVDs of Christmas music that I've gathered mostly at the Ol' Station Marketplace. Some of it is very good, some not all that good. I still have more to check out. I just listened to a 1940s collection of Christmas songs in the big band style which was good. I like big band music. -30-


---

Fri Dec 07 2018 08:27PM - After a tease last night with good conditions on 80, tonight it was back to the same old story tonight, if not even worse than ever. I managed to work Bill KA4KSB, but after a pretty good round and a half or so, we lost each other in QSB and QRN on my end also. But the streak goes on. Sunday might be rough. I hope I get someone tomorrow evening since I'll be away a good part of the day on Sunday at the Trolley Museum near Washington, PA.

I did quite a bit more work on my railroad today, and solved most of the little problems. Some axles had come loose or even came off all the way from the bogie(ey)s. Fortunately they were all there and I was able to fix them. However one bogie was missing altogether from one boxcar. Another bogie was off altogether and the pin holding it to the car was missing, so I improvised with a nail and some super glue. Now I have a pretty good collection of rolling stock to play with. There is one more little problem, well actually two. Some of the couplers on the cars are a bit balky, and need some attention. Also the track comes apart every now and then. I don't want to fasten it down solidly yet though, and tried some double sided tape which didn't work all that well. I'm trying one spot with rubber cement now to see if that works and still lets me remove it when I change the layout. It's all a lot of fun even though it's rough sometime with the small N scale and my old eyes. HI. -30-


---

Thu Dec 06 2018 07:42PM - I got my "toy" train today. It was still available so I grabbed it up. It is an N gauge railroad. It needs some work and I did some of that today. I've got a small oval track set up and in operation. There were two engines with it, and I took the one into the shop and after some cleaning up, crazy gluing one broken wheel support, and some light oiling, it works like a charm so far. The other one doesn't run at all - yet. I will work on it, maybe tomorrow. A lot of the rolling stock is not in the best of shape and some have missing wheels. They will need work. There is a nice set of passenger cars that look in great shape, but I haven't tried them out yet. It also came with two power units and both of them work fine. I think I got a good deal, and I love working on things like that, maybe even more so than something that works perfectly right out of the box. Perhaps when Mike and I go to the model railroad museum around Christmas, I can pick up some accessories or some more rolling stock, extra track, switches, etc. I always did want to get a small gauge railroad and now I have the start of one. I had an American Flyer and Lionel when I was a kid, and also got started with an HO setup, but never got very far with it. Ever since I saw the smaller gauges like N, I knew that was for me and I would have one some day.

Once again this evening my new friend Robert NW2Z answered my 80 meters CQ for my (and his?) streak QSO. The band was pretty good this evening with several good sized peaks on the PX3 as soon as I turned it on. -30-


---

Wed Dec 05 2018 07:38PM - It was a struggle tonight, but I finally worked KB0HXL in MN on 80. However I lost him after a while in my noise. He wanted to QSY to 160 to give it a try, but I never could copy the frequency he wanted to try. I suggested 1812 if he was copying me, but when I listened there, I only heard a little wisp of a signal and couldn't copy anything. I don't know if it was him or not. Anyway the streak still lives.

Nothing else to comment on today. I am looking forward to Sunday and a visit to the Trolley Museum with Mike. Looks like nice weather.

Also looking forward to tomorrow when the Ol' Station Marketplace opens as it does every Thursday. There was a nice model railroad setup there last week. Looked like maybe N gauge, but I really didn't have time to check it out then. If it is still there tomorrow, I think I'll get it no matter what gauge it is, if the price is right. I'm getting more and more into railroading here. Watching a lot of railroad videos on the Internet. Also I mentioned in the diary several weeks ago I've been looking at some of my old railfan records from when the Pennsylvania/Penn Central/Conrail ran through town here just an easy stone's throw from my house. -30-


---

Tue Dec 04 2018 06:38PM - As I promised, here are some pictures of my Christmas decorations.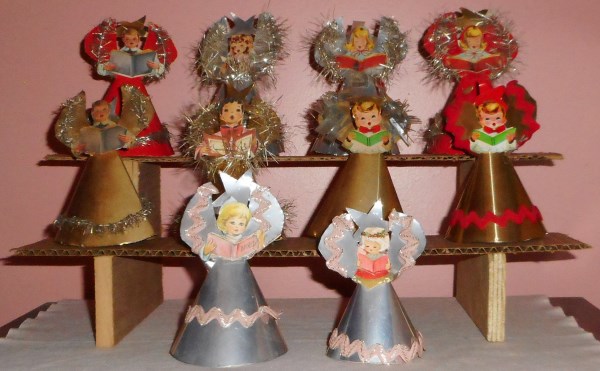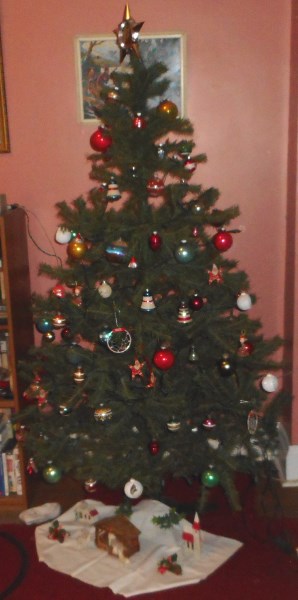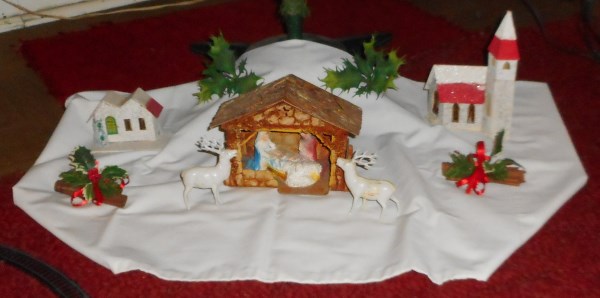 I thought I would take care of that before I head to the shack to get my streak QSO in a few minutes. Nothing out of the ordinary today except I had my gutters cleaned as I do each year after the leaves are all down. They were late this year, but plentiful. The fellows pulled out a big garbage bag full of them this year. I'm glad that's out of the way now. -30-


---

Mon Dec 03 2018 07:50PM - After yesterday in the 60s it was back to reality today with steady to slowly falling temperatures in the low-mid 40s. The outlook for this week is good though with cold temperatures, but virtually none of the horrid white stuff.

The bands, especially 80 seemed a little better this evening with several signals breaking through my high local noise. I had a nice chat with Hank K9LZJ that went about 25 solid minutes, then Robert NW2Z called to give me another 2 QSO evening. -30-


---

Sun Dec 02 2018 07:41PM - Well, we're only a few days away from the earliest sunset around 40N latitude. On December 7, the sun sets here at 4:48PM EST. Actually for a few days before and after that date, it's also 4:48PM rounded to the nearest minute. Then we gradually get a little more daylight each evening. Actually not really enough to notice for a while, but at least we're going in the right direction. Any sign, no matter how tiny and insignificant that points toward the end of winter is welcome.

Actually today was more like mid-October than early December with a high of 65 and presently it's still 45. Nice to walk outside without the heavy winter coat and hat. It's only a one day respite though. Back to the 30s and 40s again tomorrow.

The bands responded to the nice weather - well...... at least 80 seemed a bit better this evening. After I worked WZ2J in NJ for the streak, NW2Z called me and we had our fourth QSO in the past several days and Robert was the strongest of any of those QSOs tonight. -30-


---

Sat Dec 01 2018 07:09PM - Not a lot to report again today. I did my first of the month banking early this morning and picked up some groceries along the way. I wanted to get all that done before the predicted rain arrived, and I did. At least it was rain and not s#$w, thank goodness. We did have a couple pauses in an otherwise steady rain - just enough to take Roscoe out for his walks.

I got another quick 160M Contest QSO for my streak this evening. This time from VA2EW. It was nice to have two easy evenings in a row for the Streak. Tomorrow evening it will probably be rough again. -30-


---

Fri Nov 30 2018 07:29PM - Another month closed out. Where does the time go and why does it accelerate when we get older? I only made 32 QSOs this month, the lowest in I don't know how long. Chalk that up to the double whammy of my strong local noise and poor propagation near the sunspot minimum. Also not getting on during the day to take advantage of the better conditions in the daylight hours.

Of course tonight I used the 160M Contest for my streak QSO. Good thing too, as I didn't see any signals on 80 meters in a quick scan on the PX3.

The ARRL FD results are now in the ARRL Contest database. Here's how Mike KC2EGL and I made out with our N3A operation back in June. Columns are Category, # Participants, Our overall finish, and Our finish in WPA.

2B2B      -   7 - 2nd,  1st
QRP       - 276 - 20th, 1st
QRP 2 ops -   ? - 4th,  1st
WPA       -  42 - 5th,  5th
WPA 2 ops -   3 - 1st,  1st
Not too bad for our very simple setup. We should do even better next year all things being equal except we now have our bandpass filters which should cut down on cross-station interference. -30-


---

Thu Nov 29 2018 08:10PM - My streak QSO again tonight was from Robert NW2Z. Conditions weren't all that bad and we managed to have a 27 minute chat about a few different things.

There wasn't a lot going on today out of the ordinary everyday things. I did want to check the bands during the afternoon, but never did get to it. It looks like this weekend will be easy for the streak with the 160 meters contest going on. My noise on that band is lower than it is on 80 and 40 which are the worst bands. -30-


---

Wed Nov 28 2018 10:22PM - This was the fourth Wednesday of the month, and regular diary readers know what that means. It was pizza night with Mike KC2EGL. No bike ride for Mike this evening so he arrived early around 6:30 PM. We had the pizza and then headed for the shack. The bands were their usual horrible selves with nothing in the way of DX nor not much in the way of W/VE stations either. About the best band was 160, and that was where I got my streak QSO from K1RX in NH. After a few more minutes listening, we gave up and watched a British comedy, "Are You Being Served?".

Next up, Mike helped me solve a vibration in my computer desk. He correctly deduced that it might be a couple of loose screws in the desk frame. With that fixed, we played a hidden object game till it was time for him to head north.

After that, I went over to see about Roscoe. Bruce had taken him out already. We watched an old Our Gang episode, then I came over here and am writing this diary entry.

Before I close, I want to tell you about something I did today that I hadn't done in a long while. I worked some DX!!!. I did some work on my antenna switch, and while I was checking it out, I saw a big peak on 17 meters on the PX3. I tuned to see who it was. It wasl H7/RM0F working split. I set up and got him on the first call even though I hadn't set the KX3 tuner yet and I had a high SWR. I'll have to try to not get involved in so many other things during the day and get on the bands more often then.

I also finished my Christmas decorating today. I'll take some pictures and post them here in the diary, probably not till December 1st though. -30-


---

Tue Nov 27 2018 07:51PM - The bands were very changeable this evening, especially 80. I had two QSOs started, and never got past the first round with the first one, so I didn't log it. The second one started out good, then went downhill, but we did exchange enough info to count it. So the streak limps on.

I did get my window trimmed today. Picture below. I also brought down all the rest of the ornaments from the second floor and the tree from the attic. I wasn't going to trim the tree till tomorrow, but I did get the lights on it anyway this evening.

It was not a good weather day today. I never saw the temperature vary more than two degrees, 29 to 31. Plus we had a trace of the ugly s@#w to top it off. Well, it's only about 93 days till March l and spring now. I'll have to start my spring countdown at the top of the diary page soon. In fact I'll do it now.

Finally here's the decorated window: (Apologies for the ugly white stuff outside across the street.)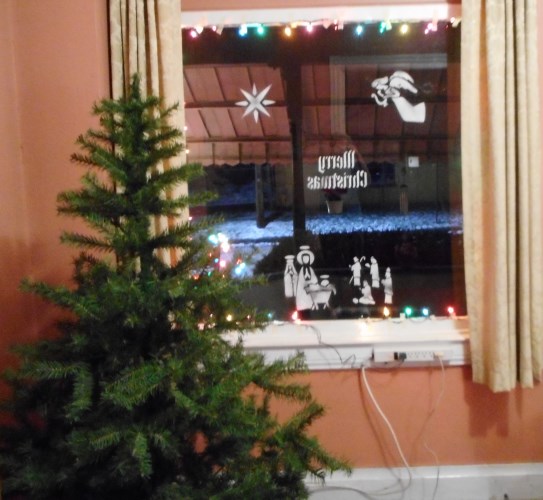 -30-


---

Mon Nov 26 2018 08:32PM - Still no improvement in conditions - not that I'm expecting any soon. But the streak rolls (crawls?) along. I see only one day on this log page that goes back to November 14 that I didn't get my QSO in the 0000Z hour, and that day it was in the 0300Z hour. Perhaps even with my local noise and poor propagation I can make it through the sunspot minimum after all. Maybe then I can try another DX streak also.

At least the poor conditions are giving me a chance to do a lot of work around the house like cleaning out the basement and getting rid of a lot of junk. Also tonight I just brought down the rest of my Christmas decorations. I think tomorrow I'll decorate the window with my traditional manger scene stencils as I've done for what must be well over 55-60 years now. I'm not sure just when we switched from a Santa theme to a religious one, but I wasn't very old when we transitioned. Then maybe the next day I'll put up and decorate the tree. I'll have some pictures of it all when it's done. -30-


---

Sun Nov 25 2018 07:53PM - For the first time in years I didn't get any DX QSOs in the CQWW DX Contest. I didn't bother even trying to fight my local noise as it would have been too nerve-wracking and hectic, especially the rapid switching between RCV and XMT antennas which probably would have been done a lot. Oh well, I've had more than my fair share of fun and success in past years' CQWW DX Contests. So really no big deal. I think though that a main project this winter will be seeing what can be done about the noise. You've sent me some good suggestions which I plan to try out when I get more free time (when the s@#w starts to get serious).

I posted some info about our Requin subpedition to the NAQCC email list and my site has been flooded with visits since then. Welcome to all the frst time visitors. I hope you'll drop by regularly. My visits the past three days have numbered 280, 298, and 106 vs. a daily average of late around 90. I guess it pays to "advertise". HI

It wasn't too hard getting my streak QSO this evening. There were several stations on 80 breaking through my noise so I called CQ and Brad KR8P answered me. I was able to copy him solidly except for a couple words.

Oh, I neglected to thank Mike for ghost writing the diary entry on Friday, so thanks Mike. -30-


---

Sat Nov 24 2018 07:24PM - My ghost writer Mike said I would have stats and a photo from our Requin subpedition yesterday, so here goes.

First my stats, then Mike's, then combined.


QSOs    12  -  16  -  28
States   7  -  12  -  14
DX  (CT3, HC) (CM, PY, KH6) (CT3, HC, CM, PY KH6)
Plus Mike worked Ontario
We worked 2/3 of a WAC - NA, SA, AF, OC.
Our first QSO came at 1515Z, last at 1954Z
QSOs by hour - 1500-12, 1600-4, 1700-3, 1800-4, 1900-5.
QSOs by band - 40-11, 30-6, 20-10, 15-1.
It was pretty much the usual pattern of any parkpedition or subpedition. They start off with a burst of activity for the first hour or maybe two, then die out rapidly. This time the answers to our CQs died out after a couple hours, so we went on and switched to chasing some DX.

I would like to comment on a new problem that developed on the Requin the last couple times we were there. There is now some strong wide band noise on 20 meters that really ruins reception centered pretty much on our planned 14059 frequency and extending up and down 15-20 kHz from there. So we spent much less time calling CQ on 20 than we planned. The 20M QSOs were mostly DX that we chased and caught on the lower portion of the band. I think for our next subpedition sometime early next year we'll announce a frequency lower in the 20 meter band, maybe around 14025-14030 and see how that works out.

We were having such a good time making contacts, kidding around with our host Art, and interacting with many many visitors who passed by the radio room that we forgot about taking our usual pictures. However Mike came up with a view of the sub from the other side of the river. I'm not sure when or from just where he took it, but here it is.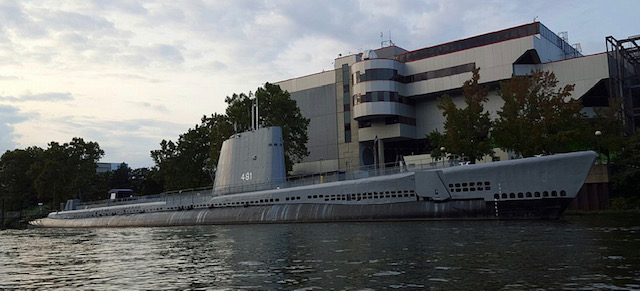 -30-


---

Fri Nov 23 2018 06:29PM - Good evening everyone. Tonight I will be filling in as John's ghost writer.

Our day started out around 8:45AM when I arrived at John's QTH. We chatted for a few minutes before heading to the USS Requin at the Carnegie Science Center. We arrived shortly before 10AM where we met Art WA3BKD the caretaker of the sub. He escorted us below to the radio room where we set up shop for the day. Radio activity was very busy for the first hour or so and died down as usual. There was a steady stream of visitors to the sub all day long. Most would stop by and ask what we were up to. We explained that we are priviledged to be allowed to operate from the Requin multiple times during the year. Some were surprized to find out that Morse Code is still in use. Everyone were quite fascinated with the sub. With all the visit's John and I have made to the sub we are still fascinated with her. We were on the air until 3:30PM or so before we packed up for the day. Thanks again to Art WA3BKD for allowing us to 'play radio' (as we tell the visitors to the sub) once again.

After we departed the Science Center we took off for another of our favorite activities. Yes we stopped at Chili's for an early dinner. Then we headed back to John's QTH were John showed me his new portable antenna mast for the QRP Guy's vertical antenna's we built a couple of weeks ago.

Now its time for me to get ready to head North to my QTH since tomorrow is an early wake up for me (retirement can't come soon enough). Until the next time John needs a day off.

DE Mike, KC2EGL 73.

P.S. John will have some stats and a photo from todays SubPedition. -30-


---

Thu Nov 22 2018 08:15PM - I hope you all had a great Thanksgiving as I did here. My neighbor Bruce and his brother invited me to have dinner with them in nearby Templeton which I guess is around 10 miles from here. It would just be the four of us. But that's only three, you say. Regular diary readers probably know where I'm going with this. Yep, party #4 would be Roscoe. I wondered what it would be like taking him along in the van. It would be the first ride in the van for him, and only the third place he ever went to other than the groomer or the vet. He usually is excited and whimpering going to those two places. However it was a very peaceful quiet ride today, both going and coming back. He did wander around the van going, but coming home, he staked out a seat and stuck with it all the way. The meal was pretty much traditional Thanksgiving fare - turkey, stuffing, stuffing balls, mashed potatoes, sweet potatoes, beans, cranberry sauce, olives, and pumpkin pie. I probably left something out too as there was so much there. Roscoe had a little bit of each also. He didn't seem to care for the cranberries though. Now being fully stuffed, we just sat and watched a dog show followed by the Macy's annual Thanksgiving Parade.

Robert NW2Z was my streak QSO again as he once again answered my CQ on 80 meters. It was somewhat of a rough QSO with QSB and my local noise, but I think we exchanged more info than the last QSO. I'm not sure how the CW Academy works, but I think he said he achieved a new level there. He also said he is doing a CW QSO a day after reading about my streak and being inspired to do so. At least I'm pretty sure that's what he said. It was rough with moderate QSB taking a run of letters into the noise followed by a run of easily copied letters at 579 and then filling in the blanks so to speak.

Anyway, now I can enjoy the subpedition to the Requin with Mike tomorrow with my streak QSO safely logged. Saturday and Sunday should be no problem with the CQWW DX Contest in full swing. Hey, I may even find out what it's like to work DX again although I don't intend to put in as much of an effort as I usually do in the big DX contests. Maybe if signals are good enough to regularly overcome my noise, I'll rethink that though. We'll see. -30-


---

Wed Nov 21 2018 07:50PM - Nothing. The bands afe still further down this evening. I only heard one NCS station on 80 plus a few stations chasing some DX that I couldn't hear on 160 and 80. Very discouraging.

I'll try our NAQCC sprint a little later tonight, but I doubt any of the QRP signals can make it through my noise. Then there is the CWT a little later. That's probably my best choice to keep the streak going. -30-


---

Tue Nov 20 2018 07:45PM - When I got up from my shack chair after working NW2Z in NC on 80 I said to myself another day, another QSO. Yes, the streak goes on, and I followed that thought with the thought the streak continues with the current conditions even further proves the effectiveness of QRP, or does it really? What is making the streak harder to keep going is not really the power that I'm running as it always works, no matter what. It's more a problem of me hearing "them" than it is "them" hearing me. Perhaps what it is proving now is that I'm just a stubborn old coot, to stubborn to give up and too determined to keep going. At least the streak is giving me food for philosophizing about things.

One of my ongoing projects of late is cleaning out a lot of junk in my house, especially that in the basement. Hopefully getting the basement cleaned out will give me a chance to better organize my many woodworking tools and allow me to make it into a neater woodworking shop so I can enjoy that hobby some more and pass the time till the sunspots return and/or my noise goes away. I built a couple nice shelves today above my main work area so I can keep the tools I use most often handy right in front of me instead of having to dig in this toolbox or that toolbox or drawer and wherever else they may wind up after I use them. All that provides a lot of satisfaction while helping to pass the time. -30-


---

Mon Nov 19 2018 07:31PM - As I sit at the rig struggling to find someone strong enough to make it through my local noise or while I'm sitting there calling CQ, I get a lot of time to think about things. Tonight I was thinking about those folks who over the years say they just can't seem to make any QSOs with QRP or sometimes even with say, 50 watts. Apparently they may be in a situation similar to what I'm in here the past couple months or so with a constant high local noise level at the bottom of a sunspot cycle. I've pretty much come to the conclusion without my many years of activity on the bands I too may be thinking that QRP doesn't work. It may not work as well as in a quiet location and/or at a better point in the sunspot cycle, but it does work if you've learned all the skills required to work with QRP power levels over the years. Just never give up even if the odds are stacked against you. First of all become adept through practice of digging weak signals out of the noise. Try different receiving antennas, better bandwith and noise filters to find a combination that makes things better for you. Practice copying CW at much faster speeds than you normally copy. It is easier to copy weak signals at slow speeds if you can easily copy strong CW at much higher speeds. That aspect is often overlooked by many hams. If you can't find anyone to work on a band, try calling CQ yourself. You will be surprised how many times a CQ will lead to a QSO on an otherwise seemingly dead band. Don't just call CQ once and give up though. You must persist quite a while, at least 10 or 15 minutes, then it may be that the band is really dead, and it would be wise to try another band, or try later in the day. Persist, persist, persist, and if you have the time, you too can get at least one QRP QSO each and every day as I have done for closing in on a quarter century now. End of pep talk, now get out there on that field and win one for the Gipp...... Oh wait, that's the closing to another speech years ago. -30-


---

Sun Nov 18 2018 08:19PM - A couple of observations. First one good thing about my strong local noise of late. At least my furnace noise no longer bothers me as the other noise overrides it. It seems better to have a steady noise than one that cuts in and out as the furnace does. If I can work someone from the beginning now, I don't have to worry about the furnace coming on and ruining a QSO in mid-streak. Of course QSB can still do that as always.

This is only the second day this month I've made more than a single QSO. 80 meters was good tonight so after I made one QSO with WD8KNL in OH who answered my CQ, I did a bit of working on my antenna switch tightening up a loose knob on the receive switch, I heard N8DUS calling CQ and decided to go for a second QSO, and made it, before I QRT for the evening.

The temperature has been trading in a very narrow range here - basically it's been between 30 and 40 for 5 straight days until today when we broke through and got close to 50 for a while. Right now it's starting to rain a bit and looks like a rain/light snow mix the next few days off and on. It looks like Friday will the best day this week and that's good since we go on our subpedition to the Requin in Pittsburgh that day. -30-


---

Sat Nov 17 2018 07:24PM - The LZ DX Contest which is a worldwide contest with everyone working everyone provided a quick 0000Z streak QSO this evening when I worked W3UA on 80 meters.

I pretty much finished the mounting pole for the antenna Mike and I built the other day. As I said, it's all from my junk bok and the price is $0.00. I decided to post a couple pictures of it here with some comments.





Above from top to bottom is a piece of angle stock pointed to drive in the ground, then an old window blind rod that slips into the clamps on the angle stock, then a piece of PVC pipe that slips onto the hole in the rod where the spring was mounted, after that a second piece of PVC pipe with a dowel in the end to mate it with the other PVC pipe, finally a 10 foot crappie pole that slips over the second PVC pipe with a homebrew wooden washer on the pipe to adjust the overall length of the mast and to keep the crappie pole from slipping down too far on the PVC pipe.





This is a view of the lower portion assembled, and below is the upper potion showing the crappie pole.




I get great satisfaction out of building things from junk, and also enjoy the savings. I could have just bought a 20 foot crappie pole and spent some money and saved some time, but that wouldn't provide nearly as much fun and satisfaction. -30-


---

Fri Nov 16 2018 07:40PM - A quick QSO tonight from N2MM, Carol in NJ on 80 meters. Before that, I almost worked OM2VL on 80. He never got more than a partial call from me, WP one time, and K3 another. Oh well. -30-


---

Thu Nov 15 2018 07:19PM - We were really blessed here today. No freezing rain, and no sleet to speak of. Actually it rained most of the day although in the past hour it changed over to light s#$w. That is extremely good compared to most of the rest of Pennsylvania who really got hammered. Many places had a top 5 of all time greatest s@#wfall for the month of November.

To pass the time while waiting out the storm, I was down in the basement working on building a mount for the antenna project I built with Mike the other day. I didn't spend a single cent on it. I just used parts from my well stocked junk boxes. I say boxes because not only do I have electronic junk boxes, but woodworking, metalworking, and just general junk boxes.

My QSO tonight came from W7FW in IL on 80 meters. He was running a KW, but with the poor conditions, he didn't sound like it. I'm surprised he copied my QRP signals as well as he did. -30-


---

Wed Nov 14 2018 07:35PM - Well, the streak marches on through the rough times. For the third night in a row, I've gotten my QSO via my CQ. Tonight it was Dick WB3AVF in NE PA on 80 meters. A lot of QSB as usual, but a pretty solid 11 minute QSO.

Winter weather advisory for tomorrow which is way too ridiculously early for anything like that. Earlier freezing rain was in the mix, but now it is sleet and s#$w which is better, although still bad. Predictions are for anything between an inch and 5 inches as we are right on the edge of the storm.

What ham gear do you want for Christmas? That's my new poll which made its debut a little earlier today. I hope you'll vote in the poll via the link on my home page or at the top of this diary page. -30-


---

Tue Nov 13 2018 07:36PM - After the busy day with Mike yesterday, today was quiet and uneventful. I guess the highlights were fixing an old pendulum clock that I bought at the Ol' Station Marketplace a couple years ago. Every once in a while it unexplicably loses a few minutes. I think just to confuse me. Anyway when I reset it last night, the pendulum stopped swinging. I couldn't do anything with it last night, and saved it for this morning. When I looked at it, the mechanism was slightly out of vertical, and the pendulum activator was rubbing against the side of the works. A bit of tweaking and it's working fine again. I also installed a new doorbell button to replace the one with a burned out light. So hopefully now folks will ring it and not just knock so quietly that I can't hear them if I'm in a somewhat distant part of the house.

This evening was a bit more interesting. I got an answer to my 40M CQ from WA9JTU/P, but I never heard him after that as the band changed, I guess. The bands were not bad tonight with quite a few signals on 40 where I stayed most of the time for a change. I called CQ again and this time got an answer from Kevin KC3RN. Kevin is a member of our NAQCC Western PA Chapter, and we've met in person at a few hamfests around the area. He is from Pittsburgh which is about 40 miles from here. It's always nice to work someone on the air whom you've met in person, or vice versa for that matter. It just adds a bit to the relationship.

Looks like I forgot to mention this in yesterday's diary entry, but when Mike was here, I got a phone call from Art WA3BKD at the Requin submarine. He told us that he wouldn't be there the day before Thanksgiving which as I've said was when we planned to make our subpedition. So we asked how about the day after Thanksgiving. He said that should be fine. So make a note of the date change for that if you would like to join or work us from the sub. That's always a lot of fun with Art whose sense of humor runs parallel to Mike's and mine. -30-


---

Mon Nov 12 2018 06:38PM - Today as I had been saying was a Mike visit day, and those days are always good and busy ones. Today was no exception. Mike arrived around 9:15AM and we spent a while talking college football before getting on to a couple projects.

The first project was building a new antenna for our portable operations. It was a kit from qrpguys.com - a tri-band 40,30,20 vertical antenna which required minimal assembly and went fairly smoothly with only a couple glitches. It involved winding a couple toroids and we never have that go smoothly although it wasn't too bad today. Pictures follow below.

When we finished the assembly of the circuit board, it was time for a meal at Wendy's along with a trip to a hardware store to pick up a couple parts for the rest of the antenna project.

Back home we measured out some wire for the antenna and ground plane wires. After that we fixed up the rest of the mount which consisted of some PVC pipe and a long bolt to support it in the ground to hold the 17 foot mast on which the antenna, radials, and circuit board mounted. Some minor tweaks finished the antenna project.

Next it was connecting some power pole connectors to a couple lithium polymer batteries. That's another thing that never goes all that smoothly - hooking up power pole connectors. I kidded Mike that if we'd known we were going to make so many power pole connections we should have bought the $30 or so dollars crimping tool when we first started working with them a few years ago. We'd have saved a lot of aggravation over those years. We did get the connections made and they worked well hooked to my PX3 as a test.

One final project was Mike's computer. It has been running very slowly lately and I suggested he needed to increase his RAM from the 4GB it has now. 8 is the maximum it can handle, so he is going to get 2 4GB chips to increase the RAM to 8GB total. That should help because we checked his RAM usage and the physical RAM was just about maxed out and a lot of programming was being paged out to his hard drive slowing things down. So we'll see what the increased RAM does to help.

Mike is just leaving now, so I'll bid him farewell, go get my streak QSO and come back and post some pictures from today.

It was a struggle, but finally VA3SZ answered my 160M CQ for the streak QSO. Took about a half hour to get the QSO.

Now here are the pictures of our projects. Just a couple. The one at left is the antenna circuit board with all parts mounted. At right the LiPo batteries with the power pole connectors attached.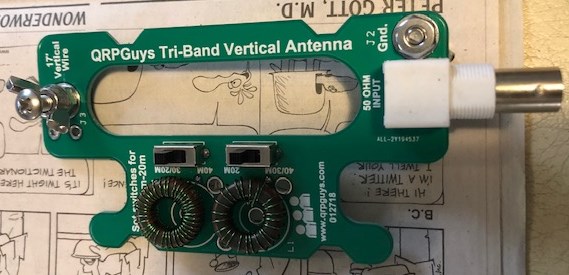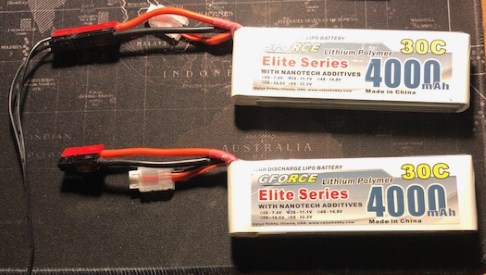 For more info on the antenna, see here. -30-


---

Sun Nov 11 2018 08:09PM - Just how poor are the bands here? Well, Bill W9ZN with his KW station was only about 579 on 80 meters for our QSO tonight. Again though, I think the noise here is a major part of the problem as Bill copied my QRP signals almost solidly for our 15 minute QSO. I don't know. Maybe among our other projects tomorrow, Mike and I can play around with my little loop antenna and see if we can get it to help with the noise.

Another cold day today, but at least nowhere near as windy as yesterday, so it didn't feel as cold despite the actual temperatures being only a couple degrees warmer.

I guess that covers the day. Hopefully I'll have more to write about tomorrow, or maybe Mike will do a ghost writing job for me in the diary. We'll see. -30-


---

Sat Nov 10 2018 07:53PM - It was nice to work my old friend Gary N2ESE tonight. We haven't worked much lately since my local noise started here. Let's see....we've worked 216 times now, but tonight was the first time since May 17 this year. 80 did seem a little busier this evening so I called CQ and Gary found me and gave a call.

I'm looking forward to Monday when Mike will be visiting. We've got a couple ham radio projects in mind plus our usual eating projects. HI

This was not a good day weatherwise. When I got up this morning, there was some of the ugly white stuff on the ground. Also it was very windy all day today and with the temperature not getting out of the 30s, the wind chill was at least down in the teens and maybe even single digits. Not very pleasant at all, but I did take a walk downtown to the store to pick up a couple grocery items. -30-


---

Fri Nov 09 2018 07:19PM - Conditions seemed a little better tonight. At least I was hearing more sigs on 160 through 30 meters. My QSO came on 160 though when I answered a CQ from KN4ZQ in VA. I did fool around a little today with my loop antenna and got some mixed results which I will have to sort out before I move on with the experiment.

The 2018 ARRL Field Day results were finally released today, at least in the QST Digital Edition. Our N3A operation with me and Mike KC2EGL netted us second place in our category of 2B - 2 operators - Battery power. Overall in the total of 5 2B categories, we came in 3rd out of about 30 participants. The results in the digital edition don't lend themselves to further analysis. That will have to wait till the results are added to the ARRL Contest Database. As of this afternoon they were not there yet. -30-


---

Thu Nov 08 2018 08:00PM - I'm beginning to think more and more that my local noise is more of a problem than the poor propagation. When I work someone, the contact is solid and I get good (up to legit 599) reports. The problem with my noise is getting a good s/n ratio so I can copy. To do that, I have to use other than my main antenna to listen with. That is, to work someone on 80, I must use say my 15 meter vertical dipole. That reduces my noise from S9 plus to around S4 and consequently lowers the received sigs as well, but does give the better s/n ratio for good copy. I think I'm going to have to experiment with a small loop antenna with which I may be able to null out the noise and still keep the signals stronger and more in the clear. Now all I need is the time to do the experimenting. I do have a small loop here I built a few years ago. I'll report any results here in the diary.

Tonight I got an answer to my 80 meters CQ from N3WT in Maryland and we had a nice solid 10 minute QSO before he had to QRT. -30-


---

Wed Nov 07 2018 07:54PM - Once again I had to go down (up?) to the Top Band (160) for my QSO tonight. And a good QSO it was with a nearby friend in Apollo, PA - about 20 miles from here. It was an almost 100% solid QSO for 21 minutes despite strange QSB and my local QRN. I guess the QSB was mainly from a combination of ground wave and sky wave reception. Who was it? Oh, Geo W3ANX. It had been a while since we worked, and the first time on 160. Our last QSO was back in July 2012 when I was using my K2 a few months before the KX3 came into my life.

It was another nice day today. Not as warm as yesterday and more of a breeze, but still nice for early November. I raked some more leaves, walked Roscoe, and did a little walking myself. I also cleaned up a bit more in my basement and got rid of a few more things here and there. It's still a mess though. HI. Not much else to say about today. -30-


---

Tue Nov 06 2018 07:23PM - On and on it goes. Poor conditions, high noise, low activity, but still the streak goes on. Tonight it was a 10 minute chat with Jim K8MPH in Kalamazoo, MI on 80 meters.

Otherwise today was a very nice day, weatherwise with a lot of Sun (I think that's what it's called. It's been a long time here without seeing that bright object in the sky.) and a high in the mid 60s. It was quite breezy though so it didn't feel like the mid 60s, but it was good enough for me. I even got to sit on the porch with Roscoe for quite a while. I started the day off by casting my vote, then I walked Roscoe right after that. A neighbor friend of mine then did a little plastering up in my attic. I took a couple walks. I raked some leaves. I don't have any deciduous trees on my property, only the one little evergreen, but the neighbors' trees gladly share their leaves each fall, especially on a breezy day like today. Hopefully a couple more rakings, and they'll all be down by then. -30-


---

Mon Nov 05 2018 07:51PM - What a big difference a day makes (plus the absence of a big contest - HI). Last evening almost wall to wall signals on 80, 40, and 20. Tonight nothing on 40 and 20. The usual net stations on 80 plus a couple others. I had a great visit with K2ZF in NJ on 80. Solid copy both ways for 23 minutes and could have gone longer, but my phone rang and wanted to QRT to see who it was. We had geomagnetic storms today so that affected conditions adversely also along with the low sunspot numbers and QRN, etc. -30-


---

Sun Nov 04 2018 07:59PM - Let me first post 3 pictures from today's WACOM hamfest, then do my comments after that just to be different. HI.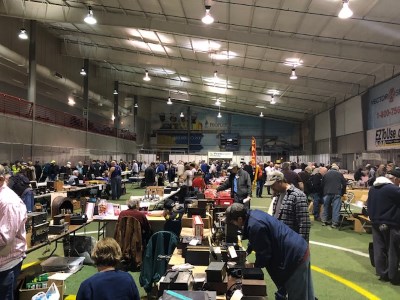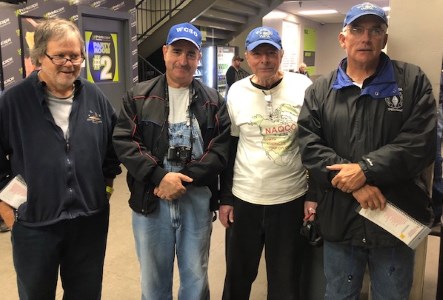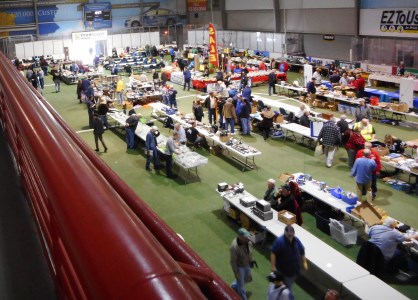 The left and right pictures are just a wide view of the hamfest setup, the first from ground level, and the second looking down from a 'balcony'. In the middle picture are L-R, Tom WB3FAE, Bob WC3O, John K3WWP, and Mike KC2EGL.

We had hoped to have more of our WPA Chapter members there, but we guess all were busy with other activities. Anyway it was nice to wander around with Tom, Bob, and Mike. We also saw Art WA3BKD from the Requin, and he pretty much assured us we could make our annual day before Thanksgiving trip to operate from the Requin, but to check a couple days beforehand just to be sure.

Mike arrived here shortly before 8 AM and with one minor deviation when we missed a turn, the trip was uneventful. We arrived a little past 9 AM and stayed for a couple hours. Mike and I both bought a couple things. He bought a mini-manual for some piece of equipment and some power pole connectors to use at the Requin. It was more a woodworkingfest for me as I bought a hearing protector for my woodshop work, some wood clamps, and a couple DPDT toggle switches for ham radio use.

When we left, we headed for Best Buy to mostly look around and drool a little over all the great computer, etc. stuff they have there. I bought a 4 port USB hub to have some more USB ports available for my new computer.

Of course, next it was on to some place to eat. We chose Max and Erma's. Mike had some Buffalo chicken and macaroni dish and I had chicken tenders and onion rings.

One more stop before heading home. We both bought a pair of new shoes at Dick's Sporting Goods, and Mike added some gloves to keep his hands warm on his mail route.

Back home again. We kibbitzed a while, then went to my shack where Mike worked, I think 11 QSOs in the SS. I just enjoyed watching him work while I took it easy. 15 meters was in good shape, and he worked OR, UT, ID, AZ, NM, TX, and I think SD and maybe one or two other states.

Then we finished out the very enjoyable day watching a couple episodes of one of our favorite British Comedies, "Are You Being Served?" before Mike headed home.

We'll be getting together again next Monday for the observed Veterans Day to do a couple projects and of course enjoy a meal somewhere. -30-


---

Sat Nov 03 2018 08:13PM - Of course an easy streak QSO this evening courtesy of the SS and N8NA, Karl in DE. Should be the same tomorrow evening with someone else.

Tomorrow Mike and I get together and head for Canonsburg, PA for the WACOM Hamfest. If you're in the area, why not stop by and look us up and maybe find some good bargains. We were there a couple years ago, and they had a very nice assortment of vendors selling just about anything you could imagine. I'm guessing it will be the same or better this year. They have a brand new venue this year. For more info do a Bing search for "WACOM Hamfest 2018".

Mike and I plan to arrive around 9 AM and stay at least a few hours before we head out to get something to eat around Cranberry Township. Then in the same place, we'll be going to Dick's Sporting Goods and Best Buy for some shopping. After that, back home here.

Oh, we won't be setting up at the hamfest, just visiting hoping to see some ham friends and maybe we'll find some bargains also. -30-


---

Fri Nov 02 2018 09:21AM - Yes, 9:21 AM. About 12 hours earlier than usual for a diary entry. I just had a very nice QSO, and I think this time of day needs to be explored more as I found band conditions quite good. I may have to readjust my daily schedule to take advantage if the evenings continue to be as poor as they have been lately. This morning I found several good signals on both 40 and 20 including some DX on 20. I didn't work the DX as they weren't hearing me. YL100K was strong, but had a pretty good sized pileup. Still even in the pauses in the pileup, he wasn't hearing me. HA8IB was getting no answers to his CQs, but never heard me at all in the clear. I think I heard Bert F6HKA very strong. I just caught the HKA as he started a long transmission and I didn't listen long enough to see if it was Bert or some other HKA. I'm sure had it been him and I waited, I could have worked him.

Finally I migrated to 40 and tried a couple CQs with no answers. Then I checked some strong peaks on the PX3 and found one was AA4MC calling CQ. I answered Mike and wound up with my longest QSO in quite a long while now. We talked 38 minutes and probably could have gone longer, but some QSB set in and it was getting a bit rough near the end, so we said our 73 and QRT.

At one time long ago I set up either Access or Excel to include length of QSO, but I must have dropped that feature at one point. It might be interesting to do that again. I am pretty sure I would have to go back a while to find a 39+ minute QSO. Probably when Gary N2ESE and I used to work regularly. I haven't worked or even heard Gary lately, but I know we used to have some good long QSOs at one time. Oh well, something to think about and maybe include in some of my project plans during my winter hibernation. HI -30-


---

Thu Nov 01 2018 08:24PM - As I was sitting at my rig listening to the noise and lack of signals, I got to wondering how I made it through the last two sunspot minimums, or at least the last one since the streak started pretty much during the minimum before that. I don't think I'll do it tonight, but I have the resources with my Excel log and my Excel spreadsheet of solar flux numbers back through both previous minimums, to take a month or two with similar numbers to this month at similar points in those sunspot cycles and do some comparisons. I honestly don't think it was as hard then to keep the streak going. But then, I didn't have this strong local noise on top of the poor conditions. Perhaps I can learn just how much of an adverse effect this noise is having right now. Anyway it will give me something to do, and hopefully I'll learn something in the process. Needless to say, no streak QSO this evening. Last night I did get an easy QSO later in the 0300Z hour in the CWT sprint from N8BJQ.

I was also thinking at the rig about this weekend, especially since I will be away most of the day on Sunday. However that shouldn't be a problem, as the Sweepstakes should provide easy QSOs both Saturday and Sunday if I make it through Friday. Well, actually the SS covers three days - 2100Z Sat through 0259 Mon, so (knock on wood) there are three easy days in a row. -30-


---

Wed Oct 31 2018 08:33PM - On and on it goes. Conditions continue to deteriorate. Well, maybe I can get someone in the CWT sprint in the 0300Z hour later tonight. The bands had nothing to offer in the 0000Z hour, for sure. As I'm sure you've noted, these conditions leave very little to talk about here in the diary other than just talking about how bad they are. I was wondering this evening if going back to standard time this weekend will make any difference. That will put the 0000Z hour closer to sunset time for a while anyway.

This Sunday is the last hamfest of the year at least for me. Mike and I will be going to the WACOM hamfest in Canonsburg, PA. It looks like great weather after we get through the next couple of days which will be very rainy. Then it's supposed to be sunny and mild Sunday with a high in the mid 50s. At least it looks that way now. -30-


---

Tue Oct 30 2018 08:44PM - If it's true that anything worth having is worth working for, and I firmly believe it is, then a lot of my QSOs lately are worth having because I've really had to work hard to get some of them. First it's work just listening through all the QRN just to find someone to work, someone whom I'll have a chance to copy well enough to have a decent QSO. Then when I do find someone like that, the way the bands are up and down I have to pull out all my CW copying skills and work hard to make a good QSO out of it. I didn't think I was going to get past the first part - finding a station - tonight. Just like the past few nights, only a very few, very weak stations were heard, and all engaged in nets, chasing DX, rag chewing. Finally I did come across W9YK who was calling CQ. He was peaking 579, but at times QSB took him out of the picture. I decided to try calling him, and I got him for about a 10 minute QSO. I copied probably around 90 percent of what he was sending.

Earlier in the day at 1418Z I worked NZ0T on 30 meters for 'yesterday's QSO of the day. So the streak struggles on another two days and also another calendar month is closed out as well. I guess I'll get my October log, what there is of it which is not many more than 31 QSOs, uploaded to LoTW and eQSL after I get my weather readings and walk Roscoe because I know I won't be getting on the bands during the day tomorrow.

We had a pretty nice day today with a lot of sunshine and a high of let's see, 59 on my AcuRite weather station. It should be even warmer tomorrow but with clouds on the increase and rain arriving sometime during the day or evening. Probably just in time to ruin it for all the trick or treaters. -30-


---

Mon Oct 29 2018 08:33PM - A couple nights ago I said in the diary that I felt that conditions had pretty much reached rock bottom. I may have been wrong and actually there is not bottom to the conditions. It's like a bottomless pit and conditions just keep dropping lower and lower without ever reaching an actual bottom. I only heard a couple stations calling some DX which I couldn't hear plus 1 rag chew QSO and also one or 2 80 meters nets. Otherwise all the other territory in 160, 80, 40, 30, 20, and 17 was only noise - period. It's getting to the point that the regular streak is becoming as discouraging as the DX streak was back in July just before it finally ended at the start of August. I'll see what happens tomorrow morning and/or afternoon. -30-


---

Sun Oct 28 2018 08:29PM - Pretty much ditto last night's diary entry except I did wind up working one of the only 2 or 3 stations I was hearing. Not the best QSO ever in the QSB and QRN on both ends, but a definite QSO to continue the streak another day. I'm wondering now if the streak will last through the winter. I may have to change my operating habits and get on more during the day like I did this morning. After Bruce and I went out for breakfast and I walked Roscoe... no I walked Roscoe a bit later. As soon as I got home from breakfast I went to my shack and found a few decent signals on 20 meters around 1340Z. I tried to get W4CI, but he wasn't hearing me at all. Then it was old friend W4MQC, Alan down in FL who despite being weaker than W4CI copied me right away. We had about a 5 minute QSO before QSB and QRN did us in. Oh, who did I get this evening? It was Cecil W5HWU in AR on 80 meters. So thanks to both Cecil and Alan for helping me continue the streak.

It was not a good weather day, although it could have been worse. Showers and drizzle off and on most of the day with temperatures in the mid to upper 40s. It looks like some better weather coming the next couple days though with highs predicted in the mid 50s maybe even hitting 60. I never did get in any walks outside today other than the regular short ones with Roscoe. Roscoe is not much of a distance walker. He has set up certain limits for himself and won't go beyond them. I think maybe because when he was young, Bruce's mother would walk him and she was in her upper 70s and low 80s and never took him all that far and that became ingrained in Roscoe. So he'll go so far, then turn back again. -30-


---

Sat Oct 27 2018 08:40PM - For the first time since, let's see, September 23, I came down to the computer here without an entry in my log in the 0000 or 0100Z hour. Conditions are the absolute rock bottom tonight. I only heard 3 extremely weak signal in total on 160 through 20 meters. N9HAL was the strongest on 80, and I might have gotten him but someone else answered his CQ the same time I did, and I lost out to the other station. They then got into a long QSO, and HAL gradually faded into my noise. So I'll have to try tomorrow morning or afternoon to see if I can get someone. Or maybe later tonight. Oh, on September 23, my streak QSO didn't come until 1420Z -30-


---

Fri Oct 26 2018 08:37PM - Poor conditions again tonight. I was disappointed when I worked my friend Tom KA2KGP because just after we got started into a good QSO, QSB took him down into my strong local noise and ended the QSO abruptly. It was good for my streak, but I would have liked to talk some more with Tom. I see Tom in person at some of our WPA hamfests along with his brother Mike N2COD. I guess that goes back a dozen years or so now, although they haven't been attending the past couple years. Hopefully we can get together next year at one of the hamfests.

With the bands so poor and my local noise - I don't know which is worse, conditions or noise, probably a combo of both - I've got to find other ways to amuse myself. Today I was going through some of my old train spotting logs from the early 1960s. Those brought back some nice memories. Also just a little while ago, I installed a version of Super Mario Brothers that runs nicely on Windows 10, and looks and acts just like the original version from (I think) the early 1980s? So it looks like I may have some things to keep me occupied when the ugly and deplorable s#$w starts flying this winter. Shudder!!!! What a horrible thought. -30-


---

Thu Oct 25 2018 08:42PM - The bands, especially 80, weren't too bad again this evening. I had a nice "official" 30 minute rag chew with Bob NR8M on 80.

Otherwise today (and yesterday) I did some woodworking. I made a napkin holder for the kitchen. A simple project but it gave me a chance to use up some of my wood from the wood junkpile. Also a chance to use some of the tools I've been buying at real bargain prices at the Ol' Station Marketplace about a block from here which opens every Thursday except in the heart of winter from December through March or April. I got a nice Craftsman sabre saw today which seems to work very well in the brief trial I gave it. One thing I bought some time ago there was an orbital sander attachment for my drill press. I used it on the napkin holder to make nicely rounded corners.

Last night Mike and I did a lot of talking and planning some railroad trips for next year. I would especially like to visit two places in PA - Strasburg for a steam ride and Steamtown in Scranton. Many years ago I visited Steamtown when it was in Bellows Falls, VT. In the 1980s they went bankrupt and Steamtown was transferred to Scranton. I especially liked seening one of the Union Pacific "Big Boy" locomotives when it was in Vermont. It's now in Scranton and I'd love to see it again along with all the other rolling stock they have there. I've mentioned this before in the diary, but when I was a kid in the 50s and even the 60s, The Pennsylvania/Penn Central/Conrail lines ran just a stone's throw from my house and I loved watching the trains go by hauling their freight here and there. I would count the number of cars on the trains as they went by. Sadly the tracks were abandoned as the railroads cut back and reorganized over the latter part of the 20th Century. Now all the tracks are gone and it's a hiking trail now.

I 'celebrated' an annual tradition this evening. I attended our town's Halloween Parade. I almost missed it since it was so early this year. I'm guessing because it is usually on a Thursday and next Thursday would be November, so they had it tonight instead. It's pretty much the same every year, yet I still enjoy going to see it. -30-


---

Wed Oct 24 2018 09:30PM - I'm just sitting here chatting with Mike. This is our fourth Wednesday evening pizza "party". After the pizza, we are making plans for our November and December activities. In fact right now, Mike is ordering our tickets for a Trolley Museum vist and trolley ride on December 9th. We also hope to visit the Western Pa Model Train Museum sometime the week of Christmas. Then there is our day before Thanksgiving trip to the Requin. Oh, and the Washington PA hamfest on November 4. Also a Veteran's Day get together on November 12. Wow, we are going to be busy the next couple months. Well, gotta run now. Bye. -30-


---

Tue Oct 23 2018 08:26PM - That was different and nice this evening. Conditions were actually rather good, especially on 80 meters with quite a few good signals. Most were busy in nets or rag chewing though, so I thought I'd call CQ and see what would happen. I got an answer after just a couple minutes from WA2WMJ in NY. We chatted almost 10 minutes before he had to QRT.

A few days ago I got a request from a ham about my streak report on the web site. He collects stories and posts them to, as he put it, preserve them for history so they won't be lost. He wanted to do that with my streak story. I felt honored that he thought it was that important. I gave him permission to do so, but only after I go through it for any corrections or updates. I did add some info to it and adjusted/updated some of the stats in the article. In so doing, I find that some stats seem to be easier to compile with my new Excel log vs. the old Access log. I was glad of that, needless to say. So I'm now just about ready to give him the go ahead to post it.

I've decided, whether I follow through or not, to work on cleaning up a lot of the junk in this house. There is so much here that I haven't used in years, and probably will never use again. I worked on my wood junkpile the past couple days and got rid of a lot of old tomato stakes, for example. I'll never have as many plants as I once had, so I'm only keeping so many now. If I can just keep up my ambition in doing so, I hope to have a lot less of all kinds of junk come next spring. We'll see. -30-


---

Mon Oct 22 2018 08:37PM - Desperate times call for desperate measures. An old saying that some say goes back to Hippocrates in ancient Greece. In researching it via the wonderful Bing search engine, I found that many historical figures are supposed to have used it at one time or another in one form or other. Although it isn't sure that he used it as such, one of my heroes, Winston Churchill is supposed to have used it in leading the struggle against The National Socialists of Germany and the National Socialist Fascists of Italy in World War II. OK, back on track now. Although in a much much milder situation, I kind of used it tonight. I tried desperately to find someone to work on 80 through 17 meters, and didn't find anyone. In fact I only heard a total of maybe 5 or 6 signals on those bands, and all were dipping in and out of my local noise. Desperate measure - try 160 meters. I figured it was at best a shot in the dark. At first all I heard or saw on the PX3 was a very weak W1AW on 1802.5. About that time I figured I was going to be shut out this evening. But wait! There's a small peak on the PX3. Tuning it in to listen, I heard QRL? and figured someone was going to call CQ. I was right. It turned out to be W8NJR, but he was up and down like an elevator in and out of my noise like everyone else. I wasn't even sure when he ended his CQ. I waited a short bit, then called him. I heard a weak "K3WWP...." response to my call, then a fade out followed by W8NJR thanking me for the call and giving RST (449), QTH (near Dayton, OH), and Name (Terry). Then he turned it back to me. I gave my info and we chatted through the QSB and QRN for about a dozen minutes. The "desperate" measure worked.

If I keep having to go lower and lower to get my QSO, I guess I better get some kind of setup for the relatively new LF bands. HI Up next is Wednesday about which I feel a little more secure since I have the CWT sprints to fall back on if other means fail. -30-


---

Sun Oct 21 2018 08:21PM - Thanks to the IL QSO Party, I got an 0000Z QSO tonight from K9PG to keep the streak alive.

Not much to talk about in the diary tonight. It was a quiet cool day with a high only in the low 40s and that was at midnight. During the day it just hung right around 40. A neighbor said he saw s#$w up on one of the hills around Kittanning, but it was only light rain down here in the valley.

Other than a couple walks and doing my laundry right now, I spent a good part of the day on the computer. I did some organizing of my thousands of digital photos using the program XnView. It was nice looking over a lot of the pictures as I was organizing. -30-


---

Sat Oct 20 2018 05:17PM - I got an interesting piece of mail today from W1BCC. Before opening it, I figured it was a QSL card request. It wasn't, but it was a QSL card. He comes into possession of old QSL cards from silent key estates or in other ways. This card was one of mine that I sent to K1AJ back in 1966. Let's take a look at it and then I'll have some comments.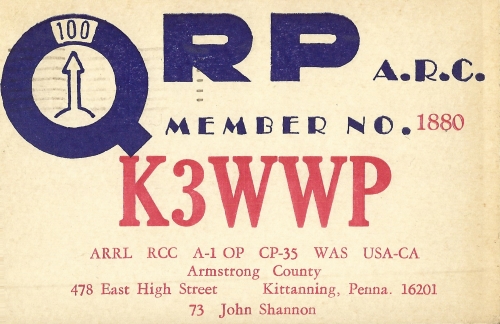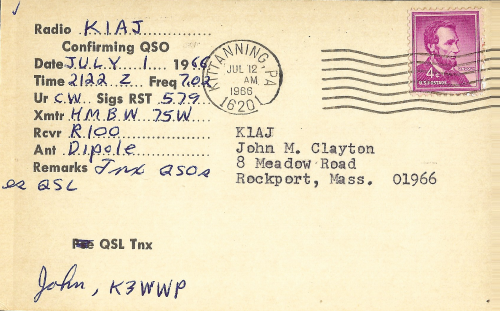 First of all, this was my card of choice then, as it was with many active QRP ARCI members back in the 1960s. I have no idea if they even make club cards anymore since I haven't been active in the club for many years now.

Note the logo with the arrow pointing to the "100". For those who may not know, QRP was once defined as 100 watts or less input power to the final amplifier. I don't know when the definition was changed to 5 watts or less output power.

Of course it only cost 4 cents to mail a QSL card back then in 1966. What is it now? I think it's 35 cents, but honestly, I don't send that many QSLs these days unless someone wants my card and I'm not really sure of the rate the way it keeps going up.

You can't tell simply from looking at the card, but my writing and printing was much better back then. Age has taken its toll.

Notice from the awards listed on the card that I was not much into DXing back then. My main interest was county hunting, hence the WAS and USA-CA awards, but no WAC or DXCC. I also liked ragchewing and some QRQ work and tried to be a good operator, hence the RCC, A-1 OP, and CP-35 awards.

Note the state abbreviations of Penna and Mass. That was before the standardized two letter state abbreviations. After the start of using Zip Codes though since the 16201 and 01966 are there.

I see I used a dipole antenna. I believe if memory serves, it was strung along the passageway between my house and the house next door. Perhaps it was in sort of an inverted Vee configuration as 66 feet is pretty much the full length of the passageway. I wish I could remember.

The receiver was still a Knight Kit R100. I didn't think I had it in use that long, but I can't dispute the info on the card. I would guess I got my Hammarlund HQ-110 not long after that.

My power was 75 watts input which as I mentioned was QRP back then. I would venture to say that the output from my 1625 final was 50 watts or less.

One more thing. Look at the postmark. You don't see such clear or informative postmarks these days.

I've gotten a couple more of my old cards over the past few years also. I'll have to dig them out and analyze them similarly some time. Meanwhile thanks to Brad W1BCC for sending me this one. His email address is on the enclosed letter. I'll have to get off a thank you message to him after I finish this.

I see there are three contests that go past 0000Z tonight. Hopefully one of them - NYQP, WAG, SP160 - will provide my streak QSO easily for the 21st. -30-


---

Fri Oct 19 2018 08:39PM - This is getting to sound like a broken record, but again tonight it's the same story of poor conditions, strong local noise, and yet another day added to the streak. Tonight I worked old friend Paul KB4GYT. We haven't worked all that many times, but they were always good QSOs with a lot of info exchanged. Our first QSO was back on May 25, 1994. In our QSO, Paul said he found good conditions earlier in the morning today on 20 and 17 to Europe and the Middle East. I'm going to have to get out of my habit of only getting on the bands in the evening, and start in again checking during other parts of the day. It just seems there are so many other routine (boring?) things to do maintaining a big house all by oneself, and that leaves little time for getting on the bands or other fun activities.

One thing I did do today was to finally get my little aircraft receiver I won as a door prize at a hamfest a couple years ago, mounted in a little box. I did some listening today and heard a few planes, but it was very hard to understand what they were saying. Now if they would just use CW. HI -30-


---

Thu Oct 18 2018 08:14PM - He wasn't getting any answers to his CQs and I hadn't worked him in 11 days, so I went for 6D50I on 20 meters and got him with a couple repeats for my streak QSO at 0005Z. There was nothing to speak of on 40 and 30, and only the regular net stations on 80.

It was a brisk day today. It's like we went from August to November weather over the last 10 days or so. I think we'll get our first frost overnight tonight. It's a good thing I cleaned out my garden. It's been in the mid to upper 30s the past few mornings, but not down to the frost level. I did manage a couple good walks today despite it being only in the low 50s or so. -30-


---

Wed Oct 17 2018 08:26PM - Same old story tonight. Poor conditions, local noise, etc., but I got my QSO albeit a rough one. Thanks Bob KC8MFF from WV on 80 meters. I've worked Bob about a dozen times before, but it took a few repeats for me to get his call. On the other hand, he seemed to be copying me better than I was him.

Well, no more garden here for this year. I pulled my remaining pepper and bean plants today. The peppers did the best of all my plants this year. They produced abundantly with some nice big peppers. I gathered about a dozen from my remaining three plants. The beans came in a distant second and the tomatoes had a really bad year for whatever reason. Perhaps the up and down hot/chilly, wet/dry weather. No consistency at all. -30-


---

Tue Oct 16 2018 08:17PM - Something different this evening. For the first time since October 11 I made a QSO on a band other than 80 meters. Forty was pretty much dead, but there were a few pretty good signals on 30 meters and I worked one of them - KV5V in Salado, Texas who was running 100 watts. A lot of QSB, but we managed to stay hooked up for about 9 minutes before our signals faded too much to copy any longer.

Today was grooming and nail cutting day for Roscoe. He looks a bit different now with the hair cut, but getting it done now should let him have a thick coat by the time the cold #$%@$ weather comes along this winter. -30-


---

Mon Oct 15 2018 08:51PM - I did another fix-it job today. I had an old cordless drill that had batteries that never charged any longer. So I decided rather than going through the hassle of trying to find a new battery pack for it, I would rig it up as a corded drill using a 7Ah gel cell I bought for a buck or so at the Ol' Station Marketplace a few months ago. It wasn't hard to do, but with my old hands and eyes, it took longer than it would have several years ago. In fact that applies to a lot of things I do now. HI

I also went through my collection of about a dozen headphones and checked them with a couple of web sites that specialize in providing the audio/tones to check headphones. I wanted to find the best one for listening to music on my computer and another set that provided the loudest audio for my KX3. A pair of Heil Pro Set 3 headphones that Mike gave me some time ago proved the best for music, while a generic set I got somewhere long ago was the best for the KX3.

It's hard to believe according to some predictors we are still not at the sunspot minimum and won't be for maybe another two years. I hope that is wrong because the bands are bad enough right now without getting any worse. Anything above 80 meters is virtually useless in my favorite 0000Z hour now and even 80 is not that good. It's taking longer and longer into that 0000Z hour to get my streak QSO whereas before I could virtually get my QSO within 15 minutes at most on any band up through 20 or 17. Although I still see some in the first few minutes in my latest log page, I also see 30, 52, 23, 27, 52, 51, 55, 33 minutes into the 0000Z hour on that page. It gets kind of frustrating at times looking for someone to work. My CQs go largely unanswered lately so I resort to S&P a lot. I see only 5 out of 22 QSOs on the same log page came from my CQ. Oh well, anything worth having is worth working for, I guess. And the QSOs are taking a good amount of work.

Well, I'm past my 9PM weather readings now, so I'll close and get this uploaded along with my home and propagation pages now. -30-


---

Sun Oct 14 2018 08:33PM - I think the bands were about as bad as I've heard them this cycle. Just about nothing on any band above 80 and only a few moderate signals on 80, one of whom I did manage to work - W8DVE in MI - to keep the streak going.

It was another quiet day today. I did quite a bit of work on my genealogy looking through old census records. I found some exact street numbers where my late ancestors lived. I think I'll look up the houses tomorrow if the weather is nice enough and see if they are still standing. A lot changes in almost a hundred years. -30-


---

Sat Oct 13 2018 08:12PM - That was quick, as I knew it should be. My streak QSO in the PA QSO party came after I just listened around for a few minutes, then decided to work WQ3N in Clinton County. It took just a single call - no repeats of any info. On 80 meters - I didn't hear anything on 40, 30, or 20, party or no party.

It was another cold depressing day. Well, depressing because of the weather, I should say. Otherwise it was a good average day. Nothing out of the ordinary to talk about.

Tomorrow I'll have to come up with a new poll for the web site. It's almost impossible to come up with any new polls after my run of well over 200 of them. I'll probably try to find one I haven't used for a while and repeat it. That's what I've been doing a lot lately. -30-


---

Fri Oct 12 2018 08:42PM - It was a sad day today. A partial end to my garden. I pulled my tomato plants which only had about 5 tomatoes total left on the 7 plants. This was a very poor year for gardening, especially the tomatoes. I don't think I harvested more than 60 or so tomatoes. Compare that to one year several years ago when I got around 700 tomatoes. Of course I had more plants then, but really not all that many more. My peppers and beans are still producing, but are coming to the end also. They both did pretty well this year although still not up to par.

The bands were pretty much at par this evening compared to the past couple poor months. It didn't take too long to have K3JN in Cresson, PA answer my CQ on 80 meters. I have been through Cresson on a trip to see the Horseshoe Curve many years ago. I also watch the railroad web cam at Cresson now and then. I really love trains here, and miss not having rails going through town here as they did years ago. The tracks were only about a hundred feet from my home, if that far. Then there was a spur that ran up to a brickyard even closer than that. Those were the days! Maybe I'll talk more about those times in a later diary entry. -30-


---

Thu Oct 11 2018 09:22PM - It seems like it's just one thing after another going wrong here the last half of the year. Tonight it was my AcuRite weather unit. I got it going again after putting new batteries in the units, but the problem was more than that as I had to fool with the units after putting in the new batteries. I think when replacing batteries, it is necessary to shut the units down completely and then start them up again, like rebooting. I'll fool with that again tomorrow.

The bands were horrible again tonight. It was a struggle to work W8BJO on 80 meters after he answered my CQ there. But it is a good QSO and keeps the streak going.

Referring back to last night's comments about DX-less streaks. I checked today and the last time I went 11 days without DX was from 26 Dec 2012 to 11 Jan 2013 or 16 days.

OK, time to move on and walk Roscoe now. -30-


---

Wed Oct 10 2018 09:17PM - After a streak of 11 days with no DX, I ended it quickly by working 6D50I, a Mexican special event call, at 0000Z on 20 meters with one call and one repeat. I guess I have to go back at the very least 5 1/2 years to find a similar no-DX streak. I may just check that when I have some more time.

My ARRL Centennial paddle was acting up tonight and I spent almost an hour after I worked the XE station trying to figure out what was going on. I cleaned the contacts but that wasn't the problem. I checked the cable and plug. Nope. I think it boiled down to the paddle lever tension springs. As near as I can figure out without further checking, the circuit is completed through the springs, and apparently the connection between springs and levers got dirty. I moved them around a bit and that seemed to fix the problem. I may look at it more closely when I have time.

Speaking of time, I better close this entry now. It's almost time to walk Roscoe. -30-


---

Tue Oct 09 2018 09:03PM - Horrible conditions on the bands this evening yet the streak struggles on. First I worked Hugh NC1M in MA on 80. We had a solid two way 14 minute QSO despite the poor conditions and him running a KW to my 5 watts. We could have gone on even longer, but I wanted to run and try to get at least one QSO in our NAQCC sprint. I did, but it wasn't easy. I heard nothing on 80 or 40, but 20 was the saving band. I only heard part of a couple exchanges. I heard GA 644 which I knew was John K4BAI and also a number that started with 78. A little later I did hear VE3DQN well enough to work him, which I did for my total of one QSO. Maybe had I stayed longer I could have gotten a few more, but it really wasn't worth the effort and aggravation. At least I've still never missed one of our regular NAQCC sprints.

Almost an all-time high temperature record for October yesterday. We hit 90 degrees, just shy of 91 set 11 years ago back in 2007. It was only 88 today. I think tomorrow will be the last of these summer like days in October though. All indications are that the cool Canadian air masses are going to invade us and stay for a while, at least into the foreseeable future. Oh well, it was nice while it lasted. -30-


---

Mon Oct 08 2018 07:10PM - Our parkpedition went very smoothly today with only a couple very minor glitches not even worth mentioning. Mike took 40 meters and I alternated between 30 and 20 with 30 being the better band. I made 17 QSOs there versus 7 on 20 with about an equal amount of time spent on both. Don K3RLL stopped by the site but didn't do any operating despite our offer to him to use our rig(s). He'll be heading back to FL for the winter at the end of the month so it was nice to see him before he departs.

The bands were very up and down with signals anywhere between eardrum shattering and a quiet whisper. I got RSTs from 599 to 229. I was surprised to work Oregon (KC7DM) on 30 meters just before 2PM local time here. My contacts were from 17 states and 1 province. 17 with NAQCC members, 7 with non-members.

We used our brand new just received band pass filters and they are fantastic. We never heard a single dit from each other.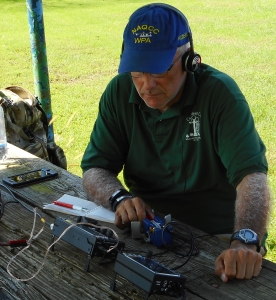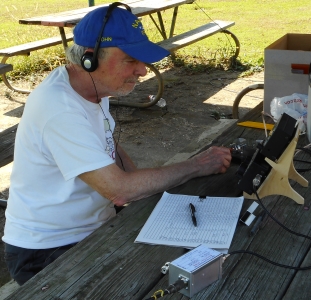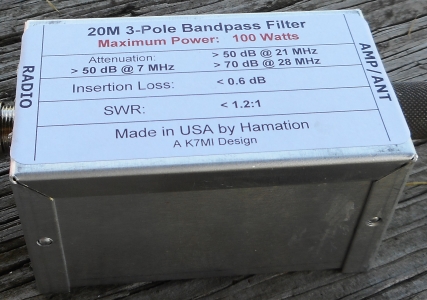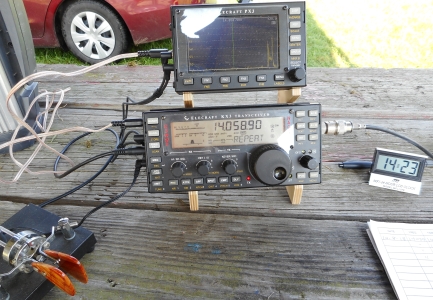 L-R Above: Mike KC2EGL, John K3WWP, one of our new bandpass filters, K3WWP's KX3/PX3 setup.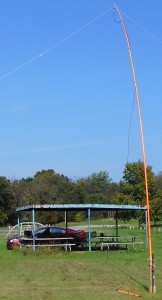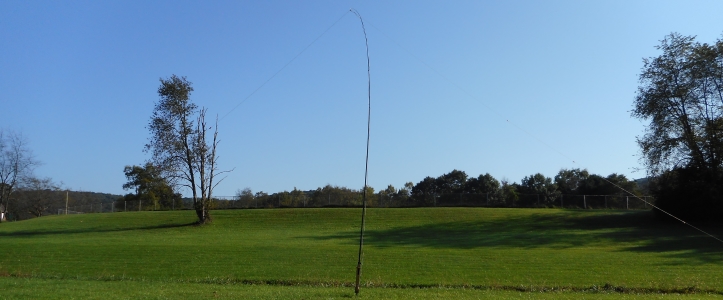 L-R Above: Mike's antenna mast with our operating pavilion in the background, John and his antenna mast, John's antenna and mast.


The four hour session passed very quickly and we want to thank all of those who took time to contact us. You are the ones who make these sessions even more enjoyable beyond the fun Mike and I have together. -30-


---

Sun Oct 07 2018 08:37PM - My noise didn"t stay away very long. It's back again tonight although not quite as strong as it had been. Anyway I got my streak QSO from Lee K5LY on 30 meters. I also heard some DX, but they weren't hearing me at all except for one P? from XQ3SK which might have been me he was hearing down in Chile. As an example of conditions, PV8ADI was only about an S4 on 40 meters tonight, and he is usually at least S8 or S9.

Tomorrow's the day of our parkpedition. Mike and I will be ready to activate N3A around 10AM (1400Z). I heard today from Don K3RLL and he said he would stop by to see us. Maybe we can get him to do some operating also. -30-


---

Sat Oct 06 2018 10:04PM - A bit late tonight. My neighbor went to Walmart and asked if I wanted to come along. I did. I needed to stock up on one of my favorite snack foods, Turkey Spam. I also got some ink for my printer.

Because of that I never did get to the shack till a couple minutes past 0100. I wasn't worried though since this is the weekend of the CA QP. Which leads me to one of two openings I had planned for the diary entry.

1. I think I know who has one of the best receiving setups in CA. I must have called 7 or 8 CA stations and never got any kind of reply from them. Then it was K6NA who got me after just one repeat.

2. When I finally got to the shack tonight, I got a shock and a pleasant surprise. My local noise was down some 2 to 3 S units and after building the xmt/rcv switch a few days ago I didn't need to use it. I hope the noise reduction is not just a brief anomaly and lasts for a good long while. -30-


---

Fri Oct 05 2018 08:25PM - My streak QSO this evening was an interesting one. It was a special event station in GA - W4O. He didn't give any info on the air, but referred folks to QRZ for details. I got a pleasant surprise when I looked it up. It was honoring Oliver Hardy of Laurel and Hardy. More specifically, the 30th Annual Oliver Hardy Festival in Harlem, GA. I really have always enjoyed the Laurel and Hardy films along with other films of that era like Our Gang. Incidentally did you know that Laurel and Hardy made a cameo appearance in one of the Our Gang films? The first person who emails me telling me which one gets instant immortality by being mentioned in one of my diary entries. HI

We had a sneak preview of fall weather today. The high was only 70, which is still above average, but felt nice and cool because the humidity was also a bit lower than it has been. Tomorrow it's back to summer though, and that will last at least another week.

I took advantage with a couple walks and a couple "sits" on the porch, one by myself and one with Roscoe.

Other than the above, I also studied the design program, Sketch Up for quite a while. I love learning new things, and I never really delved into CAD type programs before. This one is really neat. -30-


---

Thu Oct 04 2018 08:34PM - It was a struggle this evening as the better conditions of last night weren't present this evening. Even the usually strong net stations tonight....weren't. I did hear a very weak CQ from W9BZ, but didn't answer because I didn't think I'd be able to copy him. Lo and behold though, I called CQ higher in frequency, and he answered me. I managed to copy RST, QTH, and name on the first round, but after that, QSB and QRN got the best of the deal. He seemed to copy me OK and gave me a 449. I generously gave him a 339. Anyway the streak goes on.

Another decent day today although interrupted by a couple of short but heavy showers a couple hours apart. Actually it wasn't windy with the showers and it was nice otherwise so I sat on the porch and just watched it rain. I haven't done that in a long time and I must say it was very relaxing. Maybe I should do it more often when conditions permit.

Other than that, another uneventful day here. A little shopping, a couple walks between the showers, and my usual daily computer work. -30-


---

Wed Oct 03 2018 08:37PM - Conditions seemed a bit better this evening or there was just more activity than last night, maybe both. It only took 10 minutes this evening vs. 52 last night to work someone - Marv K9VPL in IL on 80 meters. After we finished, Jason N3YUG called me so I got a bonus QSO this evening.

It was another nice weather day with a high of 79 and not a lot of humidity. I'm at 9.94 miles on the pedometer after three nice walks today and will go over 10 before I hit the sack around midnight. Not much else out of the ordinary today although I did get together my portable kit for our parkpedition on Monday. Looks like we'll have an almost summer-like day - dry and low 80s. Not like several years ago for our Columbus day outing when it was so cold we had to quit early as our fingers got too still to key properly. I won't forget that day. I think we made only one QSO before we quit very early. -30-


---

Tue Oct 02 2018 09:16PM - It took me 52 minutes to get a QSO this evening, then when I did, it was a nice long chat with Les K5LG in AR on 40M. So, that leaves me only a short time before it's time to take Roscoe for his last walk of the day. There wasn't much happening today to write about anyway. It was another warm humid day for early October. Not too bad for walking so I put just over 8 miles on the pedometer so far. The bands were in pretty good shape this evening, but there just wasn't much activity. Maybe everyone is watching the BB playoffs? HI. -30-


---

Mon Oct 01 2018 08:40PM - As it is every first of a month, today was a busy day, more so because it came on a Monday. Being a Monday, it started with doing my laundry. After that, an enjoyable walk with Roscoe. Walks with him are always daily highlights. Next it was off to the bank, church, and borough office for my financial things. That was about a 2 1/2 mile or so walk. Thank goodness the weather was just about perfect for that kind of walk. Back home again for lunch.

The early afternoon was a little less hectic. Another walk with Roscoe, then a bonus walk with him after which we sat on the porch swing for a while. Next up I labeled the switches on the antenna switching unit I pictured here in the diary a couple days ago. I listened briefly but didn't hear anything interesting. When I was sitting on my porch a little later, I noticed that the bush in the front yard had really grown back after I cut it back severely earlier in the year so I gave it a bit of a trimming to get rid of some of the scraggly growth. After that it was something else unplanned. My neighbor's brother came to cut his grass, and he always lets me use their mower to cut mine, so I did that. That pretty much covered the day except for a final long walk. Just looking at my pedometer shows almost 10 miles of walking today.

As far as ham radio goes, it was another 0001Z QSO this evening with another WA5 station. This time it was Darron WA5TCZ whom I hadn't worked in quite a while. It was good to hook up again and chat for a while.

Now it's almost time to get my weather readings. Oh, September turned out very warm and wet. The average low of 61.1 was 8.8 degrees above normal and a record for September. The same with the daily mean average of 70.6 6.7 degrees above normal. The average high of 80.0 was 4.4 above normal but not a record. That was 81.6 back in 2016. Rainfall was 10.36 inches, a record. Also a record for the first nine months of a year was set with 47.36 inches. There were more records too, but I won't list them here. -30-


---

Sun Sep 30 2018 08:21PM - A quick streak QSO at 0001Z from WA5RES in OK on 30 meters. I didn't even listen much. Just kind of turned on the rig and quickly scanned 20 and found nothing there so I went to 30 and there was WA5RES calling a general CQ. I answered him and he came back right away.

My "fix-it shop" was open today among all the usual end of month things. I fixed a lamp for my neighbor Bruce for whom I fixed his mailbox lid yesterday or was that the day before? Time marches on faster and faster as I age.

I did get most of my end of month chores done today. I did upload my QSOs to LoTW and eQSL last night as I said I would. Today I closed out my financial records for September and prepared for my banking / Post Office run tomorrow morning. I've got all my calendars turned over to October. Really about the only thing left is to put my September weather data into my Excel files. I even logged all the LoTW matches that came in from my upload last night. I haven't done the eQSLs yet though. Maybe after I do these web site updates or maybe not till later. -30-


---

Sat Sep 29 2018 08:05PM - Thanks to the TX QP, a quick 0000Z streak QSO this evening on 20M with K5XR who was S9 here and oddly the only TX station I heard on 20 in the few minutes I listened. Now I'm going to get my September log uploaded to LoTW and eQSL since I don't plan on getting any more QSOs this month. This will be the second time doing the preparation and upload with the new computer using Excel instead of the Access/Excel combo program I used with the old computer so it will probably take a bit longer still than usual.

Our NAQCC 14th anniversary celebration is coming up the second week of October. Mike and I will be operating N3A from the Kittanning Community Park on Columbus Day October 8. We've been doing that for several years now, and I'm looking forward to doing it again this year. I hope the weather is good unlike last year when we had to operate from my house instead of the park. -30-


---

Fri Sep 28 2018 08:35PM - Well, whaddya know. I actually worked some DX this evening. Friend Kam down in Costa Rica. Kam always seems to copy me, no matter the time, band, or conditions. Tonight it was 0030Z, 30M, very poor conditions. He was my first QSO on my newly completed manual T-R switch. Seems like going back in time to the days of separate xmtrs and rcvrs before i designed and built QSK circuitry a long time ago. This time around it's to switch receive and transmit antennas to deal with my local noise problem. Here's a picture and description.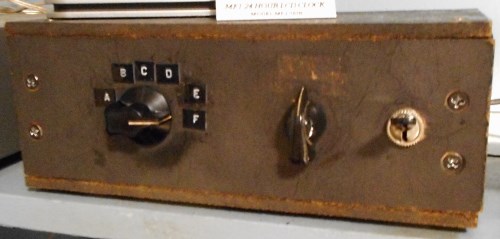 The rotary switch on the left is for choosing a xmit antenna. The middle rotary switch is a duplicate for choosing a rcv antenna. The toggle switch at the right chooses which rotary switch to connect to the KX3. If it is up, that's for transmit and it connects the left switch. Down is for rcv and it connects the middle rotary switch. That makes it easy to transmit on one antenna, then immediately switch to another antenna that gives a better s/n ratio for receiving. I still have to make labels for the two added switches.

Other than finishing the switch today I also helped my neighbor repair (refasten) the lid on his mailbox. So I got a couple of "fix-it" fixes today. HI.

I also enjoyed the cool less-humid weather we had by taking a couple fairly long walks. -30-


---

Thu Sep 27 2018 08:24PM - Poor conditions again this evening, although perhaps a bit better on 80 than last night. Nonetheless, I got an answer to my very first CQ on 80 from Ken W9STG in IN. It was rough copy both ways, but it was a QSO to keep the streak going another day.

It was a nice day today with partly cloudy skies, cool temps, and low humidity. Pretty much a typical fall day here. I did some edging around my front sidewalk. Inside I did a little bit of prep work for my new xmt/rcv switching setup. Other than that, just routine things like walking Roscoe, etc. occupied my time. -30-


---

Wed Sep 26 2018 08:53PM - Very poor band conditions this evening after being decent for the past week or 10 days now. No real strong signals anywhere. Even tnose chasing some DX in a medium sized pileup didn't have the usual strong signals. I thought I was going to have to wait till later this evening in the CWT sprint to get my streak QSO. I called a few weak stations who didn't hear me at all and one who heard me, but couldn't copy through his QRN. Finally I found KB0HXL in MN calling CQ around 3560 and he did hear and answer me. Even though signals were very weak (S1 and S3) on both ends we had a nice chat that lasted 13 minutes until QSB did us in.

Not much going on today outside of the usual things except I did a bit of work on my computer desk. I've always had it so the screen faces the wall and I sit between desk and wall which leaves all the wiring exposed out in the room. I never did like that but it was hard to fix when I had the desktop computer with the main unit sitting on the floor. Now with the laptop all except the power and phone lines just run from unit to unit on the desk. I found a nice sheet of wood and fastened it to the desk and that hides all of the wiring. I think it looks nice now.

I guess that about covers the day. Wonder what tomorrow will bring now. -30-


---

Tue Sep 25 2018 07:58PM - Just getting the header ready for the diary entry before heading up to the shack. Since it's Tuesday that means should I not get anyone this evening, I have during the day tomorrow to get someone in one of the two CWT sprint periods. That's nice to fall back on, but I hope to get someone tonight so I don't have to think about that during the day tomorrow. OK, be back to finish the entry, hopefully in just a few minutes.

I did get a fairly quick (0010Z) QSO from K1LKP who answered my 40M CQ. Before that though I called 3 or 4 fairly strong stations without getting so much as a QRZ? or ? from them. Then after the LKP QSO, I found H88A on 20 working split and tried for about 10 minutes to get him without any luck. I would have liked that prefix. I also heard David XE1XR pretty strong on 20, but my desire to work DX just for the sake of working DX has diminished greatly since the DX streak ended, so I didn't even try to work David. I'm thinking about eliminating the DX columns from my streak table on the home page of my site, and just mention here in the diary the DX that I work. Maybe I'll do that tomorrow.

I gathered up a couple switches from my junk box today for the antenna switch I mentioned in the last entry. I got the solder cleaned off the terminals and that's as far as I got with the project. -30-


---

Mon Sep 24 2018 08:41PM - Another of those fix-it days I talked about a few entries ago. First my new laptop was rocking a bit on its laptop cooler. That was an easy fix. All it took was a strip of wood under the back edge of the cooler. Yesterday I cleaned my kitchen windows and could not get them to close properly after that. I gave up, and then this morning I worked on that. Adjusting the parting stop and the sash stop took care of that. On to some computer work next. When my computer crashed last month I lost a neat little html/php combo page that allowed me to update my on line log very easily. Today I finally got around to re-creating the setup. Then there is another future project helping my neighbor fix a broken lid on his mailbox. I dug in my junkbox and found a couple of brass hinges that are just the right size plus the nuts and bolts to hold them on. We'll get to that maybe tomorrow or wait till the weekend as he works during the week. All in all a very satisfying day topped off by the neighbors on the other side of my house sending over a nice big bowl of homemade beef and vegetable soup.

The satisfaction continued on the bands this evening with a quick streak QSO from K2IWQ who answered my 80 meters CQ after a few times. His signal was so good I didn't even have to switch xmt and rcv antennas as I've had to do a lot lately with my local noise. I'm planning on rigging up a circuit that will make the xmt/rcv antenna switch much easier and quicker. I've got the design in my head, but haven't gotten any further with it yet. -30-


---

Sun Sep 23 2018 10:39AM - OK, I had a good night's sleep and am rarin' to go now. I got my streak QSO somewhat easily from Paul KW7D who is on the air a lot (understatement). Actually he was practically the only station I heard on any band from 30 through 17. I did hear a couple other very weak stations, but Paul was the only one I figured I had a chance to work. We have worked a few times before and recognition helps in making QSOs in adverse conditions. It did take a couple repeats before he got my call right, and then we had a brief QSB-shortened QSO. And the streak goes on another day.

Yesterday was a fun day with Mike as always. He arrived around oh I think it was 1 o'clock or so. We shot some clocks (killed time) with computer games, ham radio, planning of future events, and so on until it was time to head to Pittsburgh around 4:30 or so. Mike made a few QSOs in the BW (FOC) contest. I just watched him do that and didn't work anyone myself.

We ran into some heavy traffic a little before arrving at Pittsburgh, then it dissipated. I don't know where everyone was going, but it wasn't to the ballgame as we had little traffic once we got in the city. We got parked quickly and walked a few blocks to the park entrance. It was Oktoberfest night at the park and everyone attending got a free mug (stein). I guess I'll just use mine as an ornament or drink some water from it. I don't do alcohol in any way shape or form. I only had two alcoholic beverages in my entire lifetime and that was at a Greek food festival in Pittsburgh many many years ago. I've got a picture of the mug after a couple other pictures and a bit more info about the game.

We arrived at our seats about 20 minutes before game time. There were a couple former Post Office employees sitting in adjacent seats so Mike exchanged war stories with them as I watched the preparations for the game. There was nothing really out of the ordinary in the game itself. Pretty much only routine happenings, but that didn't make it any less enjoyable. It was especially nice to see the Pirates win. The last few games I have attended with Mike or other WPIT employess when I worked there, I believe they lost. I'm sure of the last couple being losses anyway.

The game took about 3 hours to play which we think is about average for ballgames nowadays with all the peripheral "entertainment" in between every half inning. It would be interesting to compare average game times today with times of bygone eras. I'm sure they were much shorter back then. When it did end at 3-0 Pirates, we made our way through the walking crowds to the parking garage, then through the driving crowds to get out of the city. Once we cleared the city traffic, it was a quick 45-50 minutes ride back here. Mike then took off for home as soon as we arrived.

Now some pictures and short descriptions.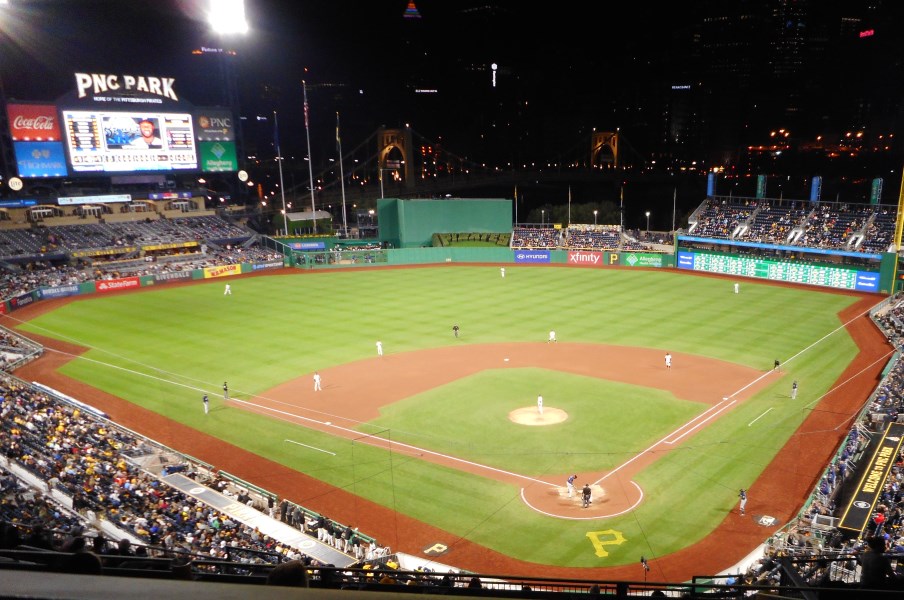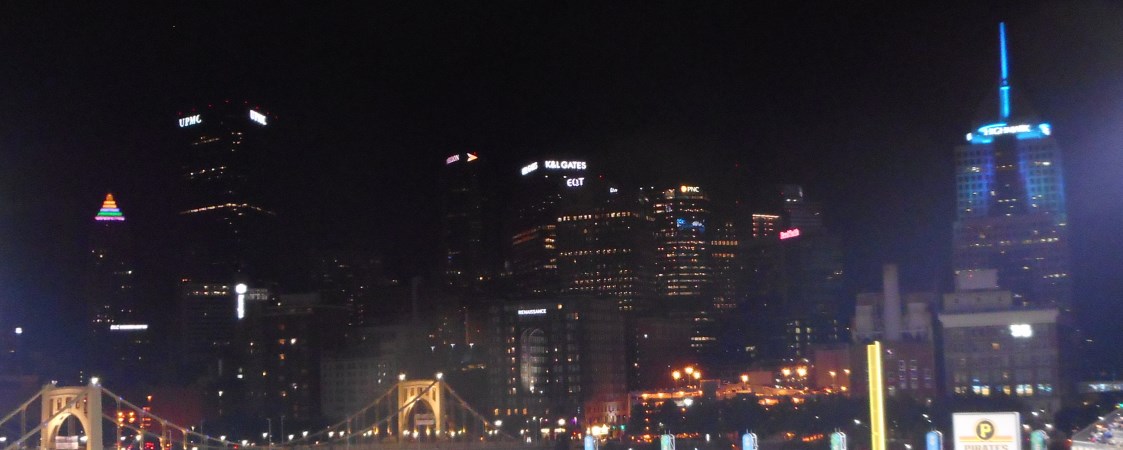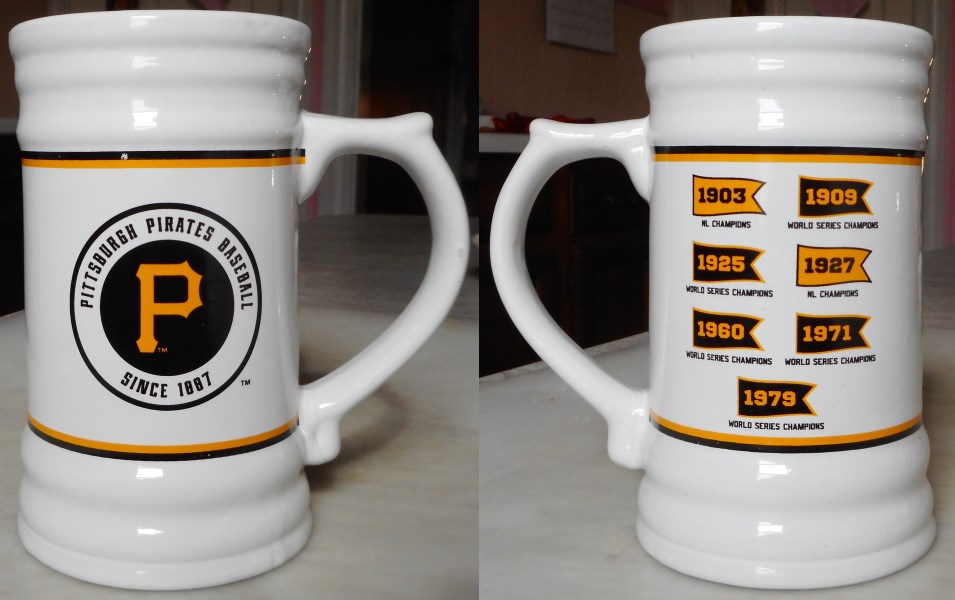 The top picture is our view of the field which is similar to our view at our last game earlier this year. We were a few rows lower than at that game and did have a railing in our field of view which at normal sitting height was right in line with the area between pitcher and catcher. Other than that the overall view was virtually the same.

The middle picture is a shot of the lit up Pittsburgh skyline. The building at the left with the multi-color pyramid shaped top is the Gulf Building. That top used to be a weather predictor and was red for good weather and blue for bad (rain/s#$wy) weather. I'm not sure what the multi-colored top now signifies. There also was a building that flashed out "Pittsburgh" in Morse Code. I don't know if that building is still there or not, maybe just hidden behind the other buildings. I'm going to do some research in Edge on the Internet to find out more about the buildings. OK, here's the lowdown I gathered from Wikipedia on my Edge browser. The Gulf Building story is here and the Grant Building with the Morse Code is here.

Finally the mug pictures showing the Pirate logo on the front and the years they were involved in the championships since 1903. -30-


---

Sat Sep 22 2018 11:52PM - Yes, 11:52PM and just got home from the ball game which the Pirates won over the Brewers 3-0. Nothing heard on the bands so I'll have to get my QSO in the morning or afternoon and then I'll write about that and the ball game. -30-


---

Fri Sep 21 2018 08:10PM - I think it's the first time ever I got my streak QSO in a FOC or BW QSO Party. But the opportunity was there so I took it. They do allow non-members in the Parties. I'll have to remember that for the future.

We had another 90 degree day today and are now reaping the rewards(?) of it with a line of TS just now moving through the county. Actually it isn't putting on much of a show. I'm not complaining, mind you. Just some wind gusts maybe 20MPH at the most and some light rain. Haven't seen any lightning nor heard any thunder. From the radar it looks like nothing worse than that coming either.

I still need to do some more work on my transmitter line-up over the years. I know since I went commercial in 1999, I used a Kenwood TS-570D, a Kenwood TS-480SAT, a K2, and now of course the KX3. I want to get an exact, or as close as possible, time line as to just when I used those rigs before I write more about them. Then I need to research the receivers which will be harder. Let's see, my memory says there were the following: SW-500, Knight R-100, Hammarlund HQ-110, Drake SPR-4, Icom IC-71A, and since then, the above transceivers. As far as antennas, not a lot of changes there as I just don't have the room for experimenting. I think my current line-up has been virtually unchanged since I became active again in 1992. Anyway more to come in future entries.

My entry tomorrow will either be early or late. Either before we leave for the ball game around 4PM or after we get home hopefully before 11PM. Hope they don't go extra innings. -30-


---

Thu Sep 20 2018 08:25PM - I got a big surprise last night. Just as I was finishing uploading my web pages, the doorbell rang and I went to see who it was. When I opened the door, for a millisecond or so I thought it was a pizza delivery man at the wrong address. Nope, it was Mike with pizza in hand thinking it was our fourth Wednesday regular pizza night instead of a third Wednesday which it was. After a second of two I recovered from the surprise and we partook of the pizza. I mentioned I was just getting ready for our NAQCC sprint but that I was only planning on making one QSO just to say I participated. We decided we'd both make two QSOs instead and went to the shack and each worked K2UFT in GA and K4KRW in NC. We submitted our meager logs and while Mike played computer I got my weather readings and walked Roscoe. Then I watched Mike play the Sherlock Holmes game we both like so much. All too soon the accidental, but enjoyable visit came to an end as Mike had to head home and get to bed as he had some early things to do today.

On Saturday, we're going to a Pirate ballgame at 7:05PM. On the way before that we'll stop at the Pittsburgh Mills for a meal.

Tonight the bands were about the same as they have been the past 10 days or so. That is not too bad, but still noisy with some QSO. I worked Lloyd K3ESE who answered my CQ on 80 meters. -30-


---

Wed Sep 19 2018 08:07PM - DX again this evening. KP4TF on 30 meters at 0003Z. So two of the past 3 days now I've worked some DX. Admittedly not very rare, but DX nonetheless.

This is the night of our NAQCC sprint. I'm not very enthused about it with my high noise level still in effect. I'll try to get at least one QSO and call it quits. Even if I don't get anyone, that counts for participating to keep my record of never having missed one of our regular monthly sprints.

I was going to continue the history of my rigs and antennas in this entry, but I think I'll put that off till tomorrow or later.

It was a nice day today. The first time in I don't know how long there wasn't a trace of a cloud in the sky at one point. So nice I did some outside painting of my back door steps. Also took a couple of nice walks and sat on the porch swing with Roscoe for a while. -30-


---

Tue Sep 18 2018 08:32PM - My noise was stronger tonight and sigs on 80 didn't seem as strong as the past few evenings. I couldn't work anyone on 80 so I went to 40. Signals seemed better there and I found KI0F calling CQ, so I tried and got him for a 9 minute QSO. QSB was bad but it was about 90-95% copy both ways. And the streak goes on unabated for yet another day.

I mentioned I wanted to talk about a couple things here in the diary, and I'm going to take care of one of them right now as best as I can. That's the history of my rigs and antennas. Let's deal with the transmitters and transceivers first. From 1963 when I got my Novice license until 1999 (August 31, I believe), I used nothing but homebrew transmitters. First was some junky little thing that Larry KN3WWW and I put together. I don't even remember much about that now as we shared it and didn't use it very long. I found a nice circuit in the (1962?) ARRL Handbook that used a 6AG7 crystal oscillator feeding a 1625 final amplifier. It had an input of 75 watts to the final which produced probably around 50 watts output at best. That served me well through my brief Novice career which ended in mid-September 1963 when I got my General license. It looks like my first out of Novice band QSO was on September 14, 1963. I continued to use crystal control with a couple crystals around 7050 or so. It looks like from the frequency entries in my log that I didn't get a VFO until November 1963. It was a Lafayette VFO but I don't recall the model number now. I do have a lot more documentation of things around here, but I'm only writing this from memory at the moment. Maybe I'll flesh it out with more specific info sometime. I continued to use that setup until I became inactive in the early 1970s due to work, etc.

In the early 1980s I again got out the old transmitter which was showing its age. For some reason my power levels during the early 1980s varied between 5 and 75 watts according to my log. I'll have to do some more thinking (research) to figure out just why. It was still basically the same xmtr/vfo setup though. I did modify the VFO quite a bit to make it more stable and to add the new 30 meters band to it.

Another off the air period followed until 1993. As I've mentioned that was when Eric (now KB3BFQ) was instrumental in getting me back on the air again with the old transmitter now rebuilt as a 5 watts (and less) QRP rig. Now it used a 6Y6 tube as the final instead of the old 1625. The 6AG7 that once served as an oscillator before I got my VFO still served as an intermediate amplifier between the VFO and the 6Y6. That setup served me until I finally bit the bullet and purchased a commercial xmtr (xcvr) - a Kenwood TS-570D on September 1, 1999.

And since it is now 9:00, I think I'll end there and save the rest of the story till another time. -30-


---

Mon Sep 17 2018 07:57PM - Just an opening paragraph now, then I'll finish when I come back from the shack. Florence only gave us an inch of rain today, and I don't think she'll add much more overnight tonight. Back even before she made landfall, I predicted we'd get 1-2 inches of rain from her. Then I narrowed it down to around 1.5 inches and it looks like I might be very close.

I received our (Mike and me) Skeeter Hunt certificates in the mail today from Larry W2LJ. Florence dampened them a bit, but they look very nice as shown here.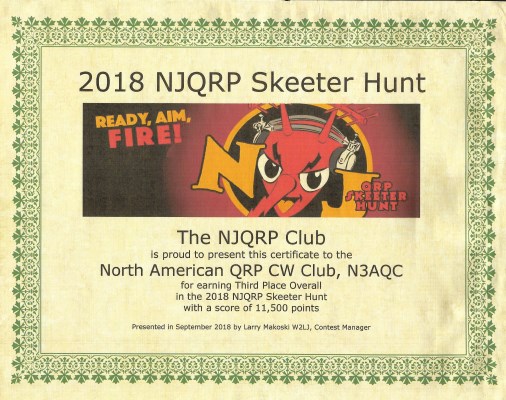 Thanks Larry. You do a great job with the Skeeter Hunt every year.

DX DX DX - Yes, I worked some DX this evening. There was a super path between here and Ecuador on 20 meters, and I had a little chat with... yes, you're right, Alex HC2AO. He gave me an honest 589 and he was 599 + 10 DB here. We commented on the great conditions and exchanged rig info. He was running 100 W to a 6 element beam at 75 feet if I remember what he said correctly. Then he added he was reading my blog (diary). I think that's the most solid QSO we've had among the many times we worked. True armchair copy both ways.

I had a couple other things I was going to talk about in the diary tonight, but I think I'll put them off until another night. -30-


---

Sun Sep 16 2018 08:32PM - Well, I did some more 'fix it' work today. I fixed a sticking cellar door by planing it down a bit. The humidity has been so high around here lately that everything is swelling up or even feeling a bit clammy here and there. I don't think the indoor humidity has been below the mid 70s in well over a week or more now. I also fixed a loose (rusted) post on my back stairs railing with a simple bracket I had in my junk box. I think it was from some old piece of electronic gear I've had forever.

It looks like 80 meters will continue to be the band of choice for some time now if I continue to get on in the 0000Z hour for my streak QSOs. 40 and higher haven't been good at all lately in that hour and I haven't checked the bands at other times of the day except when Mike was here a few days ago. The higher bands did seem decent that day during the afternoon. Tonight on 80 it was a great chat with Dave AA3EJ about our old ham gear going back to the 50s and 60s. I haven't talked about my old gear here in the diary for some time now. Maybe I'll do that sometime this week. -30-


---

Sat Sep 15 2018 08:10PM - See the date/time stamp to the left. I finally got around to writing a snippet for my Komodo HTML editor that inserts it automatically like I had it on the old computer. There are still a few more minor fixes I need to get around to doing yet. Which leads me into a topic.

I love fixing things. Any kind of thing that breaks or doesn't work as it should. I really enjoy the challenge and I'm actually happy when something does break. I loved getting the new computer up and running here the past month or so. I told you about fixing my pedometer a couple entries ago. Today it was the little model train I bought when Mike and I took our train ride back in July. It was running very slowly if at all even with a brand new battery. So I tore the engine all apart and looked everything over. After a couple 'fixes' that didn't really work, I tore it down even further, especially the motor compartment. I found a lot of dirt in there which looked like it came from some lubrication. I cleaned that off, especially on the commutator and the 'brushes'. Ever since it's been running fine. I've got it going round and round over across the room right now, and except for the battery slowly draining, it is running nicely up to speed until the battery does drain.

Those are just a couple examples of my fixing. I love doing it when I don't have to buy any parts, but can either just repair the original parts or come up with a substitute from my huge junk box of all kind of parts. That is really satisfying, not to mention money saving. Of course some times things are just too far gone or the part just too complicated to recreate, but not all that often.

Ham radio? Oh yes, the NJ QSO Party provided me with a quick QSO on 80 this evening to keep the streak rolling along nicely. 80 has been getting better and better the past several days now, and many signal jump up out of my local noise and stay there. I don't even have to switch xmit and rcv antennas that much any more. I hope that lasts. -30-


---

Fri Sep 14 2018 8:35PM - A quick contest QSO this evening for the streak. I think it was in the Collegiate QSO Party as the station I worked, K1EEE gave a rather strange exchange of MCC EHP. If you know anything about that, let me know. OK, looking at the CQP website, I see at least that the EHP stands for Collegiate Employee High Power (EHP) – Includes faculty and staff at a college or university. I guess the MCC stands for a college. I can't think of which one it might be right now though. Oh well, anyway the QSO continued the streak which is all I really cared about.

Kind of a quiet day around here with nothing out of the ordinary going on. The weather was nice, not too hot, not too cold, with reasonable humidity. I've been watching Florence closely. With the 6+ inches of rain we got from Gordon, the ground should still be pretty saturated and if we get a lot of rain from Florence, we could have some flooding. However by the time Florence does get here, it will be considerably weakened and moving very fast so I figure we'll get maybe 1.5 inches or so unless things change quite a bit between now and Monday.

Just a note about the new poll just posted a while ago. I ran a similar poll a couple years ago, and the choices this time around are based on the ones that got the most votes the last time I ran the poll. So I left out a lot of other possible choices. If they were one or some of yours, sorry about that. -30-


---

Thu Sep 13 2018 8:28PM - My local noise seems to be abating a bit the past couple nights. It was down about 1.5 to 2 S units tonight on 80 meters. It's still at S8, but that's better than being 5 to 10 over s9 as it had been. I had a nice chat with Dick KD3KO tonight on 80. My last three streak QSOs now have been on 80 meters. 40 thru 20 weren't bad this evening either, but only a couple strong signals on each band. Guess it's the low sunspot syndrome whereby everybody thinks the bands are no good and no one even gets on to check.

After a couple cool days here, it warmed up nicely again today getting into the upper 80s. In fact in glancing at my AcuRite remote unit just now it shows a high of 89 today.

One button on my pedometer stopped working yesterday, so today I took it apart and looked at it. It was interesting working with all the tiny screws and parts. After I cleaned the contacts on the push button and the mating PC pad, it worked just fine again. I like doing things like that although as I get older and parts get smaller and smaller it is not as easy as it used to be. -30-


---

Wed Sep 12 2018 8:38PM - Mike N4VBV emailed and said my updated pages didn't show up last night or today. I think in my busy time last night doing several things, I just forgot to upload them. They were updated, but only I knew they were. HI. Anyway this should catch me up now. Thanks for letting me know these things. I need the help as my poor old brain ages.

Tonight it was the Rte 66 station W6P who gave me my streak QSO again, but on a different band so I didn't feel bad working him so soon again. Tonight it was 80 meters. I had heard him on 40 earlier, then he switched to 80 and I got him right away. Otherwise there was a lot of activity on 80, but all nets or rag chewing. 40 had only W6P and a couple very weak stations. Nothing at all on 30 or 20. -30-


---

Tue Sep 11 2018 7:55PM - Almost time to head to the shack, but first I'll get the diary entry started.

I went through my rainfall records today to find the greatest 2 and 3 day totals. Since I knew the totals had to be in the upper 5 inch range I looked for the years in which the greatest daily precipitation was more than 2.75 inches. That's because I have two one day totals of almost 6 inches plus the 5.5+ inches 2 day total this past weekend. Then I narrowed it down to the months those 2.75" totals came in and took it from there. I'm not going to drag this out because I just had a great long rag chew with Marv K9VPL and it's getting close to the time to get my weather records and then walk Roscoe. So I'll just list the top 5 2 and 3 day precip totals here:



Two Days:
6.35" Sep 17/18, 2004 (Hurricane Ivan)
5.69" Sep  9/10, 2018 (Gordon)
5.59" Jun 25/26, 2006 (Training TS)
4.85" Aug 11/12, 1984
4.22" Sep 29/30, 2015

Three Days:
6.46" Jun 25-27, 2006
6.35" Sep 17-19, 2004
6.23" Sep  8-10, 2018
4.86" Aug 11-13, 1984
4.59" Sep 28-30, 2015
I had a lot of fun figuring those totals out. It wasn't all that hard using my Excel weather spreadsheets.

OK, going to run now and finish my web updates, get the weather, and walk Roscoe. -30-


---

Mon Sep 10 2018 8:15PM - It took over 24 hours for my plea to take effect, but the rain is just about over finally. There may be a light shower or two yet to come, but the worst part is over as Gordon heads up through NY to New England. Let's see... 0.54 + 3.75 + 1.75 = 6.04 inches of rain since Saturday morning. Actually more than that because it rained some more after I glanced at the rain gauge earlier today for the 1.75 inches. I won't have the final total(s) till I get the 9PM readings. That 3.75 inches yesterday is the third highest daily total since I started measuring rainfall in 1962. Just .01 inches more than a 3.74 reading in 2015. Less than almost 6" totals in 2004 with remnants of Ivan and 2006 with a training thunderstorm from SW to NE Armstrong County all day. When I get time, I'm going to go through my records to see what the highest two and three day totals might be.

DX! Yes, I worked some DX tonight. First I worked one of the Rte. 66 SE stations quickly, so I went looking for some DX and found XR208D on 20 and worked him fairly easily with a couple repeats needed. Let's see what that SE Chilean station is for. QRZ says, "in commemoration of the "First National Board of Government"." apparently 208 years ago. SE stations in general are always good for the QRP station to work since to get the most coverage for their events, they generally use good ops with big stations. So unless they attract too big a pileup, I'm generally able to work them easily for my streak QSOs. T'was so tonight for sure. -30-


---

Sun Sep 9 2018 7:09PM - Rain, rain, go away!!!!! Gordon is a very unwelcome visitor in Western Pennsylvania today. Since yesterday we've had over 4 inches of rain with more on the way. At least, so far it has been a steady fairly uniform rain which gives the rain a chance to be absorbed by the ground. There hasn't been a lot of puddling or runoff so far. The ground is close to being saturated now though, and that may change as we get more rain overnight.

It didn't stop Mike and I from getting together and having another good day. We started by going to the Ponderosa in Butler for our first Sunday morning buffet in maybe a couple years now. Then we headed to the Unionville Fire Hall for the BCARA hamfest. The rain didn't stop them either. They moved the fire trucks outside and let the exhibitors set up inside the fire hall. There weren't nearly as many vendors or exhibitors as usual though. Despite that it was nice to visit with the BCARA members and others who visited despite the rain. I won't list everyone we saw there for fear of letting someone out, but it was nice talking with all of you. Thanks for coming and visiting.

I'd also like to publicly thank Mike. Without him, since I don't drive, I wouldn't be able to attend all the interesting events we go to. There are others who drive me places also. Again I won't list them, but thanks to you all also.

After the hamfest, Mike and I came back here and chased (successfully) some DX. 20 was in pretty good shape and we each worked a few stations. I worked DR18WRD and UR3IDD/MM. Mike worked those two also and he added F5IN as well, and maybe 1 or 2 more. I can't remember now. We then played some computer games, after which we went to Wendy's for a late afternoon meal. On the bands some more, but they weren't as good now. Then Mike headed home.

Now I'm watching the rain, wondering when it will stop. There are places over in Ohio where it stopped but they seem to get filled in before they get here. It sure is nice to have radar these days to follow the precipitation. A big difference from years ago when all you could do was look out the window.

One final item. Mike told me the Skeeter Hunt results have been announced and our park operation as N3AQC wound up third place overall. We were top multi-multi station and tops in Pennsylvania as well. We only missed by a handful of QSOs and a couple SPCs of being first overall. I was quite surprised as I didn't think we did all that well. I guess conditions elsewhere were not that great either. -30-


---

Sat Sep 8 2018 10:02AM - Today on my site's 22nd birthday I'd like to talk about some of the history of the site.

As you, I'm sure know, my friend and then neighbor Eric was responsible for renewing my interest in ham radio after I retired from WPIT. We put my station back together and on the air, and a little later he got his license as KB3BFQ. One day in 1996 we got to talking about starting a web site. He wanted to do one about sports, hockey in particular. I had a choice of two subjects. I was very into NASCAR auto racing then. In fact he and I were doing reports for a local TV sports show. Mine about NASCAR and his about hockey. We weren't air personalities, but just provided the show host with info to talk about. Anyway, my other choice was ham radio which is what I decided on. We both signed up for a free site on GeoCities.

In September 1996 we debuted our sites. Mine was on September 8 and dealt basically with the history of how I helped to found the CW County Hunters net with WA8EOH in May of 1966. Of course it grew over the years to have much more info with the basic theme of promoting QRP, CW, and simple wire antennas. One thing I used to do was talk a little bit about propagation conditions just about daily. That evolved into this diary feature in which, as you know, I talk about many subjects, but with the main emphasis on ham radio, of course. My first diary entry was on April 23, 2006. Actually there were two entries that day. It didn't become a one every day feature until sometime later on May 15, 2006 when I wrote the following:

"Monday, May 15, 2006 - On other sites you'll hear them called blogs. Well I don't like that term. It sounds something like a contraction or nickname for the Balrog in "The Lord of the Rings." Those of you who have read this wonderful trilogy by J.R.R. Tolkien know that the Balrog is the embodiment of pure evil. Since LOTR is perhaps my favorite book of all time, I'll avoid any reference (even though it is imagined) to Balrogs or blogs and call my blog simply my Diary. Incidentally I will probably never watch the LOTR movies as I see no way they could ever come up to the high standards of the book.
Since this is the first entry in my diary, I'd like to tell you what I have in mind for it. First of all it is a place to talk about current news of my site and the NAQCC. Therefore I'm leaving the news items below on this page for a while. Speaking of retaining items, I plan to keep only the latest 30 days or so of items on this page. So if you should somehow find this interesting, keep that in mind when you check in here. If you don't check in regularly you'll miss some classic items. Whoa, back to reality, John. Probably nothing ever posted here will come close to being 'classic' in any respect, but a few hams here and there may find something of interest in my comments.
Here you'll also find random thoughts mostly about CW and QRP, but I may also stray afield and even comment on some non-ham radio matters.
This is an experiment for now, and I'd like to know how it is received by you, my visitors. When I first started this web site many moons ago, I had some daily propagation comments as I'm sure those of you who have been regular visitors (thanks) for a long time now will remember. When I dropped those, I received a lot of email saying how they were missed. So perhaps you (for some reason) enjoy my comments on things. Email me and let me know how you feel about this Diary idea.
Here's an example of the kind of things you'll be reading here. Tonight my QSO to continue my streak turned into an enjoyable rag chew with a 91 year old ham. Along with much other interesting info we exchanged, he mentioned how glad he was to have ham radio and especially CW. He told me he is losing his hearing and has trouble copying SSB transmissions, but he can still copy CW perfectly. That immediately struck me and made me wonder how those hams today who for whatever reason dislike CW will do if their hearing goes as they get older. Something to think about. I'm even more glad now that I'm a KNOW CODE ham. -30-"

Below that entry were a couple site maintenance items as mentioned. It wasn't long before I started my diary archive so folks could peruse older entries if they so desired.

Other features came and went as the site was fine-tuned over the years to what it is today. A detailed contest calendar listing all contests that featured CW/QRP was eventually trimmed back to just a brief listing of my favorite contests because of the great proliferation of contests. I also put less emphasis on my links pages since with a wonderful search engine like Bing, it is easy to find info that way rather than resorting to links. There were other minor changes as well. One thing I'm proud of is having changed or updated something on the site virtually every day of its existence, whether it be propagation info, my streak QSO table, this diary, or other items.

The overall design of the web site changed over the years as well as I experimented with different layouts. The best way to describe that is through a wonderful site called the Internet Archive. There, many web sites are regularly scanned and pages from those sites are stored in their servers for folks to view.

After GeoCities, I went with my Internet provider Windstream (nee Alltel) as my site host. Then my friend Bill WA4FAT offered me free space through his Cahaba Internet service along with the URL of k3wwp.com. That was in 2014 and gave me much more bandwidth than Windstream.

Here now are links to the Internet Archive where you can see what my site looked like over the years on my various URLs. My GeoCities address was taken over by another web site when I abandoned it, and the archives only show pages from that site as far as I can tell. Here are the others though with the approximate year range:

http://web.archive.org/web/*/http://www.alltel.net/~johnshan/ 1998-2009

http://web.archive.org/web/*/http://home.alltel.net/johnshan/ 2003-2009

http://web.archive.org/web/*/http://home.windstream.net/johnshan/ 2009-present

http://web.archive.org/web/*/k3wwp.com/ 2014-present

Keep in mind some pictures may be missing, and not all links on the archived site pages work. Otherwise I think the method of navigating around the Internet Archive is intuitive, so I won't describe it here. If you're not sure of anything, please ask.

That brings us up to today's 22nd birthday. Hope you found (find) it interesting. -30-


---

Fri Sep 7 2018 8:46PM - Tomorrow my web site becomes 22 years old, and then I start my 23rd year of promoting the most wonderful aspect of ham radio - operating CW at QRP power levels (5W or less) using simple wire antennas, mostly indoors. I'll have more to say about that tomorrow on my site's birthday.

I spent a lot of time today cleaning out a ton of old emails, a lot of which were related to NAQCC business or to my various guestbooks I've had over the years. I decided with this new laptop computer, I want to keep it trimmed down to only things I really need even though it has a 1TB hard drive plus two external hard drives totalling about 2.5TB more. Along the way I found out just how great Microsoft's File History is with Windows 10. I accidentally hit a wrong key and started to delete a whole folder of emails before I noticed it and hit cancel. I actually lost about 3 folders of emails. No problem with File History. I just went into the File History program and restored an earlier version of the MailStore Home data files and got everything back immediately. Wish I'd had File History with my old computer, but it was Windows 7, not 10.

As for the streak, 40 was almost as good as last night with somewhat fewer if equally strong signals. The last three evenings now I've had 3 rag chews with New England stations, tonight WA1OIR in MA, last night K8LSB in CT, and before that K1OV in CT. Their powers respectively were 800, 300, and 500 watts. However after finding I was running QRP, WA1OIR lowered his power from 800 to 8 watts and was still solid copy above my strong noise.

It looks like we may have a repeat of September 2004 as far as rain goes. Then we had 3 inches on the 8th/9th from Floyd and then on the 17th/18th over 6 inches from Ivan. This year it is Gordon this Sunday with 3+ inches predicted, then next Sunday a chance of Florence bringing a lot more rain although that is by no means sure as of now. -30-


---

Thu Sep 6 2018 8:48PM - Conditions seem to be improving on the bands since we've entered the fall (meteorological) season. While engaged in a 34 minute rag chew with Marc K8LSB in Ct, I was counting signals on the PX3 screen and most of the time there were at least a dozen up to 15/16 that were well above my noise level. That is when receiving on my 15M dipole. On the random wire, there were only maybe 2-4 or so. I'm getting more and more adept at switching xmt and rcv antennas as time goes by.

So far every day this month our high temperature has been 91 or greater, but that's coming to an end as of tomorrow. A cold front is coming or has come through which will lower the humidity and temperature to more seasonal levels and it should stay that way for a while now. -30-


---

Wed Sep 5 2018 7:52PM - Thought I'd get this started now, and then add on to it if I get my QSO in the 0000Z hour. If I don't, then I have the CW Ops Mini Sprint in the 0300Z hour later tonight.

It was another hot one today. My AcuRite remote shows a high of 96 again. So we have another shot at a 97 if the outdoor thermometer doesn't track perfectly which it did do yesterday, by the way. It also showed 96 when I got the 9PM readings. I always watch the Penn State Weather World broadcast, and they had a feature showing this to have been the most humid summer in records going back to the mid 1900s. I don't have humidity records here except for some from the AcuRite unit so I can't do any comparisons here, but it sure did feel humid all through the summer.

OK, off to the shack now.

I thought I'd add some comments since conditions were kind of strange. There was almost nothing on 20 and 30, but 40 had several signals that broke through my noise. I heard N2EI Skip and called him and got a 599 report, but the band then suddenly died and even W1AW which was well over S9 lost a lot of strength and was about the only signal left now. I wasn't sure of the N2EI QSO so I kept listening, and all of a sudden the band came back again about 10-15 minutes later. I had a rock solid 20+ minute QSO with Mike K1OV in New London CT. Then at the very end of the QSO, his signals started to get a bit fluttery and dropped fairly quickly into the noise. Strange up and down conditions on 40, to be sure. -30-


---

Tue Sep 4 2018 8:10PM - I'm glad I talked about the lack of DX last night in the diary. Tonight the first signal I saw on the PX3 was J68HZ and I worked him. It wasn't easy. I had to send my call 7 or 8 times, but he was patient and got it right in the end. That doesn't increase my DX percentage any though, but it does keep it from falling any lower.

For a good many years, in fact from 1959 through 2010, the highest temperature recorded here in September was 96 degrees on many different occasions. Then in 2011 we finally topped that when it hit 98 on September 3 of that year. That has remained the only September high that ever did top the 96 limit. I mention that because once again today the temperature topped out at 96 degrees. I thought sure we might have hit 97 or 98, but at least on my AcuRite remote it didn't. Possibly when I check the thermometer in my shelter, it will show 97, but it usually tracks very closely with the AcuRite remote sensor. At any rate it definitely was hot and fairly, but not excessively, humid as well. It looks like tomorrow will be more of the same so maybe we can top 96 then. -30-


---

Mon Sep 3 2018 8:10PM - The streak struggles on. Tonight it was W7LXN in AZ on 30 right at 0000Z. That says something there about conditions. Skip is usually not that long at this time of night on 30 meters. The lack of sunspots and solar radiation just does not build up the lower layers of the ionosphere to where you can get short skip on a band like 30 meters. The sigs then bounce off the higher layers weakly at longer distances. Myron was only about S4 to 5 here and I was an S3 out there. But it was a good QSO and the streak moves on.

I'm kind of surprised about DX though. I really believed I could keep the percentage of days I worked DX above 99%, but that hasn't happened and I'm now down to about 98.9%. I think two reasons account for that and one is not propagation. With my high local noise level, I just haven't felt like getting on the bands all that much. Those are the two reasons - lack of activity and the noise. It's now 6 days since I worked any DX. Maybe I should start a no-DX streak. HI -30-


---

Sun Sep 2 2018 8:41PM - Well, whaddya know? I actually made 5 QSOs this evening....in the TN QSO Party. That's the most QSOs I've made in one day except for the day at Skyview since my strong local noise started a few weeks ago. I probably could have made more, but it got tiring switching antennas from xmit to rcv to deal with the noise. I have to listen on one of my higher band dipoles to get a better S/N ratio on 40 (and 30 as well). It's not so bad on 20 where my 20M dipole has a decent S/N ratio and I don't get much improvement by switching antennas on receive.

I did some more work on my WPX numbers today. I'm comparing the list of prefixes that qualify for the CQ WPX Award which is created from the LoTW database to the list of prefixes I have in my database. I know my list is accurate, and I can't figure out why there is a big discrepancy in numbers between the two lists. I'm going to have to study things a bit and see if maybe there is a date limit on which ones count for the award or some other such qualification. I don't really intend to update my WPX award so there is no hurry in doing so. -30-


---

Sat Sep 1 2018 8:12PM - Well, all of my EOM/FOM duties worked out fine with the new computer. Nothing really changed as far as most duties were concerned. For example my August weather records were just a matter of being on a new computer but still using the same Microsoft Excel spreadsheet. Same with my Natural Gas usage. My finances are still the same on Microsoft Money Sunset Edition. Pretty much the same with some other duties as well. The only real difference was preparing and uploading my adif files to eQSL and LoTW. Now I had to do it all on Excel. Before I ran an SQL query in Access, then finished up with Excel. So I'm happy with the way things went. Maybe September will be a better month than August was.

Incidentally August was another warm month here. The minimum averaged around 6 degrees above normal and the maximum about 4 degrees above. One interesting stat stood out. On every day in August, the maximum was at least 80 degrees. That never happened in August before, and maybe not in any other month. I'll have to check when I get some time.

Another quick streak QSO (0003Z) this evening thanks to the Alabama QSO Party and N4WE in Morgan county. That was on 40 meters.

I see when filling out my streak table on the home page that my percentage of DX days has now dropped below 99 percent at 98.96. Oh well, I haven't really been trying too hard to work DX with all the other things that happened during August taking up a lot more time than usual. Maybe this fall I can work on bringing the percentage back up again if conditions and my strong local noise permit. -30-


---

Fri Aug 31 2018 8:08PM - It never ceases to amaze how a contest can "open up" a band no matter how poor conditions have been. The CW Ops Open tonight brought a lot of hams out of their hideaway and 40 and 20 were full of tall spikes on the PX3 screen. I picked one out, found it was Geo K5KG and worked him with a single call, no repeats. Now if we can only get these contesters to get on when there aren't any contests, that would be great. I guess most are just dedicated contesters, and there is absolutely nothing wrong with that at all, but....

I'm sure glad August is over (UTC wise anyway). It has not been a good month with the DX streak ending, my computer crashing, etc. However clouds (some of them) do have a silver lining. I really like the new HP Envy laptop computer and also the new Microsoft Office 2016 I got to go with it. I spent a lot of time today working with my Excel log, mostly checking my USACA records. I found a few discrepancies in my totals that I will be fixing. I think possibly it's because with Excel there is a little more human intervention on my part rather that just the automated SQL queries I used when the log was in Access. I've always believed that no matter how good computers are, the human brain is just a little bit better.

I wonder now what September will bring. I know one thing I'm looking forward to is the BCARA hamfest next Sunday (9th) in Unionville, PA. That's always a nice little friendly hamfest with some interesting bargains. And before we go there, Mike and I are stopping off at Ponderosa in Butler for their Sunday Breakfast Buffet. We haven't had one of those in a long while now. We used to go to them regularly till the Ponderosa here in Kittanning closed a couple years ago. -30-


---

Thu Aug 30 2018 10:00AM - Just to take care of a couple matters. First the batteries were very low in my AcuRite unit. I had replaced them in the remote unit a couple weeks ago, but not in the indoor unit. The indicator for the indoor unit is very small and doesn't really attract attention when the batteries are low, so I missed it. It had nothing to do with the storm as far as I know.

Second I got an interesting email from my friend Bob K2YGM about the PX3 panadapter. Here's an except from the email:

"Something clicked in my head about some of your words and explanations which you have made over time... One thing in particular is the stringent set of rules you impose on yourself with regard to your operating characteristics.
You clearly state that you do NOT use spotting networks, Reverse Beacon Networks, when looking for stations to work in your daily quest to satisfy your streak..... I thought to myself, gee thats wonderful that you impose those basic standards upon yourself, which of course makes your accomplishments much more respectful to others.
Then out of the blue, you make comments about your PX3 and how wonderful a piece of equipment it is, in that it shows you immediately when a signal appears on the band, and exactly what frequency this signal is located at.....
I would say that the PX3 is in the same category as a cluster, or reverse beacon network in that it immediately alerts you to another ham stations activity, although it doesn't identify who it is...
In that I have been a fan of yours for many years, and read your blog almost daily, it just struck me as being odd that you swing from one set of rules to another.."

And I responded:

"I like questions that have a simple answer.
You see, I'm sure, that spotting, reverse beacons, etc. are things that are based on the work of other people. With the PX3, I still do all the work myself. It just makes it easier and quicker. Basically the PX3 is just another filter. Instead of using a narrow bandwidth filter that allows me to hear only one signal at a time, the PX3 is a very wideband visual filter that allows me to see a large portion of a band at one time."

So there are no two set of rules at all. It's based on who does the work, me or someone else.

I thought others might be curious about the matter so I posted the info here. -30-


---

Wed Aug 29 2018 9:12PM - Thanks to the "POTA Man" N9MM for this evening's streak QSO on 40 meters. Other than him, there were no workable signals anywhere on 80 through 20. I did hear a few stations, but all were either extremely weak or involved in long rag chew QSOs. I was thinking I may have to try the CWT later this evening between 0300 and 0400Z.

This has been a bizarre month for me with the DX streak ending, my computer crashing, just to mention a couple things. Now this evening my AcuRite remote weather station died. Strangely it was right in the middle of a severe thunderstorm, although that may have been just a coincidence. I put new batteries in my indoor unit and it came back to life. So maybe the batteries were dead. I haven't measured them yet. Still a strange coincidence with the storm. BTW it dumped 1.23 inches in a little over an hour and had some of the most vivid lightning I've seen in a while now. The finale to the lightning was really something with very loud thunder. Less than a second between the flash and the noise so it hit somewhere within a 1,000 or so foot radius.

More work on my computer log and my web pages today. I updated the stats in my WAZ and WAS pages. I'm liking the Excel version of the log more and more as I continue to work with it.

OK, almost time for Roscoe's last walk of the day, so I'll close here. -30-


---

Tue Aug 28 2018 8:45PM - Just when you think the bands can't get any worse, they do and are that way tonight. BUT, I did get my streak QSO, and DX at that when I worked NP4AW on 20 meters after 40 minutes of futile listening. The only sigs before that which came up over my noise were a regular birdie on 14016 and someone I didn't ID who gave a report to someone and said his name was Bill. It did take a couple repeats of my call to work NP4AW but he got me solidly and gave the traditional 599 report. He was only about s5 here and I imagine I was maybe an s2 or s3 at best down in PR.

I spent a good part of today working with my Excel log. It's quite a bit different going from Access to Excel, but I can do just about anything in Excel that I could do in Access after a bit of thinking and writing some macros. I updated my WPX totals on the WPX page in the Awards section today. I also updated most of the stats on the DXCC page. It was a little slow going at first, then I accelerated as time went on. I think it will work out just fine with Excel. And it's fast on this new computer. Everything is, in fact. -30-


---

Mon Aug 27 2018 12:13PM - I had to resort to the County Hunters Net today to get my streak QSO. I don't like to use nets among other things like spotting, reverse beacons, etc. and never do. Today I did though as the Solar Storm / CME really messed up the bands today as well as yesterday. I notice the bands are coming back slightly today. I even heard DL2DX on 20 although he was much too weak to work. Anyway my CHN QSO was with Bill K0DEQ. We go all the way back to the 1960s. It was an easy QSO with his mobile setup from Izard County, AR. So the big streak goes on.

Now some more about Skyview yesterday. It seems they are always making improvements to their radio room to bring it up to big contest station standards. So each year we have to learn a couple new operating items. Bob WC3O always makes it as easy as possible for us by setting things up so we can basically just "plug and play" with our QRP (KX3) rigs. I really like one new feature they have for this year. A computer driven antenna switching system. With a switch box at each operating position, any antenna can be connected to the position. There's also a lockout featere whereby it is not possible for to positions to connect to the same antenna at the same time. There's an LED indicator showing which antennas are currently in use. If you push the button for an in-use antenna, the light in the button flashes and no connection is made. There are also a few other changes this year like new dipoles for 40/80 plus a two tower phased vertical antenna for 80 meters. The new antenna switching setup really makes operating a breeze. I can imagine how big a help it is in a multi-op contest situation.

Now here are some pictures. The first row shows L-R: K3WWP KC2EGL WB3FAE at their operating positions.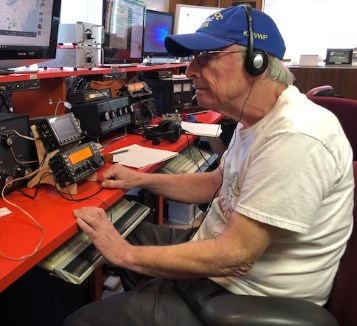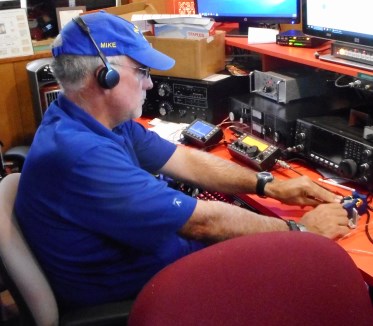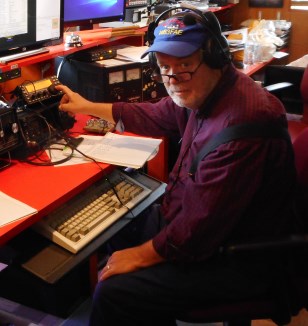 The next row shows the three ops plus Bob WC3O from Skyview. Then a shot of my operating position with my little QRP station dwarfed by their equipment. On top of the big amp is the antenna switch I was talking about.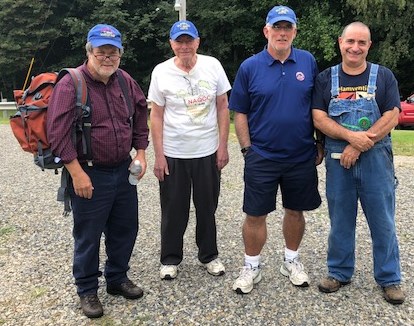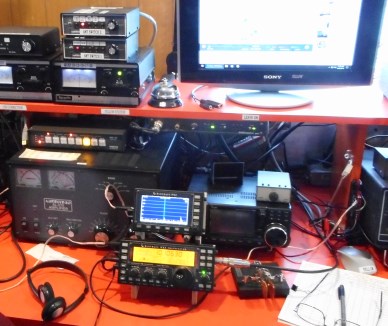 After Skyview of course Mike and I had to hit one of our favorite eating establishments - Appleby's. I had a shrimp and onion rings platter and Mike had a big! bacon cheeseburger. I told him it looked like a Dagwood sandwich. Then to Dick's for a new pair of shoes, and home. Of course no DX so we took care of a couple chores like submitting Mike's Skeeter Hunt log to our NAQCC QSL manager Gary and looking for info on bandpass filters for when Mike and I (and others) operate Field Day or do parkpeditions. We've always been impressed by the filters at Skyview. There is no cross-band interference at all with them in the circuit, and we'd like to duplicate that. We found some filters on-line and hope to have them at least by our October venture in the park for the NAQCC Anniversary event. -30-


---

Sun Aug 26 2018 7:18PM - An ill-timed solar storm really messed up our day at Skyview. Except for the KS QSO Party, we only made 4 QSOs, none of them DX. However in the KS QSO Party among me, KC2EGL, and WB3FAE, we made something like 30 KS QSOs. So were conditions really that bad or did folks just not get on because of the storm and the current sunspot minimum??

Still it was fun fellowshipping with Mike and Tom plus all of the Skyview members and visitors to the hamfest. The club members are a really great bunch and most all are interested in QRP/CW or at least don't put it down the way some members of other clubs do.

With the horrible conditions and/or lack of activity, I'm thinking it may be difficult to keep my streak going tomorrow. I'll find out how things are this evening in about 35 minutes from now. More about Skyview in tomorrow's entry plus a couple pictures. -30-


---

Sat Aug 25 2018 8:28PM - Thanks to the Ohio QSO Party for a quick streak QSO this evening from K9TM in Lucas County. Now I can have a relaxed day at Skyview tomorrow.

We've decided to use our own calls at Skyview. The last few times we used N3AQC and publicized it, we didn't get all that much response. So we'll just have fun showing off our QRP rigs and what they can do using CW. We'll have 3 KX3s and 2 PX3s there. We'll have at least 3 ops - me, KC2EGL, and WB3FAE. Maybe more although no one emailed to say they would be there. We'll split up our time calling CQ around the QRP "watering holes" and tuning the bands looking for DX to work. No specific time schedule other than we should be there from around 1230 to 1800Z or so and at least one of the 3 or more stations should be active pretty much all the time. We're guessing only 40, 30, and 20 will be sure things plus there may be something on 17. I doubt we'll see anything on 15, 12, or 10 although with their big antennas, who knows?

Give a listen and if you hear us, give a call. We'd love to work you, and you'll be doing your part to perhaps show some skeptics that QRP really does work, even near a sunspot minimum. -30-


---

Fri Aug 24 2018 7:35PM - I was talking to Tom WY3H via landline yesterday. Among the things we talked about were my streaks. That reminded me that I hadn't updated the main streak story in the QRP section of my site. I just finished (almost) doing that. There are a couple of stats that I haven't gotten to because they take a bit more work now that my log is in Excel instead of Access. I made a little note on the page to remind me to update those two sections. Otherwise everything is up to August 4 when the streak reached 24 years. The reason (excuse?) I haven't updated it since then is that was just a day after my computer crash and getting that back in order has taken a lot of my time since then.

Only 20 minutes now till I head to the shack to try to extend the streak yet another day. There are some contests this weekend like the Ohio QSO Party that should help if I get pressed for time with our visit to Skyview on Sunday. That's going to be a lot of fun doing the QRP/CW demo for the hamfest visitors. Mike KC2EGL and Tom WB3FAE will definitely be there along with me. Perhaps a couple other of our NAQCC WPA Chapter members will show up too, but I haven't heard from any of them as of now. -30-


---

Thu Aug 23 2018 8:17PM - A quick streak QSO tonight, and it was DX! HC2GRC (op HC2AO) at 0004Z on 20. Only took a couple of repeats of my call to make the QSO which was easier than a couple other stations I heard him working. Of course Alex knows me well from our many QSOs and familiarity helps in making QSOs. That's why regular contesters do well in contests, more so than the casual contesters.

I learned today that a very good ham friend of mine had a fall several days ago and is in the hospital. I'm speaking of VA3RJ/VE3JDR, ex VE3BMR. Dave and I first worked over 50 years ago on June 6, 1968. I'm sending him a get well card in the morning telling him he better get well soon so we can have a belated 50th anniversary QSO. Dave is probably in my top 5 of hams I've worked the most often. We worked 89 times as VA3RJ, 1 time as CK3JDR, 92 times as VE3BMR. We also talked via computer phone back when phone over computer was in its infancy. -30-


---

Wed Aug 22 2018 10:33PM - Mike was here for our 4th Wednesday pizza night and just left a few minutes ago. The bands didn't have much to offer as usual, so after I got my streak QSO from Merlin KD0V on 20, we decided we weren't going to find any DX. We came downstairs and played some hidden object games on the computer and discussed our plans for Skyview on Sunday. We'll leave here around 7:30AM and should arrive there around 8:30AM to start hooking up our rigs to their antenna farm for our QRP/CW demo for their hamfest. I don't know if anyone besides me and Mike will be there from our NAQCC WPA Chapter or not. Tom WB3FAE said he would be there, but I haven't heard from him for sure. -30-


---

Tue Aug 21 2018 8:23PM - Another rough night on the bands, but once again I came through with a QSO, working Mike AA4MC in South Boston, VA. Thanks Mike. I really wasn't too worried tonight with the CWT sprint coming up tomorrow. I'm sure had I still needed a QSO then, one of the many fine ops who get in those sprints would have provided a QSO.

I didn't do any computer repairs or updating today for the first time since the crash. Instead I did something I've been wanting to do for a while now. That is, indexing my 10,000+ digital photos. At one time I used Microsoft's Windows Live Photo Gallery which I loved. Then I got involved in too many other projects to keep the index updated. Now I find that Photo Gallery is no longer around being replaced by Microsoft's Photos App. It's very good also, but doesn't quite work like the Gallery. So I went looking for some other program that worked similar to the Gallery. I found XNView MP which is very similar to Gallery. What I like about Gallery and XNView is that they don't move photos around on my computer, but merely keep an index to where they can be found. So I'm having a ball going through the photos making sure they have been categorized. Sure brings back a lot of memories. I found all were up through mid-2013, so now I'm categorizing the ones between then and now. It's a snap to do so with XNView just like it was with Gallery. Just open a photo folder and highlight a file or group of files and put a checkmark in a category from a list I developed in Gallery. Or I can easily create a new category. I'll probably finish that tomorrow then look for something else to do. Actually it was kind of nice having all the computer repairs/updates to do the past couple weeks. -30-


---

Mon Aug 20 2018 8:16PM - This is the first day since the computer crash that things were pretty much back to business as usual. I was actually bored a couple times without any urgent computer work that needed doing. I even fooled around with a couple new computer programs to pass the time. This HP Envy laptop is really a great little computer well worth the price I paid for it.

Things were almost back to normal on the bands this evening also. The local noise seemed down just a little bit and propagation was good enough that I saw quite a few signals rising up out of the noise. I easily worked Hank K1PUG on 30 at 0003Z and copied him solidly - something that has been a bit hard to do of late with the noise and low signal levels. Unlike the computer situation though, I don't think the situation on the bands will last.

I almost forgot about the Skeeter Hunt pictures, but here we go.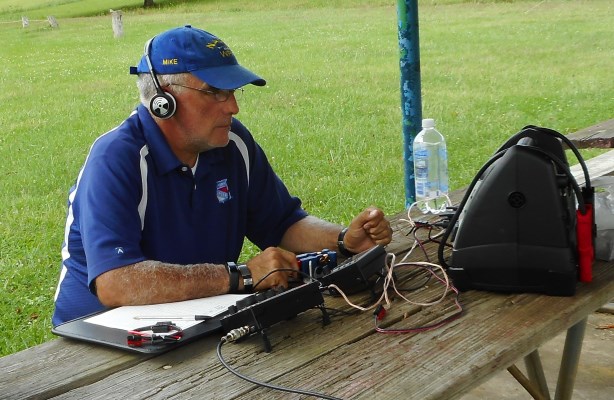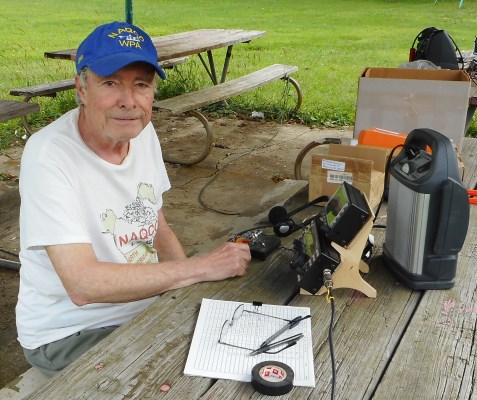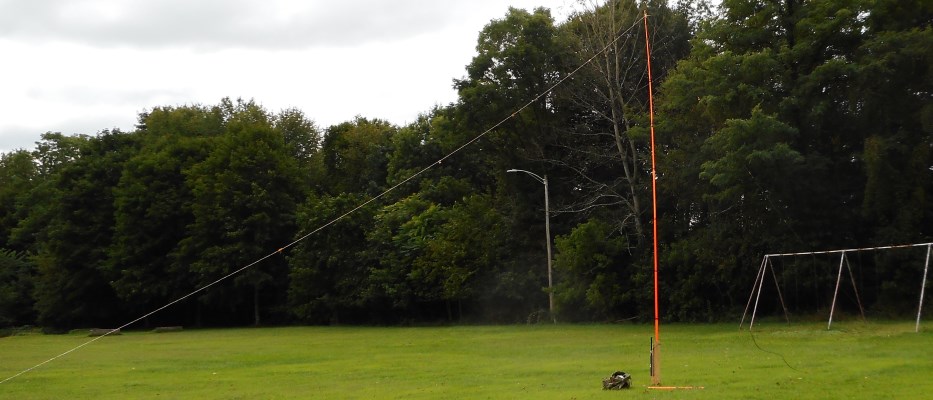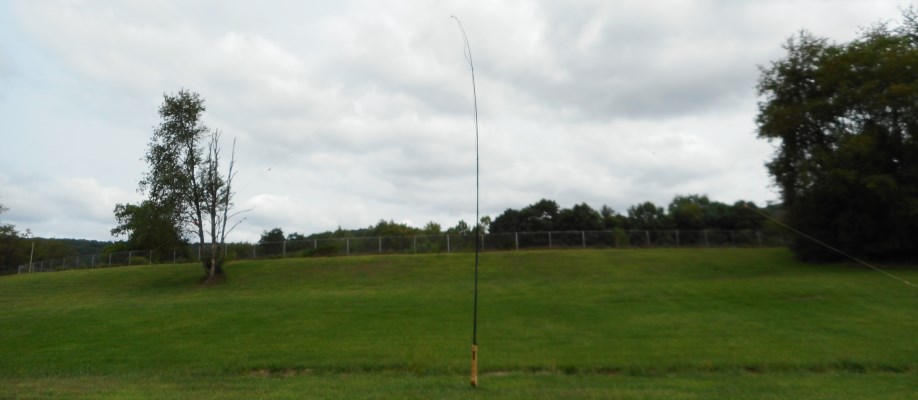 It's pretty evident to all but first time diary readers that's Mike and me in the top row. Below that first Mike's antenna, then mine. Can you tell I was having a good time and that Mike was busy concentrating on making QSOs? -30-


---

Sun Aug 19 2018 8:56PM - A fun day, but a bit frustrating as well. Fun because it's always fun operating portable especially with Mike. Frustrating because the bands were not all that good, especially my band which was 20 meters. I really struggled to make 21 QSOs in just under 4 hours. I chose to use 20 in hopes that 40 would give Mike better results. It did and I was happy to see him come up with 32 QSOs there. We did a little better overall than last year, but not as good as the few years before that.

At least the weather was beautiful and our setup went smoothly for a change. We were easily up and running at the start of the contest. I don't feel like doing it right now, but I have a few pictures to post. I'll try to do that in tomorrow's diary entry.

I still have the noise problem here at home. It was nice to have a S0-S1 noise level out in the park, and it kind of spoiled me for the time being. I did manage to keep the streak going this evening when I worked Wayne WA9VEE on 40 meters at 0034Z. -30-


---

Sat Aug 18 2018 8:25PM - The bands are really dead this evening. Except for one workable station, I only heard 4 or 5 very very weak unID stations on 40. Nothing at all on 30, 20, or 17. The workable station? A big contest station in the CVA contest - N8OO in Louisiana. A fairly easy QSO involving just a couple repeats. The big main streak is getting to the point of being as hard as the DX streak was the last month or so.

I made still more progress on the computer update/repair today. I started up the Microsoft Windows 10 File History. It's really a slick idea and easy to set up and use. I now have all my important stuff being backed up on my 2TB external hard drive. Now not only can I restore any lost files, but if necessary I can go back to an earlier version of a file. I have it set to keep older versions of files for 3 months. It runs a backup once an hour of files that have been updated. Like this diary file should be backed up with these changes the next time it does a back up. I think I understand pretty much how it works, but I am going to study it a bit more. It's a great feeling of security already though. -30-


---

Fri Aug 17 2018 8:35PM - Well, there still wasn't too much on the bands tonight. There does seem to be a bit of a pickup in activity the past couple nights though compared to the previous couple weeks. Or maybe I'm just getting better at dealing with my local noise by juggling antennas between receive and transmit. Anyway I worked David XE1XR easily on 20. He was booming in - by far the strongest signal on any of the bands from 40-17. So that keeps my percentage of "DX days" the same as it was last night.

Still working on getting the new computer to the point I want it. I really like it the more I use it. I think it is the fastest computer I've ever had with the 12GB of RAM and the Intel quad processor. I've pledged something to myself. That is to have a better backup system than I've ever had before. I've learned some of the flaws in what I had been doing and I'm going to address them this time.

I'm looking forward to the Skeeter Hunt on Sunday with Mike. We'll be doing it from Kittanning Community Park using the NAQCC club call N3AQC. We'll do the full four hours from 1700 to 2100Z if activity warrants us staying that long. I guess we'll be using only 40 and 20 meters which are probably going to be the only open bands. I hope ypu'll look for us, find us, and work us. -30-


---

Thu Aug 16 2018 8:35PM - The bands seemed a bit better tonight. At least there were several signals on 40 that broke through my noise level including AD9Y whom I worked easily.

Today's computer chore was reinstalling my financial program. I use Microsoft Money Sunset Edition, and have used it for years along with the regular Microsoft Money before that. I was worried that it might not run on Windows 10 after reading several forums stating they had trouble with that combination. However it installed flawlessly here and runs flawlessly. I still have to find and import the data file. I think it may only be on my old computer's hard drive though as it is stored in the Program Files folder and Best Buy can't copy files in that location because of legal stuff. So I started a new file as of August 1, and will continue that way until (if) I can get the data off the old computer.

I recall several years ago, one of the Windows operating files became corrupted on one of my computers. At that time, I brought our computer club computer home and hooked my computer into it's hard drive and copied the necessary file to my computer. That fixed things perfectly. If I still had a desktop I could probably do what I did then by hooking my old hard drive as a second drive in the new desktop. However, I'm not sure how to connect the old drive to my new laptop.

One thing about all of this is that it is challenging, and I love challenges and I learn a lot trying and eventually mastering them. I'm coming along nicely with the new computer now. I'd say it's about 90+% up to the place the old one was when it crashed. There are still a couple things that need working on, but I'll get them. -30-


---

Wed Aug 15 2018 1:20PM - I promised a soapbox here from last night's sprint, so here goes. Then some computer (good) news.

With my high local noise and poor propagation, I was shut out last night as I expected to be. The only signal I heard and identified for sure was Chas W2SH and after popping out of my noise, he dropped right back in again before I had a chance to work him. I think I heard NN9K also, but that was only tentative. I think if it was only the noise or only the propagation, I could do OK, but the combination of the two is killing me. As I said in yesterday's entry, I fear for my main streak also if things continue this way. Like the DX streak ending not far from 2,000 days, I'd hate to see the main one end before 25 years, and that's almost a year away, so it may not be good.

As for the computer, I took another step forward today when I imported my Access 2010 .accdb K3WWP log file into Excel 2016. So I can work with it without buying Access 2016. It will be a little harder without all the many SQL Queries I've written over the years, but at least I have access (no pun intended) to all my nearly 91,000 QSOs again. I can probably write Excel Macros to do what the Queries did in Access 2010. I think I'll maybe work on closing out the DX streak story now that I can update the statistics associated with it.


---

Tue Aug 14 2018 8:22PM - Don't be surprised to be hearing me talk about the demise of my regular streak before long. It's going to happen if this local noise keeps going as strong as it is. Besides W1AW and a couple weak unid stations, the only station I heard on 30, 40, 20, and 15 this evening was HA60NU. Fortunately the op, Lacy is a great one and I managed to work him, and he gave me a 579 report and copied my name solidly. It was rough copy for me, but we made it.

Just a few minutes until our NAQCC sprint. I'm going to see if I can hear and work anyone. I would like to get at least one QSO, but even if I don't I get a participation point for just trying, to keep my record of never having missed one of our sprints.


---

Mon Aug 13 2018 8:14PM - Haven't heard or worked him in a while now, but Alex was there on 20 meters tonight. I worked him easily, breaking a minor pileup with a perfectly timed call. Only got a 349 QSB to 219 from him, but that weak a signal doesn't bother a great op like Alex. So I'm still working DX pretty regularly even though not every day any longer. Oh, in case you didn't infer from what I said, it was HC2AO who has provided me with a good many DX QSOs. He even took time to wish me GL with the QRP.

Still working on getting the new computer up and running to 100% normal usage. I'm getting closer. I guess the big thing today was restoring my Mail Store email back up data. I still am hung up on restoring my email address book though. I'm sure it is somewhere in the 40 GB of data from the old computer, but I can't as yet figure out just where. I will though. You know how I am with challenges. I stick with them until I master them.

I'm looking forward to the Skeeter Hunt on Sunday. I'm going to email Mike and Tom now to see what plans they have in mind. Moraine or Kittanning, and the like. -30-


---

Sun Aug 12 2018 8:43PM - I really like this new computer. I'm kind of glad the other one died, although it would have been much simpler setting up the new one if the old one still worked. I spent a lot of time today getting Office Outlook email up and running along with installing some other utility programs I use a lot. So now the remaining big step is getting back into my K3WWP log database. Neither Open Office nor Libre Office seem to work with the Access 2010 .accdb files. I think I'll just go ahead and get Access 2016. That will be by far the best route although I'll have to wait a couple weeks or so to get it.

The CW bands are sure dead of late in the evenings. I can't tell if it is my noise covering up signals or folks just aren't getting on because of the poor propagation. I did get a couple QSOs this evening though. First I worked John W3NA, then was tailended by Rich K4KRW, both on 20 which has a lower noise level here. -30-


---

Sat Aug 11 2018 8:12PM - A quick DX QSO from Kam TI5/N3KS on 30. Remember how I said most TI stations copy me easily. Kam is one who always does.

I spent most of the day working on transferring data from the external hard drive I got at Best Buy to my new computer. Some stupid mistakes slowed me down, but I did get a lot accomplished. I installed Office Home and Business 2016, and took care of quite a few Excel files. I also installed a lot of other little programs that I use regularly like Ccleaner, Glary Utilities, Irfan View and several others. So I'm getting back to normal slowly but surely. -30-


---

Fri Aug 10 2018 6:28PM - After the aborted trip to best buy, things went better today. I'm now writing this on my brand new laptop computer which is now my main computer. I still have a long way to go to get everything restored. I'm taking it slow and easy, being careful to get things right before moving on to another step. So far I like it very much and it is fast, much faster that my other laptop. I'm not sure if it is much faster than my desktop was though. I'll have to get more used to it to be able to know that for sure. It's got an Intel Core i7 8th Gen processor. I believe it has separate graphics which should be better than the integrated graphics I had before. It's still a brand new toy with a lot of getting used to yet. It's got Windows 10 Home for an operating system. I just downloaded and installed Microsoft Office 2016 Home and Business, but haven't worked with it yet. It has Word, Excel, PowerPoint, OneNote, and Outlook. All I need except Access.

Oh, It's a Hewlett Packard laptop. More about it in future entries. Almost time now to go get my streak QSO. Hope it is a quick one.


---

Thu Aug 09 2018 8:39PM - No new computer yet. My neighbor's van in which we were going to Best Buy started to overheat on the way and we had to come back home before we got too far along. So my appointment is rescheduled for tomorrow. Wonder what will go wrong then? It's getting discouraging with all the bad happenings of late.

It's even getting hard now keeping my regular streak going with my high local noise plus very poor propagation. I did get W7FW this evening who broke through my noise with his KW signal. TI8II was very strong on 20 but he seems to have a filter that cuts out signals from K3WWP. He never hears me no matter how strong he is. Other TI stations seemingly always hear me even if they are weak here. Hard to understand. -30-


---

Wed Aug 08 2018 8:23PM - Well, hopefully tomorrow I'll start on the road to getting my computer situation back to normal. I'll pick up the 2TB external hard drive on which my data was backed up at Best Buy. Then I think while I'm there I might buy Microsoft Office Home and Business 2016. I think the Geek Squad said they sell it there. It doesn't have Access though. You have to pretty much order direct from Microsoft to get Access. At least that's what the Geek told me. At least I'll have Excel to get my spreadsheets going again. I might use Libre Office for my databases. At least I'll try, and if I don't like it, I can buy Access separate from the rest of the Office 2016 Suite. It's going to take some tweaking to get it all going again, but I'm kind of looking forward to the challenge. -30-


---
Tue Aug 07 2018 8:17PM - Seemed like old times tonight. A quick DX QSO at 0003Z from old faithful friend Ger HK7AAG on 30. He was well above my local noise and an easy contact. A new DX streak starting? Nope, but an easy quick way to keep the big main streak going.

So far so good on watering Ange's garden while he's vacationing at the beach this week. A good one inch rain Sunday evening really soaked the ground and it was still wet this morning when the helper he found and I checked it. Looks like more rain coming tonight and tomorrow also.

Doing some thinking about what I'm going to do about a new computer. I'm relieved that all my data was recovered. Now I need to think about getting some programs to work with it. Most of the programs I used were fairly old. I hope to be able to go with Microsoft Office as the main suite of programs to work with my data. Then I'll need a financial program perhaps if I can't get Microsoft Money to work on the new computer. I know there are free alternatives, but I've used Microsoft programs since the dinosaur age of computers and have always been completely happy with them and I'd like to continue if possible. I hope to have everything back to 100% normal at least by the end of August, hopefully sooner. -30-


---

Mon Aug 06 2018 9:07PM - DX!! Finally worked some DX again this evening. The bands were pretty much either dead or the signals were covered by my local noise. I think more dead because there were a few pretty strong signals here and there, especially W1AW. Anyway, not finding anything to work, DX or otherwise on 40, 30, or 20, I decided to try 17 and there was KP4TF calling CQ. I had to send my call a few times to get his attention, but when I did get it, we made a good contact.

Well, I took the computer to the Geek Squad today and it was bad news, but not all bad. Since it is more than 5 years old, they don't have parts to fix it locally and it would have to be sent to HP for any repairs at all. Even then, since it is actually 7 years old, perhaps they would just send it back as is. So I went for the option of having the Geek Squad strip all the data off the hard drive onto a 2TB external hard drive for me and I'll get a new computer and transfer the data onto it. They made quick work of it and I got an email not long after we got home saying the transfer was successful. We probably should have just waited there had we known it would be so quick. We go back Thursday for the pickup. That will give me a couple days to decide on what computer I want to get and get some money together to get it. -30-


---

Sun Aug 05 2018 7:02PM - I'm still struggling doing things on the laptop. I sure hope the Geek Squad at Best Buy can get my main computer up and running again. Some things are not too bad on the laptop. I can still update the web site OK, but I don't have access to my databases and spreadsheets on the other computer. I do have them backed up for the most part, and may have to switch them over here. Or I may just get a newer more powerful laptop to use as a main computer if that becomes necessary.

Anyway, I do have access to the emails that have been coming in about the demise of the DX streak. I'm going to share what I have so far. The very first couple may be missing, and I'll try to add those when the computer situation gets settled. Here we go.

K4WLW - "Hi John, I was sorry to read that the DX streak is over. It has been fun watching it and quite an inspiration. I think you should keep it going, and just keep the percentage high. At least the pressure is off now, and it can be a little more fun than stressful. Just my opinion. Great Job! 73, Bill - K4WLW"

WB3FAE - Excerpt from longer email: "Well I see that the "streak" has come to an end. I am amazed that you were able to keep it going through the low end of the cycle."

W3TLN - "RIP the DX streak, but quite an accomplishment and you should be proud. -Tom, W3TLN"

AC2MX - "Hello John Very sorry to hear the streak has ended. I read your diary every day and was very sad. I live on Staten Island NY and have a very high noise level over here. I will continue to read the diary daily. Hope to see some comments in the diary about your experience with high noise levels. Hope this does not mean that you will not try to work a dx station daily. You are inspiration to those of us who work the ham band with simple equipment and wire antennas. All the very best in what ever way you proceed from here. 73 Ishan - AC2MX"

ON7QRP - "Hi John, sorry to read that the DX streak has come to an end, only 20 days shy of 2000. It however was bound to happen, you also saw it coming from afar. I think in a way that it's good for you personally, you were spending more and more time and effort to keep the streak going, I felt by reading between the lines of the diary that it was becoming more a burden for you to keep going than it was a pleasure. At least now you're free to look for new ones when you feel like looking for some DX. If there's nothing exciting happening so what, there's always another day. Take care. 72, good DX -- Gust Kegelaers ON6KE ON7QRP"

W2JEK - "Hi John, Sorry to hear the DX streak ended at 1980 QSO. My guess is that you worked more than 1980 DX stations during that time. Maybe when your computer is fixed you can find out. Congratulations for a well done attempt. 72 DON W2JEK"

I think the QSO total was 7,411 if I remember right. My computer died just when I was working on the streak stats.

KC2EGL - "Please accept my heartfelt condolences on the ending of this latest DX streak. Time to 'jump back on that horse' and start a new one."

Maybe after I get the computer situation straightened out along with some other things I have to take care of. Meanwhile the horse can rest.

I know I have a couple more comments from N5XE and K6ACF if I recall correctly. -30-


---

Sat Aug 04 2018 8:57AM - Still on the laptop. The main computer goes to the hospital on Monday hopefully for a quick successful cure. Meanwhile I'm trying to keep the web site updated as best as I can.

Thanks to those who sent "condolences" on the DX streak ending. I heard from N5XE, K4WLW, K6ACF, ON7QRP, and WB3FAE so far. I hope to post all the comments when things get back to normal here. I did like one line from Carl N5XE who said something like, "looks like the fat lady finally sang." HI.

Meanwhile the main streak continues and as of my QSO with N1QY on 30 last evening, has reached the 24 year mark.

I'll have updates on the streak reports for both streaks in the QRP section, again when things return to normal. In fact, it was when I was working on the stats for the DX streak that the computer died. -30-


---

Fri Aug 03 2018 1:40PM - My main computer stopped working today. I'm doing this on my laptop to let you know that diary updates may be sporadic until I get the main computer situation resolved. What next? -30-


---

Thu Aug 02 2018 8:23PM - The inevitable finally became reality today and the DX streak came to an end.

To work DX, you first have to hear it. I only heard one DX station today. That was PV8ADI who is virtually always at least an S8 no matter what band or time of day I hear him. However today he only peeked out of my S5 noise level on 20 long enough to ID him, then he was gone again. I spent a lot of time listening, and I didn't even hear but a couple stations working any DX, and those were the big gun stations like AA3B and N2MM for example. I couldn't hear whom they were working at all. Also they were giving mostly only 559 reports to the DX and complaining about QSB.

The sun has been spotless for the past 3 weeks and more now, and some propagation experts say we have already reached the sunspot minimum ahead of schedule. If so, then at least I can say I managed to keep the DX streak going right down to the bottom of a sunspot cycle if not through it. The solar flux has dipped down into the 60s a lot recently, and that is almost as low as it ever gets. I think in my records here going back many years, I saw a couple 63s, and some 64s and 65s, but nothing lower than those readings. The last 65 was back in 2008, I don't see any 63s or 64s in my spreadsheet which starts in 1969, but I do remember seeing at least one 63 and 64 before that. In fact in my Propagation section on the Description page I see I mention there was a 63 on November 3, 1954 and two earlier dates going back to 1947. As an aside, the highest was 457 on April 7, 1947.

Perhaps if I had just stuck to the rig for the full 24 hours or even a solid 12-15 hours or so, I might have caught a brief opening to somewhere other than to W/VE. However I do have a life in which I have other things to do and I couldn't do that.

Also had I used spotting and checked out some of the spots, perhaps I could have worked someone. However I do not believe in using any kind of spotting to find and work stations, and I wasn't going to go against my principles just to keep the streak going.

Another factor was my local noise level increasing somewhat of late masking the weaker DX stations. Had I been able to find any that may have been there, I might have worked them. With the state of the ionosphere though, perhaps even with only a S0 to S2 or so noise level, there might not have been any audible DX signals. I don't know. I just know I wasn't hearing any for whatever reason.

Perhaps DX (and W/VE) stations are just not getting on the bands as much in these sunspot minimum days.

At least I'm glad the streak didn't come to an end on a close call in working or not working someone. That is not knowing if it was a complete QSO or not. Or if I was logged correctly by the DX station.

Anyway it's over. Now I've got to decide where to go from here. My plan B was to continue trying to work DX every day and keep the percent of days on which I do work DX above 99 percent counting back to March 1, 2013 when the DX streak started. Or do I go to plan C and just try to keep my big main streak going and not worry about DX. I haven't decided yet.

I really wanted to make it to 2,000 days, and I did come close at 1,980. I also wanted to prove that you can work DX using CW, QRP, and simple largely indoor antennas virtually day in and day out. I think whether it be 2,000 or 1,980 days, I have definitely proved that.

I actually wrote that a couple weeks ago and updated it a bit today. Since today's updates I did hear some more DX, but none of it was very strong at all. Perhaps the strongest was TI8II, but he was jumping around between S&P and CQ. I never did catch up to him, but he never hears me in the best of conditions anyway. Also KL7SB/VP9 wasn't too bad on 30, but he QRT after making a few QSOs after I found him.

So it's over now. Maybe a bit ironic it ended just two days short of when my main streak will reach 24 years on the 4th. I did get my QSO for the 3rd this evening when I worked VE3BXG on 20 meters. With the NA QSO Party on the 4th, it should be a cinch to get a QSO then if not earlier in the day.

I'll have more post-mortem thoughts on the DX streak in upcoming diary entries as well as updating my DX streak page in the QRP section of the web site. -30-


---

Wed Aug 01 2018 4:12PM - Once again it's Bert to the rescue. The morning hour of the CWT sprint showed no DX at all. The afternoon hour was almost the same way. I did hear someone working an OK station, but couldn't hear the OK at all. I persisted and listened, listened, list..... Finally I heard Bert F6HKA very weak just popping in and out of my noise. Bert has to be one of the finest CW ops in the world, and I knew I had a shot at working him if I could just copy him well enough. I lost him on the first try, I believe, but then I heard a WW? and sent my call again. This time I could barely hear Bert, but copied K3WWP TU JOHN BERT 1088, and returned TU BERT 599 JOHN PA. That was it for yet another DX day. I didn't need the 599 in my exchange, but I was excited to get the QSO and wasn't thinking.

I find myself getting more and more determined to keep the DX streak going as conditons continue to worsen. I at least want to make it to 2000 days. There are 20 days to go for that and it will be rough so I don't know if it will happen or not. The evening hours starting at 0000Z are becoming more and more useless here, especially with the increase in my local noise that started a couple weeks ago. It's the late afternoon, early evening hours that are going to be the saviour of the streak, I believe. Looking at my streak table on my home page shows the following Z hours of my DX streak QSOs for the past 10 days, most recent day first. 19, 21, 00, 00, 00, 21, 00, 23, 00, 00. Well, perhaps I tend to forget the easy 00 hour QSOs and remember more clearly the struggling days. HI It seems like I've struggled most days of late, but maybe not.

My main streak tends to take a back seat to the DX streak lately, but it is still going strong. When I get a QSO on August 4th in a couple days, the main streak will have been going for a solid 24 years. Hard to believe it's been that long, but as Mike and I say about various things, using a somewhat corrupted version of an old saying, "Time's fun when you're having flies." And it really has been fun getting on the air and using CW each and every day for nearly a quarter century now. I also wonder how long that streak will continue. It may wind up depending on my local noise which may make 80 and 40 virtually unusable when winter comes and 30 and higher are not as good as now. I guess we'll see. -30-


---

Tue Jul 31 2018 6:18PM - Another nail-biter. I don't know how much longer I'm going to continue to be able to pull DX QSOs out of the fire. I did it again today though. There was absolutely no DX last evening and none for most of today. However in the 2000Z hour LZ380PM showed up on 20 just barely peeking out of my noise level. I tried several times with no success and gave up and did something else. I came back later, and he was still there and a bit stronger now. So I started in to try again since there was no one else being heard anywhere except an extremely weak XE2V on 17 meters. I could barely copy him and didn't even try calling. However after a while I started getting some indications that LZ380PM was hearing me. He was sending one or two letters that could have been me. So I persisted and finally got a K3WWG or something like that. I sent my call twice again and connected. I got a K3WWP 599, sent TU 599 73 and had another day added to the DX streak.

In between hunting DX, I got a lot of my end of month work done. I only have to make my banking trip in the morning and put my July weather in the computer. I believe we only had one day all month that we didn't hit 80 degrees, and that was yesterday at 77. It will be interesting to see the other stats for the month. Although we didn't have any really hot days, it was consistently warm all month and could be one of the warmer Julys we've had here. We'll see. -30-


---

Mon Jul 30 2018 10:27AM - Kind of finishing up last evening's diary entry here.

After the ballgame, we stopped off at Michael's Craft Store to get some little rubber feet for the KX3/PX3 stands I made for Mike and me. After that since Applebee's was almost next door in the mall (good excuse), we stopped in there for a meal before heading home.

Here at home we exchanged pictures we took at the ball game and chatted about the game and other things. Then it was up to the shack to look for some DX. We didn't really expect to find any, but there was a German on 20 meters, but he wasn't hearing Mike calling. I didn't try since it was still before 0000Z and I wanted to wait till then to work any DX since I already had my DX for the 29th. After 0000Z I got a couple regular streak QSOs from WB4MNG and W3NA, then went looking for DX, but it was a real rarity and we didn't find anything until I heard old faithful Ger HK7AAG on 30 and as usual, worked him easily although it did take a couple repeats. Mike followed suit and worked him. After that it was time for Mike to head north since tomorrow (today) is a work day for him. I remember work days myself although it's been a long time now. HI.

I said I was going to comment on baseball today vs. baseball many years ago. I think the old time baseball was by far the best. Money has ruined the modern game. Along with some questionable silly rule changes. I don't like the DH at all. I think the pitcher should get his turn at bat just like the other 8 players on the field. Ironically in yesterday's game, the Mets pitcher drove in the only run of the game which ended up 1-0 in favor of the Mets. He's batting over .200 for the season which is a good average for a pitcher. I hope the National League remains traditional and doesn't ever adopt the DH. Another rule I don't like is the no pitch intentional walk. Too many things can happen while the pitcher is throwing those 4 balls. I'm not going to make a list here, but I'm sure baseball fans know just what I mean. I think the biggest thing I dislike is the overall experience at a park. It seems almost like the game itself takes a back seat to the other "entertainment" taking place. Almost like watching the game on TV with the commercials between half innings. There was some commercially related event going on at the park the same way. A huge difference from watching a game at old Forbes Field and perhaps even the first few years at Three Rivers. The game itself took center stage then, and the breaks between innings were peaceful and quiet. About the only in between innings thing going on then was the traditional seventh inning stretch. Oh well, that's "progress", I guess. Unfortunately with the extremely exorbitant salaries the players make, the owners must engage in these extracurricular activities to make the money to pay the players. End of my comments.

Here are a couple more picture from the game.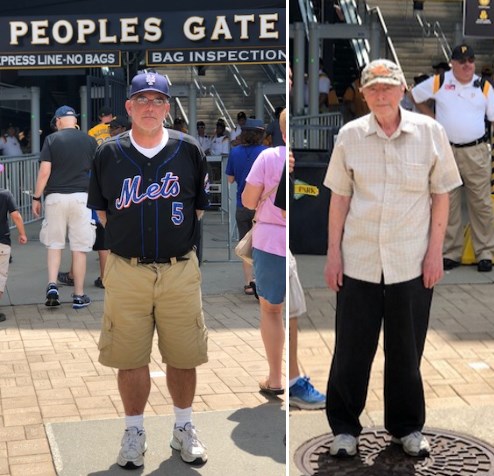 Of course that's us standing in front of the gate. The second picture is a panorama view Mike took of the park. I've got to find time to play with my camera and find out how to do all these neat things with it. Time is hard to come by though. Too many other things to do in life. -30-


---

Sun Jul 29 2018 9:04PM - Naturally a great day today, made even better by some wonderful weather. I'm speaking of Mike and I going to the Pirates game in Pittsburgh. We had what in my opinion were the best seats in the house. As high as you can get in the upper deck behind home plate with no rows behind us and an unobstructed view of the field. Here's a picture of the view we had. Then I'll have more to say about baseball now vs. baseball back in the 50s and 60s and earlier along with more comments about today's game in general. That will have to wait till tomorrow though as I'm tired now and I still have to take Roscoe out for his last walk of the day in a little while.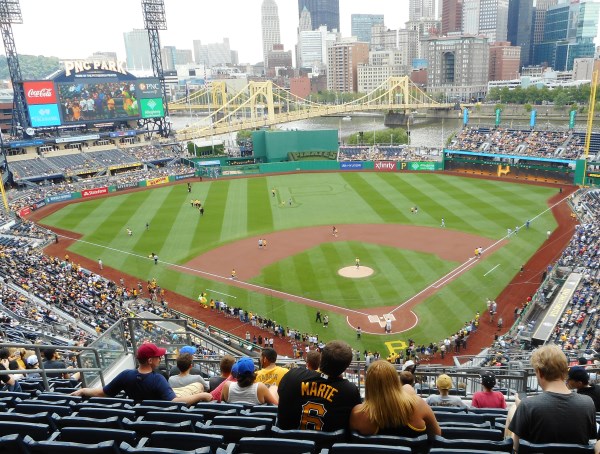 The picture was taken when they were honoring some area physically challenged youngsters who play ball in some kind of "American League" teams around Western Pennsylvania. I'll have to see if I can find out more about the program. -30-


---

Sat Jul 28 2018 11:02AM - I just wanted to say that I received the corrected copies of the 2017 Skeeter Hunt certificates in the mail from Larry W2LJ. Thanks Larry. I replaced the image of the certificate in the July 23 diary entry with the corrected copy. I'll get the copies to Mike and Tom when I next see them. I'll see Mike tomorrow when we go to the Pirate baseball game. I'm not sure about Tom. I haven't heard from him in a while.

I got one of those 0000Z DX QSOs last night from CT8/R7KW. So I don't have to worry about that again until 0000Z tonight. I'm hoping with the IOTA contest on, it will be easy. It will be nice to not have to worry about that while we're at the Pirate game. -30-


---

Fri Jul 27 2018 5:54PM - Yet another day that looked dismal for the DX streak. Fully expecting the streak to end soon, I've written a generic obituary for it that will be aired here in the diary when the day does come.

Today however is not the day. I'm finding that the 2-3 hours before sunset here seem to still be decent for working DX, but that's about the only time of day here. I hate having to wait till near the end of the day to get the DX, but if that's what it takes to keep the streak going, I'll do it. At least until the streak reaches 2,000 days in 25 days from now, if it does get that far.

What about today? It was Joska HA9RT whom I've worked many times. It was at 2149Z on 14012. I had to wait through a few other QSOs, but when things cleared a bit, it was a good QSO. Joska gave me a 549 and he was about an honest 569 here with some QSB and QRN. It's great that we have these really good operators still getting on the bands fairly regularly with their super stations. I'm glad I've gotten to work and know so many of them over the years. Familiarity is a great asset in working someone. So thanks to all of you out there. There are too many to list here, but you know who you are. HI. -30-


---

Thu Jul 26 2018 8:49AM - OK, where was I in yesterday's story? Oh yes, not hearing any DX even in the CWT sprints. In fact, I only heard one station working a DX station, LY8O, and I couldn't hear the LY at all. So I was still shut out through 2000Z. The 2000-2200Z hours were the same with not a trace of a DX station heard. So now I'm down to just one hour to find AND work a DX station. When I turned on the KX3/PX3 at 2300Z, things looked better with several fairly strong peaks on the PX3. I started checking them, and found one at about S6 with QSB that turned out to be ZP6CW whom I've worked several times. Doug is a very good op, and I figured even though he was only S6 or so at best, I'd have a chance at working him. I tried and failed a couple times. It was getting hard to copy him, but I did hear him send WWG? 559 or something like that. I sent my call three times and ended with a 569 report. He was now down in the noise, but did end the QSO like he copied me. I debated on whether or not to count the QSO.

Then there was FM5WD who was S8. I tried him several times, always losing out to someone else. It wasn't long before he QRT though. I sent my call about 6 times with a pause to listen in between, and never heard him at all so I was sure he did QRT and continued my search.

On 30, I heard Bolmar HK1MW, but he seemed to be in a S&P mode, sending his call only once as if he was trying to work some station I wasn't hearing. I tuned around a bit, then came back and found him on the same frequency, so perhaps he was now calling CQ himself. Sure enough he was and after he worked a couple other stations, he came back with K3? or K3W? I forget which now. I sent my call a couple more times and now it was K3WWP 559. I sent his report and he came back with something like TU JOHN. Another big WHEW!! And the streak went on.

The next day which is today was much easier and less stressful as I worked David XE1XR at 0011Z on 20 meters. It did take several unanswered calls before he heard me. We exchanged reports and thanked each other by name.

A few minutes after that, Mike arrived. We had our pizza and then went to the shack to see as I put it, how much DX we couldn't hear. That was prophetic as we didn't hear any at all. Nor much in the way of W/VE activity either. So some hidden object computer games, talk about sports and going to the Pirate game on Sunday, and then it was almost 11:30 and Mike headed home.

I see the solar flux was only 66 yesterday. That's about as low as it goes. I caught a bit of the W1AW bulletin saying something about the sunspot minimum being reached. I think I'll check the ARRL web site and see just what that little snippet I heard was all about.

Here's the paragraph from the bulletin in which I caught the snippet:

"With all the solar activity recently, it's hard to believe we have gone three weeks with a spotless Sun. Some scientists within the community are even saying we have arrived at solar minimum. Yet despite this sad news, Space Weather remains far from quiet. It seems our Sun is finding ways of staying busy."

There's much more to the bulletin here

You can always get a brief summary of propagation in the Propagation section of my site. It's updated the same time I update the diary page after 0000Z. Not after 'out of schedule' diary updates like today though. Then I'll wait till after 0000Z. -30-


---

Wed Jul 25 2018 8:13PM - I'm just waiting for Mike to arrive so this may be brief and have to be finished later or tomorrow.

This was another of those days when I wrote a tentative obituary for the DX streak. However as with the other 4 or 5 such days, I pulled something out of the fire virtually at the last minute or at least in the last hour. Up until the 2300Z hour, I hadn't heard a single DX station all day. Heck, I didn't even hear any DX in the CWT sprints. Here's Mike, so I'll finish this later. Come on back later or check this entry tomorrow.

OK, it will be finished in tomorrow's entry. Mike and I had a long enjoyable session tonight and it's almost midnight now. -30-


---

Tue Jul 24 2018 8:42PM - Still battling my local noise here, and with conditions down quite a bit due to the current stage of the sunspot cycle, it was rough again getting even my regular streak QSO. I didn't get the DX QSO and will have to try for that later tonight or tomorrow morning or afternoon. I'd hate to see the DX streak end with just 27 days to go now for 2,000 days. Anyway, I found Bert W5ZR with his big 200W, 2EL Beam signal on 30 at 0007Z for the regular streak QSO. He was one of only a few signals above my noise level.

Apparently... well for certain Larry W2LJ read my diary entry last night and noticed my comment about the typo on the Skeeter certificate as he emailed and said he was going to send corrected copies. I didn't really need them, but I appreciate his consideration. Thanks Larry.

We have really missed out on all the rain that central and eastern PA is getting. Except for that brief heavy shower Sunday evening that produced .43 inches, we've gotten virtually nothing since then except for some drops that were so few you could just about count them as they fell. That's both good and bad. Good because we're not getting the flooding. Bad because the gardens could use the rain so we don't have to water manually. -30-


---

Mon Jul 23 2018 9:17PM - There is one thing I never thought of concerning the end of my streak(s). That is a high persistent local noise level. I have that now, but I've struggled to keep the streak going through it so far. Tonight I managed to work KB6NU on 30 for a short QSO until the band changed, then I got KP4TF on 20 meters for the DX streak. I had to juggle my antennas to make the contacts. I'd trasmit on the main antenna for a band, then see which of my other antennas gave me the best S/N ration on receive. Generally the best receive antenna on all bands was my 15M vertical dipole.

I received our Skeeter Hunt certificates today for the 2017 Skeeter Hunt. Thanks Larry. One for me, and one each for Mike KC2EGL and Tom WB3FAE for our multi-op entry of N3AQC. Here is what they look like: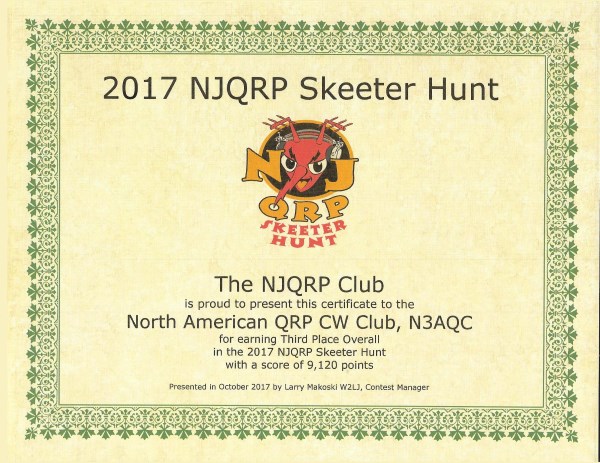 There's one typo on the certificate, but that's OK. All the main info is just fine.

I hope we can earn another one for this year's event.

Almost time for Roscoe's walk, so I better hurry and finish my updates. -30-


---

Sun Jul 22 2018 8:34PM - Same station, same quick QSO, and same time stamp on the diary entry as last night. Different band though. OK, explain. I worked HH2AA again this evening, but on 30 instead of 20. The QSO took a repeat of my call just like last night.

Not much happened today worth writing about. It was a cool but humid day today with a very brief, but very heavy 10 or so minute shower that dumped somewhere around 4 tenths of an inch by the looks of my rain gauge looking out my kitchen window. I'll find out exactly how much in about 20 minutes. It sure came down hard. I'm glad it didn't last any longer than it did.

I continued working on my Family Tree Genealogy today as I've done most days of late. I found I had a distant cousin who travelled west on a wagon train as part of the Mormon migration to Utah around 1860. Also her husband may have been related to the founder of the Hershey Chocolate Company. It wouldn't be a blood relative like she is, but it would be interesting nonetheless. I've got 3,302 blood relatives in the tree now, and finding more just about every day. There's a total of 5,389 individuals including non-blood related spouses, and other folks who seemed to be related, but haven't been confirmed as such (yet). It's really fascinating work. -30-


---

Sat Jul 21 2018 8:34PM - Another quick DX QSO for day 1,970 of the DX streak thanks to HH2AA on 20 meters at 0002Z.

I did some work on my diary archives today. I reformatted and reordered the 2018 archive. I think it is now easier to read, and also I was able to go back to having the newest entry at the top of the archive page again. I also found an easier way to take care of copying the entries that are archived by my guestbook provider on their server after 120 days, and are only available for me to read that way.

While doing that, I also took time to read some of the entries again. There is some very interesting reading there. If you find yourself trying to find something to do, perhaps you might read some of the entries, then add an entry of your own to the guestbook if you haven't already done so. -30-


---

Fri Jul 20 2018 8:45PM. It looks like I have an old annoyance back. I've had a very high noise level on the bands the past couple evenings as I did a couple of years ago. It's about S8 on 40, over S9 on 80, about S6 on 30 and S4-5 on 20. So far it hasn't affected my streaks, and I hope it won't.

Tonight I worked Nunavut for the first time in a while when I got KD6WW/VY0 IOTA NA-207 easily on 30 meters, followed by HI3T for the DX streak. Then I had a very nice rag chew on 20 with WA5PRI in Louisiana. We both were in broadcasting, and both loved and used tube gear for quite a while, but admitted the current gear performs much better and has more bells and whistles.

It's getting humid again after a decent stretch of pretty comfortable weather. We had a little shower a while ago. About all it did was settle the dust. However it looks like more rain will be here over the weekend and into next week. Maybe I'll get some time off from garden watering. So far I've had quite a few Siberian tomatoes, and have some peppers about ready to pick. Also I got a cucumber and zucchini from Ange from his garden. -30-


---

Thu Jul 19 2018 4:31PM - Here are my soapbox comments from last night's NAQCC sprint. As mentioned here in last night's diary entry, I planned on just getting 10 QSOs, then shutting down. I never bothered checking 20 meters at first, and that was a mistake. Instead I struggled on 40 to make it to 9 QSOs just before 0100Z. Signals were either very strong or very weak, no middle ground. So it was either an easy QSO or one that required a struggle to complete. Enough of that, but I thought I'd check 20 just for fun to see if I might get #10 quickly there. I should have gone there earlier. There was some QSB, but there were several good workable signals. I got #10 quickly, then decided to hang around a bit longer to see who all I could work. I decided I'd go to 15 QSOs, then quit. Getting there was easy and I wound up with 15 contacts in 11 SPCs. As always of late, I used my Vibroplex Lightning bug and the KX3/PX3 combo. I logged with GenLog as I do in every contest. I love it. Once you learn to use it, and that is easy, you can use it in any contest that exists on the planet. There are fancier contest logging programs with more bells and whistles, but for a simple single op setup like mine, it is ideal. Thanks to all I worked in the sprint. It was a mix of new members and those I've worked many times in our 160+ sprints since 2004. End of soapbox.

I also got a fairly quick DX QSO last evening from KP4TF on 17 meters, so I had the day off today as far as scouring the bands for a DX QSO. Hope it's the same later this evening. -30-


---

Wed Jul 18 2018 6:37PM - I received my 13 Colonies certificate in the mail today. I'm proud to have done a sweep of the 13 colonies plus WM3PEN all of course with CW QRP and my simple wire antennas. I did miss GB13COL again though. I only heard them once during the week right near the end and quite weak with a lot of competition. Maybe next year. Anyway here's what this year's certificate looks like: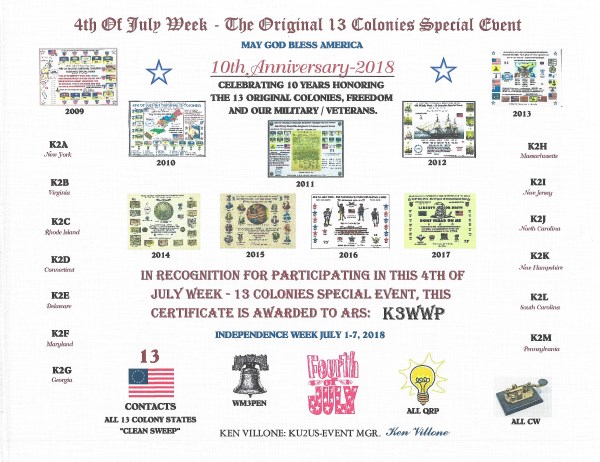 This was one of the hardest days in my DX streak to come up with a QSO. As I said yesterday, I would miss the 1300Z hour of the CWT as that's when we took Roscoe to the groomer. I never did get to check the bands till around 1600Z and found nothing in the way of DX. That continued up until the 1900Z hour and the next hour of the CWT. However repeatedly tuning the CWT on both 20 and 15 showed nothing but W/VE stations. I did hear LZ380PM outside the CWT, but never got more than a tentative ? from him. Then I found DK1NO and got a response of K3WHV or something like that, then he just faded out completely. Now LZ380PM was much stronger so I tried again, but many repeated calls never got me closer than K3RRP. Even though he did close with R QSL, he never did send my call correctly so I didn't count him. While I was calling him though I noticed a strong signal a couple kHz up the band on the PX3. Tuning it in, I found it to be DL1REM peaking near an S9. Since he apparently was just starting up, I figured I had a good chance at him so I called. No response so I started sending my call again, then heard him coming back with WWP. I stopped and sent K3 K3WWP and the QSO was made and the DX streak continued. Add a big WHEW!! to the collection.

I've always found that diary visitors don't only come for ham radio info, but they also enjoy the other topics I cover in the diary. Here's an excerpt from an email I got today from W4MMR to prove that. "Thanks to you and Mike for doing the Oil Creek and Titusville Railroad excursion. Also, the light rail article was very interesting, too. That was a very interesting pair of diary entries. I work with a young engineer that is a big rail fan down here in SC and I shared your diary entries and the website with him. Nice work!".

Thanks for those kind words and comments, Mark. That encourages me to keep covering other topics here in the diary along with ham radio.

Tonight is our monthly NAQCC sprint. I just set up GenLog for it. Right now I plan to just go for 10 QSOs and then quit. I've done that a lot lately. It gets me a participation point plus keeps my streak of never missing a regular NAQCC sprint since we started them back in 2004. Tomorrow in the diary I'll have my soapbox comments here in the diary to let you know how things went. And hopefully in the half hour before the sprint I can get my DX QSO for tomorrow so I don't have to spend another day like today trying for one. -30-


---

Tue Jul 17 2018 9:10PM - About DX this evening: Ditto last night's first paragraph of the diary entry.

It was rough today, and I only heard one weak DX station in all my every 30-60 minute brief checks of the bands. That held true until almost 2000Z. Finally old faithful PV8ADI showed up on 20. I had trouble working him though, and I thought I was never going to get past his K3? So I gave up for a while but came back again a little later. Finally I got a K3WWP 599 from him, and another WHEW! was added to my growing collection of late.

Tomorrow is Wednesday and that means the CWT sprint, so that may help. However I won't be here for the first hour. We're taking Roscoe to the groomer then. So unless I luck out and get someone later tonight, it may be rough during the day tomorrow again. Tune in tomorrow for the continuing story of "Wll he, or won't he (continue his DX streak)?" -30-


---

Mon Jul 16 2018 8:18PM - Not a sign of any DX at all this evening, so my little pink slip with the reminder that I haven't yet gotten my DX streak is now out in front of my computer. Hope I can put it away later tonight, but I'll probably have to wait till morning or afternoon, if then.

It was a very hot and humid day today. The high was 94 and the humidity around 45%. According to a table I found at http://andrew.rsmas.miami.edu/bmcnoldy/Humidity.html that computes to a dewpoint of 69.43 degrees which is pretty uncomfortable. Right now it's 86 and 50% or a dewpoint of 65.2 degrees.

Last night I was fooling around with my camera around sunset. I noticed a very thin crescent moon and thought I'd try to get a picture of it. Here's what I came up with and it included a bonus.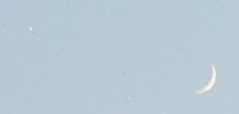 Yep, that's Venus to the upper left. I didn't notice it with the naked eye when I took the picture. This little Nikon CoolPic camera is really "cool".

Well, it's "cooled" down a bit weatherwise and I need to go mail some bills before it gets dark. -30-


---

Sun Jul 15 2018 8:17PM - Did he or didn't he? Log me correctly, I mean. I worked CT3MD on 30, but although he said R QSL a few times, he never did send my call correctly. It was always K3JP. Well, it became a moot point because 7 minutes later I worked F2QJ on 30 and after having me as K3WAP at first, he sent K3WWP correctly the second time around. So the streak goes on.

I finished editing my train ride pictures from last Saturday. Gosh, has it been 8 days already since the ride. Time sure flies and accelerates rapidly as one gets older.

I decided since there were 30 of them, I would just add a folder to my Microsoft One Drive cloud side and post them there. I haven't used One Drive in some time now, but I think I got it right. You should be able to click here and see the pictures if you are interested. If it doesn't work, please email me and let me know. Each picture has a brief comment that should show up below the picture if I did it right. -30-


---

Sat Jul 14 2018 9:03PM - A hot and humid day today. The first one we've had in a while. It's still 82 and 62% humidity right now as I type this. I just finished mowing my back yard so I'm feeling a bit tired right now.

The DX was easy tonight of course with the IARU HF Championships. I found and worked ZF9DX just a minute after turning on the rig a bit after 0000Z.

Other than that not much to talk about so I'll close and get to some other things that need doing. -30-


---

Fri Jul 13 2018 8:43PM - Never doubt that you can work a DX station. I almost did that tonight with R18PAN. I had been having trouble working Russia since the sunspots declined and he wasn't all that strong anyway. However I tried and right away got a K3? or something like that. I called again and got K3WWP 599. That continues to make me wonder just how long into the sunspot minimum I can keep the DX streak going. I tend to believe that if I can be on the right band at the right time, I should be able to keep it going. I think I know the bands well enough to know when and where is the best chance to work some DX. I believe only two things can stop the streak. First simply a lack of active DX stations. There is much less DX activity now as a lot of stations seem to think the bands are not going to be any good until we get to climbing toward the next sunspot maximum. Second a major geomagnetic storm that lasts a full day. I've found that storms during a minimum are much more destructive than storms that occur near a maximum. In fact at a maximum storms sometimes enhance DX propagation.

At any rate whatever happens, I'm learning more and more about working DX as the streak goes on. That makes it a little more worthwhile than just working the DX.

Another thing that is made worthwhile is having someone I work tell me how much my web site has helped them with their ham radio activities. That happened this evening after I worked R18PAN. I called CQ and got an answer from KB5EDR who told me how much I've helped him even though we never have met in any way until our QSO this evening. Sometimes it gets discouraging not getting any kind of feedback about the site for quite a while. Then something like this happens to pique my interest in the site work again. Thanks. -30-


---

Thu Jul 12 2018 9:14PM - I did some work on sorting out my train trip pictures today. I cropped and resized several of them in preparation for posting them in the diary. I'll probably wait till after the 15th when I archive another section of my diary. That will free up space on my Windstream server so I don't have to just post them on k3wwp.com and link to them from Windstream. I'll see how that goes. That will also give me more time to sort and pick pictures to post. I still have all of Mike's to go through.

I was kind of surprised this evening. I heard EA8/UA5C strong on 20, but couldn't get him. I usually have a good path to that part of the world. There was some competition, but not all that much. After several minutes, he then disappeared. I think he just QRT. So back to the search or the scavenger hunt as I named it a while back here in the diary. Nothing else on 20, so it was off to 30. About the only station there was a French special event station TM100ARM, and it took all of just one call to get him in the log. That was at 0005Z, so I then tried some CQs and didn't get anyone else after about 20 minutes, so I QRT. -30-


---

Wed Jul 11 2018 8:52PM - I get a lot of questions about the jumper inverted dipole I use for portable operations. Today I decided to add a description about its construction. I took the article from a 2010 NAQCC Newsletter article that Mike and I wrote and updated it with some changes I made since then. Now it is at the end of the "Portable Operating" page in the QRP section of my site.

Patience! That's what it took for my DX QSO this evening. CT3MD was strong enough that I knew I could work him. However he was turning QSOs over very slowly having trouble getting calls right and needing a lot of repeats. Those working him didn't help either with some sloppy sending and insisting on sending more info that necessary instead of just RST like he was doing. Anyway I must have lost out to maybe 20 stations or so before a K3? came from him. I was one of the easier stations for him to copy for whatever reason. It only took a couple of repeats before I got R R K3WWP 599 TU. I sent TU 599 599 and added another day to the streak. Whew!! What I said here is not criticizing anyone - just telling it like it happened.

I got my RPO letter in the mail today. At first I didn't think a lot of the cancellation as it wasn't fancy. But then on second thought, the plain RPO cancellation was much more authentic and I like it that way. I think I'll include a picture of it when I get to posting my pictures from the train trip. -30-


---

Tue Jul 10 2018 9:07PM - After all the train ride excitement of the last couple days, it was back to business as normal today. A lot of little things to get caught up on, and nothing really exciting or different to write about.

I did do some sorting out of the train ride pictures and also some other pictures from parkpeditions, hamfests, etc. Now I should be able to find any pictures more easily if I'm looking for this or that. There's still a lot of sorting to do though.

I figure it will be a couple more days at least before I get to the point where I can figure out which of the around 100 pictures from the train ride that I want to post, and then crop and edit them after that.

A quick DX QSO this evening from HI3T at 0003Z. I haven't worked or even heard him for a while. So the DX streak goes on at 1,959 days now. I'm looking forward hopefully to making it to 2,000 days. Funny how things like streaks or other kind of records sound better when they reach a landmark number like 2,000, 500, 100, etc. There's not much fuss made when someone works 99 countries, for example. But when 100 is hit, all kind of good and memorable things happen. -30-


---

Mon Jul 09 2018 11:20AM - Let's see, where were we? The first half of the enactment was about to come to an end. All the way, we were treated with German World War II era music on the train's intercom system in between announcements (in English) about the tour and the enactment. It was an excellent sound system with an excellent announcer at the mike making everything that was said perfectly understandable. Our coach tour guide also was an excellent announcer with a wireless mike that worked perfectly. So many times in events dealing with loudspeakers, the sound quality is horrible. Not so this time.

At the halfway point at a place called Rynd Farm, all the pasengers embarked for a snack shop, restroom, and stretching of the legs break. Also the peak of the WW II enactment took place here. A troop of Allied soldiers appeared in the distance and headed toward us. Their assignment was to take over the train and take it out of Germany. They did just that in a mock (noisy) battle that lasted perhaps 15-20 minutes or so. It definitely was loud and action filled. Words can't adequately describe it. You really had to be there as I mentioned before.

With the train securely in the hands of the Allies now, we headed back north to the Tionesta station. This time it was American WW II music on the loudspeakers. Songs like American Patrol, Chattanooga Choo Choo, Boogie Woogie Bugler Boy, and the like. One of the captured German officers was in the seat right behind us. He was a lover of American music like that, and could identify the songs immediately. We had fun singing along with Chattannooga Choo Choo. He also told us of many other such enactments around the country in which he participates. It was very interesting to say the least. Mike and I will think about attending some of them next year.

The trip back for the most part was uneventful. We did get shot at by a German sniper at one point. Otherwise it was mostly watching all the trees go by, and digesting all the interesting info our tour guide was dispensing. When we did get back to the station for disembarking, it was a slow process and we got a chance to talk with a couple more of the "Germans" as well as chatting with our tour guide and thanking him for a wonderful job.

In the station gift shop, we stopped to see if Mike won anything with the raffle ticked he bought. It turned out he did win a book about the cold war. Then it was out to the car. Turned out the parking spot wasn't as great as we thought. A large bus that brought a lot of handicapped people to the tour had us and a few other cars completely blocked it, and we had to wait quite a while to finally get out and on the road again.

Of course now we had to find someplace to eat. None of the local establishments sounded appetizing. Nothing against them at all. It was just they didn't have the kind of food we were hungry for at the moment. We wound up going over to Brookville and eating at a buffet restaurant there.

That pretty much wraps up the tour story unless after Mike reads this, he notices something important I left out or just wants to add some of his thoughts in a future diary entry.

I want to close with some personal info. Back in the 1950s and early 60s until he passed away in 1964, my dad was a Star Route mail carrier whose daily trips took him along many of the roads Mike and I travelled to the tour and back. His main route was changed once during the time he drove so he had two different routes. I used to ride along with him many times. I hadn't really been on those routes but a very few times since 1964. The first route was from Kittanning to Brookville, then over to Clarion and back. The second route was from Kittanning to New Bethlehem, then on to Clarion and a couple stops beyond that ending (I think) at Knox, then back home. He did each of those routes twice a day covering some 220 miles each and every day Monday through Saturday. Anyway to shorten the story, I always look for the post offices when we pass through the towns he made stops at. Most of the ones, if not all, have changed since the 1960s. Back then, a lot of the smaller town POs were in a house or store. Since then those towns have built their own dedicated PO buildings. I think only here in Kittanning and in Clarion are the POs still recognizable from the 60s. OK, enough of that for now. Maybe I'll have more to say about those days in a future diary entry.

As far as ham radio, the streaks are still going. I've been getting some pretty quick DX contacts in the evenings. Tom WB3FAE and I hope to do a parkpedition soon this month. No definite date yet. If it's a Sunday, Mike will join us. -30-


---

Sun Jul 08 2018 12:18PM - Where do I start? What do I write? This is going to be tough. I could write a whole book about our train trip yesterday, but I don't want to do that. I want to wind up somewhere between that book and just a brief listing of some events on the trip. Between Mike and me we must have taken over a hundred pictures and Mike also took several videos. Sorting them all out will take some time and will have to be in a future entry. Since railroads and Morse went together in the early days of both, I'm sure a lot of hams have an interest in railroading just like Mike and I do. So with that as a preamble, let's get started.

It was an early awakening for me at around 6:20AM and I'm not that great an early morning person while Mike is used to it with his Post Office job. I managed to down a bit of breakfast while waiting for Mike to arrive. When he did just before 7AM, we talked about some last minute things about the trip. I told Mike that there was the last remaining active RPO car in the country and it was the one on this train. That's Railway Post Office car, and we could have a letter posted from there with a unique (valuable?) postmark. I had my letter made up, and Mike made his now. More about that later.

We figured it would be about a 90 minute trip to Tionesta's railroad station, so we left around 7:30 which should get us there around 9AM if all went well. It did go well and Mike wanted me to be sure to include in this entry that we didn't get lost at all on the way, not even one tiny wrong or missed turn. Probably the most perfect drive we've ever had to any event we've attended. Still with traffic and a little detour, it took over 1 3/4 hours to get there. Still we were early enough to get what seemed to be a perfect parking spot right near the station entrance.

We had pre-ordered our tickets so all we had to do now was kill time until the train was ready for boarding. We walked all around the area for our first photo taking session. We took pictures of engines, railway cars, signs, troop encampments, and anything else that caught our fancy. Troop encampments? Yes, this was a World War II enactment event where to sum up briefly, the train was to start out as a German passenger train occupied by German troops, and wind up after a pitched battle at the end of the round trip being taken over by Allied troops for the return trip. More on that later also.

We continued our time-killing by roaming the souvenir shop in the station. We both bought a few items and picked up some free folders and booklets as remembrances of the journey. Being railfans, among other things we both picked up a "train in a tin box" which consisted of an oval track something like 10 x 20 inches with four cars including two freight cars and an engine and caboose. It is powered by a single AA battery. I put the track together and tried it out last night. It runs nicely and looks quite accurate at its scale. We took some added pictures inside the station of an old safe, scale, and a couple other historical items. Then we sat outside enjoying the great weather (sunny and mid-70s). I watched the people going by while Mike put some order to his pictures in his phone. We grabbed a hot dog at the concession stand, and then finally around 11:30 we went and waited by the boarding gate. It was manned by German attendants who were passing out boarding papers.

When Noon arrived, we boarded the train. Mike and I were around 8th or so in line, and we got some good seats about in the middle of the first class coach called the Wabash Cannonball. It was built in the 1920s and served its "tour of duty" on the Wabash line. It had some of the comforts of home added to it since it was "retired" for tour duty as it is doing now. It was air-conditioned, had rotatable seats installed among other niceties. After we boarded, we watched out the windows as a seemingly endless line of people heading for the cars behind us passed by outside. We had a very nice and knowledgable tour guide in our car. He had been a volunteer for the train rides 32 years. There were many other volunteers helping out with the whole event. Plus all the Allied and German troops were folks who do various such enactments around the country. We talked at length with one who told us of several such events he does regularly. Also we chatted briefly with another couple who came from MN and WI to take part. The Germans were very realistic in their uniforms, speech and actions. We had more interaction with them than with the Allies.

When it was 1PM, the train started on its journey southbound. The Germans checked out and punched everyone's boarding pass. We hadn't gotten very far before the train stopped. A tree had fallen on the tracks ahead. That was not part of the show, but an act of Mother Nature sometime since the last train a couple days earlier. That held us up for maybe 20-25 minutes or so while some "German troops and their American prisoners" used chainsaws that the train always carries to cut up and remove the fallen tree. Part of it was so high in the air they had to nudge the engine right up to it and stand on the engine to reach it.

Meanwhile the WW II plot continued. One of the passengers was designed as a "spy" and the German officers had to search out and find the spy. The spy and or another passenger was given a map by our tour guide and another sub plot was the Germans finding and arresting the map holder. After a deal was made, she was released though. She promised if Germany lost the war, she would provide sanctuary for the German officer in Pittsburgh. The whole plot was really a lot of fun with events like this interspersed into the tour. You had to be there to really fully enjoy it. They do have this war re-enactment every year around the Fourth of July. You might think about enjoying it some year.

The train now continued its journey after the tree was cleared. It wasn't long though before the second and last fallen tree was encountered. It only took a couple of minutes to clear this small one and we were on the way again. It was hard to believe but in this heart of "oil country" where the first oil wells were drilled in the nineteenth century that we were passing through places where bustling towns and huge oil fields once existed. Now just about all that could be seen were endless trees. Interspersed here and there were rotting remnants of old oil wells, telegraph poles now with their wires mostly all gone, and a few other relics. As far as buildings, all of them had been taken over by nature, and I don't think we saw even one building foundation. What a contrast to the pictures in a couple of photo albums from the area's heyday in the late 1800s and early 1900s that were passed around for us all to see.

We were now well along toward the halfway mark in the train ride and the main event of the WW II scenario. I think I'll just stop here for now and pick up the rest of the story in tomorrow's entry. -30-


---

Sat Jul 07 2018 10:34PM - What a fantastic time we had on the train trip today. Only a couple very minor delays kept it at 99.9% perfect instead of 100%. I'm too tired to think straight now, so I'll wait till tomorrow to write more about it. I'll also pick out some of the best pictures Mike and I took of the event, and post tomorrow or the next day. I've been on the go since about 6:20AM this morning and we were gone until 8:20PM this evening. ZZzzzz... -30-


---

Fri Jul 06 2018 8:28PM - That's the way I like it. On a evening before a busy day coming up, I like to get my streak(s) taken care of as soon after 0000Z as possible. I did just that by working CQ918FWC on 20M at 0006Z. I'm not sure about the number 918 in the call. I mean I copied it correctly. I guess the 9 with the CQ signifies Madeira Island, and the 18 is for the 2018 FIFA World Cup. Anyway no need to worry during our train trip tomorrow about a DX QSO.

Mike and I will be leaving here about 7:30AM in order to arrive at Titusville around the time the station opens at 9AM. I'm not going to say all that much more about it here and now. Hopefully we'll have more comments and pictures in the next few diary entries. Meanwhile check out the Oil Creek and Titusville Railroad web site here. -30-


---

Thu Jul 05 2018 10:17PM - It's late, so not much to say tonight. Today was the start of a 2 day transition to cooler less humid weather on Saturday. We only hit 88 today, and only for a short period of time. It was still pretty humid though. Tomorrow should be in the low 80s and less humid, then Saturday the upper 70s and low humidity. That will be a nice break and a good day for our train ride with Mike. More about that the next couple days here in the diary. -30-


---

Wed Jul 04 2018 6:10PM - Well, the 13 Colonies are booked. I just worked PA on 20 and MA on 40 to complete all 13. Here's the order I worked them after a bit of info for those who may not know me all that well. All contacts were on CW using 5 watts output power to simple wire antennas. I did not use any form of spotting, reverse beacons, or anything like that - I NEVER do. I just fired up the rig, tuned the bands till I heard one of the thirteen K2 1X1 calls, then usually worked them within a couple of minutes.


Stn State Date Time Band 2017 2016 2015 2014
K2I   NJ   1st 0022  20    X    X
K2K   NH   3rd 0009  40    X    X         X
K2E   DE   3rd 0026  20    X    X
K2A   NY   3rd 0027  30    X    X
WM3PEN     3rd 0037  30    X    X
K2C   RI   3rd 0158  40    X    X
K2L   SC   3rd 0210  30    X    X    X
K2B   VA   3rd 1538  40    X    X
K2D   CT   3rd 1544  20    X    X
K2G   GA   4th 0004  20    X    X    X
K2F   MD   4th 0410  80    X    X
K2J   NC   4th 0413  80    X    X    X    X
K2M   PA   4th 2200  20    X    X
K2H   MA   4th 2207  40    X    X
After making the table above, I decided to check the past few years. I added columns for those years and put an X there if I worked the station. I know I had a sweep in both 2017 and 2016, but I'm not sure before that. So I'm going to do that now. Of course you've already seen it now. HI.

I kind of figured that. I never really bothered with the event seriously until 2016. Since then I've done my best to try for a clean sweep. Technically I never have made it yet though. I haven't worked the British station which if I remember right is GB13COL. Maybe this year.

Whatever, it is a lot of fun and somewhat of a challenge to do it the way I do as mentioned in the first paragraph above. Also a very beautiful patriotic certificate comes with the event which I proudly display on the shack wall each year.

Next up is the DX streak in about 90 minutes or so. -30-


---

Tue Jul 03 2018 8:24PM - Hmmmm, same time as last night. The bands were rough today and tonight. The only DX I heard were a couple of stations chasing the 13 Colonies stations so I couldn't work them.

I did manage to add some more Colonies stations to the log late last night, today and this evening though. Now I'm up to 9 worked plus WM3PEN. I need PA NC MA, and MD for the sweep. I chased MD a while this evening, but couldn't beat the pileup as skip was too long to favor my QRP signal and he was only working longer skip stations like WI IN IL MN and the like. I guess I'll hunt some more during the day tomorrow while I'm hunting for my DX. -30-


---

Mon Jul 02 2018 8:48PM - Kind of a busy, strange, and good day today. I got started early with my banking run and got that taken care of quickly. When I got home, I helped Ange water his garden. Right after that it was time to walk Roscoe. Next it was watering my garden and picking my first ripe tomato. Then it was helping Bruce do a little work on his bicycle. Gee, I'm glad I did my laundry last evening.

Strange in that the circuit breaker on my power strip for my microwave tripped for no reason. Also strange that the new neighbor's tent they put up a couple days ago succumbed to a gust of wind this evening and landed on my fence and broke my cord at the end of my random wire antenna. So I had to fix that after a heavy thundershower came and went.

Good in that I got my DX at 0003Z this evening from S57V and had time to search and work some 13 Colonies stations. I got K2K NH on 40, K2E DE on 20, K2A NY on 30, WM3PEN on 30. Add those to K2I NJ on 20 last night and I'm off to a pretty good start. 4 down and 9 to go with 4 days to go. Hope I can get all 13 again this year as I did the past couple years. -30-


---

Sun Jul 01 2018 8:24PM - Absolutely horrid! Band conditions this evening, I mean. Fortunately Ger HK7AAG was strong on 30 meters so I worked him even though our previous QSO was just a couple days ago. He was the only DX station I heard other than a weak NP3YL on 40.

I had hoped to rack up a few 13 Colonies stations. However I only heard 3 of them, all right down at and below my noise level. I tried calling a couple times, but knowing it was futile and there are still 5 days left to get them all, I just QRT for the evening and decided to do my laundry instead.

We reached 95 today on my AcuRite remote. If that holds up outside, it will make this the warmest (hottest!) day of the year so far. It may "cool" off overnight tonight before heading for the 90s again tomorrow and also each day through Thursday. I say cool off because it's dropping fairly fast right now from the 90s within the last hour to 86 now.

Tomorrow morning I'm heading out to the bank while it is still relatively cool. I sure wish I could take the heat like I could when I was young(er). It couldn't really get hot enough for me, but that is slipping away now over the past few years. Another downside of ageing. -30-


---

Sat Jun 30 2018 8:52PM - It was rough getting my DX today (for the 30th, I mean). There was nothing workable from the time I started my regular half hour or hour checks at 1200Z for the next 5 hours. There were a couple weak DX stations, but they weren't hearing me, not suprisingly as they were down in my noise here. Finally although conditions didn't seem any better, I did hear one of the Bulgarian saint stations around s6-7 or so on 20 meters. I called a couple times with no response. But then he sent a K3? or maybe WP?, I forget now. Anyway I persisted and after a few times sending my call, he came back with K3WWP 599. Whew! Thanks to the great op at LZ430PPW, the streak lived on another day.

It was a hot one today with a high on my AcuRite remote of 94. Since it's now 9PM, let me go check the 'official' thermometer in the backyard shelter. Back in a moment or so. OK, the min max pres were 65 94 80 today which ties the highest max so far this year. It was a good day to stay inside although it really wasn't too humid. I did go out for walking Roscoe three times so far. One more to come before long. I also did some weeding in my garden and planted three more tomato plants that Ange gave me.

When I went to the shack at 0000Z, I had three objectives in mind. Get my regular streak QSO probably using the RAC contest if I didn't find anything else first. Get my DX streak QSO also maybe using the RAC contest. Start collecting the 13 Colonies stations.

After not finding anything else, I worked VE3AQ in the RAC contest for the main streak. Then I looked for some DX and the 13 Colonies stations. That was like finding a needle in a haystack or actually among the W/VE stations in the RAC contest. That contest sure has grown in the last 20 years. I remember there were usually only a couple dozen USA stations listed in the results and my late ham friend Corb K8UCQ and I usually finished near the top. Nowadays it is a major contest that really fills up the bands. I finally did find the first needle in K2I in NJ on 20 and got him with a single call. So 12 Colonies to go now. I also finally found a DX station in the contest. It was HP3SS (ex-VY2SS). After losing out to about a dozen or more stations, finally I got a K3? and after several repeats, the QSO was completed successfully. -30-


---

Fri Jun 29 2018 9:06PM - Hard to believe the first month of Summer (meteorological) is almost got already. It looks like July is going to be a real scorcher, at least starting off with upper 80s to mid 90s for at least the next week or so. It reached 90 today on all three of my thermometers which is unusual since at least one is a degree or so different.

The bands seem decent tonight, but no DX. Either the stations weren't hearing me or I was getting beat by the pileup. I'll try again later or tomorrow morning/afternoon. I did work K4EKD in SC. He's been licensed since 1955. Makes me feel a bit younger after hearing that. -30-


---

Thu Jun 28 2018 8:53PM - Not a whole lot to talk about compared to the last 3 entries about Field Day. It was nice as always to visit with Mike last evening. We got off our FD report to the ARRL after we had our pizza. Then we made some plans for our upcoming train ride on July 7. More about that as the time draws closer. Then we checked the bands for some DX, but didn't hear a single DX station that was workable.

There wasn't much DX around this evening either. However after a nice rag chew with Dan KB6NU mostly about our respective FD efforts, I did find and work one of my regular DX ops of late, Ger HK7AAG. He was booming in at 599, about the strongest I've heard him. Conditions seemed good, but there was just no other DX around except XE2I on 20 and he was weak. Anyway the streak still struggles along deeper and deeper into the upcoming sunspot minimum. -30-


---

Wed Jun 27 2018 8:32AM - Yes, AM. I thought I'd wrap up our Field Day report early. At least my part. Then I'll see if Mike has anything to add when he visits this evening.

We got together on Thursday to do some planning before we took the trip to Pittsburgh I described earlier in the diary.

We were going to set up my sun shade in the back yard, but after studying the weather forecast for the weekend which was highlighted by one word, RAIN, we decided we'd instead operate from my front porch as we did last year and a few years ago.

Of course to be eligible for the 2B category, we couldn't use my regular antennas. So we did some thinking about that. I did come to the conclusion earlier that I wanted to use my portable jumper inverted vee dipole I use when we go out in the parks. I figured I'd set it up at the very end of my small back yard. Mike wanted to use his bottom loaded whip antenna. We thought we could set it up in my front attic window. That would separate both antennas as much as possible to hopefully prevent interfering with each other. Mike checked out the mounting setup and found the antenna could be attached to the bottom of the storm window since the window swings in horizontally instead of being a regular double hung window and couldn't be used. He also wanted to set up his portable inverted vee along the side of the house as he did last year. That way he could see which one performed best with the least interference.

After figuring out the antenna situation, we put things away till Saturday morning set up and headed off to Pittsburgh.

Fast forward now to Saturday morning. Mike arrived around 9:45AM or so. I had already cleared off the front porch and set up our operating tables and chairs. Although it looked good on the radar with no rain yet, we thought we'd get the antennas set up first of all. It took a bit of time, but all that went smoothly. Next we set up the rest of our gear on the porch as shown in the pictures in Monday's diary entry. We tried out the antennas and they seemingly worked good with minimal interference as long as we weren't too close to harmonically related frequencies.

Once satisfied with the set up, we headed out to Wendy's for our lunch around Noon. Back home again to kill some time till 1800Z arrived.

Things started quickly for me when the starter's gun fired. I made 10 contacts in the first 13 minutes on 40 meters, and it continued on good from there. At the one hour mark I had 42 contacts. After two hours, it was 71 and 96 by 2100Z. It looked like we had a good shot at our goal of 500 contacts. However it started getting harder to find stations I hadn't worked before as time went on. I did try 15 meters during those first three hours, but it was found pretty much wanting. I only made 14 of the 96 contacts there. Ten meters was dead for all practical purposes and I didn't make any contacts there. As it was the whole operation, 40 was THE band. More about me later. Let's see how Mike was doing.

He started off with problems. Although he was getting a 1:1 or 1.1:1 SWR, the reception level was low and stations he called weren't hearing him. I thought about it and it sounded similar to what Tom WB3FAE experienced when we were at Moraine State Park. The KX3 was loading up a bad connector, but not really the antenna. I suggested to Mike that he check the connections around the whip antenna. So he went off to the attic and I'm not sure exactly what he did, but he came back down and said he found the problem. Maybe he can explain exactly what it was when he comes tonight and adds his thoughts.

Now with things working better and the signal levels up to what they should be, Mike started to roll at 1833Z. In looking at his log, it looks a little like the IL QSO Party at the start with 5 of his first 6 contacts being from IL. For the first hour and a half, it looks like 20 was pretty much in short skip almost like 40. There weren't any adjacent states in his log then, but all but a couple were from the same states I was working. As sunset approached, I see longer and longer skip till at 2212Z I see a couple CA (SDG) contacts and at around 2245Z, most all contacts were from west of the Mississippi or from FL. I'll let Mike add anything else about his part of the operation that he wants to in an addendum to this entry later this evening.

Getting back to me, after 2100Z, the QSOs on 40 kept on coming steadily, but a little slower. The hourly totals from 2100Z till bedtime were as follows: 23 25 21 17 20 19 3. All of those were on 40 except for 7 on 80. I wanted Mike to have 80, but he was having a good successful time on 20 and told me I could take it. It wasn't all that good and with my jumper dipole set to 40 which is as low as it goes, it wasn't working all that well.

My last contact before bedtime was at 0314, and Mike's at 0309. Then it was off to bed with no definite plans when we'd start again in the morning.

Looking at our logs, my first morning contact was at 1053Z with K4FC in FL on 15. So it looked like 15 might open up on Sunday as it did last year. Perhaps 10 also. We'll see, but now it was back to the workhorse 40 meters. I did hit 15 again at 1133 and ran off 9 QSOs in 30 minutes. Not great, but at least it looked like 15 would add to our totals. Nothing on 10 yet though.

The hourly totals on Sunday starting with the 1000Z hour were: 2 22 31 15 21 19 17 20. The 15 total was in the 1300Z hour when we took time out for breakfast. 10 meters did open up somewhat and I made my first contact there at 1253 working W4NPT in FL. I skipped among 40, 15, and 10 on Sunday. 15 and 10 fell short of last year, but still provided 73 and 19 contacts respectively to give us a total of 482 contacts, 9 short of last year and 18 short of our goal of 500.

We were happy with the total, but a couple of things held us back. One was a persistent problem with GenLog. For some reason, it took a long time to write the contact info to the hard drive. I remember having that same problem with Field Day before. However it's only a problem with Field Day, not any other contests. The time lag started out somewhere about 70 contacts when I noticed a slight delay till GenLog was ready for the next entry. As more and more contacts were added, the delay got longer and longer and reached around 25 seconds near the end of FD. Mike also noticed the same thing, but his delay was only several seconds. Perhaps because he had fewer QSOs. We'll have to investigate that problem, and perhaps try another logging program next year. Otherwise, GenLog is a fabulous contest logger for simple contest operating. I absolutely love it and use it for all my contesting.

Another couple little glitches held us back a bit. One was a neighborhood dog that got loose and came to visit us. The dog was totally friendly, but we took time to go find the owner. I see a little girl walking him now and then so I had an idea where to look for the owner although I didn't know exactly where they lived. I did run into him. He was out looking for the dog.

One thing that was absolutely great was using N3A instead of N3AQC. Now I (we) know firsthand why all the big contest stations want the shortest call possible. You can really sneak that call in and 'steal' some contacts. I don't mean using improper procedures, but just being 'quick on the draw'. I've already signed us up for N3A for the 2019 Field Day.

Oh, by the way, it never did seriously rain over the weekend. Just a few rather minor showers and no wind to speak of. So we probably could have easily used the sunshade. Oh well.

I think that about covers the operation unless Mike has some things to add. If so, I'll post them right here this evening.

de Mike KC2EGL
This year I decided to try an antenna that I have had for nearly 20 years but have yet to use. It is a BW Apartment Window multiband whip antenna with an adjustable coil. It is advertised to work from 2M to 40M. To my surprise it worked like a charm (after I went back upstairs to connect the counterpoise). This will be my go to antenna for any operations at John's QTH.

As usual operating radio with John was a blast. -30-


---

Tue Jun 26 2018 6:56PM - Last night it was pictures, tonight will be stats of our FD operation.

I worked 80, 40, 15, and 10. Mike stuck it out on 20.

QSOs by band - 
John
80 -   7
40 - 272
15 -  73
10 -  19
Mike
20 - 111
Total
tot  482
How did we fare with states? Not as well as previous years. We missed 8 this year - AK AZ HI ID MT ND NV WA.
States per band -
80 -   5
40 -  34
15 -  28
10 -  10

20 -  34

Overall -
All - 42
Here's how we fared ARRL section wise. All is our combined total different sections from our 482 QSOs

ARRL Sections per band -
80 -   5
40 -  48
15 -  31
10 -  13

20 -  45

All - 61
Here's a rundown of the categories we worked. The first number is my total on 80, 40, 15, and 10, the second is Mike's total on 20, the third our totals added together. These are not unique stations since I worked some stations on more than one band and Mike and I worked some of the same stations. It's just a rundown of our 482 QSOs.

Categories - 
1A  - 18 +  8 = 26
1AB -  1         1
1B  - 16 +  3 = 19
1C  -  2 +  1 =  3
1D  - 58 + 16 = 74
1E  - 40 +  8 = 48
2A  - 64 + 15 = 79
2B  -  3 +  1 =  4
2D  -  2 +  1 =  3
2E  - 14 +  4 = 18
2F  -  2 +  2 =  4
3A  - 60 + 26 = 86
3D  -  1         1
3E  -  7 +  2 =  9
3F  -  2 +  3 =  5
4A  - 26 +  5 = 31
4E  -  1 +  1 =  2
4F  -  2         2
5A  - 20        20
5F  -  1 +  1 =  2
6A  -  9 +  6 = 15
6F  -  3         3
7A  -  5 +  3 =  8
7E  -  0 +  1 =  1
7F  -  1         1
8A  -  4 +  1 =  5
9A  -  4 +  2 =  6
10A -  1 +  1 =  2
11A -  1         1
13A -  1         1
15A -  2         2
Tomorrow is pizza night, so I'll write my comments on FD, then ask Mike while he's here if he wants to add his comments. -30-


---

Mon Jun 25 2018 3:21PM - I thought I'd do a picture entry today for FD, then tomorrow a story of the operation.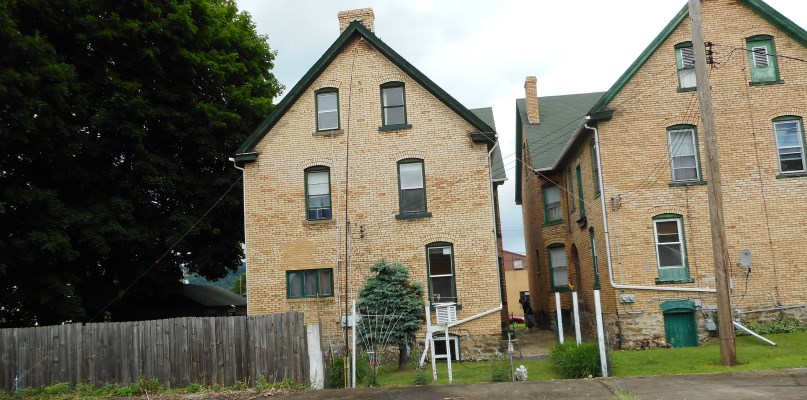 My jumper dipole set up at the far edge of my back yard. No, it's not as close to the house nor the power lines as perspective makes it seem.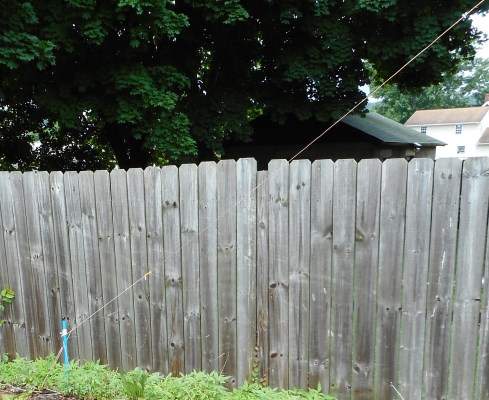 The far end of one leg of the dipole fastened to the blue pole.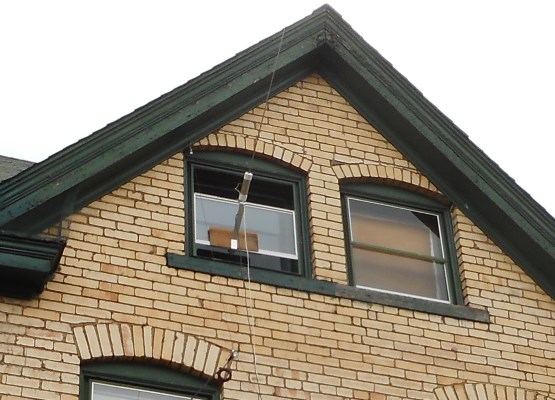 Mike's whip antenna mounted to one of my third story windows about as far as it gets from the backyard dipole.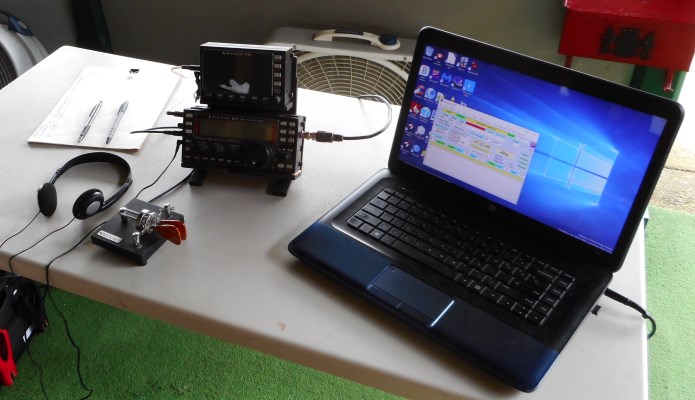 My station setup with the KX3/PX3, logging computer, headphones, paddle, and some note paper and pens if needed. Also my fan in the background if needed (and it was at times).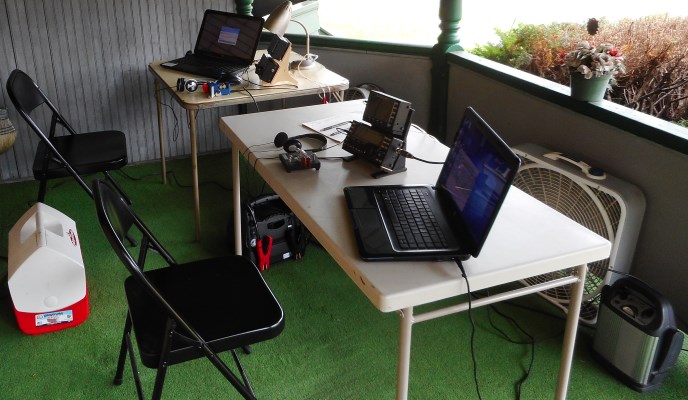 Overall view of both our stations. You can also see our batteries in this picture.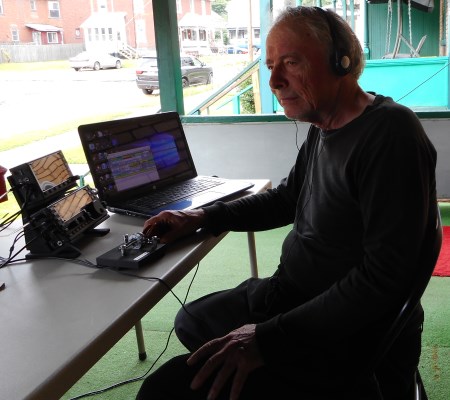 The old man calling some station.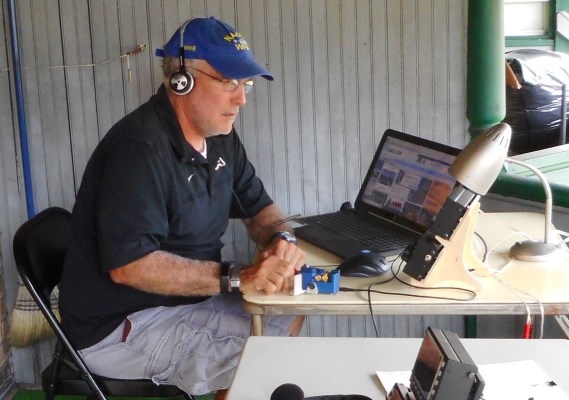 Mike doing likewise. Gee, I wish I was that young again.



Tomorrow I hope to do the write up of our Field Day experience and post it here in the diary. -30-


---

Sun Jun 24 2018 6:40PM - It was an enjoyable weekend doing Field Day. There were some glitches and some disappointments along the way, as always happens pretty much with any event. I'm not going to write a full report tonight. I may do that during the day tomorrow, but leave room for Mike to add his thoughts in Wednesday's entry when he visits for pizza night that evening.

Briefly, we put in about 16 hours operating with a sleep break Saturday night. Mike stuck with 20 meters and I covered the 80, 40, 15, and 10 meter bands. We made 482 QSOs which was 9 shy of last year. Our rough state total was 41 and we worked about 61 ARRL sections. More accurate totals coming later.

I did get my DX QSO on 30 from HK7AAG in a short break from the FD action.

That's it for tonight. I am a bit tired mentally and also physically after sitting still for so long. -30-


---

Sat Jun 23 2018 11:35PM - We're in the midst of FD, so no diary entry other than this today. A complete summary of FD in the next couple diary entries. -30-


---

Fri Jun 22 2018 8:17PM - I tuned to W1AW at 8:00PM (0000Z) as shown in the copy below for the FD message, and they had something else on instead. So if I read correctly, the next transmission of the FD message will be at 11:00PM (0300Z). I'll have to try then. Kind of discouraging. Or am I not reading this schedule correctly?


Day      Mode     Pacific    Mountain   Central   Eastern   UTC

FRIDAY   CW       5:00 PM    6:00 PM    7:00 PM   

8:00 PM   0000 (Sat)


         Digital  6:00 PM    7:00 PM    8:00 PM   9:00 PM   0100
         Phone    6:45 PM    7:45 PM    8:45 PM   9:45 PM   0145
         CW       8:00 PM    9:00 PM   10:00 PM  11:00 PM   0300
     
SATURDAY CW       7:00 AM    8:00 AM    9:00 AM  10:00 AM   1400
         Phone    8:00 AM    9:00 AM   10:00 AM  11:00 AM   1500
         CW       5:00 PM    6:00 PM    7:00 PM   8:00 PM   0000 (Sun)
         Digital  6:00 PM    7:00 PM    8:00 PM   9:00 PM   0100
         Phone    6:45 PM    7:45 PM    8:45 PM   9:45 PM   0145
     
SUNDAY   CW       7:00 AM    8:00 AM    9:00 AM  10:00 AM   1400
         Phone    8:00 AM    9:00 AM   10:00 AM  11:00 AM   1500
         Digital  9:00 AM   10:00 AM   11:00 AM  12:00 PM   1600

Anyway since the message wasn't there, I tried for and got my DX streak QSO. I first heard DF7MJ on 20, but he didn't hear me. Then I heard DL1REM on 20 and got him on the first try. It is nice to hear Europe on 20 meters after 0000Z again. I hope that bodes well for FD conditions this weekend. -30-


---

Thu Jun 21 2018 7:53PM - Mike visited today and after we went over some plans for our Field Day operation, we took a trip to Pittsburh. I'll have some pictures of that in a moment.

I had completely forgotten, and I guess Mike did also since he didn't say anything about it, that I signed up just after last year's Field Day for the 1x1 call of N3A for us to use this year in Field Day. I'm glad I was looking at last year's FD diary entry for something else and noticed that. So we will use N3A this year in our 2B operation from my front porch with some makeshift antennas to qualify for that category. I'll have more about that after FD is over. Anyway we do have all our equipment gathered up to assemble Saturday morning. It looks like a very rainy weekend which is why we decided on the front porch instead of a sun shade in my back yard.

As for the Pittsburgh trip, we wanted to go take a ride on the "T" which is Pittsburgh's light rail/subway system. It had just been built when I was winding up my job in Pittsburgh, and neither Mike nor I had ever ridden it before so we decided to go on a joy ride today.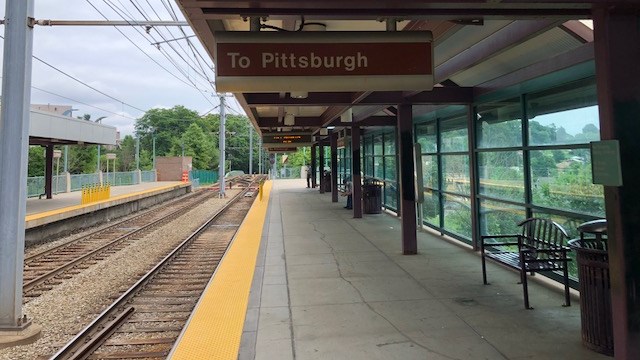 That's the platform on the North Side that we started from.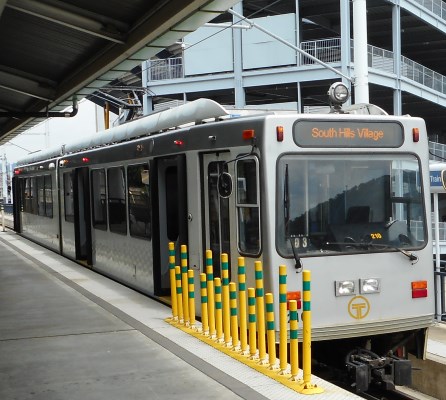 That's the trolley/train on which we rode.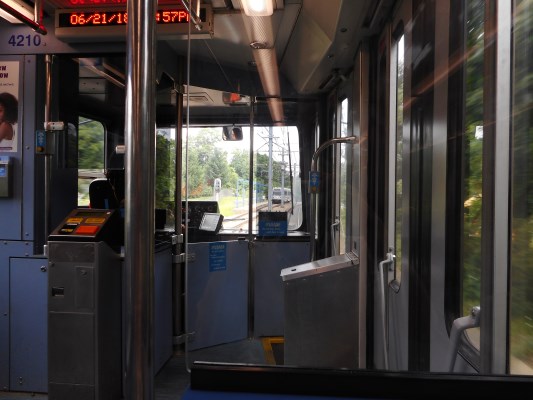 The control compartment with the conductor seated behind the pole and console at the left and you can see another train coming in the opposite direction.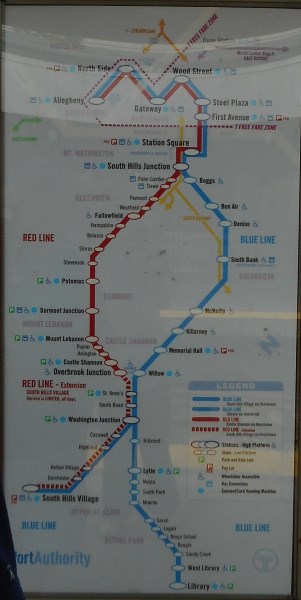 A map of the RED LINE route we took. The one on the left from the starting platform to the big South Hills Village shopping mall where we stopped off for a bit then took the ride back to where we started.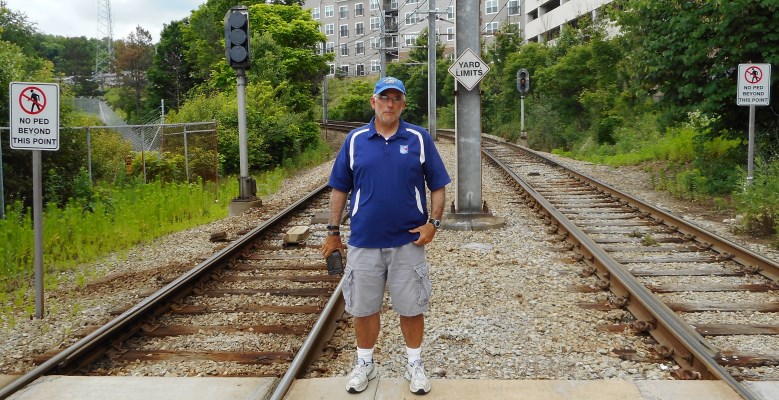 Picture of Mike standing between the rails.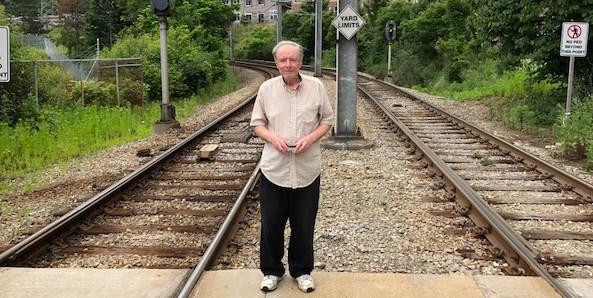 And me standing between the rails.


It was another great day with Mike as usual, and now I'm looking forward to our FD venture on this weekend. I wonder if we can top our 491 QSOs from last year. We should since Mike had to miss the first few hours of FD then because he had to work. This year we'll both be there for the full session.

No DX this evening. I only heard ZW18FIFA and a couple DL stations, none of whom heard me calling them. Mike and I also listened late this afternoon after we got home and didn't even hear any DX then. Kind of odd with the great propagation numbers of SF 82, A 3, and K 0. But then actual conditions are not locked into those numbers by and means. -30-


---

Wed Jun 20 2018 8:18PM - Both my DX QSO for the 20th and the 21st came quickly today. I turned on the rig not long after I got up at 1150Z or so. It was 1200Z when the rig came on and showed a peak at 10117 on the PX3. I tuned to the peak and it was KP4TF whom I immediately worked I think on my second call if I recall correctly. Then this evening the rig came on at 0000Z and showed a peak at 14015 just where XE2I was last night. It was he, and I settled down to see how long it would take to work him if I could get him at all which I couldn't do last night. Surprise! I got him on my very first call.

Thinking about those two QSO, I give all the credit for finding the stations to my PX3 panadapter. Without it, I might still be listening to find a DX station. Thinking some more, actually the panadapter is the only concession to any of the modern facets of ham radio that I use differently from how I did it in the 1960s.

Disclaimer: I have nothing against anyone who does use all the modern conveniences of ham radio. I just don't do it that way myself. Let's talk about some of them. I'm sure I'll forget some, but here goes.

Spotting. I much prefer to find stations myself and not have other folks point them out to me. Unless you count the very few times a ham friend told me he just worked so and so a few minutes ago, and I tried to see if I could get so and so, I have never used spotting to get any of my 90,000+ QSOs. Actually I can only think of a couple - V51AS and OD5ARMY. I'm sure there were maybe a couple more at most, but that is it.

Reverse Beacons. Actually I'm not even sure how they work. I think somebody posts somewhere that they heard you, and other folks check the posts to see if they want to try to work anyone posted there. Don't quote me on that. Anyway it sounds kind of like just a variant of spotting, and if so, I'll never use it for the same reasons.

Skimmer. Just a panadapter that identifies the station for you. I much prefer to tune to each peak and listen to hear who it is myself rather than have some piece of software ID for me.

Keyboard keying. If I want to type something to someone, I'll use a letter or an email. For CW, I'll use a straight key, bug, or keyer.

Memory keyer. Well I guess this may be another concession. I do use the memory feature in the KX3 to call CQ for me, but only when getting answers is slow, and I could be using the time to do something else in the shack instead of calling CQ manually. That's it for memory keying. I still send all contest exchanges manually, along with any other type of sending.

Computer logging. I do use this for contesting for two reasons. As I age, my writing and printing gets sloppier and sloppier to the point where if I'm in a hurry, I have trouble reading it later. The same with dupe checking. I used to be able to dupe check in my head easily up to a few hundred QSOs, but as the memory slips away, it gets harder and harder to dupe check after a few dozen QSOs. Especially with so many short and similar contest calls these days. Was that N1BT or NB1T or KB1T or K1TB I worked before? My computer knows, but I don't.

Other digital modes. I have no use for any but the original digital mode - Morse Code - and never will. Morse Code requires the use of my brain while the other modes downplay the brain in favor of the computer doing the work. I think just like the body needs exercise, the brain needs it also, and this is one way of getting the exercise.

Copying code via computer. This pretty much goes with the previous comments. Many years ago, just to learn how it was done, I programmed some software for the old Color Computer (remember them?) that copied Morse. It worked to a certain extent, but was just a novelty and I never used it in any QSOs.

I'm sure there are other modern features that I don't even know about. Even if I did, I wouldn't be interested. So I'll just sum up that for me it's Morse Code copied and sent manually with the aid of a panadapter to quickly scan for signals and a computer to log in compensation for decline in some faculties due to the ageing process. -30-


---

Tue Jun 19 2018 8:52PM - It cooled off a bit today, but still a little humid. Let's see, the high on my AcuRite remote shows as 84 or ten degrees cooler than yesterday.

The bands were a little better this evening, but still I didn't get any DX. I did hear Ger HK7AAG, but since I just worked him late last evening, I didn't bother him again. I also heard XE2I, but he didn't hear me. Those were the only two DX stations I heard. Hopefully I'll get my DX in the CWT sprint tomorrow morning or afternoon. Or maybe later tonight as I did last night.

I did something a little different today - a sewing project. Although I do sew to mend things, I never made anything from scratch until today.

My late aunt Virginia made plastic bag holders several years ago, and I had about a half dozen of them at one time. However when a friend moved into a new house, I would give them away as housewarming presents. That took me down to just having two left when I gave one away a couple weeks ago. So I thought I'd attempt making one myself. Virginia did them on a sewing machine which I don't have here. So it was the old fashioned needle and thread by hand sewing.

Let me descibe them briefly in case you don't know what I'm talking about. They are basically a tube of cloth anywhere between 1 and 2 feet long and 4-5 inches or so in diameter. There is a handle at top, and elastic at the bottom restricts the opening there so the bags don't just fall straight through. You put the bags in at the top as you get them at the grocery store, etc. and then pull one out at the bottom when you need one for something. Simple, but it sure is a great way to store plastic bags if you get as many of them as I do here. Get the picture? If not, here is a picture of the one I made today as it hangs on the cellar door in my kitchen.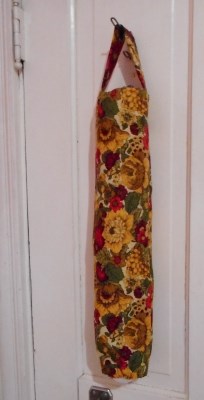 You can perhaps just see a bag peeping out of the bottom ready to be plucked out and used for something. I'm pleased with how it turned out. Sewing the elastic around the bottom was the trickiest and most tedious part of the project. It was fun though, and maybe I'll make some more sometime.

I did learn something though. My aunt Josie was a great seamstress up into her 70s, and I have greater admiration for her now as I certainly noted how my age in the 70s made the simple task of sewing harder with the eyesight and lessened feeling and flexibility in the fingers, etc. It couldn't have been all that easy for her, and she did a lot more of it than I did.

I'm a bit late for my weather readings, so I'll get them, proofread this entry and post it after the readings. -30-


---

Mon Jun 18 2018 7:57PM - The hottest day of the year so far at 94 degrees on my AcuRite remote thermometer. Probably the official liquid in glass reading will show the same when I get it at 9 PM. It's still 88 degrees. Back with more after my trip to the shack.

The bands are sure not hot this hot evening. I didn't hear a single DX signal from 40 through 17. So I know what I'll be doing part of the time during the day tomorrow. I hope it doesn't take too long. I did work Bill K4VSV on 30 for the main streak though. We've worked many times through the years.

In contrast, last evening my DX came at 0002Z from WP3C on 30 meters. Then I tried some CQs since the DX came so quickly, and worked friend and fellow NAQCC member Bob K2YGM on 30. We had a nice rag chew till the band changed after some 23 minutes. He was telling me about a small loop antenna he recently purchased. I've always thought about trying a small loop especially for receiving as they may be good in reducing some of my local noise. I've used them for receiving AM BC stations as well as LW beacon stations in the past, and they are really good in those activities. I especially like an altazimuth loop that can be tilted as well as rotated. You can really get some good nulls that way, especially if there is only one noise source. Also you can really null local AM BC stations. I remember using one in my apartment in Pittsburgh, and I think the best example of that was being able to null out 50KW KDKA on 1020 deeply enough to pull in WPEO in Peoria Illinois in the daytime. It works best in the daytime when there is little skywave and almost all direct or ground wave to contend with. At night the skywave contributes to changing the polarization of signals almost continuously so you can't get that really deep null then.

Well, I kind of rambled on there, but I really enjoyed my time spent in AM BC and LW DXing. I've forgotten some of the stats exactly now, but I logged something like 1800 AM BC stations in all states but Alaska and some 60 countries. Just for anyone not sure, AM BC means 540-1600 kHz. Of course now the top end is 1700 kHz. The LW beacons consisted of aeronautical and marine beacons from roughly 190 to 420 kHz with some overlapping past those limits. It was also fun listening to the 500 kHz 'emergency' or 'calling' frequency. OK, enough rambling. It's getting close to weather reading time now, and then Roscoe walking time. -30-


---

Sun Jun 17 2018 7:20PM - Finally some hot humid summer weather. Very nice, as long as it doesn't get out of hand now. As I get older, I'm a little less tolerant of such weather. It still beats the winter weather though. I did a little outside work today, but mainly I've been at the computer with my fan blowing on me. I tied some of my roses to their trellises, and my beefsteak tomatoes to their poles. My Siberian tomatoes are coming along nicely with a lot of little green tomaotoe. The biggest just over an inch in diameter. As you may know, they don't really get all that much bigger than that even when they ripen. The pepper plants are growing at a steady pace. I don't see any flowers on them yet, but there may be some buds. I didn't look all that close today.

I just took a break and went for a short 10 minute walk. I really felt the heat, and now I'm back in front of the fan until it's time to go to the shack and try for my DX QSO. Hopefully it won't take long as it is warmer on the second floor where my shack is. -30-


---

Sat Jun 16 2018 8:47PM - It wasn't easy, but after trying and failing with about a half dozen DX stations, I finally ran into a persistent op with good ears at HG1FIFA who stuck with me on 40 meters for a couple minutes to get my call right. Thanks, whoever you are.

I'm not sure which is more frustrating. Hearing and calling DX, and having them not hear me at all - or - not hearing any DX at all. Both situations happen to me with the not hearing anyone at all prevailing. It's even more frustrating hearing stations I usually easily work and having them not hear me. That happened this evening with Andy HB9CVQ on 30 meters. He was pretty strong peaking at S7-8, but all I got from him was a tentative 3?. I remember working him on 80 meters back on Dec 10 last year on 80 meters pretty easily at 2352Z to preserve my DX streak. I also worked him again on 80 meters on January 15 this year. Neither time was he very strong, but he worked me fairly easily both times. Strange how propagation works. -30-


---

Fri Jun 15 2018 8:21PM - The Elks Flag Day ceremony last evening was really inspiring as it is every year. I wish we had more patriotic events here in Kittanning. It's really wholesome entertainment as well as a great tribute to our great Republic and its flag. I took some pictures, but it's really an audio ceremony and not a video one, and I don't think I will post any of the pictures. About the only good pictures would be of the various USA flag styles over the years and I was kind of in the background of the audience and couldn't get any good pictures of them. Also it was calm and the flags just hung limply on the flagstaffs after the Boy Scouts marched them in. I guess to really appreciate it, you had to be there, and I'm glad I was.

The bands seemed good this evening, and I got OM2VL at 0004Z for my DX streak QSO on 20 meters. There were some strong Asian signals in the All Asia contest. They all had big pileups though and I didn't try any of them. Maybe tomorrow evening when the pileups should be diminished quite a bit. -30-


---

Thu Jun 14 2018 8:19AM - I hope you are all flying your flag proudly on Flag Day today. I just hung mine on my front porch a few minutes ago as shown here. That flag is the one that draped my dad's coffin when he passed away back in 1964.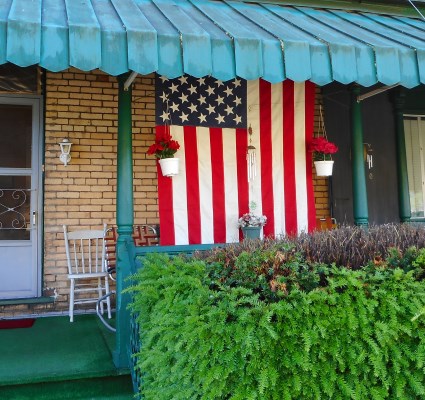 We had some severe weather late last afternoon and early evening. There were three tornado warnings for portions of Armstrong and nearby Indiana counties. I'm not sure just where the touch down(s) were, but they weren't in Kittanning itself for sure. We did get hail though as shown here. I must have had 15-20 hailstones on my porch which were blown in by the very strong winds. Although they melted fast, the largest of these in the pictures measured 3/8 inch when the picture was taken a few minutes after they landed. I'd guess they were about 1/2 inch before melting. I think as far as I can recall, those are the biggest hailstones I've ever seen "in person".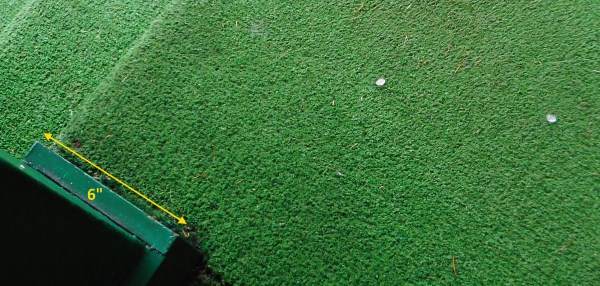 These rainfall pictures don't really convey just how hard it was raining, but perhaps do give somewhat of an idea. The water only puddles like the one across the street when the rainfall exceeds a certain rate as it drains very quickly otherwise. Also those streams off the awning are pretty thick and continuous. In normal rains, they are much thinner and not continuous. We got 0.88 inches in perhaps 15-20 minutes total time from three showers, most of it in the shower shown in the pictures. There was almost no lightning and thunder with the showers. In fact I only recall hearing some thunder well before the showers arrived and shortly after they departed.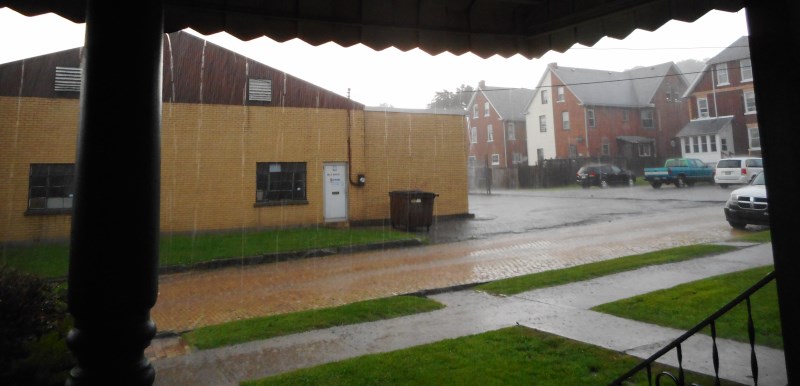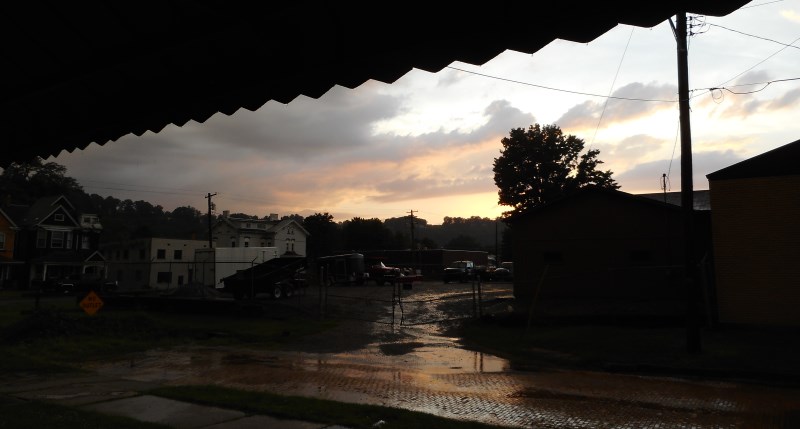 All in all, an exciting evening for this meteorology nut. I really enjoyed being out on the porch (after the burst of hailstones stopped) watching and photographing the rain. -30-


---
---

Wed Jun 13 2018 9:15AM - As promised, here is my 'soapbox' for last night's NAQCC sprint. I did exactly what I said. I stayed just long enough to get 10 QSOs. After I worked WB8LZG at 0101Z, I waited a few seconds for any tail end calls, and not getting any, I quit.

This will probably be my MO for future sprints. I seem to have lost some enthusiasm for them since I am no longer involved in doing the cross-checking and other associated chores. I do want to keep my record of never having missed a single one of our some 175+ sprints (counting our regular, 160M, and QRPp sprints), so I will keep entering, but probably not stay the full two hours. My friend Don K3RLL has been doing the same thing, getting 10 QSOs, then quitting, for many sprints over the past few years now.

Conditions were kind of the middle of the road here last night with signals neither overly weak nor overly strong on 40. On 20, there was little heard there as usual, but I did make 2 of my 10 QSOs there. It seems that in general, I do not hear QRP signals all that well on 20, and actually find it much easier to work DX stations than domestic QRP stations for whatever reason.

My first QSO was on 20 with John K4BAI. John and I have worked 193 times in contests and sprints since 1964. Our first QSO was on May 10, 1964 in the GA QSO Party. John has always been a contesting hero for me with his dedication to the art and his efficiency in contest operation. There are many others I also admire very much, of whom I will only mention two who unfortunately are now SKs - Larry W9IOP and Vic W4KFC. In the 1960s and 1970s, you could tell it was Vic or Larry simply because their signals were head and shoulders above other signals. You didn't need to wait to hear their call sign. Nowadays just about every serious contester has a contesting super station and none really stand out among all the rest.

Just a final note on John. We've also had 36 other rag chew type QSOs for a total of 229 QSOs.

To close this entry now, thanks to any of those reading this whom I may have worked in the sprint last night. Eight of those I worked are regulars that I've worked many times now with two that I worked for the first time in an NAQCC sprint. Thanks to all others taking time to read my diary. -30-


---

Tue Jun 12 2018 8:18PM - Just a quick entry tonight. The NAQCC sprint is coming up in just a few minutes. I want to get in it for a few QSOs. Maybe I'll shoot for 10 as I did last month. However I wound up with 26 instead as just as I got #10, a run started and I stuck it out for another 20 minutes or so.

Whatever happens, I'll have comments about the sprint in tomorrow's entry. Now I gotta run. -30-


---

Mon Jun 11 2018 8:44PM - The bands were not near as hot as they were last evening, but still I managed a quick DX QSO from TI2/KM4HI on 20 meters. Actually after I called him with a wrong antenna and got a W3?, I went to the correct antenna and got him right away. Other than that, I didn't hear any DX at all except a very weak 9K2NO on 20 meters.

It was a busy day today with two loads of laundry, then helping Ange in the garden for a while. I also spent a lot of time working on my family tree which now has just under 2,800 blood relatives among a total of some 4,300 or so names.

The weather was cool again with a high just around 70 or so. My AcuRite remote shows 69 for a high. The folks on Penn State's Weather World show say it is going to gradually warm up the next several days and perhaps hit 90 on Monday. We'll see. -30-


---

Sun Jun 10 2018 9:13PM - Interesting conditions this evening. There was some sporadic E skip opening up 6 meters and giving short skip sigs on the higher HF bands. But also DX was very strong on 20 meters. It's fun when conditions are like that. I didn't work many stations, just 5, but it was enjoyable listening.

I worked CT8/OH2GEK in the Azores on 20, then AB2VI in NJ on 30, I called CQ on 20 and got K8OD in MI and was tailended by Key K7MOA in GA after that QSO, next I closed out with CN18FWC in Morocco on 20 for another World Cup station.

On 6 meters, I had some high local noise so didn't work anyone, but I did hear stations from Ontario, and the W5 and W0 USA call areas. There was some kind of test going on on 6 meters. I don't know what it was.

Yes, it was a fun hour or so on the bands this evening. Hope we have more evenings like that. -30-


---

Sat Jun 09 2018 8:33PM - After a rough day yesterday, it was back to a quickie DX QSO at 0001 this evening when I worked MD2C on the Isle of Man in some kind of contest called 'SA'. Let me see just what that is. I guess it's the Argentinian GACW contest and the SA stands for South America. After that I also worked YL3IZ/MM in the contest just because I haven't worked a MM station in a while. He was somewhere in CQ Zone 8 in the Caribbean. Then I had a rag chew with K2QBN in Florida on 30 meters.

While I was working K2QBN, I was looking at my latest log page which goes back to May 29. I found it interesting to see there was only one 40 meters QSO. The rest of the 21 QSOs were on 30 and 20 except for one on 17. Also all but four QSOs were DX. I guess so far, the decline in sunspots hasn't really hurt the ability to work DX with QRP and simple antennas on CW. Of course there are the rough days like yesterday, and there should be more of them coming as we go deeper into the sunspot minimum.

I'm sure you all know about the Wouff Hong. If not do a Bing search for it. Anyway it should be brought out and used anytime someone sends those endless CQs without identifying, then usually they send their call sloppily one time. I personally never answer anyone who engages in that practice. I have always found it best to use a 3 x 2 CQ, i.e. CQ CQ CQ DE K3WWP K3WWP K. Then pause around 3-5 seconds to listen for a reply before continuing with the 3 x 2 CQs until I get an answer or give up. Keep that in mind and you'll enjoy great success in making contacts. -30-


---

Fri Jun 08 2018 6:39PM - This looked like a day when the DX streak was going to end. Fortunately there haven't been too many of them lately with the pretty good conditions in the 0000Z hour.

However after not getting anyone later last night, I started looking in the 1200Z hour, and then each hour after that till the 1600Z hour with nothing to show for it. I wasn't even hearing anything workable. There were a couple stations that just broke over my noise level at S3 or S4 and QSB would take them back under over and over again. Then I had to do some shopping with my neighbor and didn't check again until about 1830Z or so. Still nothing until sometime in the 2000Z hour when conditions picked up just a little with stations at s6 on peaks. But there was either too much competition or they just weren't hearing me at all. One IQ station was particularly strong, but he wasn't hearing me at all. Signals were gradually improving so I thought this would be the time to stick with it, and I did. Finally around 2050Z I caught the letters AO and figured it might be HC2AO. It was, but he wasn't hearing me well, but finally did send WP?. Still when I came back after that, he didn't hear me at all. That's how quick conditions were changing. Alex did stick with me though, and did finally get my call. He gave me a mighty 219 RST, and I gave him a pretty honest 559 and we thanked each other by name and the streak has now reached 1,926 days. A real WHEW! day. Hopefully the next couple weekend days will at least provide some more activity even if conditions aren't any better. -30-


---

Thu Jun 07 2018 8:38PM - I guess I jinxed things when I talked about getting my DX QSO in the 0000Z hour the last 18 or so days. There was nothing workable tonight in that hour. I heard two Spanish stations, one on 40, AO18FWC, and one on 20, EA2VE, but both were very weak just barely above my noise level and neither heard me at all. That's not good either, because I'm going on a shopping trip in the morning with my neighbor, so the DX will have to be gotten either later tonight or tomorrow afternoon or early evening.

A lot of time lately has been taken up working on my family tree genealogy. It's really fascinating to see just how many people one can be blood-related to. Of course everyone in the world is related going back to Adam and Eve, but.... Right now I'm up to about 2,725 relatives, most of which I've gotten from two web sites, Find a Grave and Family Search. I haven't even explored very much the many other genealogy sites yet.

Nice weather again today. Great to be outside walking, or just sitting on the porch with Roscoe. Also working in the garden is great when it is like today. Low humidity and temperatures in the low to mid 70s. -30-


---

Wed Jun 06 2018 8:22PM - Yet another quick DX QSO at 0003Z when I worked KP4TF on 30 meters.

Today was a chilly day barely making it into the 60s. So far it looks like our alternating month pattern may be continuing. Although we did get out of sync in March and April. Here are the months so far this year with the departure from normal.

Jan -0.7
Feb +8.1
Mar -2.3
Apr -2.9
May +9.4
Jun -2.1 (so far)

It will be interesting to see how it plays out the rest of the year. That's what makes the hobby and study of meteorology so fascinating. There is always something different. -30-


---

Tue Jun 05 2018 8:18PM - This was a day of doing a lot of little things. I guess if I were married, they would be what are called "honey dos". I won't bother listing them here as it would take up too much bandwidth.

Instead let's get right to the ham radio bits. The last couple evenings I've again gotten some very quick DX QSOs. Last night it was XE2I at 0003Z. Tonight NP4AW at 0007Z. Oh, and on Sunday evening it was HD18FIFA at 0002Z. If I recall correctly, it's been a while since I haven't gotten my DX in the 0000Z hour. Let's see. Looks like it was back on May 18 when I worked OT70TLS at 1633Z. That's 18 days in a row now, and I appreciate it since with the nice weather, there's a lot more to do during the daylight hours. -30-


---

Mon Jun 04 2018 8:47AM - Thanks to Mike for "ghost writing" the diary entry yesterday also for the great fun weekend we had together at Butler and on the Requin. As he mentioned, I'd have some pictures for today's entry, so here we go.



Here's a different view of the sub than ones we've posted in the past. Because of construction, we approached the sub from a different angle this time, and this view jumped out at us. It really shows the size of the sub.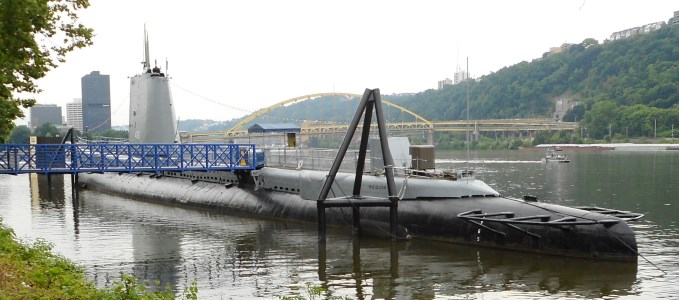 A familiar view of the sail which explains the 7048.1 and 14048.1 frequencies we used.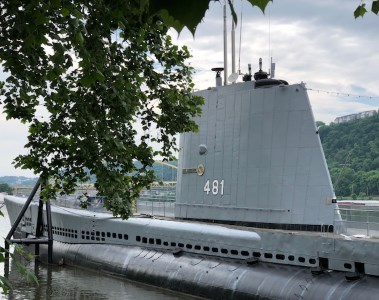 Our friend and sub "caretaker" Art WA3BKD and Mike.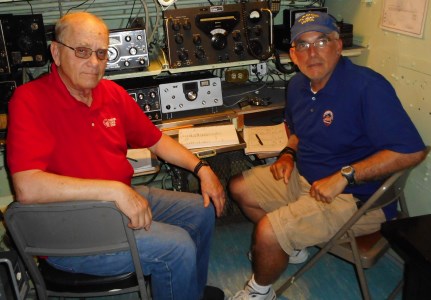 Mike busy making contacts.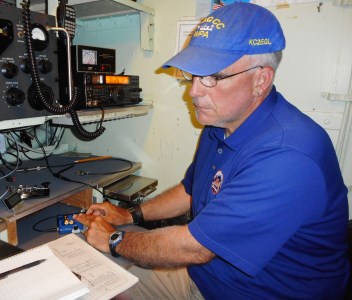 Art and John.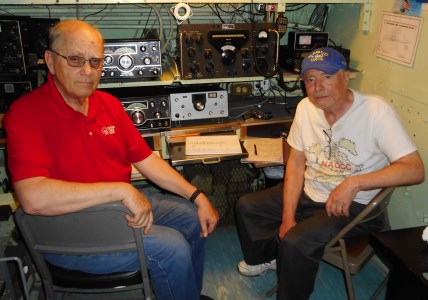 John busy making contacts.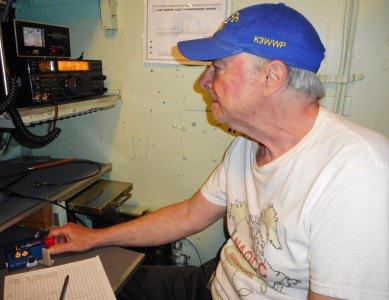 A happy John and Mike taking a brief break from the fun for a picture.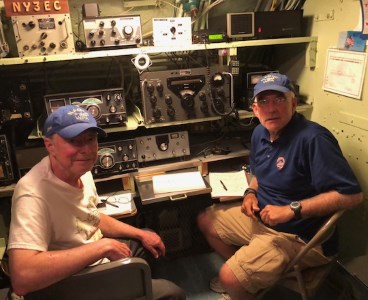 Thanks go to Art and the Carnegie Science Center for inviting us to help out in the Museum Ships on the Air event. I hope the situation can repeat in 2019. It was a blast. -30-


---

Sun Jun 03 2018 4:40PM - And now, heeeere's Mike!

Good evening everyone. Our day started when I arrived at John's QTH shorty after 8AM. We chatted for a bit before heading down to Pittsburgh. We arrived just before 9:30AM. After a short wait the staff of the USS Requin opened the gate so we could go down below to the radio room where Art was waiting for us.

Art gave us a quick run down on the ships ICOM. We took it from there. Don't tell anyone but John operated QRO today. Yes he will have to serve penance for such a sin (Hi-Hi!!!). We had a good time operating and conversing with the guest's touring the sub. All in all we made 36 QSO's (three of which were with other Museum Ships, USS Salem, USS North Carolina, and USS New Jersey), and logged 17 states. Art WA3BKD even logged two 2M QSO's for the event. We did not count those in our count though. And no we did not forget about food. We both brought our lunch with us to the sub. And we are about to head out to Wendy's for dinner.

As ususal it was a great day of radio operating with John. So until next time (as Charles Osgood used to say on his Sunday morning T.V. program) 'See you on the radio'.

de Mike KC2EGL 73.

P.S. John will have photographs of todays activities in his diary entry tomorrow. -30-


---

Sat Jun 02 2018 7:51PM - It was a good hamfest today. Our on-air activity was on the slow side, but we had a lot of great eyeball QSOs with hamfest visitors. The visitors were very interested in our setup, both the rigs and our antenna.

On the air, we were only able to make 3 QSOs because of a lot of time spent talking with visitors plus poor band conditions when we did have time for getting on the air.

Now 3,000 more words in the entry. That is since a picture is worth 1,000 words, here are Mike KC2EGL, Tom WB3FAE, and John K3WWP at our NAQCC table.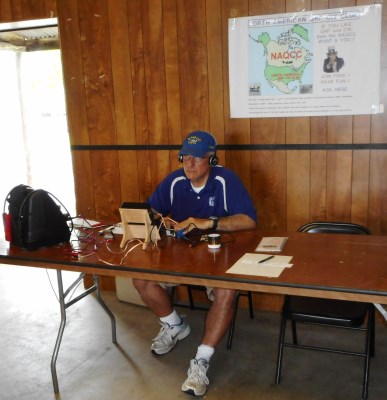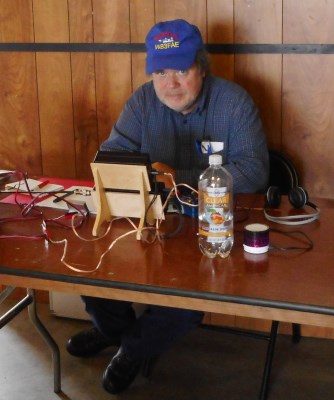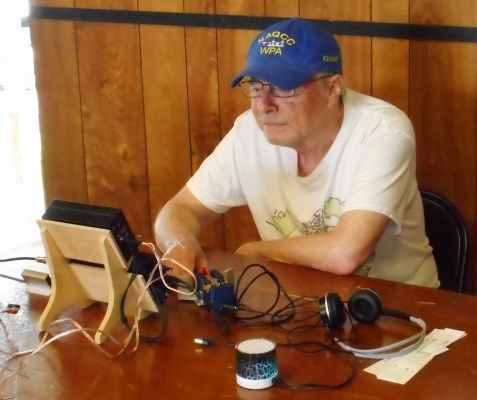 Tomorrow Mike will write an entry about our USS Requin Museum Ships on the Air activity. -30-


---

Fri Jun 01 2018 8:18PM - Another busy day today. First let me update the info on our weekend activities. At the Breezeshooters Hamfest, we'll be in building Demo Grange. The NAQCC table will be ready to go shortly after 8AM barring the inevitable delays. Actually it will probably be more like 8:30AM. We'll operate around our usual frequencies of 7039, 10115, and 14059, but also we will chase some DX to show off the capabilities of QRP/CW in that regard. We'll probably stay until 2PM or so.

On Sunday at the Requin, we still don't know the exact hours, but the frequencies will be 7048.1 and 14048.1 which relate somehow to the frequencies used by the Requin when it was active.

It was a nice cool day today - just about right for a change. Roscoe and I spent a lot of time outside enjoying the weather. I did many other things like paying my first of the month bills, some cleaning, and so forth. I also cut my hair early this evening.

Moving along now, I got my DX QSO(s) quickly again this evening. First it was TI8II on 17 meters who had me as K3EWP and although we exchanged reports, etc., he never did send my call correctly. So I went for an insurance QSO and found another FIFA station on 30 meters. It was YW18FIFA and he did send my call correctly, so another day in the streak and I'm good till the next 0000Z hour comes along with no worries during the day tomorrow. -30-


---

Thu May 31 2018 8:34PM - I got a case of serious ambition today and did a ton of work including my usual end of month things. I had gotten behind on several updates on my web site, and got caught up on a few of them today like my visitor list, guestbook archives, WPX totals, and a couple other things. I uploaded my May QSOs to LoTW and eQSL. I also did some non-ham things that I'm not going to list here. It was a busy day.

Now about all I have left to do for the change of months is put my weather in my Microsoft Excel weather spreadsheet and also make a trip to the bank and a couple other places for my financial doings. That will come tomorrow morning, weather permitting.

I'm continuing to get my DX streak QSOs very soon after 0000Z each evening. Tonight it was 0001Z when I got CU2DX on 30 meters with a single call. I worked him right after W3AKD did. Then I moved down the band a ways and called CQ and W3AKD answered me. We chatted about 10 minutes, then I thought I'd just see what was on 20. I saw 3 or 4 very strong signals on the PX3. The first one I IDed was HD18FIFA whom I easily worked after he worked a couple other stations before me. I did beat a small pileup to get him. Perhaps there will be other FIFA stations for the 2018 World Cup in Russia. I'll have to watch for them. I guess the 18 is for 2018. Anyway it's a new prefix to add to my WPX totals when I next update them in a month or so. -30-


---

Wed May 30 2018 8:27PM - Another of those super quick DX QSOs tonight. Not quite as quick as the other night though. Tonight I started sending my call in response to HI3T closing a QSO at 00:00:03Z and got him with that call. That closes out another month of daily DX QSOs. Let's see, a little brain math tells me that's 63 full months now or 1,918 days.

A couple weeks ago I sent in my license renewal to the ARRL who renews them for free from the FCC. I kinda forgot about it until today when I got a letter from a VEC whom I won't name who wanted "only" 7 dollars to renew it for me. That went right in the wastebasket. Then I went to the FCC ULS site and printed out my renewed license which is now good through August 7, 2028. Wonder if I'll be good that long. So at least the VEC letter reminded me to go get the license. I think I mailed the application to the ARRL on May 16, and the date on the license says it was processed on May 21. That's darn speedy. Thanks ARRL and FCC.

It wasn't as hot today as yesterday - 86 vs. 93, but still pretty humid. It was nice enough to get my backyard grass cut in late afternoon. I always enjoy the exercise of doing that. With all the stuff in my back yard, it's a real maze to cut around the vegetables, flowers, tree, thermometer shelter, and sundial. I think I mentioned it all. And that's all within a perhaps 16 X 16 foot yard. I will have to measure it someday. Maybe when Mike and I make our FD plans. I bought a screen house last year and we need to see if we can set it up in my back yard. Maybe we'll do that Saturday after the Breezeshooters hamfest.

Yes, another year has rolled around and it is time for the Breezeshooters gathering in Butler, PA again. This year it's a Saturday/Sunday affair, and Mike and I will be setting up a NAQCC table again this year, hopefully with better results than last year. We'll be there for the Saturday session. We had no room for setting up an antenna last year which upset us greatly. Since then, Mike has been working with the organizers to be sure we have a better spot this year so we can demo the KX3/PX3 combo and actually make some QSOs this year.

Then on Sunday, it's off to the USS Requin in Pittsburgh where we'll do the CW stint for the Requin in the Museum Ships on the Air event. Art from the Requin asked us if we'd like to be the ops and we jumped at the chance. We couldn't do the whole two days at either event since we were committed to both, and both are on the same weekend. Since the Requin event is not associated with the NAQCC or QRP for that matter, we'll be operating QRO from the Requin. That will be my first QRO operation outside of a couple very isolated QSOs, since I ran 50 watts or so back in the 1960s and early 1970s. Actually QRP was defined differently back then, and the 50 watts was according to definition QRP.

I'll try to have a little more detailed info on both events in tomorrow's (or Friday's) diary entry. Such as times and frequencies where we'll be operating.

OK, now I'm going to close out my log for May and get the QSOs uploaded to LoTW and eQSL plus some other end of month things. -30-


---

Tue May 29 2018 7:42PM - I want to get these pictures in the diary first, then I'll write the rest of the diary later.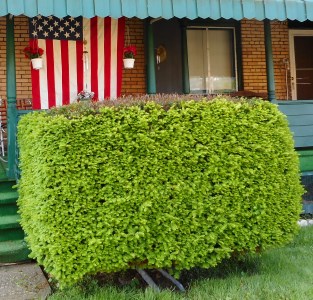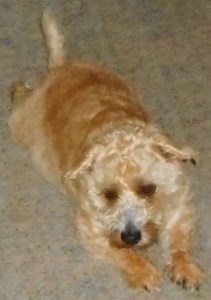 Left is the bush in front of my house which I recently trimmed. I took off about a foot and a half of growth off the top and left it alone around the edges. I want to see what happens after such a severe cutback. If it doesn't make it, then I'll just get a new one next year. Actually it is two bushes grown together. The flag as I've mentioned before is the one that covered my dad's casket at his funeral back in May of 1964. Wow, that's 54 years ago now. Where does the time go? At right of course is Roscoe lying on the floor in one of his favorite poses.

Well, I think I'll just let it go at that and not add anything more as I said I would. -30-


---

Mon May 28 2018 MEMORIAL DAY 8:17PM - Another 0000Z DX QSO this evening, actually 00:00:40 or so to be more exact. Not like the 00:00:00 one the other night, but I'll take it. I saw one big peak on 20 meters on the PX3, tuned it in to see who, and it was Alex HC2AO whom I prompltly worked with a single call to make it 1,916 days for the DX streak.

And now for something completely different, Monty Python fans. Well not really, but a bit unusual. Since I got the DX streak QSO so quickly, I thought I'd try some CQs for a while, so I went to 30 meters since that band often gets surprise answers to my CQs. One of the biggest was TA3D several years ago. Tonight it was Cesi I2ZFD who answered and we chatted for several minutes. I can't remember now if I ever worked Italy via my CQ. I think I have a query for that in my Microsoft Access log. I mean countries via CQ. I'll have to check. Sure I do. Italy is not new. I have a total of 3 QSOs via CQs now. There is a total of 54 countries who've answered my regular CQ. I very seldom call CQ DX, probably less than a couple times a year or so. Germany leads the list with 20 such QSOs, followed by Puerto Rico with 18, England 16, Czech Republic 7, France 7, Hungary 6, and all the rest 1, 2, or 3. The Turkey was from Asia, so I have WAC via CQ. Oddly, the only Africa was South Africa on 40 meters. Oceania came from the three QSOs from stations in or near Perth that I've talked about in the past here in the diary. There are many from the other three continents.

Otherwise I had an enjoyable and busy Memorial Day. As I do every year, I watch the parade and attend the following ceremony in our river side park to honor those who have fought to preserve our wonderful country. I took some pictures of those events and also of our houses here on the street who had flags flying high. Maybe I'll fix them up a bit and post some tomorrow. I also got a nice picture of Roscoe today.

I also did some work in the garden. I weeded around the vegetables and roses. I also planted some more bean seeds as the first batch has still not sprouted. I think I know the problem with my seeds this year. I harvested them too early last year. I should have waited till near the end of the growing season to get the seeds. I'll try to do that this year and see if that makes a difference in 2019. -30-


---

Sun May 27 2018 8:35PM - Conditions were good again this evening. I figured the way they were last night, I'd try getting on in the 2200-2400Z period this evening in the contest. What a joy it was. It started a little slow in the 2200 hour, but the 2300 hour was pretty much like the 0000 hour last evening. I'm going to transfer my log from my laptop to my main computer here and do a little analysis, especially counting and listing the different countries worked. I'm not going to write a full contest report (I don't think) though. OK, let me transfer the log. My network is not working right, so I may have to transfer via a flash drive.

OK, got the network running. I made 76 QSOs all told, 74 on 20, 1 on 40, 1 on 15. Total time about 4.5 hours for a rate of 16.9 QSOs/hour. A lot of time taken separating the DX from W/VE stations, since I was only interested in working DX. I missed Oceania for a contest WAC. I guess the Hawaii pipeline didn't benefit from the otherwise good conditions. I heard KH6LC very weak on 20, and couldn't raise him. I think I heard a couple other weak Hawaiians also.

Here's a list of countries worked alphabetical by common country prefix: 4L, 5B, 6Y, 8P, 9A, CN, CT3, DL, E7, EA, EA8, EU, F, G, GD, HA, HC, HR, I, KP2, KP4, LX, LY, LZ, OH, OH0, OK, OM, OZ, PJ2, S5, SM, SN, TI, UA9, VP5, XE, YL, YU. Let me count. That's 39 countries. I'm very pleased with that at this point in the sunspot cycle. It was nice to work Asiatic Russia, Georgia, Cyprus, Aland Island, again. I haven't worked those countries for a while.

I might do some more analysis and post it here in a future entry. Now it's time to close and get my weather readings, then walk Roscoe. -30-


---

Sat May 26 2018 10:43PM - Or is that year 2001? I think I went into a time warp this evening back to the last big sunspot maximum. At least 20 meters was acting like that. And to top it off, this was in the 0000Z hour not during the afternoon here. Just as I did back then, I was going up and down the band working most every European and African station I heard. I even worked a couple Asiatic Russian stations fairly easily. Just like back then. It sure was fun. I worked around 32 stations in not much over an hour. All of them DX. I don't bother working W/VE stations in the WPX contest. I just work the DX for the fun of it since I don't go for score. One thing made it hard. Picking out the DX from the W/VE stations since the DX was as strong as the W/VEs in many cases. UN4L was well over S9, but I couldn't break the pile to get him and gave up after just a few tries. There were too many other fish in the sea to go after.

The one thing different from 2001 was that 15 and 10 were nowhere near as good. There were a few stations on 15 and I heard one on 10, but that was it.

Remember I'm only talking about one hour and 15 minutes tonight and I wasn't on at all during the day today. So with another hour and 15 minutes last night, I have 43 QSOs all together. I probably won't be on much during the day tomorrow either. I just don't have the staying power I had when I was younger. But I do enjoy it when I do get on, especially when conditions are like tonight. -30-


---

Fri May 25 2018 9:27PM - From the time stamp you see I'm running a little late. I was in the WPX contest till a couple minutes ago. Conditions were good and the contest even opened up 15 and 10 meters. I was only working DX although I could have worked W/VE stations as well. I had a busy day today and could write a long entry, but it's time to walk Roscoe now, so I better get to that. -30-


---

Thu May 24 2018 9:07PM - Mike and I had our usual good pizza night last night. After the pizza it was off to the shack for some DX. Since I had already gotten my DX, I just let Mike work what he could. It turned out he got KP2M on both 20 and 40, and OT70TLS on 40. After that some hidden object games on the computer before he had to head on home.

Today was a good day for my birthday. Now I'm at a great age for a ham, 73. I did some yard work trimming my front yard bush before it got too hot. I still have to finish it, maybe tomorrow. Then it was over to the Ol' Station Marketplace to see what I could find. I didn't find much today. My birth minute is 3:20PM and I always like to be with someone at that time. Today it was Roscoe. Finally Roscoe's owner made me a little birthday meal of collard greens, biscuits, and hushpuppies.

DX was pretty quick again this evening, although compared to the last two evenings, it was kind of slow. I worked PZ5XX on a new band, 40 meters at 0009Z. I like these weeks before big DX contests. Makes it kind of easy to find and work stations setting up and getting ready for the contest. Now Saturday and Sunday should be easy with the WPX contest in progress. -30-


---

Wed May 23 2018 8:08PM - Just waiting for Mike to arrive so I'll do a quick entry before he gets here. Another quick DX QSO tonight, this time at 0001Z from HC2GRC Alex on 20 meters.

Did a lot of work today. Bought 4 beefsteak tomato plants at the local supermarket and planted them. Also planted out my pepper plants. Well, Mike is just pulling up so I'll close. -30-


---

Tue May 22 2018 8:29PM - I have never gotten my DX QSO any quicker than this evening, and I can never in the future get it any quicker, only tie it. I found PZ5XX calling CQ on 20 about 2359Z and not getting any answers. I decided to wait him out and hope he didn't suddenly QRT. He didn't, and as soon as my 100% accurate atomic clock hit 00:00:00Z, I called and he answered my first call. I think I had one other incident like that somewhere in my DX streak, but I can't recall for sure.

It was kind of a dreary day today or at least later in the day as the clouds increased slowly most of the day and finally built up to the level where we got one of the hardest downpours I can recall just when I was on the air. It didn't last long, thank goodness. It will be interesting to see how much rain is in my rain gauge when I check a little later. I would say the heaviest rain lasted only about 10-15 minutes.

We got quite a few reports on our Sunday parkpedition. It's always nice to hear from those we worked or also from those who weren't able to hear us. They give us an idea of how conditions were when we were there. Also how our antennas perform and what directions they work best. So thanks to all.

Tomorrow evening is pizza night with Mike. It'll be nice to see him again. We weren't able to get together much the past few weeks. In fact a search of my diary for "Mike" indicates we last got together for our April pizza night on April 25. -30-


---

Mon May 21 2018 12:38PM - OK, here we go with the pictures. My bandwidth on Windstream is getting close to being filled up because of a lot of picture posting lately. So I'm going to try something different. I'll put the pictures on my k3wwp.com site and link to them from my Windstream diary page. It should work. We'll see.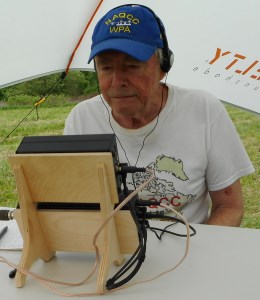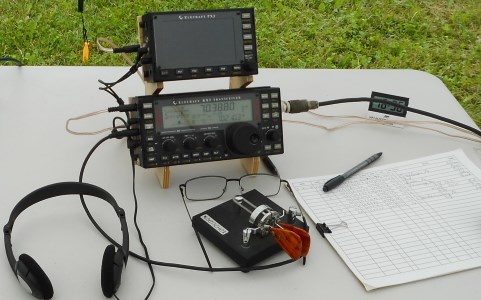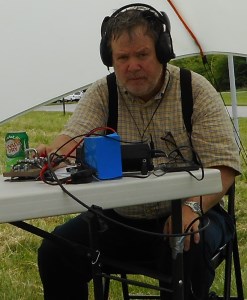 L-R above that's K3WWP, K3WWP's setup, WB3FAE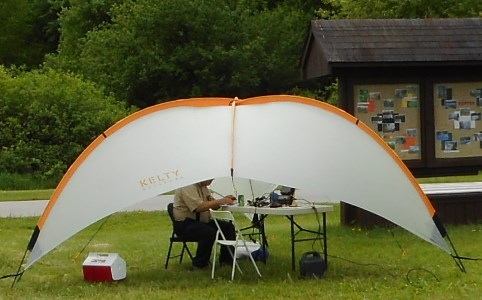 That's our little mis-named sunshade. There was no sun, but fortunately no precipitation either. So it didn't really protect us from anything, or maybe birds?




Finally a picture of my jumper inverted vee antenna. Unfortunately as with most antenna pictures, the wire never seems to show up all that well. You can see it sloping to ground against the trees background if you look closely. I also took pictures of Tom's antenna, but they were even worse and not worth posting.

Actually the height of the antenna masts is more than 20 feet. I knew that, but couldn't remember the exact height and was too lazy to look it up. If anyone really needs to know an exact figure, I'll try to find it or measure them. -30-


---

Sun May 20 2018 6:53PM - Although Tom and I had a good time at Moraine State Park today, the results of the parkpedition were not all that good for various reasons. There was one good hour from about 1538Z to 1630Z when we made 10 QSOs on 40 meters from 6 states. After that, it was like no one was interested in working us any more. CQs on 30 and 20 meters went unanswered.

When we weren't getting answers to our CQs, we tried chasing some DX. That also didn't work out. Finally we found out that Tom was having some kind of problem with his antenna. After some work on that, he was still having problems. We think we did find the problem at last, but too late to take advantage of it. It seemed the right angle connector going into Tom's KX3 was loose internally. When he was taking it off, it felt like something wasn't right with it. After he fooled with it, the antenna tuned much more quickly. I don't want to dwell on it too long, so let me just sum up our thoughts.

We think that the tuner in the KX3 may be just too good. Apparently it was tuning the defective connector to 1:1, and not really tuning the antenna system as a whole. It took much longer to tune the connector than it did to tune the system as a whole after the connector was apparently fixed. It's going to take some more thought, testing, and tweaking to be sure that is the case.

One thing that is becoming apparent and something that we referred to a lot after I first brought it up was that our age is slowing us down. When it seemed it was taking a longer time than usual to set things up, I said ten years ago we'd have been done with this a half hour ago. We used that as a catch phrase a few times during our operation and it is the truth.

We started out setting up my antenna, then our little sunshade. We set up my station and I started making contacts while Tom worked on setting up his antenna. After I made 7 quick contacts, I went and helped him finish his setup. After his setup was finished, I made 3 more contacts on 40 meters. It turned out those were the last QSOs we made. Tom soon noticed his setup just wasn't working right. He called other stations who were at S9 or better and they just weren't hearing him. That was because of the problem I described earlier.

Being at Moraine State Park near a hiking trail, we had several people stop by and ask what we were doing. It was nice to be able to explain to them about ham radio. Two folks who stopped were fairly new hams.

I took several pictures which still need some editing, cropping, etc. I think I'll wait and do that tomorrow and post them in tomorrow's entry.

I did get an email from someone who was interested in what antennas we were using, so let me describe them here, then they'll be in the pictures tomorrow.

My antenna was a simple inverted vee jumper dipole mounted on a ~20 foot mast. By closing/opening little slide switches in the antenna wires, it could be set for 20, 30, or 40 meters. Tom's was an end fed flat top random wire with a counterpoise. The ends were mounted on ~20 foot masts similar to mine.

All in all a good day with some disappointment along the way. We're going to do it again to try to have better results. That will be sometime after Field Day.

The weather today was just about perfect. It was cloudy and with temperatures in the upper 60s with very little wind, it was neither too hot nor too cold, but just about right.

To close, for anyone who is reading this and worked us, our grid square at Moraine was EN90 and the POTA for Moraine is K-1387 and for the North Country Trail which was right next to our setup is K-4239. -30-


---

Sat May 19 2018 8:34PM - I had written an entry saying I was still waiting to confirm our parkpedition for tomorrow (Sunday). Just after I finished I heard from Tom WB3FAE via telephone and we are go for launch, er for the parkpedition. It will be from Moraine State Park near Butler PA. We'll start around 11AM (1500Z) and stay as long as conditions warrant. We'll operate two of the following frequencies at a time depending on which two seem best - 7039, 10115, 14059. We'll use the NAQCC club call of N3AQC.

At least I've got my DX streak QSO in the books from HK7AAG on 30 meters. It's interesting how easily he copies me when it isn't that easy to work other stations from that area. -30-


---

Fri May 18 2018 8:56PM - The Good Days, Bad Days alternating pattern seems to be continuing. This morning and afternoon had some really poor conditions continuing from last evening. Finally I did manage to work OT70TLS again on 20 meters, but it wasn't an easy QSO and I appreciate the op sticking with me to finish the QSO.

This evening was much better. I was at the neighbors having some chocolate chip cookies and didn't hit the bands till a little past 0015Z. Then it only took a couple minutes to get a nice rag chew with Brad KR8P on 40 meters. Then not long after the rag chew I got TI8II on 20 for my DX QSO. I also heard TA3D at about 569 on 20. I tried him a couple times with no luck, and didn't pursue it any further since I alread had my DX QSO. Still it was nice to hear Turkey again. Oh and R5ZZ was also good on 20. Actually both of them worked TI8II before I did.

Oh, Tom and I decided to postpone our parkpedition till Sunday because of a pretty good chance of thunderstorms tomorrow. More in tomorrow's diary. -30-


---

Thu May 17 2018 8:38PM - I said I'd talk about the sprint last night, so here goes. My two alternate goals of operating for 30 minutes or getting 10 QSOs almost coincided. I got #10 just a minute or two before 9PM or the 30 minute mark. However, instead of quitting, since conditions were good and I was starting to get regular answers to my CQs on 40, I decided to hang around a while longer. I had started out on 20 meters where I got my first two QSOs in about 15 minutes or so. Then came to 40 for 8 QSOs in 15 minutes.

OK, we're into overtime now. It lasted for 23 minutes for a total of 53 minutes. In overtime, I had a steady stream of QSOs at a rate of about a QSO per 90 seconds. When I quit at 9:23PM, I had a total of 26 QSOs in 16 SPCs. I was a bit hesitant to quit since if I maintained that rate for the full two hours that would have been around 55-60 QSOs. However I did promise my neighbor I'd take Roscoe out at his regular 9:30 walk time instead of making him wait another hour since I really wasn't all that into the sprint before it started.

It was fun running stations like that, and maybe next month, I will just decide on doing the full two hours. Or maybe not, we'll see.

Tonight the bands were in horrible shape. The worst I've seen in a long while. When I first turned on the rig, it looked like it was maybe on 15 meters from the lack of activity. However, it wasn't 15 but 40. I thought to myself, oh oh, this isn't good. I did manage to work K9YII on 40 about 15 minutes later for the main streak. Not a sign of any DX though on any band. So as is happening more and more lately, it will be the morning or afternoon if the DX streak is to survive.

I haven't said much about this, but Tom WB3FAE and I are thinking of doing a parkpedition from Moraine State Park this Saturday if the weather cooperates. However right now it doesn't look all that good with showers and thunderstorms predicted. Stay tuned for an update in tomorrow's diary entry. -30-


---

Wed May 16 2018 8:10PM - Well, tonight I was able to get XE2I, unlike last night. It did take a few tries and a couple repeats when he did finally hear me, but that's good enough to keep the streak going as we slip further toward the bottom of the sunspot cycle.

It's our NAQCC sprint tonight. Since I retired from active duty in the NAQCC, I seem to be losing interest in the club events. I've not done the past couple months challenges. Tonight I plan to just either try for 10 QSOs or quit after 30 minutes, whichever comes first.

I'll talk about how I fared with my sprint plans in tomorrow's entry. -30-


---

Tue May 15 2018 9:19PM - It's been a long time since: 1. I went to the shack at 0000Z and didn't get a QSO until past 0100Z. 2. Neither XE2I nor HC2GRC heard me at all when I called them.

I just couldn't get anyone to answer my CQs nor could anyone hear me answer their CQs for a full hour and 5 minutes until K2TPZ finally answered my 40 meters CQ. Both XE2I and HC2GRC were pushing S7 to S8, but other than a couple plain question marks from GRC there was no sign either was hearing me on 20. At least the main streak is intact and hopefully tomorrow morning or afternoon will yield a DX QSO.

I had a busy day today, and I was going to talk about it a bit, but it's now almost time to take Roscoe for his last walk of the day. So I'll just highlight the day. I paid my second half of the month bills first this morning. Then I cut my grass which was almost a foot high in spots after all our rain of late. I did some shopping and other usual things. I fixed up a Craftsman grass trimmer I bought at the Ol' Station Marketplace last week. Then after the rain stopped and the grass dried, I tried it out. It's a bit heavy and a bit of a beast to handle, but it works well. I found a manual for it on line, and I'm glad I did. I found out it has a totally different line feed system. Squeezing the on/off switch for two seconds feeds the line out about 3/16 inch, and you can repeat that until it is the desired length. Or there's a button on the reel you can push and pull the line out manually. I think I'm really going to like it and I think it will last longer than others that I've had.

Well, off to walk Roscoe now. -30-


---

Mon May 14 2018 8:53PM - A while ago I mentioned the DX streak was becoming like a scavenger hunt. Another way of putting it is being at the right place at the right time. There were a lot of wrong times today when I found the bands pretty much devoid of any activity, DX or domestic. Finally though I did hit the right time and place. 1712Z and 20M were they. I found and worked David XE1XR, and as soon as we signed, he disappeared. So apparently I just made it.

This evening it was a different story. I ran into some weird (good) conditions. All three bands 20, 17, and even 15 had good activity with both short and long skip. Seemed in a way like sporadic E skip. I didn't have a lot of time to explore as the conditions seemed to go away within a half hour or less. Europe was good on 20 with OT70TLS and a couple others. Latin and South America were good on all three bands with Mexico, Colombia, and among others, El Salvador on 17 - TG9ADM whom I worked for the DX streak QSO.

I had a pretty busy day today in between raih showers. I did a little shopping and my big project was fixing my downspout which was clogged with maple seeds and leaves among other stuff. I had to drill out the rivets to get the elbow apart to clean it. I used screws to put it back together so it will be easier to take apart when it needs cleaning again. Of course it didn't rain again so I could see if I got it all cleaned out. I'm sure we'll get more rain this week though.

Now it's weather reading time again. Gosh, that comes around quickly.

Oh, I added a new poll today. I hope you'll cast your vote. I only got 25 votes for the last poll. -30-


---

Sun May 13 2018 8:52PM - Conditions poor again this evening for DX, and not too great otherwise either. Interesting that the German RTTY on 30M was the strongest I've heard in a while, but only two ham stations heard on the band, one too weak to ID and one of the FOC SE stations. So I'll be looking for DX in the morning or afternoon.

Not much else of interest today. My mother is deceased, and I'm not married, so nothing to get excited about Mothers Day.

About time to get the weather readings. We had some heavy rain and thunder showers today. They didn't last long, but looking out my window at the rain gauge, it looks something like 3/4 to 1 inch or so. -30-


---

Sat May 12 2018 8:08PM - Another mini-milestone for the DX streak when I worked OT70TLS on 40M at 0002Z this evening. That marks day # 1,900 in a row of working some DX. The next real more notable milestone will be 2,000 days sometime in August. Wonder if I'll make it? OT70 is also a nice new prefix for my WPX collection. The last time I updated my totals back in February (gosh, I've been lax in updating things lately), I had 2,885 prefixes worked and 2,444 confirmed (card or LoTW or eQSL).

It was a cool day today, but I did get in some walking and some yard work in between some showers. I pulled some weeds and maple tree sprouts from under the bush in my front yard. I also deadheaded my tulips. I counted 54 of them so they divided themselves quite a bit since I manually divided them for a total of 18 a few years ago.

Other than that, I did some work on my genealogy and also on my grid square totals. I just love doing things like that which involves working with stats of one kind or another. -30-


---

Fri May 11 2018 8:51PM - Conditions continue poor. No DX heard at all this evening. The regular streak QSO came easily though from Ted KG6AJH in VT on 40M. The CQ-M contest is this weekend, so that may make picking up a DX QSO the next couple days easy. Oh boy, I hope I didn't jinx things by saying that.

I've been involved in a project the past few days now that I can't say more about yet. However if it does come to fruition, I am going to be extremely happy. It will change my life for the better. That's all I can say about it now. If it does happen, you'll probably hear more about it than you want. HI End of teaser. -30-


---

Thu May 10 2018 8:34PM - Well now, that was different. The bands seemed really poor this evening - no, that's not what's different. HI I thought I wasn't even going to get a regular streak QSO, let alone a DX streak QSO. I tried CQs on 30 with no luck, then 40 with the same non-results. I looked at 20 and 17, neither of which looked promising. So I went back to 30 even though it was and had been totally empty and called CQ again. After a few tries, I got an answer, and it was Ger HK7AAG this time answering my CQ instead of vice versa. So both streaks were covered with that one surprise QSO. Thanks, Ger.

Other than that is was an ordinary day with some walks, some genealogy work, and other usual things like walking Roscoe. He and I sat on the swing for over a half hour this evening.

I guess that's about it for this entry. -30-


---

Wed May 09 2018 8:46PM - Once again it was 17 meters to the rescue. There were 3 or 4 good signals on that band this evening as even with the decreasing sunspots, it is staying open longer in the evenings with the greater amount of daylight. Tonight I worked XE2V in La Paz, Mexico pretty easily. He was about 579 and gave me a 559 after I repeated my call a couple times.

I think the warm weather is finally here to stay, so I fixed up a couple of bean poles this morning and planted out my speckled butter bean seeds which I soaked overnight. Then since it was so nice out with bright sunshine and temperature around 80 or so, I decided to put out my Siberian tomato plants as well. I had tilled the soil a day or so ago in preparation. There is no way I will have ripe tomatoes in May as I have had in previous years, but there are very tiny buds on the plants so if the weather cooperates, I probably will be eating garden tomatoes at least before the end of June. Now I've got to get the pepper plants to grow a little bigger before I put them out. I'll probably also plant some pea seeds. I think I have some from last year or I may just buy a new pack. It sure is great to be working outdoors again. It seemed for a while like this might be another year of no summer as it was back in 1816. That was an interesting year. Of course I wasn't there then, but I've done a lot of reading about it.

Speaking of weather, I see it's almost 9 o'clock, so I better finish my site updating and get the weather records for today. -30-


---

Tue May 08 2018 9:12PM - Remember the song "Good Times, Bad Times" by Edie Brickell? I first heard it via a video that came as a demo with one of the versions of Microsoft Windows. Windows 98, maybe? Anyway it reminds me of band conditions lately. Over the past few days, it has been Good Condx, Bad Condx. Tonight being in the bad phase. I even had trouble getting my regular QSO. It took 45 minutes of trying before KB0HXL answered my 30 meters QSO. Then we had a solid 18 minute rag chew. So were conditions really bad or not? No DX at all. I did hear a pretty strong HK6J on 20, but he wasn't hearing me or anyone else answering his CQs. So it looks like I will have to use the CWT sprint tomorrow morning or afternoon for my DX. And that wraps things up in a nutshell as far as conditions go.

I got rather a thrill and then a disappointment this evening. I've mentioned Penn State's Weather World program that I watch eveny night. They take picture submissions from viewers, and I sent in the picture of my tulips that you see a couple entries down here in the diary. Well, they used it tonight, but I missed getting a screen dump or video of it. Weather World airs twice back to back. I was over at my neighbor's and missed the first airing. When I watched the second airing there was my picture at the first break, but I wasn't ready to capture it. In fact, I really didn't even think they would use it, let alone so soon. Had I watched the first airing, I could have prepared for the second airing, but..... Oh well, at least I did get to see it anyway along with all the other viewers. I hope they all enjoyed the picture.

I've gotta run now as I'm running late because of the marathon calling CQ with no answers, then the long rag chew once I did get an answer. -30-


---

Mon May 07 2018 9:09PM - My day today consisted basically of three activities.
1. Trying to get a DX QSO.
2. Working on my genealogy.
3. Walking.

1. It was a real struggle to get that DX. I never even heard a weak DX station, let alone one I could have worked, until past 2030Z. The bands were pretty much dead with the poor propagation conditions. I even only heard a few domestic stations and they weren't strong. Finally I did hear PV8ADI on 20, but much below his usual strong level. I did manage to connect, but he had me as K3WJP and never did send a corrected call, so I didn't log him. He doesn't seem to have the patience of other operators like HC2AO. I mention him because Alex was operating HC2GRC today, and I did work him. He took the effort and time to get me in the log correctly. He gave me a whopping 229 RST which says just how poor conditions were and how good an op he is. Thanks Alex for saving the streak.

1a. By contrast it was pretty easy this evening. First I had a good rag chew with Ted AE8G in Pensacola, FL in which he told me it was even a cold winter down there and he lost his garden to frost/freeze. Then with that streak secure, it was on to looking for DX. I found it in of all places, 17 meters. I think KP4TF just started calling CQ and wasn't getting any answers nor was he hearing me at first. I persisted though as I knew he was strong enough to work. I think it was on the fourth try he heard me and after a couple repeats, the DX streak is now at 1,895 days.

2. I'm approaching a total of 2,000 blood relatives in my family tree now with mainly the help of two great web sites, Find a Grave and Family Search. It's really interesting seeing how everything falls into place in the whole picture of things. Also challenging to try to figure out some of the relationships. That becomes harder the further back in time you go. I'm really enjoying it, and spending a lot of time each day working at it.

3. After we got through some showers, the weather turned really nice, and I took 3, or was it 4, long walks today. That really felt good. Not only for the exercise, but just getting out in the fresh air again after the never-ending long winter and cold early spring. -30-


---

Sun May 06 2018 8:40PM - Poor conditions this evening. I did manage an easy QSO with Hal WB4AEG down in GA on 30 meters, but other than that, the bands were quite dead with very few signals, even on usually very busy 40 meters. Not a single DX station heard. There were some geogmagnetic storms at the G2 level today which probably accounts for the poor conditions. There are supposed to be some G1 storms tomorrow so it may be rough getting the DX streak QSO again. But I'll certainly give it a try.

Not much going on today. It was a bit chilly again with some rain showers, so it was mainly an inside day. Most of my tulips have shed their flowers already so after the rain, I did pick up the fallen blossoms, then went for a walk. That was earlier this evening.

I'm getting my laundry done now, so I'll have the day free tomorrow to do whatever. I have been doing a lot of house (spring?) cleaning the past few days. Maybe I'll continue that tomorrow. -30-


---

Sat May 05 2018 8:12 - Each day for the past few days now, I am so grateful for being able to go outside without having to worry about s#$w, ice, and cold. It is just so wonderful beyond words. Over the past couple days, I've finally put away my winter coat, gloves, scarf, balaclava, boots, etc. It tires me out just listing them. Hopefully it will be well into December at least, before I have to dig them out again. I also turned my furnace down to the point where it sholdn't be coming on again for a long while. Finally, I got out my fan for when the wonderful really hot humid days come along.

Ange finally unburied his fig trees, doing the last few today. I can't recall him ever having to wait till May to take care of that task. The lawn and garden care company across the street here has also finally gotten into high gear after waiting out the long winter and cold spring. One sort of negative thing is that the grass is growing like crazy and has already had its first cutting. That's very late in the year for that event also. It sure beats shoveling that white stuff though - by a long shot.

All those events really buoy up one's spirit. I just feel so much better mentally, emotionally, and even physically now that I don't have to deal with winter weather. It's wonderful. Oh, I think I already said that, didn't I?

Even ham radio, especially DX seems to have picked up now that the great weather is here. I think that's mostly because of the Sun now activating the Northern Hemisphere more now that our hemisphere is pointing more directly at the sun again. Those longer hours of daylight really make a difference especially in keeping the bands open for DX later in the evening again. I got my streak QSO quickly again tonight. I think there has only been one day in the past couple weeks now that I didn't get my DX in the 00 or 01Z hour. -30-


---

Fri May 04 2018 8:38PM - A couple entries ago, I promised some pictures, so I'll make good on that tonight since there isn't really much to talk about.



The tulips in my back yard.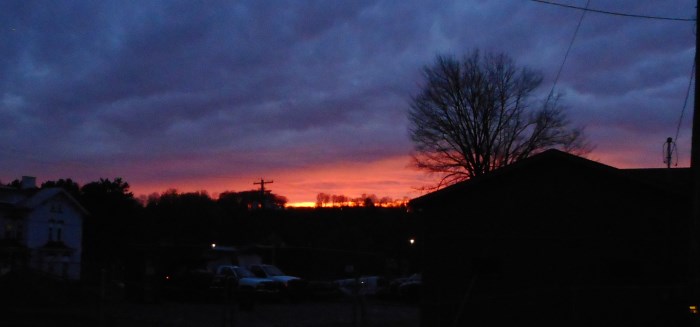 Tail-end of a beautiful sunset this evening. I was on the air for the main phase.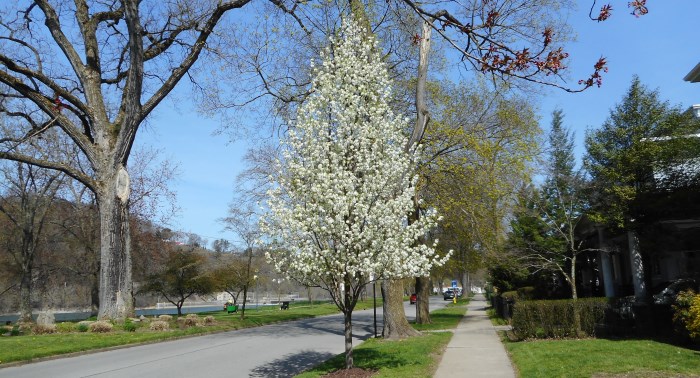 One of the many many trees around town that put out their white blossoms the past few days.

-30-


---

Thu May 03 2018 8:19PM - Somewhat of a coincidence tonight, I think. My DX QSO came from HC2GRC on 20 meters at 0006Z. A couple days ago in checking my LoTW verifications I had to reject one from HC2GRC back in the CQWW or ARRL DX test. When I checked the date and time, I had HC2AO logged then. Now GRC is the Guayaquil Radio Club, and I know Alex HC2AO operates from there. When I worked AO in the contest, the keying didn't sound like Alex. Tonight it did sound just like Alex. So something to think about.

Oh yes, you can recognize some hams from their keying, and that doesn't mean bacause it is sloppy. There are just very tiny millisecond(?) differences in letter spacing, dot length, dash length, dot/dash ratio or other little nuances that allow the sensitive ear to identify someone before they even get to sending their call letters. I think two of the most distinctive are KW7D and WB6BEE. I can ID their keying well over 90 percent of time. Perhaps closer to 100 percent for KW7D. There are a couple others with keying similar to WB6BEE. A funny thing about that is that Chas K3WW and I have virtually identical keying. No wonder we get mistook for each other now and then, although Chas is almost all the time stronger than I am.

If you've never noticed that about keying, try paying attention more and you'll see what I mean. It helps if you can easily copy QRQ CW solidly. Then you can pay more attention to the nuances of slower speed CW since you can easily copy the content of what is being sent. Just another of the many fascinations of the wonderful original digital mode - Morse or CW. -30-


---

Wed May 02 2018 8:10PM - The time stamp often gives a clue to how I fared with my DX streak QSO. The fact that it is at 8:10PM tonight means I got the streak QSO quickly, in fact at 8:01PM (0001Z) from HB9CVQ on 30 meters. He was having trouble getting QSOs when I found him. It took several repeats for him to get my call correct and then the RST I sent correct. While I was logging him he tried a few more CQs with no success and QRT. That's a general rule with the time stamp on these entries. The closer to 8:00PM it is, the more likely it is I got my DX quickly and then QRT as I did tonight.

It was summer again today, even more so than yesterday with a high of 87 on my remote unit. So I was outside quite a bit. I walked around town this morning and took some pictures of the various trees and flowers in bloom. Maybe I'll post a couple tomorrow. My dad always said the trees in spring with their blossoms were much prettier than the fall colors of trees. One reason was the season that followed each. He disliked winter as much or more than I do, and the spring colors heralding the coming of summer pleased him (and me) much more than the fall colors and what they presaged.

I picked what must have been a couple hundred or more maple tree sprouts out of the cracks in my brick sidewalks today. I heard somewhere a long time ago that a single maple tree can produce around 100,000 seeds. I really believed that this year. I don't think I've seen as many sprouts as this year. I just checked the Internet on Internet Explorer and a Wikipedia article says red maples around a foot in diameter have been known to procude a million seeds in a season. However they also say red maples between 2 and 8 inches in diameter generally produce between 12,000 and 91,000 seeds in a season. Wonder who had to count them to get those figures. I know, I know, I'm sure they counted a small sample, weighed the sample and converted the weight of all the seeds from the tree to a number of seeds. At least that's how I'd do it. -30-


---

Tue May 01 2018 8:53PM - OK, what happened to spring? We pretty much went from late winter to early summer the last couple days. Actually today itself since the low was 34 this morning and the high 82 not more than 8 hours later. We don't often get a temperature range that high in a day. The highest range in my records here is 53 degrees. That was back in April 1985 when we had a low of 32 and a high of 85 on the 18th. We've also had a handful of days with a range of 52.

I guessed the April departure from the mean normal temperature would be around 5 degrees below normal. I was in the ballpark, but not right on base since it was 2.9 degrees below normal. The maximum was 4.8 below and the minimum only 0.9 below. Still that made it the 8th coldest April in my records going back to 1959. According to the Penn State Weather World show, it was in the top ten coldest for the state of PA as a whole and those records go back to the late 1800s.

Well, no DX this evening (yet). I may have to assist the aid of the CWT sprint tomorrow to keep the streak going another day. -30-


---

Mon Apr 30 2018 8:18PM - A busy day with all the end of month chores, but I have them almost all done with a couple exceptions. I still have to put the April weather data into my Microsoft Excel weather spreadsheets. I'll do that either later tonight or tomorrow morning. I suspect April will wind up somewhere around 5 degrees below normal, but that is a pure guess based on nothing more than how it felt all month. A few warm days should have offset the bulk of the other days to keep it from being a bigger departure.

It was a nice day to close out April with a high just missing 70 on my remote unit here. Just nice walking weather - no precipitation of any kind. I forgot to mention that we had some extremely light s#$w yesterday. You had to look at it against a black background to even see it. Still that was very late in the season for any kind of s@#w here. We have had some in May, but few and far between. Only one time comes readily to mind. We got some that accumulated in 1966 sometime in the first week, if memory serves, and it is becoming a poorer servant as I get older.

I got one day closer to 1,900 days when I hit day # 1,888 in the DX streak quickly this evening at 0010Z by working XE2I on 20 meters. That also started off month # 63 of the streak. -30-


---

Sun Apr 29 2018 8:53PM - It was nice to get my DX QSO this evening since tomorrow is my day for all of my last of the month chores. Now I can get them done without having getting a DX QSO in the back of my mind. As I get older, I find it gets harder to multitask in my brain. So I can concentrate on the EOM chores and hopefully get them done fast and accurately. I'm noticing a lot more little mistakes creeping into things that I do lately. It's not a good feeling, but it comes with aging, I understand and am finding out firsthand now.

I also had a nice chat with NAQCC member and regular diary reader Walt KB1M. Of course I work a lot of members in our sprints and enjoy that, but it's also nice to have a rag chew with those members also and find out a little more about them.

For a while today, it looked like our high temperature was going to be only 41 degrees which may have been a record low maximum for the date. Then in late afternoon it did warm up suddenly and the temperature got up to 50 or so. -30-


---

Sat Apr 28 2018 8:48PM - Back to chilly weather again today. I saw a friend of mine and his wife when I went for a walk this evening. She said she wondered if we would ever be able to put away our winter clothes this year. I said one day..... maybe in June. Well, it's only about 33 days till June, so that may not be all that far from the truth. Oh, it's 42 right now after falling all day from a high of 57 sometime early this morning. So no outside work today except for sweeping the front porch.

The bands seemed decent tonight. A couple of contests brought out the activity and propagation was good. I got my regular streak QSO in the FL QP on 20 from K4LQ. Then my DX streak QSO in the HB9 Helvetia Contest from HB9CA on 40. He wasn't too strong when I worked him, and I did need a few repeats for him to get my call right. Just after I worked him though, either propagation got better or he turned his beam as he then peaked over S9 as I was logging the QSO.

Time now to go out in the cold for the next to last time to get my weather readings, then one more time for Roscoe's last walk of the day. Maybe I'll combine both and take him a little earlier than usual. -30-


---

Fri Apr 27 2018 8:09PM - The last time I did this was Dec 27, 2015. What? Worked V44KAI for my DX streak QSO. In fact, I don't even recall hearing him since then. It was an easy QSO on 30M. I beat out a couple other stations to get him only about a minute and a half into the 0000Z hour. It's always good to work someone I haven't worked in a while, especially someone I worked several times, and then they just kind of disappeared. This is the 15th time I've worked V44KAI. I've also worked V44KAO 8 times. Never did check to see if they are related. Might as well do that now while I'm thinking of it. Well, they both have the same last name (Liburd) which I don't think is all that common, and both live in Basseterre. So I guess it's likely they may be related. It's been since August 24, 2013 since I worked KAO.

Another nice day before some rain (and thunder) this evening, so I did some more outside clean up work. Sure is nice to be able to do that again.

Speaking of outdoor activities, I got this email today.

"Hi John, I continue to enjoy reading your diary every day. I haven't seen you talk about fishing in a while. I don't think you had a chance last year to do much fishing. Any plans for this year that you want to share with us readers in your diary? 73, Tim K6ACF"

Well Tim and others, as I get older and not much work has been done lately on making the river more accessible to us shore fisherman, it does get harder for me to get to the river. The only really easily accessible place is the riverside amphitheater and it's usually crowded with fisherman or busy with some other activities. So the bottom line is that I probably won't be doing much fishing this year either unless the situation changes. -30-


---

Thu Apr 26 2018 8:38PM - I was just wondering how many days this month I got my DX streak QSO in the 0000Z hour. Let me see my Access log and find out. Counting this evening, it's 17. I was thinking it was more than that.

We finally had some more nice dry mild weather today, and I took advantage and continued cleaning up the back yard which I started a couple weeks ago now. My tulips are in full bloom now as you can see here: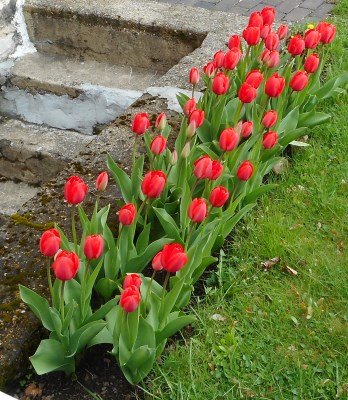 My daylillies are well along toward flowering in June or July. My roses are showing their extreme age and seem to be producing fewer and fewer flowers each year. I might have to get a few new bushes next year depending on their showing this year. Anyway it's nice to be getting into the growing season again after a very long winter. -30-


---

Wed Apr 25 2018 10:54PM - Mike and I had our usual good time this evening on Pizza Night. After the pizza we chased some DX for a while. We both caught FJ/N0KV on 30M. Then we ordered tickets for a train ride this July 7 on the Oil Creek and Titusville Railroad. After that a Sherlock Holmes hidden object game on the computer. Then all to soon just a few minutes ago it was time for Mike to head home again. -30-


---

Tue Apr 24 2018 8:38PM - Propagation was in high gear this evening with strong signals everywhere on 40, many on 30, and a few on 40. I guess 7 straight days with the solar flux in the 70s really livened up the ionosphere as I surmised might happen when I mentioned that in the diary a couple weeks or so ago. I heard a couple DX stations I worked before in the past few days on the same bands, so I passed them up and got my regular streak QSO from Tom in SC W4OIS with a nice 15 minute rag chew on 40. Then I went hunting for DX again. I did hear HC5AI who doesn't hear me at all, ever, when I call him. That despite being able to work HC2AO not that far away just about any time I hear him. One of the mysteries of radio, I guess.

Anyway, I did find a very strong station in a DX mode on 30. I thought he was probably a Caribbean station, so I did wait through a couple QSOs for him to sign his call in case it was someone I worked recently. I was mildly surprised to hear him sign CU2DX at S8-9 strength. When he signed, I sent my call once and beat out a couple other stations to work him easily.

Thinking back, conditions on the Requin were quite good with very strong signals from Europe and Hawaii in the CQMM contest. Then last night I had a 2X QRP QSO with TG9AFX, probably my first ever 2X QRP contact with Guatemala. So actually conditions have been good for a couple of days now. Let's hope they continue.

Now I won't have to depend on the CWT sprint tomorrow for my DX. Tomorrow evening is pizza night with Mike KC2EGL, so after we partake, maybe we can get some good DX. We'll see. -30-


---

Mon Apr 23 2018 4:17PM - As promised, here are pictures from the Requin subpedition yesterday. I don't think they need any explanation. If you do have questions though, feel free to ask via the email link above.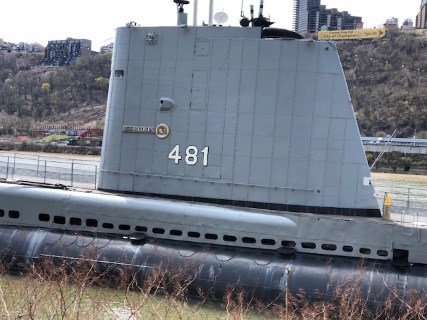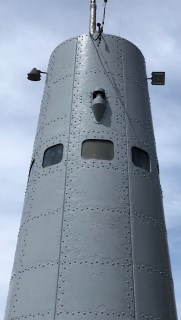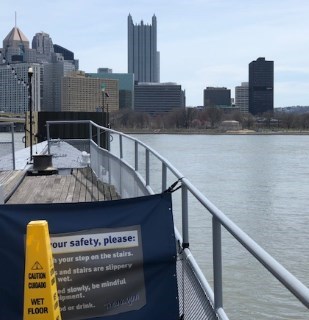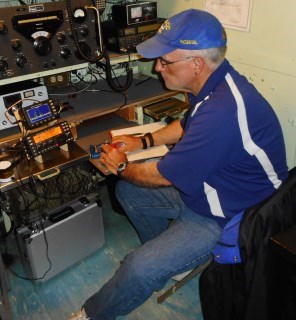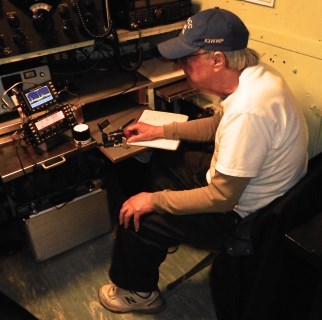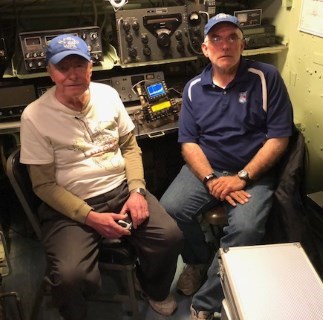 -30-


---

Sun Apr 22 2018 4:58PM - Here's the story of today's Requin subpedition. By the way do you know that Requin is French for shark.

Mike arrived around 8:00AM, and we chatted for a while before heading to Pittsburgh around 8:15. All went smoothly and we didn't even get lost till we got within a couple blocks of the Requin. What a madhouse we encountered then. It looked like there was going to be a Pirate game coming up with all the traffic and filled parking lots. After making a couple of U turns looking for a policeman to see what was going on, we did find one who was very friendly, professional, and helpful. He gave clear instructions on how to get to the submarine parking lot. He also said the madhouse situation was being caused by a March of Dimes event which was just about to start.

After following his instructions and getting a parking place, it was on to step 2. We started to walk from the lot to the sub, and ran into a dead end because of barricades set up for construction work being done on the Science Center. So we had to loop back again (definitely got out exercise for the day) to find another way to the sub. Although it wasn't supposed to be open yet, there was a narrow opening in the Science Center doors and we went in that way. The inside of the Science also had construction work going on, and we needed an individual from security to help us through the center and finally get to the sub. Whew!

We met Art at the sub entrance and made our way to the radio room. Next came step 3 in our quest. We hooked up the KX3, PX3, paddle, antenna, etc. We then turned on the rig and --- nothing happened. The three of us were puzzled, but Art of course knew more about the sub setup so we let him check into the problem. After a few minutes he found one plug amid the jumble of wiring from the power supply that had come lose. Once that was fixed, we were in business.

Step 4 was getting on the air. As always, there was a surge of activity at first on 40 meters and we worked 6 stations in 26 minutes before moving on to 30 meters where we added 2 more stations. Then as noted in our email promo we moved to 20 meters at 1500Z only to find some wide band noise that was at least 30 kHz wide and centered on our announced frequency. So that right away put any activity out of the question on that band. After that we jumped around between 40 and 30 with only 4 stations on 40 and none on 30.

It became pretty frustrating calling CQ after CQ with not a single answer. After a while we set up a CQ in the KX3 memory and figured out it was calling 3 sets of CQ per minute or about 180 CQs per hour. So the lack of contacts was definitely not due to a lack of effort on out part. It was also very frustrating to say the least to have one of our NAQCC members jump right on top of our frequency and call repeated CQs. There was also some QRM from other sources as well.

Finally with the lack of response we decided to go and hunt some DX instead. The lower portion of 20 was free of the wide band noise so we settled on operating there in the CQMM contest. We made 4 DX contacts on 3 continents. XE2S, F5IN, CO2JD, KH7M. We also almost worked Bert F6HKA.

All in all, kind of an up and down day. It was good to interact with the visitors to the sub as always, many of whom recognized Morse Code as we were sending it. Also as always it was great great to fellowship with Art WA3BKD the caretaker of the Requin. He has an identical sense of humor to ours (Mike is sitting here as I write, and he adds that could be dangerous).

That was quite a bit of writing and it took some time. We also got some good pictures which I will work on and post in tomorrow's diary entry. -30-


---

Sat Apr 21 2018 8:08PM - Fortunately I got my DX QSO at 0002Z tonight in the CQMM contest from CO2JD on 20 meters. Fortunately because tomorrow is a USS Requin subpedition day and I wouldhn't have had much time to look for DX during the day.

For the rest of the entry, here's the subpedition announcement that I sent to our NAQCC email list this afternoon.

"On Sunday, April 22, the WPA Chapter of the NAQCC will put the submarine USS Requin on the air from its permanent dock near the Buhl Science Center in Downtown Pittsburgh, PA. The operators will be Mike KC2EGL and John K3WWP.

They will try to begin the operation as soon as the Requin opens for visitors at 10:00 AM EDT which is 1400Z. The Requin has only one operational antenna so only one signal can be on the air at any one time. From 1400-1430Z they will operate on 7039 kHz, from 1430-1500Z it will be 10115 kHz, and from 1500-1530Z on 14059 kHz. Note the departure from the normal frequencies to try to avoid possible QRM from SOTA and other operations.

Also don't forget to check up and down slightly from those frequencies if we have to QSY to avoid QRM.

After 1530Z, operation will take place on the frequencies that were deemed most successful in the first 90 minutes. The operation will continue as long as activity warrants, but probably no longer than 2:00 PM or 1800Z. Please keep the exchange of info as short as possible to give as many folks as possible the chance to work the sub. Also keep in mind we are interacting with the visitors passing through the sub if we don't copy you all that well and ask you for repeats.

If you do make contact, please QSL to the NY3EC address in QRZ.net. That is the call of the submarine which will be used for the operation. The NAQCC number of the sub is 8483.

There will be a write up and pictures of the operation in K3WWP's web site diary at http://k3wwp.com/home_ss_diary.html within a day of the conclusion of the operation." -30-


---

Fri Apr 20 2018 3:00PM - DEAD!! That's what the bands were every time I checked so far today, and with 5 hours remaining to make my DX streak QSO, it really doesn't look like they are going to get any better in that time. So it looks like the DX streak is going to end after those 5 hours barring some sort of a miracle change. Of course I have written a couple prior obituaries for the streak during the past year or so only to have conditions change enabling me to pull out a last minute DX QSO. I have a feeling that is not going to happen today though. I have not heard a single DX station even a very weak one anywhere. Actually only one USA station of any strength at all. I will keep trying until 0000Z, and will amend this entry should the seemingly impossible happen.

MIRACLE TIME came at 2305Z in the form of FJ/AI5P on 10.127 MHz. The bands looked every bit as dead then as they had all day. I did find P43R on 30M and tried him a few times without any luck at all. He was in and out of my S4-5 noise and I probably wouldn't have been sure he answered me or not. Anyway while I was calling, I noticed a stronger peak up the band on the PX3 and tuned up there to find FJ/AI5P calling CQ with no takers. He must have just signed on because a couple evenings ago a similar FJ portable station had a large pileup. It took just two calls to get him in the log and continue the DX streak to 1,877 straight days of DX. I've now worked AI5P portable from the following countries - VP2E, G, CY9, FP, FG, J3, 9Y4, PJ4, PJ2, PJ6, and now FJ. Man he really gets around, doesn't he? Kind of a modern day Gus Browning W4BPD although Gus operated from enough countries so you could get DXCC from him. I don't know where AI5P stands in countries operated from. If anyone knows, let me know. -30-


---

Thu Feb 79 2018 (That's the weather date) - Thu Apr 19 2018 9:13PM - The calendar date. Yes winter weather continues on at around 25 degrees below normal and s#@w flurries to boot. I'd love to boot it out of here. I watch the Penn State weather show every weekday evening at 5:30PM and they used that Feb 79 2018 bit on the show. I thought it was clever (and accurate) so I 'borrowed' it for the diary.

No DX this evening. It seems like it is alternating lately - easy one evening, none the next. I guess that's better than not having any every evening. I really don't like having to wait till morning or afternoon to get the DX streak QSO.

That's about all the time I have to write an entry. I had a visit from an old friend for a couple hours this evening and I'm running late. We used to walk together in the park several years ago, but he doesn't walk much these days and I hadn't seen him in a couple years now. -30-


---

Wed Apr 18 2018 8:22PM - It seems my DX of late has been coming with a little story or anecdote with it. Today was no different. This morning I tuned in the CWT sprint hoping to find some workable European stations. I only found two, and both were on the borderline of workability. They were 9A7R and HA9RT. I tried both off and on with no luck. Finally HA9RT came up in strength so I tried again and he came back with a clear K3WWP and the sprint exchange, but he had already dropped in strength again. I sent my info, and I think he acknowledged it, but I wasn't positive. I did log it, but I wasn't happy and decided to wait and try the afternoon CWT. 9A7R was there again, more solid than in the morning. It took a few tries losing to other stations, but I got a solid sure QSO.

Last year sometime I bought an atomic clock from the Ol' Station Marketplace. That clock regularly sets itself with one of the WWV stations, and in checking the time, I've always found it to be within one second or less of the correct time. I say that as a little preview of what comes next. I went to the shack as usual just before 0000Z and found Alex HC2AO calling CQ on 20 meters. It was still 45 seconds or so too early to call him for the QSO to count for the 19th. I waited him out hoping he wouldn't leave before 0000Z. He wasn't getting any answers at all. As 0000Z approached, his last CQ before that ended exactly at 0000Z. I sent my call which he heard at once, and we exchanged signal reports, greetings and thanks. At about 20 seconds past 0000Z, I had my DX streak QSO in the books. Alex is a very interesting person. If you've never done so, take a look at his QRZ bio when you get a chance. He's an excellent operator and one of several who can be counted on to give me a QSO pretty much no matter how bad the bands are. -30-


---

Tue Apr 17 2018 6:58PM - A bit of an unusual twist to my DX QSO last evening. It took a while to find someone, but finally I found a big pileup on 40 meters and set to figure out if I could hear the station they were chasing. It didn't take long to be very surprised to find out it was Rey CO6RD. I had no idea why he should be so popular. I had worked him 31 times before on several different bands - 10, 12, 15, 17, 20, and 30. I mean the pileup was BIG being at least 2-3 kHz wide. I never did look on QRZ to see if he was doing anything special to be so popular. Think I'll do that now. Back in a moment.

OK, I guess this quote from Rey's QRZ page partially explains it, but still....

"NEW Special Event Station CO6RD. Waving at CW on World Amateur Radio Day The CW Group of Cuba (GCWC) on the occasion of the 93rd anniversary of the International Amateur Radio Union (IARU), will carry out special broadcasts in Telegraphy on April 17, starting at 8:00 p.m. until 19:59 hours on April 18 (from 00:00 to 23:59 UTC on April 18)"

So that plus being in the first hour of the operation when I worked him (yes, I did break the pile and work him) further explains the big pileup. When I saw and heard the pile at first though I thought it must be 3B7A or some similar rare DX.

As far as working him, that was a piece of cake. At first I didn't even think I'd bother trying, and just looked around for someone else to work. Failing in that, I went back to Rey, studied his pattern and watched who he was working on the PX3. After about 30-45 seconds of that, I set the KX3 to transmit on the frequency of the last peak I saw him work on the PX3. As soon as he said TU UP, I called and got K3?, called again for K3W?, then the next time it was K3WWP 599. I sent my info and broke a big pile with virtually a single call. I love it when that happens. It proves that it can be done with such a simple setup as mine with just a little bit of thinking thrown in for good measure. -30-


---

Mon Apr 16 2018 1:48PM - It's nice to not have to worry about getting my DX QSO during the day today nor having to take time to do my laundry. Both those things were done last evening. It's just too bad it's a chilly rainy day today so I can't be outside doing something.

Anyway with time on my hands (wonder how that expression got started?), I took a couple pictures of my bug and the weight I added to slow the dots. The first picture here shows the bug without the weight which is in the forground of the picture. On the left is an unmodified barrel type fishing sinker that weighs one ounce. At the right after modification that consisted of simply using a saw that makes exactly the right size kerf in the sinker to let it fit just snugly enough on the bug shaft to hold it on but allow it to be slid along the shaft to adjust dot speed.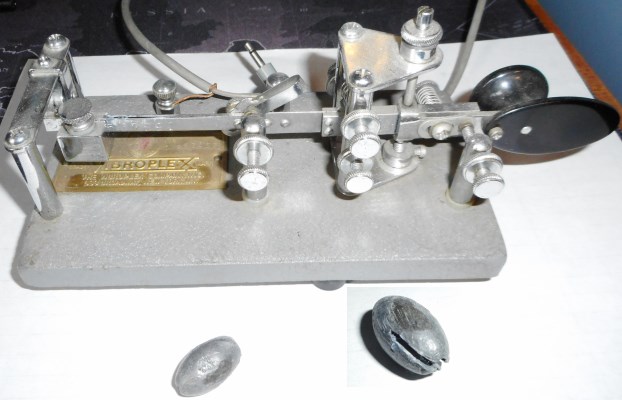 The next picture shows the bug with the weight on the shaft lodged just to the right of the weight that came with the bug. The supplied weight is slipped as far as it will go to the left. This particular setting gives me dots about 17 WPM. If my weight is slipped to the right or removed altogether, it will give what I estimate at 22-25 WPM or so. I've never measured it like I did the 17 WPM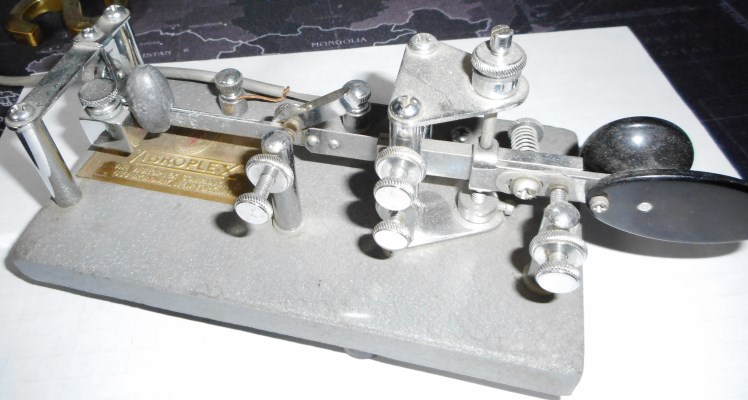 It's so simple, there shouldn't be any questions, but if there are any, I'll be glad to answer them.

Of course different bugs have different configurations, so if you want to try the idea, some adaptation may be necessary. For example your bug may have a round shaft in which case you'll have to make a round opening in the weight instead of a slot. Things like that. Also I wouldn't try too heavy a weight unless you are sure that the shaft will support the weight. I've never had any trouble with my bug and a one ounce weight. -30-


---

Sun Apr 15 2018 8:47PM - The DX scavenger hunt took me to the Yuri Gagarin contest this morning. There was very little activity and even less DX. Finally I did find one weak station who was just at my noise level and dipping down into it now and then. Never fear though. It turned out to be Mike F5IN, and if there is any station that weak I can work, it's Mike. I think I lost out to one or two other stations and also Mike didn't hear me answer his CQ, but the next CQ, he got me, we exchanged contest info, and the scavenger hunt succeeded once again thanks to a great op.

Tonight it was much simpler. HK7AAG was 589 on 30 and responded to my very first answer to his CQ. I first worked Ger back in July 1994 not long before the main streak started up on August 5.

So now I have the day free tomorrow to do whatever as I'm also doing my laundry this evening even as we speak. I had been thinking of something, but I don't know if I'll get to it or not. A few weeks ago I got an email from someone saying how he liked the slower (actually correct speed) dots produced by my lightning bug. It popped into my head that it is so very simple and inexpensive to slow down the dots on just about any bug by simply adding a little weight to the lever. In my case, with the flat lever, I mounted a barrel fishing sinker to it. That reduced the speed from maybe around 22 WPM to 17 WPM which is the slowest I ever send unless I'm asked to QRS, then I use my paddles or my straight key. Anyway if I do decide to work on it, I'll have a little picture story in the diary tomorrow or at least soon. -30-


---

Sat Apr 14 2018 2:42PM - I've been doing some thinking about my DX streak lately, and I've come to a conclusion. It's no longer really a streak, it's more like a scavenger hunt. By that I mean an inordinate amount of time is taken up in looking for an object that matches a certain description as in a normal scavenger hunt. Only in this case the object description goes like the following instead of finding for example a nickel from the 1940s. It consists of making contact with a person residing outside the USA and Canada via ham radio. It can only be made using a certain means of communication, a certain power level, and a certain type of antenna. A further consideration is that the signal must be of a certain strength to even make it possible for the contact to be made. Fortunately there is no limit on just where this contact may be found.

In order to satisfy the conditions of the scavenger hunt under current propagation conditions it requires looking in every nook and cranny, under every rock, in short just about anyplace that can be imagined at any time of day. Once found, it then sometimes becomes a problem to extract it from its hiding place which means it can hide behind a wall of noise, and only jump out from behind the wall occasionally to tantalize you. The whole process can take up to a few hours on some days.

I'm thinking with nice weather finally coming, I might not want to take enough time to play in the scavenger hunt on some days, and then may have to consider if it is important enough or not to continue playing. Time will tell.

Today I came close to that point, but I finally did complete the hunt successfully by working Josh 6Y5WJ another time on 20 meters in mid-afternoon. -30-


---

Fri Apr 13 2018 8:25PM - Even better today. It hit 84 on both my remote thermometers. It will be interesting to see if my 'official' thermometer hit the same when I check it at nine. I took advantage and installed the screens in my door and slipped the glass from the storm windows to get some of that great warm air in the house to warm it up a bit. It takes a bit to push out the heavier cool air, but I did get the indoor temperature up to 74 or so. Ain't it great at last!!!

Even the DX was a little better this afternoon. I still had to make 3 or 4 checks before I found any, but at 1556Z I found and easily worked 9A22RBM on 20 meters. The solar flux did go up to 70 earlier today, so maybe that contributed although it doesn't seem like much. Still the same old story this evening though. I got briefly excited when I heard a station acting like a DX station, but it turned out to be VE7ACN/VE2 handing out an IOTA and also Zone 2.

It was nice this evening to have a QSO with Doug W3HDH whom I haven't worked in 6 years or so. He used to be involved with the PA QSO Party before he moved to Illinois. That was quite a while ago now.

I also got a nice encouraging email from Mike N4VBV today. I don't think he'll mind if I quote it to you. "John, Hang in there with the streaks. I know the DX side is getting frustrating, but you're making it happen. Keep thinking that," I made it another day/week/month/year." Take a look back at how much you've accomplished, the past frustrating times and how you soldiered on right through those aggravating periods. If bad cndx do stop things, it won't be any omission/commission on your part. Hang in there, keep the attitude up and best of luck. As well as congratulations on your hard work and past success. 73, and good luck, Mike, N4VBV"

I need things like that to help keep me going. Sometimes it gets a bit lonely when no one comments on the streaks for a while. Of course I don't do it for the comments, but it does help at times. -30-


---

Thu Apr 12 2018 4:37PM - I'm enjoying basking in 77 degree weather. How about that. Finally after grueling never-ending winter weather, we get a break at last. It's actually 10 degrees warmer outside than in right now. Too bad I still have my storm windows in and not the screens.

It took me the good part of the day to do it, but I did get my DX QSO with a single call. The streak QSO has come from the same station the last three days on three different bands. I'm speaking of PJ5/AI5P. Today it was 20 meters. I could barely hear him, but I got him with just a single call. Must be nice operating someplace where the man-made noise can't be all that bad.

It's just a matter of time now before my luck runs out on DX. Day after day of low solar flux in the 60s is taking its toll. I think even if we could get a couple days in the upper 70s or low 80s, that would energize the bands for a while. It has taken a long run in the 60s to get them to the current point. Even being in the 60s for quite a while didn't seem to affect them all that much. There must be a point beyond which conditions really get bad as they are right now. Might be something to research. -30-


---

Wed Apr 11 2018 3:23PM - Kind of an unusual time to write a diary entry, but I have three things I want to cover and want to get them down here before I forget them or at least what I wanted to say about them. 1 DX, 2 Sprint, 3 Visit.

I did something unusual in working DX today. Something I can only recall doing once before for a completely different reason. That is not being sure my QSO was complete or not and working the station again a few minutes later to be sure. I don't really like doing that unless I'm "desperate". The first time was way back on September 25, 1995 and the station was R1FJZ in Franz Josef Land on 18.070. With such a rare hard to work country, I wanted to be sure I was in the log. I worked them at 2007Z, and wasn't sure if the QSO was good enough or not, so I debated with myself if I should try to work them again just to be sure. It took until 2021 to decide to try again. I did and this time it was a much more solid 'for sure' QSO. Since then I've only worked one other Franz Josef Land station so it was a good choice to try again. The other one? R1FJL on June 16, 1999 on 14.016 at 0504Z.

Fast forward now to today. The details are all the same except for the reason - to keep my DX streak going when the bands were just about totally devoid of workable DX stations - and the band, time(s) and station. It was 17 meters (almost the same frequency - 18.072) at 1904Z and 1916Z with PJ5/AI5P. And the streak goes on with a real effort.

I said in my soapbox for last night's sprint to check the diary here for my story of the sprint. It wasn't much of an effort. I had pretty much decided after seeing how the bands were all day yesterday that I was going to only make a couple QSOs, then QRT. However it turned out that 40 meters wasn't all that bad for the sprint, and although I didn't stay long and stuck strictly on 40, I did have some runs from my CQs. I did quit after only about a half hour with 14 QSOs in 12 SPCs which was by far my best effort on 40 in a long long time as far as I can recall. I just sat one one frequency and called CQ the whole time. Had I stayed longer I may have made it to 40 QSOs if 80 was any good later in the sprint. I'm satisfied with my results though because I had fun and that's my objective in our sprints, not going for score.

Now about Mike's visit yesterday. As we always do we take breaks in whatever else we are doing to check the bands for DX. Well, yesterday had about the worst conditions for DX we've ever experienced. The only station Mike worked was old regular PV8ADI and it wasn't easy by any means. I didn't bother to try him since I've worked him so many times and I already had my DX QSO from the 0000Z hour the evening before. Of course we also had a meal, this time at Wendy's. We also worked on our main project which was experimenting with antennas in case we need to do FD from my porch again this year. After that was done and there was no more DX to be found, it was off to the computer for hidden object games. Later as Mike was about to leave, I remembered we wanted to call Art from the USS Requin to arrange a subpedition. So we did that and Mike and Art found the 22nd of April compatible with both of them. I'm good for pretty much any day at all here. So we'll be going to the Requin the Sunday after next. More details as the day gets closer or we get closer to the day, however that works. HI -30-


---

Tue Apr 10 2018 8:09PM - Mike and I had a good time today. I'll write more about it in tomorrow's entry. Right now I'm getting ready for our NAQCC sprint and doing some other things.

No DX yet tonight. I'll probably have to wait till the CWT sprint in the morning. Today whenever Mike and I checked the bands, they were pretty much dead. He did work PV8ADI on 20. Hope they are better tomorrow. -30-


---

Mon Apr 09 2018 5:50PM - One of the many reasons I like CW so much is that it doesn't change hardly at all over the years, and I abhor change of any kind. I guess the last big change with CW was going from the spark gap signal with it's raspy sound to the continuous wave signal which is what CW stands for, by the way. The mode is really more aptly named Morse Code or technically A1 emissions. Using CW today is pretty much exactly the same way it was used those many years ago.

There have been some minor refinements such as the creation of keyers that make automatic strings of dots and dashes. Also UGH the use of keyboard sent CW via a dedicated keyboard circuit or a personal computer. But CW still involves using hand motions to send it and the brain to receive it in most cases. That is true Morse in my (and many other's) opinion. Doing it any other way just lumps it in with other digital modes. Yes, Morse is the original digital mode.

One disadvantage to its non-changing nature is finding new things about it to talk or write about. If I devoted my diary strictly to Morse, it would really be nothing but the same thing over and over again. Actually it is that now unfortunately to a certain extent. That's the reason I like to write about my other interests in life such as fishing, weather, astronomy, walking, gardening, and on and on since I am not a person who is only interested in one thing in life.

One thing related to Morse that does change daily is the extent of my QSO a day streaks. Both were extended one more day today, but it was rough adding a day to the DX streak. Last evening after I got my regular streak QSO easily at a few minutes past 0000Z, I looked around for some DX and found none. That was also true in a couple extra checks before midnight (0400Z).

Shift now to this morning starting at 1200Z, and it was the same situation. I didn't find any DX then, and it was virtually the same in other checks I was making every hour or so throughout the day. The only strong workable DX stations were those chasing other DX stations themselves so I couldn't even try to work them. There were a few very weak stations about half of which I could hear, but couldn't copy them well enough to get any complete calls. As it turned to late afternoon though, conditions did pick up a little. I heard R6AF surprisingly on 20 meters right at my S5 to S6 noise level. He never heard me call though. The same with old standby PV8ADI. He wasn't his usual well over S9 signal, and didn't hear me call. Finally I heard HA7GN on 20 and called him. The QSB was bad, and I thought he asked K3? so I called again twice. When I ended the second call, I could hear him sending an exchange to someone so I listened to see who he was working. Surprisingly, he sent something like how copy? then K3WWP de HA7GN KN. He must have caught my call the first of those two times I sent my call and I was doubling with him the second time I sent my call. Whatever, I came back to him with RST and name. He thanked me by name, and another DX day is in the log. Now I start over again in less than two hours.

Mike is spending the day here tomorrow. We've got a couple projects in mind. The main one is doing some testing to see if we can reduce the interference between our stations if we have to operate Field Day and/or the NAQCC anniversary event here from my house as we did last year. -30-


---

Sun Apr 08 2018 8:38PM - I was reminded of something in a QSO this evening by a ham who was studying for his Extra and wished he'd done so 50 years ago when he was younger. I hadn't realized before that it will be 50 years as an Extra for me later this year. I think in August. I'm sure I have that first Extra license somewhere, but a quick search just now didn't turn up anything. I am curious now as to just when in 1968 I got the ticket so I'll continue my search but not right now as I'm doing my laundry, then getting my weather readings, walking Roscoe, etc.

I had another topic in mind to write about, but searching for the ticket put me behind schedule now so that will wait till tomorrow if I don't forget. Hopefully I won't be too busy hunting my DX streak QSO in the morning or afternoon to do that. -30-


---

Sat Apr 07 2018 8:25PM - That was interesting, rewarding, quick, and to the point. My DX QSO this evening, that is. 40 meters very busy with the SP contest, MOQP, MSQP, and some RTTY contest all going at the same time from 7000 up to at least 7040. I didn't tune any higher than that. I figured there was little space to squeeze in my QRP signal to get any DX, so I worked W0D in the MOQP for the regular streak, but I wasn't sure he had my call right since he sent K3WWW and never did correct it after I sent K3WWP a couple more times. So I then worked NI0C in the MOQP, but when he came back to me another station was sending something exactly zero beat. I did hear NI0C send .....WP and the contest exchange, so I figured it was me and sent my exchange. So the main streak was secure.... maybe.

Then I went DX hunting. Nothing on 30, and a weak XE1 on 20 was it. So back to 40 down to the low end. I heard a weak SP4 - too weak to bother trying. Then I heard SN7Q who is one of a few Poles I can almost surely count on for a QSO. I've worked him easily many times and despite him being S5 to S6 at best, he heard my first call to him and we swapped our exchanges with nary a single repeat needed. It's ops like that who will help to keep my streak going if I can find them one way or other. Once found, working them should be easy like tonight.

I was going to take a picture this morning showing our January in April weather, however I got to doing a couple other things and never got to it, before it all melted. No complaints about that at all though. There was probably between 1 and 2 inches of the stuff overnight. Enough already!!! Bring on some true spring-like weather like we had in February and not since then. -30-


---

Fri Mar 06 2018 8:17PM - Well it still seems like March, not April. S#$w flurries, cold, wind, and all that nasty stuff we actually expect to be gone by mid-March is still hanging around. It's mainly due to a large high pressue system in Eastern Canada that keeps sitting there and about every other day or so cold weather from Central Canada has to take a detour around the high which directs it right over Pennsylvania. Hopefully the high will get kicked out soon and we can get back to normal.

It was another quick QSO both last night and this evening that kept the DX streak going. Last night XE2I at 0015Z and tonight XE1ZW at 0006Z, both on 20 meters. So from Latvia and Russia for a couple days to neighboring Mexico the next couple days.

Folks ask me about my tomatoes and peppers now and then. The new pepper seeds I planted a few days ago have yet to sprout. Hope I don't have to give up on them like I did the first batch. The Siberian tomatoes are coming along good although a bit slow. They are probably waiting for some true spring weather also like the rest of us. They now have 2 or 3 sets of true leaves as you can see in the picture here.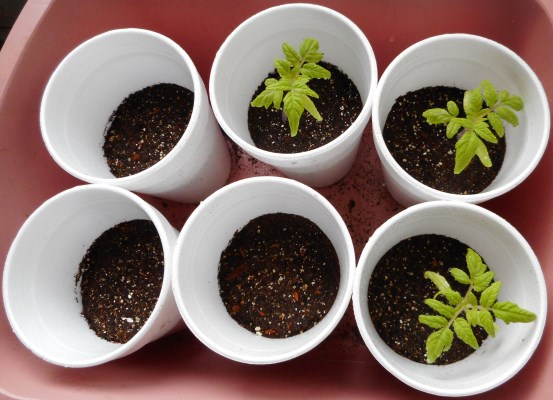 -30-


---

Thu Apr 05 2018 8:44AM - I was even a bit more encouraged about the DX streak this morning. I worked even deeper into Europe than YL3CW yesterday. Today it was RN4W on 20. Igor is in Izhevsk, Russia. That's a 1000+ MPW QSO - 5,150 miles or 1,030 MPW. Quite a ways east of Moscow. For comparison, YL3CW at roughly the same bearing - 36 vs. 24 degrees for RN4W - is 'only' 4,450 miles.

Strangely, I also heard R108M going about 40 WPM working one after another central Europe station (DL, I, etc.) and I couldn't hear a trace of those he was working. There were also a few other Russian stations, all about S5 to S6 or so. I gave RN4W a little generous 569. He gave me a 539 and I had to repeat my call a few times before he got the P at the end.

Let's see when I last worked European Russia. Oct 20, last year I worked R7KZ on 15 meters. Before that, not since July 23, 2016. A similar pattern to Latvia yesterday.

So with that good news, I'm going to go work on my genealogy some more. -30-


---

Wed Apr 04 2018 9:00PM - If I don't get blown away by the strong winds when I go out to get my weather readings, I'll be back and write the diary entry.

Well, I made it. The wind has died down quite a bit now. Earlier today it was a struggle to open my storm door to go outside. I didn't see any damage here close to home. Maybe I'll walk around a bit tomorrow to see how things look. I did see a few very small branches down from my back yard pine tree when I went to get the weather readings. I wish I had an anemometer in addition to the rain gauge and max/min thermometer so I could know how fast the wind was blowing today. I'd guess we had gusts close to 45-50 MPH as a rough estimate.

The DX came easy this morning at 1244Z when I worked YL3CW. I think that's my first Latvia QSO in some time now. Let's see. The last 3 Latvians were 11/4/2017 YL2KO, 2/21/2016 YL7A and YL3FT. Not all that long, but very few since 2015. Low sunspot numbers seem to limit how far into Europe I can work. It's very hard to work Russia now along with Ukraine, the Baltic states, Moldova, and other of the former Russian areas.

Well, almost time to walk Roscoe for the last time today. He sure didn't like the wind for the previous 3 walks today and did his business and hurried back inside. Should be better now. -30-


---

Tue Apr 03 2018 8:29PM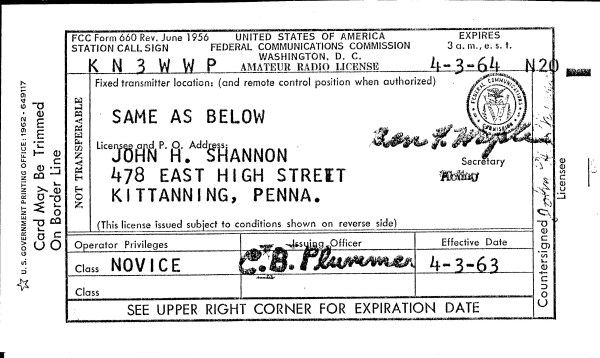 That's what greeted me in the mail 55 years ago after an agonizing wait of a couple weeks after passing my Novice test. Seems like a lot longer ago than that somehow. In other ways it seems like yesterday. Funny how the passage of time seems to change depending on how you look at it.

I haven't been active all of those 55 years as regular diary readers know. Let's go back a year ago and see what I said in the diary on the 54th anniversary.

1. 4/3/1963 (Actually my first QSO came on 4/8/1963) to 4/20/1970. 18,561 QSOs Then I was inactive due to work at WPIT.
2. 6/6/1972 to 12/4/1973 when time and work permitted. 52 QSOs Busy with work at WPIT again.
3. 6/17/1981 to 9/23/1983 again when time and work permitted. 752 QSOs Another work gap till I was near or at retirement from WPIT.
4. 2/15/1993 through the present. 69,484 (70,912 as of tonight) and counting QSOs

There were significant changes during and in between my periods of activity. During the first period, incentive licensing came into being and after being a Novice during part of the first year, followed by General until mid-1968, I quickly got my Extra to have access to those segments of the bands that were no longer available to anyone but Extras.

During the third period of activity, the addition of the so called WARC bands started with 30 meters. The first three periods of activity and the fourth until September 1, 1999 saw me using homebrew transmitters and a few different commercial receivers. Then I got my first transceiver, a Kenwood TS-570D.

During the fourth period, a company called Elecraft came into being, and some of the best rigs ever, at least for my style of operating with only CW and QRP, became available. It took a while for me to get on the Elecraft bandwagon, but I did with a KX1, K2, and now the fabulous KX3. The rest is history.

Of course, I have been active every day now since August 5, 1994 as you know from the streak.

Looks like the DX streak may have to depend on the CWT sprint tomorrow morning. I called a couple of stations this evening without being heard at all. Except for CE2SV, they were quite weak. I don't know why CE2SV wasn't hearing me. I've called him other times too with the same non-results. -30-


---

Mon Apr 02 2018 8:33PM - Just a couple more hours now and we'll know if it is Villanova or Michigan. How about the UConn women getting beat for the second year in a row. I was glad to see Notre Dame win over Mississippi State in the final there. And almost local Penn State win the NIT. No response on any of my trivia questions about the tournaments, so I'm not going to bother giving any answers.

Just as I started typing this entry, I got a call from Art from the USS Requin. We were planning a subpedition for this Sunday the 8th, but he can't be there, so we're shooting for the following Sunday now, the 15th. I'll confirm that date and mention it here in the diary.

Also just a little while ago after getting my streak(s) QSOs easily by 0024Z, I made another planting of some pepper seeds. Mine never did sprout after 6 weeks. This time Ange gave me some of his seeds to try, so we'll see what happens. The Siberian tomatoes are coming slowly but surely.

Now it's closing on 9PM and my weather readings. Oh, March did finish around 2 degrees colder than February. Mainly not because March was so cold, but because February was so warm. Let me be more specific.

February averaged 38.2 degrees or 8.1 degrees above normal.
March averaged 36.2 degrees or 2.3 degrees below normal.

It was interesting to note that all three February temperature averages were 8.1 degrees above normal - daily minimum, maximum, and mean. That happens very rarely.

OK, now I need to get off an email to Mike to see if the 15th will be OK for him to go to the Requin. I have to depend on him, since I don't drive, and it's a bit far to walk. HI.

Oh, I almost forgot. Tomorrow, the 3rd is the 55th anniversary of me becoming KN3WWP to start an exciting and rewarding journey into ham radio. More about that in tomorrow's entry if I remember. -30-


---

Sun Apr 01 2018 9:05PM - I hope you all had a Happy Blessed Easter today. It was quiet here. About all I did was have a good meal with Bruce next door and of course Roscoe partook also.

It took a lot of fooling around this evening to get any kind of QSO. I thought someone put a huge Faraday cage over my house. It's very unusual when I go more than 15 minutes without at least getting an answer to my CQs. Tonight it was more like 45 minutes and I never did get an answer. I did find and work FY5FY on 30 meters finally to cover both streaks. Since that took so long, I'm going to cut this short and finish my other web site updates before time comes to walk Roscoe again. -30-


---

Sat Mar 31 2018 8:41PM - Looks like April is picking up where March left off, both weatherwise and ham radiowise. The bands sound pretty much like they did all during the month of March, and the weather remains below normal temperaturewise

Actually, 20 meters is picking up in the evenings, but that started back in late March so we can't attribute that to changing the calendar from March to April. Also even though it is still below normal as far as temperatures, simply because the normal is increasing now, it's not as cold as March. So I guess things aren't as bad as I made it sound in the first paragraph.

The DX streak is set for a new month now. I wonder if it will survive the whole month. I worked NP4LW on 40 this evening and after checking QRZ to see if he indeed was in Puerto Rico, I made a litte note in my logbook to indicate April 1st was day # 1,858. Actually I should say log sheet - I don't have a real book, I just print a couple new sheets as necessary.

Later tonight I'll make it official that this is only the third time since my weather records started in 1959 that March was colder than February. -30-


---

Fri Mar 30 2018 8:49PM - Well, one more day to go in March, and it's certain now that March 2018 will wind up colder than February 2018. That's something that doesn't happen all that often. I know of twice that it happened here in Kittanning for sure. That is 1960 and 2018. I'll have to check my records to see if there is another one as well. I did this some time ago and my mind seems to think there was a third one also. Let's see. Yes, I see 1984 had a March 4 degrees colder than February. More? 2001 was close but March was 0.3 degrees warmer. 2017 was close also but March was 0.7 degrees warmer. And in 2012 March was 15.8 degrees warmer than February and March was warmer than April that year also, by 0.8 degrees.

Jon Nese of Penn State's meteorology department had a bit about cold Marches on his Wx Yz Weather Whys? segment on Weather World. You can see it here if you are interested. You may have to check the archives if the March story is not the current one when you visit. He shows only 5 years with a colder March - the three I mentioned plus 1915 and 1932, long before my records here. In fact long before I was born.

As far as ham radio goes, with UTC, it's already the last day of March and that means another month added to the DX streak as I worked 9Y4/KE1B on 30 at 0034Z. Speaking of 30, it has really been the pits this month. I only have 9 QSOs there in March. Just about every time I check it, there is just nothing there unless one DX station shows up now and then. 7 of the 9 QSOs are DX.

OK, 9:00P now and regular diary readers know that's weather readings time, so 73 and CU tomorrow. -30-


---

Thu Mar 29 2018 8:30PM - Another day added quickly to the DX streak thanks to XE2I on 20M at 0001Z. That after I thought maybe the streak would end earlier today. There just wasn't much in the way of DX anywhere - any strong enough to even try working although I did with no success. After a few sessions like that though, finally I did get SM3EVR on 20M at 1532Z. We even chatted for a few minutes.

It was a rainy day most of the time. A good day to stay inside, although at least it wasn't s#$w. So I did some work on analyzing matchups in the NCAA tournament. It is really interesting to see which matchups appear the most and which are pretty rare. I've got all the numbers in a Microsoft Excel spreadsheet now, and I plan to analyze the data now over the next couple weeks when I'm not involved in something else.

Because of the various quirks in such a 64 team single elimination tournament, except for 1-1 matchups, numbers playing the same number are rare since they can only occur in the final rounds of a tournament with the 64 teams divided into 4 16 team regions. For example, there have been 20 1-1 matchups, 3 2-2 matchups, 1 each of 3-3, 4-4, and 5-5 matchups. None higher than that.

The highest number matchups are 12-13 of which there have been 11. Of course that happens when 12 upsets 5 and 13 upsets 4 in the first round, then they play each other in the second round. Other high number matchups are 5 11-14 and 5 10-15. Fewer than 12-13 because a 15 must beat a 2 and a 14 must beat a 3 to play the 10 an 11 seeds.

Well, enough of that. My head is starting to spin. HI. -30-


---

Wed Mar 28 2018 10:38PM - This is a fourth Wednesday. That means a pizza night with Mike. We had a pepperoni, mushroom, and tomato variety this time. After that, we tried but couldn't work or even find any DX to work. XE2I was on 20, but Mike just worked him a couple nights ago, and since it was before 0000Z, I decided to wait. However he was gone when 0000Z rolled around, so it will have to be the morning or afternoon if the DX streak is to continue. Next up we talked about some plans for the WPA Chapter in April. Nothing all that definite yet. More info when the time draws closer. Finally we closed out the evening with a hidden object game, an Our Gang video, and some basketball trivia. -30-


---

Tue Mar 27 2018 8:43PM - It's nice to have 20 meters open late again with the sun setting a little later each evening now. I hope that continues until fall on a regular basis. Tonight a CQ yielded a quick QSO with Wade W5TEN in TX. After we chatted for about 15 minutes, I spotted a strong signal just below our QSO and it was Ralph XE1RK. I called him and we chatted for about 5-6 minutes. It was 80 in Texas and 75 in Mexico. Can't wait till we get those kind of temperatures here.

One of my many interests in life is woodworking. I don't really have the room, time, or money to pursue it seriously. I do build some thimgs now and then like the sundial I mentioned yesterday, but not much. I pursue the hobby more or less vicariously by watching the woodworking shows on the Internet. There are certainly a lot of them. One of my favorites is Matthias Wandel. Why? Because he is a lot like me in that he is interested in many facets of life and many hobbies besides woodworking. Just like me with ham radio. He presents a lot of non-woodworking videos just like I like to mention many different things here in the diary, not just ham radio topics.

Speaking of other interests, it's time now to close here and go get my temperature and precipitation readings for my weather records. We had a lot of rain today, probably between a half and three quarters of an inch. I'm sure glad it was rain and not that other stuff. -30-


---

Mon Mar 26 2018 8:19PM - As I said as I got up from my shack chair at 0001Z, a la The Katzenjammer Kids, dot vuz kvik. And it was. After finding nothing in a quick check of 20 and 30, I went to 40 and tuned down past a big pileup chasing something I couldn't hear, I caught the letters GCJ from a DX-like operation, and immediately thought that must be PJ5/SP2GCJ. It was and after he made two quick QSOs, I set the KX3 on the frequecny of the second QSO, gava a call and got my DX streak QSO in the log shortly after the 0001Z minute started. Best of all, it was on a new band so I didn't feel bad about working him yet again after a couple QSOs with him on 30 meters.

Every time I add a day to the DX streak, I continue to wonder just how far into the sunspot minimum I'm going to be able to carry the streak. The solar flux has been in the 60s the majority of the days since around the start of 2018, and there have only been a very few days in that time that the DX didn't come easily. Oh, it does take a bit longer to find and work DX now than back when the sunspots were more prominent and hence the propagation was better. As I've said before, I never really chased DX seriously during a sunspot minimum, so this is a new learning experience for me.

For the first time since I don't know when, I took three pretty good walks today. It was in the low 50s with a lot of sunshine. A bit windy which made it feel chillier than that, but still it was great walking weather with none of the white stuff to walk through.

I've been involved in another project the past couple days. I'm refurbishing the sundial that a friend and I built several years ago. It took a beating during the winter with the wild temperature swings. I've sanded it down, redrew the lines and numbers, and have put two coats so far of polyurethane on it. I think I'll shoot for four coats before putting it back outside. I'll post a picture when all is done. -30-


---

Sun Mar 25 2018 8:33PM - Nobody's shown any interest in my March Madness trivia questions so I'm not going to bother giving the answers unless someone does either submit some guesses or just plain asks for the answers.

Here's one bit of trivia I learned today. This year when Loyola Illinois #11 played Kansas State #9, that was the first ever match between 9 and 11 seeds. Now I wonder what other rare combinations there are. Of course this year also featured the first ever match between a #16 MDBC and a #9 Kansas State. So Kansas State was involved in a couple of firsts.

So for the final four this year we have a 1/1 matchup in Kansas/Villanove and an 11/3 matchup in Loyola Illinois/Michigan. It's been an interesting tournament as always and I hate to see it winding down already. Time sure went fast.

After a nice chat with 80 year old K9VPL, my DX came quickly from old regular PV8ADI on 40 meters.

Nice weather today and almost all of the 6 or so inches of s@#w is gone. Hardly a cloud in the sky today, and this evening. I was watching Venus out my window in the west while I was on the air. -30-


---

Sat Mar 24 2018 9:09PM - I'm running a little late after a very long enjoyable QSO with Tim WA8VTD. No DX this evening (yet). I promised a before/after the grooming picture of Roscoe. So here it is. That will serve as the bulk of the diary entry tonight. Speaking of bulk, although he is a bit chubby, Roscoe is not as chubby as the pose in the pictures makes him look.



-30-


---

Fri Mar 23 2018 8:19PM - Mike is sitting across the room here after we had our Lenten fish dinner at a local fire hall and then worked some DX. We both worked LZ40MS on 40 before the 0000Z hour. Then Mike worked XE2I on 20 at 2353Z. I thought I'd wait till 0000Z and if he was still there, I'd try to work him then for the DX streak QSO. Although Mike worked him with just a couple calls, when 0000Z came, I had trouble working him, calling many times without him hearing me at all. Finally at 0011Z, I got a WWP? from him, and after sending K3 K3 K3..... several times he came back with K2WWP? He finally did get my call right, and DX day # 1,850 is now firmly entrenched in my logbook. Mike also tried for CP4BT on 20 but didn't have any luck.

I just asked Mike for any additional words, and he said to tell you the fish dinner was phenomenal. I have to agree on that. I also got a take out order for Bruce next door. Roscoe will probably share in that also.

I also got an after picture of Roscoe today with his long curls gone after last week's grooming. I'll crop that and post it with a before picture probably in tomorrow's entry. -30-


---

Thu Mar 22 2018 8:30PM - A brief weather comment, then I'll talk about last evening's NAQCC sprint. It was yet another day of watching the s#$w melt. As you may have been able to tell from the obscene picture in yesterday's diary entry, we had about 6 inches of the stuff. However despite the high only in the low 40s, in places where the sun hit, all 6 inches vanished, thank goodness. That's why March s#$ws are not as horrible as December-February s#$ws. It will take another day or two to melt the rest where the sun doesn't yet hit, but still that's a lot better than sticking around forever, like earlier season s#$ws do.

I stuck to my pre-determined plan last night for the sprint. I planned to only stay an hour or leave quicker if I hit 20 QSOs before that time. Well, QSO # 20 came at the 52 minute mark. Conditions were pretty good and had I stayed the full 2 hours, I probably would have gotten over 40 QSOs. There was nothing on 20 or 40 so I wasted the first 6 minutes checking those bands. So actually my 20 QSOs came in 46 minutes on 80 which means I might have hit 50 QSOs in two hours. No regrets though as I don't really get in contests to win anything, but just to have fun, and I did have fun last night. It's always nice to work the regulars in our sprint and to add a couple of newcomers also. That's exactly what I did last night. I haven't even really bothered to see where my 20 QSOs stands up against other scores. Probably not very well since conditions did seem quite good for a change. Although I do miss it somewhat, it's nice to not be involved in log cross-checking or any other aspects of the sprints other than being just an ordinary participant. I guess 'free at last' applies to my NAQCC chores of the past almost 14 years now.

One of the things I am spending most of my free time on now is my genealogy. I've traced one tree branch back to 1480 and now have some 1300+ blood relatives in the tree out of some 2100 people in the tree. Just another thing that appeals to my love of statistics and record keeping.

DX streak, you ask? It's alive and well. Tonight it was another case of work them, then find out who you worked after the fact. Tonight it was almost 5 minutes after the fact. I worked someone who was sending only TU UP between QSO. I listened for a while and while waiting for an ID, I figured out via the PX3 exactly where UP he was working and tuned there, sent my call and got an answer the first try. Then came the 5 minute wait to find out it was my 3rd QSO on 30 the past several days with PJ5/SP2GCJ. I kind of figured it might be him from his modus operandi, and I was right. After that I chased 3C0W for a while, but his pileup was too big and strong to break, even though I knew where and when to call. That would have been a new overall country too. Oh well, maybe he'll be there long enough for me to still get him some time. -30-


---

Wed Mar 21 2018 8:09PM - CAUTION! Obscene picture below.

Well, that was nice. I got my DX QSO at 0001Z this evening from KP2/KE0UI on 30 meters. It was rough early in the day though. Even with the CWT sprint, 20 meters was pretty dead until about 2/3 of the way into the sprint when signals picked up a bit and I worked Mike F5IN and Bert F6HKA fairly easily.

Now it's about 20 minutes to the NAQCC sprint. You know since I completed my retirement from NAQCC work, my interest in the NAQCC activities has dropped off quite a bit. I doubt I'll complete the March challenge. Tonight I think I'll just do the first half of the sprint and call it quits. I'll have my soapbox comments here in the diary tomorrow.

OK, look out. Close your eyes. Don't say you weren't warned.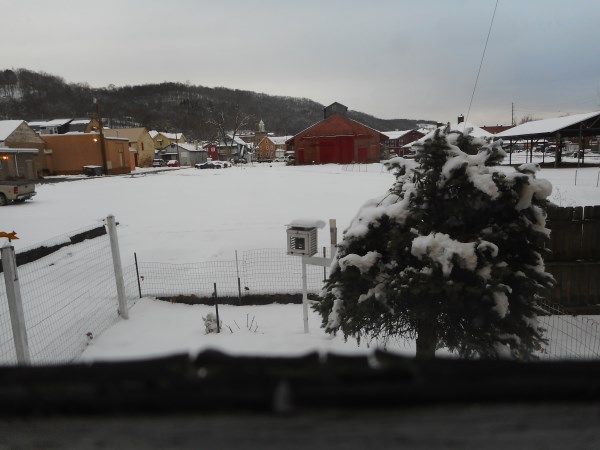 -30-


---

Tue Mar 20 2018 9:00PM - It's looking more and more like March 2018 will have a strong resemblance to March 1960. In 1960 March was colder than both January and February as follows:


Jan Feb Mar 1960 mean temperatures were 31.8 29.6 28.4
Jan Feb Mar 2018                        26.3 38.2 34.3 (so far)
OK, so 1960 was much colder than this year, but it looks like at least Mar this year will be colder than Feb. There's not much warmth coming in the last 11 days this month according to pretty much a consensus of all the major forecasters. We'll see what happens.

The DX streak was barely stretched out another day this morning thanks to 17 meters and PA2EVR. 20 didn't have much to offer the 3 or 4 times I checked, but then a look at 17 showed a pretty big peak on the PX3 that turned out to be PA2EVR. A single call and a repeat and the DX streak reached 1, 846 days. No DX this evening, but the CWT sprint is tomorrow morning. Hopefully that will provide some DX on 20 meters. -30-


---

Mon Mar 19 2018 8:50PM - There are times in life when things happen to put things in perspective. I was getting discouraged calling one after another unanswered CQs tonight. Finally I got an answer. I won't give his call here, but he was an 88 year old ham suffering from cancer. He said he couldn't stay long, but he just wanted to let me know I was getting out with a good signal. He explained he had had his quota of ham radio for the day and had to be getting to bed now. I thanked him very much and wished him all the best with the cancer. Then I just sat there thinking for a bit, and I felt I shouldn't be so discouraged when it is rough getting a QSO. There are a lot of situations in life that must be much more discouraging.

I had some other things I was going to talk about tonight, but I think I'll just let that stand for my entry. Incidentally the fellow has been a ham for 75 years. That's a long tenure to be in ham radio. -30-


---

Sun Mar 18 2018 8:48PM - This will be another quick entry. My neighbor and I are getting a pizza in a few minutes. No DX this evening. I tried TI5/N4YDU several times on 20. I usually work into TI easily especially with a good op like YDU at the key, but not tonight. So it looks like a morning or afternoon DX hunt again.

Just checking the BB scores. Big surprise with Texas A&M whupping NC handily. Syracuse continuing on after playing their way in. UMBC playing now, but it's early.

Well, that's it. Got to get my weather readings, then over for the pizza. -30-


---

Sat Mar 17 2018 8:38PM - Well, the record is now 1-135 if my math is correct. Huh? Oh, that's now the current record of #16 seeds after the big HUGE TREMENDOUS upset of Virginia by UMBC. Who? That's what I said when preparing my Excel spreadsheet for the tournament. It took a while for me to figure out who UMBC (yoU May Be Cinderella) was. Well, they certainly were the greatest Cinderella of them all. Now everyone with the tiniest interest in college basketball knows UMBC is the University of Maryland Baltimore County. Way to go. To top it off they not only won, but considering it was a 16 vs. 1 matchup, I'd say they destroyed Virginia winning by 20 points 74-54. I got to watch the final 4 minutes of it on the Internet, and I'm glad I got to see history in the making.

Keeping on the basketball topic, here are some more trivia questions for you to ponder and comment on if you wish via the email link at the top of the page.

Who are the 4 teams with the most first round losses (12) since 1985?

Which of the four has also won a championship since 1985?

Which of this year's teams had waited longest since their last tournament appearance?

Which was the only team who made their first appearance this year?

A little harder than the first group of questions, but easy to answer via a Bing search on the Internet.

Not forgetting this is a ham radio site, I took the easy road for my DX QSO this evening since I figure tomorrow is going to be a busy day with this and that. I worked PJ5/SP2GCJ on 30 again. I don't like to do it that way, but I will if the day ahead looks to be a busy one. -30-


---

Fri Mar 16 2018 8:53PM - Another busy day today. Fortunately it started with a quick DX QSO from J6/K1ZZI at 1239Z on 20M. It took but a single call to get him even though he wasn't all that strong. Ralph is another of the many good CW ops on the band which helps explain that.

Then it was finally off to the groomers with Roscoe after a couple postponements. Maybe I'll have a before and after picture in the diary tomorrow.

Of course following March Madness took up some more time today. Things are going pretty much according to the seeding so far with 24 games complete and 8 to go in the first round. Only 5 upsets so far, the biggest being 13 Marshall over 4 Wichita State. Fewest first round upsets record is 3 in the 2000 tournament. So we won't have a record this year, but with an average of 8, we may be at or under that depending on how the last 8 games go.

Speaking of go(ing), I better close here and go get my weather readings. -30-


---

Thu Mar 15 2018 9:15PM - It took a long time to get my regular streak QSO this evening - almost an hour. That plus following March Madness leaves little time to write a diary entry. I haven't checked the scores for a while. Let's see if there have been any more upsets besides Loyola over Miami. Nope although Stephen F Austin is ahead of Texas Tech, but still 8 minutes to go there.

OK, got to finish my other site updates now, so that's it for the diary. -30-


---

Wed Mar 14 2018 8:37PM - A Tale of Two QSOs. My DX streak QSOs for the 14th and 15th were a little out of the ordinary so I thought I'd talk about them a bit.

I checked the bands in the 1200Z hour this morning and didn't find much of anything except a very weak 3D2EU on 30, and a weak SM5CCE on 20. So I shut down and figured I'd wait till the CWT sprint started at 1300Z. I went back up to the shack a few minutes before 1300Z and found a strong DX station just finishing a TU 599 style QSO, maybe getting warmed up for the sprint? I didn't wait for him to ID, but relied on my old system of work 'em, then find out who I worked. In this case it only took one call to work 'em. He signed after I worked him and found out it was Alex HC2AO. He's a great op and he doesn't go more than one or two stations without IDing. I say that because that's the way it should be done, and because it contrasted sharply with QSO #2 this evening.

Finding no DX on 20, I went to 30 and saw a strong peak on the PX3. I listened for a while, but no ID, just TU UP after each QSO. He had a huge pileup and was turning over QSOs rapidly. I set the KX3 to split and watched the PX3 to figure who he was working. Of course the KX3 has the split cans feature, but I seldom use it. I can tell pretty well who the DX is working just from watching the PX3 screen. Anyway after a few QSOs, he did throw in his call. It was a PJ5/SP..... station. I didn't note the SP call as I figured again I'd use the work 'em, then figure...... system. Well, it took quite a few tries till I figured out his pattern. He was working slowly up the pileup. I transmitted slightly above the last station he worked, and it wasn't long before I got him. That was the biggest pileup I've broken in a while now. I knew I could do it because of the strength of his signal at S9+ so I stuck with him longer than I usually do in such a big pileup. I wrote PJ5/SP in the log and waited to get his suffix. And waited, and waited, and wai...... I worked him at 0007Z and he never gave an ID until just before 0015Z. That's 8 minutes plus maybe another two minutes before that when I was trying to work him. Virtually 10 minutes between IDs, and he was solid copy all the way so I didn't miss any. That's not the way things should be done.

Now for a couple classic lines. "But wait, there's more!" from the infomercials and "Now for the rest of the story." from the late great Paul Harvey radio commentaries.

Strictly by coincidence, I got an email from Carl N5XE today that said, "....... On another note – I have to "vent" just a little. How about those guys calling CQ endlessly, then signing their call only once or twice. Just the other day, I counted over 15 CQ's from a guy without identifying…very poor operating practice!
And while I am complaining, how about those guys in a contest that NEVER seem to identify their station. It sure gives an advantage to those stations that are operating ASSISTED, and checking the cluster for stations. But for those of us who don't use the cluster in a contest, it is frustrating…and puts us at a big disadvantage. We waste time waiting on a station to ID, while we could be making contacts. It really irks me when I wait, and wait, and wait, and finally, when the station does identify, I find that I already have him in the log!"

So very true Carl. I've aired those same complaints over the years again and again.

Incidentally Carl, my email reply to you bounced, so I'll say thanks here for the above and the other interesting material in your email.

OK, I see it's 9PM now and time to go out in the wind chill temperatures and get my weather readings, then walk Roscoe a bit later. -30-


---

Tue Mar 13 2018 8:47PM - And then there were 67. Long Island University is out, Radford advances as a 16 seed to face #1 seed Villanova. That's the third time Radford has made the final 64 and each of the two previous times they lost in the first round.

No DX tonight. For some reason every DX station that shows up comes with a built in pileup. I tried beating a couple of them with no luck. I might have to use the CWT sprint tomorrow morning for my DX. I wonder if the CWT time changed with going to Daylight Switching Time. Let's see. OK, it's the same UTC time 1300-1400, but that's 9AM local time here now instead of 8AM. Or maybe I'll run across someone later this evening. I plan to check a couple times.

The spring temperatures have yet to show up in March, but at least all the s#$w is gone, and even though it's cold, I've been able to get in some walks the past few days without risking life and limb. -30-


---

Mon Mar 12 2018 8:47PM - How about some pre-March Madness trivia?

Who are the top 5 teams with the most #1 seedings from 1979-present? That should be easy although #5 may be tricky.

How many different teams have earned a #1 seeding from 1979-present?

Who are the top 5 teams with the most appearances from 1979-present? Pretty easy. (Hint: See question #1)

Who are the top 5 teams with the most appearances from 1939-present? We're almost in a rut here.

Who are the top 5 teams with the most appearances from 1939-1978? A bit more difficult.

OK, I'll try to come up with some harder questions as the tournament moves along. The above are just warm-ups.

Got my DX in the evening this time. Caught TG9ADM as he was just starting his session on 20 meters. This morning my first Finnish DX streak station in a while now. Had a nice chat with Mika OH6NVC with his big 1500 watt, 6 over 6 element beam antenna station. His signal was head and shoulders above anything else on the band (20) at the time and he copied me solidly all the way during out chat about the weather and our rigs. -30-


---

Sun Mar 11 2018 8:31PM - Are you ready for some
MARCH MADNESS!!!

I sure am. I've got my Microsoft Excel brackets all made out just waiting to start entering some scores and watching the teams advance or fall by the wayside. I wonder who will be the Cinderella team(s) this year or will it all miraculously go as seeded for once. Nah, that will never happen. If it did, the tournament would lose a lot of excitement and interest.

I never make any predictions nor do I even follow the sport until March comes along. So I have no idea what to expect. I just like to follow it as it happens. I can't wait.

One thing I do have to wait for is my DX QSO. On this first day when my going to the shack time changes from 7 PM to 8 PM, there was little in the way of DX to be heard. I did chase HR5/F2JD on 20 for a while with no luck. I also heard XR0YD again. I could work him every night lately, but I don't like doing that. So it will probably be a morning DX QSO again as it was this morning when I worked DL2DX on 20. He was about the only somewhat strong DX on the band as it was opening up around 1300Z. It only took a single call to get him and we even went a bit beyond the usual TU 599 style of DX QSOs.

It was a nice looking day with a lot of sunshine, but the winter cold is still hanging in there. It was only in the mid 40s today and that's about the warmest it has been the last several days now.

We were hoping to have a subpedition to the Requin next Sunday, but I got a call from Art from the sub today saying he would not be available then. So we'll have to postpone it. As I recall we had a few postponements last year about this same time frame. -30-


---

Sat Mar 10 2018 8:02PM - Remember the lament of the person stranded on a desert island in the middle of an ocean, "Water water everywhere, but not a drop to drink." Well for me this weekend it's like that on the bands, "DX DX everywhere, but not a station to work." Confused? Well, it's the BERU contest weekend for British commonwealth (empire?) stations to work each other, and the USA is left out in the cold. Hopefully I can find some non-BERU station to work later tonight or tomorrow morning/afternoon. Otherwise the DX streak ends.

Don't forget to spring your clocks ahead tonight so you won't be out of sync tomorrow. I wonder which of my many clocks I'll forget to change here. Seems there is always at least one. -30-


---

Fri Mar 09 2018 8:00PM - Mike is sitting across the room from me right now - anything to say, Mike? He says "Hello everyone" and gave a big wave.

We had our Lenten fish dinner a couple hours ago then came back here to play radio. We both worked XR0YD and then W5T on 20 meters. The W5T was a special event call for the 104th anniversary of the battleship "Texas". Mike emailed me a picture of it from QRZ and as soon as it gets here and I resize it, you'll see it. OK, here we go. Just a minute.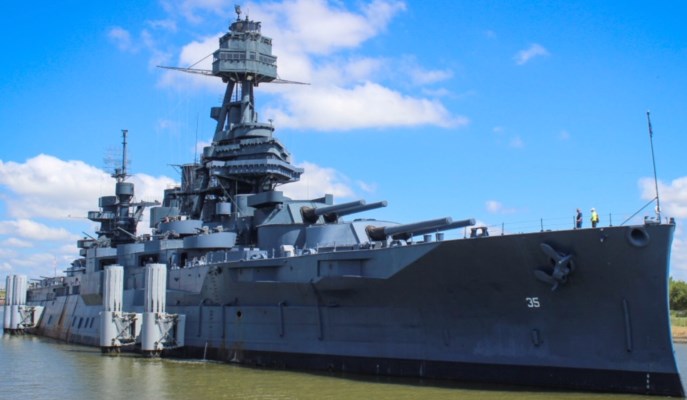 So that's a wrap for this entry except to say thanks for another nice visit to Mike. -30-


---

Thu Mar 08 2018 7:54PM - No quick DX tonight like the past few evenings. In fact no DX at all. I could have worked XR0YD again on 20, but you know my policy of trying not to work the same station on the same band too many times too close together. Hope I don't come to regret not working him. Hopefully I will get some DX later tonight or tomorrow morning or afternoon.

March 8 has some significance to me in one of my other hobbies of meteorology. I've mentioned this before, but I'll add a little more to it here. As a school project in 1959, I made a graph of the daily temperature from about mid-January to near the end of the school year sometime around mid-May. Wonder if I still have that graph somewhere? I do have the data in my Microsoft Excel weather spreadsheet. Anyway with summer vacation coming, I discontinued the records, but I did pick them up again in late September through mid-November 1959 when I again discontinued them. However I started again on January 1, 1960 and with the help of my mother and two aunts and a friend while I was away at school and work, I have a continuous record of the daily maximum and minimum temperatures since then. Now what does that have to do with March 8 (1960), you ask. Well that was the first time that I saw a below zero temperature on my thermometer. It hit 2 below making this schoolboy happy and excited. Just to continue the history a bit, it was in late 1961 (Christmas perhaps?) that my aunt (if I remember right) purchased a rain gauge for me, and on January 1, 1962 I added a daily precipitation reading to my records. So my QSO streak pales in comparison to my weather records streak. HI A rough computation shows around 21,250 days in the weather streak for temperatures and about 20,500 for precipitation.

I was going to write a bit about genealogy in which I've been deeply immersed for about a month now, but I think I'll postpone that a bit for now. -30-


---

Wed Mar 07 2018 7:18PM - Is DX picking up with spring being here? I easily worked 9Y4/LY2IJ on 40, then went to 20 and easily worked XR0YD Easter Island. Only had to wait through a few QSOs each to get them. Also heard HC2AO booming in on 20, but passed on him. Might need him for a streak QSO down the road a bit. Also another big pileup on 40. I heard who they were working, but didn't listen long enough to ID the station as there were other peaks (including the 9Y4 as it turned out) to work. I figured my odds would be better working any other DX with most stations chasing whoever it was causing the pile. Another DX mini-tip there. If there is a huge pileup chasing someone, the QRP station has a better chance with less competition chasing other less busy DX stations on the band.

Just wondering now when I worked Easter Island the last time. Let's see. I've worked it 9 times overall. The last time was XR0YS just a couple years ago on June 3, 2016 on 20 meters. But before that, it was way back in 2001 when I worked 3G0Y on five bands - 10, 12, 15, 17, 20. Ah, those were the days.

The trip to the groomer for Roscoe was s#$wed out today. Roscoe's owner Bruce is a school bus driver and the horrible roads made him about 90 minutes late getting home and the groomer couldn't fit Roscoe in because of the delay. So he'll have to wait till Friday the 16th now. And although I got the before picture(s), the after ones will have to wait.

At least I got the chance to watch yet another s#$w melt today. Most of the one inch or so didn't hang around long. One could almost get to like March s#$ws - almost is the key word there. -30-


---

Tue Mar 06 2018 7:45PM - Another day with the solar flux below 70 at 68. I was just thinking back to when I became active again in February 1993 until May 1993 after about a 9 year layoff due to work at WPIT and some other things. My back then acted up and I was again off the air until early 1994. At that time we were roughly at the same point in a sunspot cycle as now, that is heading toward a minimum in about 1996/1997 like we are now heading for a minimum in perhaps 2020 or so. I wasn't really all that much into working DX just then. A good thing too, as I would have been very discouraged with the conditions. I did work some DX, but it wasn't easy. From 1995 through 1997 as we were going downhill toward the minimum, I averaged only 402 DX QSOs each year, but my interest in DX grew during those years, and I began to wonder when and if 10 meters and 12 meters would ever open up to the point where everyone says on those bands when conditions are good, you can work the world with 1 watt and a coat hanger antenna. I certainly didn't see anything like that. I had never used 10 or 12 before 1993 and I wondered if they were really as good as folks say they are. In that same 1995 through 1997 period, my 10 meters QSOs (including W/VE) were just 138, 49, 65. 12 meters totals were 7, 4, 6.

Pretty dismal years, but suddenly the sun's alarm clock went off in late 1997 and he awoke with a vengeance. After not having a monthly solar flux average of 90 or above since March 1994, the September 1997 average was 96.2, and after a hiccup down to 85.0 in October, the solar flux never dropped below a monthly average of 90 until April 2005. DX was everywhere and easy to work. Hey, 10 meters really was as good as everyone said it was. From 1998 through 2002 my 10 meters QSOs looked like this: 529 938 1112 1083 980. 12 meters was: 30 57 71 32 14. I'm not going to quote any more stats here as I've made the point I headed out to make. If you want to see more detailed stats, look at the Yearly Stats page in the QRP section of my site.

What is the point I was making? Just that despite the horrible current conditions, everything comes in cycles, especially sunspots and if we are just patient enough, a reversal is coming in just a few years now. The current similar to 1995 conditions will be more like the 1998 conditions before we know it. Unless another Maunder Minimum is in the works as a few folks seem to think. So hang in there.

Oh, tonight it was a quick QSO with 6Y5WJ on 30 meters at 0004Z to free up tomorrow for some other projects, one of which is taking Roscoe to the groomer to cut back the long fur coat he developed to keep warm during the winter and for a good overall bath to go along with the trim. I think I'll try to get a before picture tonight and and after picture tomorrow. -30-


---

Mon Mar 05 2018 7:38PM - I was just looking at the solar flux table on my propagation page here on the web site. I see that the SF hasn't been above 70 since February 16 now. I think the cumulative effect of all that low solar activity is gradually but steadily decreasing propagation conditions for working DX, especially in the evenings here. As far as I can tell from the chances I have to get on the air, 20 meters in the morning, that is 1300-1600Z or so, is about the only good time for DX any more, and that may be slipping away also.

I heard no DX at all this evening - well yes I did hear OK4RQ very weakly on 40, but that was it. So to keep the streak going, I guess I'll have to hit that morning slot again. Or perhaps something later tonight. There have been some few and far between openings later in the evenings as midnight (0500Z) approaches here.

It remains easy to get a regular W/VE QSO for the big streak at least. My QRP really gets out on 80 meters in the 0000Z hour in the range of a few hundred miles or so. Not only do I get 589 and 599 reports a lot, but I can tell from the way folks copy me and reply to my questions or comments that they really are copying rock solidly. As you know, just getting a 599 report often means nothing these days, especially in contests or sprints. But it is easy to tell when the person you are working is really getting you at the 589 or 599 level. -30-


---

Sun Mar 04 2018 7:58PM - Except for helping my neighbor do some work on his dryer and also on his printer, it was a pretty quiet day. I did a lot of work on my family tree and I'm getting up close to having 1,300 folks in it now. Still it's mostly going sideways and not going back. My father's side is back to 1480 which is 14 generations, but only 1840 on my mother's side. There sure are a lot of 1st, 2nd, 3rd, 4th, and 5th cousins hanging on the tree. I am finding that I like the Legacy Family Tree program more and more. It's got a lot of bells and whistles that spit out some very interesting lists and charts to make visualizing the tree all that much easier.

No quick DX this evening like last night. In fact no DX heard at all except for one weak unID station. There were a couple pileups, but I couldn't hear who they were working. So after a couple quick evening QSOs, I guess it's back to the morning again tomorrow while I'm doing my laundry. -30-


---

Sat Mar 03 2018 8:40PM - Another sign of spring, I guess. My DX QSO this evening came on 20M. Such QSOs have been quite rare of late. In fact except for a couple around the ARRL DX Contest, a glance shows none until back in early November. Anyway that frees up another day tomorrow from worrying about the DX streak. After I lost just a tad of interest after reaching the five year mark, now I'm more determined than ever to see just how far into the upcoming sunspot minimum I can carry the streak.

OK, the diary has been pretty much obsessed with the streak lately. Let's talk about some other things now. Like what? Well, the weather seemed to switch back to winter as soon as the calendar changed from February to March. It's been very windy and cold the past 3 days now. The wind chill temperature has been quite low. I don't keep track of it, but it must have been down at least to the upper teens or low 20s a lot of the time. Better things are coming though barring some kind of unprecedented change or maybe a repeat of 1960 when March was colder than both January and February.

Let's see, what else? Oh, my tomatoes are developing their first true leaves. Maybe you can see them in this picture, but they are pretty tiny and kind of hidden by the two big seed leaves on each plant.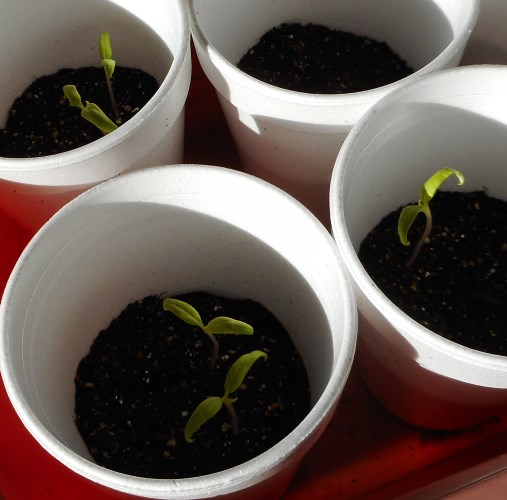 Still nothing at all from the pepper seeds. I may have to try replanting some if they don't get started in a few more days. -30-


---

Fri Mar 02 2018 8:11PM - The solar flux is becoming more and more entrenched in the upper 60s now which is what is seen a lot at the bottom of a sunspot cycle. In fact in glancing through my Excel file of solar flux numbers back through 1969, 65 is the lowest number I see and that was only in the previous minimum. In the other minimums back to 1969, 66 is the lowest number. So we are closing in on the values we'll be seeing in this upcoming minimum. Yet the DX keeps on coming, although not as easily. Still my DX for the first 3 days in March has come from European stations. DL1REM on the first, DL2DX this morning on the second, and this evening on the third it was Karel OK1CF on 40 meters. The DLs were on 20 in the mornings.

So does that mean it may be possible to keep the DX streak going through the full sunspot minimum. Stay tuned to find out. I rather doubt it because I can't be at the key 24 hours a day, and some day I may just not be able to be there at the right time. I think the current situation with the sunspot cycle makes the streak more interesting and challenging now.

March came in like the proverbial roaring lion during the night last night. We had wind gusts probably somewhere in the 50 MPH range or higher and about a half inch of s#$w. But I had the pleasure of watching it all melt away today as it hit 43 degrees. Actually we had about 5 or so good s#$w melt days this winter that took us down to bare ground for the next storm. It is just such a delight to see the ugly white stuff turn into flowing water. I love it. -30-


---

Thu Mar 01 2018 7:41PM - The second five years is picking up where it left off. Although I was hearing other stations working DX and a couple big pileups chasing other DX, I didn't hear anyone who was workable here. 20 meters was interesting this evening. I heard a HL2WA station who was strong enough to work, but he also was chasing something else. Oh well, I guess it will be 20 meters tomorrow morning. We are taking Roscoe to the vet for a checkup so I'll have to work around that either before or after the trip.

I did finish the update on my five years of DX story and stats in the QRP section of my site if you're interested in taking a look. -30-


---

Wed Feb 28 2018 8:14PM - A momentous day on two accounts. First today was the last day of meteorological winter. Although weatherwise it seemed like it ended a couple weeks ago already. I hope March doesn't take up the slack. Pardon me a minute while I remove the countdown to Spring above.

Of course today was also the day my DX streak reached the 5 year mark, having started on March 1, 2013. I'm currently working on updating the stats to go with the story of the streak in the QRP section of my site. Being this is also the end of the month, that slowed the update while I took care of my usual end of the month things. I'm pretty much caught up with them except to put the February weather in the computer and make my bank run in the morning. That should leave the stats update at the top of the list of things to do tomorrow. Nope, I almost forgot. That will perhaps be second on the list as I still need to get my DX QSO for March 1 to start the next 5 years. Well, you didn't think I was going to quit the streak now, did you? It is really getting interesting and challenging more and more as we continue into the sunspot minimum. -30-


---
5 YEARS OF DX IS NOW A REALITY AFTER WORKING 6Y5J ON 40 METERS AT 0034Z FEB 28, 2018! MORE INFO IN TOMORROW'S DIARY ENTRY.

Tue Feb 27 2018 6:05PM - In about 55 minutes from when I start writing this, I will head to my shack and try to work some DX. Why do I mention that since that's pretty much an everyday thing that I do? Well, tonight is a bit more special. If I do get a DX QSO this evening, that will complete 5 years of daily DX QSOs. Although the evenings haven't been a 100% sure time of late to work DX, I'm hoping to get a quick DX QSO this evening and not have to face the self-imposed pressure of doing it later tonight or tomorrow morning or afternoon. If I don't get it tonight, there is the CWT sprint in the morning. That has helped me out now the past few weeks and at the time it is on in the morning, 20 meters is just coming awake and the European stations are generally equal to or stronger than the W/VE stations so it hasn't been hard to find them among all the contest QRM. Just as soon as (if) I get that DX QSO, I'll announce it here in the diary and start to update my DX streak report in the QRP section of my site. -30-


---

Mon Feb 26 2018 2:53PM - Or is that Mon Mar 26?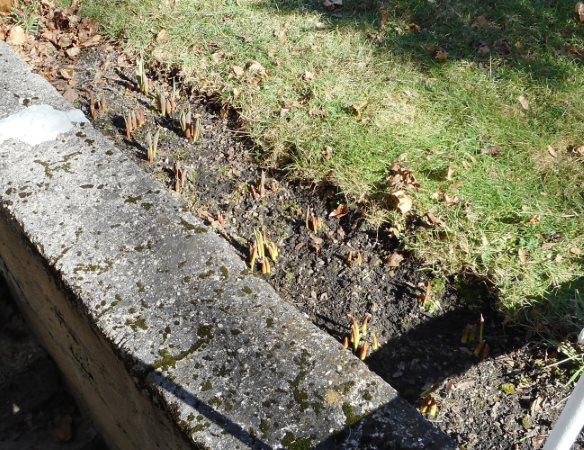 Our very warm last 2/3 or so of February caused my tulip bulbs to sprout. I hope we don't have a heavy freeze now.

While we're doing pictures, here's one of my tomato sprouts. Nothing yet from the peppers.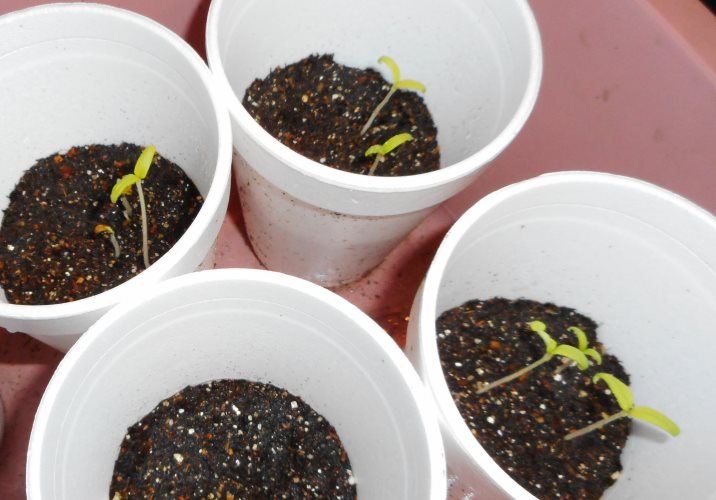 Now hopefully they will not stay at this stage for a few weeks as they did last year. -30-


---

Sun Feb 25 2018 7:52PM - Still another great day with Mike KC2EGL. He arrived around 8:10AM, and in a few minutes we were headed off to WASHfest. As usual we "got lost" on the way again. It was at the same place we got lost last year. Pittsburgh is not the easiest place to drive through by any means, even with GPS assistance. Today the GPS lady did not give enough advance notice on making a turn, and we were past it before we had the chance to turn. Anyway we made the same deviation as last year and got back on track right away. We arrived at WASHfest just about our predicted ETA, parked and entered the building.

We did buy a few little things, but the most fun was fellowshipping with our NAQCC WPA Chapter members. I think this was one of the biggest gatherings we've had with our chapter members. We also met with Art WA3BKD from the Requin submarine and talked a bit about the Museum Ships on the Air event in June. Mike also set up our appearance at the Breezeshooters hamfest in June. We're pretty well set for both events with one exception. Both events are on the same weekend so we'll have to do one on Saturday and the other on Sunday. Which is which still needs some further planning before then.

Time went by rapidly and all too soon it was time to head on home. More about that in a moment, but first here's a group picture of those who were there today.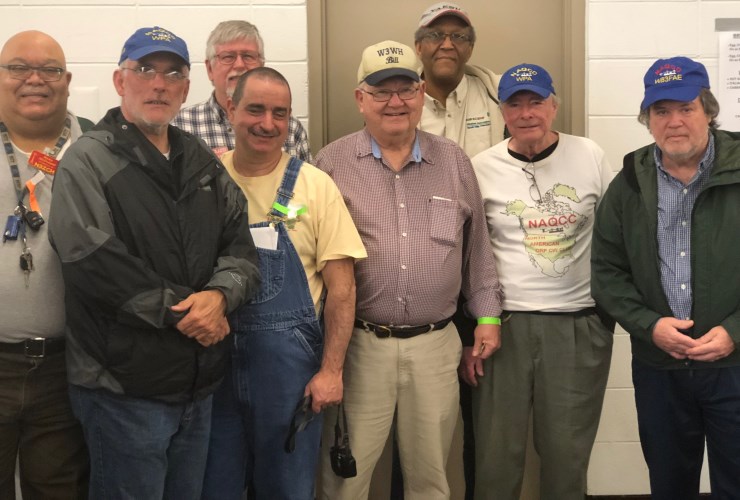 From L to R that's Ricky N3ZCH, Mike KC2EGL, Jody K3JZD, Bob WC3O, Bill W3WH, Bob N3RDG, John K3WWP, Tom WB3FAE.

That's the first time we've met N3ZCH in person, and it's been a while since we got to chat with W3WH. Kevin KC3RN was also there, but we think he left before picture taking time. Hopefully our other events this year will be as well attended.

When Mike and I were leaving, I asked Tom if he wanted to join us at Ponderosa, and he said yes. I was glad because a couple years ago I promised him I'd treat him to a Ponderosa meal after he helped me out with some antenna testing. With one thing and another, this was the first opportunity to do so.

The three of us had a great time chatting and eating at Ponderosa. Then Mike and I headed here for a couple projects. First we checked the bands for some DX to no avail. The bands were all next to dead at that time in mid-late afternoon.

So it was on to tuning up the aircraft receiver we built earlier in the week. It was a bit tricky and I won't describe it here, but here's a picture of me looking perplexed during the tune up.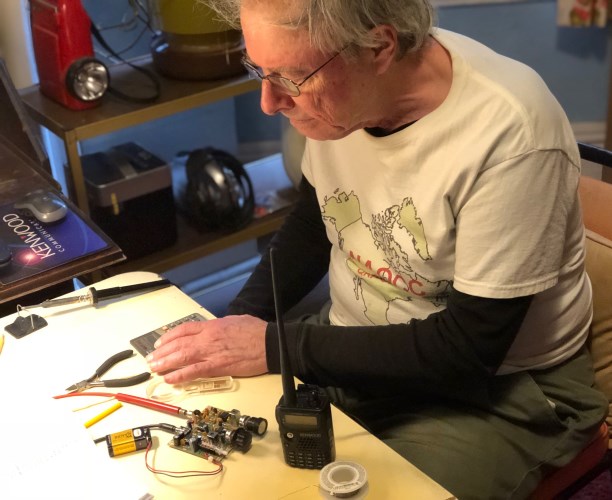 We finally did get it tuned up with the help of Mike's 2 meter hand held rig and a lot of head scratching. When it didn't work at first, we checked and found a couple questionable solder joints and reheated them. That stabilized it and we did hear a few aircraft communications. Next it needs to be mounted in a little case I had here. That will be for the next time we get together.

After that, another unsuccessful DX hunt, a couple hidden object games, and finally a last check at 0000Z for my streak QSOs. Mike found and worked J6/KG9N on 30 meters. I wasn't going to work him again since I worked him just last night, but Mike thought I should since I'm so close to that landmark 5 year point in the DX streak, and the bands didn't look like there may be another chance to work any other DX, so I did reluctantly work him. Then we made a couple QSOs in the NC QSO Party before Mike had to leave to get home and get ready for another workday tomorrow. -30-


---

Sat Feb 24 2018 8:30PM - (Update - Forget the following, I worked J6/KG9N on 30 meters after I wrote it.) This may be a rough day for the DX streak. I couldn't work anyone yet this evening, even with the UBA contest. I'll try a couple more times later tonight. If I don't get anything then, it will have to be during what little time I have tomorrow with the hamfest and dinner after that. Hopefully 20 will be open before I leave at 1315Z or later in the day when I get home again. I'd sure hate to see the streak end just 4 days before the 5 year mark. -30-


---

Fri Feb 23 2018 8:07PM - Just got back from a waffles and kielbasa evening snack with my neighbor. Before I went over there, my DX QSO was an interesting one to me. Back on August 5, 1994 I worked KG9N/C6A for what later turned out to be my first ever streak QSO when I starting figuring the streak a while after that QSO. Tonight 8,604 days later I again worked KG9N, this time as J6/KG9N on 40 meters. Hard to believe that much time has elapsed since day 1 of the streak. Wow!

That also leaves just 4 days now for the DX streak to hit the 5 year mark. That streak started on March 1, 2013. Hopefully nothing will happen on those four days to end the streak before the 5 year mark. I think I've learned a lot more about working DX in those 5 years than I knew before that. That knowledge plus, and I can't forget this, my PX3 panadapter have kept the streak going to this point. Anyway, I don't want to say too much more about it until I do hit the 5 year mark, if I do.

I've heard from several of our NAQCC WPA Chapter members saying they will also be attending the WASHfest in the South Hills of Pittsburgh on Sunday. Should be a nice little get together within the bigger get together. I'm looking forward to it.

Oh, before I go, I should mention that some of my tomato seeds have sprouted. I think I counted 5 just barely peeking out of the ground this morning. No sign of any pepper seeds sprouting yet. I took a picture but it's too hard to see the sprouts yet. I'll take another picture in a few days and post it here. -30-


---

Thu Feb 22 2018 8:24PM - Thanks to Mike for ghost writing my diary entry last evening. We sure had a good time all day with the activities Mike talked about. I totally enjoyed working with a printed circuit board again. I was delighted my old eyes and hands could still handle such a project, especially with the board and parts getting smaller and smaller as time goes by. Now I think I'm getting the itching to tackle another board, especially if it's a joint project with Mike as this one was.

We'll be getting together again on Sunday for WASHfest, a hamfest in the South Hills of Pittsburgh. After that a meal at Ponderosa in Butler, then home here again for some DXing and powering up the aircraft receiver we built to see if it works. So that will be a third great day with Mike within a week.

It's down to just 5 days now for 5 years... of DX QSOs. Hard to believe it's been that long. Taking it down to the 5 day point of the countdown was a QSO with PZ5RA on 40 meters. He was working a pileup. I couldn't tell how big it was but he was turning QSOs over quite fast. I managed to squeeze in my call to work him. He got WWP, and another call got him the rest of my call and a QSO. -30-


---

Wed Feb 21 2018 8:54PM - John has taken a night off from his diary entry. Most of you can guess who this is.

The day started when I arrived at John's QTH delivering some Kielbasy Loaf and home mad peirogis that I purchased from a trip to Shenandoah, Pa. yesterday. The local kielbasy shop there is the best in the known universe (in my opinion). I also bought some for John's neighbor Bruce. Shortly after the delivery part of the visit we headed up to John's shack in search of some DX. I worked three stations and John worked one.

Next it was on to completing John's aviation receiver kit that we started on Monday. Half way through we took our dinner break. Yes I know it's hard to believe that we took time to eat. After dinner it was back to the project. See photo's below.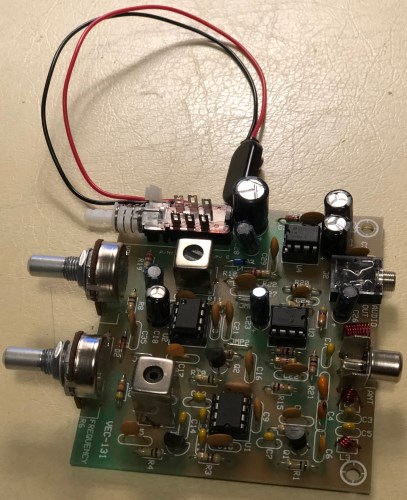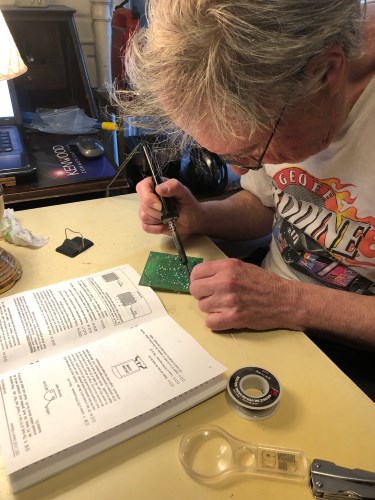 Next we sat and chatted a bit before heading up to the shack for John's streak. No DX but he did keep the big streak going with a QSO with NR3Z who was inspired to try for a QSO a day after reading about John's streak on his website [and in the August 2017 QST article]. Next was another round of the Sherlock Holmes hidden object game. Followed by me ghost writting for John. In a few minutes I will be heading North to my QTH. 73 Mike, KC2EGL. -30-


---

Tue Feb 20 2018 9:07AM - I just posted my story of this year's ARRL DX contest. See the What's New section on my home page for a link to it. That will be my diary entry for today.

Now I think I'll update my ARRL Grid Square totals with the 115 QSOs I made in the contest. -30-


---

Mon Feb 19 2018 7:49PM - Once again for the umteenth time now it was a great day with a visit from Mike. He arrived around 9:45A or so just after I walked Roscoe. We sat around and chatted a bit, then went to the shack to see if we could work any DX including the German special event station honoring World Radio Day - DR18WRD that I worked an hour or so earlier. By that time he was gone, and we didn't have any luck with any other DX at that time.

Next up was a trip next door for Mike to help Bruce with his smart phone setup. Roscoe gave Mike a couple long rounds of barking before he settled down in my lap while they worked on the phone. While we were there Mike snuck in a picture of me and Roscoe on the chair and emailed it over here. I though it was so nice that I wanted to share it here.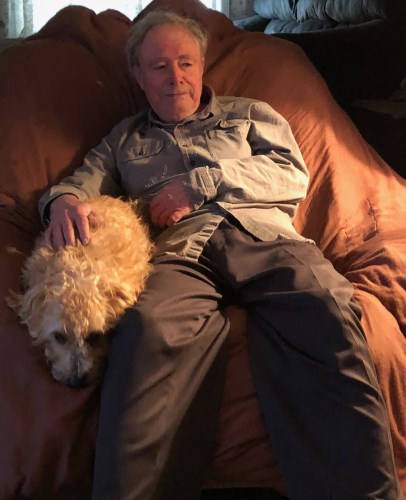 The Old Man and the Dog


Don't we both look contented? Someone asked me to post a recent picture of Roscoe in the diary, so there you are.

After Bruce and Mike finished, we headed off to Subway for our lunch. That was a bit of a change of pace for us as far as meals go.

After that we went back to the shack to chase some more DX. This time it was more successful. As soon as I turned the rig on, there was EI100MCV whom I worked effortlessly. Then Mike got him also. That was followed by a few other DX stations also. We both worked CT9/OM8CW on 15 and CT9ABN on 20. Mike also worked a few other stations whose calls I can't remember. I know one was another portable CT9 station. Also KP4TF on 17 meters. The bands were in good shape in that 1700Z hour.

About a year ago at a hamfest I won a little Vectronics Aircraft Receiver kit. We were always going to assemble it, but never got to it until today. We spent about 3 hours or so working with a lot of tiny pieces and got it about halfway done. We hope to finish it Wednesday when Mike visits again.

Then it was another hour and a half of doing this and that. One thing was checking out a new power supply for Mike's telescope which he will also be using for our parkpeditions and other portable work.

When Mike left a bit after 7PM I went to the shack for my streak QSO(s). Before he had pulled out in his car, I worked 6Y2T on 20M to cover both streaks. Also it was nice after that to work old friend Jim W1PID whom I hadn't worked in some time. -30-


---

Sun Feb 18 2018 7:55PM - I'm a little tired right now after a busy day with a shopping trip and a few hours in the ARRL DX test. So instead of a diary entry as such, I'm going to write a contest story to post in my Contesting section either tomorrow or the next day. Mike is visiting tomorrow so it will probably be Tuesday. I wound up with only 116 QSOs as I really only operated on Sunday with just 7 QSOs on Saturday. I'm also doing my laundry right now so I'll have tomorrow free for Mike's visit. -30-


---

Sat Feb 17 2018 8:26PM - Still don't really have that interest in contesting this weekend. I never even listened during the day. I got on this evening at 0000Z and played for an hour all on 40 meters. I added 18 QSOs to the 7 from last night for a meager total of 25 QSOs and 21 multipliers. Perhaps I'll get on later tonight, or maybe not.

Tomorrow I have some other things planned including a shopping trip "up on the hill" as we say here since our two malls are up on the hills surrounding the town down here where I live. It's actually West Kittanning up there. I would like to check 15 and 10 sometime in between the other things just to see what they are like. We'll see. -30-


---

Fri Feb 16 2018 8:07PM - Seven QSOs in the first hour. Despite the low figure, it's still 6 better than the first hour a year ago. I'm not sure what that means. I think it probably means that I can do as good in the contest as I want to. I mean it depends on how much time I want to put in fighting less than good conditions for QSOs. I do hate to make the other stations put in a lot of effort and time to complete a QSO with me especially now at the beginning of the contest when there are so many other stations they can work easily. It's all about rates and time wasted now. Later on in the contest when things slow down, I won't feel so bad about wasting their time as I know my QSO will help them out a little, and they won't mind working a little hard to get it.

It's all about having fun also, and it's not as much fun working hard to make the QSOs as it is when they come slam, bang, TU, 73 up and down the band. I remember in the peak sunspot years I could go from one end of 40, 20, 15, and 10 to the other and work virtually everyone I heard with a single try or maybe two at the most. Those were the days.

I'm wondering how 80 will be this year. It should be good, but then all the big stations will probably wind up there also and I'll have to fight them. I'll find that out later tonight if I'm in the mood for some contesting then. I sure would love to make my two goals of Alaska on 80 and Asia on 40 to completer band WAS and band WAC on those two bands. It would be nice to get some new countries on 80 also to creep slowly toward 100 on that band.

Speaking of Asia, I heard a couple JAs on 20, and I think one may have heard me as he sent a partial call that could have been me, but couldn't get any further.

OK, end of my contest ramblings and end of diary entry. -30-


---

Thu Feb 15 2018 7:31PM - As I've been talking about the last few entries, with the ARRL DX contest coming up, this should be a week or so of easy DX. It was true again tonight. I worked 6Y2T who is certainly a station who will be in the contest. I got him at 0001Z on 30 meters. That leaves 12 days to go to the 5 year mark for the DX streak. The next two should be lead pipe cinches with the contest itself underway all day Saturday and Sunday. Let's make this another in my series of DX tips here in the diary. Then after that another topic and picture.

7. A very good time of the year for working DX is the week or so before and after the big DX contests, especially the CQWW in November and the ARRL DX in February. In the week or so before the contests, many stations will be setting up and testing their stations, especially those going on DXpeditions for the contest. At home, the stations are set up and tuned to perfection with only minor tweaking to prepare for the contest. Often times the portable operations are set up just for the contest and torn down after it is over. In such a portable operation, there needs to be more on the air checking, not only for the purpose of testing the equipment, but for another reason as well.

There is nothing like operating from a rare or at least somewhat unusual location in the contests. That rare multiplier attracts stations in the contest like a bright light attracts bugs at night. A lot of people don't enjoy contesting the way some of us do, and they avoid them. However because the rare stations are on the air testing before the contest, it's an excellent time to add a rare country to your log. Those stations enjoy giving out QSOs from those locations to any and all hams. Some popular locations are most of the smaller Caribbean islands, islands around Africa and Europe like Madeira, the Azores, Malta, Crete, Cyprus, just to list a few. So if you want to add to your country collection but hate contests, this is the opportunity for you. Not only the week or so before the contest, but oftentimes hams stay at those locations a week or so after the contest just to give out that country to still more hams. These are also the times to work them on the WARC bands of 30, 17, and 12 which are not available for contests. It's a bit late now for the ARRL DX contest with only one day left before, but keep an ear out next week for those who linger on.

And now for something completely different, a la Monty Python.

Long time diary readers will know immediately what the following picture signifies, but they may wonder why it is so late this year.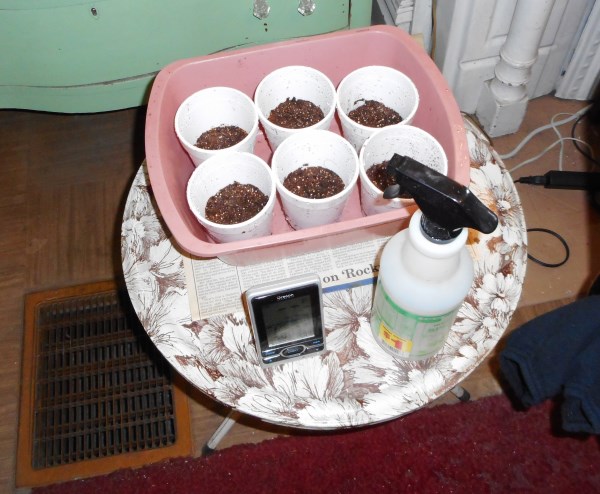 Yes, I finally got around to planting my tomato and pepper seeds. I was a bit discouraged last year by the very slow start for my plants. They just sat there and didn't grow for a few weeks after they sprouted. So because of that and because I seem to be getting lazier each year, I thought I would try starting them later, about 6 weeks or so later, in fact. Three of the cups contain the Siberian tomato seeds and the other three the pepper seeds.

In case you don't know, Siberian tomatoes are small tomatoes that can produce tomatoes very early even here in the cold climate of Pennsylvania. The seeds were given to me by my late cousin and her late husband many years ago, and each year I save the seeds for the next year's crop. A few of the years I had my first ripe tomatoes in late May and early June about a month or more before other kinds of tomatoes will have ripe tomatoes. Well, except for those grown in large greenhouses. Last year though it was almost July before I had the first ripe Siberian. We'll see what happens this year with the late start plus some starter soil that the commercial growers use. -30-


---

Wed Feb 14 2018 9:17AM - "To err is human, but it takes a computer to really screw things up." So true. My soapbox comments from our NAQCC sprint last night were supposed to contain a link to my diary here. However the software that is now producing the sprint results totally garbled the link which worked fine when I checked it here and submitted it as such. Hopefully Andy N2CN will tweak his software or use some human intervention to fix the link on his next update of the page. Computers are good, but still far short of what the human brain can do.

OK, enough of a "soapbox" about my soapbox comments. Let's get to last night's sprint now.

The best overall description was that it was a combination of very slow and rapid QSB. There were periods when conditions were excellent with many strong signals and lots of answers to my CQs. Signals were very steady during those times. Then there were times when all signals were weaker and underwent rapid fading to the point where half a call could be copied easily, then the other half dipped into the noise.

I started on 40 and heard my friend and WPA Chapter Member Don K3RLL - now in FL for the winter - tuning up. I called him twice and he was the first QSO for both of us. That was it for 40 meters here. I checked 80 and found it as described above so I stuck there the rest of the sprint.

The first half hour the QSOs came quickly and at 0200Z I had 14 in the log including Don on 40. All but one were from states (plus ON) within two states of PA - the usual short 80M skip at that time of evening. The next half hour was virtually the same, but signals were now slipping away and the rapid QSB was coming into play. At 0230 I had 27 QSOs and was hoping to crack 50 for the first time in a few sprints now.

However 80 now switched abruptly to long skip and from 0229 through 0320Z when I quit, QSOs came from IA OK MN TN GA MN VA NC TN MN MN IL TN IL IL. Mixed in were strong signals but from stations I had already worked. The longer skip stations mostly had the rapid QSB.

All in all it was much better than my previous few sprints when conditions were uniformly horrible to describe them kindly. I wound up with 41 QSOs in 21 SPCs.

I hope conditions will be even better next month. Hopefully with the longer and later hours of daylight, 40 will be good again for the first time since fall and 80 will still be good before the spring/summer static starts to pick up.

As far as DX, I think the next several days (knock on wood) will be somewhat easy with the upcoming ARRL DX contest this weekend. Then another 10 days or so and hopefully the streak will hit the five full years mark on February 28. At least it's not a leap year. HI -30-


---

Tue Feb 13 2018 7:12PM - Another nice mid-February day today with quite a bit of s#$w melt with a high in the mid-40s. I can't wait till Thursday though when it may top 60 and with rain, there shouldn't be much s#$w left after that. Tomorrow will help also with a high around 50. It looks like winter is slowly retreating. Hope saying so doesn't jinx things.

I actually got to go for two outside walks today and did some shopping along the way. Sure felt good.

Another easy DX QSO this evening from NP2/K4XU setting up for the ARRL DX contest. He even took a moment to wish me good luck - I guess in the contest. I hope I'm in a contesting mood this weekend. Could this be when I finally get KL7 on 80 meters to complete my WAS on that band? Sure would be nice and with conditions on the low bands good now, who knows.

Our NAQCC monthly sprint is coming up in just over an hour now. I think unless conditions are really great, I'll not put in much time beyond the first hour. I seem to be losing a bit of drive for our sprints now that I'm no longer working with them - doing the log cross-checking, etc. -30-


---

Mon Feb 12 2018 9:03PM - I'm running a bit late tonight. I've been busy working on my family tree via the genealogy program Legacy and the Family Search web site. I've traced my ancestry back to the 1500s now. No kings, queens, or other noteworthy persons. Although actually everyone is noteworthy in their own way.

Anyway I got my DX quickly this evening. That leaves 15 days to go for the DX streak to reach 1,826 days or five full years.

OK, off now to finish my site updates then it will be time to walk Roscoe. -30-


---

Sun Feb 11 2018 7:30PM - No DX so far. I'll try again later tonight. If not then, I guess it's back to the morning. Except for a QSO in the PACC contest and one in the CWT sprint, I haven't had to use the morning hours for quite a few days now.

It was a nice day today unless you don't like rain. Yes, rain. It only got down to 35 last night and up to 48 today. It's still 46 now. If it hadn't been for the ice mixing in the other day, I think most of the ugly s#$w would be gone now. With the ice mixed in, it hangs tough though. Oh well, won't be too long till spring now - just a couple weeks. -30-


---

Sat Feb 10 2018 7:28PM - The PACC contest made for easy DX QSOs for the 10th and 11th - PA3EZC on 20 this morning and PA3FQA on 40 a few minutes ago. Actually with a couple of sunspot groups on the sun and the SF in the upper 70s, conditions have been a tad better the past few days.

I'm continuing to count up my overall grid squares worked. I'm up around 650 now, actually exactly 650 at the moment as I glance at my Excel spreadsheet records. I've downloaded a couple of grid square maps, one for most of NA and one for most of EU. As I find a new GS in my log, I'll color in the GS on the maps. That way I can easily see which state or country I still need the most and concentrate on that area. Here's a downsized version of my Europe map to more clearly show what I mean.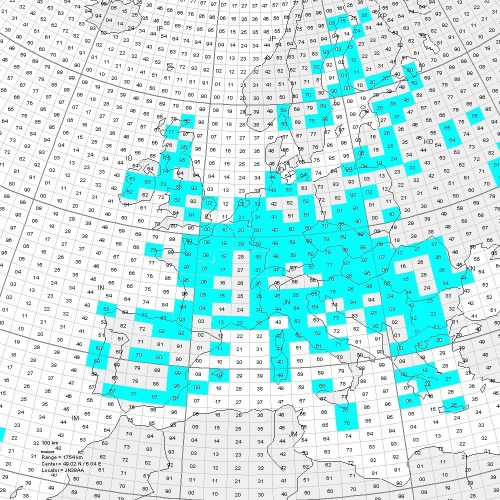 For example, although a bit hard to see, I need to find GS in the bottom of the boot of Italy and quite a few in Spain. So I'll work on those countries next. -30-


---

Fri Feb 09 2018 10:02AM - I was just doing some work on my log and noticed that when I worked W9ZN last evening, that was QSO # 90,000 in my Access log. That's a lot, but it's far short of some of the "professional" contesters who enter just about each and every contest with their big powerful contest stations. I'm sure some of them could be over the 1,000,000 mark. Also those who get involved in the big DXpeditions. 90,000 is just a drop in the bucket for those stations. Still I'm proud of making it to 90,000 and I wonder if I'll be around long enough to hit 100,000 some day. Let's see, over the past 5 years, I've averaged about 2300 QSOs, so at that rate it would take a little over 4 years. However the last two years with the decline in the sunspot cycle, the average is only about 1700 which means it would take almost 6 more years.

Here's another important DX tip to close out the entry.

6. Always follow the lead of the DX station when you are answering his CQ. That is, if he sends only a quick K3WWP 599, I would answer with a TU 599 and we would both be on our way to our next QSOs. If you do that, you earn the respect of not only the DX station, but the stations waiting to work him. It annoys me to no end to have someone respond to a quick 599 exchange with their entire life history. To elaborate a bit more, if the DX station responds with something like 599 OP EDUARDO, then I feel it is OK to come back with TU 599 OP JOHN. If the DX gives name and QTH, you can do the same. Sometimes the DX station wants to rag chew, and then you are free to do the same. I find it very enjoyable chatting with DX stations when conditions permit and the DX station wants to do so. But never initiate a rag chew yourself. I'll repeat for emphasis. Always follow the lead of the DX station as to what type of QSO he wants to engage in. -30-


---

Thu Feb 08 2018 8:56PM - Remember the Ray Price song that contained this line: "It's never going to be like old times again." Well, it did seem like old times again this evening. I turned the rig on at 0000Z, tuned a bit, found C6AKX on 40 and beat out two other stations to work him. It's been a while since my DX streak was secured before the day was beyond its first minute. 23 hours and 59 minutes worry free! I also had a couple nice chats with VE3IDS and W9ZN at kind of opposite ends of the spectrum. VE3IDS was running 5 watts, and W9ZN 1,000 watts. IDS peaked a little over S9 and ZN about 20 over, so not all that much difference, maybe what, 15 dB or so.

I'm running a bit late, so I'll cut this short to go get my weather records and then go next door to visit Bruce and walk Roscoe. -30-


---

Wed Feb 07 2018 8:00PM - It is the same old story on the bands this evening with only a couple DX stations heard, either too weak or too busy to work. Maybe the evening will end like the last couple though with a DX QSO on 80 around midnight. Last night it was Mike F5IN on 80 for the streak.

This was another of those very rare days when I was glad to see s#$w. Why? Because there is only one weather event worse than s#$w, and that's freezing rain, and we were very close to getting that today. However we were fortunate and we got a sequence of s#$w, regular rain, and then s#$w again. There were some colder spots where some of the rain did freeze a bit, but all in all it was not bad at all.

I'm finding that the ham population as a whole moves around a lot. In checking my QSOs for grid squares as I mentioned a few days ago, I'm finding that probably over half no longer live where I worked them. Still I've found around 600 different GS so far and I'm far from checking all my QSOs. That is going to take some time yet.

As for GS this year for the ARRL event, I have just over 60 worked so far and about 40 on 80 meters. It sure is a lot of fun and good brain exercise. I don't care if I get any kind of award or not.

Speaking of challenges sort of, I got 11 letters for our February NAQCC challenge from my two QSOs this evening with VE7ACN/7 (on IOTA NA-75) and K1MZM. That makes 51 letters down and 34 to go. -30-


---

Tue Feb 06 2018 9:00AM - "Sunspots? I don't need no stinking Sunspots. I have 40 meters and 80 meters." That's a quote from the Skyview ARS February Newsletter which is edited by my friend and fellow NAQCC WPA Chapter member Jody K3JZD. It certainly has applied to me recently, especially 80 meters.

Just last night a little past midnight (0511Z) I checked the bands before crawling into bed. There on 80 meters was HA8JV calling CQ. He wasn't too strong, but I thought I'd try him anyway. I sent my call once and bingo, he came back right away with K3WWP 569. So once again the DX streak was extended another day before I went to bed.

I thought I'd analyze my 80 meters results recently concentrating on DX and in particular European DX stations. Here I go to filter my Microsoft Access log for 80 meters, DX, and EU. Overall I have 63 matching QSOs, a few from the 1963-1983 period with more than 5 watts. Let me filter them out. OK, there were only 3 leaving 60 QRP 80M EU QSOs. I'm sure the vast majority came from contests. Let me check that. Yes, 49 came from contests, leaving 11 non-contest QSOs to work with.

Let's analyze those 11. 9 of them came since December 10, last year. One each from 2013 (YO3APJ) and 2016 (S53A). I never really concentrated on 80M DX outside of contests until recently, virtually only since December last year. I did that to preserve my DX streak since at times I couldn't find any DX above 80 meters in the evenings. It seems to be working, and I am going to try to regulary check 80 during the sunspot minimum years. Let's make that another DX tip.

5. Don't neglect 80 meters when chasing DX, especially during low sunspot years. It can be worked even with a very minimal QRP/CW/simple (indoor) wire antenna setup. It's not too easy like on the higher bands during high sunspot years, but it can be done.

Now let's continue my analysis of my 80M EU DX. The earliest QSO was OE3XMA at 2348Z, then HB9CVQ at 2352Z. 3 in the 0000Z hour (YO3APJ, S53A, HB9CVQ again another day). The 0300Z hour - 9A9A, HA8RM. In the 0500Z hour it was OE3XMA for a second time, OK2RZ, HA8JV. The latest at 0738Z was SM4OTI.

Four of those took but a single call to work them: 9A9A, SM4OTI, HA8JV, OE3XMA. I don't remember for sure now, but I don't recall any of them taking a lot of effort to work. Repeats were involved in several of them to get my call right or to be heard at all.

I find it interesting to note just now that almost all are from somewhat deep into Europe with HB9CVQ being the one furthest west. None from the far western part of Europe. In fact come to think of it, I don't even hear western Europe much on 80 except in contests. Maybe later I'll analyze the contest QSOs also. That's it for now though. Time to walk Roscoe and then perhaps some shopping. -30-


---

Mon Feb 05 2018 9:35AM - I just worked DL2DX on 20 meters for the DX streak. I also noticed when putting it in my Microsoft Access log that it was my QSO number 89,990. Just 10 to go for 90,000 QSOs. That is only counting my QSOs as KN3WWP and K3WWP. I also have other QSOs using other calls. Let's see how many I can remember offhand. WA3IXO (a second call I had in Pittsburgh for a few years while working at WPIT), KB3MQT, N3AQC, N3A (all NAQCC club calls), NY3EC (USS Requin), and K3MJW (Skyview). I think that's it. Total QSOs from those calls is 4,250. I've been a busy ham.

I've operated from several different locations with K3WWP and those calls. I've always lived here in Kittanning as my home base. However, I have operated from the following: My apartment in Pittsburgh, the Kittanning Community Park, Moraine State Park in Butler, Breezeshooters hamfest in Butler (2 locations), Skyview in New Kensington, the USS Requin, Chicora, PA (FD with WB3FAE and KC2EGL), Garretts Run (Tom Mitchell's former home - 2 locations including his house and some hilltop property of his). I think that covers it.

It's been a lot of fun, and continues to be as I approach 55 years as a ham on April 3. I did miss years over that span because of college/tech school and then work at WPIT. There are gaps in my log from 4/20/1970 to 6/6/1972, 12/4/1973 to 6/17/1981, and 9/23/1983 to 2/15/1993.

My interests in ham radio have varied over the years, but with one solid constant. That's my mode used - CW. All of the QSOs above save about 5 testing other ham's rig for them, have come via CW. I've also used QRP for most of my ham career according to the definition of QRP at the time. I'm not sure just when the definition changed. Some of my 1980s QSO may be QRO, but no more than 30 watts (INPUT power). Otherwise my interest started out just being a ham making contacts of any kind. DX caught my interest but I was never successful with it in the 1960s and I switched over to county hunting which closed out my first long period of activity in 1973. In the 1980s when I was active again, it was county hunting again for the most part. In the 1990s once again as I started up, it was a mix as in the early 1960s. Over a couple or so years, the DX bug started to bite and still has a firm hold on me today. I guess there is another solid constant that comes to mind as I write. I have always loved the excitement of contesting and have entered over 1,300 of them over the years. Although now I concentrate only on the big DX contests and our NAQCC sprints.

I enjoyed reminiscing over my ham career, and I hope you found it interesting also. -30-


---

Sun Feb 04 2018 8:08PM - A fairly nasty day today that could have been worse. We had more rain than s#$w with the temperature hanging around 34-35 most of the day, although as I glance at my CompuTemp it shows 36 now. However when it does go below freezing tonight, there are going to be a lot of slippery spots. I'm glad I don't have to go anywhere.

I went with my neighbor to Walmart this morning. I picked up a new Dust Buster to replace the one that quit on me about a month ago. I also got some potting soil. I plan to start my tomato and pepper seeds sometime this coming week. I was kind of discouraged last year when they germinated, but then put their growth on hold for about 4-6 weeks. So this year I'm starting them about 4-6 weeks later than usual to see what happens.

The usual band conditions this evening - lousy. No answers to my CQs at all, but I did find and work Dick N4HAY before we got clobbered by the TLC net.

Last night just before going to bed, I found and worked Mike F5IN on 80 meters. It took but a single call although I wasn't sure if he came back with K3WWW or K3WWP so I did repeat my call twice to be sure he had it right. He did. I guess I'll try later tonight again, and if no DX then, I'll be checking in the morning. Over the past couple weeks or so, I've only had to resort to the morning for my DX twice, so the evenings have been kind although rough. -30-


---

Sat Feb 03 2018 8:37AM - This entry is dedicated to great ops like Hannes DJ0SP who go out of their way to help hams, QRPers especially, to complete QSOs under adverse conditions. I, for one, certainly appreciate those efforts. It's ops like those who help me to continue my DX streak. I don't know if any of them might read this or not, but if any of you do, thanks very much.

Hannes took 3 minutes or so to be sure he had my call correct this morning under very adverse conditions. There was another contest besides the FOC going on, perhaps the F9AA cup? I tried to work a few of the stations in that after I figured out the exchange without being heard at all. Then I ran across Hannes not in the contest calling CQ. I called him and that began a progression of getting my call right something like this - K2? K3W? K3WWR K3WWW and finally K3WWP. A lot of ops wouldn't have stuck with me, but Hannes did.

What I say above also applies to many other top notch ops like Hannes. They won't give up until they get a call right.

So with that, the rest of my day is free for a couple other planned projects like a trip to WalMart, helping Bruce with some digital photos, trimming some hair on Roscoe, plus my other regular daily chores. -30-


---

Fri Feb 02 2018 7:39PM - Looks like another rough day for the DX streak. The only DX heard tonight was in the FOC contests and those folks don't work non-members like me. I could say more about that, but I'm not going to.

I'll check later tonight to see if I can find anything. If not, I guess it will be back to the morning and afternoon routine. I'm thinking more and more seriously about trying my best to make it to the 5 year mark of the DX streak on February 28, then perhaps voluntarily end it. I probably won't do that though as I'm pretty stubborn and will let other factors determine when the streak ends.

It even took about 20 minutes to get my regular streak QSO. Last night 80 was full of strong signals. Tonight only a couple strong ones and some weak ones. Sean KD2NEL did answer one of my CQs finally though. Our signals were both bugged by QSB though as the band seems very unstable. -30-


---

Thu Feb 01 2018 8:20PM - Well, tomorrow is the annual Groundhog farce. Wonder what the folks who celebrated Candlemas Day centuries ago would think of what their festival has turned into? It's a farce because the prediction the groundhog makes has no relation whatsoever to whether it is cloudy or sunny nor whether or not he sees his shadow. It's just a money-making carnival these days. Enough of that.

Once again a quick DX QSO this evening for day # 1,800. Tonight it was KL7SB/VP9 on 40 meters. I'm thinking there are already some stations setting up for the ARRL DX Contest later this month. If so, that will help in maintaining the DX streak. I hope I can maintain it at least 26 more days now and hit the 5 year mark.

I've got another DX tip now.

4. Don't be overly persistent in trying to work a station. When you find someone, analyze the situation. If it's a rare DX entity with an associated huge pileup, you will probably only waste a lot of time persistently chasing him, especially if he is not very strong. On the other hand if he is booming in well over S9 which does happen at times, you may be lucky to be located in a place that has the best path between you and the station. In that case, you can afford to be somewhat persistent as you may have a good chance to work him with a bit of clever operating. We'll deal with the clever operating in another tip. Otherwise if you hear a DX station who is not rare nor actively being sought by a pileup, you should be able to quickly assess the situation to determine if persistence is worthwhile. Generally the weaker the station, the less likely you will be able to work him. If you call him, and he doesn't acknowledge you with even a question mark, and goes on calling CQ without answering anyone at all, try perhaps a few calls and if you get the same non-results, move on. Maybe come back to him later. Meantime check out those other DX signals and see if you can work any of them. You'll learn with experience when persistence may pay off and when you know it won't. Persist too long with one station and you may be missing out on something else even better somewhere else. Persist too long and the band may change or die and you will have missed something good. -30-


---

Wed Jan 31 2018 8:38AM - And another month of DX QSOs is added to the DX streak thanks to my friend Bert F6HKA in the CWT sprint. This week I remembered the CWT beforehand and was prepared to check it as soon as I got up. After a failed call to IK0YVV I found and worked Bert.

Now if I make it through February, the DX streak will reach 5 full years since working IK2SND back on March 1, 2013. It is getting rougher and rougher though as the sunspots continue to fade away with a resulting lower solar flux and consequential poorer propagation on the bands. One thing that may help a bit in February is the ARRL DX Contest. There should be stations setting up for the contest before the contest weekend, and some staying on after the contest to give out more QSOs, especially on the WARC bands on which contest activity is not allowed.

Here's another in my series of DX tips that is really responsible for my streak going this far.

3. Use the very best QRP transceiver. A lot of the smaller cheaper QRP rigs are great for casual QRP operation, but for truly serious DX work, you need something like a KX3 with its superb receiver and bells and whistles such as the optional roofing filter and built-in ATU. Anyone who gets a KX3 should get those two options. The filter really helps in crowded band conditions like in a big DX contest. The ATU makes it possible to immediately change bands without having to do any external tuning. Just switch bands and antennas and you're immediately ready to go after that DX. Having a KX3 is great, but the real icing on the cake is the additional PX3 panadapter. I can honestly say my streak would be over some time ago without the PX3. With it, a simple quick glance at its screen shows activity on the band. Then you can tune to a peak and listen to see if it is DX or not. You don't have to waste time tuning across what may be a vast wasteland of no signals to find a signal. Just look, tune to a peak, and listen. Now there are other aids such as spotting and the skimmer, but I avoid them like the plague. I feel the operator should have the challenge of doing most of the work of finding and working DX himself so I personally don't use any aids beyond the PX3 which really is just a time saver in examining the bands quickly and finding signals. Then the operator must listen to find out who is causing that peak on the display. I feel very strongly about that which is why I elaborated so much on it. I have made over 22,000 DX contacts and only a couple have been from a ham friend telling me so and so was on such and such a frequency. All the rest I've found and worked by myself.

OK, that tip was actually a combo tip and soapbox comments. Now I'm off to upload my January QSOs to LoTW and eQSL and do other end of month chores. -30-


---

Tue Jan 30 2018 5:58PM - Just about an hour to go to find out if I can quickly close out another month of my two streaks. I hope so and then I can get my logs uploaded to eQSL and LoTW for my January QSOs and get on with other end of month activities.

A followup to my DX QSO story from yesterday. A couple hours after writing the story I updated my LoTW and eQSL records. That is put in my Microsoft Access log the latest verifications from both sources. Another surprise awaited me at eQSL. There was a card from Danny ZF1DS thanking me for our 40 meter QSO. I'll have a picture of the card here in the diary after I upload my QSOs to eQSL so I can verify his card. I'm just wondering if that's the first ever ZF QSO I got from my calling CQ. Let's see if I can find out quickly. With my Access log, it should only take a minute at most. Actually it took less than a minute to find that was a new country via my CQ. I have 237 ZF QSOs and that was the first. Somewhere I have a list of countries via my CQ. Let's see if I can find that quickly. OK, just wrote a brief Access query of my log to find I've worked 57 countries plus /MM stations via my CQ. Oh, wait a moment. I didn't filter for 5 watts or less. Some of those could be from the 1960s and 70s when I ran more than five watts. Back in a few seconds. OK, I lost 4 so the QRP CQ total is now 53 + /MM. Just love working with statistics. -30-


---

Mon Jan 29 2018 7:30PM - For 1,797 days in a row now I've worked at least one DX station. Actually in those 1,797 days, there are 6,847 DX QSOs in my log. Of those 1,797 days and 6,847 QSOs, the one tonight is perhaps the most bizarre. Here's the story.

As usual, I headed to the shack at 0000Z, turned on the rig and took a quick look at the PX3 screen. I see a lot of strong signals on 80 meters so I figure it will be easy to get my main streak QSO. So I went hunting for DX on 80, but didn't find anything. The same with 40 meters. There were even a couple peaks on 30 which is unusual of late, but they were USA stations. A couple times back and forth among the three bands and I figured I'd give up the DX hunt and get my regular QSO on 80 meters. So I set up around 3543 (or so I thought) and called CQ for a few minutes with no results. I noticed on the PX3 that there were a lot fewer signals now and thought perhaps there was a geomagnetic disturbance just starting up. A strong station started up close to where I was sending so I slipped up the band a couple kHz or so, and started calling CQ there. After a few CQs, I heard someone answer me with a simple ZF1DM. He was about S7 and that shouldn't be on 80 meters. I had a flashback in time to many years ago in Pittsburgh when I was AM broadcast band DXing and a geomagnetic storm washed out just about all the USA BC stations and on 730 was a strong station from Trinidad. I forget the call now. I think it was something like a ham call, maybe VP4RD. Maybe we are having conditions like that again tonight. Or maybe this is just someone fooling around pretending to be a ZF station. Anyway I sent RST, QTH, and name and turned it over to him. He came back with his info, and when I was writing it in the log, dumb me looked to see the frequency. To my embarrassment, it was then I noticed I was on 7045, NOT 3545. So working the Cayman Islands was actually normal, and nothing out of the ordinary. I have no idea how I wound up on 40 and not 80 nor why I didn't notice it with the KX3 readout right in front of my nose. Fortunately I'm 72 now so I can always use the convenient excuse of blaming it on old age. HI.

And that's one streak QSO I'll remember for sure among all the almost 7,000. I guess that and the HB9CVQ 80 meters QSO that saved the streak back in December one day just a couple minutes before 2400Z.

I'm not going to do a DX tip tonight, but if I would, I guess it would be that sometimes DX just happens and you don't really need to do anything special to get it. -30-


---

Sun Jan 28 2018 7:49PM - Yet another quick DX streak QSO. I worked C6AGU on 80 at 0007Z. I think I just made it too because after he worked me, I didn't hear him in the couple minutes I was getting caught up on my logging. Perhaps he quit or switched bands or maybe just was taking a little break.

Let's continue now with my DX tips.

2. Be sure your keying is as close to 100% perfect as possible. DX stations have been heard saying it is easier to copy a weak signal with perfect sending than a strong one with sloppy sending. So if you are running QRP as I do, and send perfect CW, you have a slight edge right there to begin with. It is disgusting (and sad) to hear some of the sloppy sending that comes from stations chasing DX, and it's mostly from big strong signals who apparently may be trying to use brute power to overcome a lack of good CW. Not only do you have a better chance of getting the DX with perfect sending, but it saves time as well. The DX station doesn't have to stop to figure out if it is XX99MA or maybe XX99Q or some other combination of DAH DAH DI DAH depending on the spacing at which they are being sent. Not only is it necessary to send the DAHs and DIs correctly, but the spacing between them as well.

More to come. -30-


---

Sat Jan 27 2018 8:12PM - For the second evening in a row now, I've gotten my DX QSO within the first 7 minutes of the 0000Z hour. Last night it was TI5/N3KS on 80 at 0007Z and tonight PJ2/PA0VDV on 30 at 0005Z. I love it when it happens that way.

Spurred on by the ARRL Grid Square 2018 event, I'm going back through my almost 90,000 QSOs to see just how many different Grid Squares I've worked. So far I've checked about 15,000 QSOs and found 427 different grids. The most from any first letter group is 134 from those GS starting with E, next is F with 93, and J with 84. Doing this really appeals to my love of statistics and brain exercise.

I thought I'd start a series of tips or ideas about how to maintain a DX streak such as I am doing. I'll present one tip every few diary entries. Let's start now.

# 1 - Get yourself to the point where you can copy CW solidly at least as fast as 25 WPM, preferably 30-35 WPM. In order to work as many stations as possible, a lot of DX stations will operate between 25 and 35 WPM, especially DXpedition stations or stations living in the more rare countries. In contests, you'll often hear even higher speeds. In order to work them, you've got to be able to copy them. So if you want to work DX each and every day, or even to work DX casually now and then, work on increasing your CW copying speed.

More to come in future entries. -30-


---

Fri Jan 26 2018 10:07AM - I have some projects to take care of today, so I'll write this short entry now.

Another somewhat interesting DX QSO late last night at 0510Z on 80M. After trying HA8RM without any luck, I found OE3XMA on 3.504 and all it took was a single call to get him in the log. That was one of the easiest ever 80M European QSOs I can recall. It helped not having any competition as everyone else was in a big pileup chasing something. I'm guessing the Kosovo station Z60A, but I don't know. -30-


---

Thu Jan 25 2018 6:38PM - A couple comments about last evening, then I'm going to delve into another subject about which I've just been doing a lot of thinking.

Last night was a fourth Wednesday evening, and that's the time for a monthly visit from Mike KC2EGL. All those visits are always enjoyable and last night was no exception. It started with, as usual, a pizza. This time a mushroom, tomato, sausage, and pepperoni one from our favorite place, Vocelli's. Then it was up to the shack to look for some DX. We found very little, and worked none. I did get my regular daily QSO while we were there. While we were in the shack, we also put some semblance of order to our Tuna Tin rigs and accessories. Then on Presidents Day when Mike visits again, we'll get them all ready for some tests in the park when the weather breaks. Next it was another favorite activity, hidden object games on the computer. Mike had to work today on his normal Thursday off day, so he left a little earlier than usual.

A couple hours later I went up to my room for something and thought I'd check the bands for some DX. It wasn't long after not finding any in the CWT sprint that I came across an DX station whose call I didn't catch, and decided I'd go ahead and work him, and find out who I worked after he would ID again. Turns out my first call was the winner, and then he gave his ID as P4/DL4MM. Doesn't get any easier than that.

OK, now for something completely different. Today I happened to be going through some old things and cleaning out a bit. First it was some photographs, then some old NAQCC computer material. That set me to thinking how our lives, or at least mine, are made up of various stages that come and go. There are also others that last all or at least most of our lives. I found one photo album with pictures from my WPIT stage from 1969-1993. That now seems like a complete other life which had a definite beginning and end to it.

Then I thought of some other things like fishing which actually comprised two stages from about the mid-1950s until my dad died in 1964 and then started up again in the early 1990s and is continuing to this day although the past couple years my activity has dwindled.

Another is astronomy which is one interest that has lasted almost all my life starting when I was perhaps around 8-10 years old and continuing to this day. I no longer take my scope out much at all because it is an increasing effort to set it up as I get older. Also the light pollution is very bad here in Kittanning. I still enjoy just looking at the planets, moon, and stars with the naked eye virtually every clear night. Also I try to keep up on all the astronomy news.

I'll close with three other interests. Meteorology is perhaps my most constant interest starting in 1958 and still going strong. I have complete daily records starting January 1, 1960 through today.

Ham radio has been a pretty steady interest as well since 1963 although I was away from it for a couple periods of a few years each while working at WPIT. Within ham radio though, there have been stages that came and went. One notable one being county hunting. After co-founding the CW County Hunters Net with Dave WA8EOH in 1966, and managing it for a few years, I gave that up when I started work at WPIT, and haven't really returned to it seriously since then. My interest in DX also could be considered a stage. I was never a serious DXer until around the mid-1990s and now it is my prime interest in ham radio.

Finally the NAQCC. Of course you know I co-founded that with Tom WY3H in 2004 and then after 10 years of steadily working in helping to run the club, I semi-retired, but continued to help behind the scenes and also with doing a lot of work with our sprints. Then at the end of 2017, I completed the retirement and now looking back, while I will continue to participate in club activities, I will have nothing to do with running the club in any capacity. In that regard it's another closed stage just like WPIT and a few other things I haven't mentioned in this much too long already diary entry. -30-


---

Wed Jan 24 2018 8:24AM - A simple game plan for our 160M sprint last night. Get on, check conditions, if good stay a half hour, if not try to get one QSO if possible or at least try a few CQs to get credit for participating. Conditions were not good with the only sigs heard right at or just below the noise which included some wierd broad band noise about 5-10 kHz wide centered on the sprint frequencies. I did hear and work KD9VT for the one QSO. It wasn't easy, but we both stuck with the QSB and QRN to complete the QSO after a couple minutes. The bottom line is that I still have never missed any of our 160M, mW, or regular sprints since we started them back in late 2004.

Speaking of never missing things, I still have to get my DX QSO for today, so I'll end this here and go check the bands now.

ADDENDUM: Once again it was the CWT sprint and my friend Bert F6HKA to the rescue of the DX streak. As soon as I went to the shack, I saw several peaks on the PX3 which reminded me that it is Wednesday and the CWT sprint. I first tried working LY8O, but either he never got my call right or he was working someone with a call very similar to mine. So I tuned a bit more and found and worked Bert easily as I usually do. So day # 1,791 is in the log along with another grid for the 2018 ARRL Grid Square event. -30-


---

Tue Jan 23 2018 6:29PM - There are many beautiful events in nature. I can think of many, but just to list a few, there are sunrises and sunsets, trees budding in the spring and turning multi-colored in the fall, and so on. There is one though that is underrated but still beautiful in many ways. That's the annual January Thaw where Mother Nature decides to denude the Earth in certain areas by removing the ugly white blanket of s#$w. Simultaneously renewing the atmosphere with warm air and relieving folks from suffering from the bitter cold air. We've been fortunate to have had two January Thaws so far this year. A couple weeks ago when the temperature hit 62 and completely removed the s#$w cover, and the past couple days when all but some piles created by shoveling and plowing melted away with temperatures in the upper 40s and low 50s.

The January Thaw is more than just a myth. If you look at the daily mean temperature at least at certain numerous locations around the country, there is a definite peak centered around the third week of January. It's a small peak but a definite one. It's smallness is accounted for by the fact the thaw doesn't happen every year, and when it does, it's not always on the same date each year. Yet the peak does show up proving there is more than myth about it.

Many years ago on one of the weather broadcasts from Penn State, one of their meteorologists had a very detailed explanation of why there is a January Thaw. Unfortunately I can't for the life of me remember the details. I believe the meteorologist was Mark Mancuso who is now working for AccuWeather after a stint with The Weather Channel.

I don't have time right now, but I'll try to extract the January/February daily normal temperatures from my weather records and post them here to show how the thaw shows up for here in Kittanning.

Time now to get ready for my daily QSO(s) and then for the NAQCC 160M sprint later tonight.

I got my DX last night in the 0500Z hour. I first worked KH7XS on 40M, but I wasn't 100% positive he got my call right at the end. I'm not sure if he had WWP or WWW because of my local noise here. So I went for an insurance QSO and worked OK2RZ a little later on 80M for a good solid positive QSO with Jiri. -30-


---

Mon Jan 22 2018 11:38AM - The streak goes on. Here's the start of another obituary from today as the bands sounded even worse than the other day.

Part I - Of all the days lately when I had to resort to the morning hours for my DX QSO, today was the worst. There was absolutely no trace of any DX on 30, 20, or 17 on my first check at 1345Z. In fact only one station heard at all and that was the superstation of N3BB on 20.

Part II - Things pretty much the same at 1440Z, although there were a few very tiny peaks on the PX3 on 20M that might have been signals. Too close to my noise level to be sure.

Part III - Europe a bit stronger at 1515-1530Z or so, but still not strong enough for me to be heard over there.

Part IV - 1615Z found things about the same with Europe gaining a bit of strength, but still not hearing me at all. I thought maybe I could get PI4DX on 20 who was about the strongest of the weak. However about 5 minutes of trying yielded nothing, and when he kept calling CQ after I called him, I realized it was hopeless. So I checked out a couple more PX3 peaks and found one acting like a stronger DX signal according to the exchange of info. I listened a bit and it was 6Y6J, so I parked on his freq and after he worked 5 or so other stations, I heard WWP? in answer to my call. I sent K3 K3 K3WWP and the QSO was made and the streak kept alive by the skin of my teeth once again.

Whew!!

Oh and as I was logging him, it dawned on me that his call had not one but two 6s in it, so that finished the NAQCC January challenge. Two huge birds with one QSO.

I think the prediction of 64 and sunny today was overy optimistic. It's only 45 right now and only a couple brief peeks of sun so far. Still some time left though, and it could still happen. Anyway 45 is good enough for more delightful s#$w melting. -30-


---

Sun Jan 21 2018 7:53PM - Exciting news. The NWS is predicting a high of 64, yes 64 for tomorrow. I sure hope that's right so we can get rid of more of the ugly white stuff. I did get to enjoy watching some melting today but it was cloudy and only 44 for a high. At least I finally got the s#$w and ice off my back steps which will make it easier getting out to my thermometer shelter for my 9PM readings now. Oh and with the 64, skies are supposed to clear and allow us to see some beautiful sunshine. Can you tell I'm excited?

Ham radio is not as exciting. Well actually it is exciting anytime, but I mean it's getting harder and harder to work DX. Most of the time, the DX is just out of reach. I heard and called a few stations this morning with nary a reply from any of them. I did finally work PJ2ND on 17 meters though for DX streak day # 1,788 at 1446Z. This evening there was a strong 6Y station on 40 meters, but he was very popular and I didn't feel like waiting for a lull in the popularity for a chance to work him since I had some other things I wanted to do. I'm doing my laundry tonight in hopes of getting outside tomorrow morning and afternoon to enjoy the peak of the January thaw. Of course I'll have to hit the bands also for some DX. At least the normal Monday morning laundry will not interfere with anything. -30-


---

Sat Jan 20 2018 7:40PM - After a fairly quick DX QSO last evening at 0041Z, it's back to the same old routine of late again. No DX in the evening and having to search for some in the morning. I did hear several HA stations in the HA contest on 80 this evening, but none heard me at all. It ends at 1159Z so it won't be on long enough for me to take advantage of it in the morning. Oh well, hopefully I will find someone and work them.

It was a nice day today with a lot of s#$w melt going on as the temperature made it up to around 50 degrees. Unfortunately there's still quite a bit left. Hopefully with similar temperatures the next couple days now, we'll get closer to beautiful bare ground. -30-


---

Fri Jan 19 2018 4:05PM - For the third or fourth time now, I've started writing an obituary for my DX streak only to have to cancel it after finally working some DX that particular day. I guess the closest call came back in December when I worked HB9CVQ on 80M around 2355Z to save the day.

Today looked even worse as I'll describe below in the now aborted obituary. However this time it was PV8ADI and his superstation to the rescue at 1954Z on 20 meters with an easy QSO after all that went before as I'll describe here so as to not have wasted my writing effort and time.

The following is a true story, but with a fictional (non-)ending:

Just a couple days ago I was thinking of writing an article about ways to keep a DX streak going during the approaching sunspot minimum, and maybe through the minimum itself.

Now that has turned into an article about how such a streak (almost) ended. Today January 19 featured some of the worst conditions yet experienced during my DX streak. It was just impossible to make the required DX QSO to keep the streak alive and well.

Part I - I started checking the bands as soon as I got up around 1315Z and was encouraged to hear a few European signals on 20 meters. However after observing them, I found that none were getting above about S5, and when they did, QSB took them back down again into my noise. Knowing that I had worked signals like that in the past, I tried calling some of the stations, but with one exception I wasn't being heard at all. The exception was SM5CAK. He said he was hearing something but too far down in his noise to copy. The timing seemed to indicate it was me he was hearing, but I'm not sure. So I gave up on that attempt at making a QSO and QRT for a while.

Part II - Around an hour later I checked again, and now any European signal I heard was a mere shadow just at or below my noise level. The only strong DX was P4/S50M and it seemed like the whole world still needed Aruba as he kept working one station after another except for me. Time to walk Roscoe now, so I QRT again without getting my DX.

Part III - Another brief check after that showed Europe a bit stronger, but not even as strong as it was at my first check of the day. SM5CAK was back again with the same results as before, but I think it was a K4 station he was hearing this time as he did send K4?. Also at this time I heard a station signing 3Y0-- well over S9. I figured it wasn't legit, but I called anyway and he never did come back to anyone, and I never heard him again.

Part IV - Around 1645Z another check showed a lot of strong W/VE stations chasing and some working DX that I could not hear at all. That was on 20. Nothing at all on 17 or 30, the only other bands that might have some workable DX.

Part V - Looking more and more like this is it. Not a trace of DX nor even anyone working DX around 1745Z.

Part VI - One weak DX station I couldn't hear with a huge wide pileup. Otherwise nothing from 1845-1900Z.

The (non-)End.

I think I'll enjoy looking back on these incomplete obituaries some day. Then one day there will be a complete one to write, probably not all that long in the future, but it's hard to tell.

I really don't know how many more of these suspenseful days I can stand, but I still refuse to give up the streak voluntarily. Also I might be able to more easily get that DX QSO if I would use spotting to see where and when a workable station might be. Maybe I could use another mode besides CW. How about stretching the KX3 to its full power output. Maybe erect a big high beam antenna.

I can state absolutely that I would never do anything like that though. I am a man of principles in all that I do in life and I stick to those principles 100%. I'll never use spotting, QRO, big beam antennas, or other modes. I will stick strictly to QRP, CW, simple wire antennas, and tuning the bands to find my DX, not relying on others to find it for me with their spotting. I would sooner have the streak end than to resort to anything that violates my principles.

I do hope that I can at least make it to the end of February as if I do, whomever I work on February 28 will help me close out 5 solid years of daily DX QSOs. If I then make it that far, I'll still continue on with business as usual, conditions and other factors permitting. -30-


---

Thu Jan 18 2018 9:00AM - I'm starting something new this month. Instead of having my soapbox comments for our NAQCC sprints posted on the results page, I'm simply going to refer those who may be interested in my comments to my diary here. They will be here either right after the sprint or more often in the following day's diary entry.

So let's go. Last night had to be the worst conditions I've ever experienced for one of our sprints - or even in general. The basic problem was my noise level at S7 to S8 and most signals at least down to S5 or lower. There was enough QSB to pop signals out of the noise briefly, but most times they didn't stay out long enough to complete a QSO.

Another problem was finding a place to call CQ. I'd do the QRL? bit twice with no response, but after I called CQ a couple times it turned out someone was on the frequency, but I couldn't tell until the QSB popped out his signal. That happened often enough that I pretty much abandoned CQing and went to S&P instead since I didn't want to interfere with other stations. Anyway it would have been very difficult to hear anyone answering me - another reason to abandon CQing.

All in all, I managed only 9 QSOs in 7 SPCs. That's only the 7th sprint in the 159 that I've entered I wasn't able to reach at least 10 QSOs. I probably could have made it had I stayed the full two hours, but the QRN along with the QSB gave me a nice(?) headache so I quit not long after the halfway mark.

Since I am not involved in running the sprints any longer, I don't receive the sprint logs here so I can't really analyze overall results now. However a glance at the web site results page shows a plethora of low QSO numbers even from the big antenna farm entrants. So I'm guessing my conditions were pretty much widespread except for perhaps a 'white hole' area here and there, maybe down south?

Although I do miss some facets of running the sprints, I'm really glad that I don't have to spend the next few days involved in the cross-checking, etc. that is involved each month.

Oh I even took time out during the sprint to look for DX and found old faithful PV8ADI for a pretty easy DX streak QSO.

Also yesterday when I worked N5DY, the D and Y took me down to needing a 6 to complete the January NAQCC challenge. So maybe today instead of having to look for a DX QSO, I'll take some time to try to find that last number/letter to complete the challenge. -30-


---

Wed Jan 17 2018 8:00PM - This has been a trying day in several ways, all of which I won't bother you with. I guess it started when I woke up with a headache which at least didn't last all that long. Then my email was down just when I really needed to check some emails. That went away also, but it took a couple hours.

In the meantime I was struggling to try to get a DX QSO. The morning opening to Europe wasn't all that good and it didn't last long enough for me to make a contact. I did try a few stations but wasn't being heard at all. When that opening ended, I thought maybe the streak had run its course as the bands were pretty much dead all over especially for DX. I kept checking every now and then though and finally found a weak KP4TF on 30 meters at 1824Z. I could barely copy him but I called anyway and he came back with K3WW?. I breathed a sigh of relief and sent my call two more times and the QSO was made and the streak extended.

This evening the bands are even more horrible with virtually nothing above 80 meters and very little on 80 itself. Apparently along with the QSB and QRN there is very long skip. About the strongest signal in the lower 60 kHz or so was YL3CW who was a good S9 with some peaks over S9. However I kept losing out to other stations calling him and finally gave up and went looking for a regular W/VE QSO for the main streak. CQs yielded nothing so I went looking for other CQs and found N5DY whom I worked for a few minutes. He is in Oklahoma, a further indication of long skip.

Now it's about time for our NAQCC sprint. I might be lucky to get one QSO if the bands are still the same. Maybe even no QSOs, but at least I'll get credit for participating and still having never missed one of our sprints. -30-


---

Tue Jan 16 2018 7:54PM - After yesterday's busy fun day, today was kind of a nothing day. Just glancing out the window every now and then to see the ugly s#$w still falling. I guess we had about 3 inches of new stuff today on top of 3 or 4 from a couple days ago. Hard to tell because of all the blowing, sweeping, and plowing moving it around. I did have it down to a wet sidewalk at one point today with some sweeping and ice melt, but that didn't last all that long. Sigh.

No DX at all again this evening. I did have a nice chat with Dennis K1LGQ though. Tomorrow evening is our NAQCC sprint. Since my final retirement from all NAQCC work at the end of 2017, I'm not really all that enthused about the sprint, but I will get in it at least for a while just so I can keep my record of never having missed one of them. -30-


---

Mon Jan 15 2018 7:55PM - As usual, a great day today with a visit from Mike (KC2EGL if you're a new diary reader). He arrived just as I was going over to take Roscoe for a walk. He barked at Mike like he used to do. We thought he got over that, but perhaps it was because Mike was in his coat and cap this time and Roscoe hates change or anything different at all. In my house Roscoe still barked and shied away from Mike even though Mike had treats for him. I'm going to jump ahead now in the story. Later in the day on another Roscoe walk, when we came in my house Mike was sitting in the chair he usually sits in and Roscoe is used to that. He jumped right up on Mike's lap and was as friendly as could be.

OK back in sequence now. After I took Roscoe over home from the first walk and gave him his breakfast, Mike and I got started on our plans for the day. The first order of business was getting the dates for our WPA Chapter activities for the year. That meant the hamfests, Skyview visit, Skeeter Hunt, FOBB, and also a train ride and visit to the PA Trolley Museum. Let's see, oh yes and Field Day and our N3A activation during NAQCC anniversary week, plus our annual day before Thanksgiving visit to the Requin. I think that's all, but I better look at the list we made. Back in a minute. Oh, and the Museum Ships on the Air event in June which we'll be operating from the Requin. Then we'll be filling in the gaps with additional parkpeditions, subpeditions, and a sky viewing or two with Mike's scope. Whew, sounds like a busy year. We strongly hope that other chapter members will take part in any or all of the activities also. Of course as each activity draws closer, I'll talk more about it here in the diary.

Next up was a visit to Chili's in the Pittsburgh Mills for a great meal. I had a California Turkey Club Sandwich and ORs. Mike had some kind of chipote and ORs. Of course faithful diary readers knew a meal had to be involved somewhere when the two of us get together. After that we stopped briefly in Best Buy where I got a printer ink cartridge and Mike looked at some phones.

Back home again for an attempt at some DXing. The bands didn't cooperate though. We did hear a pileup working some DX station, but couldn't hear the DX at all. So we moved on to do something we have been wanting to do for some time. Here's a picture hint: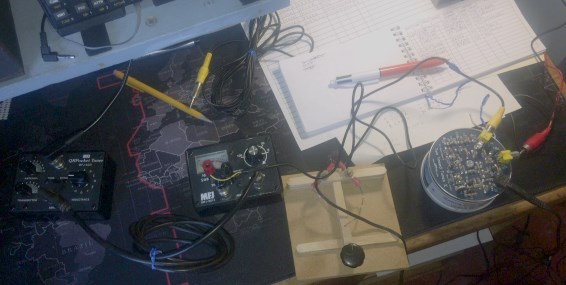 Yes we set up our Tuna Tin transmitter to figure out if we had all the cables necessary to get it up and running. We did, and gave it some on air testing using it to transmit and the KX3 to receive. The tone sounded good on the KX3 with only a very slight chirp almost unnoticeable. We didn't get any answers to our CQs though. In the picture L to R are the MFJ antenna tuner, the MFJ SWR/power meter, my popsicle key, and the Tuna Tin transmitter. We powered it with my old 7Ah Gel Cell, and used my attic random wire antenna. The tuner got the SWR all the way down to 1:1 and we were putting out something less that one watt of power. That all took time to do, but we learned we have a viable setup and will give it some more testing on Presidents Day in February and later out in the field when the weather warms up. We also each have in addition to the Tuna Tin transmitter for each of us, a Tuna Tin transceiver for each of us. We built them a few years ago, but never seriously tested the transmitter till today. We still have to test the transceivers.

Then to close out the visit, another of our favorite things - playing hidden object games on the computer. By now it was s#$ing and Mike wanted to start for home a little earlier than planned.

After he left, it was time for Roscoe's third walk. Then when 0000Z rolled around, I got my DX streak QSO pretty quick from CO5LB on 40 meters at 0009Z. A couple more QSOs with NM1I and K4BAI brought me here to where I'm writing this diary entry. Now to proofread and post it. -30-


---

Sun Jan 14 2018 9:12AM - Well, that was quick. I headed to the shack about 1403Z, and at 1406Z I had my DX streak QSO for day #1,781. Thanks to PZ5RA on 30 meters for an easy QSO. I got a K3WW? on the first call, repeated my call twice and got K3WWP K3WWP 599 BK. Sent my TU 599 73 and got a 73 back, and that was it. No new letters for the NAQCC challenge, but maybe a new grid square for the ARRL GS activity. Let's see. Yep, GJ25 is #27 for the year overall and #2 on 30 meters. There hasn't been much on 30 when I've checked that band.

If you're working on the GS activity and don't know about it, here's a site recommended by the ARRL for finding GS info. Amateur Radio Ham Radio Maidenhead Grid Square Locator Map. All you do is punch in a call sign and it will spit out a GS in a second or two. A couple of caveats though. If it's a DXpedition station or in some other situations it may spit out the DXpedition station's home location or some other false info. You have to use your brain power to verify the info in those cases which isn't hard to do. Also in my case, I often get time outs or it takes a long time (over a minute, at least) to spit out an answer. If the wait is long, I'll often go to QRZ.com and try to get an answer there. However another caveat in that case. You have to look at the source of the location info. If it says "User Supplied" I consider that accurate. Anything else is questionable. When I first started looking up Japanese stations years ago for 1000 MPW info, I couldn't understand why so many mileages were exactly the same. Then I noticed the info was based on the center of a DX entity if an exact figure for the station was unavailable. Hope that info is helpful.

I've got some spare time now before walking Roscoe. How about a progress report on the dreaded season of winter so clearly exemplified by this picture taken this morning when it was 3 degrees: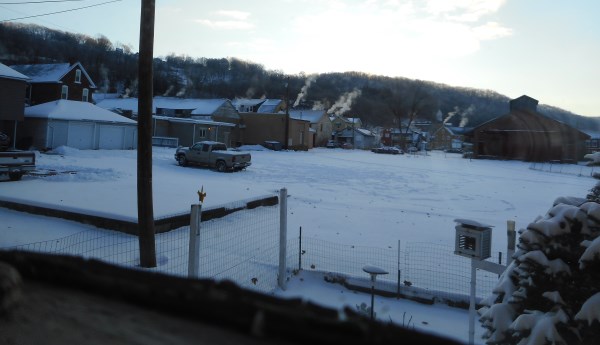 1. We're at the halfway mark with 45 of 90 days remaining until spring (see countdown timer above).
2. The sun is now setting 24 minutes later than on December 7.
3. The sun is now rising 2 minutes earlier than on January 4.
4. Combining 2 and 3 means 26 more minutes of daylight than on December 21.
5. The altitude of the sun is now 28 degrees at noon vs 25.8 degrees at noon on December 21.
Here's a picture sort of illustrating the difference in altitude.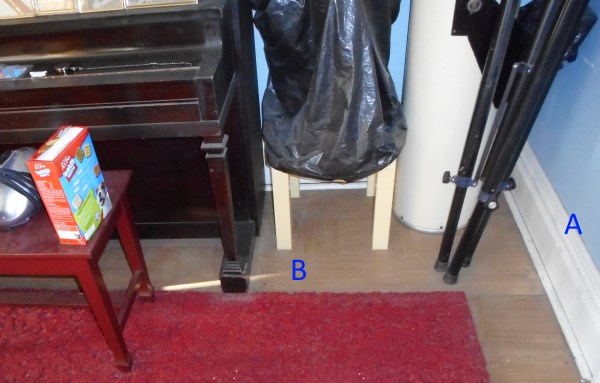 A indicates approximately where the sunlight first hits in my living room on December 21. B is where it first hit today. Somewhere around a month from now, it won't make it into the living room at all.

So far it's been a four seasons winter. We've had daily high temperature, daily low temperature, and daily precipitation records set just in the first 13 days of January. Here's a list:

Jan 1, -5, old 3 in 1968,1969,1977
Jan 3, -4, old -1 in 1979
Jan 7, -10, old -9 in 2014
Jan 11, 62, old 60 in 1975,2006
Jan 12, prec. 2.37, old 0.85 in 2017 (also an all time daily record for the entire month of January, old 1.79 on January 6, 2005)

Fortunately no s#$w or ice records. Although Erie did smash all kinds of s#$w records. Too numerous to list here, but you can do a Bing search for "Erie PA snowfall records" and the first hit will list them with videos as well.

OK, enough for today. Come on spring (and better band conditions). -30-


---

Sat Jan 13 2018 9:08AM - One more day. Yes, another day added to the DX streak. There were several European stations on 20 meters and even one on 17 meters this morning. However, none of them were hearing me and I had to resort to working XE1XR again for my streak QSO. Probably 20 would have picked up a little later, but when I heard David, I thought I'd just go ahead and work him rather than waiting.

Thankfully we did transition directly from rain to s#$w last night without any ice, or maybe just the very slightest trace. For once in my later life I was rather glad to look out the window and see it s@#wing. We also wound up with less s$%w than predicted. I did better than they did. My prediction was in a narrower range than theirs. I said about 3-4 inches maximum after studying the radar, temperature, etc. It was also in their range, but their range was wider all the way from 3 to 8+ inches. I think as in many things these days, too much dependence is placed on what computers say which leads to errors. The human brain needs to be factored into what the computers say. That would lead to greater accuracy.

As an example, when I was doing the cross-checking of logs for our NAQCC sprints, the Microsoft Excel program I used was very helpful in catching most of the errors. However it also couldn't figure out some things. I ultimately had to apply brain power to clean up what it missed. Computers designed by man are still inferior to brains designed by God. They are a tremendous help and time savers, but in the end, brain power must dominate. -30-


---

Fri Jan 12 2018 7:47PM - So far we've escaped the bad weather with only rain, and a lot of it. I emptied my rain gauge early this evening to avoid the predicted ice, and there was already 2.07 inches of rain in it. It's still 36 degrees here. I just worked K8EHE near Columbus Ohio and he said it was s#$wing and 21 degrees there. He did have some sleet in between rain and snow there. Hopefully we can transition here from rain to s#$w or rain to sleet to s#$w without any freezing rain involved.

I had a tough DX QSO this morning from OT4A. He was within a very few Hz of a strong always present birdie here on 14016. I had to use my best filter that I have - my brain - to pull him out from the beacon. It was even too close for the great filters in the KX3 although had I had a bit more time, I might have tweaked them to pull him out. Anyway I got my DX streak QSO in the books as the early morning 1300-1500Z hours continue to be good for Europe on 20 meters. -30-


---

Thu Jan 11 2018 9:15AM - I heard a lot of Europeans on 20 this morning, but none were hearing me until.... I got a P? from 7S75AA, but after I sent my call a couple more times he said "QRM QSY". Not to fear, I've got a PX3 panadapter. I watched up the band until I saw a similar strength peak. I tuned the KX3 to the peak and it was 7S75AA up about 15 kHz higher. He worked someone, then I got a QRZ? after I tailended the QSO. I sent my call two more times and he came back with K3WWP 599. I sent TU 599 and not only was the streak extended another day but..... I got a nice new prefix in 7S75, got 4 As for the NAQCC challenge and a new grid square JO89 for the ARRL 2018 grid square activity.

It looks like we have a mojor winter storm setting up for the weekend, so if you don't see a diary entry that means we might have lost power, Internet, or whatever. -30-


---

Wed Jan 10 2018 7:51PM - The rut keeps getting longer and deeper as the days go by and we move further down the sunspot cycle. I clawed out another DX day for the streak thanks to the CWT sprint this morning when I worked my friend Bert F6HKA. It wasn't the easiest QSO we ever had by any stretch of the imagination, but it was a QSO and that's the bottom line.

This evening I heard PJ7/UT6UD on 40, but he couldn't hear me at all. Then I heard Bolmar HK1MW on 30, but pretty much well into my noise so I wouldn't have been able to tell if he answered me at all, so I didn't call. I guess it will be somebody on 20 meters in one of the morning hours again.

80 meters was generally poor this evening again after a couple good evenings. I struggled for a while, but finally got an answer from Tom W0MFQ in MO. It was a 2x KX3/5W to KX3/5W fairly solid QSO with a lot of the credit due to the great RXs in our KX3s. I just can never say enough good things about the KX3 and the Elecraft company. I'm sure my DX streak would have ended a long time ago without the KX3/PX3 combo.

I updated some stats on my DX streak report in the QRP section of the web site today. It's now current through today, January 10 at 1,777 days. The monthly stats there really reflect clearly the downswing in the sunspot cycle.

I got a chance to watch some more s$%w melting today. A lot of green showed up in my back yard by late this afternoon after being pretty well covered early this morning. Now we have two more warm days coming up before a cold front invades late Friday and brings back some more winter precipitation. -30-


---

Tue Jan 09 2018 7:55PM - I had some Internet problems yesterday and they caused my site updates to be done intermittently. I think with the Internet back to normal today, I got everything caught up now. If you see something that doesn't look right, please let me know. Thanks.

It was a rather nice day today and I got to see one of my favorite winter sites - s#$w melting and water running down the streets. Not a complete melt yet, but maybe by Thursday when it may be near 60. It was only about 37 today for a high, but that was enough to allow me to break up some ice on my and my neighbor's sidewalks. It was great to see that go and have bare walks again. Here we are 10 (9) days into January already. The end of winter draws every so slowly closer although there will be rough times yet before we reach spring. Sure is nice to have something to look forward to though.

Ham radio? Oh yes, I haven't forgotten about that. However the current conditions are more forgetable than memorable. The past couple evenings have been a bit better, but still not as far as DX goes. I have had some nice domestic rag chews though. My DX for today (9th) came last evening from old faithful PV8ADI on 40. So I didn't have to spend the morning looking for a DX QSO. I guess I will tomorrow morning though. I'm toying of writing an article for the web site about how to try to keep such a DX streak as mine going at different points in a sunspot cycle. If it continues, I will soon be able to talk about continuing it through a sunspot minimum. Actually when you look at the current sunspot and SF numbers, they are not all that far from what we'll see at the depth of the upcoming minimum. -30-


---

Mon Jan 08 2018 5:57PM - The path to Europe is still there early in the morning on 20M. Most of the time I have a decent pipeline to the Scandinavian countries, but not always. I can often go up and down the bands, especially 20 meters, in big DX contests and easily work virtually every SM, LA, OH, and OZ station I hear even if they aren't that strong. I say that because my DX streak QSO this morning was with SM5CCE on 20M. He wasn't all that strong at S5-S6, but we had a several minute QSO talking about rigs and weather. It's been raining in Sweden interestingly enough while it's been bitter cold here. Kjell is also SM0CCE and we've worked a few times when he was using that call in contests.

The bitter cold broke today. The temperature actually rose during the night to reach freezing early this morning. It did bring some s#$w, but less than an inch. We may lose that over the next few days as it reaches the mid-40s to mid-50s for Wednesday through Friday. That will be so nice to be able to start with a clean slate instead of having the stuff keep piling up. -30-


---

Sun Jan 07 2018 8:27PM - I can't remember the last time I resorted to 160M for my streak QSO, but I had to do it tonight. There was just nothing on 80 or any higher bands strong enough to even try to work. So I went to 160 and before long I found and worked Mark K1RX in NH easily for a brief QSO. I guess it will be the morning again for the DX QSO. This morning it was DK1NO for an easy QSO on 20 in the 13Z hour. Hannes is a good contester with a good station. I've worked him before in a few contests.

Among the many emails I got wishing me well on my retirement from NAQCC work was one from Tom N3UFJ who very succinctly described my attitude toward promoting CW. I liked it so much, I've now incorporated it into my initial opening statement on the main page of my web site. With his permission, of course.

Out of the freezer into the refrigerator now. It was 9 below this morning, and it looks like, if the long range outlooks are correct, that may be our last below zero temperature this winter. Of course, outlooks are not forecasts, so that could change. Anyway with the less cold temperatures, now we have to deal with precipitation. Tomorrow it starts with 2-4 inches of you know what. But by Thursday it should be in the 50s with some rain. -30-


---

Sat Jan 06 2018 7:30PM - Still the same old story - miserable weather, miserable band conditions. At least I ran into someone running 200 watts to a (dipole I think he said) with the apex on a 100 foot tower who lives on a 3,000 foot mountain top in the Blue Ridge mountains. Of course that made for an easy QSO on 80 meters this evening with Jack W4TJE. He was 20 over vs. my 569 report and solid copy both ways. Other than that there wasn't much else to be heard at any strength on any of the bands. I thought maybe I'd find someone in the PMC contest on 80 or 40, but no such luck like I had this morning on 20 when I fairly easily worked S53EO in the contest to keep the DX streak going.

As for the weather, it's 4 degrees right now supposed to hit 5 below overnight, but then some good news with a warmup for the next few days until we hit the mid 50s on Thursday. One fly in the ointment and that's a mixed precipitation bag on Monday with the various services predicting one or more of the following - s@#W, sleet, rain, and/or freezing rain. That might even be worth going through as long as the freezing rain isn't bad to get to the warmup. AccuWeather then predicts mostly above normal temperatures for the rest of January which is good but that means a better chance for precipitation compared to these real cold days with only a few light flurries. -30-


---

Fri Jan 05 2018 9:02PM - Things are getting more and more ridiculous around here. It took an hour and 7 minutes to get a QSO this evening, and that wasn't even DX. It did wind up being a good almost half hour QSO with Butch NM1I. He has a very impressive all Elecraft station. I can't even remember all the gear he said, but it did include a K3/P3 combo with amp and QRO tuner and a KX3/PX3 combo like I have here.

The weather? Bah humbug is the best way to describe it. We haven't been above freezing since Christmas day. The only saving grace is a lack of s#$w. We're heading below zero again tonight for the third time already this year. -30-


---

Thu Jan 04 2018 7:28PM - I'm not sure which is more depressing, the weather or conditions on the ham bands. I guess it's a tie, and neither look to be improving any time soon. It's even getting a bit hard to get my regular streak QSO, let alone a DX QSO. This morning it was old faithful John ON4UN to the rescue. I wasn't hearing much of anything my first two checks of the bands, and the third check was about the same way when I heard a fairly strong CQ. I figured it was probably a W/VE station, but I listened anyway. It was John peaking around s7/8. He answered my first call with K3?, and on the seond try, I got him and he gave me a 559. That was on 20 which is about the only DX band these days. Oh, I did also hear CO8LY on 17, but he wasn't hearing me at all.

Although it isn't very pleasant, it is at least interesting to see how the band conditions are following the sunspot cycle pretty closely. Actually I think the poor conditions are cumulative. They seem to be decreasing more rapidly than the actual propagation indexes (indices). I remember when I was into seriously DXing the AM Broadcast band years ago, conditions would improve when there was a long streak of ionosphere quietness, not merely the first few days of a quiet ionosphere. I think it's similar with the ham bands, but the other way around. Conditions get worse the longer there is little or no ionospheric activity. Anyway the bottom line is it still doesn't look like the DX streak will go on much longer although I still am eking out some DX each day somewhere, sometime. Hope tomorrow will be another such eking out day as well as the days beyond. -30-


---

Wed Jan 03 2018 7:20PM - I got a bit of a shock when I looked up PY2ZEA whom I worked last night on 30 meters for my DX streak QSO on QRZ to find his grid square for the ARRL GS activity. That's another call for the world famous contester Villi Hiilesmaa OH2MM OH0MM EA8EA among other calls. I've worked him before on several of his other calls. His list of contesting achievements is AWESOME to say the least. Too many top 10 World scores in big DX contests to count, and the majority of them are #1 World scores. I never knew he had a PY call also. If you want to be impressed, look him up on QRZ. Wow!

I had a contact today with another very interesting person, not on ham radio, but via landline. That was my good friend WY3H Tom Mitchell who as you know is the founder of the NAQCC and former resident of this area now living down in Georgia. He called to wish me well on my second and final retirement from NAQCC work. We also got caught up on some other things since we last talked about a month ago. I miss Tom up here, but as we said at the end of our conversation, at least we can visit via landline or ham radio.

Business as usual (or is it lack of business) on the bands this evening. An easy QSO for the big streak, but no DX. I did hear HK1X, but not very strong and I couldn't get him. So you know what I'll be doing in the morning.

It kind of looks like the bitter cold spell will hold on maybe 3 more days, then moderate possibly for the rest of the month if a couple long range outlooks are correct, and I'm rooting for them as long as the moderation isn't accompanied by the horrible white stuff or even worse, ice. -30-


---

Tue Jan 02 2018 8:02PM - Finally another day when my DX comes in the 0000Z hour. Thanks to PY2ZEA who made the effort to get me in his log on 30 meters. It was rough, but we made it. It's great to have operators who will take the time and effort it sometimes takes to get a QRP station in their log. All too often, stations seem to have what my friend Mike calls, their "599 Filter" turned on. If you don't blast their eardrums with your signal, you get ignored. Those fellows are not going to get that many stations in their logs the next few years as we go through the sunspot minimum.

This morning looked rough for a DX QSO. Even John ON4UN was weak and a bit fluttery and didn't hear me at all. He was about the only European above my noise level. Finally though XE2I showed up and I got him with one call and a repeat.

I'm having fun with the new ARRL International Grid Square event for 2018. I've made up a special Microsoft Excel spreadsheet to track the grid squares as I work them. I've alwaya wanted to do something with grid squares and started a few times, but never followed through. Maybe I'll stick with it this time.

Still bitter cold here. Right now it's let's see.... 10 degrees on both my remote sensing units, one in my shelter in the back yard and one on the front porch. That's much too cold for my outdoor walking, so my floors here in the house are taking a beating as I get in my ration of miles for the day. My neighbor, Roscoe's owner Bruce, took me downtown for my first (second) of the month banking run in his truck. That was greatly appreciated. I do miss my outdoor walks though, but my health is more important as I get older. -30-


---

Mon Jan 01 2018 6:19PM - These long bitter cold spells really leave not much to do. The only time I go outside is to walk Roscoe, and I try to keep those walks as short as possible so he doesn't get too cold. He does have nice long hair now though, and I imagine that helps keep him warm. Still I can tell his feet get cold walking in the s@#w or on the bare cold concrete. On one walk yesterday he was limping just a tad as we came back up on the porch, but very quickly recovered as soon as we got inside.

At least the past couple days I've kept busy with my EOM/EOY and FOM/FOY things. I think I've got most everything taken care of. The final thing today was putting the weather from December and 2017 in my Microsoft Excel spreadsheet and then printing out hard copies of some of it. December with the mild start and very cold finish wound up just about normal at -0.2 degrees (below the long range average). Fortunately precipitation was just below 50% of normal. It was another warm year overall at 3.7 degrees above normal. 47 inches of precipitation was about 5 inches above normal.

The 54.4 degree mean for the year was the third warmest year in my 58 years of keeping records. Only 2012 at 55.4 and 2016 at 54.9 were warmer. Shades of the 1930s.

My first DX of 2018 came very easily this morning with a single call to IK8TEO on 20 in the 1300Z hour netting a solid short QSO. I had worked Frank a couple times before a few years ago.

The first overall QSO of 2018 came in SKN last evening when I worked Bob KC8MFF on 80M. In about 25 minutes now I'll see what the 2nd day of 2018 holds in store. I hope some DX as I still have a few things to take care of tomorrow.

It seems strange talking about tonight, today, tomorrow, etc. when UTC and local time both have to be taken into account. However I'm sure since probably over 99% who read the diary are hams and understand such matters. -30-


---