---
NOTE ON MY AUGUST 2017 QST ARTICLE ON PAGE 73-74:

Because of a slight mixup between the QST editors and me, there are a couple errors in the third paragraph from the end. It should read as follows with the corrections in red:
"I've also worked all continents, all states, and 91 DX entities with

QRPp (

1 W, down to as little as 50 mW

)

. I could have even more DX, but I often don't think of dropping my power from 5 W until after I've worked someone I could have easily worked with

QRPp

. I had a

QRPp

streak of 447 days from May 1, 2010 through July 21, 2011, all of which were initiated with

QRPp

- not starting at 5 W, then lowering power."

---

Mon Sep 25 2017 8:25PM - I seem to have lost the pictures from the Requin I was going to post. I just emailed Mike and asked if he could resend them. If so, I'll post them tomorrow.

I did another country today - Slovakia. It has 20 counties plus the city of Zagreb. That's 21 units and I've found 18 of them in my log so far. I think I've now checked all countries with which I've had 600+ QSOs except for France. Their divisions seem a little confusing and I'll have to study them a little more yet. I'm having a lot of fun with this and also learning a lot about the various countries.

Speaking of countries - tonight's country was Slovenia. I worked S52AW on 40 meters for my DX streak QSO a few minutes ago. It took a few repeats for Karl to get my call, but we made it into a good QSO. I'm a little surprised I'm still able to get my DX mostly in the 0000Z hour with the earlier sunsets now along with the sunspot decline. I have only had to resort to the morning or afternoon hours a few times in the last couple months or so.

I've mentioned Larry here in the diary a couple times. I mean Larry who studied together with me to get our ham licenses back in 1963. He got KN3WWW and I of course got KN3WWP. Anyway I heard from his son today via a letter. He was wondering if the Larry I mentioned in one of my Keynote columns could be his father. Indeed it is. I had lost track of Larry after we graduated high school not long after we got our licenses. So now maybe I can find out more about what happened to him over the years. -30-


---

Sun Sep 24 2017 7:50PM - Let's see, which gave me more pleasure today, working with Mike KC2EGL on the Requin or watching Mike work VK3CWB in Australia on 30M at my place after we got home. How about a coin flip. Oooops, it landed on edge so I guess both were about equal.

I'm a bit tired now, but here's a brief summary of the day followed tomorrow by more info and a couple pictures.

Mike arrived a little past 8AM and we kibitzed a bit about this and that then headed for our encounter at the Requin. We arrived at the gate around 9:45AM and the two hosts let us in. We met Art at the radio room and chatted with him for a while as we were setting up to operate.

When we did get to operating, things went very slowly. Unfortunately the frequencies we announced along with our alternate frequencies were occupied by other activities most of the time so the QSOs came slowly as we moved up or down the band a bit to find a clear spot. We figure it was one of a couple of reasons. Either folks didn't tune up and down a bit looking for us, or folks believe the info that because the sunspots are dropping off, it isn't worthwhile even looking for us. So after we got tired of not getting any answers to our CQs we decided to tune around ourselves and look for stations to work. We easily worked VE7RAC operating for the 150th anniversary of Canada. Then the Texas QSO Party provided a lot of fun as we were easily working stations that way with our QRP and the simple vertical antenna on the Requin. Most all the TX QSOs came from just a single call. So conditions were NOT that bad, by any means. We can't blame that.

We did wind up with 23 QSOs, 16 20M, 4 30M, 3 40M. A total of 10 states and the one VE province. Most QSOs were from the TX QSO Party.

When things really slowed down to a crawl, we decided to call it quits around 2:15PM and head home. Although we didn't make all that many QSOs, we did have a great time interacting with the Requin visitors. Some had served on subs or ships in the Armed Forces. Others recognized that we were using Morse Code. We got a lot of good questions about the sub and ham radio. Hopefully we answered them all satisfactorily. It was a bit tricky at times copying CW while chatting with the folks. All in all a really great time.

Now it was time for some other activities. We stopped at Best Buy in the Pittsburgh Mills. I have been wanting to get a new digital camera and I did so there. I got a nice 20.1 megapixel Nikon unit. I just now finished charging the battery and will play with it a bit later tonight. Next up a stop at Chili's where I got my favorite California Turkey sandwich with onion rings and Mike got the endless Chili/Salad meal. Then here at home again, we totalled up our sub results, then set up my camera. After that off to the shack to chase some DX.

That was the second equal highlight of the day. I tuned around to find some DX for Mike to work. He and I both found a couple of stations who weren't hearing him. Finally though I did find and he worked EI2HI on 30 meters. Then I looked again and found a real prize - VK3CWB. I had worked him on 30 meters before, and I told Mike I was pretty sure he could get him. Well it wasn't easy but fortunately Moz stuck with Mike and they did finish a good QSO. I think I was almost as excited as Mike. A lot of the things I've worked are now in a sense, "old hat" and although I still enjoy working them, it isn't as thrilling as the first time I've worked them. So I get more kicks vicariously watching Mike work something like the Australian.

I do still get kicks from continuing my DX streak - for sure. I did that this evening after Mike had headed on home. I found LU1XS on 20M and couldn't work him at first after trying several times. However some minutes later I went back and tried him again and got through. It took a few repeats of my call, but we made it for day # 1,670 of my DX streak.

Whew, I didn't think I was going to type this much. I guess all that is left for tomorrow's entry now are the pictures. Also tomorrow I have to close out our NAQCC sprint and of course do the Monday laundry along with other regular daily things so it's going to be another busy day in a different way. -30-


---

Sat Sep 23 2017 7:18PM - Well, that's not very early. I promised an early entry today talking about our USS Requin subpedition tomorrow, but I got involved in too many other things today and haven't gotten to it until now.

I think I'll just copy what I sent out on our NAQCC email list earlier today.

Date: September 24, 2017

Time (UTC): 1400Z to as long as there is activity

Call: NY3EC

Operator(s): K3WWP KC2EGL 

Frequencies +/- QRM: 7041 10117 14059 (This is the CQWW DX RTTY contest weekend,
so we may have to adjust our 40 and 20 frequencies to avoid QRM.
Alternate frequencies will be 7031 and 14049 which should be below the contest frequencies)

Location: Pittsburgh PA on the submarine USS Requin near the point in downtown.

QSL via: NY3EC in QRZ

Notes: Many folks seem to give up on our portable operations if they don't hear us in the first hour.
Remember conditions can change frequently during a day, so if you don't hear us right away, check
back later. Also check all three bands as we can only operate one at a time with the Requin's one
antenna. We'll try 40 from 1400-1430, 30 from 1430-1500, 20 from 1500-1530, then go with the
band(s) that give us the most activity after that. Check your email for any last minute updates.
That pretty much says it all. I hope conditions are good.

It was encouraging to work Puerto Rico for my DX QSO last evening. With the devastation Maria left behind, it's nice to know that ham radio is alive and well on the island. I figured any activity from there would be only emergency traffic, but this fellow was chasing DX as normal.

I sure hope I can get my DX this evening as a lot of tomorrow morning and afternoon will be taken up with the Requin activity.

I worked some more on my country divisions today. I found I've worked all the regions in Slovenia. I started on the Czech Republic today and found I have all but one region there. I've had a nice email exchange with Dave IK2AGX who read about my country division work in the diary and sent me some great info about the Italian divisions. He lives in Northern Italy not all that far from where my ancestors on my mother's side came from - a little town called Aurano. He sent me a link to information on all the locations in Italy (8,003 of them) and I found out a little more about Aurano from the site. When I say small, I mean small - the recent population is just 110. However there were a lot more folks there in the late 1800s which was about the time my ancestors emigrated to the USA. -30-


---

Fri Sep 22 2017 6:34PM - We need one more log to reach 100 again for our NAQCC September sprint. If you entered and haven't submitted yet, you could be the one to push us to the century mark. There have been only 6 sprints since we first had a 100 log sprint in April 2010 that we haven't reached the 100 log mark. I don't think there are many, if any other clubs that can claim a popularity record like that. That's 83 of the past 89 sprints with 100+ logs. Congratulations to our fine devoted members.

As I mentioned, I've been working on counting political divisions in countries to see how many I've worked. It's not easy as it seems every country has a slightly different way of dividing up its territory. States in the USA, Provinces in Canada, Prefectures in Japan, Regions in Italy, and the list goes on. Then each of the major divisions has subdivisions. Counties in the USA, Provinces in Italy, and so forth. Right now I'm just working on the main divisions.

So far I've checked the following countries with the list showing the country name, what they call their main divisions, how many there are, and how many I've worked so far. My checking is far from complete and there may be minor differences in just how many divisions a country has. So the following info is kind of rough to say the least.

United States     States                  50     50
Canada            Provinces/Territories   13     13
Brazil            States                  27     18
Cuba              Provinces               16     13
England           Counties/Cities         47     41
Germany           States                  16     16
Hungary           Counties                20     17
Italy             Regions                 20     18
Japan             Prefectures             47     33
Mexico            States                  32     19
Slovenia          Regions                 13     11
I'm finding it fascinating and I'm learning a lot more about the various countries as I go. Something ham radio related to do when conditions are not all that conducive to making a lot of QSOs, especially DX. Maybe by the time I reach a finishing point with the country divisions, the sunspots will be back and I can go looking for the missing ones.

Tomorrow I'll have an early diary entry talking about our subpedition to the USS Requin on Sunday. I'm looking forward to that. -30-


---

Thu Sep 21 2017 6:44PM - One of my top 10 busiest days of recent times. I don't think I slowed down since I got up this morning. I started off doing some preliminary work on the logs from last night's sprint. After that it was time for Roscoe's first walk.

Next up on the agenda helping Ange pick chestnuts and figs and water the garden. After getting tired of bending over to pick up chestnuts, I finally built a chestnut picker upper out of a pair of salad tongs and a couple pieces of wood. Here's a picture:



The wood is flexible enough so that a slight squeeze at the top (left in picture) closes the tongs around the chestnut. Sure saves an old back.

Not forgetting about needing a DX QSO for the day, it was up to the shack where I almost immediately spotted a decent sized peak on the PX3 and listened to see who it was. It was EI55WAW whom I worked easily after he worked one other person. Didn't even need any repeats for a change of late.

After that it was brunch and a weekly Thursday trip to the Ol' Station Marketplace to see what I could find. I bought a basket for Ange to help him gather some garden goodies, a CD of hidden object games, and some screws and wall anchors. Also one of those hand exercising spring devices.

Now it was time for Roscoe's second walk. Then we sat on the porch swing for a while. About the only time I took it easy so far today.

More work on logs interspersed among some afternoon snacking. Then I decided to get my second half of the month bills taken care of. After writing all the checks, I figured I just had time for a walk to the borough office and the post office before it was time to watch the Penn State weather at 5:30P. I knew I'd have to hurry and figured I would just make it. I surprised myself and made it home with six minutes to spare. I guess this 72 year old body can still move pretty fast.

Following the weather, it was #3 walk for Rosoce and then back here to the computer for some more log work and typing this diary entry. Whew! -30-


---

Wed Sep 20 2017 11:07PM - It's late and I just came off a grueling sprint so I think I'll just use my NAQCC sprint soapbox as my diary entry this evening.

"I can't recall when I've worked so hard to make just 36 QSOs. The bands were deplorable here to say the least. Out of the 36, I would say only about a handful were above my noise level far enough for easy copy. Still I enjoyed the challenge and it was rewarding to get that many QSOs considering the conditions. There were at least a couple stations I just couldn't pull out of the noise. Hopefully I did work you later in the sprint. If not, I'm sorry. I worked a couple stations I don't think I've ever worked before - WA0ZSU and WD8RYC. That's going by memory without checking my Access log, and my memory is not what it used to be so I could be wrong. 80 meters was THE band tonight with 27 of my 36 QSOs there. I'm glad a lot of folks are starting to come to 80 now that summer and its noise is winding down."

Not a sign of any DX this evening, so I know what some of my time in the morning and afternoon will be spent doing. -30-


---

Tue Sep 19 2017 8:43PM - There are sure a lot of 'towns' in Italy. As I mentioned in yesterday's diary entry, I'm working on seeing how many of Italy's regions I've worked. I have 1,110 QSOs with Italy to check, and it seems each town has only less than 5 QSOs except for a few of the bigger cities, so it's a long process, but a lot of fun nevertheless.

I called Art from the USS Requin this evening to see if we could come down on Sunday and operate from there. I guess Art is busy this evening though as he hasn't returned my call yet. I sure hope it will be available as I'm getting the itch to do some more portable operating be it from the sub, a park, or wherever. Even though it is beautiful weather now with no rain and highs in the mid 80s, that's not going to last forever.

I went fishing again today which makes three times now this year. I don't know why I didn't go more often as I really enjoyed it today even though I didn't catch anything. I think one of my New Year's resolutions in 2018 will be to go fishing more often. Although it won't add a lot of free time, my completely retiring from NAQCC work at the end of December will add some time for fishing and other things.

I think I'll get back to checking those Italian QSOs now before my 9 PM weather readings and walking Roscoe. -30-


---

Mon Sep 18 2017 8:57PM - Back in my early days of ham radio after I worked all states, I looked for another challenge. I wasn't having a lot of luck with working DX and actually thought I never would be able to work much DX with my situation. Some 225 countries and 20,000 DX QSOs later I proved I didn't know what I was talking about. But that's another story for another time.

Right now I'm at the point where I need something new to challenge me in ham radio. With the current stage of the sunspot cycle, I don't know how long the DX streak will continue and I'm pretty sure I won't be adding to my DXCC total any time soon. So I've decided to go through my 20K DX QSOs and see how many political divisions I have worked in various countries. Of course I have all the states in the USA and all the Provinces (and Territories) in Canada, so where do I go from there. Well so far I'm working on the states in Brazil where there are 27 of which I've found I've worked 18 of them (27 / 18). Provinces in Cuba (16 / 13). Regions in Italy (21 / haven't counted yet). States in Mexico (32 / 19). Some of those totals include a Federal District or some similar entity equivalent to our District of Columbia so my totals may vary a bit from other totals in case you notice any difference. Just wanted to mention that.

Time (a bit past time) to get my weather readings so I'll close here and do that. Oh, no DX this evening (yet). So another chance for the streak to end. Well, even the Cleveland Indians can't win all the time, but 22 straight is pretty darned good. -30-


---

Sun Sep 17 2017 8:37PM - My first check of the bands at 0000Z showed nothing at all on 20 or 30, so I decided to get my regular streak QSO. I called CQ on 40 and it wasn't too long before Jeff K3KYR answered me. We had a nice 20+ minutes QSO. He actually gave me a 599 + 10 report and he was 599 and maybe a bit over here. The signals did drop a bit during the QSO, but it was solid copy both ways till we said our 73.

Since it was still only about 0030Z, I thought I'd go back to 30 and 20 to see if any DX showed up. The PX3 did now show a few peaks on 30. The first one I checked was AA7FV whom I hear quite often. I never have checked his QTH until now though. I see he is in AZ so conditions were pretty good as he was around S7-S8. Anyway back to DX. The next peak I checked turned out to be CX6VM. I thought at the time I had worked him before on 30 easily. I waited till he finished a QSO then called, but lost out to some 8 station. After they finished, I called again with no response. I waited a couple seconds and called again. He came back with K3WWP 599. I sent my exchange and 73 and added another day to the DX streak - # 1,663. I checked and I did work him twice before on 30 and once on 17. It was nice to work someone a little further away. Most of my recent DX has been either the Caribbean or Central America. CX6VM is 5,302 miles from here so that was a 1000+ MPW QSO for a change. Not that I don't appreciate the closer DX as well. I certainly do. -30-


---

Sat Sep 16 2017 8:35PM - Yet another 0000Z DX QSO this evening. This time from CO2AME on 20 meters. I didn't hang around but a couple minutes after that so I don't really know what shape the bands are in. I did see a couple other strong peaks on the PX3, but didn't explore them after I got my QSO.

Not much else to talk about today. It was just a quiet Saturday. The weather was great. Like mid-August instead of mid-September. It was even on the humid side today. The high was 86 on my AcuRite remote unit. Now it's 69 with 74% humidity. According to the consensus of the forecasts, it should be like today for at least a week or so. Virtually no rain predicted. I think I might do a lot of fishing next week. The fish I got yesterday means I've gotten at least one fish for each of the past 26 years. That's not saying much for the last couple years with only one fish each (so far). My four best years with 200 or more are: 2002 - 274, 2004 - 258, 1996 - 239, 2006 - 218. 2002 was the year of the bass with 222 of them. 2004 it was the drum with 67. 1996 - suckers with 140. 2006 featured bass again with 52. -30-


---

Fri Sep 15 2017 7:28PM - I did something today I haven't done since June 17, 2016. I also did something today I haven't done since May 31, 2016. Regular diary readers may be able to figure out what I'm talking about. If you can't, I'll talk about it a bit further down the diary.

Fortunately I was able to snag my DX later last evening because even though the DX streak was satisfied, I did check the bands a couple times today just to see what they were doing. Well they weren't doing much of anything. A couple pretty strong USA stations on 20 were about all I heard.

Last night? Oh, the station I worked was J68HZ on 40 meters. I had worked him before a few years ago. It wasn't an easy QSO, but we made it. Now I wonder what tonight will bring in about 25 minutes as I type. There are a couple DX contests this weekend. I might have to use them for the DX streak.

OK, what did I do today? I decided to go fishing. That's the first time this year and the first time since June 17 last year. What else? I actually caught a fish - a 14 inch sucker. The first fish since May 31 last year when I caught a bluegill. That kind of revived my interest in fishing and I hope to go several more times this year while the weather remains good. Catching a 14 inch sucker brought back some memories from many years ago. When I was just a lad, for a long time I could never catch anything bigger than a 14 inch sucker, and I caught a few of them. That is if my memory is accurate. I don't have a record of my early days of fishing before 1955 or so. I do see a 15 inch sucker on July 20, 1955. Then a 22 inch carp on June 16, 1956. That remained my record until a 29 inch carp on August 23, 1957. I think that's the one in a picture I posted in the diary a couple years ago. Let me see if I can find the date of that posting. OK, it's in the entry for August 25, 2015 although there is some confusion about the date of the catch and the picture as mentioned there. -30-


---

Thu Sep 14 2017 8:38PM - Here we go again. No DX at all heard this evening. I even had to go down to 80 meters to get my regular streak QSO from K8JD. I suspect a lot of my regular streak QSOs will come from 80 meters as we move into fall and then UGH winter.

My DX earlier in the day came from Bolmar HK1MW on 17 meters. I think what is going to eventually end the DX streak as conditions continue to decline is not being able to find the great ops like Bolmar, F5IN, XE1XR, XE1RK, CO8LY, and a host of others who like me, stick things out and get on the bands no matter what the conditions. If at least one of them doesn't show up during my checks of the bands, I think that will be it.

Some time ago as an additional amusement in ham radio, I decided to check to see how many of the various country divisions I have worked. I mean like counties in England, states in Mexico, oblasts in Russia, just to name three off the top of my head. I am working on Mexico now, then I'll hunt up those I've done some time ago and update them. Then I'll put all in one Microsoft Excel spreadsheet with a page for each country. Just another sign of my obsession with statistics. -30-


---

Wed Sep 13 2017 8:39PM - It sure is nice having summer weather back again the past couple days. We had a long chilly spell around here for about the last three weeks now. Today we hit 82 degrees and it was a bit on the humid side thanks to the moisture from Irma finally reaching here. The outlook for the rest of September looks good also with most days predicted to be in the upper 70s and a few low 80s. That kind of weather can't last too long for me. It would be nice if it could last all fall and winter, but of course that's impossible.

I didn't hear a single DX station this evening so I had to settle for one of the Route 66 SE stations to keep my main streak going. I'll check later tonight for DX, and if I don't find any then, I guess it will be in the morning or afternoon. The solar flux is down to 75, but the stominess in the ionosphere is still continuing. -30-


---

Tue Sep 12 2017 10:25PM - I'm a bit late with the entry tonight, so I'll make it brief.

I wanted to check on a couple friends who had direct interest in Irma. So I emailed one and called the other. Neither K3RLL who is up here in PA now, but has property in DeLand Florida nor Tom WY3H who moved from here to Georgia a couple years ago suffered any damage. I'm glad of that.

The DX streak moves along thanks to PJ4/PA3BWK late last night on 40 and XE2V this evening on 20. The bands seem much better tonight than they have been the past few days with the ionospheric storminess. Good strong steady signals on 40 where I had a couple 20 minute or so rag chews before I worked XE2V with whom I also exchanged more than just a TU 599. -30-


---

Mon Sep 11 2017 8:47PM - After two easy DX evenings, it's reverted back to poor conditions again. I only heard a couple weak Brazilians on 40M, and I have trouble working Brazil on 40 in the best of times. Unless it's PV8ADI, that is. But it wasn't him this evening. So looks like another morning and/or afternoon spent looking for DX. Oh well, I didn't have anything big planned anyway.

I've started work on a list of things that I've never done and never will do. Such as using spotting for finding and working DX, or never using Facebook or any other Internet social media. I call it unsociable media. I've got a pretty good list now, but other things keep popping into my mind so I'm going to wait to post the list here on the web site.

For the regular streak QSO this evening, I had a nice chat with Tom W4OIS in South Carolina. He's a retired lineman, but still works part time assessing storm damage. He said he probably will be busy the next few days. Yes, I would guess so with Irma doing her thing in SC.

We started to see some outlying clouds from Irma here today, but the consensus of the different forecasting services seems to be between 1/10 and 1/2 inches of rain here. That seems to be about right from what I've been watching and studying Irma. We'll see. -30-


---

Sun Sep 10 2017 8:26PM - As it is every time Mike and I get together, it's a great day. Today was no exception. First of all a couple notes about my DX streak. Both last night and tonight turned out to be easy in contrast to the last couple days when the ionospheric storm was in full swing. Last night it was 5K300PF, the Pope's visit to Colombia's special event call very easy on 30 meters. I waited through one other QSO, then got him with a couple repeats of my call. Then tonight it was David XE1XR on 20 meters who was S9 + about 10-15 dB. I got him on my second call. He thanked me for the S9+ report. So it looks like I made it through the storm. I hope saying that doesn't jinx me. HI.

Now about today. Mike and I made out a time schedule via email for our day today and stuck pretty much to it. We planned to start with breakfast at Ponderosa in Butler around 8:30. So we headed out a little before 8, arrived in time and were off to the hamfest a bit past 9. We were checked in by Rick N3VKM who was the one who asked me to do the QRP/CW presentation at their club in November 2015. It was good to see him again. We then looked up Tom WB3FAE who was in charge of serving coffee. Mike and I then scanned all the tailgaters looking for some particular plugs which we never did find. Along the way we met with some of Mike's friends and my friends. We were surprised not to find Bob WC3O who is usually one of the first people we see at any ham gathering. We did find him though and discussed different things including the goings on at the Skyview club where we were a couple weeks ago. We also talked with a couple other Skyview members along the way. We got Tom to take a break from his coffee serving so we could get a group picture of me, Mike, Tom, and Bob. The Skyview member who took the picture was Dewey W3VYK, whom I see on the Skyview web site is Chairman of the Board at Skyview. Bob is going to email the picture. I haven't gotten it yet, so I'll post it in a later diary entry.

Mike bought a bunch of 50-50 tickets so although we had pretty much checked everything out, he wanted to wait a little while longer for the drawing since the winner had to be present. When the drawing time came we happened to be standing near the ticket barrel. One of the BCARA members mixed up the tickets in the barrel, but he didn't want to make the drawing and asked for someone to do it. I said, "since I don't have any tickets, I'll do it." Turns out the ticket I drew at random belonged to the same Dewey who took the picture. When he came to get his winnings which was something like 109 dollars, I told him I made the drawing and kidded him about sharing the prize with me. That led to us talking about the Skyview club and he said that he'd be interested in having Mike and me come to Skyview sometime and the three of us could play around with the antennas. We told him we'd think about that. It sounded very tempting.

After that we headed back home for a stop at Walmart. We picked up some things there then came home here. We checked the bands and found them wanting, to say the least. There was nothing at all on 40 through 17 meters. So it was playing some hidden object games on the computer. After that, we decided to head off to Wendy's for a mid afternoon snack. We both had baconators. I had a frosty and mike had some kind of pop and a baked potato. Back home again and another check of the bands showed about the same thing. So we went for a 2+ mile walk. On the bands again, things picked up just enough so that Mike could work PV8ADI with some effort. Back on the computer after that for a while, then Mike had to head home as tomorrow is a workday for him.

Right now I'm doing my laundry so I won't have to bother in the morning. I figured I'd do double duty and get this entry written while doing the laundry. So now it's off to get my 9PM weather readings, finish updating my streak table and propagation page, and by then the laundry will be ready to take out of the dryer. -30-


---

Sat Sep 09 2017 5:00PM - The last two days have been the roughest to keep my DX streak going but I made it. Yesterday it was PJ4/PA3BWK in kind of an unusual situation. I worked him, but I thought he sent my call as K3MWP. So I kept trying him again for about 25 minutes with no luck, then finally he sent my call correctly and WKD B4, so it seems he did have it right the first time. Today it took till 2050Z or so to even find a DX station other than XE2V and F5IN, both of whom were down in my noise level at S3 or so. At 2050, I again found F5IN in the FOC QSO Party. I wasn't sure if non-members (which I am) could work members or not. I checked the WA7BNM calendar for the rules and found I could get in the contest. So I called Mike F5IN about 5 minutes till he heard me, but he had me as K3VWP. I sent my call three more times and he got it right. We exchanged info and I breathed a sigh of relief as I logged F5IN for day # 1,654 of the DX streak. Hopefully the severe storming in the ionosphere will lessen by tonight and make things easier.

I was just wondering how many folks who don't know any better will hear about the ionosphere storm and equate it to hurricane Irma. If they do, to what do they attribute Harvey when the ionosphere was quiet then.

Tomorrow will be a busy day so that may mean another rough day for the streak. I'll be going to the BCARA hamfest at Unionville, PA near Butler. Mike and I will head to the Ponderosa in Butler for breakfast, then off to the hamfest followed by a bit of shopping so that will take up a good part of the day. If I don't get my DX tonight, it will have to be after we get home tomorrow.

You all probably know by now how my main streak got started back in 1994. If not, briefly it came about when my neighbor Eric (now KB3BFQ) and I thought about what would be the equivalent in ham radio to streaks in sports. He suggested making at least one QRP/CW/simple wire antenna QSO each day. The rest is history.

What you may not know is that Eric is also largely, almost completely, responsible for me starting this web site. The Internet was still fairly somewhat new at that time and he talked about us trying our hand at setting up a web site. His was going to be about one of his favorite sports, hockey. I was undecided between NASCAR auto racing and ham radio. I was a very serious NASCAR fan at that time and followed it closely as Eric did with hockey. In fact we both were reporters for a sports show out of Pittsburgh for a while around that time. We would phone in our comments on the sports which would be transcribed and used by the personality (Tom McGough with whom I worked while at WPIT) in his on-air sports show.

OK, back on track now. NASCAR lost out to ham radio for my web site idea. At first I used the site mostly to describe my involvement with the founding of the CW County Hunters Net and the CW County Hunters Contest back in the 1960s and early 1970s. Once that material was taken care of, there wasn't much else to do with the site so I gradually expanded into other ham radio topics and wound up with what I have today.

Both Eric and I started our sites on GeoCities which provided free space for web sites. Eventually when my ISP Alltel (now Windstream) provided free web site space as well, I added my site there and eventually dropped GeoCities.

I'll have a little more to say about the site, but I think today's comments and yesterday's links to archived pages from my web site pretty much tell the overall story.

Incidentally I explored the archived pages a little more today, and found that indeed most of the sub pages are available linked to the main page. I did find it odd that the links in the 1998 page took me to pages from 1999 which was a bit quirky. As far as images go, I found them to be rather spotty here and there. The same with style sheets. So beware of those limitations if you do decide to explore the archives. I hope you will do so. -30-


---

Fri Sep 08 2017 9:35AM - It was twenty-one years ago today that this web site was born. I thought I'd turn on the time machine today and perhaps the next couple of days to travel back through those 21 years as we begin the 22nd year.

Perhaps you know about it, or perhaps not, but there is a web site called The Internet Archive Wayback Machine at https://archive.org/. They take "snapshots" of web sites as they exist on the day the snapshot was taken so you can see how a web site looked during a certain era. The snapshots seem to be taken at random perhaps a dozen or so times a year. At least that's how it looks for my site.

The snapshot may or may not contain all the pages on a site. In spot checking, I am finding in a good many cases, if not all, the snapshot does seem to contain most pages. Pictures are sometimes not archived and all you'll see is a placeholder for the picture. Another thing that may not always be archived are style sheets so the pages may look different from what is intended in those cases.

However with all of that said, you can still get a good idea of what a site looked like in the past. Since my site had its main URL changed three times plus the addition of k3wwp.com, there are four different sections of the Internet Archive for my site as follows:
1998-2003 for www.alltel.net/~johnshan
2003-2009 for home.alltel.net/johnshan
2009-2017 for home.windstream.net/johnshan
2014-2017 for k3wwp.com

Here are links to the home page of my site - one for each year from 1998-2016. Unfortunately there aren't any snapshots from 1996 or 1997 when my site was hosted on GeoCities. When I left GeoCities, someone else took over the URL and their site is archived, but not mine. I may have something here locally, but I'll have to search through a lot of material to find them if they exist.

12/4/1998
11/28/1999
9/3/2000
11/26/2001
11/29/2002
7/10/2003
11/26/2004
12/29/2005
12/25/2006
12/22/2007
11/13/2008
4/1/2009
12/1/2010
12/6/2011
10/16/2012
12/21/2013
12/15/2014
10/19/2015
12/21/2016

I was just eating brunch here while checking out the links above. Sure brings back a lot of memories seeing those old pages. I think I'll dwell more on the history of my site over the next few entries. -30-


---

Thu Sep 07 2017 8:45PM - If it's clear where you live and your skies are fairly dark, you might want to go outside and see if there is an aurora. It's been many moons since I've heard so much auroral flutter on sigs as there is this evening. Nearby stations, distant stations all seem to have some degree of flutter. The flutter is so bad on some signals, it's hard to copy their calls or anything else. I just got the propagation figures for my propagation page. Here's what the WWV page says:

Space weather for the past 24 hours has been severe.
Geomagnetic storms reaching the G4 level occurred.
Solar radiation storms reaching the S2 level occurred.
Radio blackouts reaching the R3 level occurred.

Space weather for the next 24 hours is predicted to be severe.
Geomagnetic storms reaching the G4 level are expected.
Solar radiation storms reaching the S2 level are expected.
Radio blackouts reaching the R2 level are expected.
I can't recall the last time space weather was described as "severe". It may be interesting trying to get my DX today. Although sometimes such disturbed space weather actually enhances DX signals. At least I did manage to get my regular streak QSO easily on 40M from KM4ZZ in VA. He was very fluttery as was everyone else, but we made the QSO. -30-


---

Wed Sep 06 2017 10:33AM - I promised some info on QSOs via CQ, and here it is.

Another thing that shows that QRP/CW/simple wire antennas really works is getting answers to CQs using that method. While you won't get as many answers, especially from DX stations, as the fellow with the KW and beam on a hill, you can get enough to make it worthwhile calling CQ now and then.

As you know, I love working with stats. I've got a field in my Microsoft Access log to indicate when a QSO came from my CQ. Also when the QSO came from someone calling me at the end of my QSO which is called tailending. We're not going to talk about tailending here, just about the QSOs I've gotten from my CQs when running 5 watts or less. Of coure with CW and my simple wire antennas.

I have gotten a WAC via CQs. Only one QSO each from AF and AS. Only one station from OC, but he answered my CQ three separate times using two calls. I have more complete stats in a text file to which I will provide a link later in the entry for those who want to delve more deeply into what and who I have worked.

I should mention that all but perhaps a couple of the following QSOs came from just a regular CQ, NOT calling CQ DX. Also the stats are not complete because when I initially log on paper I sometimes forget to note if the QSO came via CQ. When I initially log by computer in a contest, I can't easily note if the QSO came via CQ. Still the info is fairly indicative of what is happening.

Briefly here are the number of QSOs including USA/VE from each continent:
AF - 1, AS - 1, EU - 91, NA - 11,323 (46 excluding USA/VE), OC - 3, SA - 14, TOT - 11,433 (156)

The number of countries from each continent:
AF - 1, AS - 1, EU - 26, NA - 14, OC - 1, SA - 9, TOT - 52

I have 49 states via CQ - all but Hawaii. I have 16 of the 40 CQ Zones.

Here are the number of QSOs by band with non USA/VE in parentheses:

  6 -    4   (0)
 10 -   80  (46)
 12 -   20   (9)
 15 -  136  (23)
 17 -   72   (6)
 20 -  704   (8)
 30 - 1415  (50)
 40 - 8422  (14)
 60 -    8   (0)
 80 - 4748   (0)
160 -   99   (0)
I hope you find that interesting and now know that it is possible to work DX via CQs without a hilltop QTH and a huge antenna farm. As I've said before, I find it to be a thrill not knowing who from where is going to answer that CQ you send out.

If that has whetted your appetite and you want to see some expanded stats, click here for a text file. -30-


---

Tue Sep 05 2017 9:03AM - Yes, another early morning diary entry. I got on the air in the 0200Z hour last night and found some interesting conditions due to the extreme high solar flux and its effect on the ionosphere. Although there wasn't much in the way of DX, there were a lot of strong USA stations up through 17 meters.

I did get my DX though. I checked one strong S7 signal on 17. It was a rag chew type QSO, but I had a hunch it might have been some DX so I waited for an ID. It turned out to be Max KH6ZM whom I'd worked a few times before. I waited till he finished his QSO with some station in W5 land whom I could also hear very faintly. I gave a call, and got a WWP? I sent my call twice again and we had a few minutes solid chat. Yes, the Hawaii pipeline still works and works well.

Although the ionosphere remained fairly quiet with the high SF, today the latest SF is listed as 140, but with some storminess predicted. I'll check later to see just how the bands are.

I did some research on QSOs via my CQ, and came up with some stats, but I think I'll let the above stand for today's entry and post the CQ stats in tomorrow's entry. Just a sneak preview here. I do have a WAC via my CQs. -30-


---

Mon Sep 04 2017 8:50PM - I guess for my entire ham life, I've enjoyed calling CQ to get my QSOs. I still do except when I'm working on my DX or main streak, in a contest, or maybe working on a NAQCC challenge. The thrill of not knowing who from where is going to answer me when I call CQ never grows old or wears off. Tonight for example a CQ on 20 meters netted me a QSO with one of the Canada 150th anniversary stations, VE1RAC. Normally I would have to search out a station like that, but hey, he answered me. I find that thrilling. I'm going to talk a bit more about answers I've gotten to my CQs either later in this entry or in a future entry depending on time. It looks like we might be getting some rain, and if so I want to get Roscoe out before that comes.

No DX this evening. I only heard a weak DL1 and EA8 on 40 meters, nothing else. Holy sunspots, Batman. I just looked at the WWV report. The solar flux, if not an error, was 183!!! today. It didn't get that high all that often during the sunspot maximum. The A-index was only 18. Now why oh why weren't conditions better this evening? With numbers like that, 20 meters should still be very open for a lot of DX. I think that's a convincing argument for folks not checking the conditions or the bands. They just assume going into a minimum now there are not going to be any good conditions again for a few years and don't bother getting on the air. Sigh! Even if I didn't need to get on for my DX in the morning or afternoon, I'd still be interested in seeing how the bands are with propagation numbers like that.

OK, got to get my weather now, then maybe some more about CQs.

There is some rain coming, so I'll postpone the info about CQs till tomorrow so I can get Roscoe out. I'm curious to see how many countries I've gotten via my CQ. I counted once and I think it was around 30 or so. Also how many states, continents, zones, etc. So I'll research that and compile the info later tonight or tomorrow. -30-


---

Sun Sep 03 2017 7:25PM - I figured the SF of 100 reported yesterday would bring the higher bands to life today. I was partly right. 17 meters showed several European signals in the 1600Z hour. They weren't all that strong, but I was able to work Joska HA9RT easily for my DX streak QSO. I shut down not long after that and never did check again. Of course I will be getting on at 0000Z in about a half hour from now. I just looked at the solar info before typing this and the SF was at 120 today, and the A-index was just 11, lower than yesterday. So conditions may be interesting this evening and if so, hopefully that will continue into tomorrow.

I managed to finish the NAQCC September challenge today. It required making a total of 72, 73, or 88 from the numbers in the grid squares of stations worked. For example FN04 and EM26 would give a total of 0+4+2+6=12. It took me just 10 stations to make both 72 and 73 to satisfy the challenge two times over. -30-


---

Sat Sep 02 2017 8:38PM - Being interested in meteorology, of course I've been following Harvey closely the past several (too many) days meandering around and then finally paying us a visit here in PA today. By now, most of the moisture has been wrung out of the storm and we got less than a half inch, maybe not even a quarter inch today. Still about 20 minutes before I check my rain gauge for an exact total.

As Harvey passed I thought of our heaviest rainfall here. There were two days - I'll get the dates shortly - when we had just under 6 inches of rain in a day. One was when tropical storm Ivan got stranded around Kentucky and just kept feeding and dropping its rain here for probably some 20 hours or so. The other was when thunderstorms kept developing in SW Armstrong County and kept tracking diagonally right across Kittanning to NE Armstrong County. Picture an outline map of the county with a red bar through the middle like a no parking sign with the P and a red bar. That's what a time lapse radar image looked like that day. I have a picture of the radar, but I don't know just where right now. If I find it, I'll post it. The thunderstorms were on June 25, 2006 when we had 5.57 inches of rain. Ivan was on September 17, 2004 with a total of 5.69 inches followed by 0.66 inches on the 26th for a total of 6.35 inches. Both those totals were almost double anything in my records going back to 1959. And there's been nothing anywhere close to them since.

I wound up with a little under a foot of water in my basement from those storms, and it took my sump pump running continuously for a good many hours to keep up with it and eventually get it all pumped out. Although that was quite a mess, it pales by comparison to the up to almost 52 inches Harvey dumped on Texas. It's hard to imagine even with all the pictures and videos that have been posted on the Internet.

Once again a rough DX night despite the solar flux hitting 100 today for the first time in ages. It will be interesting to see how the bands respond during the day tomorrow. I did notice that 17 was open this evening with a strong K7 station. Probably had other folks gotten on 17, it might have been interesting. I did try some CQs there but no takers.

Well I typed long enough to take me to 9 o'clock, so I'll go see just how little rain we got today from Harvey. Just 0.20 inches, and still a light drizzle falling. -30-


---

Fri Sep 01 2017 2:57PM - Some random thoughts about the DX streak. I think it may be inevitable that it will end sometime during the upcoming sunspot minimum. Some of the things that may end it are:

1. The most likely one is that since I can't be on the air 24 hours every day, there will come a day when I am simply not on at the right times. There is a noticeable decrease in the number of DX stations I hear each day as sunspots decline. Whether that is because fewer stations are getting on the air because they believe conditions are not good enough for them to waste time when they could be doing other things - or - the stations are there, but conditions really aren't good enough for me to hear them. In either case, it is a matter of being there when the stations are on or conditions are briefly good enough to hear them. That boils down to luck. I do know enough about propagation to know when the time SHOULD be good for DX. But that is not a certainty. A few nights ago, 20 should have been dead around 0430Z, yet it wasn't and I was able to work Hawaii for my DX streak QSO.

2. Conditions may decline to the point where there will be a day when no DX can be heard for the full 24 hours of that day. Of course then no matter when I get on, there will be nothing there for me to work.

3. There are other reasons such as health problems, etc. that I am not even going to dwell on here nor even think about.

It looked a lot like today would be a day where #1 above applied. It seemed that every time I did get on, there was nothing to be heard except a couple stations who were so weak, I couldn't even copy all their call signs. After a busy first couple hours to start the day I started checking the bands at least once an hour with the same negative results. I persisted though and finally 17 meters opened up a bit and I found PJ4/PA3BWK around 1830Z or so. He would peak at S5 to S6 but was mostly down around S3 or less. I figured if I could catch him on a peak, I'd have a chance. However it seemed that he would be strong in the middle of his CQ, then inevitably fade down as he ended the CQ. So I would be calling on a downswing in propagation. I did get a brief K3? and K3WW? once, but got no further. That did encourage me though, and I continued calling. Finally at 1854Z, I got a weak K3WWP 599, and responded with TU 599 599. He sent K3WWP 599 again, and I responded with TU 599. Finally I got a CFM TU and breathed a sigh of relief as another DX day went in the log.

If all days become that hard, I'm not sure I want to continue, but I probably will as the harder it is, the more satisfaction is derived from the contact when I do make it.

Oh, had I not known PA3BWK to be a very good op, I might have not persisted like I did. You've got to know who is good and who is not when conditions get borderline as they are now. The good ops will stick with you as long as feasible to get it right. -30-


---

Thu Aug 31 2017 9:01PM - Once again the question is asked, "Will this be the day the DX streak ends?" Conditions were horrible tonight. Only heard a couple weak DX stations and the one I called wasn't hearing me at all.

It was even a struggle to get my regular streak QSO, but I did. I worked a POTA station - N5PHT and also W4USR who was running 700 watts. He went from S9+ to nothing in just two rounds of our QSO.

A lot of end of the month things today, and about all that is left is putting my August weather records in my Excel database and a trip to the bank in the morning. I think I'll do the weather when I finish this diary entry and get it uploaded. I'm just looking at my weather log here and it looks like August will wind up a very dry month, perhaps even record dry at just around 1.5 inches. The temperature may be a couple degrees below normal, but that's just a guess till I get it all figured. -30-


---

Wed Aug 30 2017 9:12PM - With the working of TG9ADM at 0100Z on 30M another month of my streaks is closed out. I was hoping to get my DX this evening so now I can upload my August QSOs to LoTW and eQSL after I finish this diary update.

Not a whole lot going on today. I did put a new roof on my thermometer shelter this morning. That should protect it better for the upcoming w#$ter season. -30-


---

Tue Aug 29 2017 8:45AM - Yes, AM. I'm up early today. I find I just can't sleep in as long as I used to. They say as you get older, you need less sleep. I guess that's true as I'm definitely getting older.

Anyway, I thought I'd get to the pictures I talked about. First a couple of pictures from our Skyview visit. This first one was taken by Drew W3FFZ. I'm not sure who took the second one with Mike's camera. Our KX3/KX2 rigs look kind of lost among the Skyview collection of gear. Oh, our revised total after all logs were in was 45 QSOs in 24 SPCs.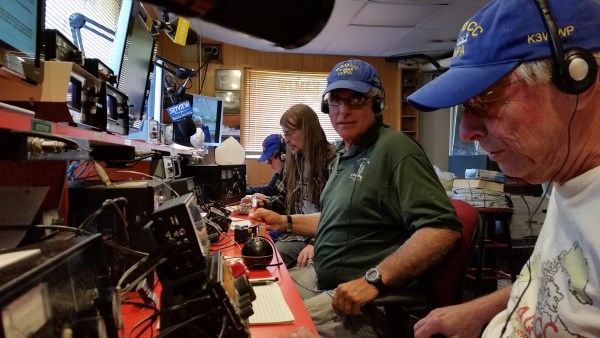 That's front to back: K3WWP (See, I told you I'm getting older) KC2EGL AB3RU WB3FAE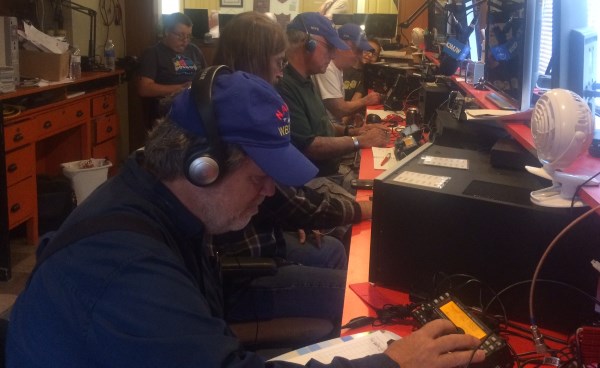 And in reverse with a couple of young visitors in the background, one of whom is just peeking around my hat. I do vaguely remember being that young. It was nice.


Let's move on now. Yesterday when I went out on the porch to get the mail, I found a box there. I hadn't ordered anything so it came as a surprise. I opened it up and in a sea of crumpled newspapers I found an enclosed letter from Paul W4KLY which read in part:

"Hi John, Dick Baxter, K5TF, one of our North Georgia QRP Club (NOGAQRP) members brought up your name, call and your passion for Ham Radio as a topic of discussion at our most recent North Georgia QRP Club (NOGAQRP) meeting. We admire what you bring to our great hobby and thought it was fitting for us to present you one of our NOGA KX3/PX3 Combo Stands in recognition of your accomplishments."

I immediately wrote a letter of thanks to W4KLY and told him to pass the thanks along to the club members. I explained in the letter that since I had designed and built my own KX3/PX3 stand in early 2016 for my home station, that the one they sent would be ideal for my portable operations since it is more compact and weighs less than mine.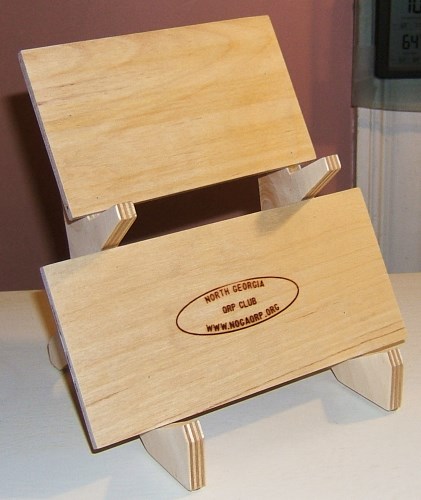 If you would be interested in getting such a stand, visit the NOGAQRP site for more info. Just do a Bing search for "noga qrp club".

Thanks publicly to all those involved in getting me such a wonderful gift.

And just because I now am well within my Windstream bandwidth, here's a sunset picture to close this entry.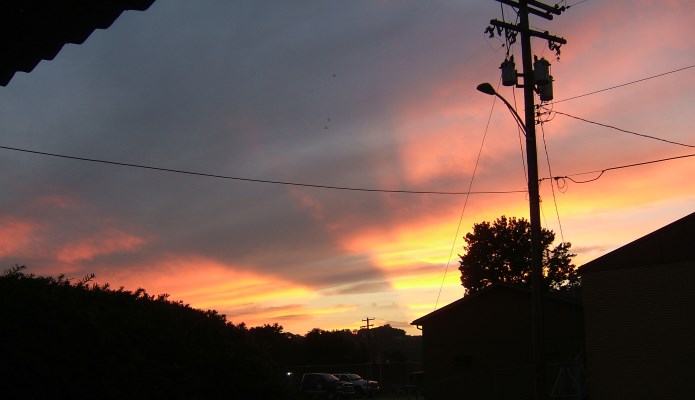 -30-


---

Mon Aug 28 2017 9:07PM - I keep getting more pictures I want to post in the diary, but I'm getting close to my bandwidth limit on the Windstream server. So I'm going to archive the last half of July's diary entries a couple days early and try to get caught up with the pictures in tomorrow's entry.

The DX was easy this evening. Old standby David XE1XR was strong on 20 when I got to the shack at 0000Z. He worked a couple other stations, then it was my turn.

OK, now I'm going to do the archiving and lower my Windstream bandwidth for the pictures tomorrow. -30-


---

Sun Aug 27 2017 7:19PM - A great time was had by all today at the Skyview Radio Society clubhouse playing QRP with their big antenna farm. Ops were me, KC2EGL, WB3FAE, AB3RU with W3FFZ and K3JZD around also. In addition to them it was nice to see the other Skyview members, none of whom have the bias against CW/QRP that some hams seem to have. They are all very supportive of and helpful with our CW/QRP operation whenever we go there. Thanks especially to Bob WC3O who had all the antennas and filters ready for us when we got there. All we had to do was plug into their power pole bus and connect the antennas to our rigs and start operating.

The four of us made (I believe) 49 QSOs in 22+ SPCs. I still need the log from WB3FAE to make an exact count which I will get and do. Mike worked Asiatic Russia and Slovenia on 20 meters with their 6 element beam. Considering the poor conditions of late, I think that was quite good. I stayed on 40 the whole time I operated. I guess my best "DX" was Oklahoma.

Several pictures were taken, but I'm going to have to wait to post them in the diary. First of all, I haven't gotten them all yet, and also I'm close to my bandwidth limit on Windstream until I archive the diary entries and pictures from the last half of July which I will do at the end of August.

Oh, I did get my DX QSO easily last evening from TG9AFX on 30 meters. -30-


---

Sat Aug 26 2017 6:20PM - Just sitting here awaiting the morning and our annual trek to the Skyview Radio Society near New Kensington, PA to hook our little QRP rigs to their big antenna farm. We're shooting to have four bands active simultaneously - 7041, 10117, 14059, and 18089. We'll use N3AQC and call CQ for the first 30-45 minutes of each hour depending on responses. Then the op will have the option of doing whatever he wishes for the remainder of the hour. At the end of the hour we'll rotate ops and repeat the pattern. That way, each op can get to operate each band. We'll start as soon after 1200Z as we can and continue up until around 1800Z or until the Skyview folks throw us out, whichever comes first. HI. Hope to work you sometime on some band.

I checked the bands last night just before going to bed and found the Hawaii QSO Party in progress with S5 to S6 signals from Hawaii on 20 meters. My Hawaii pipeline apparently is in need of repair as 3 stations I tried weren't hearing me. However they did have pileups so that may have been the reason. I did work KH6CJJ finally though. It was fairly easy with just a couple repeats of my call and state even though he was only S5. So I guess the pipeline does still work. Hopefully I can get a DX QSO this evening so I won't have to worry about it during the day tomorrow. Maybe another Hawaiin?

Oh, here's a picture of one of the switches I used in the jumper dipole as described in yesterday's diary entry.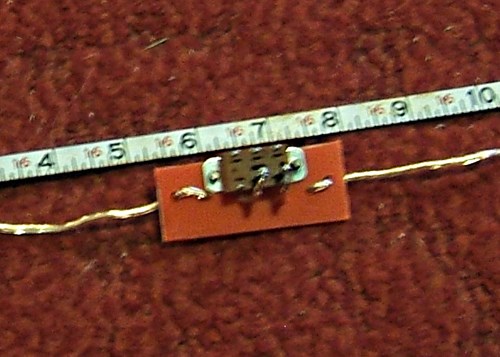 -30-


---

Fri Aug 25 2017 8:53PM - No need to chew me out. Here's the info on the jumper dipole I use for portable operation. It was originally built by me and Mike back in late 2010 and based on an antenna that Don K3RLL uses. The construction article is in NAQCC Newsletter # 129 from October 2010. You can read the article and see pictures of the construction here. Since then, I've modified mine quite a bit. For the center insulator/connector I now use a SO-239 mounted on a piece of plexiglass to which I attach my coax line to the KX3. Instead of the alligator clips in the article, I now use small slide switches as the jumpers. I tweaked the lengths of the wire segments a bit. They no longer need the extra inches to connect to the alligator clips as described in the newsletter. I have the current lengths somewhere around here, but I don't know just where right now. I'll try to find them. Actually I believe they are very close to those measurements in the table in the article. Also somewhere I have pictures of the antenna with the slide switches which I'll try to find and post here. I think I did post them in the diary and/or in a NAQCC newsletter, but I can't seem to find them. That happens a lot when you get older and have gathered too much stuff over the years.

Tonight was one of those DXless nights again. I liken the DX signals on the PX3 to looking out over a somewhat rough sea watching a small cork bob in and out of view. That's similar to what the DX signals were doing in the noise "waves" on the PX3 screen. Very weak signals except for WP4L who was booming in, but doing some S&P working DX of his own and never calling CQ himself. So tomorrow will have as much time as needed devoted to trying to find and work some DX, I guess. -30-


---

Thu Aug 24 2017 8:43PM - A quick DX streak QSO this evening at 0004Z keeps the streak going at 1,639 straight days now. I remember with a chuckle how way back in 1995 I thought it was really something to have worked DX for 17 straight days. Wow! Then I topped that with 81 days in 1999-2000 and was really proud to have done that. On what would have been the 82nd day, I couldn't work any DX, but picked it up the next day and ran off 154 more days. I didn't try a DX streak again until 2011 when I did 120 days. Thinking of those streaks makes me realize the big difference between them and the current one. Why is this one so much longer? Am I a better more knowledgable DXer now? I should be since everyone does or should learn things with experience and I've had a lot of it now at 72 years of age. That's a factor, I'm sure. However I think probably the biggest factor is having a PX3 to assist me in examining the bands. What a time saver that is. It doesn't hurt having a KX3 either, although except for the first streak when I used a homebrew transmitter, my other rigs were only a very slight bit below the KX3 in performance. As I've said over and over, my style of operating hasn't changed. I never use or used spotting of any kind. No reverse beacons or any other type of computer assistance in working or finding any of my DX. So I would rate the PX3 as the number 1 reason for the length of the current streak. A close second would be the experience gained in DXing over the years. And then I've always been stubborn when pursuing a challenge of any kind and don't give up without a fight. I think that contributes also.

I've had a couple questions about the jumper dipole that I use for portable operation. It was described in a NAQCC newsletter a few years ago which included pictures. If I don't forget, I'll look up that newsletter and include a link to it here in the diary. Also I'll try to write a bit about the updates I've made to it since then. If you don't see it in tomorrow's entry, you email me and chew me out. HI.

Now I've got to get my weather readings, do a few other things, and then take Roscoe out for another walk or two.

First though, I was thinking this while on the air a while ago. August is a great month except for one major thing. Except for September and early October, it gets darker quicker and earlier each evening. Tonight with the help of overcast skies, it was completely dark at 8:35PM. It wasn't long ago it was light well past 9:00PM. The change is dramatic. On August 1, the official sunset is at 8:33:06 PM, while on August 31 it is 7:51:00 PM. That's 42 minutes earlier or about 1 minute and 20 seconds earlier each day. In September it goes from 7:49:23 PM to 7:00:41 PM or about 49 minutes or about a little over 1 minute 35 seconds per day, not all that much worse than August. I never figured that out before and I find it interesting the rate of change is not all that different in the two months. -30-


---

Wed Aug 23 2017 11:28AM - This is pizza night with Mike, so I'll write my diary entry now.

Last night was one of those 0000Z DX QSOs from CO2AME on 20 meters. It's always good to get the streak taken care of quickly. It's really becoming interesting to see how far the streak is going to progress as the sunspot cycle progresses (regresses?) toward the next minimum within the next couple years. There have been some close calls, but no failures (yet). I honestly do expect the inevitable to happen before a whole lot longer. I don't know if it will actually be conditions that end the streak. It might be that a lot of DX stations abandon the bands expecting that conditions will be so bad it would be a waste of time getting on the air. They might even take a break from ham radio until we get through the minimum. We'll have to see which scenario is true. There have been days when I called several stations with no response whatsover. But there have also been days when I just couldn't find anyone to work. Of course on both kinds of days I did eventually find and work someone to continue the streak.

A few days ago, Henry K1WCC signed my new guestbook. That call struck a familiar note, and I emailed him asking if it had some connection to the coastal station WCC. I'll repeat his answer here.

"Tnx, John, yes you are right, it is. When I was a youngster back in the early 60's, we lived close to Chatham and the 500 kc. signal of WCC/ChathamRadio would spill into the AM band in two spots. I started to write down the dots/dashes and convert them. That worked but eventually learned to copy, they sent at about 15 WPM. What they would send continuously were ship traffic lists, lists that indicated they had traffic for particular ships. They would send a string of V's, then DE WCC then info on where they were listening and the callsigns of the ships. I was an swl for a long time and finally got licensed, and when the vanity call program came along, I pounced on k1wcc and was amazed no other Capie took it, and I was a General at the time. There is a WCC Museum down in Chatham that is worth seeing but their amateur callsign is WA1WCC. As you know, k1wcc is a good CW call. It's got a nice swing when sent."

I used to love to log the short wave coastal stations on CW before they pretty much totally abandoned the mode. I also liked to listen to 500 kHz and log the activity there also. Sadly, that's gone also. I haven't really checked the short wave coastal bands in perhaps some 20-25 years so maybe there is still some CW activity. I don't know.

I think when I get time, I'll dig out my old non-ham radio logs and do some reminiscing. Perhaps I'll devote a few diary entries to my SWL activities over the next couple months or so.

Let's see what other diary/web site related emails I have here.

Here's one from Roger AE4RM who is starting a streak of his own and wants to know if he can use some of my ideas about tracking his streak. I need to answer him and tell him sure if he gives me credit for the ideas.

That's true for any of you. If you want to copy anything from my web site, just give me credit and provide a link to my web site. That's all I ask. I don't think that's too much.

Mike N4VBV, a long time diary reader sent this note and picture:

John, After reading your lamp's history, saw this at Walmart today and thought you'd like a chuckle.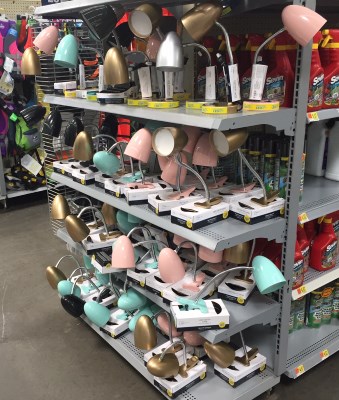 New diary readers might miss the significance of the statement and picture. I guess it's best explained by referring you to here.

I think that gets me caught up on diary related emails for now. It's always nice to hear from you with your comments either via email or in the guestbook. I don't do social media like Facebook, etc. at all here. There's too much of a chance of that leading to nastiness or trouble. I'd sooner sit on my front porch and talk with friends. Remember those days? Computers, smart phones, etc. have robbed us to a large extent of those wonderful times. Sigh! -30-


---

Tue Aug 22 2017 10:53AM - With fingers on keyboard and tongue somewhat in cheek, I offer the following.

I think IOTA started it many years ago for working stations on islands. Then I don't know in what order came SOTA for summits, NPOTA for national parks, POTA for parks in general. Of course they don't have the OTA included in their official titles, but there are also working countries (entities), continents, states, zones, counties..... the list goes on and on really almost to the point of overkill.

I'd like to offer the following 26 "OTAs" to the list (one for each letter of the alphabet) that Mike and I came up with killing time before, during, and after the Skeeter Hunt on Sunday :

AOTA - Avenues On The Air
BOTA - Ballparks On The Air
COTA - Cloverleafs On The Air
DOTA - Depressions On The Air
EOTA - Eating Places On The Air
FOTA - Farms On The Air
GOTA - Grocery Stores On The Air
HOTA - Hotels On The Air
IOTA - Industrial Parks On The Air
JOTA - Junkyards On The Air
KOTA - Kmarts On The Air
LOTA - Libraries On The Air
MOTA - Malls On The Air
NOTA - National Monuments On The Air
OOTA - Overpasses On The Air
POTA - Plazas On The Air
QOTA - Quays On The Air
ROTA - Rest Stops On The Air
SOTA - Streams On The Air
TOTA - Tributaries On The Air
UOTA - Underpasses On The Air
VOTA - Villages On The Air
WOTA - Water Towers On The Air
XOTA - Xenoliths On The Air
YOTA - Yard Sales On The Air
ZOTA - Zip Codes On The Air
I wouldn't be surprised with the proliferation of OTAs lately that some of those show up as actual activities. Hey, maybe Mike and I can get a free meal by giving some eating places publicity by doing an EOTA activity at a Wendy's, Burger King, Ponderosa, Vocelli's, etc. -30-


---

Mon Aug 21 2017 6:48PM - Things didn't go easily today, but they went. After predicting for the past several days that it would be sunny today for the eclipse, the forecast was changed to partly sunny with scattered showers or thundershowers. When the clouds did develop I decided against setting up my scope and just go with pinhole projection instead. There were enough breaks in the clouds for that to work and I got this picture. It's not all that good because I was juggling the camera and the card with the pinhole in it while trying to take the picture. At least it shows the eclipse in its very early stages.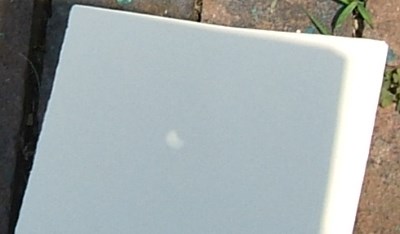 It was now looking like the clear spots were taking over, so I went to plan B an did some projection work with my 10x50 binoculars. That turned out very nice. Unfortunately I didn't have a stand for the binoculars and couldn't hold them steady enough for a picture. At least that afforded some nice views for me and my neighbor.

I was disappointed in not getting any good pictures so far and decided I would set up my scope. Almost as soon as I did though, the skies darkened and looked very much like they were going to scatter one of those showers right on us. That was right around the time of maximum eclipse naturally. So I took the scope back inside and got a mid-afternoon snack. Oh, it was possible to notice the general darkening due to the eclipse. I found that interesting. It wasn't much, but it was definitely perceptible even with the clouds contributing their darkening also.

Naturally while I was eating, the skies parted again. So back out with the scope for some hurried pictures till it clouded up again. They didn't turn out all that well because I was hurrying. The first one here shows the sun from the back of the little projection screen. The second one looked very nice, but in my haste, I didn't focus properly and the image of the sun bloomed noticeably. Still I've got a permanent record of today's eclipse.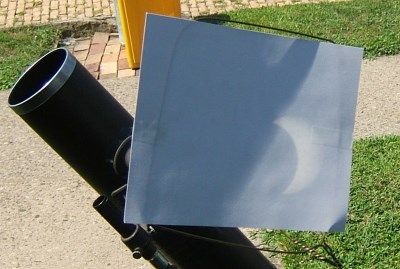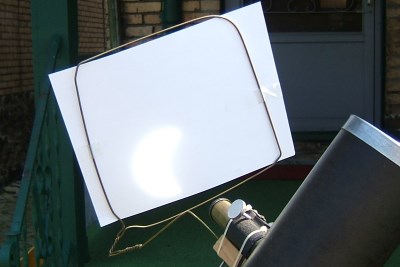 Almost as it was for day # 1,600 of the streak back in July, today also looked very certain to be a day without DX. The only usable band for DX was 20 and it was full of Solar Eclipse QSO Party stations, just about all of them USA or Canada. There was one G station in the test, but he wasn't hearing me at all. Other than that, a German special event station who likewise wasn't hearing me, and a couple other weak unID stations comprised a short list of what I was hearing in the way of DX. It was that way for several periodic checks of the band(s) until around 2130Z when some signals from EU were picking up in strength. Still no luck working them though. That is until I got a ? from IK1QHB, then after sending my call two more times, Paul from near Genova copied me solidly and the DX streak goes on. Whew!

I promised more about the Skeeter Hunt so here are some pictures with labels.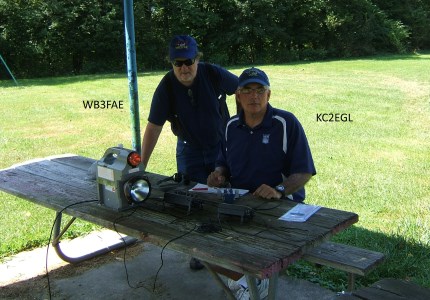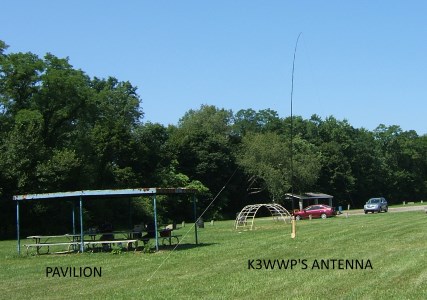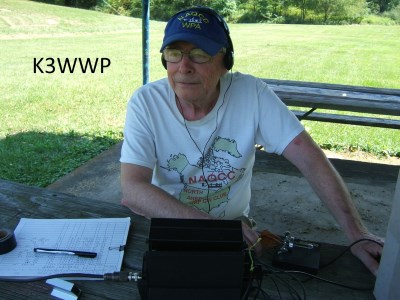 More tomorrow. That's it for now. -30-


---

Sun Aug 20 2017 9:07PM - A great day in the Skeeter Hunt. The bands weren't all that good and it was a struggle to make 46 QSOs in 19 SPCs. That was secondary to the fun and fellowship among Mike, Tom, and me though. I'll have more to say about the Hunt in a future entry and include some pictures.

Speaking of pictures, I used one from today to modify the main logo on my home page. Tom took that and I really like it.

It looks like tomorrow will have an extra activity besides laundry and watching the eclipse. I just could not get any DX stations to hear me at all this evening. Mike was still here and he had the same lack of luck with DX. So I'll have to spend time in the shack in the morning and afternoon looking for my DX Streak QSO. -30-


---

Sat Aug 19 2017 8:40PM - This was one of those evenings I really wanted to get my DX QSO since Mike will be visiting a good part of the day tomorrow. We've got plans for a Ponderosa breakfast at the remaining Ponderosa in the area in Butler. Then back here to Kittanning and up to the Community Park for the Skeeter Hunt from 1700-2100Z. Tom WB3FAE will be joining us for that. It will be a NAQCC WPA effort using the club call of N3AQC. Then after that we'll be doing something till he has to head home. Perhaps set up for my eclipse watching tomorrow. Mike has to work, but he'll take his astronomy binoculars with the solar filter with him on his mail route. I'll use some sort of projection system be it pinhole, binoculars, or my old 4 inch telescoper which I used for the Mercury transit a couple years ago.

DX? Oh yes, I did get it. I could barely copy WP4L through some local QRN but we made the QSO on 30 meters for the continuation of the streak. Also that was my 24th 30M QSO so far this month. Looks like I should be able to get another NAQCC 30-30 award if I get 6 30M QSOs before the end of the month.

With the QSO in the log, I was able to get my portable operation kit all packed except for a couple minor items I still need tonight. I'll pack them in the morning. Looks like a great day on tap after we had a pretty heavy thunderstorm late this afternoon. -30-


---

Fri Aug 18 2017 8:43AM - This may be the earliest in the day I have ever written a diary entry, but I did want tell this story while still fresh in my mind and before I forget it with my slipping away 72 year old memory. HI

Sometime last night after the (non-)QSO I mentioned in last night's diary entry, I decided since conditions were so terrible and didn't look to be getting any better today that I'd email Nelson NP4LW who was the ham in question about the QSO just to see what he would say. So this morning I did just that about 15 minutes ago.

After that I went to the shack to check conditions. They did seem just as horrible as last night. There was one station on 20 meters just below my S3 noise level that I could hear, but not copy. I tried 17M and it was totally devoid of CW signals. I thought I'd try 30 meters, but I stopped at 20 on the way there and found a little stronger signal calling CQ. I crossed my fingers and hoped when he sent his call, it started with something other than A,K,N,W. Well it did. It was an X (E3ARV). I called a couple times and got no reply. A couple more times and got K3?. Three more times and Bob got my call, I got my DX QSO for day 1,632. Big sigh of relief.

So that, along with some rain overnight freed up today from chasing DX and watering gardens. Freed up for what, I don't know yet though. Nothing special planned except a shopping trip to pick up some groceries on sale starting today. I'll find something elso to do though.

While I'm typing, I'll mention this. I received an email from my friend Bob W3BBO mentioning that he checked my call on some Reverse Beacon Network. I knew about the RBN, but NEVER used it nor ever have any plans to do so. I consider it akin to spotting which I also NEVER use. Nothing against those who do use things like that, but they are just not a part of my style of doing ham radio. The only concession I make to modern technology is using a panadapter to save time when exploring the bands. When I get older, I don't know how much time I have left and don't want to waste it laboriously tuning the bands when I can just see the activity at a glance and check out the peaks that I do see. I'll never use anything like Skimmer (I think that's the name) which prints out the calls on the peaks on the screen.

To me, ham radio is like it was when I was a Novice, then General back in the 1960's where you fired up the station and tuned around the bands to find someone to work or to find a clear spot to call CQ. With the one exception of the panadapter it has always been that way with me, and always will be.

Oh, here's an excerpt from Bob's email. ".......I typed in your call [in the RBN] and it shows your activity on the bands for the past year. At first glance, I see I could probably find K3WWP on the air sometime between 00:00 and 01:00. No sense looking for John between 04:00 and 12:00 though. Hi. ....... Hope to work you guys in the Skeeter Hunt on Sunday."

Oh yes, the Skeeter Hunt. I'm looking forward to that on Sunday, then viewing the solar eclipse on Monday. Right now, the forecast for both days calls for sunny weather, although a bit hot, especially Monday. I hope you'll try to work Mike and me, and maybe Tom on Sunday. We'll be using the NAQCC club call of N3AQC from 1700-2100 probably only on 40 and 20 meters. I doubt 15 or 10 will be open. -30-


---

Thu Aug 17 2017 8:49PM - I may have to dig out that premature DX streak obituary I wrote just abou exactly a month ago and change the month from Jul to Aug to update it. Conditions are really the pits this evening.

Actually I did work a DX station, but after over 5 minutes of trying, he never did get my call right so I can't count it as a QSO. I'm just trying to remember some of the wrong calls he had. There were JAW, LWP, something with a G in it, and K3?, K3W?, and a couple others. I've said before I hate to have the streak end that way, knowing I made contact, but not being able to count the QSO. So hopefully conditions will improve by morning or afternoon.

That's about all I feel like writing now. -30-


---

Wed Aug 16 2017 9:05PM - Not a lot going on today other than a shopping trip to Walmart. Since I rely on someone else to take me up to the mall, I try to get as much as I can in one trip so they take a little longer than my usual walking shopping trips to stores here in downtown Kittanning.

Anyway I'm pretty much stocked up with items I can only get at Walmart for another month or so. I try to only schedule a trip there once a month or so. If I need another single item, Mike will usually stop there with me after we visit one of our eating establishments.

The bands were a bit rough tonight, but the streaks go on. I got an answer to my CQ from K0HNL who was quite strong here, but after I sent my info, he never came back to me, so I had to scratch that QSO. Then I worked KC9AWL down in Florida. It was a tough QSO, but we made a good one out of it. About the only DX station I heard was NP4AW on 40, and it only took a couple calls to get him solidly in the log.

It's going to be a busy next 10 days or so with the Skeeter Hunt on the 20th, the solar eclipse on the 21st, pizza night with Mike on the 23, and a trip to Skyview on the 27th. Whew! A lot of fun packed into a short period of time. -30-


---