---
Mon Jan 28 2020 7:51PM - It was a very good day today. I'm going to let Mike give his thoughts on the day, then I may add some more, or maybe not. Now, here's Mike.

Good evening everyone. Our day started around 9:45AM when I arrived at John's QTH. I would have arrived earlier but due to a accident on RTE 28 where I turn off to get to Kittanning I decided to run 2 errands in the shopping center in West Kittanning since I had to detour in that direction. We sat and chatted a bit before John pulled out a Chirstmas gift he got from his neighbor Bruce. A drone. We went over the instrutions as I attached the blade protectors. Found out how to charge the battery and put batteries in the controler. While the main battery was charging we tried a few block puzzles on the computer followed by a few train runs. After the battery charged we installed it in the drone. You get approximately 7 minutes of flight time with a charge that takes an hour and a half. We tested it out in his living room to make sure it powered up properly. It needs a bit of fine tuning, as do most small drones due to the very small gyroscope in them. The gyroscope of a CH 47 is bigger than a basketball in order to keep a helicopter that large controlable. It doesn't need the extra fine tuning that a drone needs. I learned about this from a gentleman who used to fly life flight from the Brookville Hospital. We will wait for much warmer weather before we head outdoors and run it through its paces. After the drone and a Roscoe walk we had a late lunch/early dinner which John will go over. Later in the afternoon we tried our hand at a Sherlock Holmes game followed by John's daily QSO.

Thats all I have for now. de Mike KC2EGL 73.

Thanks Mike. About the dinner. On Christmas night when Mike and I and Jasmine took our Christmas lights tour, I wanted to get both of them something to eat, but we ran out of time plus had a tough time finding an eating place that was open. So, I said the next time the three of us got together, I would treat both of them to a meal. That was today. I arranged with Jasmine to join us when she got home from school. She came over around 3:30 and we decided what to eat, namely a pizza. So Mike ordered one and went to pick it up. While he was gone, Jasmine and I talked and played computer games. When he got home with the pizza, we finished that off pretty quickly. Then I had a surprise for Jasmine. She mentioned wanting ice cream on our lights tour, so Mike and I got a quart of Neopolitan ice cream, and after we finished the pizza, I brought out the ice cream and asked what flavor she wanted and she chose a mix of vanilla and chocolate. After the meal, Jasmine and I played some more computer games until it was time for her to go home. Mike completed the rest of the day in his part of the diary. So 73 for now. -30-


---

Sun Jan 17 2021 7:15PM - It was a good day today despite the light coating of s@#w overnight. The temperature in the upper 30s quickly took care of the ugly white stuff. Now we're back to bare ground again.

I just started my laundry. It's nice to have the SST sprint Sunday evening so I can get a quick streak QSO and then do my laundry and keep Monday mornings free for something else. I worked the same station tonight I worked last Sunday evening, N2GG Gil in NM on 40 meters.

Really looking forward to tomorrow. I told you a couple evenings ago, I was working on a couple projects to do with Mike when he visits tomorrow. My neighbor gave me a drone for Christmas, and if the weather is nice, we might put it together and try it out. Of course, we'll be playing ham radio and trains throughout the day. Then after school, I'll be able to keep a promise I made to Jasmine and Mike on our Christmas night lights tour. We didn't have time to get something to eat then, and I said the next time we all three are together, I'd get us all something to eat. I cleared it with Jasmine late this afternoon. I didn't realize her school didn't have MLK day off so we had to juggle the schedule a bit.

Sounds like a real great day, doesn't it?

My memory is just not what it used to be. I forgot to include one other really good thing that happened today. I got a call from Tom Mitchell WY3H. That's the first time we talked in several months. He is doing well despite his health problems and a bout with Covid19 in December. He said to say hello to everyone. I know some of you diary readers know Tom so you are included in the everyone. -30-


---

Sat Jan 16 2021 7:13PM - Again nothing much going on today. I took care of my second half of the month bills with a trip to the PO. Kind of chilly today but good walking weather.

The HA DX contest provided a pretty quick QSO. It's an everybody works everybody contest so I worked N3DXX on 40. -30-


---

Fri Jan 15 2021 7:39PM - Another quiet day today with spring like rainy cool temperatures. I can't even remember anything out of the ordinary I did today except got caught up on logging my LoTW matches.

Looking forward to a visit from Mike on Monday. Still working on a couple plans for projects that day. I hope to have more to say about them in tomorrow's or Sunday's diary entries.

It took a little while to get my QSO tonight, but not all that long as I worked KI4XH on 40 meters at 0011Z. -30-


---

Thu Jan 14 2021 7:23PM - A quiet day today. Just did some house cleaning and some computer gaming. Running trains took up some time also.

A quick streak QSO tonight at 0005Z, only 2 minutes after I turned the rig on. I worked AA4WW in KY on 80 meters in a short QSO. That actually pretty much summed up my day. Ho Hum.

Oh, today marks the mid point of winter. Just about 45 days to go now. Let's hope for a second half as nice as the first. -30-


---

Wed Jan 13 2021 7:47PM - This was a good day in many ways. Still no s@#w on the ground which is always good.

Also working an old friend for my streak QSO is always good. Tonight it was Vic K9UIY. We first worked on September 20, 1964 in a contest on 40 meters. So he's definitely a member of my 50 Years Club for folks with whom I've had QSOs more than 50 years apart. I'll have to update the club numbers sometime.

Late in the afternoon, I went to pick up my monthly Senior Box Food Bank box of food, and then did some shopping at our Sprankle's grocery store.

When we got home I ran into Jasmine who was taking care of their Food Bank boxes, and got a chance to visit for a few minutes. She brings what they don't use from the boxes over to me. When she did, I asked her to stay for a couple minutes and I showed her the game Bricks I talked about yesterday. She seemed very interested in it and I hope she'll find time to come over and try it out. -30-


---

Tue Jan 12 2021 7:33PM - A busy day today with a lot of little things, but no big projects. I did some house cleaning, especially cleaning some tile floors. It's amazing how dirt builds up so gradually, you don't even notice it. Then when you clean it, the difference is quick and astounding. I also did some more work on my digital photo collection. Although I didn't see her today, Jasmine has gotten my interest in puzzles at a comeback. Years ago around 1999, I was hooked on a game called "Bricks", a computer game written by Andreas Rottler in Germany. I did quite well at it and for a time I held some world records on it till the smarter folks came along and wiped them out. My name is still listed as one time record holder though. Also since I was there in the early days of the game and communicated with Andreas about the game several times, he has my name listed on the main program screen for whatever reason. It's a derivative of the Polish game Klotski that used wooden blocks, and Microsoft made a digital version of Klotski also. Anyway I'm getting back into them as of today and I'd like to find out what Jasmine thinks of it and how she does with it when she has time out of a very busy teenager schedule. If it sounds like something you'd be interested in, here's a link to Bricks and to Klotski.

There were also a few other things I did today, but I won't mention all of them except for one. In addition to this web site diary, I also keep another diary with more personal stuff in it. I worked on that quite a bit today getting caught up on things in hopes of making it more of a true diary with daily entries. I won't be saying anything more about that. I just want to let you know I also have other things going for me besides what I report here in this on-line diary.

It was a bit tough on the bands tonight. Conditions weren't that bad, but just about everyone I heard was engaged in a QSO or in a net or looking for members of a club of which I am not a member. I finally did hear and work W9IK in IL on 40 though to keep the streak going. Incidentally I've been meaning to mention this for a while, but I am now within a year of reaching the 10,000 day mark in the streak if I make it that far. Let's see, it's now 341 more days to go if my math is right. -30-


---

Mon Jan 11 2021 7:57PM - Today was a good day with nice weather. You know, it's been so long since we've had s#$w on the ground, I almost can't remember what it looks like. I don't keep track of s@#wfall here, but if memory serves, we haven't had any on the ground at all this year. Well, except for a brief trace that fell this morning and was gone before you could say, "begone, evil white stuff!" That is extremely rare as s#$w usually starts in earnest here right after the first of the year.

I worked an old friend with a similar call tonight for my streak QSO. Jim K4WOP answered my 80 meters CQ and we chatted for 33 minutes. I like those kind of long QSOs. I used my bug for the whole QSO. I had been away from it for several days for some reason.

My friend Jasmine visited after school today. We worked on an old wooden Saturn puzzle I got as a kid many years ago. Or should that be MANY MANY YEARS? HI. Here's a picture of the Saturn puzzle which we couldn't quite finish before she had to go home. Next to it is a 3D jigsaw puzzle we are also working on. We didn't have a chance to work at it today.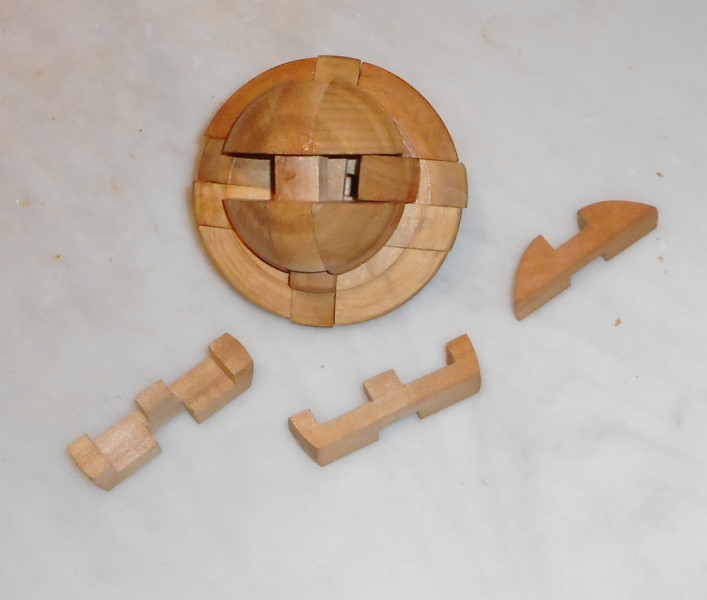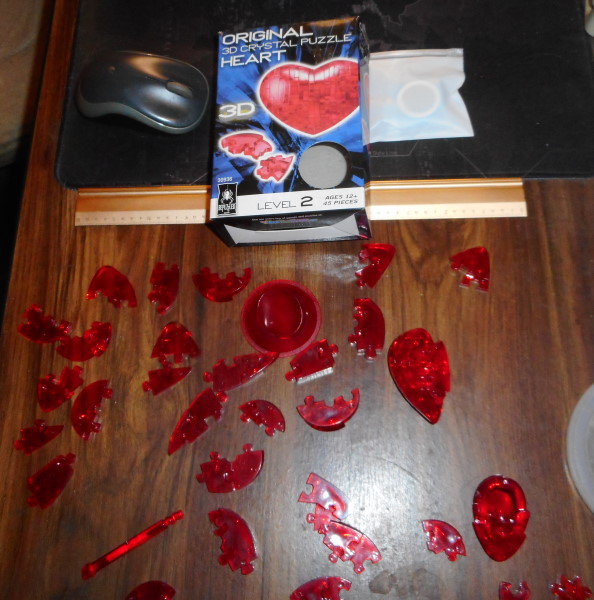 -30-


---

Sun Jan 10 2021 7:10PM - I think the number of stupid things we do increases exponentially with age. I just noticed the previous 5 or so diary entries had the year as 2020 instead of 2021. I'm amazed and a little disappointed that no one noticed that and pointed it out to me, especially Mike KC2EGL. But then, he's getting old too. HI

Anyway that's fixed now, and I can go looking to see what else stupid I've done lately. I know some, but I'm not going into them.

It was a pretty nice day today, even a little better than yesterday. The weather was nice enough that I went for my first walking shopping trip of the year this afternoon in the sunny low 40 degree weather.

Of course every Monday (UTC) as of now starts with the SST sprint providing an easy streak QSO. Tonight it was N2GG in NM on 40 meters.

That sums up today to this point as I'm updating my web site and doing my laundry. -30-


---

Sat Jan 9 2021 7:04PM - I won't go into details, but it was not the best of days here. At least the NAQP provided me with a quick QSO at 0001Z when I worked N4CW in NC on 40 meters.

Well, I guess the weather was pretty good also. A lot of sun with temperatures in the low 40s and no precip of any kind. -30-


---

Fri Jan 8 2021 7:23PM - I made it a busy day for myself. I did a lot of work on my weather records and now am pretty much up to date on all of them. I computed the new normal records which will used from now through 2030 if I'm around that long. HI They are based on all the readings from 1991 through 2020. It was interesting to see that this set of normals vs. the last set from 1981 through 2010 were all pretty much in the range of 1 to 1.5 or 2 degrees higher. Global warming, but probable not long-time, more like that back in the 1930s. Precipitation normals are about the same for both periods, maybe a tad higher for this new set. I'll have to examine all the records a little more closely. I just computed them today.

I'm also in the middle of getting caught up on my logging of LoTW and eQSL matches. I kind of let it slip a bit since I had such a good and busy December and first few days of January.

The bands were tricky tonight and I thought maybe I'd have to wait for the NAQP tomorrow afternoon for my streak QSO. However I finally found W0DY in OK calling CQ on 40 and worked him. It was a QRP-QRO QSO. I was of course at my usual 5 watts, and he was running 500 watts.

Think I'll go back to logging LoTW matches now. -30-


---

Thu Jan 7 2021 6:54PM - A brighter day today with some nice sunshine and some continuing clear skies tonight. I just went for a short walk outside and Orion was well up in the sky over in the east. It really lifts the spirit especially when you can also spend a little time with a friend as well.

Just getting ready to head to the shack for the streak QSO and thought I'd post a short diary entry while I am waiting. I hope the bands are good tonight and I can get a quick QSO. I'll know in about three minutes from now. -30-


---

Wed Jan 6 2021 7:29PM - A bit rough on the bands tonight, but I made it through. Thanks to Barry WA7WKY in Cincinnati, OH on 80 meters. Barry and I have worked a few times before.

Sometimes boring is good. The Penn State WX crew says we're in a stretch of 'boring' weather. That means little variation in temperature and no precipitation. That doesn't bore me at all. I love it. So far it has been within 30-40 degrees all month so far and virtually all of December's s#$w has now melted. -30-


---

Tue Jan 5 2021 7:48PM - I just emailed Mike about my streak QSO, and to avoid reinventing the wheel, here is pretty much a copy/paste of what I sent.

Just had an interesting streak QSO. I worked KC3PQC who is 13 years old and been licensed for 6 months. I haven't worked anyone that young that I know of for many many years now. Might have been someone in a contest QSO, but not a regular type QSO. He had good CW and good procedure. Sending around 15 WPM or maybe a tad slower. I'm wondering if he has a relative who is a ham. Let's see if I can get a clue from his QRZ listing. Nope, no info there except his last name is Patton and I've worked hams with that last name. There are other hams in his town with the name of Patton. All three live at the same address, one with a call close to his (a brother?), and one with a W3 call (father?). So after a quiet day here, that added a little interest to things.

And that is it for the entry. Not much else to write about. -30-


---

Mon Jan 4 2021 7:28PM - A quiet day again today. Still working on my old digital photos. That's turning into quite a long task, but at least I'm back to 2006 now which is the year I got my first digital camera. Unfortunately I took a LOT of pictures that first year getting used to digital photography.

40 meters was quite busy this evening, but I had trouble getting a QSO as my timing was lousy. I don't know how many times I heard someone just starting a QSO meaning I just missed their CQs. Finally I did work KB0HXL at 0012Z for another day of the streak.

Thanks to Don VA3BOW for sending some info on the puzzle I pictured on the diary yesterday. I'll look at it later when I get the chance. -30-


---

Sun Jan 3 2021 6:25PM - The pattern continues. Today was an UP day after yesterday. It was sad in a way to see Christmas end here. By that I mean it was DD-Day as we used to refer to it at WPIT. De-Decorating Day, that is.

My friend Jasmine came over about 1:00 and we spent a couple hours tearing everything down and boxing it up for next Christmas. She is a very good helper and grasps things quickly like how I like the lights wrapped and things boxed up. After we finished that, we sat down and talked a while. Somehow our talk turned to jigsaws probably because our next get together will involve working one. However knowing she is an extremely intelligent girl, I wanted to see how she would make out with the puzzle pictured here. It's much harder than it looks for normal people.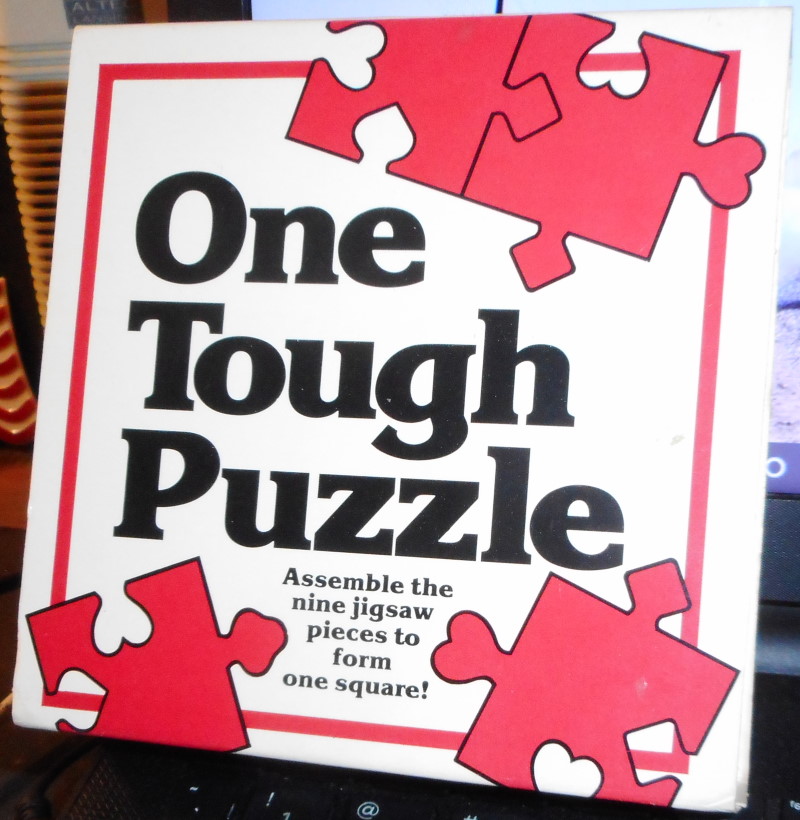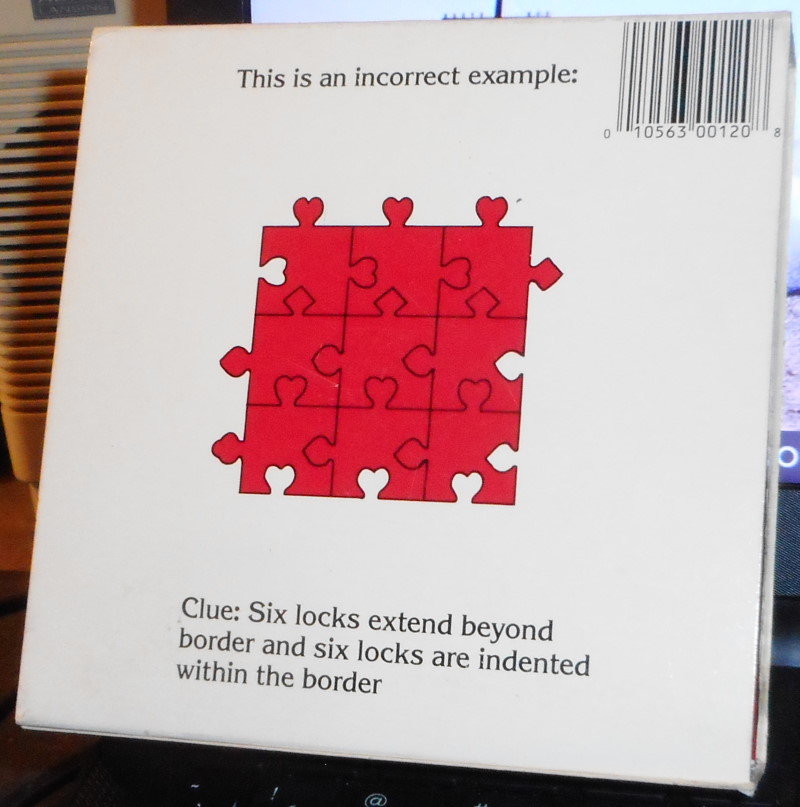 She took it home and 30 minutes later she was at my door saying she solved it and showed me a picture of it completed. I was very impressed and just about speechless. I worked it many years ago, but not by any stretch of the imagination in 30 minutes. I had a little 45 piece 3D jigsaw and next we dug that out and started to assemble it. It was much harder and after a couple hours she had about 1/5 of it finisked while I struggled to get two pieces together. Maybe I'll post a picture of it in tomorrow's entry.

Getting close to streak time now. It should be easy with the SST contest on. Maybe after that though, I'll stick around for a rag chew. I'm not sure right now. -30-


---

Sat Jan 2 2021 7:19PM - Another ho-hum day. It seems the good days and the ho-hum ones alternate here these days.

I got a quick short streak QSO tonight at 0006Z from KC8CJG who didn't have much to say beyond RST, QTH, and NAME. Almost seemed like a contest QSO, but it wasn't. Anyway it was a good enough QSO to continue the streak another day.

And that's really about all to talk about. I'm still working on completing my 2020 weather stats. When I'm done, I'll try to dig out some interesting stats. -30-


---

Fri Jan 1 2021 6:01PM - I wanted to just share a picture with you to start off the new year. No relation to the new year. I just felt like doing it. As regular readers know, my neighbors next door have a cat named Kobe. Many years ago, I had a cat named Tanny. I told them I had a picture of Tanny I wanted to show them, but I didn't know where it was among all the pictures my mother and aunt amassed over the years. Too bad there weren't digital cameras back then. Anyway all these pictures were in film format and occupied about 20 photo albums and several boxes as well. Well, yesterday I was determined I was going to find it. Fortune smiled on me and it was about 1/2 or 2/3 way through the album I started with. I took it out and laid it aside. Then when my friend Jasmine came over last night, the first thing I did was showed it to her. She liked it and asked me some questions about it like what was the cat's name. Enough of a prefix. Here's the picture with a little description following.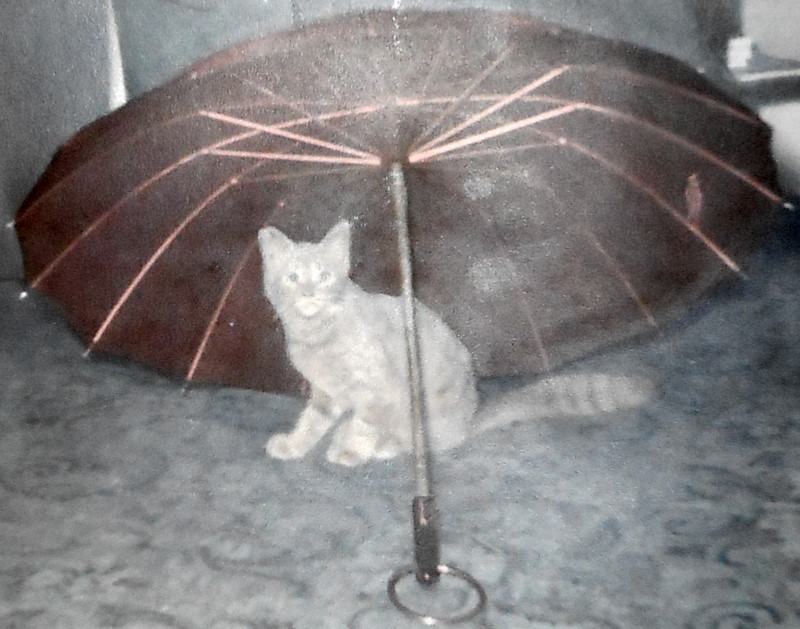 The quality is not all that good. It was taken either in the late 1950s (more likely) or the early 1960s since Tanny died in the early 1960s. The picture was blown up and I believe colorized since I think the original was b&w. It was not a posed picture. Tanny just liked to sit under an umbrella that was set up like that as it was drying.

I spent a good part of the rest of the day with end/beginning of month/year work and am pretty much complete except I have to recalculate the 'normals' for my weather records to reflect the new time frame of 1991-2020. That will take some time so I left it for last. I don't really need it done until the end of January when I compile the January records.

I also want to continue working on my photos. There were a couple I wanted to show Jasmine, but I'm not sure where they are now either.

OK, that gets the diary underway for 2021. Let's hope propagation gets better and there will be a lot more dealing with ham radio to talk about. You wouldn't know it sometimes from my diary writings, but this is a ham radio site. Although I did warn when I started the diary a long time ago, I would include info on my other activities and hobbies. -30-


---

Thu Dec 31 2020 7:40PM - Happy New Year to all who read this diary entry, the last one of 2020. The common wish as this year comes to an end is that 2021 will be better than 2020. I echo those sentiments.

2020 did have its bright moments along with the many not at all bright. Some of the bright ones for me were still being able to do ham radio related things with Mike KC2EGL along with model railroad things as well. Despite the poor showing of sunspots in the first half of the year, the streak went on for another 366 days. Then we did get some spots in the last quarter or so of the year as a sign that we are coming out of the doldrums. For me, ham radio was much better in 2020 than in 2019 as far as stats go. Every one of the stats that I track were either tied with or better than 2019. Use my menu above and go to the QRP section and there to the Yearly Stats page to see in detail what I mean. Another bright spot in 2020 was a building friendship with my next door neighbor Jasmine. Although I must make it plain before the conclusion jumpers start playing their games, there is nothing romantic involved in the friendship. We just enjoy spending time together. She came over this evening with a nice New Years Eve dinner, and then we spent an hour mostly looking at each other's collection of digital photos. We both enjoy taking photos of sunsets and clouds just to name a couple at random. There were many others as well. Also of course in the house on the other side of me, Roscoe continues to be a source of joy. Actually I guess there are a lot more good things I could write about 2020, but I'll stop here.

I fired up my Begali Blade straight at 0000Z and two minutes later had a nice QSO with W2QF on 80M up in ME. That was the first QSO of 2021 for both of us.

Did you ever hear of putting some change on the outside windowsill on New Years Eve? If it is still there in the morning, it is suppose to ensure a good financial new year. I am totally non-superstitious, but I do it every year for fun. It always works, too! HI.

I've got a lot of work coming up the next couple days as I mentioned in the diary entry last night. I already did some things today like updating the above-mentioned Yearly Stats page and uploading my Dec QSOs to LoTW and eQSL. I also updated the stats table on the main page of my web site.

See you next year here in the diary. -30-


---

Wed Dec 30 2020 7:28PM - It was a pretty good day again today. Not much going on though. A QSO with Gary N4PIR who answered my CQ on 80 meters closed out another calendar year of the streak. There should be an easy start to 2021 tomorrow evening with the SKN in action. Barring anything unforseen, that is.

That's about all there is to say in the diary tonight. Tomorrow night I'll close out the diary for another year. There will be a lot of end of year things going on here in addition to the usual end of month chores. It will be a busy time for sure. -30-


---

Tue Dec 29 2020 7:25PM - Things were a little brighter today due to some nice sunshine and a couple other reasons as well which I won't discuss now. Maybe later.

I had one of those 0000Z streak QSOs tonight. I heard W8ACM calling CQ just about as soon as I turned on the rig and called and got him before the digital atomic clock reached 0001Z. He is in MI and the band was 80 meters.

As I said it was sunny today and a little breezy and both contributed to a great s#$wmelt. There is a lot of green showing except for where the stuff is piled up from shovelling and plowing. Looks very nice. -30-


---

Mon Dec 28 2020 7:52PM - Still kind of in the post-Christmas rut here today. Other than eating, walking Roscoe, some computer work, and a little house cleaning, nothing much else happening. Of course my streak QSO also. No contests this evening, so it took a little longer to find and work someone, but I did after 15 minutes or so. It was Adam down in VA NA4IE whom I last worked just one month ago on November 29. So two more days and another calendar month and year will be complete in the streak. -30-


---

Sun Dec 27 2020 7:16PM - Another quiet day today just like yesterday. I had a big good meal with Bruce (and Roscoe) of holiday leftovers. Nothing much else to write about except I was on the computer a good while today working on indexing and modifying a lot of my digital photos.

The SST contest of course provided a quick QSO with K1EBY Frank in CT. I think if the SST keeps going Sunday evenings, I'm going to use it to get the quick streak QSO, then do my weekly laundry which I'm doing right now as I type. We'll see how that works out. Of course then I'll have to find something else to do Monday mornings. HI.

It was a pretty nice day today as far as weather goes. A high in the mid 40s provided some decent s#$wmelt despite not staying in the 40s more than a couple hours. -30-


---

Sat Dec 26 2020 7:10PM - What a difference a day makes. After a busy fun filled day yesterday, today was back to the old drag and usual routines. The only "people" I saw today were Bruce and Roscoe. It was a good day for eating though, I guess. A lot of leftovers, candy, etc. made for good meals and snacking in between meals.

Of course with the Stew Perry 160M contest, the streak QSO came quickly at 0002Z with K8LX in MI. And that wraps up today. -30-


---

Fri Dec 25 2020 9:21PM - I'll open this entry with something I said to Mike a couple minutes ago. The only thing wrong with today is that it's coming to an end. Otherwise there was very little to find fault with. Maybe nothing.

I guess it started last night when I exchanged gifts with my neighbors. All three of them, Jasmine, Krystal, and Donna enjoyed their gifts, and I enjoyed the company. Oh, and Krystal's cat Kobe really took a liking to me to the point where Jasmine kidded Krystal that Kobe wasn't her cat anymore, he really loves John. Then Jasmine and I got a little silly and started "talking" to Kobe in cat language. All in all that was a fun little visit.

Then this morning early I helped Bruce get his chili up and cooking, walked Roscoe, then waited for Mike to come which he did after Roscoe's second walk of the day.

Right now I've got to pause in my typing and take Roscoe out for his last walk of the day. Be back a little later.

Picking up where I left off, Mike and I played with and ran my trains. He gave me two new hopper cars for Christmas. We gave them a good workout. Then we played some Sherlock Holmes games on the computer. In the midst of that we went over and walked Roscoe again and had some of the chili. Back here to continue the Sherlock Holmes game. While we were doing that Jasmine and a friend of hers brought over two nice Christmas dinners which we put aside for later.

Then we killed time until it was about time to start our lights tour. I was wondering if Jasmine could stil go with us since she had her friend visiting. I went over to ask her, and after hesitating just a bit, she said she would go. I'm not going into details, but I will say it was a very enjoyable almost two hour tour with her as company. The bottom line being I'm sure that she had a very enjoyable time as well.

Then just a couple more things to close out the day and this diary entry. We went to my shack to get my streak QSO which took a while, but I eventually found and worked Dan KB6NU on 80 meters. We then ate the dinners and Mike headed for home.

Thank you Mike and Jasmine (and Krystal, Donna, Bruce, Roscoe also to be fair to all) for making this a great and memorable Christmas for old John. Thank you. -30-


---

Thu Dec 24 2020 7:40PM - Now as I do each year:



MERRY CHRISTMAS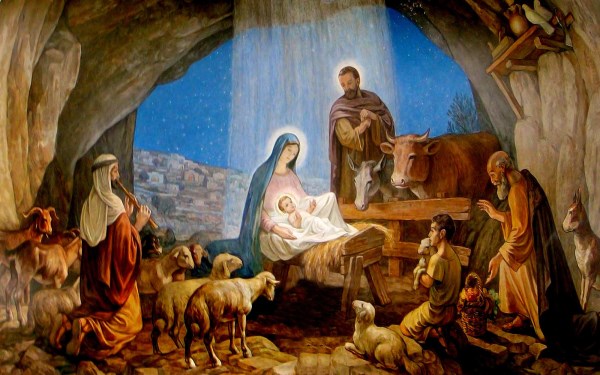 For unto us a child is born,

unto us a son is given:

and the government shall be upon his shoulder:

and his name shall be called Wonderful, Counseller,

The mighty God, The everlasting Father, The Prince of Peace.

-30-


---

Wed Dec 23 2020 8:37PM - Happy Christmas Eve Eve! No, not a typo. This is what it is. The eve before the eve. This is the fourth time that phrase has come up today. Once in one of the dozen or so cartoons I read every day in the morning. I think it was Garfield. Then Bruce and I used it when we went shopping this evening. Next my neighbor Krystal wished me that as I got home from shopping. And now here in the diary.

I wanted to get a quick streak QSO so Bruce and I could go shopping, and I did. 40 meters was unusually busy this evening and I found K2UKM calling CQ at 0002Z. QSB kind of set in quickly and it was only a 3 minute QSO which is just about what I wanted.

I seem to be more excited about Christmas this year. I think it's because my friendship with my neighbors has grown. It has always been good, but I think we're even closer now than before. I was watching the Polar Express movie a couple nights ago and somewhere in there it's mentioned that friends are the greatest Christmas gift of all or words something like that. That seems to be right on.

A busy couple days coming up now. Some gifts to distribute tomorrow. Also helping Bruce make a big pot of chili tomorrow evening and Christmas morning. Then of course the Christmas lights tour Christmas night with Mike and Jasmine to close out Christmas day. I'm looking in my diary to see when Mike and I started the lights tour on Christmas. I see we got together on Christmas 2009, but I don't mention a tour that year. I do mention it for the Christmas 2010 entry so that must be when we started. This will make tour #11 for me and Mike, and the first one for Jasmine. I hope she enjoys it.

It looks like heavy rain tomorrow and a s#$wfall late tomorrow of probably 2-5 inches or so. I'm not going to let it dampen my Christmas spirit though. -30-


---

Tue Dec 22 2020 7:18PM - A quick DX streak QSO tonight when I worked EA5C on 40 at 0003Z. He got WP on my first time calling, then a couple repeats of the rest of my call got a brief good copy QSO with Christmas greetings.

Again nothing special today. Mostly just fooling around with trains and the computer. Oh, and watching s#$w melting. In spots where only the original s#$wfall accumulated, it melted all the way down to nice green grass. Maybe my dream of a green Christmas will come true. Hope so. Especially for the Christmas lights tour Christmas night.

Unfortunately it was cloudy last night and tonight, so I couldn't see the conjunction of Jupiter and Saturn at the closest, but they will still be pretty close for several more nights to come if it is clear although they are setting earlier and earlier each evening now.

I heard a little while ago on Penn State weather that the giant radio telescope at Arecibo, Puerto Rico collapsed. I think they said today. I'll look up more info on the Internet a little later. -30-


---

Mon Dec 21 2020 7:22PM - The winter solstice was at 5:02AM today, so the sun is over 1/2 day on its northward journey as of now. Hurry up, Mr. Sun. For anyone who is picky, I know the Sun is not doing the travelling. It's mainly the direction of the Earth's axis in its orbit around the Sun, etc. that makes it seem like it is doing the travelling. Nuff sed on the subject.

I got a quick streak QSO this evening from Jim K8MPH whom I've worked pretty often the past couple months or so now. Then I went to 40 meters and worked LZ5DB with a single call. He was just about a true S9 here. Nice to work some DX for a change.

I enjoyed one of my winter hobbies today. Watching s#$w melt. With all the shovelling and moving s#$w around, it's hard to tell for sure, but I would guess we went from 11 inches a couple days ago to about 3 or 4 inches today and now it's still melting with the temp at 36 and some lite rain falling. That's the good news. The bad news is we might get some more on the day before Christmas. Too soon to predict how much. I just hope it's good weather by Christmas night for the annual Christmas lights tour with Mike. We have a bonus this year as Jasmine is joining us.

Here's what my back yard, etc. looked like this afternoon. The footprints to my thermometer shelter showed the first time I've been out there since the storm. I've been using my remote readings in my log since they are just about always within a degree or less of the outdoor readings. The only thing I have to figure out is an approximate division of the precipitation over those few days. There was a total of 0.79 inches in the gauge.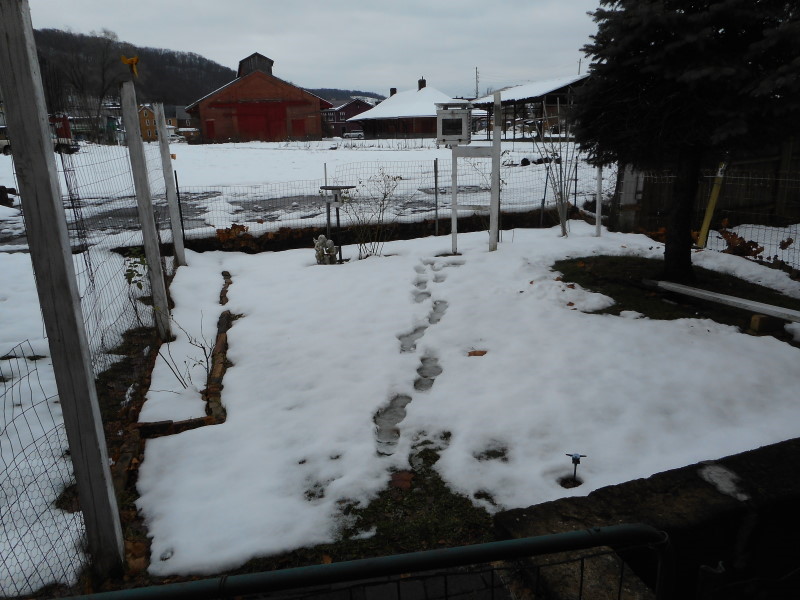 Well, that's it for another diary entry. I wonder what number this is. Let's see, it started sporadically the first part of 2006, and became regular around June of that year. So that's about 19 1/2 years which times 365 is around 7,120 very roughly. Whew, wonder how many words, letters, etc. that is. No, I'm not going there now. Maybe sometime. -30-


---

Sun Dec 20 2020 6:56PM - Good news. The sun is about as low in the sky as it gets and it will gradually be coming north very slowly at first. I'm not sure exactly when the winter solstice occurs, but it should be very close one way or the other now.

Also good news on the streak. With the K1USN SST sprint, I should be able to get a very quick QSO, then get on to some other things. I may do my laundry tonight and get that out of the way. Or run my trains. I haven't run them much the past couple days. But now off to the shack. -30-


---

Sat Dec 19 2020 7:28PM - I thought I'd grab a quick streak QSO in the 9A DX Contest, but that didn't work out. I couldn't work any EU stations on 40, and that's all I was hearing there. I didn't hear any USA stations, so I went to 80 and heard a couple USA stations in the contest and quickly worked N3RD. So for yet another day, the streak is secure.

Otherwise, today was just like the last few days following the big s#$w. The only time I was outside was when I walked Roscoe. Other than that it was pretty much another day on the computer playing a few games, organizing pictures, and the like. OK, where was I now. I just had a visit from Jasmine for about a half hour. Among other things, she saw me working here on my web site. She is going to be studying web site programming in school, and I showed her some of my coding here and how it shows up on the browser, etc. So that was the highlight of my day.

It looks like we are going to get some light s@#w off and on the next few days but nothing like we got on Wednesday and Thursday. Hey, maybe we'll get rid of all the s#$wstorms in December and won't have any more in Jan and Feb. Yeah, dream on little dreamer, dream on. But that would be nice. -30-


---

Fri Dec 18 2020 7:16PM - Of course the RAC contest provided a quick streak QSO at 0002Z tonight. I like those quick QSOs, but I also like long rag chews when they happen. Last night I had a 42 minute QSO with N4LSJ which could have gone even longer had his wife not called him to help her with something. Fortunately (unfortunately at times) I don't have that problem here as I've been single all my life.

I guess my main two projects today were still arranging my photos on the computer along with some other files, and learning the new National Weather Service Radar setup. At first I didn't like it, but as I learned more about it, I think I will like it as much as the old radar. It's here if you want to check it out. You'll have to enter your location, etc. for it to work for your area. The opening defaults to a combined radar map of all the USA radar sites. -30-


---

Thu Dec 17 2020 9:21AM - I thought I'd do an early entry today with a couple of obscene pictures. We got bombarded by around 11-12 inches of s#$w from winter storm Gail. I was just doing a quick check of s#$wfall totals on the NWS s#$wfall page and the highest total I found was in the area around Binghamton, NY at 44 inches (OUCH!!) so I guess it could have been worse here.

In looking at my pictures, the rain gauge to the right of the thermometer shelter is 13 inches high which gives a idea of the depth of the pile of s#$w on the shelter.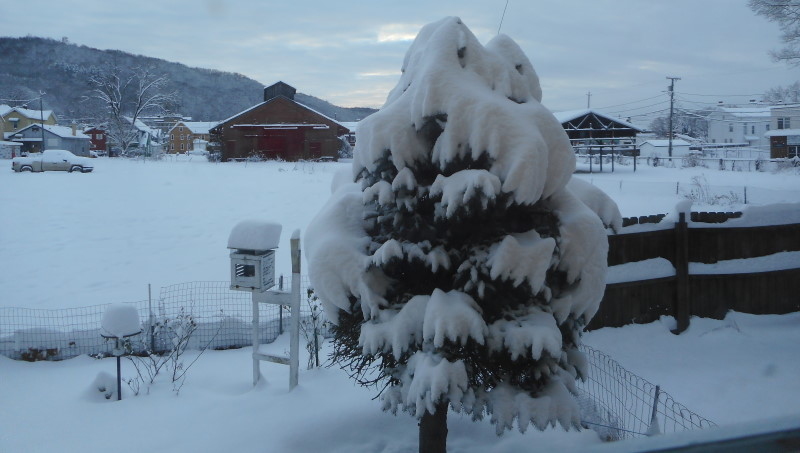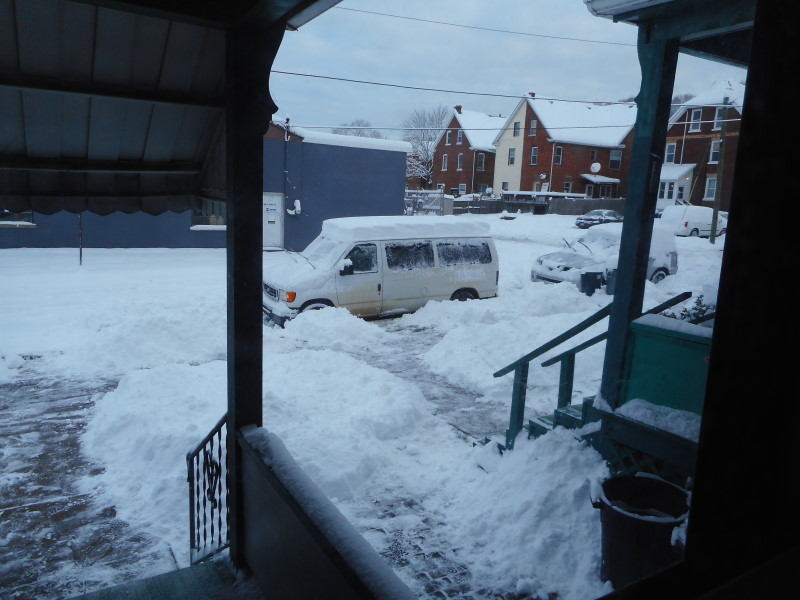 Almost time now to take a quick short walk with Roscoe. -30-


---

Wed Dec 16 2020 8:47PM - Well, we got hit by the biggest s#$wstorm in quite some time today. I would guess about 8 inches with more still coming for a few hours. I don't keep s#$wfall records here, so I can't figure out just when we got that much s#$w the last time. However long it was, I hope it will be several times that long till we get the next one. I'm getting too old to deal with it. I don't shovel the stuff any more. I might sweep it a little bit, but that's about it. Disgusting!!!

The bands seemed a little more deserted this evening, but it didn't take all that long to work N1MX at 0006Z on 80 for my streak QSO.

At least I won't have to go outside for a while except for some very short walks with Roscoe. My neighbor took me shopping early this morning to pick up some things I needed. He needed to go shopping so that worked out good. I also got the last of my Christmas gifts, I think. Well, I need to get Roscoe something yet. I can do that next week. -30-


---
stat-counter.org