---
Fri Sep 24 8:34PM - Another day when nothing special happened. Just the usual everyday things. Please don't take that as a complaint because it isn't. Those everyday things are for the most part all good things, to be sure. Like chatting with my friend Jasmine for 5-10 minutes when she arrives home from school. Also going for walks around town. Sitting in the park and doing some thinking or meditating. Of course getting my daily streak QSO. Walking Roscoe up to five times a day. Visiting with Roscoe's owner, Bruce and chatting for a while. Working in the yard or garden. Those are the everyday things that occupy my time along with fixing and eating meals, of course. Not an everyday thing, but going shopping every couple days or so. -30-


---

Thu Sep 23 8:24PM - The bands were pretty active tonight with a lot of QSOs in progress. It was hard to find a CQ, but I finally did find and work K4JJW in NC on 40.

I had a busy day today. I helped Bruce with some computer work. Then I spent time with Art from the Requin, Mike, and my WPIT friend Charlie arranging a subpedition and visit with Charlie. All that will take place next Wednesday, the 29th. Mike and I will be operating on the sub with their equipment and call sign of NY3EC from about 10:00AM EDT until 1:30PM (1400-1730Z), then heading to Charlie's house. It should be a fun day, especially the visit with Charlie, whom I haven't seen in person since the early 1990s when WPIT changed ownership and all the employees including us were released. Ever since Charlie and I talked about getting together about 3 weeks ago, I've been going through my old WPIT memorabilia and going on a timetravel of the mind back to 1969-1993. Sure a lot of good memories, and I've found a lot of things I want to share with Charlie on our visit. -30-


---

Wed Sep 22 8:58PM - I had a nice visit today from newly found ham here in town, Jim N3SE. Jim is just learning CW and hasn't been active on it yet which is why we never met on the air. Tom WB3FAE heard him on the air late one night and told me about him. He seems to be very interested in learning and using CW.

Other than that again nothing out of the ordinary here, except we had a tornado watch for Armstrong County this evening. No tornado, but torrential rain. Think I'll go get my weather readings now and come back and let you know just how much rain we did get. Well over an inch, I'm sure. 1.70" in my rain gauge and still raining. -30-


---

Tue Sep 21 8:25PM - The last day of Astronomical Summer. Sad. Sigh. Can the horrible demonic Winter and its s#$w be far behind? Well, at least October and most of November are pretty good around here most years. Sometimes even December is passable, at least.

Today was the day to take Roscoe to the Vet for his annual check-up, shots, etc. He passed everything just fine. That was good to hear.

My QSO tonight took a little bit of time to make, but I finally got an answer to my CQ from Jake N9FGC in IN on 40 meters.

I'm playing phone/text tag with Art from the Requin and Mike to decide our next subpedition. Art said the sub will be open on Monday the 27th, but Mike can't make it Monday for whatever reason and wants to make it Wednesday the 29th. That's where we stand right now. I'll let you know when a date is decided on. We've changed our policy on our subpeditions. Since we activate the submarine for its benefit to keep the radio room alive, and not so much QRP and the NAQCC, we are going to use the ship's radio equipment at higher power than our QRP rigs. We think it is somewhere in the 75-100 watt range. We did that before on the Museum Ships on the Air weekends and it worked out well with the sub's not overly efficient whip antenna, and we hope we'll do well with that setup from now on for our subpeditions. We'll also only use the ship's call of NY3EC. In case you don't know, that call came from the ship's call when it was in active service in the Navy which was NYEC. Then the 3 was added to make it a legal ham style call. -30-


---

Mon Sep 20 2021 8:45AM - That's not a typo, it's 8:45AM. I received an interesting email about the early days of the County Hunters Net and want to share it here. I think it will be of interest to county hunters, present and especially past. I know a lot of hunters from the early days of the net in the mid-late 1960s are now gone, but hopefully some are still around and will enjoy this info although it is sad.

The son of one of the county hunters who was with us from the beginning emailed the following which he gave me permission to post in its entirety:

"Hello.
You mention my mom, k1uzg, Barbara Mikkelsen, as a mobile operator participating in the County Hunters Net.
I am her son. I was licensed in 67 as wa1jms, and now use my Dad"s call, k1uzk.
We had the opportunity to travel in the US for two summers. As my Dad drove, my mom used the TR4 mounted in the car to work the net. I remember us getting off the highway, towing our trailer, and driving down some tough dirt roads to cross into a new county.
I am writing you because Monday, 9/13/2021, my Mom passed away at 90 years old. She kept her license active to the end.
Thanks for giving her such pleasure, and my family good memories.
Carl Mikkelsen (Jr.) k1uzk"

Sun Sep 19 2021 8:11PM - Not much happening again today. My Las Vegas Raiders won their game against the Pittsburgh Squealers, er Steelers today. I enjoyed that.

As usual on a Sunday evening, my streak QSO came from the SST when I worked N5KB in IA on 20 meters. -30-


---

Sat Sep 18 2021 8:23PM - My late afternoon early evening pipeline to Finland worked this evening on 20M. I worked OH8WW fairly easily in the SAC contest for my streak QSO.

Other than that, it was somewhat of a boring day today. I can't even recall anything I did out of the ordinary, except do some weeding around and pruning of my rosebushes. We had some kind of fireworks display this evening. I wanted to try to get some pictures with my iPhone, but every time I heard them and went outside, they stopped and I figured they were over. That happened 3 or 4 times before they finally were over for real. -30-


---

Fri Sep 17 2021 8:56PM - I was just updating my Propagation page and the time got away from me so I'll make this short so I can get my weather readings on time or thereabouts. It was a pretty nice day today with mostly sunny skies and a high of 86 on my remote unit.

My streak QSO tonite was WW5W on 20 meters. It didn't last long as the band changed, but long enough to be a QSO to extend the streak another day. -30-


---

Thu Sep 16 2021 8:29PM - Looks like we may not be going to the sub next Wednesday. Two more folks who work on the sub have come down with CoVid, and the sub is now closed. For how long, we don't know, but it may be a while till the powers that be decide what to do about the situation. That also means a delay in visiting my WPIT friend. I was really looking forward to that. I've really gotten into my WPIT history with him. I've got a lot of papers from my time at the station, as well as tapes/CDs of my on-air work and other things. -30-


---

Wed Sep 15 2021 8:27PM - Nice day today. Lot of rain predicted, but most all of it passed us by either to the NW or SE. We had a very nice sunset thanks to the nearby storm clouds.

I worked one of the Route 6 stations tonight for the streak. It was W6P in St. Louis, MO. -30-


---

Tue Sep 14 2021 8:36PM - I had several phone calls with my WPIT friend today. I'm going to visit him in Pittsburgh next Wednesday if everything works out. Other than that not much else to talk about.

My streak QSO tonight was with K4MIA/5 in MS honoring MIA/POWs. Had a tough time getting him, but finally did get him after several tries. -30-


---

Mon Sep 13 2021 9:38PM - Just a very short entry tonight. I just finished a long phone call from a friend with whom I worked at WPIT. I haven't talked to him in 2 or 3 years now so we had a lot to get caught up on. Now it's late and I need to walk Roscoe, etc., so 73 for now. -30-


---

Sun Sep 12 2021 8:18PM - A good time was had by all today at the hamfest, Ponderosa, and visiting WB3FAE at home.

Mike got here about 8:15AM and we talked for a while before heading off to Unionville for the hamfest. The highlight of the hamfest was Mike winning a prize drawing, as well as getting BCARA members to sign a get well card we took to WB3FAE later in the day. Here's a picture of Me, Bob WC3O, Mike KC2EGL in the foreground and I'm not sure who that was in the background.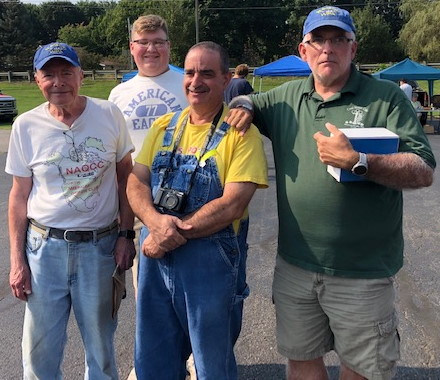 Looks like Mike has a tight grip on that prize he won.

A couple other things I should mention. There was a prize drawing for anyone under 17 who was a ham. Sadly no one qualified. There was one girl there who looked about twelve or so, she was wearing a ham call shirt. I checked with her, but she wasn't a ham. That was about the only person I saw under 17. Also our SCM W3BC came up to us and Mike talked up my streak with him. W3BC said to let him know when the streak reached 10,000 days and he'd write it up in the section newsletter.

Our stop at Ponderosa on the way home was good as always and we both left stuffed as we made our way to see Tom WB3FAE at Chicora.

We had a nice couple hour long visit with Tom. He is recovering nicely from his open heart surgery. After that it was back home for an hour or so before Mike had to leave and go to his home and his new dog. More about the dog later. -30-


---

Sat Sep 11 2021 8:33PM - I got my streak QSO in one of my least favorite contests, the NA Sprint. I don't like the format of always jumping around in frequency. That pretty much requires using a computer for contesting. I prefer doing it the old fashioned way with key and brain. However I'm not totally anti-computer. It makes a very convenient way to dupe check and to log, especially when your printing and writing become sloppy and hard to read when you get older, which describes me. HI

Otherwise not much to report out of the ordinary today. In fact I can't think of a thing. Tomorrow will be different on the other hand as Mike and I are going to the Unionville hamfest, followed by a visit to Ponderosa, then a visit to Tom WB3FAE who is recovering from surgery. Watch for a report in tomorrow's diary, hopefully written by Mike, but if not, then by me as usual. -30-


---

Fri Sep 10 2021 8:37PM - The bands were alive tonite with the FOC QSO Party, so I just used it to get my streak QSO from Bert W5ZR in LA. That means there are 100 days left till my streak reaches 10,000 days. Of course, the countdown above on this page will always keep track of the number of days left.

Thanks to Steve K0SAM for emailing the following about "under the weather": "Sailing ship sailors that were ill were sent below the weather deck to recover. Thus the phrase under the weather." I learned something today, so it wasn't a wasted day. Plus it was a great day otherwise, but I won't go into that. -30-


---

Thu Sep 9 2021 8:12PM - Four days in a row now the SF has been 100 or more, and the bands are starting to sound like it. Better start checking those higher bands for DX. You have been warned now. Don't blame me if you miss out on some choice DX.

I'm looking forward to this Sunday. Mike and I will be going to the Unionville hamfest. It's always a nice compact hamfest where we find some nice bargains and meet some friends from the Butler area. One friend who won't be there this year is Tom WB3FAE who is recovering from surgery. However Mike and I are going to visit him at home on our way back here to Kittanning. We had planned to do a subpedition on Monday. However it was an on off thing before now. Now it is off because Art who runs the sub and especially the radio room is under the weather and won't be there. So neither will we.

Wonder where that expression "under the weather" for being ill came from. If you know, email me and let me know. -30-


---

Wed Sep 8 2021 8:31PM - Not much happening again today. I did get my monthly box of food from the food bank. Also Ray WA3PRR mailed back my KX1 that I loaned to him some time ago. I received it today. It rained so I didn't get my full allocation of walks and sits in the park, but I did get a couple. My streak QSO came from a 1X1 SE station K4A in AL on 40M. And that about sums up the day outside of the usual activities that I won't bore you with. -30-


---

Tue Sep 7 2021 8:17PM - I worked my friend Niko S53A on 20M tonight for the streak QSO.

I had several text exchanges and a phone call from new ham friend N3SE here in Kittanning. I think he is going to be a nice addition to the group of Mike and me. He works a long schedule which will prevent him from joining us in some activities but he'll try to join us when he can.

The weather was nice today, but a bit humid for the first time in a while now. My air conditioner came on for the first time in a few days today. -30-


---

Mon Sep 6 2021 8:07PM - A quick streak QSO tonite thanks to the MI QRP Sprint from WQ8RP on 40M. Nothing much to report today. The weather was nice for walking and sitting in the park thinking. Other than that, I can't think of anything really worth talking about. I did order a tripod for my iPhone so I might be able to take some time lapse pictures of a sunset sometime. Jasmine and I thought that might be neat. -30-


---

Sun Sep 5 2021 8:30PM - A nice mostly sunny cool day today. Good for walking and sitting in the park, followed by a detour to Sprankle's on the way home.

Other than that, just nothing much else going on. Just sitting around being lazy. HI Right now as I do each Sunday evening, I'm doing my laundry while typing this. Also as usual each Sunday evening, I got my streak QSO via the SST sprint from WG3J in DE on 40M.

Nothing special planned as of now for Labor Day tomorrow. That never was one of my favorite holidays anyway. -30-


---

Sat Sep 4 2021 8:25PM - A little different day around here today. I went for my walk this morning and sat in the park for a while. Then I went to Sprankle's to see if my favorite check-out girl was working, and she was, but they were very busy and I didn't get a chance to chat with her more than a few words. Now maybe the story gets interesting. My neighbor Bruce makes chili every now and then. He often says he is going to make it, then changes his mind. That happened today. Now if he were going to make it, I would have to go to Sprankle's with his brother Jeff. Get the picture? Yes, I would see my "girl" again. So I told her I'd let her go for now, but I may be back later to get some things for my neighbor. She seemed to like that, so I was determined to get my neighbor to make the chili today, which I did, so it was back to Sprankle's again and this time I got in a good chat with my friend. Then I and his brother helped Bruce make the chili which was delicious. In fact, I'll be having some more of it when I go over to take Roscoe out for his last walk.

Other than that little sneaky episode, it was pretty much a normal day. Oh, I did watch quite a bit of the Penn State-Wisconsin football game which Penn State won 16-10.

My QSO tonight came from WB8MIW on 40 meters.

OK, off to get my weather now. -30-


---

Fri Sep 3 2021 8:30PM - The day with Mike turned out very good except for one thing I'll get to in a moment. Mike arrived around 10:15AM or so. I showed off the gifts that Mike N4VBV sent to me. We played for a while with the new engine. We applied some "bullfrog snot" traction solution to the wheels sometime along the way. That helped the engine pull a little heavier load. Then we charged up the battery for the drone. That would take a while so we decided we'd postpone the drone flying until later in the day, and go on our fishing expedition before that.

We started off on the trip, but decided that I better get some more worms as I only had a few left from our previous trip. That started the downfall. We went back on our route to Honey Bear but they were out of worms. So we went to another place called Transue's and I got a container of red worms there. By that time we really confused the GPS lady. HI She sent us all over west PA, it seemed for about an hour before we got back on track and finally to our destination. The water was high and muddy and we thought the fish might not be biting. However they went after my red worms like they were very hungry. They on the other hand, didn't seem to like Mike's lure that he was using. Mike had a couple hits, but the fish spit out the lure before he could land them. I wound up catching 9 fish, a mix of bass and bluegills. I think it was either 3 or 4 bass and the rest the bluegills. Here's a pix of one of the bluegills. I sent this picture along to Jasmine also and she thought it was nice.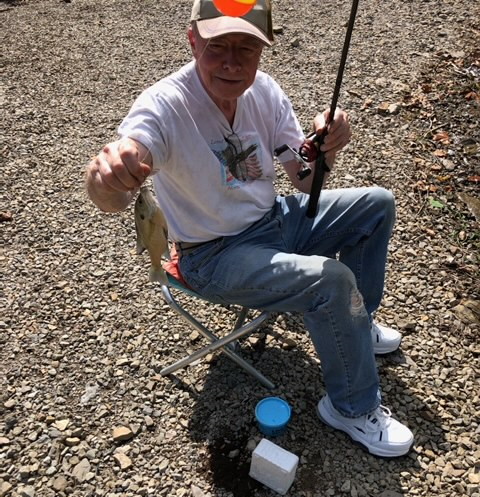 We came home around 4PM with a stop at Wendy's, Dollar Tree, and Walmart for a meal and some shopping. At home we flew the drone for a while. It was my first time at the controls, and I think I learned them pretty well. I did have some trouble with depth perception and had trouble judging just how far away it was in the blue sky. I'll have to work on that and fine tune my use of the controls on the remote unit. It should be fun. One drawback is that the battery only holds a charge for 7 minutes.

We did a little more work on the train, and did some listening on the bands before it was time for Mike to head home. Except for the meandering detour, it was another great day. -30-


---

Thu Sep 2 2021 8:41PM - Man, it's dark already. I hate to see these earlier sunsets as they are the harbingers of that horrible season of winter. Even though it is 3 months away, it still is frightening.

I received the package from N4VBV I mentioned a few days ago. It indeed was a surprise. I'm not going to reveal the contents now as Mike will probably read this and I want him to share in my surprise when he comes for a visit tomorrow.

It was a bit rough getting my streak QSO again tonight, but I finally made it thanks to NR4A down in Tampa on 40 meters. -30-


---

Wed Sep 1 2021 8:58PM - A busy day today with leftover EOM chores and then the FOM ones. I got everything done though, I think. I think I get a little slower each month as I get older. HI. Maybe because I have more things on my mind these days and my multi-task capabilities are getting less and less. I don't know. HI.

Took a while to get my QSO this evening plus I was a little late getting home from Sprankle's and getting to the shack. However I did eventually get WB2KUT on 40 on Long Island.

Pizza coming so I better close now. -30-


---

Tue Aug 31 2021 8:19PM - And another month bites the dust with its usual EOM/FOM chores, most of which I have yet to do. About all I got done was to upload my August logs to eQSL and LoTW. I also got my EOM natural gas meter reading. I didn't do any financial stuff because I knew I was going to make my usual evening trip to Sprankle's to get some groceries and to see my check out girl____friend there. HI. So I'll have to do that tomorrow, I guess. It's kind of late to start that now.

I got a DX station with a neat prefix for my streak tonight. It was TI200I on 20 meters on my second call to him. Let's see if I can find out what the special prefix is for. The bicentennial anniversary of Costa Rican independence. Nice.

Jasmine enjoyed the sunset pictures and showed me some another friend took from out in the country. No sunset tonight as Ida is sending her cloud deck up here with some light rain. -30-


---

Mon Aug 30 2021 8:23PM - Just after I got to the shack, I happened to pull aside the blind and was greeted by a beautiful sunset where there had been nothing but grey skies not more than a few minutes earlier. So I jumped out of my seat, grabbed my camera and headed outside. I knew Jasmine would be in bed and missing it, so I really wanted to get some pictures mainly for her. Here's a sample of the sunset: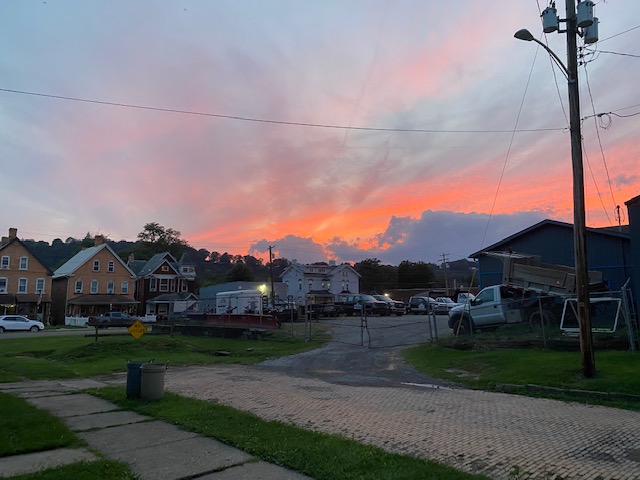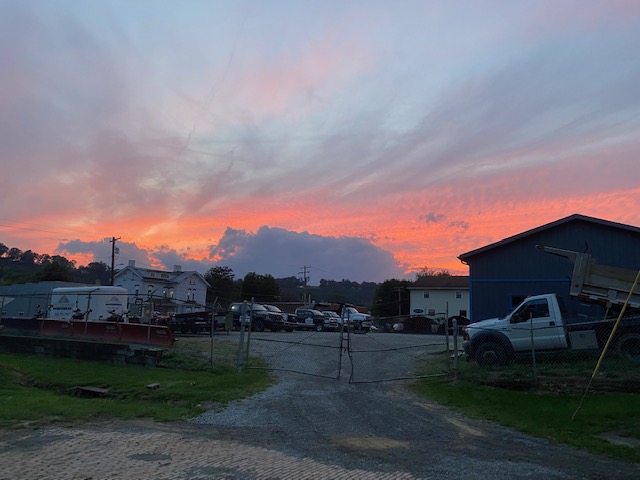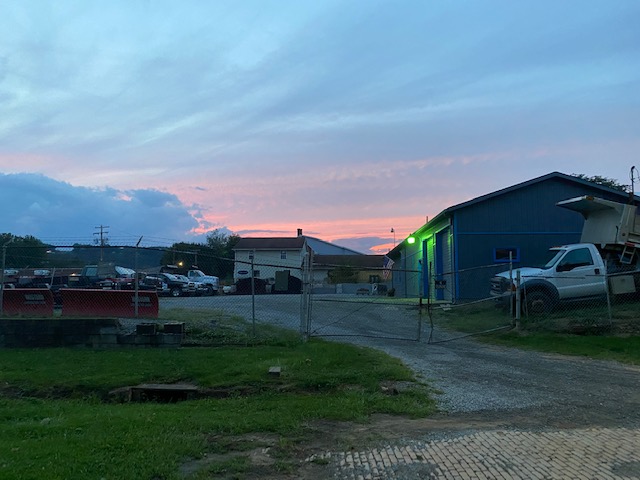 Pretty nice? Huh? It snuck in quickly and left just as fast, but left its mark in these and a few other images. I'm glad I got it for Jasmine. I'll text them to her later tonight.

So that made it a good day. Oops, I said I wasn't going to talk about good and bad days any longer. Sorry.

After I got the pictures, I came back to the shack and saw an S9+ peak on the PX3. It was AF2F/W4 on 30 meters. I don't know where he was located, but I got him on one call. And that wraps up today to this point. Now come a couple busy days with the EOM/FOM chores plus a shopping trip thrown in tomorrow. -30-


---

Sun Aug 29 2021 8:09PM - As usual, a day with Mike KC2EGL is a great one, and today was no exception. He arrived a few minutes past 8:00AM and we left for Skyview a few minutes after that. The trip there was uneventful, and we didn't get lost. Mike forgot to set his GPS, so I set mine and we used it.

We started to set up as soon as we got there, but the station is so complicated and we hadn't been there in a couple years so we needed help from Bob WC3O and a couple other members who are there much more often than we are.

My setup on 40 went more smoothly than Mike on 20, so I got a head start. I got an answer to my CQs within a couple minutes from KA9FCZ in Olney, IL. From then on, I had pretty much a steady stream of QSOs. I was rag chewing with each person I worked so I only totalled 12 QSOs in all in the few hours we worked. It was enjoyable. With their big antenna farm, I was able to keep a QSO going as long as the person on the other end wanted to talk.

I think Mike wound up with 6 QSOs after his slow start. Of course it was enjoyable having the eyeball QSOs with those who dropped in to see our QRP demo. I especially enjoyed with the gentleman who was instrumental in setting up operations on the USS Requin back in 1990 or so. I wish I could remember his call. He preceded Art in taking care of the Requin.

After we left Skyview, we went to the Mills to get me a pair of shoes. They didn't have a pair in my rare 8 1/2 W size, so we moved on to our next goal, a meal at Chili's. Except for a bit of a wait for a seat and the absence of cute young hostess Kelly, that went smoothly, and the meal was great, as usual. Next it was on to home, with a stop at Walmart where I did get a pair of shoes.

Here at home we watched a few videos of Big Boy 4014, chatted, and checked the bands before Mike headed for home.

To close now pictures of the intrepid operators at Skyview.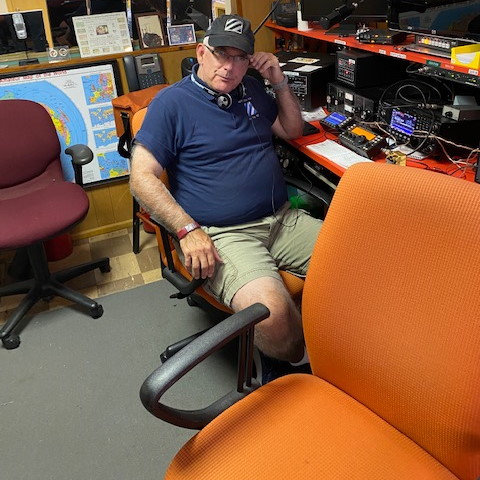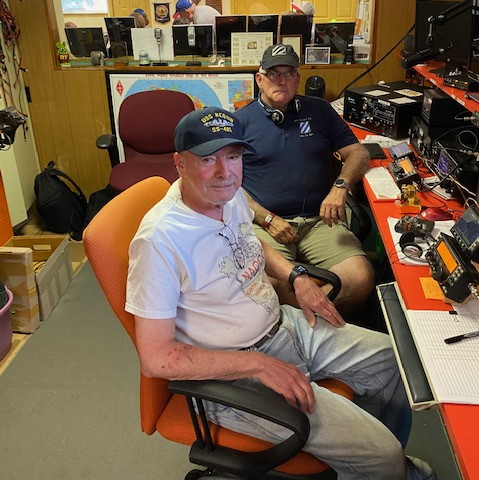 That's it for today. -30-


---

Sat Aug 28 2021 8:19PM - Thanks to Mike N4VBV, a long time friend and diary reader for the email today. He was concerned about my mentioning the bad days lately. I appreciate the concern. It's really not as bad as perhaps I make it sound. The best I can describe it without going into a lot of detail is just that I get MILDLY depressed about some things when they just don't turn out as I would like. There are probably more really great days like today in the mix than there are bad days. Today was a real winner. I hate to be mysterious about it and I probably should just stop mentioning the good and bad days since they are really a personal thing and not public. Enuff sed on the matter. I don't want to make it more mysterious than I have already done.

Mike N4VBV also said he is sending along a package of goodies for me, but he didn't say what they were as he wants it to be a surprise. HI Unlike my friend Jasmine who doesn't like surprises, I do like them so I'll be looking for the package. He sent a tracking number so I can see when it will arrive, but I haven't checked it yet.

Tomorrow Mike (KC2EGL) and I will be giving our annual QRP demo from the SkyView hamfest in New Kensington using our QRP rigs with their big antenna farm. We'll try to stick around the QRP frequencies from around 1300 to 1800Z or so depending on activity, QRM, etc. If activity is down, we may wander around the bands and call other stations. If only Mike and I operate, we'll probably stick to 40 and 20 (maybe 30) meters for our CQs, and wander the higher bands if they are open for DX. I guess mostly just play it by ear. We'll be using the NAQCC club call of N3AQC.

My streak QSO tonight was in the OH QP from N8BJQ on 80 meters, my first 80M streak QSO in some time now. -30-


---

Fri Aug 27 2021 8:45PM - Today is best left uncommented on. It wasn't that good except for one thing. I received the noise limiter from Lane N8AFT that he sent me to try out on my local noise here. Maybe when Mike comes on Sunday and next Friday we can fool with it and see how it works. -30-


---

Thu Aug 26 2021 8:18PM - An OK day today. Nothing exciting happened. A nice day for walking and sitting in the park. I met someone who knows one of my 1963 classmates. I guess that's a little exciting. HI. My QSO tonight was a POTA station. I didn't get his POTA #, QTH, or nambe, but we did exchange RSTs, so it was good for my streak QSO. I'm off in a few minutes to watch "The African Queen" with my neighbor so that's it for the diary. -30-


---

Wed Aug 25 2021 8:28PM - A good day today. Nothing really out of the ordinary, but nothing went wrong anyway. HI. We had some rain this evening and I missed my walk and sit in the park followed by a stop at the grocery store. But we got paid back for the annoyance with a beautiful and somewhat out of the ordinary sunset as shown here: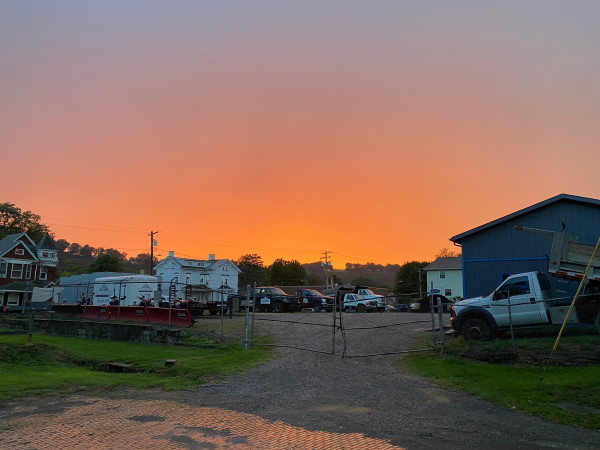 As I labeled it when I sent it to Jasmine, simply "Different".

A quick, if a bit late because of taking the sunset pictures, streak QSO tonight from K4JJW on 40 meters.

Looking forward to Sunday with Mike going to the Skyview hamfest, dinner at Chili's, and shopping at the Mills. Then another visit next Friday for a drone flying session which Jasmine may attend also, then a fishing trip. -30-


---

Tue Aug 24 2021 8:58PM - This was a good day. When you expect things to go wrong and it turns out just the opposite, it's a great feeling that makes for a great day. I'm not going into details, but that's what happened to me today. This is a separate incident, but a good one also. I'm still learning the intricacies of my iPhone and one thing hung me up. I just couldn't figure it out. So I asked Jasmine when she got home from school and it took her all of a few seconds to explain it to me. Not only is she young, but very intelligent, both of which help when dealing with modern computer style stuff.

I just had a funny incident also not related. Well, in a way. My neighbor's brother Jeff came over and asked me if I was missing a 5 dollar bill. I checked my receipt from Sprankle's and saw that my friend Haylee had indeed given me a 5 dollar bill in change. Jeff said Bruce or he found a chewed up 5 dollar bill on the couch. Turned out I was sitting there with Roscoe and it must have come out of my pocket when I pulled out my iPhone for something as I have the bad habit of stuffing my change in that pocket. I guess it was a delicacy to Roscoe. So now I have a small paper jigsaw to try to put together. HI HI.

My streak tonight was with Roger WB2ZIY whom I've worked several times in the past couple months. He just wanted to say hello, so I got a quick QSO. -30-


---

Mon Aug 23 2021 8:49PM - Made it before 9:00 tonight for a change. Still not much to talk about. It was kind of a lonely day with school starting up today. I passed the time working on my sidewalk, pulling the grass out from the cracks in the bricks. Inspired by what Jasmine and I did the other day, I guess. HI. Other than that just an ordinary quiet day. I worked POTA activator N9MM for my streak QSO tonight. I don't know where he was operating from. It doesn't really matter as long as it was a QSO which it was. -30-


---

Sun Aug 22 2021 11:13PM - Yes, 11:13PM. My diary entries are getting later and later each night, it seems. Let's see, tonight right after I got my streak QSO at 8:05PM, I took 28 pictures of a beautiful sunset. With school starting tomorrow, my sunset picture taking friend Jasmine had to go to bed early, and I didn't want her to miss this sunset which was one of the better ones. So I texted her about 8 of the 28 pictures. I hope she enjoys them. I didn't get a reply from her yet so she must have been asleep already. The other night she sent me pix of a nice sunset that I missed.

When I was young, I hated when summer vacation ended and school started up again. Now that I'm old, I hate it again because I won't see as much of Jasmine nor a couple other young friends. But that's life.

After the pictures, my neighbor Bruce wanted to get us a pizza and watch an old Laurel and Hardy short, "Big Business". It's one of the funniest of all silent shorts. You should watch it if you can. We also watched a couple other L&H shorts as well. All of that pretty much ate up the evening until now if you include the regular activities of getting my weather readings, walking Roscoe and so forth. -30-


---

Sat Aug 21 2021 10:35PM - Late tonight, as happens quite often of late it seems. Tonight I was watching the movie "Casablanca" with my neighbor. Nothing much happened today to write about anyway. Kind of a quiet day after the great day yesterday. Worked WD4E in NC on 40 for the streak extension of another day. -30-


---

Fri Aug 20 2021 8:27PM - WOW! OK, that sums up today in a tiny nutshell. I had a great day with a couple of my friends. I don't want to say more about that, but they are girls whom I have come to like very much. Please realize that they are not girlfriends, but best described as friends who happen to be girls. I hope you understand that. With one, I helped clean the grass out of her sidewalk. Another I gave a little gift to that she really liked.

Otherwise I don't remember anything I did out of the ordinary. My streak is down to about four months left to reach the 10,000 day mark. Tonight it was helped along by AG4JT in VA on 40 meters.

I still intend to talk about BCB DXing. Just as a teaser tonight. On the 530-1700 kHz BCB I have logged 49 of the 50 states. Never heard Alaska yet. Somewhere around 60 countries, I believe, and close to 2,000 stations. I'll have to dig out my BCB logs to verify those guesses, but I think they are close. Most of those from the 1960s and 1970s when stations signed off at midnight, not like the 24/7 operations common today with automated programming. I really enjoyed it and probably spent more time at it than ham radio. It will be interesting for me to look back in my logs to see just how I did, and then add some interest in writing about it in the diary. It may be stretched out though as I have a lot of other interests going for me right now also. -30-


---

Thu Aug 19 2021 9:03PM - A busy day with a lot I could write about, but I'm running late again tonight because I had 3 QSOs in the 0000Z hour including one 22 minute rag chew and 8 and 9 minute QSOs. Just felt like talking tonight.

Early this morning I went shopping, walking, and sitting in the park. When I got home I helped Ange in the garden. After that, Jasmine and I cut our grass. Actually she did most of it as she likes to do things herself. Which is kind of like me. I love helping others, but like to do my own work myself. Then a little later I visited with Jasmine and we played some trivia and talked. That pretty much is a "Readers Digest" version of the day which I'd rate a very good one. I'll try to get to the BCB DX, etc. I mentioned last night down the road a bit. -30-


---

Wed Aug 18 2021 9:01PM - As you see from the time stamp, I'm running late tonight. Why? Because of a great rag chew with K3PI down in NC on 40 meters. One thing we talked about was MW BCB DXing, something we both have enjoyed. Someday when I have more time, I'm going to devote one or maybe a few diary entries to BCB DXing and maybe throw in some FM and TV DXing also. I sure had a lot of enjoyment from those hobbies mostly back in the 60s and 70s, I guess. Now I've got to cut this short and get in a few things like walking Roscoe. -30-


---

Tue Aug 17 2021 8:58AM - Yes, AM. I thought I'd upload some more pictures from our weekend together. I see I did the Skeeter Hunt pictures in Sunday's diary entry.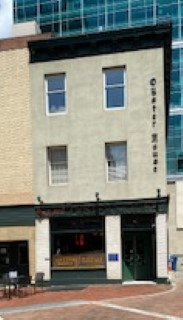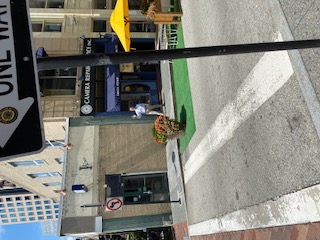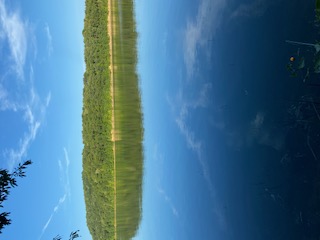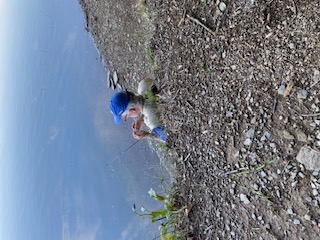 L-R: The Oyster House, The Camera Shop and owner, Keystone Lake, Mike Fishing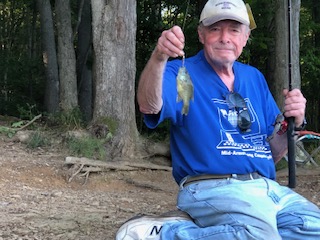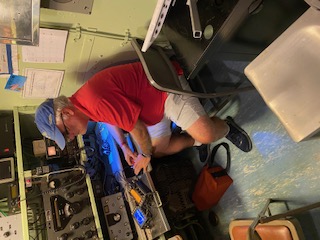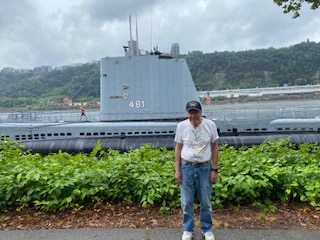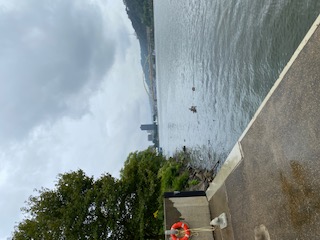 L-R: A "big" bluegill I caught, Mike operating at the Requin, Me outside the Requin, A look up the river.
-30-


---

Mon Aug 16 2021 8:40PM - As we did on Saturday and Sunday, Mike and I had a great time again today. We got up around 8:00AM and did some walking and chatting before heading to Pittsburgh and the USS Requin. The trip went smoothly and we met Art at the sub just around 10:00AM. Set up for operating had a minor glitch with one switch not in the right position in the sub wiring. After that was caught and corrected, the rest of the operation went smoothly but slowly. We only made 7 QSOs in almost 4-5 hours of operating with time out for the daily disinfefting of the sub from about 1:30-2:30PM. The most distant contact was Utah. We shut down around 4:00PM and headed to Chili's in the Pittsburgh Mills Mall for a great meal and a beautiful young host. We will be going back there again soon, perhaps after the Skyview Hamfest on the 29th.

We also made a decision about our subpeditions that may be a bit shocking to some, especially QRP purists. We decided that since future subpeditions are to benefit the sub in providing publicity and not so much to show off QRP, we will be using high power, probably between 75 and 100 watts which we feel will allow more hams to work and find out about the USS Requin and help preserve its heritage for future generations.

When we got back here, Mike packed up and headed home after a great weekend. Me? I'm settling back into my normal routine. I'm not sure if that is good or bad. Maybe it's both. HI -30-


---

Sun Aug 15 2021 8:28PM - Mike and I got up around 8:00AM, and killed time until about 10:20AM. I had taken Roscoe out around 9:45AM. At 10:20 we packed up the car with out ham radio gear and headed out to Butler and the Ponderosa there for brunch. After brunch we headed back to Kittanning and up to the Kittanning Community Park where we set up our gear for the Skeeter Hunt that would start at 1:00PM. It was typical of other setups for operating in the park. Once the operation got underway, it turned out to be the reverse of our FOBB operation where Mike had 20 meters and did very well and I had 40 meters and did very poorly. This time we reversed bands and the results in turn reversed. I did well on 20 and Mike did less well on 40. There was some very fast deep QSB mostly on 40, but quite a bit on 20 at times also. Activity in general on both bands tended to die down about half way through the 4 hour sprint and we made very few QSOs in that last two hour segment. We wound up with 39 QSOs in 23 S/P/Cs.

We headed back home, put my station back together, sent in our Skeeter summary, and then headed off to Sprankle's to get myself a sandwich for our Requin subpedition tomorrow. Next it was up to my shack to work some European DX in the European Contest. Mike worked Bulgaria and the Czech Republic. I was just waiting around for 0000Z to get my streak QSO in the SST sprint which I did at 0002Z when I worked WB9HFK on 40 meters. Now we're just sitting around killing time before going to bed and waiting to wake up and head to Pittsburgh and the sub.

Before that, I just decided to upload some pictures from the Skeeter Hunt.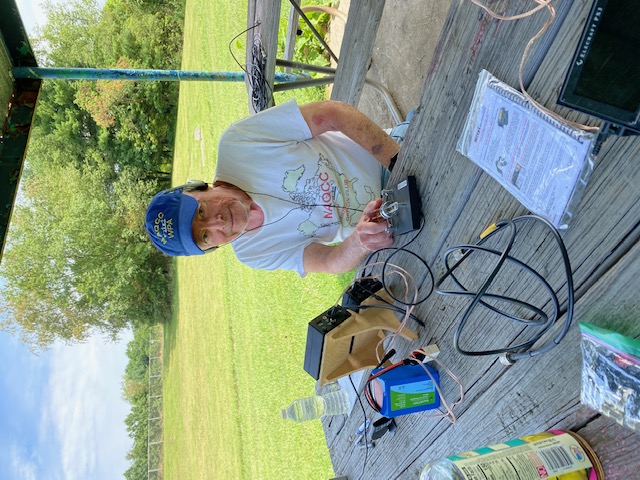 Me operating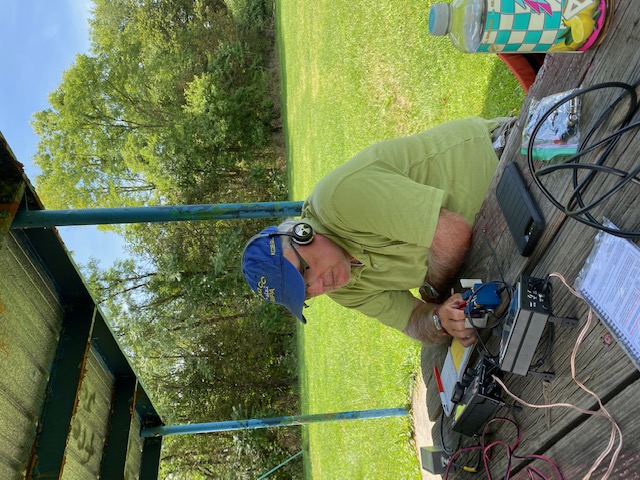 Mike operating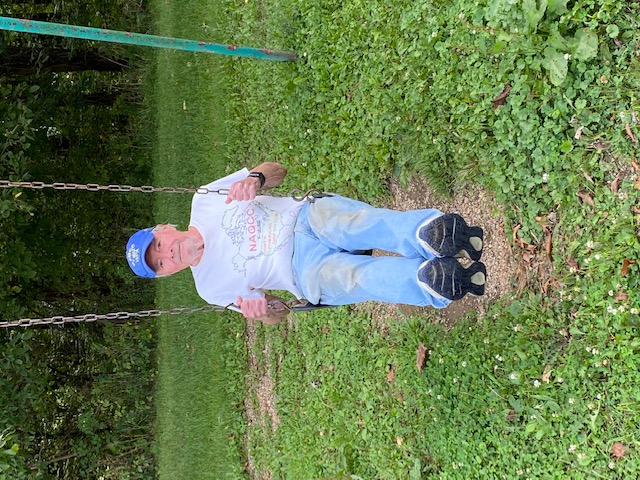 Me having fun in a break in the action

-30-


---

Sat Aug 14 2021 8:40PM - Mike arrived about a little befor 11AM, and we chatted for a few minutes before heading off to Pittsburgh and the Camera Repair Service in Market Square. That was an event in itself trying to find a parking space there. Some type of festival was going on and parking spaces were at a premium. It took us maybe 20 minutes to find a parking space about three blocks from where we wanted to go.

We walked to the camera shop. At the camera shop Mike purchased a camera bag to use for radio gear and a part for his 35 MM film camera. Then we went back to feed the parking meter which is an event in itself since it doesn't take coins and doesn't take credit cards all that straightforward either. But finally it was fed and we went to feed ourselves at the Oyster House. We both had the "Our Famous Jumbo Fish Sandwich" and Mike added the platter which included fries and cole slaw. We then killed some time taking pictures in Market Square before heading back to the car and heading home for the second part of our adventure.

When we got home we took a very short break before starting our fishing adventure, and adventure it was. First we had to find some bait in the form of worms. The local Honey Bear had taken down their "Live Bait" signs, so I assumed they no longer sold live bait. I was wrong as we'll see in a minute. We went to the another bait store in town and wouldn't you know it, they were closed for a week. So it was back to Honey Bear where we found they still did sell bait, but for whatever reason, they took down the "Live Bait" signs. OK, now it should be simple, right? Seems that way, doesn't it? Wrong!!

OK, we're going to a place on Keystone Lake near a small town called Meredith. All we had to do was look for a green sign pointing to the right with "Meredith" on it. Well, when we got to a junction with a road going to Dayton, I was sure we had gone past the Meredith sign, and was also sure that it was no longer where it should have been. OK, on to the GPS to take us to Keystone Lake which it did, but not to the right spot. Where it took us was to a spot not easily accessible. Next? A GPS search for Meredith. It took us back to the way we had come. Indeed there was a Meredith there but it had grown considerably since the last time I was there. The green sign now pointed to the other side of the road which had a large developed area now. There was a turnoff called "Center Street" which looked at first like the old Meredith road, but wasn't. The old Meredith road was now called White Oak Road and it took us to the correct fishing area finally.

It hadn't really changed much in the several years since I was there. We baited up and threw in. Both of us got a bluegill rather quickly. Mike's was the bigger one, but I wound up getting more, 18 more to be exact. The way they were biting was very similar to how they bit the last time I was out there. The reason I got more than Mike was that I was using red worms and he was using a lure.

Oh, all were sunfish or bluegills, whichever you like to call them. Finally the biting slowed down to a crawl, and we packed up and headed home. We went up to my shack and got my QSO, and now I'm sitting here typing this interjected by Mike's comments as he sits across the room with his iPhone. He just made a very profound statement which you won't believe. He asked me if I knew we had skipped dinner. And oh the horror as we realized it. Now in a few minutes we're going to do something about that. Maybe some pictures in tomorrow's diary entry. -30-


---

Fri Aug 13 2021 8:39PM - Whoever said Friday the 13th was a bad luck day had no idea what they were talking about. At least for me today. I had a great day thanks to a couple of friends whom I spent some time with. Also the weather was pretty good although we are getting some rain now. But then that's good. I'd say Ange's garden is well taken care of until he gets home Sunday evening or Monday morning.

I got my streak QSO in a contest, perhaps the European DX Contest? Anyway it was LZ5R on 20 meters.

Now the next three days should be great too with Mike here. -30-


---

Thu Aug 12 2021 8:56PM - Another in the series of the same kind of days of late. At least we've had some good rains which has meant I haven't had to bother watering Ange's garden while he is on vacation. That's been a big relief.

Mike and I are going to add a fishing trip to our Saturday schedule, weather permitting. That will be only the second time I've gone fishing in the past couple years. The other time was also with Mike earlier this year. This time we're going to Keystone Lake to fish for some sunfish/bluegills. -30-


---

Wed Aug 11 2021 8:52PM - A good/bad day. I guess the "baddest" thing was realizing this evening that I missed our NAQCC sprint last night. I had other things on my mind and I was thinking it was this evening instead of last. I'd be quite upset had this been the first one I missed, but I missed a few in the past as well.

A good thing was working DX for my streak QSO in the form of FM5BH on 40 meters. There were other good/bad things also, but I'll just settle for giving these brief samples. HI -30-


---

Tue Aug 10 2021 8:58PM - Of late, these days just seem to merge one into the next with really not a lot of new or different things happening. That's both good and bad because I don't really like change all that much, but on the other hand it does get boring or even a little depressing at times. Also it doesn't really make the diary all that easy to write or to read, I am sure. But that's the way life is at times. At least things will get better this weekend when Mike visits for Sat, Sun, and Mon. Saturday we are going to Pittsburgh to visit a camera shop and get a meal at the Oyster House. Sunday it's the Skeeter Hunt, and Monday a subpedition to the Requin in Pittsburgh. -30-


---

Mon Aug 9 2021 9:06PM - One of those days when nothing seems to go right, so I'm not going to say much more about it. It even took what seemed to be forever to get a good QSO this evening. I worked W0M in MO, but I wasn't sure he got my call right so I went for another one and finally found and worked W1EAT some 20 minutes later on 40 meters. -30-


---

Sun Aug 8 2021 4:17PM - OK, I promised a report on our tag team effort in yesterday's NAQP Contest, so here goes.

Mike arrived between 11:15AM and 11:30AM. We sat down and talked for a while after we did some walking laps in the house for our exercise since we'd be sitting for a long stretch in the contest. Then we sat down and continued talking about this and that. Among other things, I showed Mike some newer apps I had gotten for my iPhone, and he in turn showed me some tricks for the iPhone. When it got to be around 1:30PM or so, we went up to my shack to set up for the contest. We wanted to start early in case there were some glitches to overcome. Here's what the setup looked like: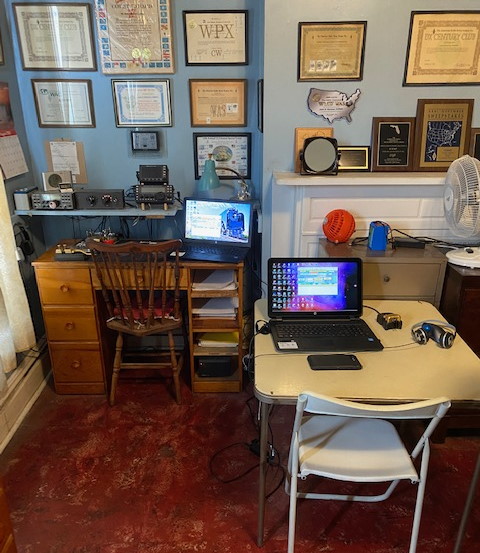 I sat at the desk, and Mike at the table. Both our keys and headphones are connected through Y adapters to my KX3. We take turns working stations. I find and work them first, then Mike works them. That works most of the time unless the band changes or the station moves or shuts down. I think that only happened 6 times out of some 120 QSOs that I made. However I did add a few stations to my total while Mike was tearing down his setup.

Conditions were pretty good overall except for a lot of rapid QSB. It was so rapid at times that signals would go up and down while a station was sending his call or name. We spent most of the time on 20 with excursions up to 15, and then closing down on 40 around 10:00PM. We put in 8 hours with time out for a couple of subs around 9:00PM. I made 120 QSOs in 60 band S/P/Cs and Mike made around 10-15 less due to the missed stations and his quitting earlier than I did. We worked quite a bit of DX including several KP4s, a couple KP2s, ZF, PY. We worked probably 35 or so states, including most of the western ones except Utah. I almost got Utah, but he never got past having my call as K3WP so I didn't log him.

I had a great time working a lot of stations that I had worked many times in the past, but hadn't worked recently like N4ZZ, K4RO, WO4O, WJ9B, and many more that don't pop right into my mind. I noticed for some reason my brain was working like it was a lot younger. I could easily dupe check in my head, easier than I had done recently. I guess maybe that's due to having a couple of young teenage friends acting as my Fountain of Youths. HI HI I think regular diary readers know what I'm talking about.

Anyway, back on track. Mike headed home right after shutting down. We'll be getting together a few more times in the next couple weeks. Let's see, the Skeeter Hunt, Skyview S and S, a subpedition, and perhaps an extra trip to Pittsburgh for some non-ham radio things. More about them as the time draws closer. -30-


---

Sat Aug 7 2021 10:43PM - Busy most of the day on the NAQP with Mike. Report in tomorrow's diary. -30-


---

Fri Aug 6 2021 8:56PM - Yet another quiet day except for one major thing. I had problems with my laptop computer. I couldn't get my password to work, and then it timed out and I spent several hours trying to find another way to access the computer. It's a long story and I won't drag it out. I'll just say as I said to a friend of mine at the grocery store that I finally won the battle and got it going.

Tomorrow Mike and I will be doing the NAQP Contest as a tag team. That will be fun. -30-


---

Thu Aug 5 2021 9:16PM - Not much going on today. The Armstrong Folk Festival is taking place in the park so I couldn't even go there for a sitting thinking session. I did do some walking and some banking and shopping along the way. Other than that I can't think of anything out of the ordinary. The bands were a bit off this evening with not much activity and it took a while to add another day to the streak, but I did when I worked Norm KC1BMD in ME on 40. I wonder what tomorrow will bring now. -30-


---

Wed Aug 4 2021 8:33PM - I neglected to mention it yesterday, but when I worked W4TJE last night, that completed 27 years of my streak QSOs. Tonight when I worked KA2BKG, that got the 28th year underway. Whew, that's a long time. It's roughly 35.5% of my lifetime if I figure right. I really hope I can reach the 10,000 day mark on December 21 this year. If I don't make it, it won't be that QRP and CW doesn't work. That's for sure. It will be some other non-related reason that brings it to an end.

It was a good day today. I got some outside work done like cutting my grass with the help of my friend Jasmine. I also helped her cut some of hers and I was glad to do that. I was hoping for a good sunset tonight after some rain storms passed close by, but it was only poor to fair. -30-


---

Tue Aug 3 2021 8:48PM - Same old, same old. At least there was a nice sunset to photograph tonight. And a quick streak QSO to give me time to take the pictures. -30-


---

Mon Aug 2 2021 8:49PM - Late again tonight. Taking sunset pictures. Not much to write about anyway. Maybe tomorrow will bring more action. HI -30-


---

Sun Aug 1 2021 8:07PM - Once again on a Sun evening, the SST sprint gave me a quick (0002Z) QSO from W0GAS in CO on 20M. Another pretty quiet day today. I did paint my back door steps in trying to keep up with a maintenance chore each day. Not much else though besides a couple walks and thinking sessions in the park. We have the Folk Festival in the park from Wed through Sun now though so I'll have to find some other place to do my thinking. HI -30-


---

Sat Jul 31 2021 7:30PM - As usual, the last day of a month is a busy one, and today was no exception. I've got most of the EOM chores done. I still have to upload my July logs to LoTW and eQSL and a few other such things. I may do them later tonight or wait till tomorrow depending on my mood. Hopefully I'll get a quick streak QSO tonight and have some time left to decide on what to do. -30-


---

Fri Jul 30 2021 8:15PM - A very good day today. First of all, this evening my streak QSO was DX with CT9/DL5LYM on 20 meters. He wasn't all that strong, but I worked him easily after waiting through 4 or 5 other stations.

Secondly, I did a lot of yard work which was sadly needed. I just hadn't been in the mood to take care of it lately. The neglect showed.

I went for a couple walks and sat in the park a couple times. The weather was just about right for such activities. Near 80, humidity not too high, and a nice breeze blowing.

Tomorrow is my friend Jasmine's 17th birthday, and I gave her my presents today since she is having a big party tomorrow for (I'm guessing) her young friends and/or family so I won't see much of her then. It was a pleasure seeing her enjoying the gifts. I got a card this morning to go with her gifts. I thought the verse on it was very appropriate for her. You'd agree if you knew her. Here it is: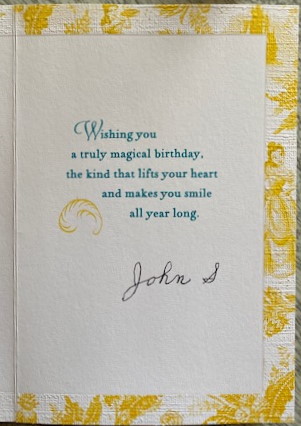 -30-


---

Thu Jul 29 2021 1:31PM - Just got my 13 Colonies certificate, so that will serve as my diary entry for today.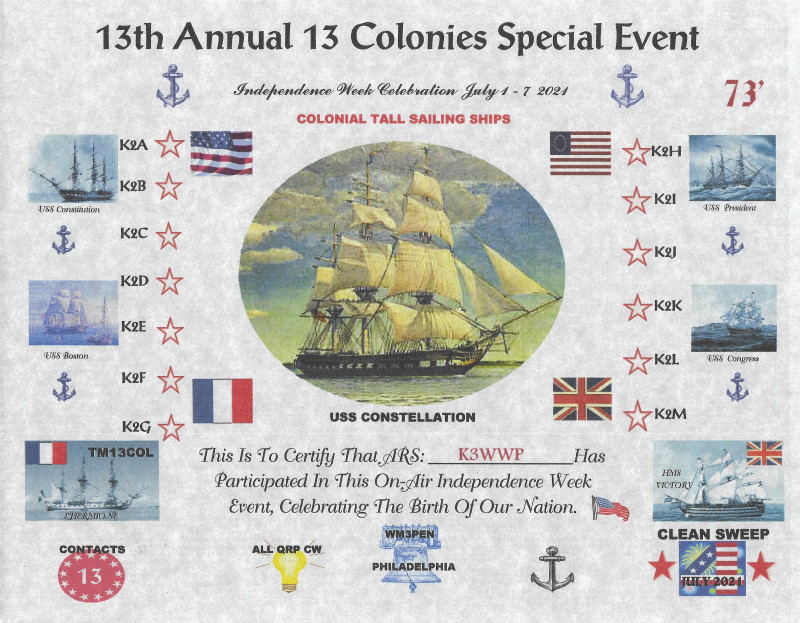 -30-


---

Wed Jul 28 2021 7:38PM - Pretty much another nothing day. I did do some yard work and also did some work on my house plants. Otherwise just the usual walks and sitting in the park doing some thinking. -30-


---

Tue Jul 27 2021 8:53PM - OK, got to get this done before my weather readings at 9 followed by a pizza delivery, so here goes. Really not much to talk about except to say it was a good day. Also my streak QSO was DX tonight - E78A on 20 meters. It was a hot day. It hit 90 on my remote unit. Felt like it too. I took a couple walks and didn't get overly tired. I think all the walking I've been doing since I got my iPhone and Apple watch have really improved my fitness. Thanks Jasmine, for encouraging me to get them. OK, better run now. -30-


---

Mon Jul 26 2021 11:23AM - I thought I'd take time here to write about the FOBB yesterday. Mike arrived about 10:15AM or so and we killed time talking, running my trains, etc. until a little after noon when we packed up and headed to the Community Park. Setup went pretty smoothly. Mike had a bit of trouble with the ATU in his KX3 which was cured by a reboot of the KX3. I let him choose which band he wanted and he took 20, which left me with 40.

I started calling CQ when the event started, and quickly sensed something wasn't right. I bypassed the ATU in the KX3 and found a very high SWR which was unusual because the antenna has always had a low SWR. With the ATU, it was 1:1.2 or so, but then the tuner in the KX3 is too good and it will tune a piece of coax to 1:1 with or without an antenna connected. If you have a KX3, you should always bypass the ATU when checking a new or different antenna. It turned out that there was a bad connection in the coax and the ATU indeed was tuning just a section of coax. It took a long time to find and fix it, and I lost 55 minutes of air time in the FOBB.

Once I got started, Mike was already 10 or so QSOs on the way, and I never did catch him. I wound up with 19 QSOs and he got 33 for a total of 52 between us. We worked 22 states plus ON and QC. 21 of the 52 were with other 'Bumblebees' for a preliminary score of 3,276.

While we were operating, we took some pictures (below), dealt with some fellow looking for a Troy Hill Park, and I thought of maybe eating at Ponderosa after the contest. I gave them a call to make sure the buffet was open, and it was until 8PM.

We tore down, headed here to home, and then took off for Ponderosa in Butler. It was good to eat at Ponderosa after a year and a half or so. Back home again to send off our FOBB report, do a couple other things and then Mike headed home after a very good day. Now let's do some pictures. Top row Mike and his antenna. Bottom row John and his antenna.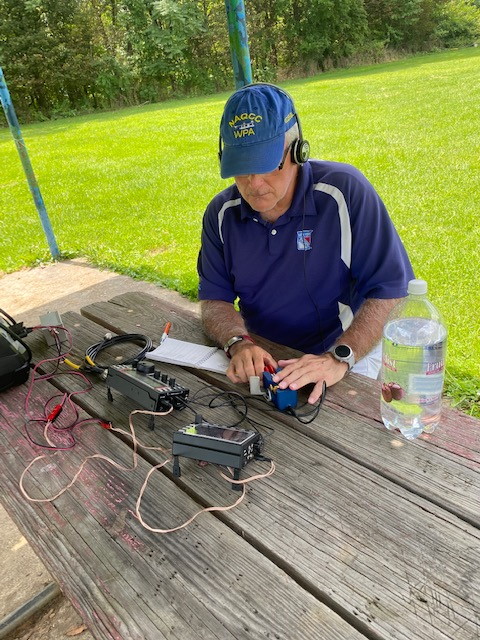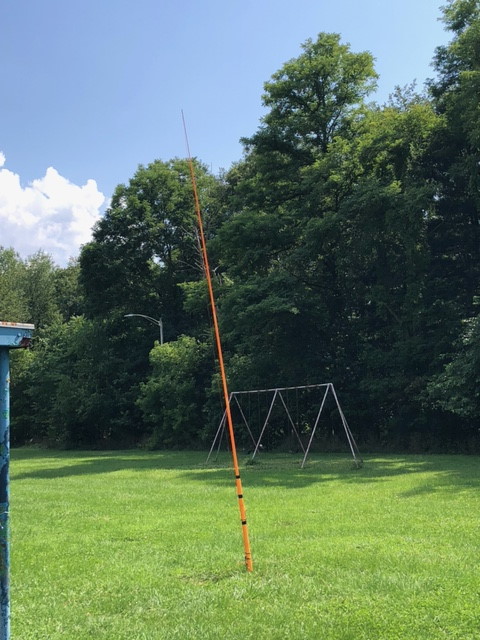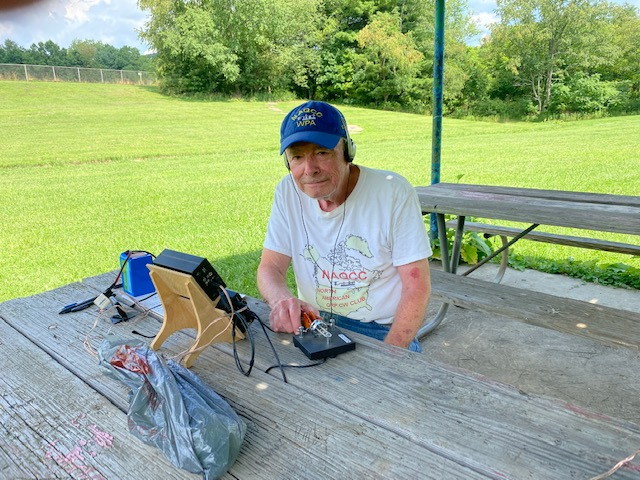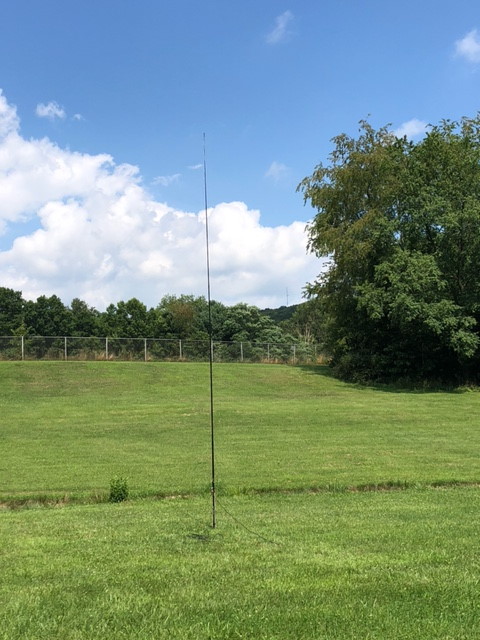 -30-


---

Sun Jul 25 2021 9:03PM - A long busy day with Mike and it's too late to write it up now. I'll just say we made 52 QSOs in the FOBB today despite me having antenna problems and losing 55 minutes of air time. More stats and maybe pictures tomorrow in the diary. -30-


---

Sat Jul 24 2021 8:49PM - Another quiet day today waiting for tomorrow to come and with it, the FOBB sprint. Still a 50% chance of rain, down from an earlier prediction of 70%. We'll have to wait and see. One way or another, inside or outside, we will try to do the full four hours of the sprint, barring any unforseen circumstances. -30-


---

Fri Jul 23 2021 8:38PM - I'm looking forward to doing the FOBB sprint with Mike on Sunday. We'll be operating from Kittanning Community Park hopefully for the full 4 hours of the sprint. However a 70% chance of rain is predicted so we may have to modify our plans. Maybe operate from home? I'll try to have more info in tomorrow's diary entry. Meanwhile nothing else to talk about from today so 73. -30-


---

Thu Jul 22 2021 7:07PM - I wanted to do this yesterday, but time didn't permit. Where were you on July 21, 1969 around 0256Z? Earlier that day, I listened to the Apollo 11 moon landing while driving to work at WPIT. The landing took place on the 20th at 2017Z or about 4:17PM EDT. I followed it on the radio at the station. I was disheartened when it was announced that the moonwalk time was moved up in time. The new time was close to the time I would be shutting down WPIT for the night. I had an old reel to reel tape recorder with me that I was going to use to tape the audio portion of the TV coverage when I got back to my apartment. Now it became a race though. It would be touch and go whether I made it home in time or not.

Well, I signed the station off early. I could do that since we didn't have any paid programming at that time of around 11:00PM. I went to my car. Started it like a drag racer and raced home. Lucky I didn't get caught speeding. When I got home I ran to my 3rd floor room, threw the tape recorder on the bed. It bounced on the floor, but fortunately survived. I picked it up and hooked it to the TV. I think I only was able to put a microphone(?) in front of the TV speaker. Although I did miss the first several minutes of the walk, I did wind up with several hours of that memorable telecast. Whew! -30-


---

Wed Jul 21 2021 8:14PM - A great day today. For the usual reason of late. I've got to get on the air again in a few minutes to get a QSO in our NAQCC sprint. I worked Glenn N4MJ for my streak QSO. He was tuning up for the sprint. So once again I must cut this short. I was going to talk a bit about Apollo 11. Maybe in tomorrow's diary entry Unless it turns out to be another busy evening. It would be nice to have another nice sunset to photograph with Jasmine. We haven't had one for a while now. -30-


---

Tue Jul 20 2021 8:37PM - This was a good and busy day. I got my whole house air conditioning installed. That took about from 8:20AM to around 4:00PM. Sure makes a difference in this house. I probably should have done it years ago. But frankly the heat never bothered me until maybe a couple years ago. Again frankly it really isn't bothering me again now since I've got my weight down to 155 or so and have been exercising much more lately. I have to attribute a lot of that to my friend Jasmine.

Speaking of Jasmine, we had a good time today cutting grass while all the AC work was going on.

I got some DX for my streak QSO, XE2I on 20 meters. It will soon be one more year added to the streak if I make it to August 4. That will be 27 years. Whew! -30-


---

Mon Jul 19 2021 9:14PM - Does time really pass faster as we get older? Once again tonight I'm running late. Maybe it's just because there is more to do, or we do it slower? I think it's a combo of the last two things in my case. Anyway, I have to hurry and get this written. I lost my first QSO tonight with K2HYD before it really got started. The band just dropped out on us. Then I worked W3MWR a little later for my real streak QSO. While I was doing that I was also taking a nice sunset picture. I was too busy to text Jasmine about the sunset and it was over quickly so I texted her a picture of it. Then I got into a text exchange with Mike about a couple of things including the FOBB contest this Sunday. Then the web site updates including this diary entry and my 9:00 weather readings. Whew, I guess it is just having more things to do. HI. Tomorrow is busy also as I'm getting full house AC installed. -30-


---

Sun Jul 18 2021 7:52PM - Just put my laundry in the washer and getting ready to head to the shack for a quick SST streak QSO. Nothing much else to report. I did some yard work, took some walks, and sat in the park and did some thinking. That's about it. -30-


---

Sat Jul 17 2021 8:38PM - Not much to report today. Kind of a rainy day, but I did get in a couple of walks and park sittings between the showers. I worked Madeira Island for my streak QSO a little bit ago - CT9ABN on 20 meters. Took a few calls to get my call straight, but he stuck with me till he got it. That's usually an area of the World I can work easily, but a bit difficult this evening. -30-


---

Fri Jul 16 2021 8:29PM - The good days just keep rolling on. I was just sitting here thinking about things and thinking how blessed I have been in my life, especially lately. At 76 years of age, I think I feel better than I did 20-30 years ago. A large part of that is due to a friend I've talked about quite a bit in the diary lately. I'm not going into that in detail, but as I said, if you've been reading the diary lately, you can figure out what I mean.

For the second night in a row, my streak QSO has come from the same city, Ottawa, ON. Tonight VE3TM and last night VE3BXG. Wonder if they know each other. -30-


---

Thu Jul 15 2021 8:25PM - Another great day like yesterday. I did call WY3H late last night and he is doing pretty well after all his health problems the last year or so. Tonight I worked VE3BXG in Ottawa for my QSO on 40 meters. -30-


---

Wed Jul 14 2021 8:16PM - A great day today. Regular diary readers can figure out why. HI. I wrote a lot yesterday so I'll keep it short tonight. I think I may call my friend Tom WY3H a little later tonight. Right now I'm watching to see if we are going to get a good sunset. Doesn't look too promising right now. My QSO was with ND2O in NC on 20 meters. -30-


---

Tue Jul 13 2021 4:35PM - A few times I said I'd do this and haven't done so. I feel really good now, so I'm going to tell a story I promised to tell the day before in the diary, but didn't have time then. Got all that? OK, here we go.

Yesterday Mike arrived about 8:40AM, and we took off for the Requin about 8:50AM. We (I) talked most of the way to Pittsburgh so time went fast. We arrived at the Carnegie Science Center about 9:45AM and walked over to the sub. No one was around so we opened the door and went in and waited. It wasn't long before Art showed up. He told us about some new rules that were put into effect. One was good and the others not so. We no longer had to wear masks. Yay! However the radio room door had to be kept closet so visitors could see the equipment, but not enter the room. We always enjoyed talking with the visitors and that made it next to impossible to do so now. Also all 'frequent flyers' as Art put it, meaning those who visit the sub regularly to operate the radio room or for other reasons would have to get certified for lack of a better description. That means we would have to get a background check. All of this was just recently implemented and even Art didn't know all the reasoning behind it. Mike said it smacks of totalitarianism. I agreed and I thought such a background check was an invasion of privacy and smacked of leftist Nazi Germany. I may just stop operating from the sub. I'd hate to do so, but I believe strongly that this is still a free country. End of rant. Let's move on to more pleasant things.

Art and we went to the radio room and got set up. That went more smoothly than usual and we were on the air around 10:15AM. Mike had it set up so we would operate 30 minutes on each band 20, 30, 40 on approximately 14061, 10117, and 7041. The schedule worked out good. However activity was not good. We made the following number of QSOs: 20-4, 30-3, 40-3 for a total of just 10 in about 5 hours of operating. Where was everybody? To be fair, we did have a lot of QRN on all three bands and could easily have missed some of the weaker stations calling us, but still there should have been more activity.

Let's have some pictures now if I can successfully transfer them from my phone to laptop.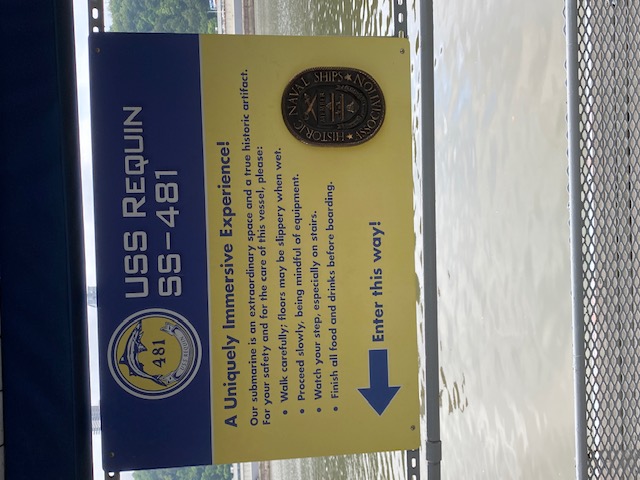 The sign at the opening of the walkway to the sub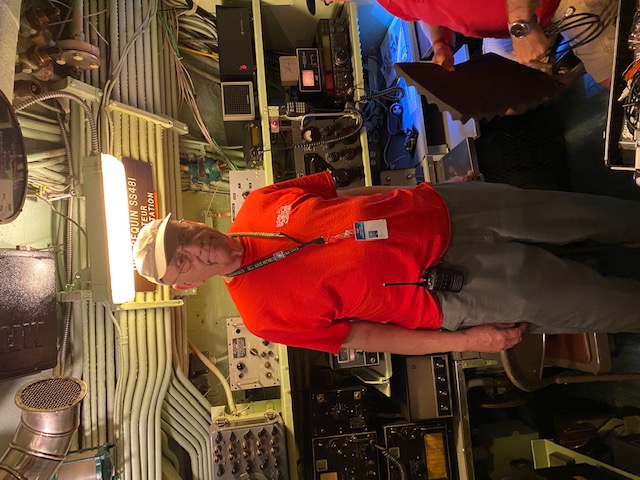 Art WA3BKD, the "caretaker" of the sub and radio room in particular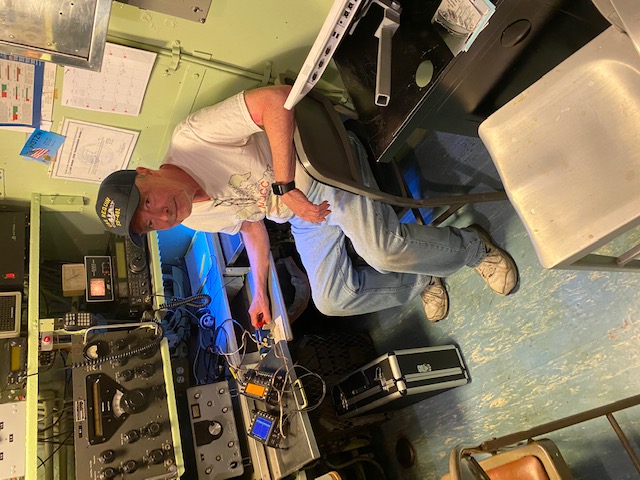 Me at the operating position. I "texted" this picture to my friend Jasmine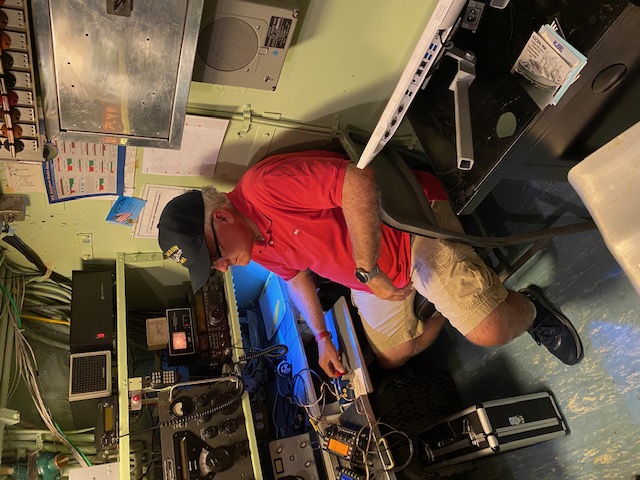 Mike at the operating position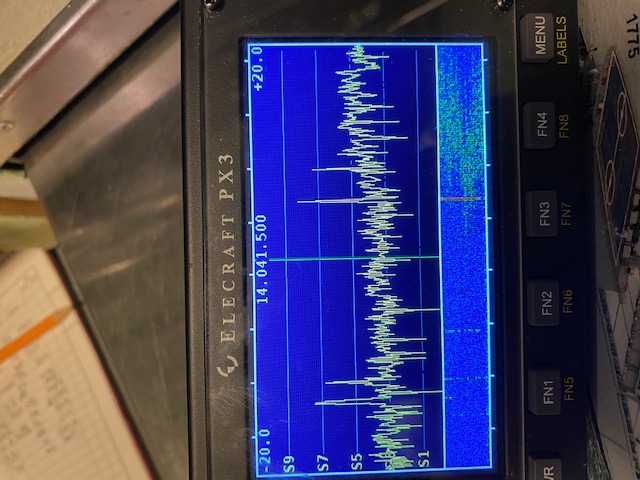 An idea of the noise we experienced. It was a little higher than this on average


With the exception of the new rules and lack of activity, it was another great, enjoyable subpedition.

There was the usual Covid break from about 1:40 to 2:40PM where the sub is "disinfected" of the virus. That's when Mike and I go out and sit by the Science Center, eat our lunch and watch the girls go by. Yes, we're hams, but also typical males. HI

On the way home, we stopped in the Pittsburgh Mills and ate at Applebee's for the first time in about a year and a half. That was a great experience as that is one of our favorite eating places and we missed it due to Covid. Here at home, we looked for an ad from an old QST magazine for Bob WC3O from Skyview. It was a Begali ad and Bob thought it was in an issue from 2005, but we didn't find any ad. Then we checked the bands and there wasn't much activity from here at home either. I got my streak QSO, then Mike headed home. -30-


---

Mon Jul 12 2021 9:32PM - Mike and I had a good time today. I don't really have the time to talk fully about it. Maybe tomorrow during the day, I'll write a fuller entry with some pictures. -30-


---

Sun Jul 10 2021 7:54PM - In a couple minutes I'll get my streak QSO from the SST Sprint. Today was pretty much a nothing day. I did some housecleaning, some walks, and sat in the park and did some thinking. That about covers the day. Tomorrow will be much more active with our subpedition to the Requin. We'll be on near the QRP frequencies on 40, 30, and 20, only one band at a time and the one band will be the one with the most activity, so keep switching bands to find us. We'll start around 1430Z and go unti 1800Z or as long as there is a lot of activity. Last month was very slow. Let's try to make this a busier month. -30-


---

Sat Jul 9 2021 8:08PM - A quick QSO tonight thanks to the IARU Champs. On 10 meters to boot. I worked K5XU easily. When was the last time my streak QSO came on 10 meters? I have no idea, but it's got to be a long time ago, I'm sure. Otherwise a nice day today. Good weather, moderate temps, no rain, little breeze. Good for several sits in the park and several walks getting there or otherwise. -30-


---

Fri Jul 9 2021 9:21PM - Late tonight. Didn't get my QSO till 0058Z. Watching/photographing a beautiful sunset with Jasmine. Worked N1IYH on 20 meters. -30-


---

Thu Jul 8 2021 9:15PM - A good day in general. A bit wet, but not that bad. A quick streak QSO at 0000Z with K1RX on 20 meters. Nothing much else to write about. Remember though, Mike and I have our regular second Monday subpedition on the Requin this coming Monday. Mike will do the publicity for it, but basically we'll be around the QRP frequencies from 1430 to 1830Z or so. -30-


---

Wed Jul 7 2021 9:18PM - One of those days I could write a lot, but it's late and I have to be brief.

I mailed my application for the 13 Colonies Award today. I got all but GB13COL, and I believe I had a lot of company from comments I've heard. I believe, along with many others that there needs to be a stronger station for GB13COL next year. Some have even suggested a better operator. I never heard them strong enough to comment on the operator.

I also mailed a check to renew my domain name of k3wwp.com for another year.

I closed out the 13 colonies event with K2I on 20m for my streak QSO this evening. That added one to my 20m band total in last night's diary entry.

I also had a great visit with Jasmine for about a half hour talking about various things including the pets we've had in our lifetimes. Also several other things I'm not going into here for lack of time. -30-


---

Tue Jul 6 2021 5:41PM - Book him Dano! Yes, I got Rhode Island today to complete the 13 colonies. Still could use GB3COL, but I never get them anyway, so I don't expect to get them this year either. That's six years in a row now with all 13 colonies plus WM3PEN. This year I got TM13COL also.

While I'm sitting here being happy, here are some stats to ponder:
Colonies by band:
80 - 8+, 40 - 12+, 30 - 2, 20 - 10+, 17 - 2, 15 - 1, 10 - 1. The plus means WM3PEN also.

Average order of working each colony over the six years with MA being the easiest and MD the hardest:
1-MA, 2-NH, 3-SC, 4-CT, 5-RI, 6- NC, 7-PA, 8-DE, 9-NY, 10-NJ, 11-VA, 12-GA, 13-MD.

I'm not sure what it means, but it satisfies my delight in playing with statistics. HI

Hope you all had a good day also, and a good rest of the evening as well. -30-


---

Mon Jul 5 2021 6:37PM - A great day on the ham bands today. Probably the best in 2-3 years now. Other than the contest days with Mike, that is. Still looking for RI to finish the colonies, but worked some other good stuff on some bands I haven't done much with lately. IZ8JAI and CT3MD on 15 meters. Also nearby (about 25-30 miles) K3M manned by friend Bob WC3O on 15 meters. LZ1PM and TM13COL on 20 meters. K2L on 17 meters. I now have colony stations worked on 80, 40, 30, 20, 17, 15 meters, but I sure would like to get RI. Actually I haven't even heard a RI station yet. I may have to cheat and check some Internet spots to see if I can find and work them. As many of you know, I virtually never use spotting to work stations. I just use that tuning knob on the rig along with the blips on the panadapter to find and work stations. I've probably only used spotting maybe once or twice in my ham career.

I'm writing this early hoping for a nice sunset tonight to watch and photograph with Jasmine as we did a couple nights ago. -30-


---

Sun Jul 4 2021 8:06PM - Got MD, still looking for RI. Haven't even heard it yet. A quick SST streak QSO this evening. Busy right now, so will cut this to a Readers Digest entry. HI -30-


---

Sat Jul 3 2021 8:13PM - Not much luck today in the 13 Colonies Event. Still stuck at 11 looking for RI and MD. I did get a nice SE Slovenian station while looking for colonies - S5030A on 20M. Also my streak tonight was with N1SNB. Jeff wrote a Teens and CW page for my web site many years ago. See the CW section, Teenagers and CW page to see his story. Not much else to report on today. -30-


---

Fri Jul 2 2021 8:20PM - Somewhat frustrating on the bands, but a great day otherwise. I still haven't heard RI NJ MD, but I did hear K2G in GA and almost got him. He came back to me as K3WWR, and never corrected it so I didn't log him. I hope that wasn't a mistake and I just didn't hear him correct the call. He was operating split and some lids kept calling him on his frequency and causing havoc.

Don't have much time left here. I've got to order a sub to celebrate a great day. Regular diary readers will probably know why it was a great day. Maybe not specifically, but in general. HI -30-


---

Thu Jul 1 2021 9:10PM - I'm running late tonight so just a brief summary of today. I worked the 13 Colonies event both this morning and evening plus random checks at other times. So far I've got 9 of the 13 Colonies worked. I heard WM3PEN, but couldn't break the pile. I haven't heard the other 4 colonies yet, but I hope to get all 13. -30-


---
stat-counter.org