---
Sat Feb 16 2019 07:39PM - To quote or paraphrase the White Rabbit in Alice in Wonderland, "I'm Late! I'm Late." The picture will explain to long time diary readers. For newbies, I'll add a little after the picture.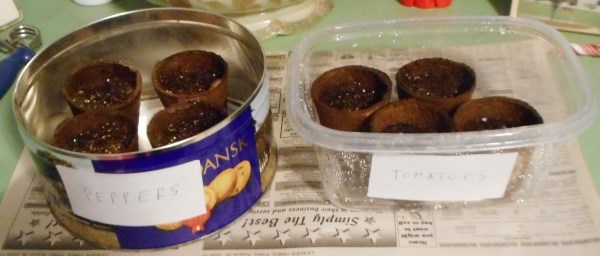 Yes, today about a month and a half late, I'm starting my Siberian Tomato and Pepper seeds. I had just totally forgotten about it until my friend Ange visited today and talked a bit about gardening. I guess I can blame it on my obsession with trains that started late last year. Oh well, maybe they'll take off quickly this year and I'll still get a yield in June or so. We'll see.

Another ARRL DX QSO was my streak QSO for this evening. KP2M on 40 meters heard me. He usually always does no matter the conditions. There wasn't a whole lot more to be heard, but then I only checked 20 briefly then came to 40.

Our preview of spring yesterday didn't last long. We barely got above freezing at 33 degrees today and with a breeze, it felt even colder. But at least no s@#w, although we may get some tomorrow. -30-


---

Fri Feb 15 2019 07:48PM - For the first time since November 28, 2018, my signals left the boundaries of the continental USA and were heard and answered by someone. That someone tonight being HQ9X on 20 meters in the ARRL DX Contest. In the half hour before that however, I must have sent my call 50-60 times to several different stations without so much as a ? in response. Actually more so than not being heard was losing out to the competition. Not a single one of the times I called did the station I called not answer someone else. Every single time I was simply beat out. So I can't really say that my QRP wasn't working. It was just that someone else was stronger than I was. I think without that competition, I could do well in the contest if I felt like hanging in there. Perhaps I will try some during the day tomorrow, but don't hold me to that.

Today was kind of a preview of spring. Not so much that it was so warm, but because all the ground was bare and a hint of the smell of spring was in the air. It will be so nice when every day is similar.

I'm looking forward to Presidents Day on Monday when we honor three of our greatest Presidents, Washington, Lincoln, and Reagan. Also because Mike will be visiting that day. We have a model railroading day planned. Of course I or Mike will write it up in my diary for that day and perhaps add some pictures as well. There's a surprise waiting here for Mike. He probably will read this entry so I won't say any more about that now. -30-


---

Thu Feb 14 2019 08:40PM - Is that a glimmer of light I see at the end of the tunnel? I'm not sure but I did hear some signals on 30 meters this evening. One in a rag chew style of QSO whom I couldn't ID beyond he sounded like a WA6 call. A couple others chasing some DX station I couldn't even hear. There were also a couple weak signals on 40. However I had to go back to old reliable 80 to get my QSO from AA1LL in NH.

Looking back, this winter has really not been all that bad (so far). We've had very little s@#w and only a couple days zero or below. There have been a lot of days when the ground was green/brown instead of ugly slippery white. And we've only got a couple weeks until meteorological spring. Of course the first month of spring can act and has acted like winter. Let's hope it doesn't do so this year.

I'm still learning about railroading. I tore a little deeper into a couple of my engines today and cleaned and lubricated a little further. I also switched out the Foodland body on one engine chassis and replaced it with a Santa Fe one. I'm very glad I'm getting back into the hobby and enjoying it tremendously so far. Still awaiting arrival of the Santa Fe Empire Builder N gauge set though. I got a little excited when I saw the big brown truck (UPS) on my street today, but it wasn't my train arriving, but something for another house. -30-


---

Wed Feb 13 2019 08:51AM - Ken WA8REI and I had our first contact over 52 years ago on August 25, 1966 and it set the tone for many later non-contest contacts since it was 42 minutes long. I noticed in his obituary which I posted yesterday, he was about 2 years younger than me, so our first QSO took place when I was about 21 and he was 19. Ken loved to rag chew and could talk on many different subjects. Over the years, we had 78 contacts. Of them, 21 were in contests, and the rest enjoyable rag chews. Usually our rag chews were at somewhat higher speeds than normal, perhaps in the 20-25 WPM range. So we did exchange a lot of info, not just a couple items at much slower speeds. A couple of contacts come to mind. We made it a point to have a contact 40 years after our first QSO. So on August 25, 2006 at 0008Z on 3561 we did just that. We chatted about various things, among them how things have changed in that time span. Let's jump ahead 10 years now. On August 25, 2016 for the 50th anniversary we went a step further and made it at the exact date, time and band. So we contacted each other at 1631Z on August 25, 2016 on 7030 and chatted for over a half hour. The only difference was the frequency. It was around 7020 in 1966. I didn't log exact frequencies then, but only within a couple kHz or so with the old analog dials. This time it was 7030. We each sent the other a special commemorative QSL card. I don't have that handy at the moment, but here is an image of the QSLs we sent each other back in 1966 that I originally posted on Microsoft's MySpace (now OneDrive):



I have other images also, and when I find them, I'll post them here in the diary.

Another memorable, in a different way, QSO was the time when Ken answered my CQ, but his CW was not like the crisp clean CW he always sent. It hit me hard when we started the QSO and he told me that he had suffered a stroke recently and was having difficulty sending.

There are many other memories. Unfortunately Ken's plans to stop by here for an eyeball QSO never materialized for one reason or other. I know that many others have had eyeball QSOs with Ken and have more interesting stories to tell, so I'll yield the floor to them wherever their stories may be posted.

I'll close again as I did yesterday. Rest in peace, my very good friend. -30-


---

Tue Feb 12 2019 08:07PM - I had planned on talking about some other things tonight until I got this sad email from Larry W2LJ.

After a bit of introductory info I won't repeat here, the email goes like this:

Kenneth A. Louks (WA8REI) of Freeland, Michigan passed away February 10, 2019 at the age of 71.

Ken was a life-long resident of the Saginaw area. After graduating from Buena Vista High School in 1965, he entered Western Michigan University and obtained a bachelor's degree in sociology. Ken served in the US Army from 1970-72 and was stationed in Stuttgart, West Germany where he was assistant to the Chaplain. Upon his honorable discharge, he was employed by the US Postal Service from 1972 to 2002, reaching the level of Mail Processing Manager at the Saginaw USPS facility.

Ken had a strong Christian faith and was past member of Sheridan Avenue United Methodist Church, Auburn UMC, and presently was a member of Hopevale Church. He enjoyed the Christian fellowship of all members at these houses of worship.

Ken was a gifted keyboardist from his youth and throughout his life. Ken was organist at Auburn UMC and part-time organist at Sheridan Avenue and Swan Valley UMC over the years. Ken also taught piano from his home. Even after a stroke at age 60 rendered his left hand paralyzed, Ken still played his electronic keyboard, recording and sharing his music, which were often arrangements of favorite hymns. Ken also played the dulcimer.

Ken loved his Lord and his country and was proud of his service in the Army. He enjoyed traveling our scenic country, either in his RV or Tahoe, often stopping at the homes of relatives or his ham radio buddies. He loved nature, and loved visiting relatives whether they were in Saginaw, Mayville or Florida.

Ken's favorite hobby was amateur radio. Licensed in 1965 as WA8REI, he was very active on the air until his death. Ken loved to operate his radio, using Morse code, from wilderness areas as well as from his home. He made loyal friends on the air all over the world.

Ken was predeceased by his parents, Ferris and Donna Louks. He is survived by his brothers David (Kathryn) Louks, Paul (Vicky) Louks, a dear aunt G. Elaine Fox, and many treasured nieces, nephews and cousins.

Honoring Ken's wishes, there will be no formal funeral service. His wish was for his friends and relatives to remember him in their hearts and give all thanks and praise to God for our time of grace. Also per Ken's wishes, he will be cremated, and his remains interred at Great Lakes National Cemetery in Holly, Michigan at a later date. Those planning an expression of sympathy may wish to consider Hopevale Church of Saginaw

In tomorrow's diary entry, I'll have some personal memories of Ken. Right now I'm in shock since I last worked him, well just one month ago today in fact. It wasn't a long QSO because of the usual QSB and QRN, but he was telling me of some health problems which he seemed to be conquering. I guess they won out though. Rest in peace, my very good friend. -30-


---

Mon Feb 11 2019 07:41PM - Maybe complaining about not having many good rag chews because of QSB had some effect. Tonight Dick WB3AVF and I had a 30 minute QSO with 95% or more solid copy with signals both ways S9+ quite a bit of the time.

After getting some s#$w last night - an inch or so - it turned out just mostly cloudy or rainy today. No freezing rain. It looks to be the same tomorrow and early Wednesday also. At least in this part of the state. I can't speak for the rest of the state. It doesn't look all that good.

I was ambitious this morning and shoveled the s#$w from my and my neighbors' walks. It was above freezing and the s@#w just glided off the walks.

I also took care of my State and Federal Income Taxes today. That has to be the earliest in the year I've done that since I don't know when. I usually procrastinate on those tax matters. It feels good to have them done now. -30-


---

Sun Feb 10 2019 08:07PM - Poor conditions again tonight and a QSO that started out pretty good before QSB and my local noise took over. We did at least get in a couple rounds first. That is better than some of the QSOs of late. I sure miss the good long solid rag chews, not to mention the DX. The space weather forecast seems to indicate the solar minimum will occur this year and then things will start to pick up again. I sure hope that is right.

Until that happens, I have my railroads to keep me occupied. Thanks to those of you who are emailing comments on the railroads. I try to answer all personally, but it may take a few days to get to them. Lane who sent me the shifter enjoyed the video of it running around the circular track with a good sized consist that I posted via last night's diary entry. Today I worked on cleaning and lubricating my N gauge rolling stock among other things like painting parts of the layout board to make it all a uniform green color for now.

We've got some freezing rain precidted during the next couple days. Looks like just a slight coating as of now, but if we do get more, and you don't see a diary entry, then you'll know we got enough to knock out power. Sure hope that doesn't happen. If it does, the first thing I'll say is I sure wish I'd gotten that emergency generator I've been thinking of getting the past several years now. Also if it does, I definitely will get one sometime this year. -30-


---

Sat Feb 09 2019 01:39PM - I think I learned a lot about videos in general as well as presenting them on a web site, thanks to Microsoft's OneDrive. So with that said, I present via here (I hope) the video of my train I made a couple days ago. My actual video cinematography needs work yet. I need to work on lighting, camera angles, focusing, sound, among other little things. The video should show up in a new browser window. I'd suggest muting the sound as it's only noise and quite loud. If it doesn't show up, or you have any other problems with it, let me know via email.

Took me about a couple hours to figure out why it would play some places and not others. The basic problem was the original AVI from my camera did not have the correct frame rate nor index points embedded in it. I got that info from the free video editor Prism when I tried converting it to a WMV file. It had a place in its options to set a size and frame rate in the converted file. By golly, that worked just fine then. -30-


---

Fri Feb 08 2019 10:51AM - I didn't have any luck with the video I mentioned yesterday, so in lieu of that here are a couple still pictures of my trains.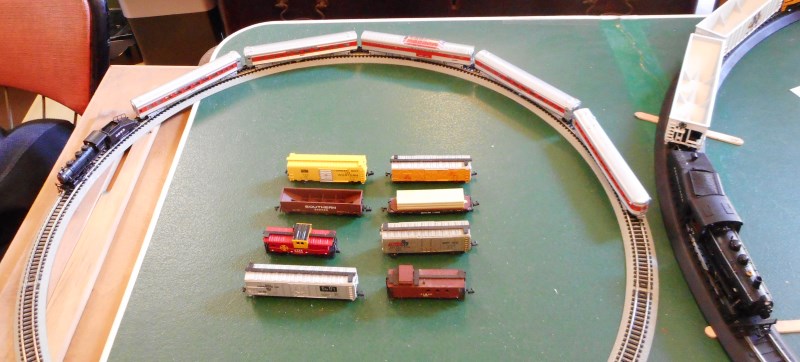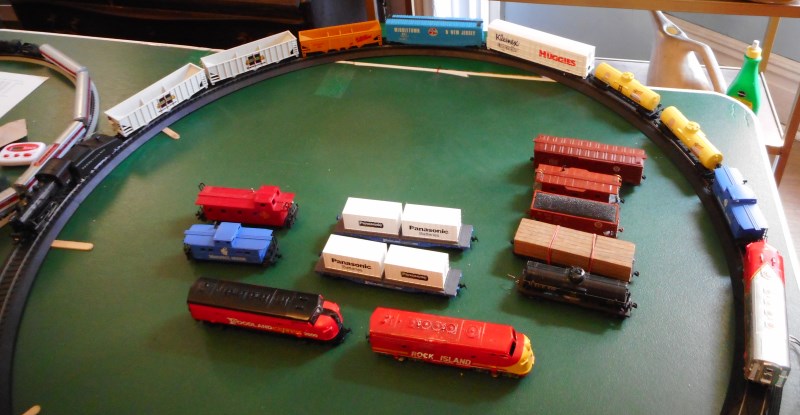 The top picture shows my N gauge Yard Boss engine pulling a consist of 5 passenger cars I got from the Ol' Station Marketplace last year. Other various N gauge rolling stock is in the middle of the track circle.

Below that is my HO Pennsy shifter as mentioned in yesterday's diary entry pulling the consist listed there. A little more about the dummy engine at the rear. It's an old Santa Fe engine stripped down to the chassis and shell after I removed the motor and wiring pending repair of same. It's very light now and gives the illusion of actually being a pushing engine while it is just coupled and being pulled along by the main engine.

Winter is back from vacation today. It's now 30 degrees with strong winds to make it feel much colder than that, probably the wind chill is in the teens or maybe even single digits. A good day to stay inside and play with trains or maybe do my income taxes. -30-


---

Thu Feb 07 2019 07:48PM - 80 meters was back to being good tonight with a lot of strong signals. It only took a couple CQs to get a QSO from Tom NJ8D in MI.

I did some more cleaning and lubricating of my HO rolling stock today, and it made a difference. When I first got the Pennsy shifter from Lane, it could barely make it around my 3' circle track. After a little work, I got it to running circles quickly and steadily. A little more tweaking, and it could pull s couple cars easily. But after today, I had a consist of 3 hopper cars, 2 boxcars, 2 tank cars, a caboose, and a dummy pusher engine all being towed along easily by my Rock Island locomotive. Then just for fun I thought I'd see if the shifter could handle that. No problem at all. I'll try to post a video in tomorrow's diary entry. -30-


---

Wed Feb 06 2019 07:45PM - Compared to a normal February day, today wasn't bad with rain and a high in the upper 40s, but compared to the last couple days, it felt chilly and damp once again. Tomorrow is supposed to be back up again, maybe into the 60s and dry most of the day.

The bands were fair to middlin' tonight. Not as good as the last couple evenings, but not as bad as many evenings of late. I worked Bob N9HAL on 80 for a 14 minute QSO with almost solid copy all the way.

I'm continuing to (re)learn a lot about my HO and N trains. Things like wheel and track cleaning, how many cars an engine can pull without struggling, what effect grade has on perfomance and the like. By the time I get around to actually going beyond my circle track and designing a real layout I should be pretty proficient with the engines and rolling stock aspect of the hobby along with the track as well. I think the learning aspect of any hobby is not only the most important thing, but a lot of fun also. All my life I enjoyed learning things about everything. -30-


---

Tue Feb 05 2019 07:33PM - The bands (80) were good this evening with lots of good peaks on the PX3. It only took a couple minutes to have my CQs answered by Dick WB3AVF. We had about a 16 minute QSO with solid copy both ways all the way. Unusual for 80 meters lately. Hope it continues.

Not a lot going on today except for working on/playing with my trains and watching several model railroad videos trying to learn more about the hobby. -30-


---

Mon Feb 04 2019 05:46PM - I don't really expect anything exciting to happen on the bands this evening, so I thought I'd write my diary entry now. I heard a couple great quotes in the course of the day today. I'll share them after some weather info. It was April in early February today. A great day for those of us who love to see the ugly s@#w disappearing quickly, and that it did although some patches still survive where it was piled up from shoveling or covered with ice. I see a high of 66 on my AcuRite remote thermometer and with no wind it did indeed feel like that. I'm not going to check right now but that may be a record high for the date in my 60 years of personal weather data here.

When my neighbor is at work, he keeps something on the TV/Internet as some background noise for Roscoe. There are some shows that play consecutive episodes on Microsoft's Bing search engine and Charlie Chan is one of them. When I went over to take Roscoe out, Charlie just uttered this great quote, "Man who sit on tack better off." It took a second for it to sink in, then I burst out laughing at the absurdity yet truth of the statement.

I've been watching a lot of train videos lately. Many of them deal with a couple of my favorite locomotives, real powerhouses in the Union Pacific collection of powerful steam engines, the Big Boy, one of which is being restored to be active again. Also another one that was actually never retired and is still active doing excursions and other activities for the UP. It's a 4-8-4 number 844. Someday I'm going to have a Lionel or HO version of both 844 and the Big Boy. I really enjoyed one video clip in particular of the 844. When out running one day, she comes along a stalled 11,600 ton diesel freight and offers to help out. She hooks up to the rear and easily pushes the train up to the next summit a few miles away. That says a lot about the power of steam engines. Nowadays you need 2, 3, 4 up to 15 that I saw one time, diesel engines to run a train that a steam engine could do by itself. Anyway, I saw this great quote someone made in the comments of one of the 844 videos, "the mighty 844 doesn't actually go anywhere. when it spins the wheels, it rotates the earth underneath it." Isn't that a great statement? HI.

Congrats to the Pats. Hey, I'm rhyming again. The Pats now have 6 Super Bowl victories and are tied for first place in that stat. However both tied teams are still far behing the mighty Green Bay Packers for the most NFL Championships combined in the pre-Super Bowl and Super Bowl eras. Here's my list of the Packers and others who have more than 6 championships overall. Numbers are pre-Super Bowl, Super Bowl, and total.

Packers 9 - 3 - 12
Bears 8 - 1 - 9
Giants 4 - 4 - 8

So if anyone tells you the Pats and the Steelers are tied for the most NFL championships, they are wrong. Remember the NFL started 99 years ago in 1920, not in the mid-1960s. That has always irked me and I like to tell the correct story now and then. -30-


---

Sun Feb 03 2019 07:47PM - Everybody must be watching the Super Bowl. The bands are really dead this evening. Or maybe conditions are just that poor. I decided to just QRT and do my laundry instead. Maybe I'll check again after the Super Bowl is over. Or maybe just wait till tomorrow morning or afternoon.

Otherwise not much to talk about except the beautiful weather. We made it to the mid 50s today and lost a lot of the ugly s@#w as a result. Hopefully it will all be gone in a couple more days. It was nice to walk Roscoe without a heavy coat for either of us. -30-


---

Sat Feb 02 2019 07:08PM - Today Phil put himself in a good light. Now let's just hope he's right. You didn't know I was a poet, did you? Anyway the area is filled with anticipation since Phil didn't see his shadow today and that means (well...) winter is coming to a premature end. That is true for the next week for sure as daily temperatures are expected to be in the 40s and even the 50s. We started today just barely cracking the 40 mark briefly this afternoon. Let me tell you, it sure felt good. Also it was great seeing white changing to green in the yards. Keep it up!!!!

The bands (80) seemed good this evening. I saw a lot of nice peaks on the PX3, but the first one I checked out was W1JXN in the Vermont QSO party. I worked him at 0002, then QRT. I should have checked the bands some more, but I didn't feel like it.

My neighbor was away for the day, so I spent a little more time with Roscoe than usual. As soon as I finish updating my site, I'm going over to check on him once again if my neighbor isn't home before then. -30-


---

Fri Feb 01 2019 07:26PM - Deja vu all over again as Yogi Berra used to say. A bit different tonight though. A couple nights ago, I started a QSO with Ricke AJ8V, but QSB ended it before we exchanged enough info to count it as a QSO. Tonight at least we got past a solid first round before QSB intervened in the second round. I can't recall when 80 meters has had so much QSB for so long and so deep. However it's doing it now and signals can go from S9 to nil at the drop of a hat. Anyway tonight the QSO counted for the streak at least.

Today is the beginning of a nice warm up which should peak in the 50s early next week. It got to the low 20s today for the first time in a couple days now. Many of you email saying you find my weather comments interesting. I put the January figures in the computer this morning. Overall January was just slightly above normal. The temperature was 1.9 degrees above and the precipitation .04 inches above normal. HDD 57 above the norm. No monthly records were set or tied other than the usual ones like number of 90+ degree days at 0 as is every January. Very few daily records set or tied. Only the following:

Low -4 on the 31st.
Mean 8 on the 30th.
Least daily range 5 on the 2nd (tie) and 4 on the 10th (tie).

That's it. So a pretty normal January overall. Wonder what February will bring now. I guess Phil (or whoever the groundhog is where you live) will tell us tomorrow morning. -30-


---

Thu Jan 31 2019 04:24PM - It was an unusual weather night last night. After the temperature fell during the day and reached -2 in the early evening, it stayed there and never moved up nor down until the sun rose about 8:15 this morning. I don't graph the temperature, but when I checked the low and high this morning, both were -2 indicating the temperature never changed during the night. I don't recall that happening too many times at all during the almost 60 years I've been keeping my weather records. It was supposed to get down to -8 overnight, but it never made it for whatever reason. The sky was clear, the winds died down, and with a s@#w cover, that's a recipe for a rapid temperature drop. Possibly that -2 was the dewpoint as many times the overnight low can be predicted from the dewpoint earlier in the evening or day. I don't know. I just found it interesting.

How clear was it? Very clear which gave me a beautiful view of Venus, the Moon, and Jupiter around 6 o'clock this morning as shown here (L-R). I was still half asleep when I took the picture and it is a little out of focus, but all three objects show up clearly.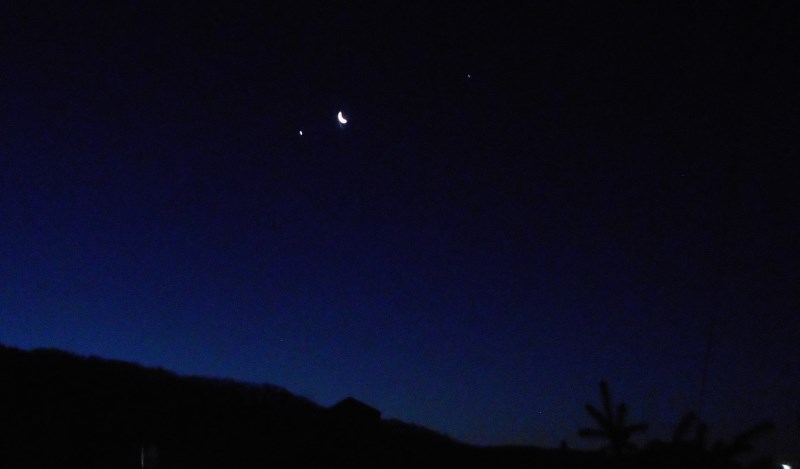 A couple days ago I went looking for and found some old railroad magazines I knew I had up in the attic. A couple I forgot I had including "Complete Layout Plans" for all model train sets, and "N Scale Primer" a beginner's guide to N scale model railroading. Those should be a big help as I slowly get more into model railroading and start building some layouts beyond the simple loops and ovals I have now. The layout plans magazine has some 140 layouts pictured along with a list of track sections for many of them.

It's near sunset as I write this and I'm just looking out the window seeing a very bright day - a beautiful day if it wasn't for the s@#w. Even the cold temperatures wouldn't be that bad without the ugly s@#w and ice around. It's 14 right now and supposed to head to zero tonight if it doesn't get hung up like it did last night. -30-


---

Wed Jan 30 2019 07:25PM - This is ridiculous. It's now -1 degrees as I type and my new furnace is struggling to keep it warm inside here, but it still feels chilly so I'm not going to make this a long entry. Not much going on anyway besides trying to keep warm. I only went outside to walk Roscoe, and those were VERY brief walks to keep him from getting cold. The bands were up and down tonight. Had a 2X 599 QSO going and 80 changed so quick we never finished the first round. I didn't count the QSO and got another one which was just about as rough but at least we exchanged enough info to make this one legitimate for sure. -30-


---

Tue Jan 29 2019 07:37PM - Conditions a little better than last night, but not much. I did get an 'official' QSO for the streak from KB0FJU in IL, but QSB ended it before we could exchange more than the minimum info. The QSB was bad both ends too.

Not much going on today. Just waiting around to get through the next two or three frigid days before a nice predicted warm up for a few days starting on Saturday. That will be nice. -30-


---

Mon Jan 28 2019 07:40PM - I guess the bands didn't like me saying how good they were the past few nights, and went back to being horrible tonight. I did manage to work Wayne WA9VEE on 80, but it was a rough and short QSO with the QSB and my local noise. It does extend the streak another day though.

Otherwise today, I worked a little with my Yard Boss train set. I switched out some couplers on some older N gauge stock I had so it would be compatible with the Yard Boss set. Then I just ran the engine quite a bit for its break-in period. I used an older controller and thought its voltage/current was a bit high so I put a couple resistors between it and the track, and I like it better now and feel more secure that I'm not going to burn up the engine.

I also got caught up on logging my eQSLs received over almost the past two months now. Let me see how many QSOs I have verified in eQSL and LotW now. OK. eQSLs 13,380 - LotW 22,050. I didn't think there was that big a difference, but my Excel log doesn't lie as far as I know. Let's compare that with regular QSL cards. 6,463 of them. I thought that would be higher. Oh, wait a minute, at one time for quite a while I didn't log date received for cards. Let me try another way. That looks more like it - 9,692 counting the column I have for a "Y" when a QSO is verified via a card. -30-


---

Sun Jan 27 2019 07:27PM - I did some catching up on logging my LotW verifications today and found among a lot of others, a verie from Algeria which is an all-time new card/LotW country. Thanks to 7X3WPL whom I worked on both 20 and 15 a few years ago. The last time I updated my LotW veries was way back on November 30 last year so there were quite a few to go through. In fact I'm actually not quite finished yet. Then I'll have to do my eQSLs next.

Of course I also worked/played with my trains today. I hooked up my Yard Boss set and tried out the repaired engine from Bachmann. It works fine. So I now have three railroads set up - my HO, N gauge, and train in a tin. That comprises five working engines and maybe a couple dozen pieces of rolling stock.

The next several days will be good ones to play trains and ham radio. The middle of the week will have about 3 straight days it doesn't get above +10 degrees. Fortunately not much s#$w to go with it. At least as predicted now. This has been a rough winter for weather forecasting by all the services. Perhaps Penn State is the most accurate.

Another quick streak QSO tonight. It seems to me that conditions are improving slowly overall. Maybe what I said last night about conditions is true. Tonight it was Bob N9HAL. We go back quite a ways. Let's see. This is our 18th QSO going back to November of 2003.

OK, I'm doing my laundry now, and also going to work on my trains some more. -30-


---

Sat Jan 26 2019 07:08PM - I just added the SF number for today to my propagation page. It was 77. I wonder when the last time it was so high. Let's see if there is one in my table. Nope, I had to go back to my archives to find June 23, 2018 when it was also 77. Interesting, and there have been a lot of days in the 70s lately. 42 days since December 5 out of 53 total days. Plus if you look at the graph on my propagation page, You'll see an upturn in the SF starting within a couple months. Does all that mean we're at the minimum and things will start getting better soon? I sure hope so.

Meanwhile I used the CQ 160M contest for my streak QSO again tonight at 0001Z when I worked NA8V in MI.

When I took Roscoe out for a walk earlier today and came back over home, I saw two boxes on the chair on my porch. I don't know if I missed them when I went out to get Roscoe or they came when I was in "Roscoe's" house. I figured they had to be two of the three railroad related items I was waiting on. One box was small and I figured it was the repaired engine from Bachmann. Right. The other was pretty big and I figured it might be the Empire Builder N gauge set. I never did try to figure out the return address among all the writing and labels on the box. I just opened it and my percentage dropped to 50 since it was the locomotive that Lane sent me surrounded by at least a couple dozen crumpled up newspapers which is why the box was so big.

I put the repaired engine aside for later and set up the Pennsy switcher. At first it was very sluggish, but I got it going very slowly after some pushing. Something was not right so I examined it and there was a lot of crud on the wheels especially the power pickup wheels. It was so bad I had to use sandpaper and alcohol to get them shiny again. Now it runs much better, but I still want to tear it down for a good cleaning and lubrication. I want to make it clear the condition was no fault at all of Lane. I found out he saw the engine on Ebay and ordered it and had it sent directly to me. So he never saw it "in person". To close now, here's a picture of the engine on my track with one of the neighbor's cabooses attached.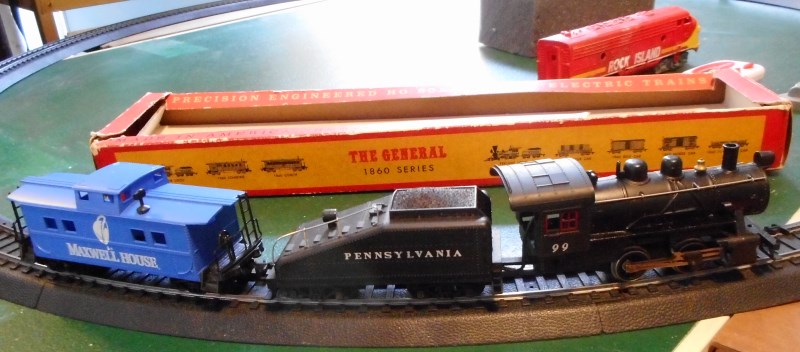 -30-


---

Fri Jan 25 2019 07:29PM - Of course a quick 160 meters QSO in the CQ 160M contest took care of the streak this evening. In fact, I made 2 QSOs as I wasn't 100% sure the first ham I worked had my call right. It doesn't hurt to always be sure.

I guess tomorrow evening will be the same with the contest still going on.

Not a lot going on today to talk about. It was a decent weather day with some sunshine and temperatures in the 20s. We did have a bit of s@#w during the night, but not enough to cause any problems, other than scarring the landscape ugly white.

A lot of time spent with my trains. I'm anxiously awaiting 3 new trains. First the Pennsy shifter I've talked about. Second the return of the engine for the set Mike got me for Christmas. Oh, the engine in it quit so being in warranty, I just sent it back to Bachmann. Third the Santa Fe Empire Builder set I ordered in mid-December and is now awaiting the supplier I ordered it from to receive new stock from their supplier. Then I have to decide how I'm going to set up and manage all my railroads. I'll soon be a big railroad magnate. HI -30-


---

Thu Jan 24 2019 07:48PM - I said I was going to talk some more about the folks who responded to my train equipment query. First of all, Jim Miller who has been following my diary entries about my train stuff and enjoying it, said that he has some train equipment but it is in a storage unit at the moment while he is looking to move. I told him I'd be interested when he moves and gets the stuff out of storage to let me know if he finds anything he wants to part with.

Lane N8AFT is sending me an HO Pennsylvania switching locomotive. I'm looking forward to receiving that and thanked Lane profusely. We got into a discussion about trains and he made the statement that the engine he is sending may turn me into a fan of steam. I responded with the following email which he granted permission to use.

"Hi Lane, Actually I think steam is the only real railroading and always have. I loved watching the steam go by on the tracks literally a stones throw from my house on the Pennsy line as a youngster in the 50s. Steam locos have a living aura about them. It's like watching some being with a soul instead of just a machine like the diesels. I do have some steam here. Old American Flyers and Lionels up in the attic, and a couple of toy steam engines, one of which is running over there across the room as I type. It's called a train in a tin and is just a little smaller than N gauge. That third rail of Lionel never did appeal to me. I liked the American Flyer better. A little later but still in my teens I collected some HO rolling stock and track, but never did get a loco before college and life took over. Then a couple years ago, I got a toy train set at a hamfest, and my interest kind of re-blossomed again. I got some N gauge stuff at a local "junk" store, and more recently a neighbor gave me my first HO engine, followed by two more from another neighbor, and on it went to the point where I spend more time on trains and less on ham radio. Maybe a good thing at least until sunspots return. Think I'll use some of the above info in my diary entry later today if you don't mind. Many thanks again."

Lane has worked on the railroads as a loco mechanic/electrician for Conrail, Norfolk Southern, and now CSX, so he knows of what he speaks about railroads. Unfortunately in a way, he is younger than I am and was just a baby when the steam era came to an end in the late 50s and very early 60s (Norfolk and Western was the last main line railroad to use steam regularly, not terminating it until mid-1960).

Ham radio? Yep, I'm still at it. My streak QSO took a while to get this evening although the bands were good with signals even on 40 and 30. I had to use reliable old 80 to get my QSO though when Skip K5FC in TN finally answered my CQ after about a half hour. -30-


---

Wed Jan 23 2019 10:21PM - I was going to write a bit more about the folks who responded to my query about railroad equipment, but Mike visited this evening and we had a long and good time together and now after he left and I took care of Roscoe, etc. it's kind of late and I'm tired, so I'll carry my thoughts over to tomorrow's entry.

I did get an easy streak QSO this evening with Vic N8OO. I've worked Vic in several contests, but I think this is our first non-contest QSO.

OK, till tomorrow, good night and 73. -30-


---

Tue Jan 22 2019 07:47PM - A fairly quick streak QSO just short of a 30 minute rag chew with Tom NJ8D on 80 meters. A little later tonight is our NAQCC 160M sprint. I'll try to get my normal, of late, one QSO although my local noise isn't quite as bad on 160 so if conditions are good maybe I'll hang around for a few more.

We had another weather worry with freezing rain predicted for overnight tonight, but now it's been cancelled and we'll just get regular rain starting tomorrow morning with temperatures in the mid 40s later in the day. Now that's the kind of weather I like for January.

I spent a good part of today with my trains again. I cleaned the wheels thoroughly on all my rolling stock and did a little more lubrication with the oil I got yesterday. Oh, thanks very much to the two of you who responded to my request for any HO gear you don't need. I'll have more to say about that in a few days, but for now, hearty thanks for your kindness. -30-


---

Mon Jan 21 2019 08:02PM - As usual, a good day with Mike visiting. It was mostly a model railroad visit although we did check the bands in late afternoon. I haven't checked at that time of day hardly at all lately. It was interesting to hear activity on 30 and 20 meters, some of it DX. We didn't work anything, but it was interesting listening.

The main part of our visit was visiting and checking out a hobby shop in Indiana, PA to see what they had in the way of model railroad gear. They had just moved into a new store a few weeks ago, and were still getting set up in the new location. Still the equipment they did have on display so far was impressive. A lot of the gear was Lionel O gauge, but they also had other gauges as well like HO and N. Not only trains, but track, accessories, tools, parts, etc. I bought a maintenance kit consisting of oil, grease, and track cleaner, and also a pair of locking tweezers which will come in handy helping my old fingers working with some very small parts.

We drooled over a lot of the beautiful locomotives and rolling stock they had, especially over a big boy locomotive they had set up to run, and did run it for us. Just like the real big boy, it was huge in G gauge. As Mike would say and maybe did, "OH MY GOODNESS". The salesperson said it weighed something like 50 pounds if I heard right. That could be, because it was huge as I already said. WOW! I want one! HI

It didn't take too long to get my streak QSO. After Mike and I watched some railroad videos, he had to head home since tomorrow is another working day for him. I went over to check on Roscoe who was doing fine in the cold, only taking very quick trips outdoors. After killing some time, I headed to the shack and checked to see if 30 and 20 might still be open. Of course, they weren't at 0000Z, and 40 wasn't much better. There were a few signals on 80, but not very strong like the past few evenings. I found K4AOA whom I've worked a few times before and gave him a call. He copied me and we chatted briefly but QSB and QRN made it rough so we said 73, and I QRT.

Oh, what would a Mike visit be without food? We ate in Indiana at a Ruby Tuesday, a place I had never eaten at before. I had a HUGE large shrimp platter with hushpuppies, coleslaw, and onion rings. I think the shrimp were the largest I've ever seen, let alone eaten. There were a half dozen of them. I thought I'd never finish the meal, but I did. Mike got a Shepherds Pie. -30-


---

Sun Jan 20 2019 07:41PM - Our luck held last night. It continued mostly rain until about 3AM or so, then turned over to s#@w and gave us about 2 inches at most. Still bad, but way short of what was originally predicted which was as much as 15 inches. Now we have to endure a cold night, cold day, and cold night. 0 - 15 - 0 approximately.

One of the many things that make ham radio a fascinating hobby is the uncertainty that mixes in now and then. This evening, I first checked 40 meters and saw a few good signals there, so decided I'd go to 20. Besides my usual strong birdie around 14016, I saw a strong peak up around 14037 and checked it out. It was KE4COH calling CQ. I started to call and noticed my SWR was high so I hit the autotuner and continued my call. He came back to me with a 229 RST. In the middle of my first round I glanced at my antenna switch and saw, despite the 1:1 SWR, I was on the wrong antenna. After that round, I switched to my 20 meters dipole. Now I was 559 in SC and Bryan was 599. I explained it was so unusual hearing 20 open in the evening I had been on the wrong antenna. We had a nice 15 minute chat once things got organized.

I guess we're still going to the hobby shop tomorrow to check out some railroad stuff. At least I haven't heard anything to the contrary about Mike. I did some work on one of my locomotives today. After tearing the 'pancake' motor apart to see why it siezed up, I noticed one problem was a couple broken teeth on one of the gears. I wonder if perhaps any of you also interested in model railroading might have an HO sized pancake motor in your junk box you'd be willing to part with. It doesn't even have to work as long as the gears are good otherwise. Just a stab in the dark. -30-


---

Sat Jan 19 2019 07:35PM - So far, we've lucked out on the big winter storm. I hope saying that doesn't jinx us now. Actually we haven't had any s@#w to speak of so far. Just a few flurries and some rain. The temperature has been in the mid-upper 30s just about all day. I'm not sure what overnight will bring. The latest prediction is for rain changing over to snow around 4 AM with maybe 2-4 inches. We'll just have to wait and see.

The bands were again good this evening. I tried to get an answer to my CQ, but didn't and finally just worked N8UM on 40 in the HA contest for my streak QSO.

Still looking forward to Mike's visit on Monday if the weather doesn't mess things up. Mike said it's not like were going out to set up portable in the park so the fact it is supposed to be only in the low to mid teens shouldn't matter. -30-


---

Fri Jan 18 2019 07:43PM - 80 was pretty much the same as last night with a lot of good signals. I got an answer to my very first CQ from Pip WB4FDT. Pip and I go back quite a ways on the bands and it was nice to chat again after several months now.

A lot of my day was spent working on or playing with my HO trains. I was comparing ham radio and model railroading several entries ago. I realized another difference today. Trains require a lot more maintenance. They take lubricating, wheel cleaning, track cleaning, among other little things. With ham radio, I just turn on the KX3 and make QSOs. Maybe run a feather duster by it now and then, and perhaps tighten a screw connection when needed, but that's really it.

We're getting reading for a big s#@w tomorrow into early Sunday. The forecasters at various times have predicted anywhere from 2 to 14 inches. As long as it's only s@#w, I can live with it even though I don't like it. I just hope and pray there is no ice with it. We'll see. -30-


---

Thu Jan 17 2019 08:27AM - Remember a couple entries ago, I mentioned being worried about that pool of cold air up in the arctic? Well, I guess my comments upset the Canadians because they are releasing the cold air this weekend. See this NWS forecast:

Sunday Night: Mostly cloudy, with a low around 2.

M.L.King Day: Partly sunny and cold, with a high near 9.

Monday Night: Partly cloudy, with a low around 2.

Brrrrr!!!! And Monday's the day Mike and I get together for a trip to Indiana, PA to visit a big hobby shop to see what they have in the way of model railroad equipment. I want to pick up a few things there if they have them. Like special engine lubricating oil, some HO wheels and couplers, rail fasteners, etc.

I've got most of the stuff my neighbor gave me a couple days ago working beautifully now. One piece needs a truck and another needs a coupler. Also I want to change over some couplers on my old rolling stock from the 50s and 60s to the ones on my neighbor's stock. One of the two locomotives doesn't work. I'm looking into why. I think it may be a dead motor, but I haven't finished checking yet. I'm really getting into the model railroading now. Actually what I have now are just train sets. It's not really technically called model railroading until you get the scenery, buildings, switches or turnouts, and the like. I have some ambitious plans for that. Whether I'll ever get to them or not, I'm not sure. I'd like to create the layout of my block here from the 1950s. At that time there was a railroad station (which is now the Ol' Station Marketplace I talk about) and an associated large freight building as shown here:




Apologies for the ugly white stuff in the picture. The railroad station is in the middle, the freight building to the left, and the open storage shed was not there in the 50s. Kind of along the bottom of the picture there was a spur leading up to a brickyard, and leading into the freight building was another spur. The main track ran along that road you see looking through the open storage shed. Actually at that time there were two parallel main lines there. Now it's a "Rails to Trails" walking and biking path. I really miss the old railroad. I guess if my plans reach fruition, it will be a good nostalgia source.

OK, this is still mainly a ham radio site, so..... Conditions last night were a little better than usual for our monthly NAQCC sprint. That's not saying much, but I did hear 3 or 4 stations, and worked one of them. All the others who may have been on were buried in my strong local noise. At least I got my participation point and kept my record intact of never missing one of our sprints. -30-


---

Wed Jan 16 2019 07:29PM - 80 was good this evening with a lot of signals topping my noise on the PX3 so I called CQ and got an answer before too long. Unfortunately the station who answered me wasn't one of the strong ones and I had a hard time copying, but we managed to exchange RST, QTH, and name to make it a good QSO for the streak.

Tonight is our NAQCC sprint. I wonder if I'll be able to make some QSOs. Our sprints have been very rough for me the past few months now with the local noise problem and I only manage a couple QSOs at most. Very frustrating being a QRPer and not being able to copy other QRP signals for the most part. -30-


---