---
Mon Jun 17 2019 08:31PM - It looks like the sunspot minimum might still be ahead of us. The SF value for the past few days has been: 68 68 67 66 66. Still conditions haven't been all that bad. I have noticed more QSB on 40 meter signals lately though. Oh well, no use talking about something we can't do anything about.

I got a nice package this morning. My Lionel 736 Berkshire returned from Indiana with a repaired wheel, axle, and gear. So I spent a lot of time today watching it run around the track emitting puffs of smoke. It's great to have it home again. I won't ignore the 2037 and 1060 that I got while the 736 was away though. I'll run them also.

I'm looking forward to FD this weekend with Mike. We always have a great time in that event every year. Saturday looks like a sunny day with mild temperatures. A chance of rain on Sunday though. Shouldn't bother us since barring a last minute very unexpected change, we'll be operating from my front porch with battery power and portable antennas.

Tonight it was another of those 0000Z QSOs. I turned on the rig precisely at 0000Z and immediately heard and worked Alex AI2Q from ME on 40 meters. -30-


---

Sun Jun 16 2019 08:49PM - Another day pretty much like yesterday. Quite a bit of playing with the trains. Walking with Roscoe between rain showers. He and I also sat on the porch swing for quite a while.

The streak QSO this evening came rather quickly within a few minutes of getting to the shack. I worked Sam WZ4L on 40 meters. -30-


---

Sat Jun 15 2019 09:03PM - Unlike yesterday, this was a quiet day with only the usual daily routine for the most part. I did get a chance to try out my new lighted headset magnifier when I was glueing a couple of rails on my Conrail HO engine I got yesterday. It works like a charm and is going to make working on my railroads much easier. I especially like the light. I had a magnifier before but it didn't have a light. That makes a world of difference.

The bands were a little rougher tonight. I called a couple stations with no success, but did finally go to 80 meters to work WA7WKY in Ohio. -30-


---

Fri Jun 14 2019 07:53PM - Last Saturday I wrote about a busy day. Well, today topped that. Early this morning I received the HO Conrail locomotive I ordered and tried it out and played with it for a bit before taking Roscoe out for the first of his four walks each day. A little later he had an appointment at the vet to check the progress of his ear infection. He got a clean bill of health and doesn't have to go back again.

We dropped Roscoe off at home after stopping at Dairy Queen to get him an ice cream cone to help relieve his trauma at the vet's visit, then Bruce took me to Walmart. My microwave quit working last night so I had to get a new one which I did. I set it up and tried it out. Then a couple more Roscoe walks. After that I fixed up a little step that Bruce uses to get over the high threshold in his house.

Sometime while I was doing that, I got another package. This time a lighted magnifier headset to help me work on my trains. I haven't tried that yet.

Then just a little while ago, I attended the Elks Flag Day Ceremony as I do every June. Now here I am typing away and just about to go get my streak QSO for the day. I'll come back and close this entry with a report on who I worked. OK, that didn't take long to work KD9CK on 30 meters near Chicago, IL so the streak goes on.

I was thinking today that there are probably new readers of the diary who may not know exactly what the streak refers to. If so, you should refer to my home page on the site here where there is a description of it about half way down the page. Any questions? Just ask and I'll try to answer. -30-


---

Thu Jun 13 2019 08:45PM - It was one of those off/on rainy days, and I had to walk Roscoe in between showers. Also the same with a couple trips I had to make downtown. Still it's a lot better than s#$w.

It was a good day to watch my 'new' Lionel 2037 run around the track smoking away. I've run it a few hours now, and the residue smoke pellets are still smoking. I don't know how much longer they will last, but then I have a couple bottles of pellets left here from the 1950s and 60s. It will be interesting to see if they still work. If so it will give me a chance to use them as the Lionel 736 uses liquid smoke or will when I get it back from repairs. I was just about ready to hook up and check the smoker in it, when the problems developed and I had to send it away.

I made a couple QSOs this evening for a change. I worked old friend Alan W4MQC on 30. I had a lot of trouble copying him with QSB and my local noise, so after we signed I thought I'd try a few CQs on 40 to see if I could get someone I could copy better. AD8EE answered me and copy was a bit better, but still rough. I'm wondering how my local noise is going to affect our FD operation (with Mike) on my front porch. Hopefully our makeshift antennas will be better than my regular ones as far as the noise goes. -30-


---

Wed Jun 12 2019 08:47PM - This was a good day today for a number of reasons. I won't bore you by listing them all, just a couple.

The biggest joy was receiving the Lionel 2037 2-6-4 engine I ordered from eBay. As with the other Lionel engine #1060, this one ran well right out of the package. After the brief test, I did clean and lube it though. That made it run even better. I still want to open it up and check and lube the motor. It does hesitate the first few seconds after applying power to the track. After that, it runs virtually perfectly.

Another good thing was the weather. Just about a perfect June day with temperature in the 70s and just a few clouds although they have increased as the day wore on.

Then this evening a quick DX QSO for the streak from Kam TI5/N3KS. I found it interesting he was running a lot of stations, but I was the only one he answered by name for whatever reason. Maybe because we've worked so many times on different bands. This was our 21st QSO, 9 from Baltimore and 12 from Costa Rica. We've worked on 160 80 40 30 20 15. Interesting again that tonight was our first 20 meters QSO. -30-


---

Tue Jun 11 2019 08:13PM - Nothing special going on today. I'm just waiting now to go get my one QSO in our monthly NAQCC sprint. Or if there is a miracle and my local noise is gone, maybe I'll try for more than one QSO. Conditions weren't very good a couple minutes ago as I got my streak QSO on 30 from N2FRB in NY. The band changed and I lost him after just a few minutes. -30-


---

Mon Jun 10 2019 08:18PM - I forgot to mention it, but when I worked VA3DCF last night, that was my QSO # 91,000. That's counting only QSOs using KN3WWP and K3WWP going all the way back to 1963. I also operated with several other calls like K3WWP/3, WA3IXO, N3AQC, N3A, NY3EC, and a few others. Those QSOs total 4,713. So overall with all calls counted, that's a grand total of 95,713. Many years ago in 1963 or 1964 when I was a new General I got a QSL card from Lloyd Colvin W6KG, and it said on the card he had made over 100,000 QSOs (actually 105,000). I read that with my mouth gaping open and wondered how anyone could ever get that many QSOs. I don't know how rare a feat that was back in 1963/64. It's somewhat commonplace nowadays with the big contest stations. But I stray from the point. I was getting to saying that now here I am approaching 100,000 QSOs myself, and if I can stay active and healthy a few more years, perhaps I'll make it. Let's see, overall I would need 4,287 more QSOs, or with just K3WWP, it would be 9,000 QSOs or actually 8,999 since I made one more QSO this evening.

For the third night in a row, my streak QSO came from a Canadian. This time VE2GDI in QC on 20 meters. The bands, especially 20, seemed quite active this evening with quite a few strong signals. I didn't really listen to see where they were from since VE2GDI was one of the first ones I checked, and he was calling CQ, so I worked him, then QRT.

Otherwise today I worked on my trains. Actually more so on the track which I cleaned thoroughly. I also used popsicle sticks to make somewhat of a better support for the track to keep it from sinking into the carpet. Then I also ordered another engine. A Conrail HO locomotive. I like Conrail since it was what became of Pennsylvania, then Penn Central. Those tracks were just a stone's throw from my house, although I never threw any stones at the trains. I'm not good at estimating distances, but I know the rails were well within 100 feet of my house, especially one siding that went to the station and also to a local brickyard. Oh, and I ordered a lighted headset magnifier to help my old eyes see and work with the tiny train parts. -30-


---

Sun Jun 09 2019 08:31PM - Another shopping trip this morning to get some more things for Roscoe and for myself. Other than that, not much out of the daily routines.

I did get a notification from Train Tender Jim in Goshen, IN that the repairs on my Lionel Berkshire were finished. I mailed off payment today and hopefully will have the engine back and running here by next weekend. It will certainly be nice to have it back. Then with the steam engine I ordered yesterday, I'll have three steamers to play with on my Lionel tracks.

For the second night in a row my streak QSO was with a VA3 station. Tonight it was VA3DCF in Ottawa on 40 meters. -30-


---

Sat Jun 08 2019 08:20PM - This was one of those wall to wall busy days. I can't even remember all the things I did today. It started out early this morning with a trip to Walmart to get some food for Roscoe. I also looked around at some computers as I needed one to replace my backup Laptop. I saw a couple of nice ones, but didn't have enough money with me to get one. I also needed a pair of summer pajamas and I did get them. Then Bruce who took me to Walmart and I stopped off at Dizzy Lizzie's for a good breakfast before going home. Then I stopped at the bank to get some money for the computer. I asked Bruce if he wanted to go back to Walmart so I could get my computer. He said this evening we could go. Then he went off to take care of some things for himself.

When he got back, he asked if I wanted to go then. I said yes, in a little bit as I was helping Ange with some gardening. So we went in about 10 minutes or so and I got my computer. We also stopped at Dollar Tree to get some new kind of dog biscuits we had heard about for Roscoe. Back home again and after a little break, I set up the new Laptop. I really wanted to get it going before Field Day in a couple weeks so I could log with a computer for that event. My main computer is a Laptop, but an expensive one and I'd rather not move it around all that much. Plus it has a lot of peripherals attached to it which makes it less portable than it could be.

Next some more helping Ange with his garden plus watering my plants. After that, things quieted down a bit. I took care of some routine things. Next I ordered another steam locomotive, a Lionel 2037 from EBay. And just a little while ago, I headed to the shack for my streak QSO which came at 0010Z on 30M from VA3KSF near Sarnia, ON. And now I'm typing the diary entry. -30-


---

Fri Jun 07 2019 08:08PM - DX!! Yes, some DX in the logbook again this evening. PB8DX from the Netherlands on 20 meters at 0004Z. Sure is nice to see DX QSOs showing up somewhat regularly in my streak listings again.

It was a nice day today, warm, but not humid with a high around 80. So I decided to cut my grass in the back yard. I had kind of let it get away from me. It wasn't hard to cut though. Then I did some weeding in my mini-garden and cleaned some grass and weeds from the cracks in my brick sidewalk. -30-


---

Thu Jun 06 2019 08:38PM - The 75th anniversary of D-Day. Lest we forget.

Another pretty much nothing day. Some work in the garden eliminating some annoying weeds trying to steal nutrients from my vegetables. Some more flowers on the tomato plants. Some more tiny peppers on the pepper plants. Still only 5 bean seeds sprouted.

Another quick 20M streak QSO this evening from K4UX in VA. Short skip for 20. I heard an AM70 station in Spain, but after I called him, he just disappeared and never did hear him again. Must have gone to bed or changed bands. -30-


---

Wed Jun 05 2019 08:13PM - Not a very exciting day in any way today. I guess I spent most of the day just cleaning up some things that I hadn't done for a while. I also received a Big Boy 2 DVD set that I ordered from EBay. I watched one of the two, and will watch the second one maybe tomorrow.

It was another quick streak QSO tonight when I found and worked CM2RSV on 20 meters at 0005Z. -30-


---

Tue Jun 04 2019 08:23PM - Another quick streak QSO this evening. 30 meters had several good signals. I picked out KA4EET who was calling CQ and answered him. I had to repeat my call, but then we had a good 12 minute QSO despite QSB and QRN. That leaves just 2 months to go to reach 25 years in the streak if I make it.

Roscoe wasn't feeling good today so we made a trip to the vet. He has an ear infection. The vet gave him some medicine and we have to go back in a week. He seems better than he was this morning.

Other than that, I planted the three Rutgers tomatoes I bought last Thursday, and watered my other garden plants. I've got flowers on the Siberian tomato plants. I have a couple tiny peppers on the pepper plants. Finally a couple more bean seeds have sprouted. Hopefully the others will follow suit. -30-


---

Mon Jun 03 2019 09:18AM - Picture day. First one is from the Butler Hamfest on Saturday and shows L-R: Bob WC3O, John K3WWP, Tom WB3FAE, Mike KC2EGL.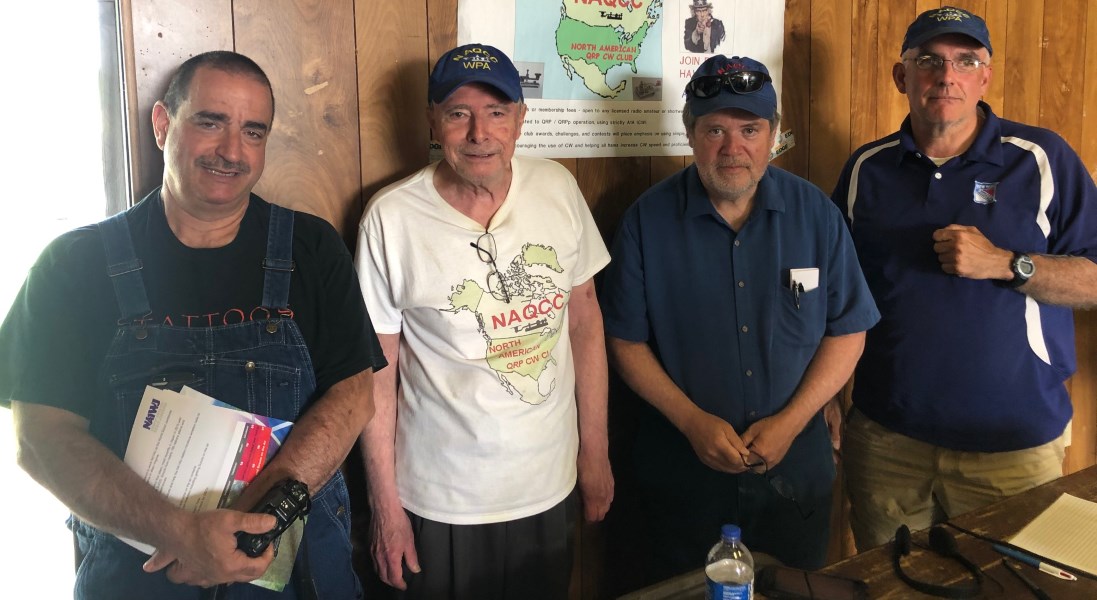 Now the cap and badge given to us by Art WA3BKD of the Requin. Now Mike and I are official members of the Requin ARC.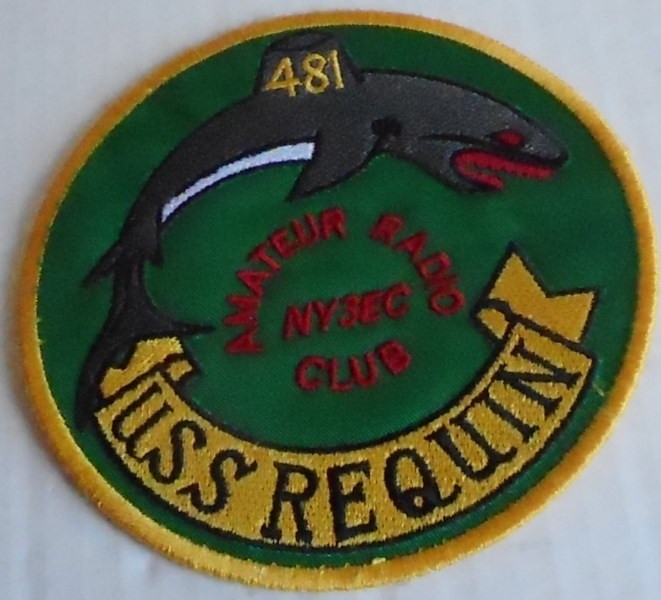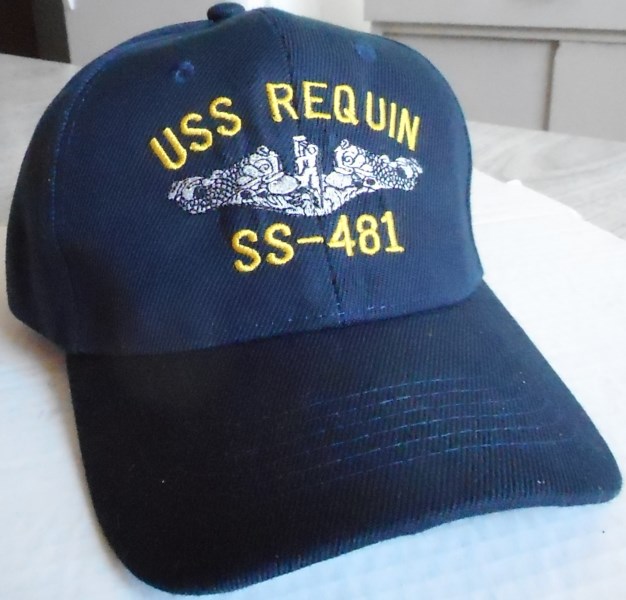 Incidentally I was glancing through the Requin log and for the past several years virtually all the QSOs there have been made by Mike and me. Only a handful by other ops. Now back to my chores. -30-


---

Sun Jun 02 2019 08:31PM - That wraps up a great 4 day stretch. I mean the operation from the Requin today. Mike and I left around 8:30 and arrived at the Requin around 9:25 or so. We waited for Art to arrive. When he did, we headed for the Radio Room. There was some trouble with the paddle connection, but Art did some cutting and splicing and got us going after several minutes. Activity was slow but fairly steady throughout our session which lasted till around 3PM with a break in the middle while Art and another ham did some operating. While that was going on, Mike and I went outside and ate our lunch at one of the Science Center tables. Overall Mike, who did most of the operating while I logged, and I put 26 QSOs in the Museum Ships on the Air log. We didn't work any other ships, only hams who were working ships for the event. Our most distant contact was with KH6LC in Hawaii on 20 meters. We enjoyed, as always, interacting with visitors to the sub and fielding and answering their questions if we could.

I think the highlight(s) of our day came when Art made us members of the USS Requin ARC and gave us some very nice patches. Then later after Mike had asked him if there were any Requin hats available in the Science Center gift shop and Art said no, he came back with a hat for each of us. I'll try to have pictures from today and yesterday in tomorrow's entry, so tune in tomorrow. HI

When 3 PM came we shut down and headed home, stopping at Chili's on the way for a delicious meal.

It took about 10 minutes this evening to get my streak QSO from NU2J in NJ. -30-


---

Sat Jun 01 2019 07:41PM - As is usual, Mike and I had a great time today. We left early for the Breezeshooters Hamfest and started setting up to operate N3AQC. This was the maiden voyage of the antennas we built last fall. We had some trouble with the antenna in that the small PVC pipe was too flexible, so we had to shorten the mast and the vertical antenna wire attached to it. After we did that, it didn't sway as much, and actually worked pretty well. There was another powerful station at the hamfest splattering all over the bands and that was frustrating and kept us from making more contacts. We did make three contacts though in CA, NM, and MA so we deemed our antenna to be a success even though it was somewhat crippled.

We stayed there till around 12:30PM and met some of our NAQCC members. Let's see who I can remember. Of course me and Mike, Tom WB3FAE, Jim KC3IXE, Mike WA8SAN, Bob WC3O, Ron K3MIY, Bob W3BBO, and K8ZT. Hope I didn't leave anyone out. I have a picture of four of us. I'll maybe post that tomorrow along with any pictures we get tomorrow on the USS Requin.

After that we headed to the golf store where Mike picked up his clubs. Then to Home Depot to get some dowels to insert into our antenna mast to try to stiffen it up. Next up a trip to Applebee's for another delicious meal. We wound up taking the scenic route a couple of places where the GPS lady was late in telling us to turn or we missed a turn, etc. I think we saw or were on every street in that area.

We then headed home and Mike put some sensors on his golf clubs, and we tried out the dowels in the antenna mast. They did seem to make it more sturdy. To close out the day, we watched some Big Boy 4014 videos.

Tomorrow it's off to Pittsburgh and the USS Requin for the Museum Ships on the Air event. We'll try to operate NY3EC from about 10AM to 2 or 3 PM depending on activity and conditions. If you find us somewhere on 40 or 20, give a call. We're not sure of the frequencies since it's not a NAQCC club event. -30-


---

Fri May 31 2019 08:37PM - The bands were in great shape this evening. Strong signals on 40, 30, and 20. Mostly USA signals. Only heard a couple weak DX signals. I had a nice strong 2X 599 QSO with Bill K4VSV in SC on 30 meters. I also heard KB6NU at s9 plus but didn't try to work him.

Of course being the last day of the month, I had to get my EOM chores done, and I did finish most of them. I still need to put my May weather data in my Excel spreadsheet. My first of month chores will have to wait a day or two since Mike and I will be at the Breezeshooters Hamfest tomorrow and at the USS Requin on Sunday for a full weekend of ham radio action.

It actually didn't rain today. Almost can't recall the previous rain-free day. It's been a while. And it may start raining again tomorrow and Sunday. It will be interesting to see how May temperature and precipitation compare to normal. I get the feeling temperature will be close to normal, and precipitation somewhat above normal. I guess I'll know later tonight, but if not then, probably not till Monday.

I'm not sure if I mentioned this or not, but Mike and I hope to be set up at the hamfest around 8:30AM EDT. We'll be using N3AQC and operating around 7040, 10116, and 14059 plus or minus QRM. We'll probably stay until around 1PM or so. Give a call if you hear us. Only one band at a time so tune around. -30-


---

Thu May 30 2019 09:01PM - An impromptu visit and day together with Mike today. He emailed yesterday asking if I wanted to ride to Pittsburgh with him. He was going to get his golf clubs re-gripped. I think that's the correct term. I haven't played golf since I was a kid playing miniature golf. That's it. Anyway I said sure.

After a detour caused by flooding he arrived here about a half hour late at 8:30AM and we took off after a few minutes. Highlight: We didn't get lost - not even a minor wrong turn. That's unusual. After Mike left the clubs to be worked on, we moved on. The clubs will be ready in 24 hours so we'll go back there after the Saturday hamfest. We killed some time before Applebee's opening at 11 AM. We went to Petco where I bought some snack food for Roscoe. Petco sure has a LARGE variety of stuff for all kind of pets. Very impressive!

When Applebee's opened we both perused the menu, and strangely we both decided on the same meal without even discussing anything about our choices. A very good chicken and pasta dish.

Mike said he was pretty sure there was a Best Buy nearby. We looked for and found it. Of course we spent a lot of time just browsing since we didn't really need anything. This store is about three times as big aS the one that used to be in the Pittsburgh Mills, so we did spend a LOT of time there. I wound up buying some printer ink cartridges. You know, when you aren't looking for anything in a storE, just about every employee winds up asking if they can help you. But when you need some help, just try to find an employee. Strange how that works. It sure worked today. I think we counted 7-8 times that we were asked. I told Mike we should play a game and see if we can get every employee there to ask us.

Then we headed home with a last stop at Walmart here in town where I bought three Rutgers tomato plants for my garden.

At home we took care of getting things ready for the Breezeshooters Hamfest on Saturday. We plan to be there by 8:30AM and stay till 1:00PM or so.

Due to work and preparing for retirement, Mike wasn't able to watch much of the 150th anniversay of the Transcontinental Railroad celebration so we watched a video of the UP celebration at Ogden, UT. That's about the third time I watched all of it now, and I'm still impressed and moved by it.

After that Mike headed home.

The bands were poor this evening or at least there was little activity. I finally did get an answer to my CQ by AA9BD for a very rough short QSO. -30-


---

Wed May 29 2019 09:00PM - Just a couple pictures for my entry tonight. First my 'new' Lionel 1060 engine and tender. Next the hailstone I talked about yesterday. That gap between the carpet and railing measures about 3 1/8 inches to give an idea of the size of the stone.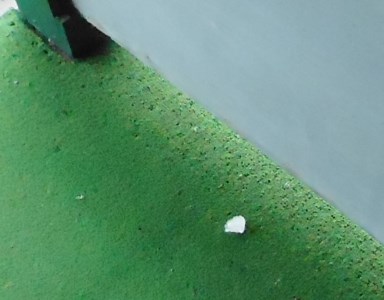 -30-


---

Tue May 28 2019 08:30PM - A rather bad weather day today with a lot of thunderstorms which are still going on now. Two of the storms produced hail. Some of the stones from the first storm were the biggest I can recall ever seeing. At least 1 inch across. Can't say diameter because they were irregular in shape, not even close to spherical. I took a couple pictures which I have to crop and resize yet. Hopefully I'll post them tomorrow.

I also got a Lionel 1060 engine and tender that I ordered from Ebay a few days ago. It ran beautifully right out of the box. It was a little dusty and the drawbar was a little bent, but straightened easily. I'm very happy with it, and now I have a steam engine to run on my Lionel layout until my repaired one arrives hopefully around the middle of June.

I also did some work on the pancake motor from one of the HO engines I bought last Thursday. I used Super Glue to repair the cracks in two of the plastic gears and it's running around the track now doing a good job so far.

The streak QSO came from W4TJE down in VA on 30 meters who knows about the streak and encouraged me to keep going with it. I certainly hope to. It's nicer now with the better conditions of late spring and the ones of summer coming up soon. -30-


---

Mon May 27 2019 09:06PM - I hope you all had a wonderful Memorial Day, and spent at the very least part of it honoring those who served in or are serving in our Armed Forces. I attended our town parade and the Memorial Day Ceremony that followed in our community park. Both were very impressive as always. I also proudly flew my flag on my front porch as shown here: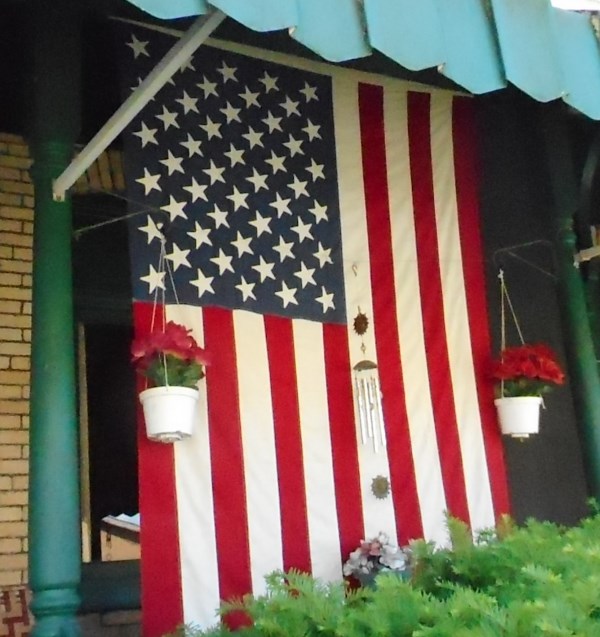 As long time diary readers know, that is the flag that was draped over my dad's coffin when he passed away back in 1964.

My streak QSO was similar to last night's. It lasted just long enough to be official before QSB and QRN set in. -30-


---

Sun May 26 2019 08:30PM - The day started out with way to big a breakfast at Myrt's Cafe courtesy of Roscoe's owner Bruce. Thanks Bruce. Then an hour or so spent with Roscoe walking and sitting on the porch swing enjoying some nice weather in between the rain drops.

After that some time spent working on the HO engines I got last Thursday. I gave the old pancake motors a better cleaning. I found a crack in two of the plastic gears in the motor. It still runs good though, but I would like to get some better gears eventually. I thought of combining the two pancake motors to make one 'perfect' one, but they are slightly different and that wouldn't work.

As far as the streak this evening, it only took about 5 minutes and a couple CQs on 30 to get an answer from K2ZA. Howeven the QSO lasted just long enough to be official as QSB took him down into my local noise after the exchange of only a bit of info.

I hope you all have a happy and safe Memorial Day and observe whatever annual events you have to honor those brave men and women who helped and are helping to keep America the great country it is again. -30-


---

Sat May 25 2019 08:12PM - We're (I'm) sitting here riding out a line of severe thunderstorms. There hasn't been too much lightning and thunder so far. Hope it stays that way. I don't want to jinx anything by saying this, but many times when a line of storms goes through here, the line seems to weaken over the Kittanning area or even develops a gap here. I don't have any meteorological explanation for that, but it does happen quite often, thank goodness. Incidentally there was a tornado warning for about 25 or so miles south of here. I don't have any more info than that right now.

Anyway, thanks to the WPX contest, I didn't have to wait in the shack for long until I worked TI7W on 20 meters. I had to wait through about 5 other stations, but then it was an easy QSO although I did have to repeat my number (002). Guess he couldn't believe it was that low a number. HI

I did some track work on my Lionel layout today. I noticed the engine headlight was dimming, then brightening again at one spot so I took the track apart and cleaned the connecting pins, then tightened them up and put the track back together. That seemed to cure things, at least for now. Also it now runs at 12 volts just like it had been running at 14 volts before.

One week from today, Mike and I will be at the Butler, PA hamfest with a NAQCC setup. Then the next day off to Pittsburgh and the USS Requin to help out our friend Art from the sub in the Museum Ships on the Air event. Should be a fun weekend. Of course then later in the month it's Field Day. We're not sure where we'll set up, but probably on my front porch with some makeshift antennas and battery power as we've done a couple times in the past.

My neighbor just knocked on the door and said there was a double rainbow so I took a moment to get a picture of it. It wasn't all that bright and was quite high in the sky since it is so near sunset here. I'll see how it turned out and maybe post a picture tomorrow. -30-


---

Fri May 24 2019 08:11PM - Well, I knew the streak QSO would be easy with the WPX contest in full swing. However I didn't want to make it super easy by just working the first station I heard, so I looked around a bit till I found an Italian on Sicily - II9P and worked him. That was on 20 meters.

It was a nice day today and I guess I mostly just took it easy. I did work on the one HO engine I bought the other day. I got the pancake motor running smoothly. Unfortunately the plastic gears wouldn't mesh very well and despite the good motor, it still wouldn't run well. Oh well, it only cost a couple bucks. Maybe I can find a replacement motor somewhere. -30-


---

Thu May 23 2019 08:20PM - Mike and I had a good time as usual last night. We helped each other with a couple things, and then watched some Big Boy videos. We also talked about some upcoming plans. He couldn't stay too long as he had to do some more retirement business today. He's looking forward to the end of June when the retirement goes into effect.

For me, today was a trains day and a DX evening. I worked some DX again this evening. Just after finishing my streak QSO with Ken N4KS in FL on 30, I heard PJ2/WI9WI just down the band and decided to give him a try before I QRT for the evening. I got him on my 3rd call.

As far as trains, I ordered a Lionel steam locomotive on EBay which should arrive by the 29th. It looks in good shape, but I wouldn't mind if I had to do some work on it, as I really love working on the engines and rolling stock. I think that may be my favorite aspect of Model Trains. Then at the Ol' Station Marketplace, I bought a couple HO engines, an HO boxcar shell, and a Caboose. One engine was a Santa Fe, the other items are my favorite railroad of late, the Union Pacific. All except the caboose needed some work. I installed the boxcar shell on another old 'chassis'. I roughly cleaned and lubricated the two engines and got them running. In fact the UP diesel is doing laps as I type getting itself run in after who knows how long a period of inactivity. It was pretty dirty and had a lot of fibers (from a rug?) wound around the axles. The Santa Fe diesel has a broken traction tire and it's a wheel that has a groove for the tire which grips the rail as it tries to run smoothly. I'll either have to get a tire or use some Bullfrog Snot to fill the groove before it will do some smooth running. Also I still want to give both engines a more thorough cleaning and lubricating before I release them for full service. -30-


---

Wed May 22 2019 08:08PM - Mike just pulled up as I started this entry, so I'll just say XE2I was my streak QSO a few minutes ago. More in tomorrow's entry. -30-


---

Tue May 21 2019 08:25PM - The bands didn't seem too good tonight or maybe just not that busy. However I did get a QSO fairly quickly when K4UY answered my CQ on 40 meters.

I'm looking forward to tomorrow evening when Mike will be visiting for our monthly pizza "party". He's been busy preparing for his retirement and I haven't seen much of him of late. I think last month's pizza night was the last time. We do have some get togethers coming up in June though. On the 1st the Butler hamfest. Then the next day Sunday we'll be on the Requin helping out with the Museum Ships on the Air event as we did last year. Of course then later in the month it will be Field Day. So it will be a fun month, ham radio wise.

This is the primary ballot voting day here in PA, so I cast my vote early this morning. That was pretty much the non-ordinary things today. Otherwise I walked Roscoe 4 times so far with one last walk still to come for today. I also watched my Lionel F3 locomotive with its consist making its way around the track. A couple of walks thrown in here and there. That was it for the day. -30-


---

Mon May 20 2019 08:39PM - My Lionel 736 is in the hands of Train Tender Jim who says he'll be working on it starting in June. So I guess there are other engines ahead of me in the queue. Still that's not bad and I should have it back by the middle of June or so. Meanwhile I can continue to work on and play with the F3 diesel. Today I worked on the semaphore and the water tower.

After the 90 degree day yesterday, it didn't get out of the 70s today. Typical May changeability.

Another pretty quick QSO this evening when I answered the CQ of KC9UPP in WI. Hmmm, wonder if he's a fan of the Union Pacific. There's a ham not far from here with the vanity call of WA3PRR for the now defunct Pennsylvania Railroad. -30-


---

Sun May 19 2019 08:15PM - An interesting day today. I was just in time to catch Big Boy leaving Laramie, then a couple spots along the way before the arrival in Cheyenne and back to home in the Steam Shop. What a wonderful journey the last couple of weeks. I only wish there had been more live coverage, but I understand the problems involved. Still there was a great deal of live streaming. With that and the taped coverage, I bet I saw well over half the route covered by Big Boy. And let's not forget the Living Legend UP 844, and the diesel "helper". Actually the diesel was there mainly for assisting with the dynamic braking and also to provide additional load for Big Boy to haul along to break in all the new parts.

It was the first 90 degree day of the year today with the high just barely touching that mark for a brief time this afternoon. I took advantage and planted out my tomato plants in the back yard. Sometime this week, I'll probably plant out my pepper plants. They have a couple tiny peppers on them. I think that's the first year I've had peppers before putting the plants outside. Of course I have tomatoes every year, some years as early as March. This year not until May though.

I worked DX again this evening, catching CO2SG on 20 meters. Took a couple tries to get him, but it was an easy QSO then.

My Lionel 736 arrived at Goshen, IN this morning, so Train Tender Jim will get it tomorrow, and hopefully I'll be in the queue for it to be worked on this Saturday in his next work session. I'm anxious to see it running again. It's nice watching the Lionel F3 diesel, but there is nothing like steam. -30-


---

Sat May 18 2019 09:20PM - Took almost an hour to get my streak QSO tonight. That's the longest in quite a while. No one answered my CQs and almost no one else was calling CQ. The couple I did hear didn't hear my answer. Finally Tom K8VBL in MI called CQ and heard my response.

So not much time to write anything in the diary tonight. Then there was not much to write about anyway. HI. I did check the progress of my Lionel 736 and it arrived in Indianapolis today so the train repair man should get it Monday for sure. However he only works on trains on Saturdays as I may have mentioned. At least I should be the first one he gets next week if that means anything. -30-


---

Fri May 17 2019 06:39PM - I'd like to acknowledge a couple more diary comments received today or yesterday. Thanks to Dennis WB8WTU who reminded me of the Laramie Railfan site in time for me to watch the arrival of 4014 and 844. I had forgotten about that site amongst all the other railroad sites I've been visiting the past couple weeks to follow Big Boy. I often watch those Virtual Railfan sites, especially the Horseshoe Curve one near Altoona, PA. The excursion train is now parked at Laramie till Sunday when it departs for home at the Cheyenne Steam Shop. Apparently Big Boy survived the slight derailment of two of its axles at Rawlins yesterday. There hasn't been much real info about the derailment, but a lot of speculation that it was a problem with the rails and not with Big Boy. It was on a siding which is not maintained as thoroughly as a main line rail. I imagine more definite info will be forthcoming or perhaps is there already and I just haven't found it.

Thanks also to Jim Miller who thanked me for providing the info on Big Boy in the diary. He has been very busy the past several days and appreciated my updates as a quick way to find out the main news about Big Boy.

I also finally shipped out my Lionel Berkshire 736 for repairs on the wheel that is slipping on its axle. It goes to Jim out in Goshen, IN who was recommended to me by my friend and parts supplier up in NY, Jeff Kane, the Train Tender. Jim only works on Trains on Saturdays since he still has a full time job. He told me via phone today that he can definitely fix the problem, and that it should be done within 30 days or at the very worst in 60 days if any delays or problems are encountered. It will be nice to get the 736 back running again. Meanwhile I continue to tweak the Lionel F3 diesel and have it running pretty well right now as of the past couple days.

I also got a letter today from Art WA3BKD of the USS Requin confirming that he will be available for Mike and me to run the Museum Ships event on Sunday June 2. Now I have to call him and confirm his confirmation. HI

OK, that gets us up to date. Now an hour to go to head to the shack for my streak QSO. Wonder if there are any contests this weekend for a quick QSO. Not really, just a few minor DX contests, the biggest of which is the King of Spain contest which usually has quite a bit of activity, but it doesn't start till 1200Z. Hopefully I'll have my QSO long before then. -30-


---

Thu May 16 2019 08:46PM - Sometimes I wonder if anyone reads this diary. I often go long periods of time without getting any feedback at all, neither good nor bad. Then a day like today comes along to make it all worthwhile. There was a priority mail envelope in my mailbox today. I hadn't ordered anything as far as I could remember. It looked and felt like a magazine of some kind. I took care of my other mail first, and then opened the special package. At first glance it was a calendar, but a 2018 calendar. Then I saw the railroad pictures on it and a QSL card at the bottom of the package. Things started coming together now, and the full explanation was on the back of the card. It was from Bob WA6GFR who said, "Been reading your website for some time. Enjoy it tremendously. Thought you might like these RR pics." And then, "Calendar is out of date so only use the pics! HI HI"

Well Bob, I certainly do appreciate the pics, and I thank you many times over for the great gift. With my birthday coming up in a week or so, I guess I can count it as a birthday gift. HI

And that, folks, really made my day. Nothing else today came close to that for something to talk about, so I'll just close here. -30-


---