---
Sat Mar 28 2020 8:57PM - Good bands again this evening. Maybe too good as everyone I heard was involved in a QSO, and no one calling CQ or answering my CQs. At least until I found K8BZ calling CQ on 40 and had a nice 18 minute QSO with him.

I glanced at my rain gauge a couple hours ago after taking care of Roscoe and saw 2.5 inches of rain there since last evening at 9PM. Most of that fell late this afternoon in a couple drenching downpours. There's more rain out in Ohio headed this way also. It is hard to tell if it will hit us or pass us by just yet. Anyway it is time to go out and get my weather readings now. -30-


---

Fri Mar 27 2020 8:25PM - Two nights in a row. A quick DX QSO at 0001Z on 20M. Tonight it was 4A60M in Mexico. Let's see what the special event call is for. The 60th anniversary of ARARM. Hey, only 1,978 more days of DX and I'll tie my streak of 1,980 DX days that ended back in 2018. HI.

Otherwise the same old story here. I'm getting a case of cabin fever only going out to walk Roscoe and an occasional grocery run. I guess it can't last forever though.

Some more work on my HO train layout today occupied some of my time. I also got caught up on logging my LoTW and eQSL records. And I trimmed down my much too large Microsoft Edge Favorites list and organized it a little better. Still a ways to go though. -30-


---

Thu Mar 26 2020 8:07PM - Seems like old times. Turn on the rig, go to 20, find a DX station quickly, work him, and the streak is intact for yet another day. That describes this evening. The station was T42DX in Cuba on 14011. Took two calls to get him.

I'm glad it was quick too. I'm doing some work on my HO train layout and I want to get back to it. I haven't run anything on the layout in quite a while as I've been concentrating almost exclusively on the Lionel O layout for some time now. You can tell that by the looks of the dust on the HO engines and rolling stock. HI So I'm going to close here and get back to that.

Before I go, just a note on the weather. It got close to 70 today when the sun came out in the afternoon and before the clouds increased this evening.Now it's back down to 60 as I type. Now we've got a few days of rain coming up again. -30-


---

Wed Mar 25 2020 8:25PM - Mike and I decided to postpone our visit this evening. We'll try again another evening.

When I was on the air getting my QSO, I decided to look out the window and I noticed a very thin crescent moon close to setting. I think it was one of the thinnest crescents I've ever seen or at least seen in a long time now. So I looked up to see just when the new moon was to see how young a crescent it was. The new moon was on March 24 at 5:28AM EDT. That would make it about 38 1/2 hours old when I saw it. Nowhere near a record, but maybe a personal one for me. I don't know and don't have any way to reseach it as I have never kept records of crescent moon sightings. Maybe one on the few things I never have kept records of. HI

The bands continue to be good this evening. No DX worked tonight, but it didn't take long to get my streak QSO in the log. It was KD3KO on 80 meters at 0005Z.

It was a nice day today with a high in the mid-50s and bright sun late in the afternoon. I went for a couple walks/shopping trips today and of course walked Roscoe as per schedule. -30-


---

Tue Mar 24 2020 8:35PM - DX!! Quite easy DX! After working W4MY in NC on 80 for my streak, I tuned around a bit and found LZ3ND calling CQ on 40. I gave a call and got WP? I sent my call twice again, and lost his sigs in my noise. Not knowing if he came back to me or not, I waited several seconds and he came back with K3WWP K3WWP. This time we completed the exchange of info for a legit QSO. As I've been saying, the bands have awakened. They are still sluggish, but getting better and better, it seems.

I talked to my friend Tom WY3H on the phone today for about a half hour. He is doing well, but dealing with a bout of the flu right now.

Hopefully Mike will be paying a visit tomorrow evening for a regular pizza dinner. At least that's what we planned when we found we couldn't do a Requin Subpedition on Thursday.

Not much else going on. I've mostly just been staying here at home except for Roscoe walks and some grocery shopping. -30-


---

Mon Mar 23 2020 8:36PM - It seems the coming of spring has helped the bands a lot. For several nights in a row now all the bands up through at least 20 have had lots of good signals, some of them from DX stations. I haven't had much luck working the DX yet, but I will, and in the meantime it is nice to be hearing it again. Tonight's QSO was K4AOA in NC on 80.

Yet another quiet day today. I expanded my train layout a bit making it about 10 inches wider. I use cardboard as a temporary base for the layout so I can change it easily to decide on (if I ever do) how I'm going to make my permanent plywood layour. It's much easier to make the changes plus it beats just laying track on the carpet with its fuzz, lint, etc. that can get into the locomotives and rolling stock. -30-


---

Sun Mar 22 2020 8:51PM - The bands took a couple steps backward tonight. Still pretty good, but not up to the past couple nights. It took a little while to find and work Larry WB9ICH on 80 meters.

The weather also took a couple steps backward today. Still nice with sunshine and 50 degrees but that felt chilly compared to the 74 degrees we had recently.

I heard from Art of the USS Requin and it looks like we won't be having our subpeditions for a while yet this year. The sub is closed now and Art has some health issues that will keep him from the sub for a couple more months. More on that as time goes on. -30-


---

Sat Mar 21 2020 8:41PM - The Hills (Bands) are alive with the sound of Music (CW). What a joy to hear the bands so active. Largely due to contesting, but also propagation is improving, and my noise seems a little quieter. At any rate, I actually worked a couple DX stations on 20 meters in the 0000Z hour. HI3Y and PS2T are in my logbook for the first DX on 20 I can recall since the ARRL DX contest last month. The longer period of sunlight now is also helping the bands to stay open later. I also worked N4HB in the VA QSO Party on 80.

That about covers the excitement for today. The rest of the day was again routine. I did do some rewiring on my train layout and ran my trains for quite a while. -30-


---

Fri Mar 20 2020 9:03PM - I'm running late tonight so this will be short. The bands up through 20 were good this evening and I was just enjoying listening to them. I worked WB3DSJ in FL on 20 and my train friend Lane N8AFT on 80. I met WB3DSJ at Butler a few years ago and he mentioned that in our QSO. I think he lived in Erie at the time if my poor memory serves.

Other than the good bands, nothing much else out of the ordinary today except the warmth. We had a high of 74 today which may be a record for May.... er March 20. Let me see. Nope, not even close. It was 84 on March 20, 2012. Still it felt good to be out there in it. -30-


---

Thu Mar 19 2020 8:26PM - Different day, different band, same station sums up my streak QSO this evening. I worked K1P in ME again this evening, but on 80 instead of 40.

After I got K1P so quickly at 0001Z, I decided to check out the bands a bit. 20 had one station in a rag chew, 30 had one weak signal, 40 was full of stations, and 80 had a lot of other signals besides K1P. I tried some CQs on 40 for a while, but didn't get any answers at all. It continues to be nice to hear the bands more active though. Hopefully it won't be long till 30 and 20 join in the activity in the evenings.

Another quiet day today. I did do a little shopping and also did my Federal and State taxes. That was about it out of the ordinary. I did change the picture on my computer desktop. I now have a great picture of the Union Pacific locomotive #844 which almost looks like it is coming right out of the screen at me. That Living Legend is really a beauty. It's the only steam locomotive on any Class 1 railroad that has never been retired and it makes a great UP pair with the Big Boy #4014 as their two active steam locomotives. Of course 4014 was retired for many years until it returned to active duty last year. On the other hand, 844 has been on the active UP roster ever since it was built in 1944. I'm just sad to see that the UP Challenger #3985 has been retired now with no plans to make it active again. It is great that there are quite a few other active steam engines in the USA and around the World.

I've just been trying to remember the active steam locomotives. There are a lot of them. I hate to try to list them here because I'll leave someone's favorite out, but here is a partial list.

UP 4014 and 844
NKP 765
Pere Marquette 1225
SP 4449
N&W 611

I think I'll just stop there for now. Maybe someday I'll expand on the list. Right now it's time to end the diary entry and get my weather readings. -30-


---

Wed Mar 18 2020 8:09PM - A quick QSO tonight from a special event station K1P who was sending ME 200 which I'm guessing is the 200th anniversary of statehood for ME when it split from MA. Now let me check my guess. Be right back. Correctamundo! There are several special event stations including one for each of the 9 original counties when ME became a state in 1820. Also for a couple other locations important to ME at that time. See QRZ for more details including earning a certificate for contacting the stations. Maybe I'll go for it.

Otherwise it was a run of the mill day until this evening. The weather was nice so I went out for a walk late this afternoon. Then this evening the girl next door came and brought me a big bowl of spaghetti. Then she stayed and visited for about an hour. We talked about various things including how school is going with the schools shut down for a while. They are doing lessons via the Internet. I was just getting ready to play some computer games when she came. I asked her if she ever played Griddlers and she didn't. Then I remembered she once told me she played Sudoku and I asked her about it. She said she never really got the hang of it. So I told her I'd teach it to her. She caught on to it and we played a couple games of it before she had to go home.

Tonight is our NAQCC sprint in a few minutes. I may try to make a couple QSOs in it. I haven't entered for a couple months now. The bands seemed pretty good in the brief listen I took before working K1P. -30-


---

Tue Mar 17 2020 8:28PM - Hope you had a good St. Patrick's Day. Nothing special here. Just another mid-March day. The bands were up and down tonight. I started with a 2X599 QSO with KA1FXK on 80, but he quickly faded into my noise and I guess my signals did the same there as I heard him not long after losing him and he was calling CQ up the band a bit not nearly as strong. Oh well, it was a QSO for the streak anyway

I guess the highlight of the day was cutting my hair. I haven't had a barbershop haircut since 1972. I've cut my own hair ever since then. I wonder how much money I saved over the years that way. I've gotten pretty good at it. The hardest part is trimming at the back of the neck. You have to be a contortionist more or less to do that using two mirrors so you can even see to cut. I don't really go for looks anyway, just for comfort and I definitely get that. -30-


---

Mon Mar 16 2020 8:40PM - It took a little while to find and work someone this evening, but finally I did find and work W8HOG in Ohio on 80 meters to keep the streak alive. Forty was nowhere as good as last night. I guess it was a fluke thing. Oh well.

It was another pretty quiet day today with not a lot out of the routine. The weather was good, but except for Roscoe's walks, I spent most of the day inside.

I did get my membership number in the Lionel Collectors Club of America. I spent quite a bit of time exploring the members area of the club's web site. There is a lot of good information about Lionel trains there including most if not all the Lionel catalogs going back to 1900 in digital form. I had to look up my Berkshire just to see what it cost back in the early 1960s. It was right around $50.00 which was quite a bit back in those days. I'll be doing a lot more browsing on the web site in upcoming days. -30-


---

Sun Mar 15 2020 8:41PM - The Ides of March. A quick 0001Z QSO on 40 meters with N9EP. I haven't seen so much activity on 40 outside of contests in a good many moons. Could be propagation is improving because the sun is setting later and later each day now. Whatever the reason, it is great to see all the activity. I called CQ on 40 after working N9EP and got an answer from K9QAG in IL.

The nice weather continues also. Sunny skies with a high of 54. Nice day for walking. I also filled out my census report and mailed it along with some bills this morning. I think tomorrow I'll do my taxes then I'll have most of the paperwork out of the way for March. -30-


---

Sat Mar 14 2020 8:08PM - It's the weekend of the OK QSO Party. That's Oklahoma, not Czech Republic. So my streak QSO was very easy. I worked W5CW on 40 meters. Although I didn't listen much, the bands sounded pretty good once again.

This was a pretty quiet day. The weather was a little chilly, but still pretty nice for mid-March. I did some more cleaning of my trains. Today it was the wheels on the tenders. The one tender was particularly dirty. I got it last year, and it looks like I never did clean the wheels on it. I also did a little general house cleaning and took care of some correspondence. That was about it. -30-


---

Fri Mar 13 2020 8:18PM - It was another nice day except for one thing, the wind. It was fairly steady at 20-25 MPH with gusts into the low 30s. That made it feel much colder than the actual high of 65 degrees. The high did occur early this morning and the temperature was steady to falling slowly the rest of the day to 49 degrees right now.

So I spent a lot of time inside, mainly cleaning the wheels on my Lionel rolling stock. I did help my neighbor work on his van outside and it did feel really cold even in the sunshine.

I got a pretty quick QSO this evening at 0004Z on 80 when I worked K5LC in TN. Had things gone according to plan, I'd be in CT this evening with Mike and other Skyview club members after visiting ARRL Headquarters. We had a plan to keep my streak going while there. We'd both have taken our KX3 rigs, etc. and made a QSO between us in the hotel using our dummy loads. That would be CW QRP and very simple antennas which would qualify it as a QSO for the streak. However that didn't become necessary when Mike and I cancelled our reservations for the trip. I hope those Skyview members who did make the trip are having a good time, and keeping well, and will return home safely and well also. Mike and I hope we can still visit W1AW in the future when conditions are better. -30-


---

Thu Mar 12 2020 8:46PM - While sitting at my rig in QSO with K4LXY, then W3CFE, I was wondering when the first QSO with my KX3 was. I made sure to remember to look it up in my diary and log when I got to the computer. It was on October 21, 2012. The QSO number was 77,319. My last QSO tonight was 91,569 which means I've now made approximately 14,251 QSOs with the KX3. I say approximately because 1 or 2 were made at Skyview using their equipment. I need to figure out how many QSOs I made with other gear someday. Not now, though.

It was another nice day today with a high in the upper 60s so I did some more outside work. I got a new plastic garbage can (how's that for something exciting?) and fixed up a place for it to replace an old metal one that was rusting away. I also did some inside work cleaning up some things and adjusting my train layout a bit more after the changes Mike and I made yesterday.

That pretty much sums up the day along with the many other ordinary household tasks done most every day. -30-


---

Wed Mar 11 2020 8:30PM - A quick QSO with AC8RG continued the streak this evening. Bands, especially 80 seemed good again tonight as they have been lately.

Of course another great day with Mike again. Pretty much an all-trains day. We made some modifications to my layout. Also we tried out a couple accessories. Of course we ran my trains a lot, the NKP diesel, 736 Berkshire, 2037 steamer, 1060 engine, little gang car, and #50 navy yard shifter. We also ran Mike's Big Boy quite a bit. All the engines ran like a charm. We took time out for eats at Wendy's, of course. We also watched a couple good train videos showing a lady's set up with dozens of tracks and trains plus a show called Railway Roundabout featuring BBC films from the late 50s and early 60s about steam trains. The day went by all too fast, and we closed out with some computer gaming before Mike went north to home. -30-


---

Tue Mar 10 2020 8:37PM - Although it rained off and on most of the day, it was another nice spring day. Any day it rains instead of s#$ws is a good day in March. I did get out for a pretty good walk in between the showers and did some shopping.

80 meters was good again this evening with a lot of strong signals and it didn't take too long to find and work Tony N2ATB whom I've worked several times before.

Tomorrow Mike will be visiting for what will probably be a trains day. Instead of getting ready for a train trip to CT Thu-Fri, we'll be working with model trains instead.

I've finished the two easy ways of finding members of the "50 Years Club" and didn't do anything further on that today. The next stages will be a bit rougher and I may wait a bit before tackling them. There's no hurry so it doesn't matter. -30-


---

Mon Mar 9 2020 9:02PM - Tis the season to get out and enjoy the beautiful spring days. It just touched 70 here today under sunny but increasingly cloudy skies. So I cleaned up a lot of leaves from my back yard. About three big garbage bags full. Most of that total was from the leaves I cover my garden and flower plots with in the fall. I found my daylillies sprouting under the leaves. I also sat on my porch alone and then with Roscoe later on. It sure felt good to be able to be outside in shirt sleeves again. It's still 55 degrees at this hour.

Last night I had trouble uploading my web site pages. Thanks to those of you who missed them. I finally was able to upload this morning after talking with Bill WA4FAT from my web site host Cahaba Internet. He also increased my web site space to 500MB. I'm currently using about 140MB so I've got a lot of space I can fill up.

I also got around finally to putting up a forwarding page on my old Windstream web site for those who use old URLs/Links. Now they know to come to k3wwp.com for my web site.

I've gotten quickly used to the time change this year. Only one thing seems funny. Not getting out of my shack until it's almost time to go get my temperature at 9PM and then update my web site, do a couple other things before walking Roscoe at 9:30PM. However it sure is great shifting that hour of daylight from early morning to evening. Regular diary readers know I have a pet peeve about calling it daylight savings time. Nothing is saved, just shifted around. Should be called Daylight Shifting Time. It's like the old Indian saying it's like making a blanket longer by cutting a foot off one end and sewing it on the other end. There's still exactly the same amount of daylight be it Savings or Standard time. Oh well, just another of many peculiarities in the accuracy or inaccuracy of the English language, I guess. -30-


---

Sun Mar 8 2020 9:07PM - A lot to talk about tonight but little time to do it so I'll condense things

I added more members to my "50 Years Plus" club today and am now up to 29. See the past few diary entries if you don't know what I'm talking about.

The plans that Mike and I had for later this week fell through today. We were going to take a train trip with the Skyview Radio Club to ARRL HQ in CT. However after we analyzed the coronavirus situation we decided this was not a good time to travel so we cancelled our fare, hotel room, etc. Instead Mike and I will just get together on Wednesday to as Mike put it, "See what kind of trouble we can get into".

For the fourth time this month, I had a multiple QSO evening which tends to show, I think, that conditions are getting better. Tonight it was KD3KO in PA and WB8WUA in OH.

Time to run now and get ready to walk Roscoe. More in a future entry. -30-


---

Sat Mar 7 2020 8:01PM - I added a method to my checking for "50 Years Plus" members. If I work someone with a 1x2 or 2x1 call who says they were first licensed more than 50 years ago, I ask for their original call or check QRZ to see if they have an older call. Then I look that call up in my log to see if I worked them when they had that call. So far I've added 8 more members that way and am now up to 22 such stations.

Tonight I worked AA8V and asked him his original call which was WA(N)8ZVC. Let's see if that call is in my log. Nope, so he's not a member.

Mike was down for a visit today. We 'played' with my train setup for a while. Then we walked to Subway and got a sub there. After that we did a mock-up of the train layout he will be using at his home to get an idea of what size and shape it will be. Then we watched some train videos, played a Sherlock Holmes computer game and did a little work for an event we have planned for later next week. I'll have more about that in an upcoming diary entry. -30-


---

Fri Mar 6 2020 8:02PM - As long time diary readers know, I often work a DX station before I'm sure just who he (she) is, then listen to find out for sure who it was. That happened tonight. I was tuning on 40 and heard a DX station. I knew it was DX from the MO. I listened a bit and thought it was a Bahamas station as I heard a C6A in the call. I thought it was C6AAE but wasn't sure. Then he seemed to disappear so I tuned around some more, then saw his peak on the PX3 and went back to him. I waited till he finished a QSO, then called and got a K?. I sent my call twice and got a K3WWP 599. I sent my exchange then settled back to see if I could figure out who it was for sure. I listened and listened, but every time he sent his call, I'd get some QSB or a burst of QRN. Finally I heard his call again, but it sounded different than AAE, more like ARN or ARK. Now I'm really confused so I resort to another trick and check the DX Summit spots on the Internet. Turns out it was EC6AAE on the Balearic Islands, although one other station also erroneously heard him as ARN, but there were about a half dozen or so spots listing him as EC6AAE. I went back to the shack and listened some more and finally heard a definite EC6AAE and that settled that. Funny thing also was that I was one of his easiest QSOs. As I was listening, he sent quite a few question marks to a lot of the other stations he was working. I guess I was right in the strong heart of the path to him. Anyway it was fun working some DX again. I think the bands are very slowly improving with the coming of spring and a slight increase in sunspot numbers.

I did some checking for "50 Years Plus" club members as described in yesterday's diary post. I am now up to the following:

K4WOP - 8/19/1965 - 3/1/2016 - 3/3/2020
K4BAI - 5/10/1964 - 5/22/2014 - 6/13/2018
WA8REI - 8/25/1966 - 8/25/2016 - 1/12/2019
WA4FAT - 5/30/1964 - 5/30/2014
WA2YSJ - 4/15/1964 - 3/5/2020
K8CIT - 7/23/1964 - 12/18/2018 - 11/5/2019
K1ZJA - 6/22/1964 - 6/26/2019
WA9CWX - 6/11/1967 - 5/11/2019
W3EEK - 12/23/1964 - 3/4/2019
K2HYD - 1/13/1968 - 5/2/2018
K8EHE - 11/19/1966 - 1/13/2018

The first date is the first QSO with the station. The second is the date of the qualifying QSO. If there is a third date, it is a more recent QSO. I'll continue to check via the listed method, then I'll have to dig more deeply into my log after that. I enjoy doing things like that as you diary readers probably already know. -30-


---

Thu Mar 5 2020 8:17PM - I received my "50 Years Plus" club QSL from K4WOP today and mailed off the 5YP card to WA2YSJ today. I also thought of a way to quickly check some of my QSOs to see if they qualify. In my paper log, I note the ham's age and year he was first licensed or how many years he has been a ham if he gives the info in the QSO. So I just need to check those who have been licensed more than 50 years by having Excel list all QSOs with that person to see if I worked him before over 50 years ago. I only checked my most recent page and didn't find any qualifiers, but there's a lot more to check on my past log pages and I'm sure I'll probably find some here and there.

I got a quick QSO at 0003Z this evening from a SOTA operation, NK8Q who was just about to QRT. I threw my call at him and he gave me his last QSO of his operation. Since that was so quick, I looked around the bands a bit and then tried some CQs on 80. I got an answer from K9VPL. Marv served on submarines for 30 years and I told him about our operations on the Requin. He was familiar with the Requin. He told me some stories about his sub operations. It was a quite interesting 27 minute QSO.

It was another nice spring day today and I did some yard work. My tulips sprouted several days ago and I cleaned out the leaves and weeds from the tulip bed. It looks like they really multiplied from last year to this. I'll have to count them and see. I'll probably have to divide them sometime before next year. Inside my tomatoes and peppers are doing well. I've got about a dozen tomato plants and about a half dozen peppers. I had to replant one pepper pot as they were just not sprouting, and the replanted ones haven't sprouted yet either. Anyway I should have enough plants even if no more sprout. -30-


---

Wed Mar 4 2020 7:40PM - Life is full of coincidences and I always enjoy when they happen. What happened tonight qualifies, I think. Two evenings ago, my QSO was with K4WOP whom I first worked over 50 years ago in 1965. Tonight I worked WA2YSJ whom I first worked over 50 years ago in 1964. So that's another addition to my "50 Years Club". It also gives me a little more incentive to do some log exploring to find other members. As with K4WOP, WA2YSJ and I are exchanging new QSL cards for the "club". In fact I just took a break from typing here to make out his card. I added his 1964 card to the envelope and will mail it either tonight or tomorrow. Things like this are just another facet that makes ham radio such an interesting hobby. I'm sure glad I got into it in large part due to a high school friend. I've mentioned this before but his name was Larry and we took our Novice tests together. He got KN3WWW and I got KN3WWP back in April 1963. Unfortunately I learned fairly recently from his son that he became a silent key at the young age of 29 in a plane crash. That was back in 2017 I got the letter from his son so he would have died around 1974.

It was another day in the 50s today. I hope I didn't jinx things, but I put my s@#w shovel back in the basement today after it sat virtually unused on the front porch all winter. I think I only used it once, or maybe twice but no more than that. I didn't even use the broom all that much. This winter will go down as one of my favorites for sure. -30-


---

Tue Mar 3 2020 8:03PM - The bands continue to sound pretty good. Even 20 this evening had a couple strong signals. It was back to 80 for my QSO though. I worked KA4KSB for a 20 minute QSO.

We had our first, as far as I know, sound of thunder and flash of lightning this late afternoon or evening. A cold front moved through with the thunderstorm and brief heavy rain. Looks more and more like Spring is here. The AccuWeather outlook for March shows a high in the 50s or 60s every day but one, and I love that. -30-


---

Mon Mar 2 2020 8:12PM - When you've been a ham for 56+ years as I have been, having been first licensed on April 3, 1963, you have the chance to have a QSO with someone you first worked more than 50 years ago. That happened tonight when K4WOP answered my CQ. We first worked on 8/19/1965. I have his card right here from that QSO. We are going to exchange cards for tonight's QSO also.

As we were talking, I was thinking it would be nice to start a list of hams with whom I have had QSOs more than 50 years apart. It would take a bit of work, but is entirely possible since my log is in Microsoft Excel with which you can do just about anything at all with statistics. So perhaps I will work on that when I feel like it and have some time to do it.

I know of four hams who qualify for what I may call my "50 Years Club". They are WA8REI, WA4FAT, K4BAI, and now K4WOP. Actually K4WOP qualified back in 2016, but we didn't make anything of it at the time.

It was another nice spring day today even with some light rain showers now and then. It's still 47 degrees now and was in the 50s earlier. -30-


---

Sun Mar 1 2020 7:55PM - The first day of spring (Meteorological) was pretty nice. It was sunny most all day with a high in the mid to upper 40s. That was sufficient to melt just about all of the s@#w except in some spots that were in the shade all day or piled up a bit from sweeping or shoveling. As Snoopy would put it: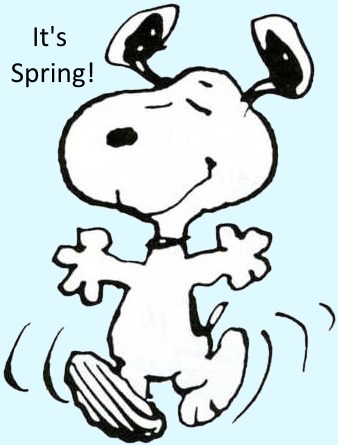 Yep, and that's pretty much how I feel except I'm no longer as agile as Snoopy. I did go out for a nice walk today to welcome in Spring and say Good Riddance to winter.

I went to the shack this evening with the knowledge that it wouldn't take long to get my QSO since the North Carolina QSO Party runs until 0100Z. At 0003Z I worked NC4KW and the streak goes on.

I put my February weather records in my Weather Excel spreadsheet this morning and it turned out that February was yet another warm month with an average temperature 5.7 degrees above normal or 35.8 degrees. Not as close to a record as January was, but warm nevertheless. My record for February happened just a few years ago when it was 39.0 degrees or 8.9 degrees above normal. It rained on a good many days in February - 15 days with measureable precipitation and 14 of those above .04 inches. Yes it was mostly rain with only a little melted s@#w included in the 3.82 inches which is 1.24 above normal for February. For the winter as a whole (Dec-Feb) it was roughly 6.4 degrees above normal. That's the second warmest to the 2016-2017 winter which was 6.8 degrees above normal. So this winter was close to a record. Third place looks like 2015-2016 at 6.3 then 2011-2012 at 6.2. Those were the only winters among my 60 years of records that were 6 or more degrees above normal, and all were within the past 8 years. -30-


---

Sat Feb 29 2020 7:38PM - It was one of those 0000Z streak QSOs this evening thanks to the SC QSO Party and participant AC4MC. Actually the bands were quite good again this evening as they have been the past several days now. Good signals on 160 up through 30. LZ5R was strong on 40, but QRT or QSY before I had a chance to call him. Then I heard him a little later on 80 as well, but not as strong. I then called CQ on 160 and got a quick answer from W4TJE in VA, but conditions, mainly my local QRN, cut the QSO short.

It was a cold windy finish to February today, but tomorrow March will be much better with a high near 50, and even warmer the couple days after that, but with quite a bit of rain which of course is much better than s@#w.

I've got to get back to some more end of month / first of month things now. -30-


---

Fri Feb 28 2020 7:28PM - Well, one more day of winter to go. We got that extra winter day this year because of Leap Year. Then it will be spring and looks like here in West PA the spring weather is arriving right on time and according to AccuWeather and others it looks like it is going to stay throughout March. That will be great.

I closed out my February log with a QSO with Tony KD8BBK on February 29 (UTC) and after I finish updating my web site, I'll be uploading my February log to eQSL and LoTW. That won't take long as I have a simple setup to convert my Microsoft Excel log to the ADIF format required for eQSL and LoTW. It will be interesting to see how many DX matches I get from my DX QSOs in the ARRL DX Contest. So I think I'll get ready to do that now. -30-


---

Thu Feb 27 2020 7:57PM - This is the time of year when s@#w is not as obnoxious as it is earlier in winter. It doesn't overstay its welcome now. We had perhaps an inch of the stuff today and I thought it was rather nice since part of it has already melted and the rest will be gone post haste in a couple days or so. Actually one computer model outlook says it will be 70 degrees by Tuesday. Another says only in the 50s, but I'll take either one.

I had an unusual happening on the bands tonight. After I finished a QSO with Mike N1MX on 80, I got a tailend call from W1EAT who had been 'reading the mail' and wanted to make some positive comments on my CW and my QRP setup. I haven't had a tailend call probably since early last year or maybe longer ago than that. Once again there were a lot of good signals on 80 and those conditions seem to be hanging on now. -30-


---

Wed Feb 26 2020 7:58PM - Just a couple days now till meteorological spring. Ain't it great. And we didn't really even have a winter.

The bands were good again this evening with a lot of strong signals on 80, and some on 40. Still nothing on 30 or higher though, but I suspect as spring arrives, at least 30 and 20 will start showing some activity in the evenings.

Some train work today. I worked on an old blue New York Navy Yard shifter. Cleaned and lubed it, and it runs better now after I also replaced some worn brushes.

And that was about it for the day when you add in all the (boring?) regular daily chores when you live alone and own your own house. -30-


---

Tue Feb 25 2020 8:55PM - Let's see, when was the last time before this evening I had a QSO that lasted for 1 hour and 32 minutes? I have no idea, but it's been a long time for sure. There's no quick way to find out from my Excel log, but it can be done if I want to take the time to do it sometime. I have fields for the beginning and ending times of all my QSOs and writing a formula field should give me the length of each QSO. Just thinking out loud now, it may not be as hard as I first envisioned it.

Anyway I did chat with Bob K1WGM about a multitude of subjects for 1 hour and 32 minutes at 21-22 WPM on 80 meters. The band was good tonight and it was close to (if not at) 100% copy both ways the whole time.

Another beautiful day today with a high in the 50s and some sun although it did rain a bit late in the day. It looks like winter will take an encore late this week and weekend then pretty much exit the picture. Of course it has been absent most all season anyway. I wish I kept s@#wfall records so I could know just how little we had this season. I'd estimate less that 10 inches total as a moderately educated guess.

Well, time to get my weather observations now. -30-


---

Mon Feb 24 2020 8:22PM - It's picture time. Here are pictures from yesterday with a brief comment below each:





Quite a busy hamfest.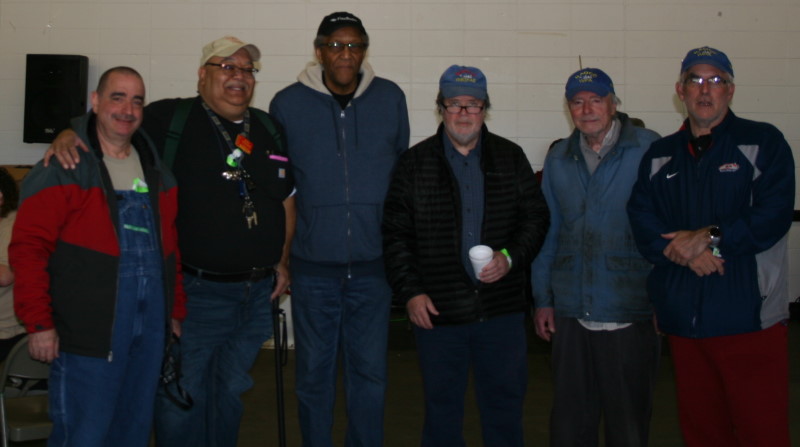 Some of the NAQCC members (WC3O,?-forgot his call,N3RDG,WB3FAE,K3WWP,KC2EGL).





Overall view of part of the train show.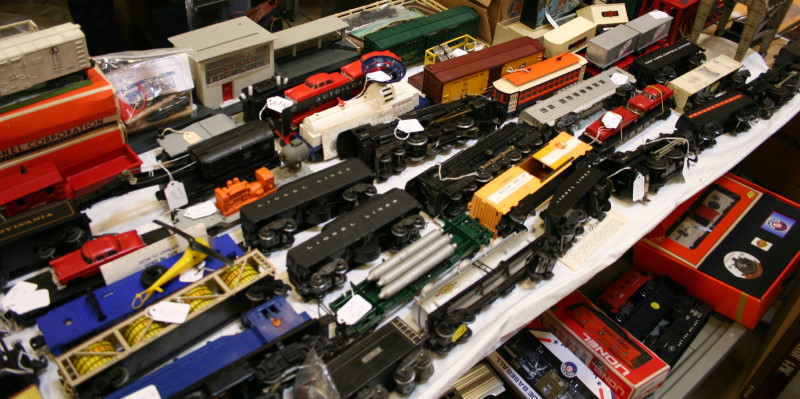 Typical table layout of unboxed stock.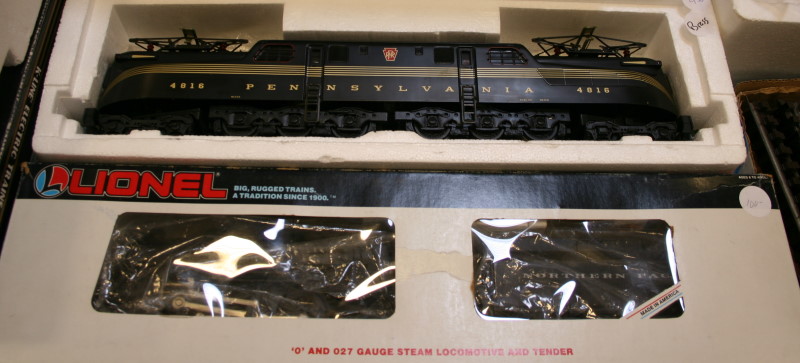 A classic GG1 Pennsylvania locomotive.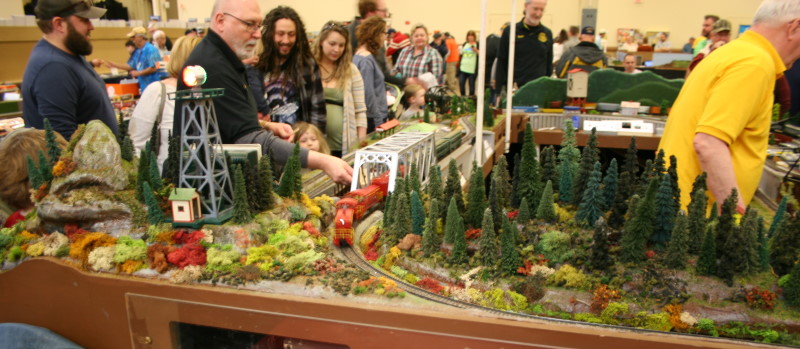 One of several layouts.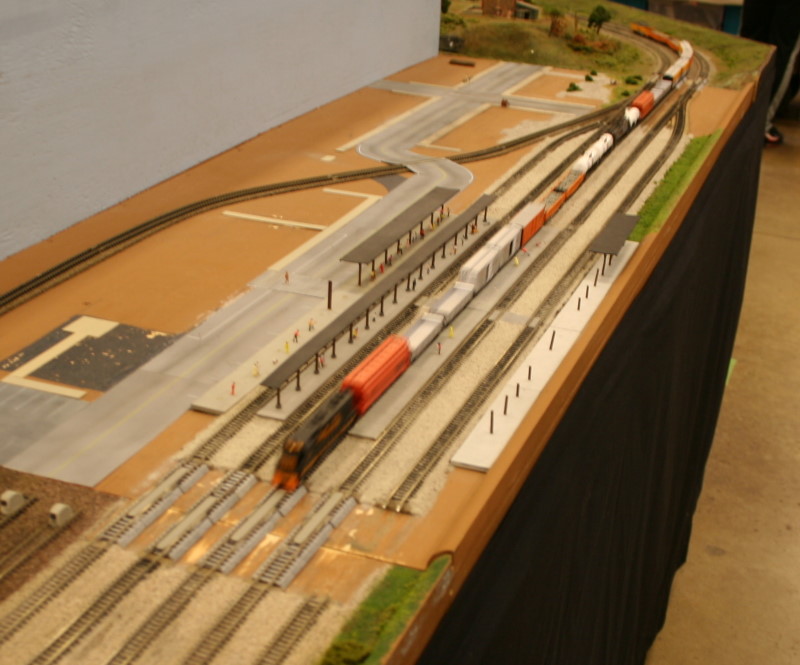 Another layout.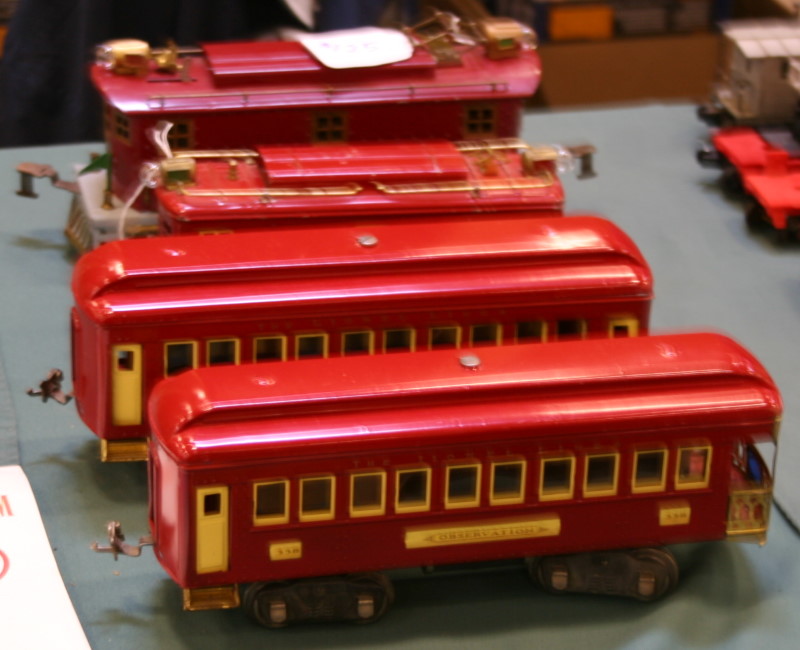 Some old (1940s) tinplate passenger cars.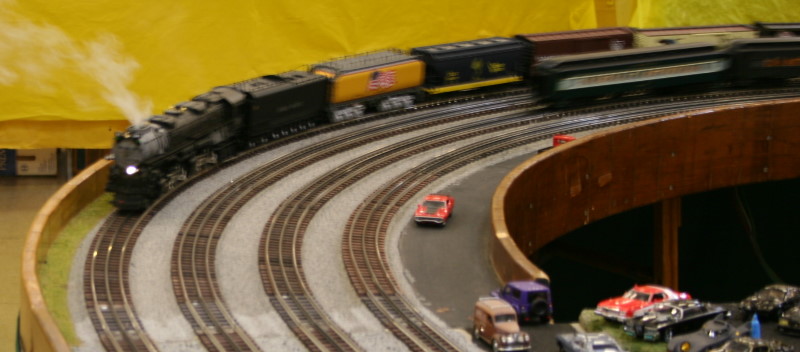 Union Pacific Challenger 3985. -30-


---

Sun Feb 23 2020 7:35PM - As expected, Mike and I had a great time today. He arrived here not too long after 8AM and after I walked Roscoe, we headed off to the South Hills hamfest. As has happened a couple times lately, his GPS led us astray and we had to readjust the unit and try to find the place which we finally did. We weren't really looking to buy anything outside of a couple connectors to use on my train layout. I found and bought them rather quickly, then we just wandered around meeting folks and looking at what was on sale. Mike arranged with the Breezeshooters club to set up a NAQCC table at their hamfest in June as we do each year. We also saw Art from the Requin and confirmed that we could continue our fourth Thursday subpeditions on the Requin in March. After wandering around, we gathered up some NAQCC WPA Chapter members and took a group photo which I will try to post in tomorrow's entry along with some other photos.

We then left the hamfest and headed on to the train show in Monroeville. This time the GPS got us a bit closer after a couple missed turns on our part due to some poorly located road signs. I've been thinking of a way to sum up the show briefly, and the best I can do is liken it to kids going into the biggest candy store in the country and deciding what to buy with Mike and I being the kids and the train equipment being the candy. My goodness!!! Neither of us have ever seen so many trains, locomotives, rolling stock, scenery, accessories, etc. in one place before. As with the hamfest, we really had no plans to buy anything and didn't. We did scout out just about everything they had there with plans to go back to a repeat of the show in July and then probably purchase several items then. I'm sure that counting each piece of equipment, the count would go well over several thousand and probably more than that.

We stopped at the Golden Corrall Buffet Restaurant in Monroeville on the way back home to Kittanning and stuffed ourselves royally. Back home again for some playing with trains, a good sized walk to walk off some of the food, some train videos, and then Mike headed home.

Shortly after that, I went to my shack for my QSO which only took 3 minutes to find and work Bob K8JPM until a DX pileup swallowed us up some 25 minutes later.

BTW, I also have some photos from the train show that I hope to post in the entry tomorrow. -30-


---

Sat Feb 22 2020 7:55PM - Not much going on today. It was a beautiful weather day with virtually cloudless skies all day. A bit cool, but not bad for late February for sure. The high was in the upper 40s, but it was a bit breezy which made it feel cooler than that.

I did some train work and got a better mesh of the gears on my NKP diesel. It didn't really make much difference, but still it's more like it should be now, and that's a good feeling.

There was some sort of British Isles contest this evening with everyone working everyone else. So I worked AA3B for my streak QSO.

Tomorrow Mike and I engage in our two favorite hobbies. A hamfest and a train show within a fairly small area. That should be another fun day. We'll have some kind of report in the diary tomorrow evening. Maybe with pictures. Till then, 73 and GE. -30-


---

Fri Feb 21 2020 7:28PM - As usual a good day with Mike. He arrived around 9:30AM just as I was walking Roscoe. Roscoe barked at him until he gave Roscoe a couple treats. After that we did some train work including testing out his Big Boy in conventional mode on my track. It performed well. After a while we packed up our things to be checked out at the Indiana train store. Then we headed off to there.

At the store I first showed Brett a little problem I had with my NKP diesel whereby a couple gears weren't meshing properly. He looked at it and gave me some suggestions to try at home. The store is not really a repair shop, but Brett does like to work on trains and is always very helpful to us. Next he checked out Mike's Hudson locomotive and determined that it would have to go back to the MTH shops to be worked on. Then he replaced Mike's defective MTH TIU and would send the old one back to MTH for them to do what they wanted to do with it.

Back home again we set up Mike's new TIU and the rest of his DCS system on my track and tested it with the Big Boy engine. It workde just fine with the suggestions and help from Brett. I then checked out my diesel to make sure nothing got disturbed on the trip to Indiana. It worked fine, but I still need to try some suggestions from Brett to get the gears to mesh better. It doesn't really impact the way it runs, but still I would like to get the gears meshed as they should be.

Next on the list was taking in the first Fish Buffet of Lent at a local fire hall. That was a delicious meal, and I'm still filled up. HI.

Then to close out the visit, a Sherlock Holmes computer game and a couple of train videos

After Mike left for home, I went to my shack and got my streak QSO from Lou N2JPR on 80. Now here I am typing this. -30-


---

Thu Feb 20 2020 7:23PM - A quick QSO this evening as soon as I turned the rig on. I saw a strong peak on the PX3, tuned to it and found it was W8EDU calling CQ. He returned my call and we chatted for a few minutes. That call sounds familiar, and I'm going to look to see if I worked it before. It's a club call now for a University in Cleveland. It looks like it may have always been a club call. I've worked it 10 times before going all the way back to 1966 and each QSO is listed as Cleveland or Cuyahoga county with different operator names. Interesting. Having been a ham for almost 55 years now, I'm finding more and more hams I first worked over 50 years ago. Not a whole lot, but there are now several. I'll have to make a list as I find them.

Tomorrow will be a train day with Mike. We're going to the Indiana PA train shop for one thing and maybe work on an HO building kit I've had sitting here for a few months now. -30-


---

Wed Feb 19 2020 7:34PM - A beautiful sunny day today. Although it wasn't all that warm in the low 40s, it was nice to be outside. At one point, the air had sort of a nice fresh spring feel to it. Could be more than just my imagination as spring is only about a week and a half away now. See the countdown above for the exact time remaining as you read this. It's actually light now past 6:30PM here and when I walked Roscoe about that time it sure looked nice. Venus was shining brightly in the dark blue sky.

The bands were also good tonight with a lot of strong signals on 80 and a couple on 40 as well. I found and worked K4UX down in VA at 0016Z for the streak QSO. -30-


---

Tue Feb 18 2020 10:38PM - As you see from the time stamp, it's another late night here, so I'll just have a short entry. I will refer you to my CONTESTING section though and the Stories page where I've posted the story of Mike and I in the ARRL DX contest.

Mike and I had another good day mostly working on trains and after a meal at Wendy's we closed out the day at the Skyview Radio Club meeting this evening.

For only the fourth time in about a year my streak QSO came in other than the 0000Z hour at 0321Z since I didn't get home from the meeting until late. I did work N4HAY down in NC on 80 meters in a QSB/QRN shortened QSO. -30-


---

Mon Feb 17 2020 8:31PM - 80 meters sounded really deserted tonight or maybe it was just because I got so used to the crowded bands in the contest over the weekend. I've started the write-up of the contest but haven't gotten very far yet. Maybe I'll get it finished by the end of the week. I did finally find and work Doug WA4LJJ tonight and we had a solid 33 minute QSO so it wasn't that conditions were bad, just a lack of activity, I guess.

I'm looking forward to another day with Mike tomorrow. He'll be coming around 9:30AM or so. It will be mostly a railroad day followed by a good meal and the Skyview Club meeting in the evening. Look for more info in tomorrow's diary entry. Maybe I can get Mike to write it although we will be home late and he may want to just drop me off here and head on North. We'll see. -30-


---

Sun Feb 16 2020 8:23PM - It may sound like a broken record, but in this case it's a good break, maybe even a great break. Here goes. Mike and I had a great time together, this time for a whole weekend from Friday through Sunday. Most of the time was spent in the ARRL DX Contest where we had a real ball. I'm not going to say a lot about it here, but instead I'm going to add a story of the contest to the stories in my CONTESTING section. I haven't written up a story since the 2018 ARRL DX contest, so I'll have to re-hone my story writing skills for what they are. I'll probably do that this week sometime, perhaps even tomorrow depending on how other things go.

Just as a teaser to the contest story, we both got a contest WAC out of our some 200 QSOs.

Besides the contest, we also spent time with our trains/railroads. Of course we ate some good meals. We watched some train videos and since the weather was good, we went for some walks as well.

My QSO this evening came shortly after the end of the contest when I worked W1GF on 80 at 0005Z. I was going to wait till later, but Mike said might as well go for it now since we're here in the shack anyway, so I agreed. Thanks Mike.

We'll be getting together again Tuesday for the Skyview club meeting, and before that do some railroad work. -30-


---

Sat Feb 15 2020 7:32PM - Now with tonight's diary entry, here's Mike.

Good evening everyone. Our day started around 8AM getting back into the swing of things in the ARRL International DX Contest. We are doing one of our tag team events. We operated for about an hour before heading out to breakfast, where the kitchen misplaced our order slip. We patiently waited just over an hour and a half for our order. We should have gone elsewhere after noticing two other tables who arrived after we did finish their meals before we received ours. A lesson learned. If there is a next time for this place we will go elsewhere if they are busy like they were today.

After our breakfast debacle we headed back to John's place to see if we could catch some European action on 20M. We found a few but also found the window to EU closing quickly. We followed that by searching the other bands to see what was out there. We took a break for John to walk Roscoe around 3:30PM and to strech the legs. All this sitting gives one a stiff back and legs. After our break we operated until 5PM so we could grab dinner (Vocellis subs for a change of pace) so we could be back in time to try to catch the window for Asia. John did log a station from Japan. Unfortunately the conditions went south during my attempt. We then continued to search for other targets of opportunity. Which leaves us to me typing this. We decided on a break before our late evening run at the bands.

Until next time de Mike KC2EGL -30-


---

Fri Feb 14 2020 11:28PM - Yes, 11:28PM. Mike and I just closed down our ARRL DX effort for the night till we get up tomorrow morning. We both got around 20 or so stations. Conditions are quite poor and it's been a struggle, but nonetheless a lot of fun. It's too late to write a complete entry tonight. Tomorrow's entry will get us caught up on our activities including the contest and our railroads as well. -30-


---

Thu Feb 13 2020 7:49PM - Took a bit of doing tonight to get my QSO, but I finally found and worked Dave K1DSM on 80 at 0021Z. The 0000Z hour continues to be productive. Just to update, I've gotten my streak QSO in the 0000Z hour all but three days since March 23 last year. Two of those 12/11/19 and 1/22/20 I was at a Skyview Radio Club meeting and the other was Christmas when Mike and I were out driving around looking at Christmas lights. I think that speaks well of something although I'm not sure what. HI

It looks like my new AcuRite remote weather station can't hear WWVB to set the time each day. Oh well, I can easily manually set it when it needs it. All the settings on the unit are very user-friendly and easy to use compared to a lot of other electronic gear that has settings.

We're still waiting for our second day in February when we didn't have any precipitation. It's rained or s@#wed every day so far except for the 4th. It looks like the next 3 days may be dry though, although cold with a single digit low Friday night. There's only a couple minimal traces of s#$w on the ground now, and you have to look hard to find them. Although why anyone would want to look for them is beyond me. HI -30-


---

Wed Feb 12 2020 7:51PM - It was a pretty nice day until this evening, but now we are getting some light s#$w. I don't think it will amount to much though and that's fortunate if so. Speaking of weather, I updated my AcuRite remote weather station to a newer one which arrived in the mail today. It's not a lot different, but does have a few extra features like a heat index and dewpoint readout. Also it is supposed to have an automatic time setting from WWVB. That will be nice if it works. I have a few devices that are supposed to use WWVB, but only one works perfectly. I think it's the valley QTH here that doesn't receive WWVB all that well. I'll see later tonight if it works. It checks every hour or so for a few hours starting at 0700Z.

Something else new today was an update to my other laptop computer. It now has the latest feature update to Windows 10 which is 1909. It took forever for the update to complete mainly because I hadn't done any updates to that laptop for a long time. Actually I guess it was around 7 hours or so, but it went as smooth as silk with nary a single problem.

My QSO tonight came quickly from a CQ I called at 0006Z. N2AK Mario answered me and we chatted for a little under 15 minutes. The bands didn't seem all that good although there were some strong signals chasing DX stations getting set up for the ARRL DX test this weekend. -30-


---

Tue Feb 11 2020 7:50PM - Mike just left so I'll have to do the diary entry myself tonight. HI.

Mike arrived just as I was walking Roscoe this morning around 9:30 or so. We chatted a bit, then took off for Pittsburgh. I'll have to explain a bit on why we went there. In mid-March, the Skyview Radio Club is taking a train trip to Newington, CT to visit the ARRL Headquarters. Since Mike and I are now members, we decided to go along. Today we went to Pittsburgh to scout out just where the railroad station was, and also to check out nearby parking places. That's all I'll say now except we now have a good idea of the layout there. It was a bit confusing with some major construction going on in the area. More about that as the event gets closer.

On the way home we stopped at Wendy's for lunch. At home we set up and worked on some of Mike's railroad equipment. I won't go into much detail about that, but we both did learn a lot of things about his set up which differs from mine in that mine is pretty much 100% Lionel while his is a mix of Lionel and MTH. Probably because I know next to nothing about MTH, it took a while for me to figure things out and get it set up. Once we got it set up, we couldn't get it to work with the MTH DCS system. Mike called our Indiana PA train store to see if they could help. They suggested a couple things we already tried that didn't work. So we're taking it back to the store this Friday. Brett who works there thinks it may be a circuit board problem that either continued from or developed since the engine was back at the MTH factory last month for other repairs. More on all that later. We did figure out the setup of the various MTH components so Mike can get his railroad set up at his home after the engine problem is fixed.

After that we played with my railroad setup for a while, then went for a walk. Back home again to watch some railroad videos, and at 0000Z it was up to my shack where I got my streak QSO from Bob NR8M on 80 meters. Then Mike headed home until Friday when we get together again for the weekend for the trip to Indiana and then doing a 'tag team' contest effort in the ARRL DX Test. -30-


---

Mon Feb 10 2020 7:52PM - Another nice "warm" day today and virtually all the s@#w from a couple days ago has now melted. Hooray! It sure has been a great winter so far and it's winding down rapidly as you see from the counter above.

A rather quick QSO (0012Z) tonight on a very poor band. Thanks to Jim K8MPH in Kalamazoo MI on 80 meters.

Looking forward to tomorrow with Mike. It will be a combo ham radio trains day. Tomorrow evening's diary will have full details on the day either written by me or Mike. So check in to see what we accomplished. -30-


---

Sun Feb 9 2020 7:43PM - A quick QSO this evening even though the bands seemed to have taken a step back. There were fewer signals tonight and what there were turned out rather weak. I did catch KA1FXK easily, but a band change ended the QSO quickly.

It was a nice day for watching the s@#w melt with temperatures in the upper 30s and periods of sunshine. Good to see the green peeking through again. Spring is looming closer and closer and that's great.

I noticed 3 more tomato seeds have sprouted now for a total of 6. Still no action from the pepper seeds yet, but they are usually slower to sprout. -30-


---

Sat Feb 8 2020 7:40PM - Another of those days when there is s@#w on the ground that makes one want to stay inside. At least some of it did melt off today when it was sunny earlier in the day and the temperature was in the mid-30s. Still it is depressing.

My neighbor ordered a pizza this evening so I was hoping for a quick short QSO at 0000Z. I called a couple CQs and got answered by the same ham who answered my last night, Tom W3TF. We chatted a bit then I said I was waiting on a pizza, so we cut the QSO a bit short.

That's about it for today. Nothing else but the regular daily routines. This Tuesday Mike will be visiting again. We'll be going to Pittsburgh to check out some things that I'll talk about later here in a diary entry. Then he wants me to look over his shoulder as he works to get his model railroad set up. So that will be a more interesting day. -30-


---

Fri Feb 7 2020 7:57PM - Winter arrived today a couple months late. I woke up to about 3 inches of ugly white stuff everywhere and perhaps anothe inch was added during the day. So I hibernated most of the day except for shovelling my sidewalk and walking Roscoe for his regular walks. Enough said about that.

Some good news, although a bit strange today. My first tomato seeds sprouted. I have 3 pots of Siberian tomatoes and 3 pots of pepper seeds. There are 3 to 4 seeds in each pot. However only one pot sprouted and all 3 seed in it sprouted. Nothing at all in the other 5 pots. Hopefully they will catch up or I may have to re-plant.

The bands continue good tonight with a lot of good signals on 80 and several on 40. I called CQ on 80 and it only took a couple CQs until K3TF answered me and we had a 14 minute QSO before he had to QRT. Signals 599 for most of the way. Things are getting better (I hope). -30-


---

Thu Feb 6 2020 7:58PM - Seems like old times. Several good signals on 40 meters with my local noise at a reduced level for a change. My QSO came on 40 when I worked KA2BKG in Bel Air, MD on 40.

Otherwise just a run of the mill day, more like mid-spring than early in the last month of winter. That can be said of most days this winter, actually. Rain, no s@#w and mild winter temperatures. The low 40s today which is above average for Kittanning. A fly in the ointment tonight and tomorrow is possible though. Some accumulating s#$w is forecast, about 1-3 inches. However based on the track record so far this winter, that may or may not come about. Most of the time it hasn't. If you believe in the law of averages, we are due, but if you believe in the steadiness of things, we may get missed yet again. Of course I'm hoping for the latter.

The rest of the day was occupied with the regular daily chores plus some more work on the railroad. I now have a cardboard base which I am painting to try to get an idea of what I want when I hopefully go to a plywood base/table later this year. -30-


---

Wed Feb 5 2020 8:13PM - We've been keeping close watch on the weather forecasts today. It looked pretty dismal for awhile with mentions of rain, sleet, s#$w, freezing rain, and ice. But now the forecasts have been distilled down to just rain and s#$w which although not good is not really all that bad especially since they only say a slight accumulation of s#$w.

Another good night on 80 meters with several strong signals. As usual though, few CQs so it did take about 15 minutes to get my contact. This time it was with VE3BXG up in Ottawa, ON. A lot of QSB on my end and QRN on his limited it to just a 5 minute QSO.

I did some more work on my train layout today. I'm gradually working on transforming it from just an oval of track on the rug to something more substantial so it looks more like a model railroad rather than just a model train on some track. I need to get some more ambition and talent to really get it going though. HI -30-


---

Tue Feb 4 2020 7:41PM - Thanks to Mike for being my ghost writer last night. I just want to add that we really had a great trains day yesterday. It was nice to see how well his repaired trains ran on my track, especially his Big Boy. I plan to be getting a Lionel Big Boy later this year which will be very similar to his MTH version. The Lionel is also supposed to run on O-31 curves like his engine did. So I shouldn't have to modify my layout when I get mine.

For several nights in a row now 80 meters has been good with several strong signals. Tonight it took a while to find someone calling CQ, but finally after 15 minutes or so, I found and worked W6OYW (not in California, but Indiana) for the streak QSO.

It was another warm day today with a high of 58 on my AcuRite remote unit. However winter is going to try to horn in the next couple days before it warms up again on Friday. Might have some s@#w and sleet mixed in with some rain before that though. -30-


---

Mon Feb 3 2020 7:38PM - Good evening everyone. John is taking the night off. He asked if I would fill in for him. Our day started around 9:30AM when I arrived at John's QTH. John had to take Roscoe for his morning walk. When he returned we started on some model railroad stuff. I had 2 locomotives that needed some repair work. They arrived last Thursday. I brought them down for a test run on John's setup. Both run as intended. Shortly after that we headed to the hobby shop in Indiana. I needed to grab a few things and John needed a little help with his new diesel locomotive. We followed that up with a visit to my favorite bicycle shop and then to the bank. Before heading back to John's place we stopped for lunch at Wendy's. After arriving back at John's, John did some testing on his diesel locomotive. It also runs as intended. We then watched a few videos and played a computer game before John headed up to his shack for his daily QSO. That leaves us to me typing his diary entry. I will be heading North to my place in around 15 minutes. Until next time de Mike KC2EGL -30-


---

Sun Feb 2 2020 7:51PM - Good news from Punxsutawney Phil today!! I certainly am rooting for him to be right with his prediction of an early spring. At least it was right today with a high here of 52 degrees, and no wind chill to speak of. We did have another of those self-cleansing s#$w storms this morning, but the warmth make quick work of it by early afternoon.

80 meters was good again this evening, and I had a 33 minute QSO with Bill W9ZN in Chicago. Bill also works(ed) in BC and has done so for 56 years, over twice as long as I did at WPIT. We've had several QSOs over the years.

Mike and I will be getting together again tomorrow. It's nice that he is retired now so we can get together more often. We're going to the hobby store in Indiana for one thing plus a couple other projects. -30-


---

Sat Feb 1 2020 7:05PM - Well, January was about 8.5 degrees above normal, but 2006 still holds the title as warmest January in my 60+ years of records. 36.8 vs 35.5. I think this year was in second place. Yes, that's right. There were a couple daily records in January, and one monthly record. This is confusing, so listen carefully. The monthly record was for the highest low maximum of 29 which tied with 2006. All the other months had at least one day with the maximum lower than 29. Whew, that was confusing.

The weather today continued boring, but a good boring with no s@#w and mild temperatures. That kind of boring I can take very easily and hope it continues for the rest of winter.

For my gardening readers, I forgot to mention that I started my tomato and pepper seeds several days ago. At least I forget if I forgot anyway. HI At any rate I did and none have sprouted yet. At least I wasn't as late as last year when I started them on February 16.

A very quick QSO this evening in the VT QSO Party from K1VMT at 0000Z keeps the streak going. -30-


---