---
Sat Apr 20 2019 08:12PM - This was the weekend a few years ago that Mike and I had a contesting extravaganza. We entered something like 7 or 8 different contests. I was reminded of that when I saw several contests listed this weekend. I tried a couple DX stations in the CQMM DX contest with no luck. That was strange because one was HC2AO and Alex usually hears me no matter the conditions. So I guess they are really bad tonight. Then I went to 40 for either the MI or ON QPs. I worked KM8CC in MI for the streak.

Not a lot going on here today. I did some track and wheel cleaning on the Lionel 736 layout. I also worked on the G scale train I got yesterday, but still don't have it running all that good. I think it's a gear problem. It runs intermittently. Backwards it runs quite a while. Forwards only a few inches then quits till it is pushed again. -30-


---

Fri Apr 19 2019 08:46PM - Deja Vu all over again, as Yogi would say. We went out to the Kittanning Township Fire Hall all set for a big fish buffet dinner, but as happened a few weeks ago, they were sold out of food. This time even earlier than the previous time, only at 6:10PM and they are supposed to serve until 7:00PM. Very poor planning on their part. I guess they didn't learn from the last time. So Mike and I instead headed to Long John Silver's and ordered one of their big family sized fish dinner. As Mike said on the way, next year he'll be retired and we can plan to be there when they open up the buffet.

We also did some planning for our upcoming events, then went to the shack. I got my streak QSO from W1CVE on 40, but we didn't find any workable DX. Mike did chase an LZ station, but didn't have any luck working him. With tomorrow being a work day, Mike had to head home a few minutes ago. -30-


---

Thu Apr 18 2019 08:54PM - Wow, the bands really are picking up. I got three QSOs, all on different bands, and all from my CQs which I didn't have to call too long. I worked WA4WZR in TN on 40, KQ1P in ME on 30, and NT5TT in TX on 20. Kind of peaking my interest in ham radio again. Hope these conditions continue. I also probably could have worked Kam TI5/N3KS on 20, but he was working some other DX so I didn't bother calling him.

I bought another train set today. The Ol' Station Marketplace had a G gauge set called the Gold Rush Express consisting of an Engine, Tender, Box Car, and Caboose. The price tag said 6 dollars, so I couldn't resist. With my usual discount for being a good regular customer, it came to only $4.25. As of yet, it doesn't run all that well, but I still have to work on it. Even if it doesn't run, it's a beautiful looking set and will be nice for display. If it does run, I don't know where I'll put such a big G gauge rail anyway. HI. -30-


---

Wed Apr 17 2019 08:25PM - Not really much going on today. I just took care of some little jobs I'd been putting off. I fixed my sundial. The gnomon had come loose. I just super glued it back in place. I'll see if that will hold. I also fixed the broken pipe at the bottom of my gate that broke when a recycle bin blew into it last month in a very strong windstorm. And other things like that which I won't go into.

It took a while to get my QSO tonight, and when K2PMC down in FL did answer me, copy was very rough here and I had to ask for repeats to get his name and QTH, but at least it continued the streak another day.

Mike and I decided to go to the last Lenten fish dinner on Friday and discuss some of our plans for the summer. -30-


---

Tue Apr 16 2019 09:13PM - It was D-Day today. No, not that D-Day, but Diesel-Day. I did some super glue work on my 736 this morning, and wanted to give it a full 24 hours to set up thoroughly. So I decided to do some work on my Lionel 2343 diesel while the 736 was out of commission. I cleaned and oiled it and tried to fix a point where one truck was rubbing the chassis. I think I got that fixed. However it still doesn't run as well as it should. I don't really know why. Everything looks and checks good, but it still starts very slowly and runs slowly and noisily until after several laps around the track it does run faster and a little quieter, but still not perfect as I would like it to. I probably never will get it to be perfect and will have to settle for what I have. After all, it is over 60 years old like the 736, and I guess without a total rebuild with all new parts, it never will be like it was way back when.

As it has for the past dozen days now, 40 once again provided my streak QSO. Well, except for last night when it was 20 meters. Tonight it was NR2Z answering my CQ from NC. We had a solid 30 minute QSO. -30-


---

Mon Apr 15 2019 08:23PM - Well, well, what do you know? I worked some 'real' DX this evening. Not that KP4 and other Caribbean stations I worked the past few months aren't DX, but tonight my signal went much further than that. Maybe conditions are picking up! I worked pretty easily XR201H in Los Angeles, CHILE on 20 meters. He got WWW the first time, then K2WWP, and finally K3WWP after I sent K3 K3 K3WWP. According to QRZ, that's a 1000 MPW QSO at 5153.7 miles for Santiago, and Los Angeles is a couple hundred miles more distant. I'm still excited. I guess the thrill of working DX never gets old.

Nothing new on the trains front today.

I mentioned discontinuing my web site poll, and I am going to do that in a couple of days now. I'll say more about it when I actually do it. -30-


---

Sun Apr 14 2019 09:14PM - I'm running a bit late tonight. My streak QSO was with Pierre VE2PID on 40. Unfortunately QSB brought it to a premature halt after 1 1/2 rounds. Just like a lot of QSOs on 80 the past few months.

Not a lot of train work today. Mostly I played with my N gauge trains. Still trying to figure out why the Empire Builder loco likes to derail quite frequently. I was reading some Internet reviews on the engine and it seems to be somewhat of a common complaint. Wish now I'd read the reviews before I committed to buying the set. However that was back when I was just getting started in my train revival and I lost a couple N gauge locos and wanted to get something up and running quickly and the ad for the Empire Builder looked like just the thing. Oh well, live and learn.

I'm thinking of getting rid of the poll on my web site. I only get about one or less votes per day each month, and that doesn't seem worth the effort it takes to think up a new poll, and then create the poll page. I'll have more about that in the next few days. Now it's time to walk Roscoe. -30-


---

Sat Apr 13 2019 08:06PM - This was just about an ideal spring day. Partly cloudy, low 70s temperature, low humidity, no precipitation. What more can you ask for. Needless to say I spent a lot of time outdoors. I took 3 pretty long walks, of course also walked Roscoe as I do 3 or 4 times every day, helped Ange do some work in his garden, did a little clean up in my own yard, etc.

That didn't leave much time for trains, other than to just run them for a while to keep them loose, and clean the track(s) a bit. I'm looking for some info on my old American Flyer 322 on the Internet. I've found some sources listing part numbers which is what I really need to get started on its restoration. It will be much rougher than the 736 as there are a lot more missing parts. It looks like I really disassembled it when I was a kid. Also the only thing I have from whatever the set consisted of at that time is the locomotive and tender bodies - no track, no rolling stock, no controller. Still it would be an achievement that would bring great satisfaction to get it running again. I guess kind of like the Big Boy 4014 restoration, but on a much smaller scale. HI.

When I went to the shack for my streak QSO, I found the GA QSO Party in full swing, and got a quick QSO there from W4TM. -30-


---

Fri Apr 12 2019 08:46PM - Once again, it was 40 meters for the streak QSO this evening. Looks like it is going to be the band of choice for a while now. Tonight I worked Ron K4UY in AL.

I finished the last major piece of restoration on the Berkshire 736 this morning when I installed the e-unit. Still a few minor things to do, but they are simple fixes. I need to get some smoke fluid for the smoke unit. I also need to get the whistle working, but that's mainly a controller problem, not a train problem. I think the rectifier in the controller that sends DC to the track to activate the whistle relay is bad. Oh, I also did a bit of touching up the finish on the locomotive where the black paint was a little chipped or scratched. So it's close to being just like it was back in the 1950's. According to minor differences, I think my loco is either a 1950 or 1951 model. I need to do a bit more research to be sure. -30-


---

Thu Apr 11 2019 07:08PM - I don't really thoroughly read the ARRL letter, but just glance through it quickly unless something catches my attention. With that said, I was struck by this article in the latest letter.

Solar Cycle 25 Predicted to be Similar to Cycle 24:

Scientists predicting the sun's activity for Solar Cycle 25 say it's likely to be much like that of current Cycle 24, which is declining and predicted to bottom out in 2019 or 2020. Solar Cycle 25 Prediction Panel experts said Solar Cycle 25 may get off to a slow start, but is anticipated to peak between 2023 and 2026 with a sunspot range of 95 to 130. This is well below the typical average of 140 to 220 sunspots per solar cycle. The panel expressed high confidence that the coming cycle should break the trend of weakening solar activity seen over the past four cycles. The Solar Cycle Prediction Panel forecasts the number of sunspots expected for solar maximum, along with the timing of the peak and minimum solar activity levels for the cycle. The outlook was presented on April 5 at the 2019 NOAA Space Weather Workshop in Boulder, Colorado.

The key takeaways from that statement for me were:

1. The current cycle 24 is very close to, if not at, the minimum. That agrees with what I've been saying as I track the daily solar flux on my propagation page. After dipping into the upper 60s at times last year, most readings this year have been in the lower 70s which indicates we may be on the way back up.

2. It looks like cycle 25 will reverse the trend downward in overall numbers in the last 4 cycles indicating another Maunder Minimum may not be on the way as some folks feared.

That's just a very simple take on the story. It goes into much more detail for anyone who is interested enough to delve down into the atom, electron, ion, etc. level. I'm really not.

My Lionel 736 e unit came today, but I just didn't feel like working on it today. Maybe tomorrow. Then that will pretty much complete the 736 restoration. Then I may work on an old American Flyer engine if I can find info on it like I did for the Lionel.

Speaking of restoration, I was excited to learn from the Union Pacific Steam Shop news email that the Big Boy 4014 had a fire in the boiler for the first time in some 60 years, and this time it was an oil fire, not coal. Looks like the conversion to oil went well. The 4014 will be joining the 844 on a trip to Promontory Point for the 150th anniversary celebration of the driving of the golden spike on May 10th. I'd love to be able to be there or even more so I'd love to be on the excursion train back to Cheyenne led by those two engines after the ceremony. I wonder if 3985 will be there also. It wasn't mentioned in the newsletter or I missed it. -30-


---

Wed Apr 10 2019 09:07PM - Nice to see 40 meters still behaving well in the evenings. Took only a couple minutes to get an answer to my CQ from Carmen K1LKP followed by a 47 minute solid copy QSO. I hadn't got a lot of QSOs like that on 80 the past few months.

My Bachmann Empire Builder engine still acting up today. It runs good for long periods of time, then decides to derail. I also noted when it runs real slow it moves jerkily. I'm not sure what it all means or if the two things are connected. I need to do more research.

Otherwise I expanded my Lionel oval track layout today. I added two track sections, about 20 inches to the long dimension. I'd like to add even more. I certainly have enough track, but not enough real estate. HI. -30-


---

Tue Apr 09 2019 08:44PM - I had a really great time this afternoon. I got the phone number of a friend I worked with at WPIT many years ago and gave him a call. I hadn't talked with him in probably over 20 years now. We kind of made up for that with about a two hour telephone "rag chew". We got caught up on a lot of things in that call.

I made my usual of late one QSO in our NAQCC sprint this evening to keep my streak going of never missing one of our 174 sprints. I wish I didn't have this strong local noise that makes it virtually impossible to copy other QRP signals. Maybe some day it will go away.

Before that I worked Ad W7FW on 40 for my streak QSO. He was running a KW so no problem copying him at all.

About all I did today with trains was to try to figure out why my new Empire Builder Bachmann Santa Fe engine was periodically derailing. I found one truck on the engine was lightly rubbing against a step on turns and fixed that by bending the step very slightly. I also fixed some joints in the track that were very slightly not mating completely correctly. Finally I oiled all the rods on the engine. I also cushioned the board on which it was running to perhaps eliminate any floor vibrations possibly causing the derailing. It seems to be working much better after doing all that, but I'm not quite ready to give it an "A" just yet till I run it some more.

Also my e-unit for the 736 plus some light bulbs should arrive tomorrow. The package is in nearby Pittsburgh as of late this afternoon. -30-


---

Mon Apr 08 2019 08:52PM - It was nice to be able to call CQ on 40 and get a response after not too long. There were a lot of good peaks on 40 on the PX3. You can tell it's spring with the increased hours of daylight here in the Northern Hemisphere. Not only that, but it seems we've bottomed out in the sunspot cycle and it's onward and upward from here on out. It was also nice to work a long-time diary follower from the NFL championship city, Green Bay, WI. Of course you know or should know that Green Bay has the most NFL championships. New England has the most Super Bowl victories now, but not the most NFL championships. That irks me that many folks think the NFL started when the Super Bowl started. WRONG. The NFL existed some 45 years before the Super Bowl. Oh, who did I work after that soapbox comment? It was Nate N8HWV. We had a nice chat although he did use the word s@#W once or twice. Come to think of it, so did I. There's no way to easily send s@#W in Morse and I had to (ugh) spell it out. HI.

Train work today consisted of cleaning the wheels on my Lionel consist of 10 pieces of rolling stock along with the track. The 736 continues to roll along at a steady pace. Next up, installing the e-unit and some burned out bulbs. Jeff sent them off today so I should have them in a couple days now. -30-


---

Sun Apr 07 2019 08:25PM - Way to go Baylor Lady Bears. They've always been my favorite lady's team ever since Kim Mulkey became their head coach back in 2000. This is their third championship since she became head coach. Might have had more without a UConn team to contend with every year in the tournament. I alway thought Kim Mulkey was the best point guard (man or woman) I ever watched when she played for Louisiana Tech way back when. It was really a joy to watch her play. Now I think she is still the only person to ever win a championship as a player, assistant coach, and head coach. Ever since the women got their NCAA tournament in 1982, Mulkey has been involved every year in some capacity except 1985 and 2003.

Now in the man's championship tomorrow evening I'll be rooting for Texas Tech. I've been a fan of that team since they hired Bobby Knight as coach after he somewhat unceremonially left Indiana. He's retired now, but he did coach TT from 2001-2008. In several of those years he led TT to the tournament, someplace they hadn't been the previous 4 or 5 years. Although a very controversial person, I rate him as one of the best coaches, maybe the best, that I've seen. The 1976 Hoosiers coached by Knight are the last team to go without a loss the entire season including March Madness.

Otherwise today was a copy of yesterday. Same train story, different train. The other one I bought at the Ol' Station Marketplace back in December. So I have two N scale engines in need of a motor to be running again.

It only took a couple minutes to work Ken W9STG for the streak this evening. He answered my CQ on 80 meters. I tried calling a YV and an N5 on 20, both who had great signals, but no luck. The YV almost got me, but not quite. Nothing from the N5 but a QRZ, then nothing after I repeated my call. -30-


---

Sat Apr 06 2019 09:09PM - The MO QSO Party gave me a quick streak QSO when I worked K0JPL on 40M.

I spent the day, or most of it, wrestling with another train engine. Back in December I bought a couple N gauge locos from the Ol' Station Marketplace. They were in poor shape but they ran for a little while before giving up the ghost. Shortly after that I got several train sets in various ways. Some I brought down from my attic where they were stored for many years. Others were gifts. A couple I bought myself. So the Ol' Station Marketplace engines got put away on the shelf. I dug one out today and tried my best to get it running, but the best I could do was get it to run intermittently, never really making a full lap. A little bit ago I gave up after finding the motor was pretty much shot like the Lionel 736 motor. It can be fixed though if I can find a replacement motor as I did with the 736. At least I have the five RRs running quite well to enjoy now as you saw in the video I posted a couple entries ago. -30-


---

Fri Apr 05 2019 08:38PM - Mike just left a couple minutes ago. We went to the Kittanning Township Firehall for a Lenten fish dinner buffet and stuffed ourselves. Then we came back here and worked on or played with my trains. I was trying to figure out what was wrong with one of my N gauge transformers/controllers. We finally did figure it out, and it's working fine now. It's too complicated to even tell the full story. Our brains are still tired from all the thinking we had to do to figure it out.

Then we went to the shack at 0000Z where I worked after a minute or so VE7ACN/CK9 on a single call followed by Mike who then worked him. That was on 40 after which we checked 30 and 20, but found nothing there.

Earlier today I added a headlight bulb to the 736 and installed part of the smoke generator. Both worked just fine. -30-


---

Thu Apr 04 2019 04:56PM - How about a video today?



Those are my five model railroads. Well, at least the trains sans scenery, etc. as follows:

1. HO train with a Rock Island locomotive my neighbor gave me.
2. Toy train in a tin I bought at the WPA Model Railroad Museum last year.
3. Bachmann Yard Boss set Mike gave me for Christmas.
4. Bachmann Empire Builder set I ordered in December and finally receivied yesterday.
5. The 1950s Lionel Berkshire 736 I've been talking about quite a bit in the diary lately.

I hope to eventually get some real layouts going. Probably mostly with the N gauge Empire Builder. Incidentally the engine for that set is a Northern 4-8-4 which is the configuration of my favorite real life engine, the Union Pacific 844. Perhaps someday I can re-paint and re-number it at the 844. Maybe even add the smoke deflectors like the real 844. A lot to look forward to, if I ever do get to it some day. -30-


---

Wed Apr 03 2019 07:17PM - Fifty-six years ago today, there was a very happy young boy when this came in the mail. Well actually it really didn't come on the third, but a few days later.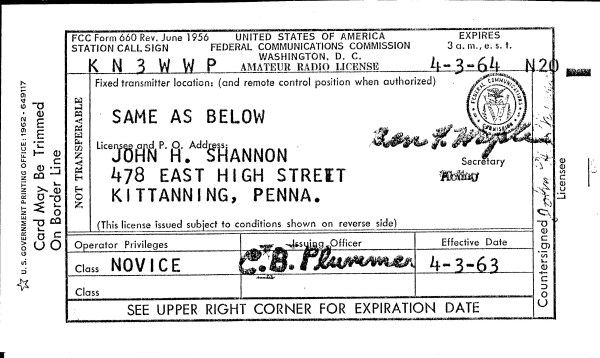 Fifty-six years to the day after that (today) there is a very happy young (at heart) boy again. I got my Lionel 736 motor today, installed it, and watched it working quite a while. But wait, there's more (as they say in those ads). Later in the day a neighbor showed up at the door with a big box. He said it was delivered to his place by mistake. I couldn't figure out what it could be, but I thanked him and took it inside where it dawned on me that it might be my Bachmann N gauge Empire Builder railroad set I ordered way back in mid December. Sure enough, it was. So I set it up and 'ran it in' for a while as should be done with all new locomotives.

How's that for a great double header? Now I've got 5 railroads running. Not all at once yet though. I have to figure out just where I'm going to eventually set them up.

Now that I think I have the 736 running in good shape, I want to finish refurbishing it. Maybe I'll add the smoke generator tomorrow. After that the e-unit. I emailed Jeff at The Train Tender and asked him if he had a complete e-unit. He didn't, but kindly offered to build me one from his parts inventory. Wasn't that nice of him!.

Well guess I'll run some trains till it's time to go to the shack and add another day to my streak. -30-


---

Tue Apr 02 2019 08:26PM - Just checking on my 736 motor mailing. It departed the regional facility at Warrendale, PA at 6:44PM this evening. It should arrive in Kittanning overnight, be sorted and ready for delivery in the morning, and be in the 736 by tomorrow afternoon. Then hopefully when I type the diary tomorrow evening I can be listening to the sweet music of it going around the track again as was the case a couple nights ago.

Today I decided to give my track a good thorough cleaning to be ready for the return of the 736. I took it all apart and cleaned the connecting pins (it's the old Lionel class O three rail track), tightened them in their 'sockets' and crimped the 'sockets' in the matching pieces of track for a snug fit when I put it all together again. Actually I still have half the track to do yet. Maybe tonight or tomorrow morning at the latest. So far that seems to have helped with a couple minor slowdowns at certain points in the track.

My streak QSO came on 40 meters this evening when I worked Ken K5WK. The band was in pretty good shape. I saw several good peaks on the PX3 while I was working Ken. Very gradually, overall conditions seem to be picking up, maybe because of the lengthening hours of daylight now.

If I remember, in tomorrow's diary I'll show my first ham license as KN3WWP from April 3, 1963. -30-


---

Mon Apr 01 2019 08:54PM - In a couple days now, it will be the 56th anniversary of my first ham ticket KN3WWP. I say this a lot lately, but where does the time go?

On the other hand maybe it's good time passes fast sometimes. Like the next two days as I await the arrival of my new Lionel 736 motor from Jeff, the Train Tender. I don't know Jeff personally and have only dealt with him three times now in the past three weeks or so, but I already consider him a friend. He has really helped out with the restoration of my 1950s trains quite a bit now. I didn't see the motor in the parts list on his web site, but I emailed him anyway and he came right back with another motor that he said would fit the 736 and would run it. He asked if I wanted him to ship it. I said I'd give it a try. So he mailed it today after I said that last night. It is scheduled to arrive in three days, although his last shipment came in just 2 days. He said I could send him a check when it arrives. Now that's a very nice person and he has a great way of doing business. I've said this before, but if you are ever looking for parts for a Lionel train or accessory, give him a try. I bet he can help you. He handles some American Flyer parts also. Oh, it's prewar, postwar, and modern Lionel stuff, so he covers all eras.

OK, weather time now. I put the March data in the computer this morning. The average low, high, and mean were all within about a half degree of normal. Precipitation was about 50% of normal.

Tough bands tonight. I had a rather intermittent QSO with Jim KW4KD on 80 meters. Otherwise not many good signals except for the 80 meter nets. -30-


---

Sun Mar 31 2019 08:42PM - After running beautifully for a few days, the 736 blowed up this evening. The motor seized up and several wires in the armature burned up. I don't know which came first, but there's no way to repair the armature short of a complete rewiring or buying a new one. I'll probably do the latter. At least I enjoyed it for a few days. I had it up to hauling all my Lionel rolling stock effortlessly. Oh well. To be continued, I hope.

I worked some DX for the streak QSO a few minutes ago in the form of Ger HK7AAG on 30 meters. A fairly easy QSO as I got him on my second try after he worked someone else before me. -30-


---

Sat Mar 30 2019 08:34PM - I'm sitting here listening to some nice background music as I type. My Lionel 736 running like a charm around its loop of track. Sure is good to hear it running pretty much like it did back in the 50s again. I still have some things to restore on it, but hey it's at least running great now. I worked on the whistle in the tender today and have it pretty well back in working order again except for a few little tweaks. Then I still have to re-install/update the smoke unit. Also I need to put in a new e-unit. For those non-railroaders, that's the device that switches directions of the train. Right now it's locked into going forward.

Tomorrow is one of those end of month busy days followed by a first of the month day which is also busy. So I've got a lot to do the next two days. Probably won't get to do much train work.

The bands were good this evening. I didn't get to check much since I heard my friend Geo W3ANX in nearby Apollo calling CQ and answered him for almost a half hour QSO ragchewing about trains and other matters. -30-


---

Fri Mar 29 2019 08:43PM - A rough night on the bands although conditions didn't seem all that bad. I tried HK7AAG a few times on 30 but lost out each time to someone else. So I went back to the band of choice of late, 80 meters. I called CQ quite a few times before finally getting an answer from N3BXZ in MD. Copy was very rough and I had to ask for several repeats which I usually don't have to do, but copy was rougher than usual for this QSO.

I changed out the brushes on the 736 this morning. The new brushes are about two times plus the length of the old worn ones. In fact even a bit longer than the old brushes and the spacers I put in the brush well. It didn't make a lot of difference, but it's nice to have the new brushes in there. I also worked some on the motor(s) in my Lionel diesel engine. The engine has two motors but the one was smoking so I removed it some time ago. It's strange, but I get almost identical resistance readings on both motors, but the one still smoked a little when I tried it today. So back on the shelf for the time being. Maybe tomorrow I'll work on the 736 smoke unit. Meanwhile it ran beautifully every time I ran it today. Oh, I didn't bother replacing the brush springs as the old ones work fine with the new brushes. I can't wait till I see it running with steam/smoke as a real steam engine should do. Maybe tomorrow I will. -30-


---

Thu Mar 28 2019 07:45PM - Just finished answering some DX cards that will be sent out the next time I do a buro mailing which isn't very often lately. It takes a while to accumulate a pound of cards so I've been sending a half pound recently and it even takes time to accumulate that many. I work very few new band countries, prefixes, etc. and most cards I send now are to those who send a card requesting mine.

Besides that, it was mostly a train day. I got my parts order from the Train Tender today, and installed some of them. For cosmetic reasons I added the two missing handrails and that looks nicer now. I also added two missing bolts to the guide rod and now all 8 wheels are being driven by the motor. I replaced the screw in one eccentric rod bearing = another cosmetic move since the one I had used for a replacement worked fine, but this one looks better. Finally I replaced the (very) worn power pickup rollers. I still have to do the brushes and springs plus the smoke unit. No hurry on the brushes as the motor is working fine as is right now. The smoker is another just cosmetic thing, so no hurry on it either. However I may put that on the project list for tomorrow. Old 736 ran just fine all day today except for a couple minor derailments. I think that is a track thing. It also was a tiny bit sluggish when starting up after a long rest.

OK, time to head to the shack now. Hope I can get another quick QSO. -30-


---

Wed Mar 27 2019 10:33PM - Another late night and a short entry. Mike came down for our monthly pizza night, and he just left a little bit ago. We had our pizza, discussed some plans for later this year, checked out the bands which were decent although we didn't work anyone, then closed out the evening by watching some railroad videos.

Speaking of railroads, the Berkshire 736 is running the best it has since my restoration began a few weeks ago. It's still not 100% as it does hesitate and even come to a full stop, but not nearly as often as it used to. My train parts should be here on tomorrow or Friday and it will be interesting to see what happens when I replace the brushes, brush springs, and pick up rollers. I'm pretty sure it's an electrical problem that's making it still act up a bit. -30-


---

Tue Mar 26 2019 07:01PM - A milestone was reached today (last evening) when my CW/QRP/simple wire antenna streak of at least one such QSO per day reached 9,000 consecutive days when I worked Dick KD3KO on 80 meters. Only(?) 1,000 more days now till I hit the 10,000 day mark if I do. Check my math, but I think that should be Sunday, December 19, 2021. Right?

I won a major battle with the Lionel 736 last night. First it was it's turn. It stopped dead on the tracks after running good most of the day with only some minor problems. The drive wheels and the axle with the gear on it were totally seized up. I couldn't turn them at all by hand nor by spinning the armature by hand. I gave up for a while and figured this was a job for a professional repairman. I went and took Roscoe for a walk and visited with Bruce for a while. When I came back home, I got really mad at the 736 and grabbed the wheel by hand and turned it as hard as I could. Snap, it broke free and turned. I then went about examining the gear well and started picking at some of the old grease with a toothpick and small screwdriver. I was pulling a couple bits of something out of the well. I couldn't tell what it was because it was covered in grease. Then I noticed a bigger piece of something and tried to dig it out. It was something curved and hard like metal. I finally got it out and it was a tiny lockwasher. I wondered how long that had been in there and how many of my problems with the engine it had been responsible for. I tried out the engine briefly before going to bed and it seemed fine and quieter than before.

The first thing this morning, I started it up and after still starting a bit sluggishly, it ran well about 98 percent of the day. It still hesitated a bit a few times and even stopped completely once or twice. I think that may be a problem with the brushes, brush springs, or pickup rollers. I have an order on the way with replacements for all three plus some other parts. I ordered them from the Train Tender whom I've talked about before. I emailed the order yesterday evening, and he mailed the parts today with the bill which he says to send my check for when I get the parts. That is such a great way to do business and a real throwback to the times before credit cards, PayPal and other newfangled ways of transferring money. I love it and will give him my business whenever I can. The package should be here in just 3 days now according to PO tracking. Oh BTW, the 736 ran so well today, I put the frame on this evening and it still runs fine except for a little hesitation now and then that I described. Perhaps it's no wonder it hesitates now as the engine alone without the tender or rolling stock weighs 5 1/2 pounds! That's a big load in itself alone on the track. So far I've only added the tender and a caboose.

Well, about 35 minutes to kill now before I go for streak day 9,001. -30-


---

Mon Mar 25 2019 07:31PM - I'm just sitting here waiting for 0000Z to arrive so I thought I might as well get the diary entry written now.

I actually got a pack of 21 QSL cards from the QSL bureau today. Five are answers to cards I sent out, 13 more need my card for whatever reason, and 3 are for QSOs I can't find in my log. There were something like 6 or 7 new prefixes verified among the bunch. It had been so long I had to think a while just what my procedure is for taking care of and logging bureau cards. HI

A record was tied in March Madness in the round of 16 or as it's more popularly known, the Sweet Sixteen. If you add all the seed numbers of those teams who made the 16, a perfect score would be 40. That is 1, 2, 3, and 4 seeds advancing in each of the 4 brackets. That has never happened since the field expanded to 64 in 1985. This year the total was 49 with a 5 and 12 seed advancing to the Sweet Sixteen. That was also done back in 2009. If you're curious, the highest total was in 1986 at 89.

A perfect Elite 8 would be 12 with all 4 1 and 2 seeds advancing. That likewise has never happened, but it was 13 in 2007. Did all four 1 seeds ever make it to the final four? Yes, but only once in 2008. The final four seeds totalled 26 three years later in 2011.

Today so far was the best day yet for my Lionel 736. I ran it still without the frame for maybe 8-10 sessions of 18-24 minutes or so, some of them with the tender and a couple freight cars and the caboose. I had only a couple hesitations, one derailment, and one time when the power connector to the track popped off. The armature still perfect as well as the motor mounting and gear mesh. With that, I went ahead and ordered the parts I need to fully restore it.

Sun Mar 24 2019 08:41PM - The bands seemed pretty good this evening, but it was hard to get a QSO until Carl WB0CFF finally answered one of my CQs on 80 meters. If you looked at my streak table on my home page, you probably noted I actually worked some DX last evening on 40 meters in the form of K7FA operating portable in Curacao. It wasn't an easy QSO, but we made it.

Mpre struggles with the 736 today, but I think I'm finally winning the war although the 736 still winning some battles. She ran good all morning but then was up to her old tricks this afternoon. I have a new suspect now. I'm pretty sure I have the armature fixed, the gear mesh constant, the motor mounting screws secured, the shims just right, the wheel rods OK. However one of the drive wheels is slightly loose on the axle and that may be causing some problems, but I'm not sure yet. Time will tell. Right now it's running good but without the frame although towing its pretty heavy tender.

OK, I've got to check on the basketball scores now. Things have gone pretty well according to seed yesterday and today so far after 12 upsets in the round of 64. -30-


---

Sat Mar 23 2019 11:24AM - This is going to be an entry where I get caught up on some things. First, I've been meaning to mention this, but I keep forgetting as my brain ages. My streak is closing in on another 1,000 day mark. On March 26, the streak will hit day # 9,000. Hard to believe it's been that long now that I've gone to the shack and made at least one CW/QRP QSO each and every one of those days. Where does the time go, and why does its passage accelerate as we get older?

Next I promised some pictures of my tulips and my vegetable plants, so let me edit those now and then post them here.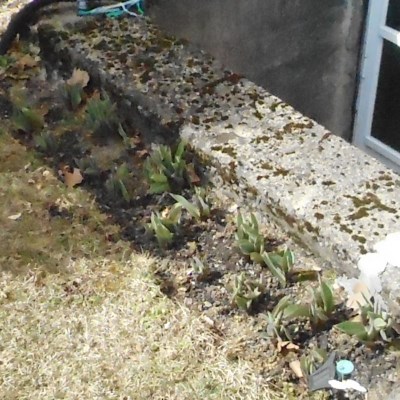 The tulips in my back yard sprouted around the first of March and this picture shows them on March 19. The containers in my kitchen window show the peppers on the left and the Siberian tomatoes also on March 19.

Mike arrived yesterday around 5:30PM and we chatted about various things, one of which being his retirement later this year and how it (positively) will affect our various projects from then on. We discussed that more after our Lenten dinner. That did not go as planned. The Kittanning Township Firehall ran out of food shortly before we arrived around 6:20PM. So it was off to find an alternative which we did at our Catholic Church here in Kittanning. It wasn't a buffet as the Firehall one would have been, but the food was good nevertheless, just not as much of it. Maybe that was good? Naw! Back home here, I reassembled my 736 which I once again was working on. I think I found the problem with the armature. The wire I used to splice the windings may have been of some metal or alloy that didn't solder properly. The joints looked good, but then somehow went bad after the engine ran for a while. Anyway I re-did the splices with a different wire, and so far so good, at least with the armature. Now I'm checking on the gear meshing. I'm running the engine for periods of time that increase by one minute for each period. So far so good with that also. Back to Mike's visit. We continued our schedule planning, and then watched some train videos before Mike headed home at 9PM.

March Madness has been pretty mad so far. Some stats at random. All 4 #9 seeds won. 3 of 4 #12 seeds won, and the other one lost by a single point. 3 of 4 #10 seeds won. 12 total upsets so far is just short of the tournament record of 15, and the 12 just missed tying the first round record of 13. I was just reminiscing with my neighbor about some memorable tournament moments over the years. Here are a couple of mine. NC State's win over Houston with Derek Wittenberg's AlleyOop "pass" to Lorenzo Charles for the last second winning basket. Derek later admitted it wasn't a pass, but just a missed shot on his part. Then Jim Valvano running around the court looking for someone to hug after that game ended. One more. Danny Ainge dribbling full court through all 5 Notre Dame defenders to score the winning basket. There are so many more. They are why March Madness is my favorite sporting event of the year.

I think that gets me caught up on diary matters now. I'll probably think of something I forgot later. -30-


---

Fri Mar 22 2019 09:24PM - A busy day today with train work, March Madness, a visit from Mike for a Lenten fish dinner, etc. So I'll postpone writing about it until tomorrow morning and get caught up on some things now. -30-


---

Thu Mar 21 2019 08:45PM - My battle with the 736 continues. I put a spacer between the brushes and the brush springs this morning and like all the other fixes, it ran great for quite a while then the mesh of the worm gears changed after it heated up. I fooled with the motor shims till I got a good mesh and again the same story. It ran great then slowed down and became intermittent. The gears seemed to still be good, and the brushes seemed OK unless they became very dirty. I haven't checked that yet and don't think I will until tomorrow. It's really getting frustrating. I am going to go ahead and order some other parts for its appearance. I had been waiting till I got it running good and I hope I'm getting close to that goal. We'll see.

My streak QSO again came on 80 for the 7th straight day following those few days when 30 and 20 were open for me in the evening. Tonight it was KA2DDX.

Still haven't gotten to those pictures yet. The old 736 is just taking up too much of my time.

Tomorrow evening, Mike and I are attending our first fish dinner of this Lenten season. That's always a great meal and for a good cause. -30-


---

Wed Mar 20 2019 08:41PM - The 736 still not running like it should. Sometimes it runs great. Other times it starts up very slowly and roughly. Other times it slows down and even stops. I think it's a brush problem. I tried pressing on the brushes with a toothpick and that got it started, albeit roughly. Then it ran good for a while, at least until I had to head to the shack. I haven't gotten any further with it since then. Tomorrow I'm going to take a good look at the brushes and the brush holder and springs. Maybe try to increase the spring tension to push harder on the brushes. At least I know it's capable of running good now, and also the armature splices seem to be holding now.

I got one regular QSO from KN4ZQ for the streak, then added another from AJ8S for a NAQCC sprint QSO. My noise is still too bad to put in more than a brief token effort in out NAQCC sprints. I still want to try to keep my streak of never having missed one of our sprints going though so until my QRN situation is better, I'll try to get at least one QSO per sprint, if possible.

Happy first day of spring to those who celebrate astronomical spring 20 some days later than meteorological spring. Didn't get to edit those pictures I mentioned today. Maybe tomorrow. -30-


---

Tue Mar 19 2019 07:48PM - Some more train work today. The 736 started acting up again, running intermittently. I thought maybe there was not enough pressure on the brushes from the old springs. I tried rotating the brushes so the spring went across the slit instead of in it. That gave a little more pressure on the brushes and it seems to work fine again. I also found a replacement for the missing thrust washers and put them on the armature shaft. That kept the armature from moving in and out as the engine was running, and that kept a steady pressure on the brushes too. So we'll see what pops up next with the 65 or so year old engine. Right now though it is running well.

It was a nice day today. Sunny and a little cool, but no wind to speak of so it felt good outside. Oh, I took a picture of my tulips which have sprouted outside, and the peppers and tomatoes coming along nicely inside. However it's almost streak time and I don't have time to edit them now, so look for them tomorrow if I don't get absorbed in trains and/or March Madness and forget.

OK, off to the shack now for a quick (I hope) streak QSO. -30-


---

Mon Mar 18 2019 06:36PM - As I sit here typing, my Lionel Berkshire 736 is running merrily across the room with a consist of its tender, hopper car, box car, tank car, and caboose. How did that happen?

This afternoon I just stuck it on the track to watch it crawl around the circuit a few times. To my surprise it took off at full speed and ran for about 5 minutes that way, then it did slow down to an intermittent crawl. Aha, might be an intermittent connection in the motor armature. So off to the repair shop, otherwise known as the top of a large pizza box laid on the kitchen table to protect it. I took the loco apart and checked the armature windings with my ohmmeter. Still showed one or two open windings until I jiggled a couple of my previous repairs, then at one point all three windings showed continuity. I examined my solder connections on the splices and one was mechanically connected, but wiggled around at the splice. So I heated up the soldering iron and re-soldered it. The meter showed all three windings good now, So I started putting the armature back in the motor shell and dropped one of the thrust washers on the table. I never could find it, so I put the motor back together without it and took it to the track, where it promptly showed a short. Yes, the washer was stuck to the wheel of the loco. I hate magnetraction wheels at times. So back to the repair shop with my Lionel manual to see exactly how the washer and the thrust bearing fit on the armature shaft. In doing that, I noticed there should be two washers at each bearing, not just one. So sometime years ago, I guess two washers got lost. I'll have to fix that some day, but right now it's running just fine without them. For how long, I don't know. I probably have the right size washers in my junk box, but I was too tired to look hard today. Anyway old 736 is running and running well.

I got my March Madness Excel brackets all made up last night. This morning I noticed Iowa St was playing themselves. I put Iowa St instead of Ohio St so I had to fix that. There are only two first time schools in the tournament this year - Abilene Christian and Gardner-Webb. The other 66 are the usual suspects. I'll see if I can find some interesting stats for tomorrow's diary.

Still about an hour to go for streak time, so I guess I'll watch the 736 for a while. -30-


---

Sun Mar 17 2019 08:50PM - It's that great time of year again. Not only spring, but March Madness. However if they keep delaying it, it may have to be called April Amazement or some other such moniker. I think, but I'm not sure without checking that March 17 is the latest ever for a Selection Sunday. Anyway it is here and I'm all set to follow it all through the final game in Minneapolis on April 8.

More train work today. I found a couple more rolling stock items in the attic, a boxcar and tanker and cleaned them up, especially the wheels which were a mess. As I said, I don't think I ever cleaned wheels back in the 50s when I was a kid. I also prepared a parts list with part numbers of what I need to get for the Lionel 736 loco. I'll try to get an order in sometime this week.

Poor bands again tonight. Took a while to get an answer to my CQ. Before that I did try Kam TI5/N3KS on 40, but he seemed to have QRT after I tried once. Or Mike would say I scared him away. I did work Ron WB9DKL on 80 in a QRN/QSB filled QSO. -30-


---

Sat Mar 16 2019 07:45PM - I promised several days ago I'd post a recent picture of Roscoe. Well, here's a before/after picture going to the groomer.





While I"m at it, here's a picture of the Navy Yard Switcher I mentioned yesterday. It's close to full restoration except for one broken coupler that I'm still working on.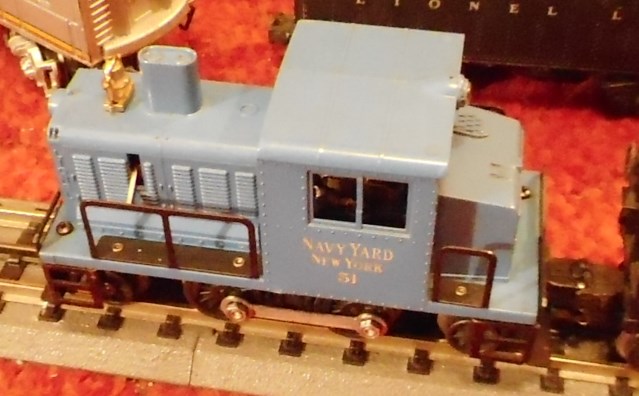 And that will do it for this diary entry as it's almost 0000Z and time to go get my streak QSO. -30-


---

Fri Mar 15 2019 09:06PM - Good bands again this evening, but I couldn't work anyone on 40-20 and had to settle for a QRN/QSB plagued QSO on 80. Thanks to KW4KD in TN for sticking it out with me for a while.

I'm in the midst of working on an old Lionel Navy Yard Switcher engine right now and I want to get back to that, so I'll make this a short entry. -30-


---

Thu Mar 14 2019 08:50PM - If this keeps up, I may start another DX streak. Naw, not yet anyway. I did work KP4/VE3DZ on 30 for my streak QSO this evening. The high bands were again open, at least through 20 this evening. Still hoping that continues.

Almost made it to 80 today. At least on my AcuRite remote unit. It felt so good to be outside. Too bad the cold returns this weekend.

Just posted a new poll. Hope you'll check it out and cast your vote. I've only been averaging about 30 votes a month lately. I may consider dropping the poll feature if the activity doesn't pick up.

I got my Lionel Repair and Operating Manual today and I've started gathering parts numbers for those parts I need. -30-


---

Wed Mar 13 2019 08:43PM - Hey, this ham radio stuff is getting to be fun again. The higher bands were open again this evening and I didn't have to fight the noise and QSB on 80 meters as I've had to do most every evening all winter. Tonight it was KB4AZR in Miami on 20 meters for a half hour rag chew. I didn't even have to switch receive antennas for solid copy. I just kept the antenna switch on my 20 meter dipole for both xmt and rcv. I had to fight my hand wanting to go up and switch antennas on rcv. HI I hope that will be the MO from now on at least until next winter and hopefully beyond. It's great.

The weather is great also. Let's see what AcuRite says our high was today. 63 and it may hit 70 tomorrow. Unfortunately back into the 40s for the weekend, but that's still not too bad. I put a second coat of paint on my back steps today. I also took a nice longer walk.

To continue with some more good news. My Lionel manual left the PO in Pittsburgh this afternoon headed here to Kittanning so I should get it early tomorrow. Then I can order some parts for the Lionel 736 and hopefully get it running good again. Tomorrow is also Ol' Station Marketplace day (every Thursday), so I'll be heading there to see what bargains I can find. Maybe the lady (Gloria) will have found those old HO engines I mentioned. She said she would look for them. -30-


---

Tue Mar 12 2019 08:22PM - How about that, ham radio fans. A different band for each of my last 4 streak QSOs the past four nights - 40, 80, 20, and 30 this evening. It's nice to have a variety of bands to work with. I just hope that continues. Best of all, 80 is the worst band for my local noise and it will be nice not to struggle on that band each night if the current situation holds. Tonight I had a 15 minute QSO with Dick WB4DKF in Tampa, FL on 30 who answered my CQ. I heard a couple good signals on 30 and thought I'd try some CQs and it didn't take long before Dick answered me. He was weak at first but then came up to 579 and pretty much stayed that way the rest of the 15 minutes. Just as I finished typing this, I received an email from Dick with a picture of him and his modest station as he puts it. I also see a picture of a cute dog on a monitor in the background. That reminds me I need to post a picture of Roscoe again. I haven't done so in a while now. He looks great with the grooming he got a week ago.

I found a great train company who mainly handles Lionel parts. The best thing for me is that he accepts regular mail or email orders. And he doesn't accept credit cards or PayPal. Only personal or cashier checks. Not too many companies nowadays do business that way. That's the only way this conservative guy here does business also so we make a perfect pair. And get this, he fulfills orders even before receiving payment. I mailed a check this morning and at the same time, he mailed my order which is a Lionel Repair manual for Postwar Lionels from 1945-1969. According to the USPS, it should be here in two days. Then I can start getting part numbers of those parts I need and order them from this same guy. Who is this? Just check out The Train Tender at http://www.ttender.com/. Tell him John Shannon sent you if you order anything. No, I don't get anything from him for that. I just feel folks who do business like that need some recognition these days. -30-


---

Mon Mar 11 2019 08:28PM - DX! Heard some and worked some this evening. Don't know if it had anything to do with it, but the sky was still somewhat light when I hit the shack at 0002Z. There apparently is also some DXpedition going on as there were big pileups chasing something on both 30 and 20 meters.

My Lionel 736 is acting up again. I think my armature fix broke down, and I'll probably have to get a new one or a whole new motor. The only other alternative may be to rewind the armature. I will do whatever it takes to keep the 736 running though. It sure was nice watching it for that week or 10 days I had it going.

Another nice weather day although not as warm as yesterday plus a lot windier today which made it seem even less warm. Still it is nice to see all the s#$w gone, hopefully for good until next winter. -30-


---

Sun Mar 10 2019 08:23PM - I forgot about the WI QSO Party, and that used to be one of my favorites. Time changes things. Anyway the WIQP provided a quick streak QSO a couple minutes after I got in the shack.

It was a beautiful day today after a lot of rain during the night. I took advantage and did some yard clean up work and a little painting on my back steps where they were repaired a week or so ago. I also took a pretty long walk. It was just nice to be outdoors. Oh did I mention my tulips have sprouted? They popped out of the ground a couple days ago. Also the daylillies are sprouting. The whole world is coming alive again after nasty old winter is winding down. It sure is great. -30-


---

Sat Mar 09 2019 06:32PM - Last night I promised to share (with his permission) an interesting email and picture from Tom W3TLN, so here goes:

"Hi John;

If you recall we spoke at the WashFest a couple Sundays ago. I was manning the Breezeshooters table along with my wife and another couple. I mentioned your NAQCC group coming and operating from my deck. I live just off exit 17 (Freeport) route 28. I'll be attending the upcoming Two Rivers Hamfest on April 7th. Maybe we can touch base again.

Your current model train photos and blog comments have jogged my childhood memories. BTW, we are the same age and our childhood hobbies parallel.

Anyway, attached please find a photo, from 1959, of my HO layout. [WOW, 1959 was 60 years ago.] My layout was composed of 2 - 4x8 sheets of Homosote board connected with a 2x4 sheet. I designed and built the entire layout, plaster mountains and all. I was 14 years old. I also had a round house, as seen in the photo, which was rare in HO scale at that time. My father is at the controls in the photo and my uncle is standing behind him.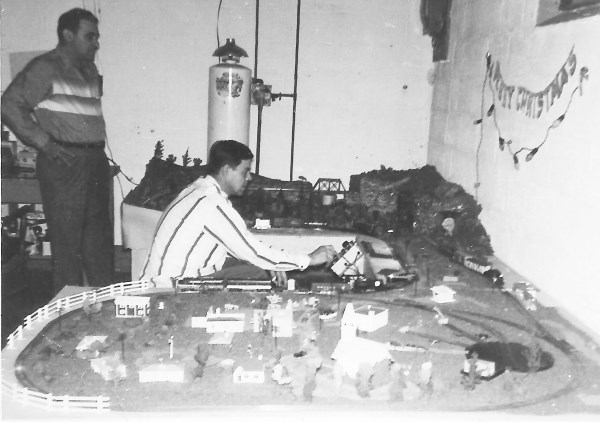 When I got married in 1965 my train passion switched to N scale. I purchased some N scale gear but family life, education and work obligation quickly got in the way. I continued to purchase N scale train gear over the years up to this year. Although I never set up more than a temporary circle of track.

I was an avid shortwave listener with my Allied Radio Ocean Hopper regenerative receiver kit. Also had a small scratch built transmitter. You can read a little more about me on my QRZ PAGE.

You have my permission to use any or all of this in your daily blog. I very much enjoy your daily blog and I hope it continues for many years to come.

73, Tom ,W3TLN, NAQCC #5990"

It seems I'm finding more and more hams who are also into model railroading. When you think about it, the two have gone together in the past, especially telegraphy and real railroading for many of the early years of the two.

Right now my Berkshire 736 is zooming around my oval track, and the rods are working perfectly. I did some work on the smoke unit today. I took the cover off of it and found the heating element had a broken wire. It's too small to try to fix as I did with the main motor armature, so I'm going to get a conversion kit for it and turn it from pills to liquid for the smoke.

Almost streak time now, so till later. -30-


---

Fri Mar 08 2019 07:50PM - I spent most of the morning getting all the rods mounted on my Berkshire 736 so that it now looks like this:





Finding those last couple bolts I mentioned yesterday took the most time. Lionel used some special size bolts and I had a hard time matching them from my parts junk box. Finally I enlarged the mounting hole with a tap/die and used bolts I did have among my parts and now it works just great and looks more realistic with all the rods in place. Next up I'd like to fix up the smoke generator or get a replacement one. I haven't found the lever that pumps out the smoke yet although I do have the generator (don't know if it still works yet) and the piston that does the pumping. After that, maybe the e unit, then the whistle. The whistle is in the tender. I looked at it today and the brushes in the motor are missing. Oh, and I need a bulb for the headlight. Unfortunately the headlight 'door' hinge is broken and I can't open it. I'll have to remove the shell to install a bulb when I get one. A lot to do, but I'm really enjoying all the work to restore the locomotive.

Yet another quick QSO this evening. I heard KN4ZQ calling CQ on 80 and made contact immediately to keep the streak highballing along. Oh oh, railroad terminology is creeping into my ham radio talk.

I got a nice email today from diary reader and friend Tom W3TLN. He said it was OK to share it here in the diary. I think I'll do that in tomorrow's entry. He's also interested in trains as you'll read. -30-


---

Thu Mar 07 2019 08:02PM - I found all the hardware for the driving rods for my Lionel Berkshire 736 today. Well all but a couple little bolts/screws and I'm sure I can find replacements in my huge junkbox of hardware here. Finishing that up is my goal for tomorrow. I was going to do it all today but several distractions came along. Among them the opening of the Ol' Station Marketplace. I just had to see what they got in new while they were closed for the winter. There were a lot of new tools there, but nothing I really needed. I asked the manager to keep an eye out for any model train pieces that she finds and save them for me.

Another fairly quick QSO for the streak when Lester W8BJO answered my 80M CQ at 0010Z. The bands seemed pretty good with some signals on 40, but none on 30 or 20.

The weather continues to slowly improve and get back to normal for March after a very cold start to the month. We got above freezing for the first time in a few days now and we're heading for 60 come Sunday. That will sure feel good even with the accompanying rain. -30-


---

Wed Mar 06 2019 07:24PM - Another January in March day today. A low of 13 and high of 24 which is actually below normal for January, let alone March. Better things are coming though after we get through the rest of this week. A high in the 60s predicted for Sunday.

I haven't mentioned this in connection with my trains, but here's one reason why I so much want to get the old Lionel Berkshire locomotive running well again. Many were the times that my dad and I would lie on the living room floor in front of a cheery fireplace watching that Berkshire going round and round that oval track. Now I'm watching it again and harking back to those days in my memories. Great times those were, but I lost my dad much too early when he was only 51 and I was 17. The Berkshire is running good still, but it was a bit more hesitant to start a couple times today. I suppose I'll have to look into that again.

A fairly quick QSO this evening as 80 seemed good again. Carl WB0CFF from bitter cold MN answered my CQ after just a couple minutes or so. -30-


---

Tue Mar 05 2019 06:42PM - Here's a video that I just posted to Microsoft's OneDrive of my old Lionel Berkshire Locomotive # 736:

https://onedrive.live.com/?cid=65A60148E821670F&id=65A60148E821670F%2114168&parId=65A60148E821670F%21275&o=OneUp

Apologies for the poor lighting and focus. I'll try to get a better copy sometime and replace this one. Anyway you can get an idea of how it is running now to go along with the info and picture link I provided in last night's diary entry. -30-


---

Mon Mar 04 2019 06:43PM - I'll type some of this entry before I head to the shack for my streak QSO.

Here's an update on my old 1950s steam locomotive. First of all, I never described it. It's a Lionel Berkshire steam locomotive which of course is a 2-8-4 wheel configuration. It's Lionel # 736 which is supposedly an update of their # 726. No particular railroad, just Lionel. Supposedly it was modeled after a real-life Boston and Albany locomotive. Wait a minute, if you want more info, rather than typing it here. Just check this web site: http://postwarlionel.com/motive-power/steam/berkshire/736-berkshire/

I've now got it running very well without the stopping I mentioned yesterday. How? I changed out the brushes and brush clips from a motor that was in better shape. It still has one tiny quirk though. When I apply power, it sometimes just sits there until I give it very tiny nudge after which it will run without interruption for as long as I let it - up to a full half hour once or twice today.

Unfortunately back in the fifties, it suffered from a young boy's curiousity. This boy was curious about everything and loved to take things apart to see how they worked, and often never put them together again. Also the loco took its normal amount of abuse in the course of its first life. We won't say who that boy was, but as a result the loco is incomplete in a few things. The smoker was removed. I have it here, but it's a pellet type and I don't know if it would still work or not. I might try converting it to a liquid smoker. A couple of the drive rods are missing. I haven't found them yet. The e unit also, but I can do without it running in reverse, at least for now. The headlight bulb needs to be replaced. I don't know if I have one or not. BUT at least it runs just great as of now. As I said before I feel like the Cheyenne Steam Crew who restored the UP 844 and 3985 and are restoring the Big Boy 4014 now. Actually the 844 was never retired from service, but was overhauled pretty much completely a few years ago. And that takes me to 0000Z. I'll go and see what the bands have to offer, then come back and finish this.

The bands were good again this evening and again there were signals on 30 meters. No CQs though and no answers to my CQs there. So I went back to 80 and got an answer from Jim K4WOP after just a few CQs and we had a 28 minute QSO. I've had a lot of long QSOs on 80 lately but interspersed with those that last only a few minutes due to QSB and QRN also. Overall the bands do seem to be improving with the coming of spring although there are still a lot of ups and downs along the way. It's also been interesting that there have not been an overly large number of solar flux days in the 60s this cycle. Mostly they have stayed in the low 70s. Not much difference, but maybe it does have an effect. -30-


---

Sun Mar 03 2019 07:45PM - My streak QSO was on 30 this evening. W3EEK from PA wintering down near Tampa, FL. We had some kind of polarization QSB at this end. As I do now with my local noise, I use different receiving antennas. Carl's signals seemed to change polarization as he would be good on my 15M vertical for a while, then fade out only to show up strong on my 10M sloping dipole, then the same over to my 20M attic dipole. I guees swings in polarization of the received signal here best explains that.

Still working on my old Lionel steam engine. I think I have it fixed and it runs great for 15-30 minutes or so, then suddenly slows down or just plain stops. I'm thinking now maybe something in the brushes in the motor. I notice one is just a little shorter than the other and also one brush spring is stronger than the other. I have another old Lionel motor here and glancing at its brushes, they seem to be the same as the steam engine motor. I may try switching them out tomorrow and see if that helps. Although the innards of the steam engine have been stripped out such as the headlight, direction switcher, etc., it does run fine when it does run. When I do get it running steady, I'll work on those other things. -30-


---

Sat Mar 02 2019 08:01PM - Seems like when I have a lot to talk about here in the diary, I don't have the time and vice versa. I'm taking a run to Walmart with my neighbor to pick up a couple things in a few minutes, so I'll do a Reader's Digest version of the diary entry tonight.

Most of the day I finished up work on my old 1950's Lionel Berkshire Steam Locomotive. I repaired the armature windings and got the motor running good after a cleaning and lubricating session. I installed it back in the Loco and got it wired up and running good for the first time in probably 60 years or so. However the gears are worn and I had to shim the motor to make them mesh better and that's not working quite perfectly yet. I'll work more on that tomorrow. I feel like the fellows out in Cheyenne working on restoring Big Boy 4014 to running order. HI.

A great rag chew QSO this evening with Bob KB2BSF. We talked for 44 minutes about the old days of radio - SWL, AM BC DXing, LW DXing and much more. We had a great deal in common about those early days in our radio "careers". I hope we can continue some day. If I can find his email address, I might drop him an email.

Well, got to finish my site updates and get ready to go shopping. -30-


---

Fri Mar 01 2019 09:00AM -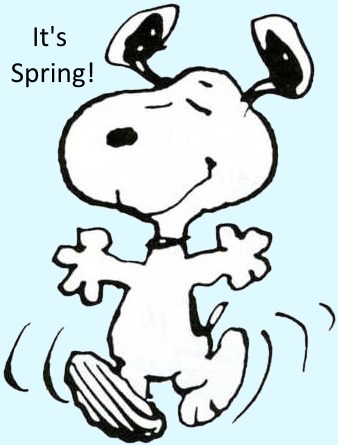 Unfortunately no one told Mother Nature. We got about 2 inches of s#$w during the night. However the good thing about March spring s@#w is it doesn't overstay its welcome (actually it's NOT welcome, but...).

At least my plants know it's spring as shown here: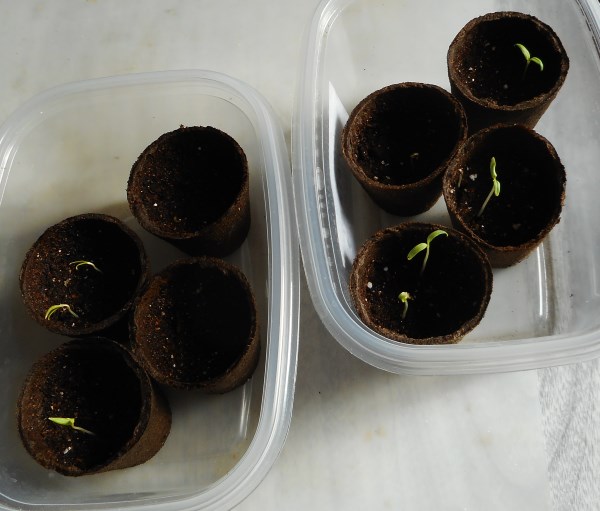 Peppers on the left, tomatoes on the right. There are a couple others there also that are too small yet to show up well in the picture.

I've got to run now. Roscoe goes to the vet in about an hour for his annual checkup and shots. Then I have a couple railroad projects to occupy probably a good part of the rest of the day. -30-


---