---
Sun Jan 26 2020 7:43PM - A great day today. Mike and I went to an all you can eat breakfast in North Washington, PA. For the second time we've been going to dinners, hamfests, etc., Mike's GPS took us to a location a couple miles from where we actually wanted to go. Finally we figured out ourselves by watching house, farm, etc. numbers along the route where we needed to be. It was a great meal. We both had buckwheat pancakes, sausage, and scrambled eggs.

When we got back home here we went to work on our Big Boy kits. They were quite frustrating for various reasons including broken parts, hard to fit parts, parts that didn't really fit as they should, and so forth. We finished the engines, then took a break and watched a couple train videos, tried out a dwarf signal that Mike bought, and then went back and finished the tender part of the kit. It went more smoothly than the engine part. A check of the bands showed pretty much nothing. I did get my streak QSO a little later just before Mike left to head home. -30-


---

Sat Jan 25 2020 7:27PM - While I don't keep s@#wfall records here, this has to be one of the, if not the most s@#w free January we've had here since I've been keeping other weather records. That goes back to 1959. It's hard to compare Kittanning with other close weather reporting stations like Pittsburgh and Butler because the 30-50 mile difference makes a lot of difference when it comes to s#$w. Still I will check and see how those stations wind up this January compared to other years. I'd estimate that we have not had even a total of 5 inches this month and probably less than that. That is perfectly fine with me. Let's hope February is the same.

Another day without much out of the ordinary going on. I did some track cleaning on my Lionel layout today and added a couple of connectors to my wiring to replace those that just had the bare wire wound around the terminal posts. Then I did quite a bit of running of the trains, especially my new Nickel Plate Road GP9 #482. It's a Legacy engine from Lionel. I'm really learning the Legacy controls now and the more I learn, the more I like it. I think within the next month or so, I'm going to get a LionChief Big Boy which is compatible with the Legacy system. I want to do some more research before I commit to buying one. They are about 700 dollars cheaper than the Legacy Big Boy and they run on O31 curves instead of the O72 curves the Legacy Big Boy requires. That will make it possible to use my current track layout instead of filling the whole room with the O72 curved track. That's more important than the price.

Of course it was a quick 0000Z streak QSO in the 160M contest this evening from NY3A to continue the streak. I don't think conditions on 160 were as good as last night, but still good enough. -30-


---

Fri Jan 24 2020 7:06PM - I forgot (I do a lot of that as I get older) about the 160M contest. After finding not much at all on 80, I went to 160 and saw a whole swarm of signals there. That's when it dawned on me that this was the weekend of the CQ160M contest. I quickly worked W8CAR and my streak QSO was in the log. I might (but probably not) get on later just before going to bed to see if I might get one or more of the 8 band states I need for 160M WAS. Conditions should be good on 160 at this minimum point in the sunspot cycle. -30-


---

Thu Jan 23 2020 7:30PM - The bands returned to normal tonight. S9+noise and weak signals. I did manage a brief QSO with Dan KB6NU before he faded into my noise.

I'm getting to wondering if I will ever see good conditions again for more than a very isolated night here and there. It sure seems dismal right now. At least it hasn't gotten bad enough to end my streak (yet). I've still gotten my streak QSO in the 0000Z hour every evening since March 23 last year except for a couple days when I couldn't be in the shack in that hour. I'm talking about the Skyview meetings and I think one other night.

I guess there is nothing much else to talk about tonight. -30-


---

Wed Jan 22 2020 7:33PM - An unusual night on the bands. My local noise was actually down from S9 or so to S5/S6 on 40 and 80. That hasn't happened in a long time now. It was nice to see signals on the PX3 peaking well above the noise level. I worked WA9VBG in IN at 0003Z. He was quite strong, but had trouble copying my signals. But it was a QSO for the streak. I tried some CQs after that but didn't get any answers.

Mike emailed today and wanted to know if I wanted to go to an 'all you can eat' pancake breakfast on Sunday. I'm sure you know my answer. Then after that we'll try to finish the Big Boy kits.

I said I'd elaborate a bit on our visit yesterday. Mike arrived around 10:30 or so. We played with and worked on my trains for a while. Then it became Christmas and I gave Mike the belated (thanks to the company I ordered it from) gift which was of course the two Big Boy kits, one for each of us. We then got started on the assembly. It wasn't all that easy, but it was a lot of fun nevertheless. Some of the parts were hard to get together. Some fit so tightly we didn't even bother to glue them. They are going to be just display locomotives anyway and we won't be running them. So the snap fit will suffice. I guess we spent about 3 hours on them and finished the boiler and the two sets of driving wheels. That was perhaps around half of the work. We still have a lot of detail work with some very small parts and also we haven't done anything with the tender yet. Perhaps we can finish it on Sunday or we may need a third session.

We stopped work on the kits and watched some train videos until 5:30PM or so when we headed off to Applebee's in the Pittsburgh Mills. I used my Christmas gift card for our two meals. Mike had a club sandwich of sorts and I had one of my favorites, fish and chips. The meal took about an hour.

We left Applebees and headed for the Skyview club house for their meeting which was a 'social' meeting which they have on the third Tuesday of a month. The members broke up into small groups to discuss different subjects. One of the things we wanted to do was find out more about the train trip the club is taking in March to ARRL headquarters in CT. We got most of the details on that and then talked about various things with the members. After that it was back to Kittanning where Mike left me off, then he headed home. -30-


---

Tue Jan 21 2020 10:53PM - In contrast to the last couple days, this was a very busy one. Mike came down for a visit. We did two basic things. I gave him his belated Christmas present. It was a Big Boy Revell plastic kit for display purposes. We spent a few hours working on that. Then we attended the Skyview ARS meeting this evening. As it is quite late now, I'll elaborate more on what we did today in tomorrow's entry. -30-


---

Mon Jan 20 2020 7:17PM - Another of those cold dreary mid-winter days today with nothing to 'write home' about. Some more playing with trains and some computer games. Plus the streak QSO this evening. I think if I didn't have this strong local noise 24/7, I'd try getting on the air more during the daytime hours. However the noise makes it very frustrating. Maybe when the sunspots return and liven up the bands, signals will be strong enough to override my noise. That would be nice. The streak QSO? Oh, it was on 160 meters where I worked Bill K4JYS in NC again as I did about 10 days ago. -30-


---

Sun Jan 19 2020 7:57PM - A bit more s@#w today after the nice natural clean up last night. Nothing to really worry about, but it is cold at 18 degrees now going down to the low teens overnight.

The bands were a bit better tonight and it didn't take long to find and work WC1X who was portable near Montreal in Quebec. They had 10 inches of fresh snow up there from this latest storm.

It was a pretty quiet day today playing with trains and computers plus the usual Roscoe walks and feedings. I also kind of followed the KC/TN playoff game. I didn't have a favorite since I liked both teams since they started up in the AFL in 1960. Of course KC was Dallas then and Tennessee was Houston way back then. It would be kind of nice to see this year's Super Bowl be a re-match of the very first Super Bowl although the game wasn't called the Super Bowl until the merger was completed. Let's see what GB is doing. Well as it looks now, the re-match is off. SF is ahead 27-0 and it's just past the start of the second quarter. GB has a long row to hoe to get back in the game, but there is time. -30-


---

Sat Jan 18 2020 7:25PM - Now that's what I like. A s@#wstorm that cleans up after itself. It s@#wed this morning, then transitioned to a very brief bit of freezing rain, then to regular rain that started the clean up. After that, the temperature rose to 44 where it is now and melted a lot of the s@#w that survived the rain. NICE!

I figured I'd get a quick contact in the Hungary contest this evening, and started to look for a contest station. However I noted a big peak on the PX3 up the band a bit. It was K8NY calling a regular CQ. I answered him and we had an 11 minute contact from 0000Z to 0011Z. I got him just a couple seconds past 0000Z. That was on 80 meters.

It was kind of a cabin fever day today with the weather as described above. I only got out for 4 brief walks with Roscoe and that was it except for getting the mail. The rest of winter doesn't look too awful bad. The rest of January according to AccuWeather will have highs in the 40s each day. February will be colder, but not all that bad. Best of all, the s@#w days are few and far between. However that's only an outlook, not a real forecast, so things could change. -30-


---

Fri Jan 17 2020 7:32PM - Just sitting here wondering what kind of weather we are in for this weekend, especially tomorrow. Just about everything outside of sunny and hot has been predicted as we get closer to zero hour. S#$w, rain, sleet, freezing rain, etc. have all been mentioned. At least the freezing rain is predicted to be very minimal (so far) with little or no accumulation.

For the first time in 4 straight nights now I got my streak QSO before 0040Z when I worked KN4ZQ in VA at 0016Z. Conditions seemed to wake up about 0015Z after the band was very quiet with very little activity for 15 minutes. 80 meters has been that way quite a lot of the time lately. -30-


---

Thu Jan 16 2020 8:19PM - Winter officially started today and looks like it may be nasty for the second half. S#$w, windy, and cold today. Saturday we may have a mix of s#$w, sleet, and rain. I just hope no freezing rain.

The bands took a couple steps back this evening with some really poor conditions and little activity. It took 50 minutes to find and work my friend Carl WB0CFF on 80 meters. But the streak still goes on.

I did some more work with my Lionel SC-2 switch controller today and learned more about it. I think the Route feature on the Legacy controller is really neat. You can press one button and have several switches thrown to set up a particular route. I only have a couple switches right now, but I can see how handy it would be for someone who has a large setup with many switches. -30-


---

Wed Jan 15 2020 8:10PM - As if to mock me for my statements about conditions last night, the bands, especially 80, were in very good shape tonight. A lot of activity and strong signals. At one point, I counted about 10 S9 peaks on the PX3 in a 40 kHz wide spresd while working my contact for the night, WA3I Chet.

I got to the shack a little late because I was helping to get Roscoe to take one of his pills. He takes a flea/tick preventative and a heartworm preventative pill. The flea/tick he usually just eats like a little treat. The other one we have to mix in with his breakfast, but that didn't work today. So we put it in the fridge until this evening, then Bruce made some beef gravy which we added to the food and the pill (broken and pulverized). Roscoe was reluctant, but I finally used a little persuasion and he finished it after a few minutes.

I worked on my Lionel setup today. I got a SC-2 switch controller a couple days ago, and after studying it a while, I jumped in today and hooked it up. It was much easier than I thought. So now I can use my Legacy CAB-2 controller to also throw the switches on my layout. Very nice! I really like the Lionel Legacy system. It seemed very complicated with all the control systems Lionel has, but it turns out that the Legacy system is backward compatible with all the older systems, even the conventional AC one. -30-


---

Tue Jan 14 2020 7:53PM - Remember the previous sunspot cycle that had twin peaks? Well, I think this may be a twin valley we are in now. I thought a few weeks ago conditions were picking up, but the past couple nights have been absolutely horrible. I still think a lot of it is folks staying away from the bands because of the state of the sunspot cycle. Now last Saturday, the bands seemed great in the NAQP with a lot of activity which extended up through 15 meters. Mike and I made around 250 or so QSOs, most of them easily, on 160, 80, 40, 20, and 15 meters. That seems to indicate that propagation is good, not as good as at a sunspot maximum, but good enough that QRP and simple antennas can get a lot of QSOs. That's just how things seem to me. What about you?

Tonight it took 40 minutes to make my QSO after unanswered CQs and unanswered responses to other stations calling CQ. Finally K9GHD in IL answered my response to his CQ and we had a brief rather rough QSO with QSB and QRN pretty bad.

Otherwise today, we took Roscoe to the vet for a check out and he got a good report except he needs to lose a bit of weight. -30-


---

Mon Jan 13 2020 8:15PM - The bands again tonight were not all that good, but it didn't take long to get my QSO anyway. I worked Amy KT4E on 80 meters. There was a lot of QSB, but copy was pretty good on both sides for 10 minutes or so.

It was another 'not much going on' day today. I did a lot of playing with my trains. I also finalized all the results from the NAQP on Saturday. I uploaded all 129 QSOs to my on-line logs, and also double checked them all in my Excel log. There were quite a few first time stations that I worked. I would guess around 20-25 or so, but I didn't count them. Maybe I will now. PSE AS. I was close, it was 29. So 100 of the QSOs were with those whom I have worked before. I see there were 47 multipliers. That figures to be a score of 6,063 points.

That's it for now. I'm going next door to watch LSU-Clemson with Bruce and Roscoe in a little bit. -30-


---

Sun Jan 12 2020 8:03PM - I said I'd talk about yesterday's events with Mike, so here goes. Mike arrived around 10AM not long after I walked Roscoe. We chatted for a while, getting into a new train layout I designed with the program AnyRail among other things. I then asked Mike if he wanted to help me set up the new layout. He said he would, but we better get our contest setup fixed first. We did that, setting up like I described a couple entries ago. Once we felt everything was ready we got to the train layout.

First we got everything out of the center of the layout loop. Then we changed the position of the switches and added track (after checking it to be sure we got good pieces from my old collection) to make a smaller loop inside the big one. After it was set up, we tested it with my engines, and it worked pretty well. There are a couple spots in the track that need some fine-tuning though. I'll get to that some other time. Now the priority shifted to the NAQP contest.

We went up to the shack at 1800Z for the start of the contest. We began on 20 meters which was quite active. But then we decided to check 15 meters, and there was activity there. We made a few contacts on 15, then headed back to 20 again where we stayed until a food break from about 2030 to 2130. We picked up a pizza at our favorite pizza parlor, Vocelli's and ate it here before going back to the shack for some more 20 meters work until 2245Z when we tried 40 briefly, but found conditions very poor there. Next it was on to 80 for most of the rest of the contest except for a foray onto 160 for a half dozen or so contacts. Mike was ready to shut down and head home at 0300Z, so we did and he did. I made 129 contacts and Mike also worked most of the same stations right after I did. Conditions did change or the station I worked developed a pileup and Mike missed out on about 10 or so stations. We worked all USA call areas plus KP2 and VP5.

I must say I really enjoyed getting back into some relatively serious contesting. It was great to work those contesters I hadn't heard or worked for a few years. I was pleased to find I still had my old contesting skills such as copying whatever speed they were using and digging signals out of the noise and QSB. It was just a totally fun activity. I'm so glad Mike suggested doing it. Now I look forward to doing some more of these tag team contests with Mike. Maybe the ARRL DX test next month??

Tonight was a poor night on 80 and I had to resort to 160 meters for my streak QSO, working Bill VE3AUI for about 25 minutes with solid copy both ways despite a little QSB. -30-


---

Sat Jan 11 2020 11:00PM - Mike and I just ended our NAQP session a little while ago. I'll have more to say about it in tomorrow's entry, but right now I'm getting ready for bed. So tune in tomorrow for the continuing saga of K3WWP and his hobbies. -30-


---

Fri Jan 10 2020 7:21PM - No ghost writer around tonight, so I guess I'll have to write the diary myself. This marks about entry number 5,325 in the diary which began being a regular daily thing in mid-May 2006. That's a lot of writing and a lot of time spent doing it. Just like the QSO-A-Day streak though, I intend to keep doing it every day (with an occasional break when my main ghost writer Mike does it for me).

Speaking of QSOs, my streak QSO tonight was with KO8L in Cleveland, OH on 80 meters. Tomorrow (today UTC) I should have a lot of QSOs as Mike and I do one of our tag-team contest efforts in the NAQP. That will be our first tag-team effort in quite some time from my shack. Of course we do multi-op outings in our parkpeditions, Skeeter Hunt, FOBB, FD, etc., but those are not really tag-team efforts. As we define it, a tag-team contest is when we use one rig (mine usually) with a key and set of headphones plugged into it for each of us. Then I find and work someone as K3WWP, after which Mike tries to work the same person with his call KC2EGL - or vice-versa sometimes. When we first started the tag-team efforts, we would have just one key and headphones (or speaker), and would just alternate sitting in the operating chair. That was hectic, although it did provide good exercise when we were younger. HI. Now our new system is more favorable for our ages. In looking back through my contest results notes, I see we possibly had our last previous tag-team contest in the GAQP in April 2014. Has it been that long!! Or possibly my incomplete notes left out some later ones? Anyway it will be fun.

It was a mild rainy day today, the kind of day we don't like in summer, but love in the heart of winter. And it should be even milder tomorrow with a high possibly near 70!!! We've only had a couple 70 degree days in January that I can recall from my 60 years of weather records. I just checked my memory and looked it up and it was 71 on 1/13/2006 and 71 on 1/8/2008 and 70 on 1/13/2013 and 70 on 1/13/1972. Looks like January 13th is the winner for high January temperatures. -30-


---

Thu Jan 9 2020 8:48PM - Thanks in advance to Mike who is now going to switch seats with me and write the diary entry.

Good evening eveyone. The day started when I arrived at John's QTH around 10:35AM. We chatted a bit before John had to take Roscoe for a walk. After Roscoe's walk we started checking out a issue with John's model railroad. That was followed by a phone call to Tom WB3FAE to see if he was up for a little company this afternoon. He liked the idea so we headed over around 12:30PM after I took a look at John's neighbor Bruce's cell phone. It was stuck on a loop of rebooting. We went next door to give Bruce the bad news that his phone was no longer servicable. We then headed over to Tom's QTH. We spent the afternoon talking about trains and radio. He invited us into his shack and we tuned around the bands to see what was out there. There were a few signals working pileups via split operation. No luck for John or myself. After a very nice afternoon visit with Tom we headed back to Kittanning. Stopped at John's place to check on Roscoe before heading out for dinner. Wendy's was our choice of grub for the evening. Then it was back to John's for more checking on his model railroad before heading to his shack for his streak QSO. We followed that up with a few model railroad videos. Which brings us to this very moment. John is getting some walking in by pacing the first floor of the house. Now John is headed out to get his temperature readings. And I will get ready to head North to my QTH.

Until next time, de Mike KC2EGL, 73. -30-


---

Wed Jan 8 2020 8:17PM - I guess 40 meters was a fluke last night. Tonight it was back to its usual dead self with only a couple very weak sigs to be heard. So it was back to the old standby for the past several months, 80 meters where it took a little while, but not long, to find and work K9VPL Marv in IN.

We didn't get a chance for various reasons to make the shopping trip for Roscoe today, so we're shooting for tomorrow morning before Mike arrives.

It was rather a nasty day today anyway with a bit of s#$w from off and on flurries most of the day. It only totalled about a half inch at most though so that was good. Now we're looking for a warmup for a few days starting on Friday. That will also be good. -30-


---

Tue Jan 7 2020 7:55PM - Well well, what do you know? There were a lot of signals on 40 meters this evening above my local noise level. So I called CQ and got an answer and a QSO from K5KHK in Rochester, NY. Let's see if I can quickly find the last time I got a 40 meters QSO by calling CQ. Jun 26 of 2019.

Not much else to report on today. Just the usual activities and nothing else special.

Tomorrow among other things, I'll be going along on a grocery shopping trip for Roscoe. He's just about out of breakfasts and we've been improvising on his suppers for a couple days now. Then the next day Mike and I are getting together again. I'll have more to say about that after the fact. -30-


---

Mon Jan 6 2020 9:12PM - A great day with Mike. He stopped here around noon on his way home from Menard's in Ohio where he picked up the remaining buildings he ordered. We played with my new Nickle Plate Road Diesel for a while. He included in the consist his BN boxcar he got at Menard's to replace the defective gondola he got a couple days ago. Then we tried to light up his buildings and the free cars that came with them. We had no success for a while until we analyzed things and found the plug from and old power cube of mine had the + and - parts of the plug reversed from 'normal'. After we fixed that all the buildings and cars lit up just fine.

After I took Roscoe out, we went to Subway for dinner. We both had tuna subs. Then an unsuccessful search for a power cube at six or seven stores. At one store though, I found a nice dog bowl which I bought for Roscoe. I took it over to him when we got home, then later fixed his supper in it. He seemed to enjoy it. He doesn't like change and I was afraid he would reject the bowl, but he didn't.

Next up on the agenda was watching some railroad videos. In between them, we went to my shack where we both worked KK1CWO on Cape Cod on 80 meters. Then more videos after which Mike headed home just a little while ago. -30-


---

Sun Jan 5 2020 7:29PM - I finally got around to finalizing my weather records for 2019. In glancing through the data as I was working with it, I didn't really notice anything outstanding, hot or cold, wet or dry. It was a little above normal in both temperature and precipitation. I may go through it more thoroughly to see if I overlooked something when I get a chance.

I worked one of our NAQCC members this evening for my streak QSO. It was KC3MIO Rich in PA on 80 meters.

Mike is going to Menards tomorrow to pick up his "back-ordered" items. Then he is going to stop by here for a while. I guess we'll try out his buildings and also the replacement Gondola that didn't work right. I'm doing my laundry tonight as I'm typing so I won't have that as a distraction tomorrow. -30-


---

Sat Jan 4 2020 8:46PM - You know how the Chinese name the years, the year of the tiger, the year of the dog, and so forth? Well if we did that, this would be the year of good vision. You know, 20-20. OK, enough!

Another day of delayed winter. Almost at 50 degrees again. Let's hope that continues. AccuWeather seems to think it will at least until near the end of January. They think the Polar Vortex will remain strong and hence remain in place near the pole. Here in the USA the jet stream will provide mostly a Pacific zonal flow which means mild weather.

The streak QSO came quickly again this evening when I heard and worked Mike WQ9H on 80 meters. -30-


---

Fri Jan 3 2020 9:27PM - And once again here's my ghost writer Mike: Good evening everyone. The day started out when I arrived at John's QTH around 10:30AM. The plan was to head to the train shop in Indiana Pa to exchange three model railroad signals for three I did not know they had in stock. John also made a purchase. He needed some smoke oil for his new Diesel Locomotive. After our stop at the Train Shop we headed out to the Menards in Warren Ohio to pick up a order for a few O Gauge structures, an order that I placed last week. This was a first trip for both of us to a Menard's. Best way to describe it is Walmart and Lowes metamorphasized into one store. It was very impessive. Unfortunately they only had one of the items I ordered. I had received an email earlier today saying that my order was ready for pick up, only to find out that the rest of it had only shipped today from Wisconsin. I received another email just after we left that the rest of my order should be in tomorrow. I will wait until Monday to make sure that everything is in before heading back to Warren. I did purchase four pieces of rolling stock to complete a frieght train set up. One of those has to be returned because it has an issue staying coupled when going around a turn. I'll exchange it for another item when I go pick up the rest of my order. The other three items (a box car, a coal hopper, and a covered hopper) all work very well being pulled by John's new diesel locomotive.

Before heading back to John's QTH we stopped at Pondeosa for a late lunch/early dinner. After arriving back at John's we tested out the new rolling stock that I purchased, and went up to John's shack for his streak QSO, which he will tell you about a bit later.

That brings us to this moment with me typing away and John checking his weather readings and taking Roscoe for a walk. It's time for me to close this entry out and head north to my QTH. Until next time this is Mike KC2EGL, 73.

Thanks Mike. My streak QSO this evening was with my old friend Bob K9OSC on 80 meters. I heard him calling CQ and we hooked up for a 22 minute QSO. There was some QSB and QRN, but copy was still pretty solid. It's always nice to hook up with someone you've gotten to know pretty well after several QSOs. -30-


---

Thu Jan 2 2020 7:29PM - I spent a part of today getting some more first of the year things done. Paying some bills, getting some computer work done, etc. It turns out December was yet another warm month with the average temperature at 5 degrees above normal.

I got a QSL card from Gene AA8MI for our visit (eyeball QSO) on December 28. Thanks Gene.

I got two QSOs this evening. The first was with KK1CWO whom I believe is some special event station as he told me to check him out on the Internet. I'm going to do that right now. Oh, it's for a chapter of the CWOPS Club on Cape Cod. Always nice to work Cape Cod as I visited there a couple times many many years ago. That QSO was so quick, I decided to follow up with some CQs of my own, and I got an answer on the very first one from K8EG in OH. My first multi-QSO of 2020. Hopefully conditions will improve this year and will permit more multi-QSO days in between playing with my trains and other activities. -30-


---

Wed Jan 1 2020 7:23PM - It was a good first day of the year for the most part. There was a little s@#w on the ground this morning, but it melted off the sidewalks and roads pretty well during the day. Otherwise, I had a good New Year's Day meal from each neighbor on both sides of me. Also my new NKP 482 loco seems to be running well, hopefully breaking the jinx Mike and I have had with locos of late.

The bands seemed good tonight, especially 80 meters. So I decided to try a CQ since all the other stations I was hearing were in nets or rag chews. It didn't take long to get an answer from AA2AU Dave in NJ for a 10 minute QSO.

I'm getting caught up on my end of month/year work. I put the stats from 2019 in the QRP section of the web site. Certainly a come down from the past few years in every category. I have a few more updates to the site which I'll do in the next few days. Tonight I'll deal with the weather stats from December 2019, and later the stats for the full year of 2019. It will be interesting to see how 2019 compares with previous years. Most all months were above normal in temperature so it should turn out to be a very warm year overall. Kind of like the years in the 1930s perhaps, although not that extreme. -30-


---

Tue Dec 31 2019 7:32PM - A good day with Mike to close out 2019. We took a trip to Hobbyspeed in Indiana to return my defective locomotive and for Mike to buy track for his layout. Both missions were accomplished successfully. Mike has all the track he needs for his layout, and I have a new Nickle Plate Road GP9 Lionel Legacy engine which so far has run beautifully. Hopefully it will continue to do so. Time will tell.

With SKN underway, it wasn't too hard to get a QSO this evening, although I did have to call a couple stations before one responded. It was KN4ZQ in VA on 80 meters. I used my Begali Blade key for the QSO. The first SK QSO I've made in a long time now. The keying came right back to me after just a few seconds.

I hope you all have a happy New Year's Day as I should here. I have nothing out of the ordinary planned. Just playing with my new train, eating, and walking Roscoe. Anything else will come as a surprise. HI

On Friday Mike and I are going back to Indiana where he wants to exchange some signaling equipment. I don't plan as of now to buy anything there. Then it's off to Menard's in Warren, OH where Mike wants to pick up some buildings for his layout. -30-


---

Mon Dec 30 2019 7:22PM - Some good news and some bad news in the ARRL Propagation Bulletin today. Two new Cycle 25 sunspots were spotted on the Sun within the past week. However despite that, some propagation gurus say now that the Cycle 24 minimum might not come until early 2021. Others say it will probably come around April 2020. Just like the weather, you pick which forecast you like to believe. Me, I'll just wait and see. I have noticed the majority of days lately have had a Solar Flux value in the very low 70s unlike earlier in the year when there were a lot of upper 60s values. Also I think there is a slight uptick in signal strength of late, although not much.

Tonight I worked KG4CNZ in KY to close out my QSOs for 2019. Tomorrow evening I hope to get my first QSO of 2020 in the SKN event. In 2019 I only made 421 QSOs which is my lowest yearly total since before 1995. That's as far back as one graph goes. I'll do a bit more research and narrow it down further from my full log starting in 1963. The low figure is not completely attributable to propagation at this solar minimum although that has contributed. It's mainly because I am not as active in contesting now and seldom go beyond getting my daily streak QSO each day. Plus other interests like my model railroading. -30-


---

Sun Dec 29 2019 7:52PM - Let's start with a picture of me and Gene AA8MI that his wife Judy took after our meal in the Subway restaurant yesterday.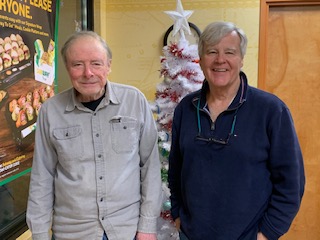 Looks like Mike and I will have a couple get togethers this week. One on Tuesday to go to Indiana where I'll take my Chessie switcher to be looked at and Mike may buy some track for his layout. Then Friday off to Warren, OH where Mike will buy some buildings for his layout. I'm still deciding on a design for my layout here to replace the simple oval I have now. There are so many good layouts that it's hard to decide just which one I want to go with. I guess I will someday though. First I want to learn more about the Lionel Legacy control system.

I had to go to 160M for my QSO this evening. 80 was very poor with only a few weak net stations heard here. In contrast, there was a lot of activity on 160M, but I had trouble chasing the stations till I caught and worked KA1FSX in PA who was calling CQ. -30-


---

Sat Dec 28 2019 7:17PM - I had a nice visit today with Gene AA8MI and his wife Judy. Gene called me a couple weeks ago saying he would be in my neck of the woods and would like to stop by for a visit. After going back and forth a couple times we decided on the 28th. They arrived right at 3:30PM. It turns out that Gene and his wife are also interested in trains, so we spent some time looking at my HO and O railroad setups. Then I gave Gene a tour of my antenna "victory garden" before we came inside and went up to my shack. We looked over my equipment and my awards before delving into my QSL collection. We enjoyed comparing notes on the countries we worked, and then the band-states after that. Next it was up to the attic for part two of the antenna tour. After we covered pretty much everything, Gene and Judy took me out to dinner at Subway. Then they departed after a couple hours together. I enjoyed the visit very much.

I got a couple QSOs this evening. First I worked KB1W who was in the RAC contest, but at one minute after the contest ended. It was a QSO nevertheless. However I made another QSO just to be sure. That was with Mario N2AK in NJ. It was rough on my end with QSB and QRN, but we made the contact for an insurance streak QSO. -30-


---

Fri Dec 27 2019 7:33PM - Now my interview with Mike. J-How would you describe our day today? M-Interestingly frustrating. J-Can you elaborate on that? M-Ummm, two locomotives that were in need of repair will be fixed, fortunately. We found out how good customer service is at Hobbyspeed in Indiana. J-How long do you think repairs will take. M-Not quick enough. J-What's involved? M-The Big Boy needs rewiring for the smoke fan unit. The NYC most likely needs a new motherboard because it's deader than a doornail. J-Anything else you want to add about today? M-John got a bright brand new yellow locomotive. Unfortunately it wasn't the Union Pacific that he first looked at. J-Yes I have O-31 curves on my setup and the Union Pacific required O-42. So I got the yellow Chessie switcher instead. Basically I just wanted a Legacy engine to study the Lionel Legacy Control system. J-Do you have anything to add, railroad wise, ham wise, or otherwise. M-Yes, my soldering skills for soldering that doesn't require a circuit board need a lot of work. J-You're referring to? M-The train speedometer we worked on today. J-Thank you Mike, you've certainly been an interesting and informative guest. M-Thank you.

As I sat down to type the diary entry, and started to type, it reminded me of interviews I helped out with at WPIT many years ago. The show was On the Traffic Beat with Nick Nicklas. He did the interviewing and I helped record it and edit it. He always had a standard format for the shows which included the question, "Do you have anything else to add, traffic-wise, safety-wise or otherwise?" that I paraphrased above. Also the closing, "Thank you -----, you've certainly been a very interesting and informative guest. Those were good days and Nick was a good friend. I'm sure he's long gone by now as he was fairly old those many years ago.

After Mike and I had a pizza this evening, I got a quick QSO in the RAC Contest with friend and "callsignsake" K3WW. I haven't worked Chas for a while now since I haven't been doing as much contesting recently. -30-


---

Thu Dec 26 2019 7:16PM - Almost a 0000Z QSO tonight, but the clock just turned to 0001Z when I successfully called K8KEM, David near Cleveland. We had a solid 10 minute 599 to 599 QSO before he had to QRT to go see his XYL.

We almost hit 60 degrees today. The AcuRite maximum shows 59 as the high. What a great stretch of weather we have been having, and it looks to continue at least another week although with some rain. Rain is great this time of year also.

Tomorrow Mike and I are off to the hobby shop in Indiana again. Me to get a Lionel Legacy locomotive so I can learn more about my new Legacy control system before getting a Big Boy some time next year, I hope. Mike is going to check on the problems he mentioned when he wrote the diary entry a couple nights ago. Should be another great day as all are when Mike visits for some railroad or ham radio work.

For Christmas, my neighbor (and Roscoe) gave me a trains shirt. He also suggested I might think about getting one for Mike also, and I did. Here's a picture of the two kids in their shirts.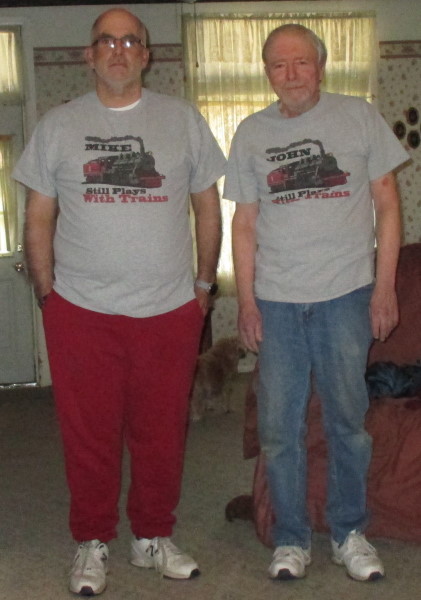 Both shirts have the same text except for the name. My shirt was a bit wrinkled where the text is which I guess is appropriate because the wearer is wrinkled also. HI. I'll be wearing mine to the hobby shop tomorrow and maybe Mike will wear his also. -30-


---

Wed Dec 25 2019 9:15AM - Now as I do each year:



MERRY CHRISTMAS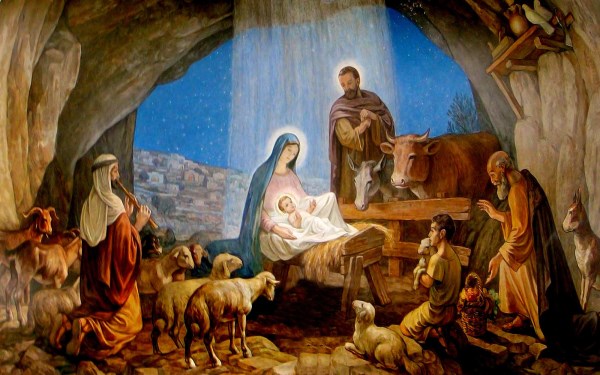 For unto us a child is born,

unto us a son is given:

and the government shall be upon his shoulder:

and his name shall be called Wonderful, Counseller,

The mighty God, The everlasting Father, The Prince of Peace.

-30-


---

Tue Dec 24 2019 8:42PM - And now, here's Mike: Our annual Christmas Lights Tour was a day earlier than usual. I arrived at John's QTH just before 2PM. We jumped right into a train project. My new Big Boy locomotive is having an issue with smoke not billowing out of the stacks. John had an idea of what may be wrong. So he asked me to bring down my MTH DSC control system. He thought that using his Lionel DCC system may have shut down the smoke feature. Unfortunately that was not the issue. We did figure out how the WiFi set up works on the MTH DSC system. It was much easier to set up than I originally thought. We ran the Big Boy for a good amount of time waiting to see if the smoke fan would finally kick back on. No luck. So we put my Hudson New York Central locomotive on to see how it worked. It worked like a charm for just a little bit. The smoke function started up right away. Unfortunately it suddenly stopped. I tried to reboot it from the app on my Ipad. No luck. Took it off the track and re railed it. It started up then shut down shortly afterwards. We went back to the Big Boy to see if it would still run, and it did. We disconnected my DSC system and reconnected John's Lionel Legacy system. The Big Boy still ran like a charm with the same issue with the smoke fan. Then tried the NYC Hudson. It would not work on John's DCC, yet his locomotives worked just fine. So its off to the train store on Friday with both locomotives in tow to see what's up with the smoke fan on the Big Boy and why the NYC Hudson stopped all together.

We headed out to Subway for dinner followed by our Christmas Lights Tour. We arrived back at John's QTH around 25 minutes ago. John headed straight for his shack to get his QSO of the day. And now I sit here typing to all of you fine people on this Christmas Eve.

Shortly I will be headed out into the fog to my QTH. Merry Christmas everyone. 73 Mike KC2EGL -30-


---

Mon Dec 23 2019 8:13PM - A somewhat unusual QSO this evening. The station was in VT operated remotely by a ham in FL. I'm not really sure just how that works and I'm really not interested. All I care is that it was a QSO that keeps the streak going another day.

Speaking of another day, it was another of those mid-fall days in winter. Let's see, AcuRite shows a high of 55 today, warm enough to go without a coat while walking Roscoe in mid-afternoon. It certainly is great.

When I listened to Party Line with Ed and Wendy King many years ago on KDKA, Ed brought up this interesting winter superstition attributed to an old Indian legend. If you add the day of the month to the age of the moon on the date of the first s@#wfall, the number will predict the number of s@#wfalls for the winter. I'm going to have to check that out because it certainly has been a pretty s#$w free winter so far. I think our first s#$w came in early December when the date number was low. The moon was fairly young then, so the predicted total would be low.

Mike will be coming around 2 PM tomorrow and we'll be doing some train work and playing before it gets dark and we go look at the lights. We'll also exchange our Christmas gifts tomorrow. Unless it comes tomorrow, one of my gifts for Mike will have to be given later on, maybe for Orthodox Christmas. I ordered it a couple months ago from a company from whom I ordered another item about a year ago and it took about three months to arrive. I think I will not order anything else from them. -30-


---

Sun Dec 22 2019 7:51PM - Another quick QSO this evening with VA3SY on 40 meters. Yes - 40 meters. There were a few good sigs on 40 strong enough to break my high local noise level.

Not much going on today. It was nice enough for a couple walks with temperatures around 50 degrees. In fact I see a high of 52 on my AcuRite remote unit. Otherwise just waiting around for Christmas in a couple days. -30-


---

Sat Dec 21 2019 8:38PM - I thought I'd get on for a quick QSO in the Croatian contest then go for a little walk around town to check out some Christmas lights. It took 7 minutes to get the QSO with VA2CZ on 80 meters. He gave me a number 198 so he was doing pretty good in the contest. Of course he was my number 1. When DX conditions were better near the sunspot peaks, I liked the Croatian contest a lot. In 2000 I made 47 QSOs in just over 2 hours as an example.

The beautiful (no s@#w) weather continues and is forecast to do so until at least Friday. It's a Christmas miracle. However when the bad weather comes we will be so spoiled it will feel even worse than it is. So I'll enjoy this nice weather while I can. The high every day this week is predicted at 46 through 50 with only one day at the 46. Great!

For the eleventh year in a row, with a slight change this year, Mike and I will get together for Christmas. For the previous 10 years it was on Christmas night. This year it is going to be Christmas Eve. Same routine though which is going for a drive around Kittanning and its environs to look at the Christmas lights. Then we usually get in some ham radio and this year it will also include trains, I'm sure. -30-


---

Fri Dec 20 2019 9:09PM - A quick start to a nice long steady QSO tonight. I worked Bob K8JPM from 0002Z to 0030Z on 80 meters. Both his signals and mine were well over S9. There was very little activity on the band though. For the umpteenth time folks, conditions are still good on the bands even at this sunspot minimum. Perhaps not all bands at all times are good. However there are enough good bands and times to make it worthwhile to get on the air. End of lecture.

I finished my Christmas shopping with two more gifts today. I also worked on my trains and rails. I had to replace a small part on one of my turnouts. I also did some wheel cleaning and lubrication. Of course I also played with Mike's Big Boy. It seems to smoke more now, but the smoke just wafts out of the stack. I think the trouble is with the smoke fan in the engine. We'll look at that more on Christmas night, and maybe take it to Indiana a couple days after Christmas.

Pet peeve this time of year: It's the birthday of Christ, not the birthday of X. So it's Christmas, not Xmas. -30-


---

Thu Dec 19 2019 8:36PM - Mike arrived around 11:00AM today with his Big Boy locomotive. We soon got to work on it after first recreating the problem of the back set of driving wheels locking up. It didn't take long to notice that one of the bolts holding the eccentric drive rod to its wheel was very loose. In fact about ready to fall out. When we tightened down the bolt, everything worked fine again. Well, most everything. After we ran it for a while, we noticed that it wasn't smoking. We added some smoke fluid and that didn't help. So we then thought there was too much fluid in the engine and tried blowing it out with compressed air. That helped a bit, but the smoke was just lightly wisping out and not puffing. We still haven't figured that one out. We took a break to get a sub at Subway, then came back home and did some more work on the Big Boy and one of my passenger cars. We also watched some railroad videos. Mike left his Big Boy here for me to "play" with until he comes back on Christmas night for our annual "drive around and look at the lights" night. Then he headed up north to home in Brookville.

It was just after 0000Z when he left so I went to the shack for my daily QSO routine. As soon as I turned on the rig, I noticed a pretty tall peak on the PX3 and tuned it in to find it was a CQ from N4ACF. I answered and we had a short solid 10 minute QSO.

That was about it for the day. Oh, the roads were bad this morning and we had to postpone Roscoe's visit to the vet until Monday. Good thing it's nothing at all serious, just a check up. -30-


---

Wed Dec 18 2019 8:08PM - The bands continue pretty dismal, but despite that, the streak goes on. Tonight it was a quick QSO from W8HOG on 80M. He treated it sort of like a contest QSO so maybe he was in some club sprint or other. Anyway it was a QSO.

I got around to wiring up my Lionel Legacy system today and it works very nice running all my old conventional locomotives. I still have to add a Legacy locomotive to my fleet though, to really take advantage of all the great features of the Legacy system.

Mike got some hints today about his BigBoy from the Indiana Hobbyspeed store. He's coming down tomorrow after we get back from taking Roscoe to the vet for a check-up. We'll implement the suggestions he got and if that doesn't work, we'll take a third trip to Indiana this week. At least the weather should be great tomorrow if a bit cold. In fact it looks like my wish for a Green Christmas may come true this year. There's pretty much no precipitation at all for the next week which takes us through Christmas day. That will be great. -30-


---

Tue Dec 17 2019 7:58PM - Mike and I returned to Indiana and the hobby shop again today. It was open this time. We spent a couple hours there buying various items too numerous to list here, so I'll summarize. I bought a Legacy control system for my Lionel layout plus a couple little parts. Mike bought a MTH control system and some other items including a Big Boy locomotive. After eating at Long John Silver's, we came home and played with some of our items.

I unpacked my Legacy system and checked it over. Then charged the batteries. I didn't want to go any further with it until I read the manuals thoroughly which I might do later tonight. If I do, then tomorrow I'll hook it up and test it out. Next we put Mike's Big Boy on track and gave it a test run. It didn't perform as expected though and we think there may be a problem in one of the two motors that runs the dual set of driving wheels. Mike will call the hobby store tomorrow to try to resolve the problem.

While Mike was packing up the Big Boy, I went to the shack and got a quick QSO with N5ID in AR for my streak. Now Mike is sitting across the room with his smart phone while I type this. I asked him for any comments and he just said to say our trip to Indiana went better than the one yesterday. -30-


---

Mon Dec 16 2019 7:49PM - Mike and I were greeted by an ugly sign when we parked in front of the Hobbyspeed store in Indiana, PA today. It said Store Closed Today - We're catching up on our Internet orders. Grrrrr!!! We drove all the way there for nothing. So we stopped at Wendy's for lunch then came back here to Kittanning. We're going to try again Wednesday. However, we'll call and make sure they are going to be open before we go.

So instead of playing with our new purchases we planned to get, we instead watched some train videos.

I had another QSO ended prematurely by QSB and QRN tonight. This time with N1MX in MA on 80 meters. The band has sure gone back to its old ways again after a couple weeks of good solid lengthy QSOs back mostly in November. -30-


---

Sun Dec 15 2019 8:16PM - The bands were strange tonight. I heard W9ZN calling CQ, and he usually always hears me call, but not tonight. I didn't even get a question mark from him. So I continued to search and found NJ8D at S9 calling CQ. He heard me and gave me a 599 report. However during his exchange the S9 quickly faded down into my noise and never did come back up. So no QSO. Back to the search. Finally with 42 minutes gone in the 0000Z hour, I found K3XR at S9 calling CQ, and managed to have two solid rounds with him before he had to QRT. Whew, that was a close call with Mike coming tomorrow for a day together. Plus I hate it when I get only a partial no-count QSO because I feel that may be a jinx and if I don't get anyone else for the day that would be a horrible way for the streak to end. But I don't have to worry about that for now.

Then just as I shut down and took off my headphones, the band on the phones broke right in two. It was pretty much non-fixable so I went and got my portable phones to use in the shack at least for the time being.

Tomorrow Mike and I are going to a model train store in Indiana, PA to buy some things. More about that tomorrow night maybe with some pictures. -30-


---

Sat Dec 14 2019 7:18PM - The bands were very poor again tonight, but I did manage a short, good, QSB-terminated QSO with W1OBJ up in MA to continue the streak.

About the only good thing to say about today is it's a good thing it wasn't s#$w, but rain. It rained on and off, mostly on, most of the day today with the temperature between 35 and 43. It looks like it will be a mix of rain and s@#w the next couple days now. Just enough to be annoying, no big storms. At least as the predictions go now. -30-


---

Fri Dec 13 2019 7:45PM - The bands took a couple steps backward tonight after being pretty good for several days now. 80 was the only band with signals and none of them strong. I did manage to get a QSO with WQ9H though after trying for a while with no luck.

Nothing much to write about tonight. I did get another Ebay package today with a building kit to add a store on my HO layout. Also I went for a couple walks/shopping trips to pick up some needed items. I'm not a believer in Friday the 13th, but I did have two batteries die today. One in my old mantle clock and one in a little timer I use to measure laps on my model railroad circuits. Maybe there is something to it. HI. -30-


---

Thu Dec 12 2019 8:03PM - That was one of my longest QSOs in a while tonight. I chatted with Doug WA4LJJ in KY on 80 for 48 minutes. Copy was virtually solid both ways the whole time with sigs at or above 599. Again I say it isn't propagation entirely making things hard on the bands. It's a lack of activity more than anything else. I guess everyone is scared away by the low sunspot numbers.

Not much going on today. I did get a couple of gifts in the mail which will go to my friends on Christmas. Still awaiting a couple others. It was a fairly nice day today after a brief s#@w flurry last evening that deposited about a half inch of the stuff on the ground, walks, and roads. -30-


---

Wed Dec 11 2019 7:43PM - After my streak of making my daily QSO in the 0000Z hour ended because of the ham radio meeting last night, I started up again tonight by working N3MLB at 0011Z on 80 meters.

Just a couple words about last night. First of all Mike and I left my house a little late to head to the meeting. Then one of those brief wrong turns slowed us a bit. Next it was off to Chili's for a meal, and the service, at least waiting for the check was a little slow. The big slow down was some kind of accident that closed the main road to the clubhouse, and we had to drive all over the country in that area to finally make it to the meeting which was underway when we got there a bit after 7:30. Had we made it at 7:00 as we hoped, I might have been able to use the radio room for my QSO. However when we arrived, all the rigs were being used and being a new member, I didn't want to try to "borrow" one, even for a few minutes. So the 0000Z streak ended.

However a couple other streaks were on the line also. The big main streak and the streak of entering every one of our NAQCC sprints. Those were taken care of after the meeting when my friend Jody K3JZD took me into the radio room and requested the use of a rig for me. The ham (I forget his call now as there were so many hams there I never met before or maybe met only once or twice some time ago) relinquished the rig and Jody helped me (or actually did most himself) figure out how to get a simple wire antenna connected to the rig, set it to CW, and then to 5 watts. As soon as that was done at 0208Z I got my QSO with a single call to NN9K in the NAQCC sprint.

Now let me see just how many days long the 0000Z streak was. It started on March 24, 2019 so that's 8 days in March + 30 + 31 + 30 + 31 + 31 + 30 + 31 + 30 + 10 in December or a total of 262 straight days if my math is correct. Not bad at this stage of a sunspot cycle near the minimum. And it wasn't propagation at all that ended it. I'll probably continue to try to get my QSOs in the 0000Z hour and see how far it can go. Then add the proverbial asterisk to the number to indicate the missing day. HI. -30-


---

Tue Dec 10 2019 10:38PM - It was a good day today with Mike. He came around 1:30PM, and we talked trains and watched train videos. Around 5:00PM we headed down to Chili's for a meal, then over to New Kensington for the ham meeting. On the way there, we ran into a road block and subsequent detour through these back roads that must have been built in the early 1900s. Finally we did make it to the meeting which took a little over an hour or so. After the meeting it was a pleasure to talk with Jody K3JZD, Marty (I forget his call), and Bob WC3O. Jody commandeered (so to speak) the radio room so I could get my streak QSO as well as a QSO in our NAQCC sprint. That was accomplished quickly after we figured out how to set up the ICOM (7300?) for CW, 5W, and connected to a simple wire antenna (40 meters dipole). I got NN9K in IL with a single call. Then we had a quick trip home where I am now typing this and Mike is on his way home. -30-


---

Mon Dec 9 2019 08:13PM - Tonight may be the end of my streak of making my streak QSOs in the 0000Z hour. Tomorrow evening I plan to go to a Skyview ARA meeting with Mike. The meetings start at 0000Z, so unless I impose on them to use their shack for my QSO, which I don't want to do since we are just new members, the 0000Z streak will have ended. Not the big main streak though. I'll have 22-23 hours to get a streak QSO for Wednesday. Hopefully we'll be home here in time for me to get a QSO in our NAQCC sprint to keep my participation streak alive for our sprints.

I received three packages from Ebay purchases today. Three Pennsylvania passenger cars that I bought knowing they needed some work which I performed today. They still need a bit more tweaking but they are speeding around my track right now as I type this. I also got some weights for some of my lighter HO rolling stock to help them run better. Still waiting for a scale to weigh the cars before I use them though. And a pack of smoke gaskets for my Lionel 736 Berkshire. I'll probably use one of them tomorrow although maybe not till Wednesday as I have a few things to do tomorrow.

It's 55 degrees right now. That's great for a third of the way into December especially since it's raining heavily and that could be s#$w if it was cold. Sun Dec 8 2019 01:50PM - It's an unusual time of day to be writing the diary entry, but it is a quiet day here, and I thought I'd take care of the pictures from the Trolley Museum. First of all, thanks to Mike for writing the diary entry about the Museum last night. Secondly, with 90+ pictures to choose from, it was hard to narrow them down for posting. I had to leave out a lot of good pictures to keep it down to a reasonable size here in the diary entry. I narrowed it down to about a dozen representing the different aspects of the Museum. So here we go now.



Here are the dynamic duo in front of one of the newest additions to the Museum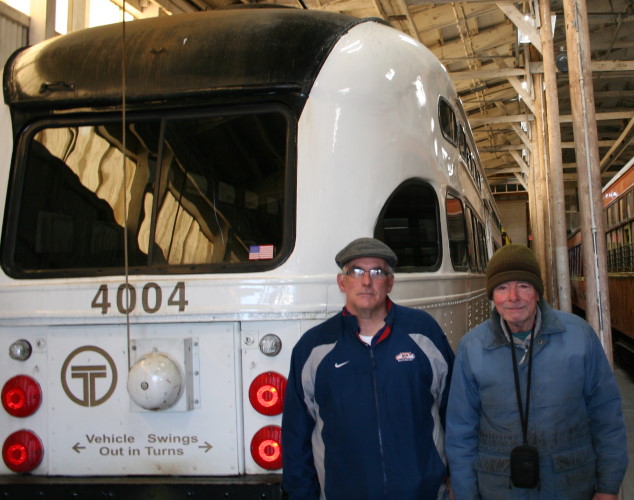 John standing in front of one of the two trolleys on which we rode (Santa and Yuletide)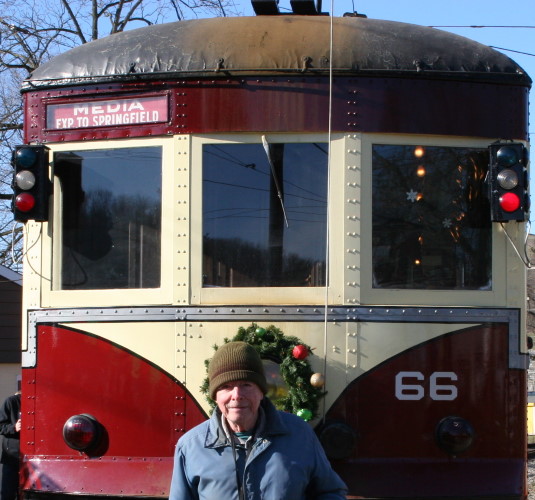 John, some jolly old fellow, and Mike. The host said you're never too old to have your picture taken with Santa, and as Mike and I walked up, I said, "and we're here to prove it"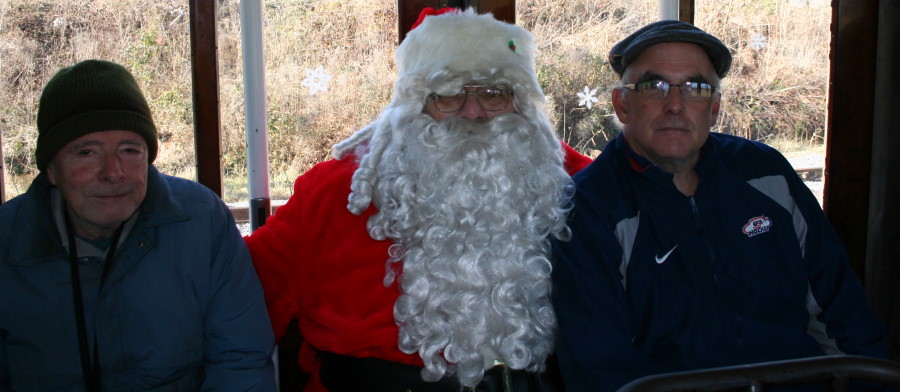 Here's a full side view of one of the trolleys we rode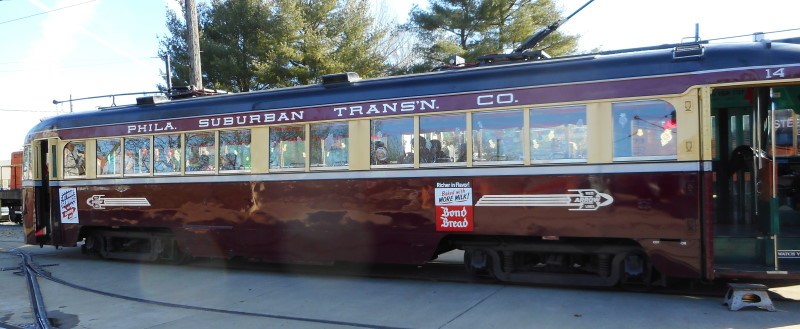 A view out the front window of the course we'd be riding on the Yuletide trolley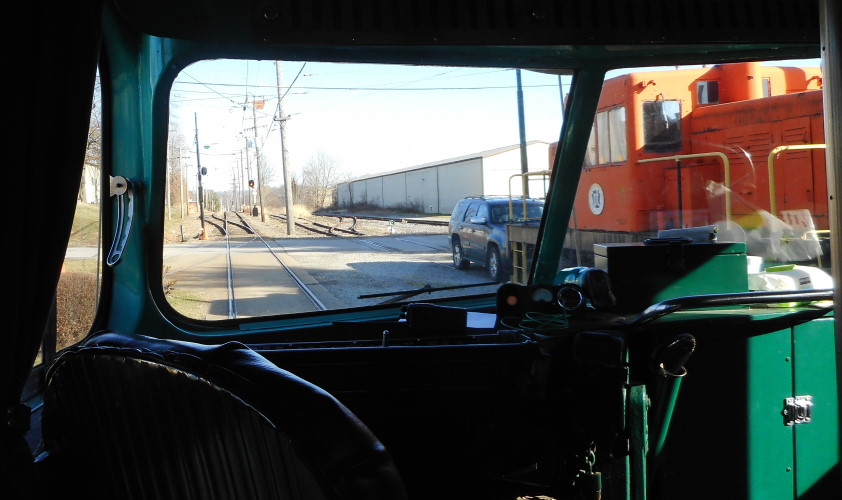 One of the trolleys similar to the ones I rode in Pittsburgh long ago. Kind of nostalgic seeing the Forbes Field one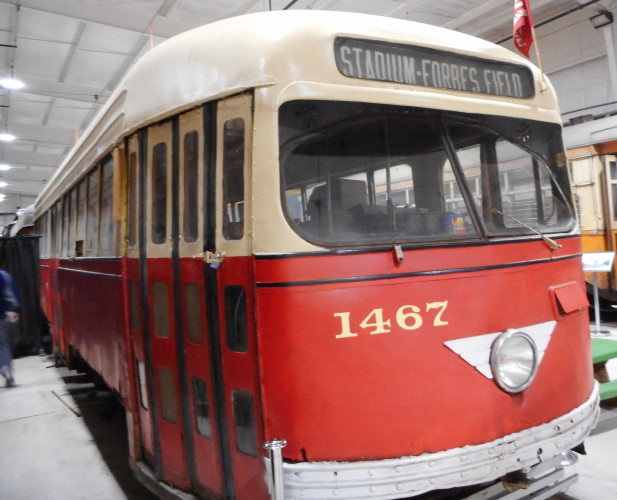 Another of the trolleys in the Museum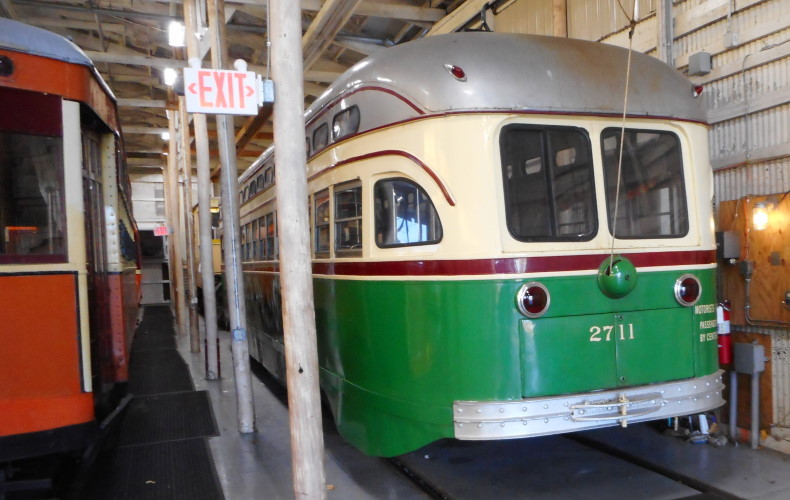 They also had two big model train displays there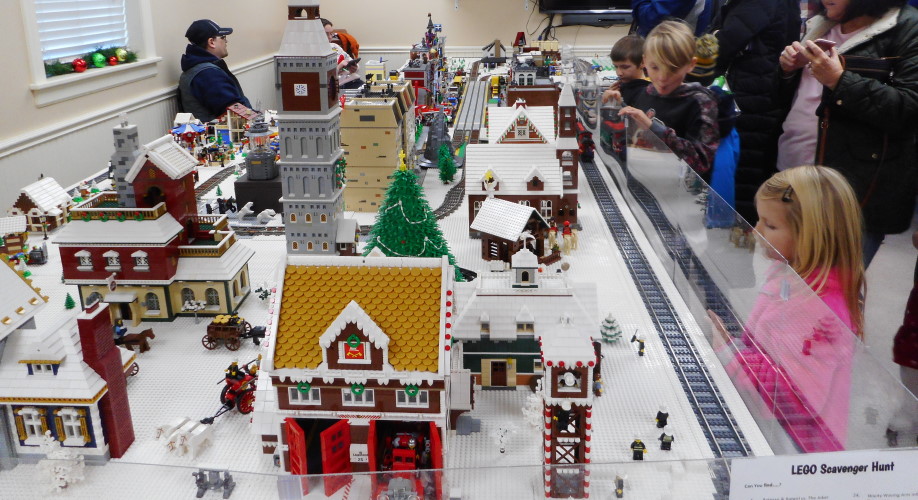 Two more general views of the displays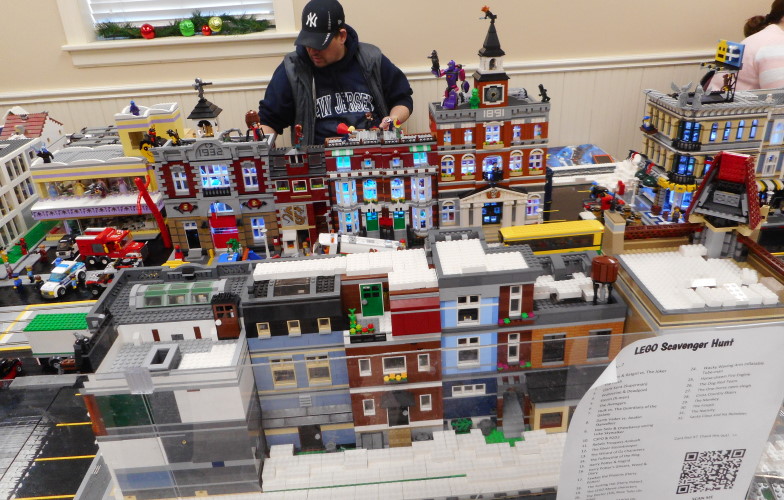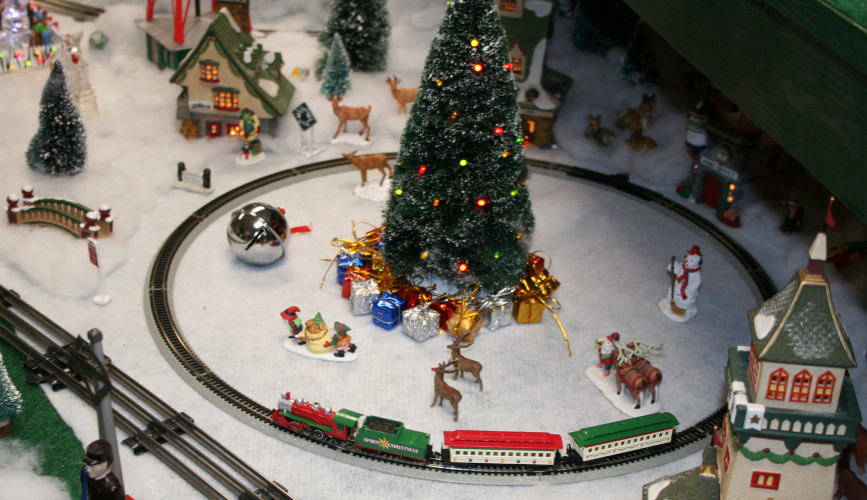 Kids (and the young at heart like Mike and I) will recognize the next two trains - The Polar Express and Thomas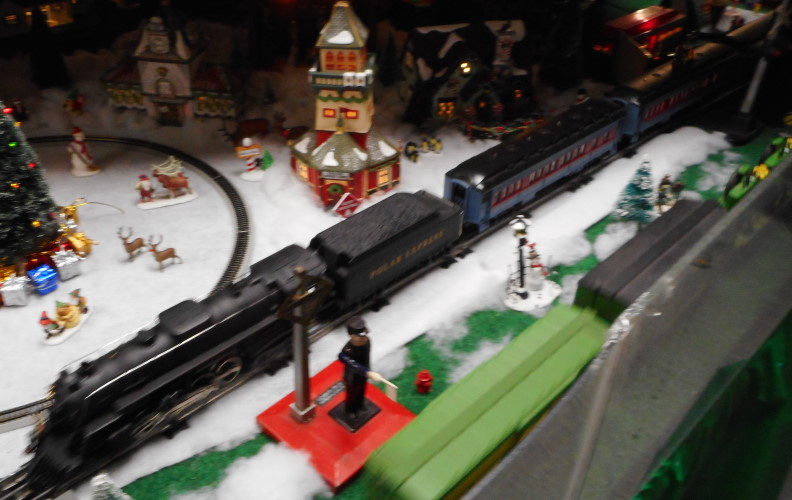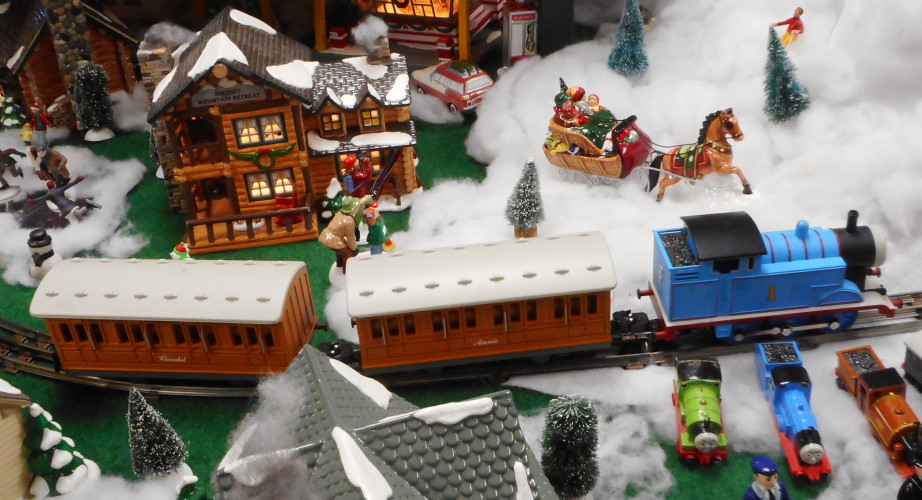 Nothing to do with trolleys or model railroads, but I enjoyed seeing this model of the Apollo 11 Lunar Lander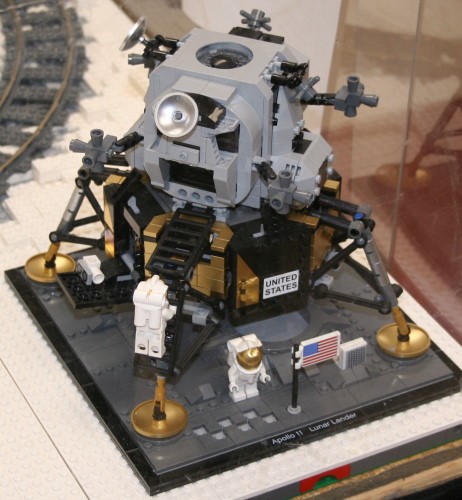 That's it. Hope you enjoyed the pictures and will go to see the Trolleys, etc. at the Museum yourself someday. -30-


---

Sat Dec 7 2019 08:22PM - I just asked Mike if he wanted to write a diary entry about our day at the Trolley Museum, etc., and he said yes. Then for tomorrow or the next day, I'll pick out some of the 90+ pictures we took and post them in the diary. So here's Mike now.

Good evening all. Our day started around 8:45AM when I arrived at John's QTH. We sat and caught up on a few things. Mostly model railroading. I brought my new set of New York Central Passenger cars to test run on John's O Gauge layout because it is much bigger than mine. These cars are 18" long. Much to long to try on my current oval setup. I gave John an early Christmas gift of my old NYC Pullman cars since they are much smaller than the new ones. After John walked Roscoe we headed out to the PA Trolley Museum. We thought we missed a turn on I376 for I79. We followed my GPS to get back on to I376 towards I79. As we exited I376 we noticed that there isn't a exit for I79 on I376 East bound. Who ever designed the road system in and around Pittsburgh needs to be beaten with a wet noodle. Pittsburgh has the worst road system that I have ever driven on. This comes from someone who grew up in New York City and lived in Europe and Korea.

We arrived at the Trolley Museum around 11:30AM which gave us 45 minutes to kill. We checked out one of their storage sheds with some very nice Trolley and Street Car pieces. After the quick tour of said shed (no not Cheryl's She Shed) we went back to the main building and picked up our tickets and I joined as museum member so I can attend the Trolley OPerators classes starting in March. We then headed over to the line for the Santa Trolley. We sat at the front of a packed trolley. There was singing of Christmas song's as we waited for Santas arrival so we could depart on our journey. We stopped at the halfway point so Santa could make his rounds to all the children on the trolley, John and I included. I struck up a conversation with the young lady who was driving the Trolley and the trolleys conductor. I explained how I plan on attending the operators course in March. They gave me a on the spot quiz to see if I knew what lever controled what. I think they were a little surprized when I gave correct answers for all of their questions. They trolley headed back to the main station. Just before we arrived at the station the trolley stopped so everyone who wanted a photo with Santa could get one. Yes John and I could not pass up the opportunity for a photo op. We told Santa that we were the oldest kids on the trolley. The master of ceremonies was more than happy to take photos of us.

We shortly arrived back at the main station so we could catch a ride on the Yuletide Trolley, which took us to the 'South Pole' which they have named the Wexford Station. We were barely off the trolley when the conductor pulled us aside and took us into the storage shed at that station and gave us a quick personal tour of a shed with some very nice museum peices. I think we were treated like royalty because of my interest in learning how to operate their trolleys. After our quick tour we boarded the trolley and headed back to the main station. After we arrived back I struck up a conversation with the trolleys operator about the electronic switching system which he graciosly explained.

After our trolley rides we went into the events building where they had a very nice Lego train and village setup. We then headed back to the main building where they had a very nice 0 gauge layout. We then headed to Best Buy so I could get a new media card reader to transfer photos from the memory card in my digital camera to my computer. After that we went for a late lunch early dinner at Applebees. You didn't think we were going to pass up on a meal while we were out and about, did you? We then headed back to John's QTH where we planned on an experiment with my new passenger car's on his layout. That ended quickly when one of my new cars could not negotiate the first curve. We sumized that I will need a larger radius curve for this passenger consist. Then it was off to John's shack to get his QSO for the day, which he had no issues in doing so with a contest on 160M. I followed by logging 3 QSO's from the contest. We also did some minor maintenace work on the couplers on the three passenger cars I gave him. All they needed were a good oiling. Now the couplers work flawlessly. John just got back from taking Roscoe for his last walk of the day. And I will be heading North to my QTH in a few.

Until next time this is KC2EGL Mike. 73 -30-


---

Fri Dec 6 2019 07:35PM - Of course the 160M Contest provided me with my streak QSO just about as soon as I tuned there after checking 80 and 40. Surprisingly, 40 had a few good signals. Some chasing DX and others rag chewing. I didn't feel like waiting around there though, so it was off to 160 at 0004Z where I quickly worked VE3KZ.

Tomorrow is trolley day as Mike and I visit the Trolley Museum in Washington, PA. The weather continues to look good with partly sunny skies and mid 30s temperatures. After that, we'll get something to eat somewhere then come back here for some model railroad projects. -30-


---

Thu Dec 5 2019 - I've been promising some Christmas pictures the last couple diary entries. Finally here they are.

First two views at approximate right angles of the tree with the first one also showing the window stencils.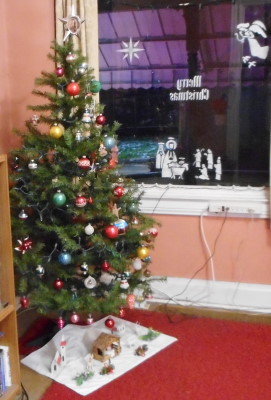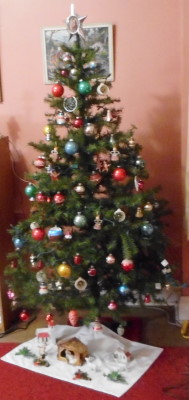 A close-up of the Manger scene under the tree. The real reason for Christmas.

The angels we made when I was in cub scouting many (many) years ago. There used to be more, but every once in a while we gave one away to some special friend or relative.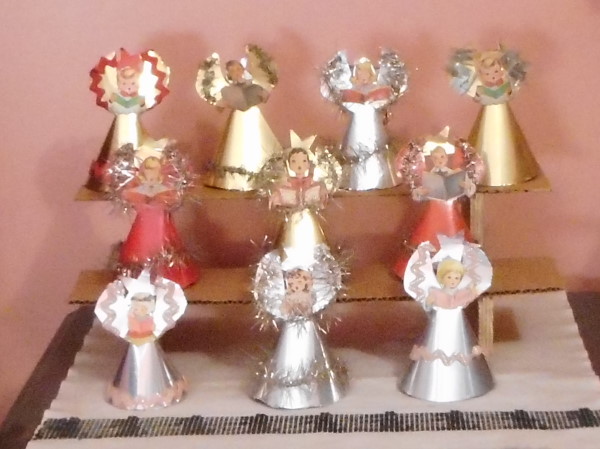 And I thought I'd throw in a picture of my HO railroad. The controllers near the bottom of the picture are L-R: My Digitrax DCC and Bachmann DC. The short piece of straight track is the programming track for the DCC. The other objects besides the locos and rolling stock are: A track speedometer that when in use connects to my laptop sitting on the chair. The computer mouse. Notepad. Track cleaning pad. Timer. Led light. One building which I hope will be the start of several more someday. Another controller for the switches.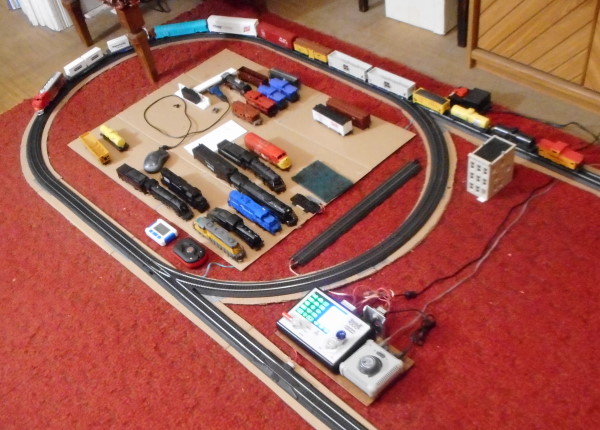 -30-


---

Wed Dec 4 2019 - Took a little longer to get my QSO this evening, but still made it well within the 0000Z hour as I've done every evening since mid-March. Once again a case of a lack of activity and not poor propagation was the reason for the delay. Once hooked up with W2IFB, we had a fairly solid 21 minute rag chew on 80 meters. Folks need to cease being scared of the alleged poor propagation and get on the air. Don't give up if you don't hear anyone. Try some CQs of your own. The band is waiting for your signals to propagate them somewhere.

I heard my friend Kam TI5/N3KS on 40 and called him a few times, but lost out to stronger stations. Then he wen't QRT before I had any more chances to call. I'm sure he would have heard me in the clear as he always does.

Not much going on today. I did take a couple shopping walks in between the s#$w flurries. I also stopped to get my Skyview ARA membership card laminated at a print shop here in town.

Still looks like nice weather Saturday when Mike and I go to the Trolley Museum. Sunny with a high in the upper 30s and no precipitation.

No Christmas tree pix today. Maybe in tomorrow's diary entry. -30-


---

Tue Dec 3 2019 07:52PM - Wow, a 40 minute solid rag chew on 160M with W3DF in MD. He was 599 pretty much all the way and said I was 579 to 589 all the way. So boys and girls, as I've been saying, the conditions are there if you just find the right band, right time, and someone in the location to which you have the best path.

Part of our discussion was about QRP rigs. He's getting one for Christmas, and said he looked at the KX3, but it was too expensive for him. He operates QRO and other modes. I said that yes, the KX3 is pricey, but for my MO which of course is QRP/CW only, it is a perfect rig, despite the price. I said if I was a QRO/other modes operator, I probably would have gone for a cheaper rig as a sidekick QRP rig, so to speak, instead of a mainstream rig as it is for me.

I finished my Christmas decorating today and now am looking at the tree across the room from me. I'll try to take a couple pictures tomorrow and post them here in tomorrow's diary entry. I also finished almost all my Christmas shopping today. I just have one or two little gifts left to get now. -30-


---

Mon Dec 2 2019 07:38PM - A busy day today with laundry, paying some bills, doing some Christmas shopping, and some Christmas decorating along with other things. I think tomorrow I'll try to finish my Christmas decorating. About all I have left is trimming the tree. I set it up this evening and just have to add the lights and ormanents. No, that's not a typo. If you remember the Party Line talk show on KDKA many years ago with Ed and Wendy King, Ed always referred to Christmas ornaments as "ormanents" to distinguish them as an entity unto themselves. I always think of that around Christmas time.

A fairly quick QSO this evening at 0009. I didn't find anyone calling CQ, so I called myself and it didn't take too long until Chris N3MLB answered me and we had a (2XQRP) 7 minute QSO. Amazing (or maybe not) that our QRP signals were S9 + 10 both ways. Yes folks, despite the sunspot minimum, conditions are (very) good over certain paths. So don't be hesitant to get on the bands. If you don't hear anything, call CQ. Somebody may be tuning looking for CQs to answer.

Mike and I have another event planned for this Saturday. We're going back to the Pennsylvania Trolley Museum near Washington, PA. Nothing ham radio related, but trains related. I think this is our 3rd, maybe 4th trip there, and it has always been enjoyable.

In case you're keeping track, I didn't have any Thanksgiving Dinner of any kind today. Just back to my fairly regular diet. -30-


---

Sun Dec 1 2019 07:25PM - An easy and solid QSO tonight with K3SEW on 80 meters. Propagation seemed pretty good this evening with a lot of stronger signals on 80 and even a couple on 40.

I put the November weather records in my computer today and for a change, the average temperature was below normal. Since January 2017, only 5 other months have averaged below normal, while 30 months were above by 5-10 degrees in several cases. There was a run of three below normal months from Dec 2017 - Feb 2018. Without those three the difference would be even more outstanding.

As far as the current weather, we got no ice and no s#$w at all last night. Only some rain, and not even all that much. That was perfectly OK with me.

I had Thanksgiving Dinner IV a little while ago. Now I think I'll diet the rest of the week.

I did a little more Christmas trimming today adorning my front picture type window with the traditional stencils depicting the true meaning of Christmas. Here's a picture: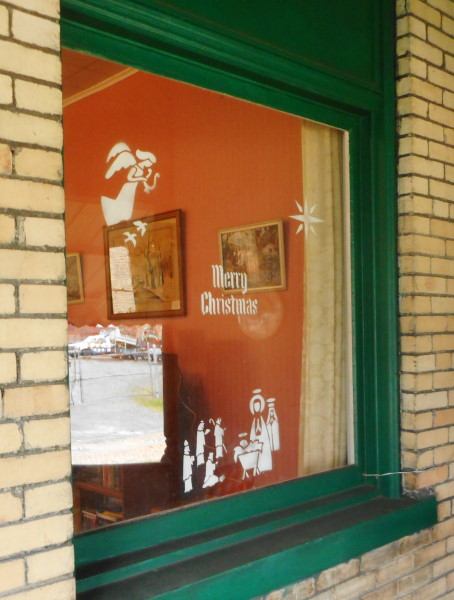 -30-