---
Mon Oct 25 9:14PM - Running a little late again tonight. It seems to take an inordinate amount of time getting my streak QSO with poor propagation combined with my high local noise. Not much to talk about anyway although I did get some financial and medical stuff done. But I'm not going to talk about that.

I kind of forgot about Wolfman Jack when I was talking about DJs yesterday. How could I forget about him? I used to listen to him on the big powerhouse Mexican station at 1570 on the dial, XERF which ran 250,000 watts and would ID as XERF in Del Rio, Texas. Several of WJ's radio shows are on the Internet and I plan to listen to some of them. I listened a bit today, but didn't have much time. What a great time it was for AM radio in those days, and brings back so many memories.

I am not sure which call letters the station in Cleveland on 1100 used at the time as they changed a few times, but they had a "Top 40" style countdown Sunday evenings and my mother and I would listen to it every week. I remember "Cherish" by the Association held the number one spot for many weeks in a row. I think maybe it was 13 weeks, but my memory is a bit fuzzy about that along with some other info, but it was a great. I'd write down the countdown songs every week, but I think I eventually threw them out, although they might still be lurking somewhere in all the junk in my house. HI Gotta run now. -30-


---

Sun Oct 24 8:34PM - OK, I got things done on time tonight. My laundry is done, my streak QSO is in the log thanks to W6SX in the SST sprint, and other chores taken care of. So I'm going to write about some Top 40 radio things.

Last night as I mentioned I listened to Cousin Brucie on my 77 WABC phone app for just about all of his four hour show. This afternoon I listened to the WABC 100th Anniversary Show with Dan Ingram and Ron Lundy with an exerpt of the "Day the Music Died" which was May 10, 1982 when WABC changed from Top 40 to Talk Radio (sniff, sniff) How sad that was. They will have another 100th anniversary each Sunday afternoon at 3:00PM. I don't know for how long, but I plan to listen.

I also listened to some airchecks on MS Bing from my other favorite DJs from the 60s and 70s like Art Roberts, Clark Weber, Larry Lujack, Ron Riley from 890 WLS. Jack Armstrong from 1520 WKBW. Chuck Brinkman from 1420 KQV. And my favorite of all, Dik Biondi who worked for a lot of stations, claiming he had been fired 23 times in his career. I also found a very interesting interview with Dick. That's only the tip of the iceberg since I just started this project today. There are many more great DJs from that era when AM radio was in its heyday before it degenerated to the Talk Radio (ugh!) of today. Of course Terry Lee and Cousin Brucie come to mind. As I said, I did listen to Brucie live yesterday. Oh and Clark Race, Rege Cordic and Bob Tracey from KDKA. Almost forgot them. Oh, Jack Bogut also from KDKA. I guess I could keep going too, but I'll stop here for now.

If you're into Top 40 Radio as I am, just start with a Bing search for "(your favorite DJ) airchecks" and go from there. Watch out for the time travel, it can be tricky and you may have to be dragged back to the present by someone. I almost got stuck in the 60s myself today. I am definitely going back to continue as often as I can. -30-


---

Sat Oct 23 10:35PM - No, that's not a mistake in the time. It really is that late for a few reasons. It took me almost an hour to get my streak QSO, then after that, I got a tail end call from a friend I hadn't worked in a while. Then I ordered a couple subs for my neighbor and me. Took Roscoe for a walk. Watched a couple TV shows with my neighbor, and finally I'm here writing the diary. Hope tomorrow is a little less crazy. Oh, I never even got into what happened earlier today, and I do want to talk about one thing in particular. That is, I listened to Cousin Brucie on a newly acquired WABC app for my phone. That led my mind to a lot of thoughts about Top 40 radio in the 60s and 70s which I want to talk about more in depth. Hopefully I'll do that in tomorrow's entry. -30-


---

Fri Oct 22 7:52PM - In case it takes a long time to get my streak QSO lately, I thought I'd at least start the diary entry early. Not really much to talk about anyway. Other than doing some organizing of pictures and other data on my computer and iPhone, anything else was just normal everyday stuff. Let's see what's coming up the next few days. Not much till Wednesday when Mike and I have our scheduled subpedition to the Requin. Then next Saturday I get part two of my Pfizer CoVid vaccination. That's pretty much what's out of the ordinary the next several days barring something unexpected. Time now to head to the shack to try to get my streak QSO. First I'll check to see if there are any helpful contests this weekend. -30-


---

Thu Oct 21 8:42PM - In contrast to yesterday, I didn't do much of anything today. I took a couple walks and went to the bank and Sprankle's. That was about it. Last night I found out that I have some more problems with the noise canceller. Things get bad when I transmit. My SWR goes through the roof among some other things. So I need to do some more research on the thing. Nothing is ever simple.

The noise actually wasn't too bad tonight. We had a heavy downpour while I was on the air. I'm wondering if there is a bad power line ground somewhere and all the water helped make a better connection. Despite the noise being not so bad, it was rough getting my QSO. There seemed to be little activity on the bands. It took 32 minutes of listening and calling CQ to finally find and work Ed N1TO on 40 meters. -30-


---

Wed Oct 20 9:42PM - I actually accomplished some things today! I pulled my garden plants. It was a very meager harvest this year. I'd say maybe two dozen tomatoes and a half dozen peppers. Compare that to 700-800 tomatoes several years ago along with a few dozen peppers, some lettuce and peas. My friend Ange had a less than normal harvest also, so it wasn't just my old age laziness, although that did contribute. I also pulled all my daylilly plants to let them winter over until next year. They are annuals, and come back every year like my tulips.

I also worked on my web site a bit, updating some of my QRP stats in the QRP Streaks section. In other ham radio action, I got my noise canceller set up to where it pretty much eliminates my strongest noise source, but still leaves the lesser noise sources. It seems to make a big differene with the one source gone now. I'll find out in a bit when I go for my streak QSO.

I also set up my iPhone for voicemail. Something I'd put off for quite a while now. I also did some house cleaning, so I've been a busy boy today - finally. -30-


---

Tue Oct 19 10:15PM - A late night tonight, so just a brief entry. Mike and I enjoyed dinner at Applebees, then the SkyView club meeting. I worked PJ4NA from there with 5 watts, but with a 40M 2 el beam so I had to get another simple wire antenna QSO when I got home, and I did. I had a nice rag chew with K6ZB in TX on 40 meters to keep the streak alive under my rules. -30-


---

Mon Oct 18 8:52PM - Nothing much to write about today. I did go to our local Rite Aid with my neighbor Bruce today. I picked up a few things and got to talk to a girl I know who works there. I also went to Sprankle's in hopes of talking to a friend there, but she was busy and I didn't want to bother her. I took a walk and sat in the park for a while, but it gets dark so early now I won't be doing that much longer, at least in the evenings.

Tomorrow at this time I'll either be at the SkyView clubhouse or riding home with Mike. Looking forward to that along with dinner at Applebees before the club meeting.

I made two QSOs this evening although the second one with W8BJO got wiped out in my local QRN. I did chat with KC1BMD through the noise for a while pretty well. -30-


---

Sun Oct 17 8:53PM - Although I'm not glad to see it, we finally had a day that seemed like fall. A high barely in the 60s, strong breezes that made it seem colder, and a lot of leaves blowing around. Brrrr. So no walks or trips to Sprankle's for me today. The only times outside were for walking Roscoe.

I forgot about the IL QSO Party. When I was into serious contesting, that was one of my favorites. Tonight it only served to supply me with my streak QSO, thanks to KF9D/P whom I have worked many times before.

Tuesday is a busy day here. Roscoe goes to the groomer at Noon. Mike and I go to Applebees for dinner, then on to the SkyView ARA for their meeting that evening. The first time there in a year and a half or more. -30-


---

Sat Oct 16 7:51PM - Starting early on the diary tonight. Going to watch a train video a little later. Not much to talk about anyway. It was kind of chilly in the park this evening but we did have somewhat of a sunset and I also saw one of my friends at Sprankle's after that. I hadn't seen her in a while.

Let's see if there is any contest on tonight that might be good for a quick streak QSO. Looks like the WAG Contest and the NY QSO Party should do the trick. If not, I'll come back and say so. Otherwise that's it for this entry. -30-


---

Fri Oct 15 9:07PM - Another late start to the diary. This time because of a long rag chew with K3MD on 80 meters. My noise was not quite as steady tonight, mostly on and off. Nothing much else going on today to write about, so I'll just close and update my Home and Propagation pages now. -30-


---

Thu Oct 14 8:34PM - I decided to work on my other log today. Besides my K3WWP log, I keep a second log for QSOs I make using other calls like N3AQC, N3A, NY3EC, WA3IXO, K3MJW, KB3MQT, to name a few. In that log, I have 5,622 QSOs to go with the 92,954 in my K3WWP log for a total of 98,576. Wonder if I'll make it to a total of 100,000 or not?

My QSO tonight came from K8JD on 80 meters in a nice 22 minute rag chew. Signals were strong on 80 tonight peaking above my noise level for a change. Nothing much else out of the usual going on today. -30-


---

Wed Oct 13 7:55PM - Almost streak time, so I'll start this now and finish after I get the QSO.

My noise has been really bad lately. Mike and I tried out the noise limiter last night and pretty much found out I have 3 or 4 noise sources, and the limiter can only handle one at a time. That is as far as we know now. I'll study it more later.

Meanwhile, here are 3 pictures from the parkpedition. Left is Mike, center my setup, right is me.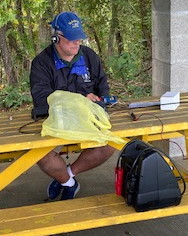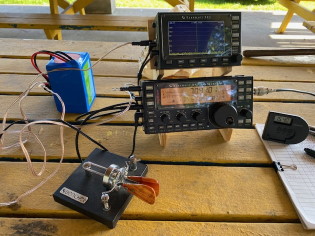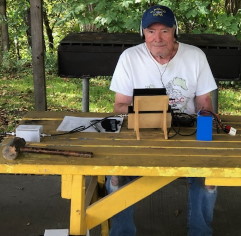 It was rough getting my QSO tonight. I finally wound up on 80 after striking out on 40-20. I may have to try some other day parts besides the 0000Z hour to see if the noise situation is better then. Anyway I made it tonite thanks to Brent KB4DZN in KY. -30-


---

Tue Oct 12 7:33PM - I'm starting this entry early tonight, but may not finish it until later. Mike and I had a good time on the parkpedition today even though there wasn't much activity. I made 12 1/2 QSOs (not sure if the one QSO was properly finished or not, but I put it in the log pending further review) on 40 meters, and Mike made 6 on 20 meters. The weather was close to perfect. Now it's almost time for me to go for my streak QSO, and then for a NAQCC sprint QSO at 0030Z. Maybe I'll be back for a couple pictures from today at the park.

No pictures. Took too long to get my streak QSO, then the NAQCC Sprint QSO. Maybe pix tomorrow. -30-


---

Mon Oct 11 8:44PM - Another of those quiet days with only one thing really worth writing about. I got another suggestion about what to do for day 10,000 in the streak. Thanks Dennis. It's a little less involved than the two previous ones, but all three will remain under consideration until I make a final decision. I may even use all three, who knows? Maybe some more will come in also. Well, I guess I better add this. Mike and I will be doing a parkpedition in Kittanning Community Park tomorrow for NAQCC anniversary week. We'll be using the call sign N3A/3. Hate having to use the /3 at the end, and I'm going to make a suggestion to the NAQCC officers for next years celebration that won't involve a / in the call. Anyway we'll operate 1500Z to 1900Z near 7041, 10117, 14061. Specific time and frequency depends on conditions. There will be two of the frequencies active simultaneously though barring equipment problems. Probably 7041 and 14061 most of the time with an excursion to 10117 if one of those two bands have a lack of activity. -30-


---

Sun Oct 10 7:29PM - I got a couple suggestions for a 10,000 day streak celebration. Tnx Geo and Jock. I will be considering them. Both entail quite a bit of work, but should be worthwhile. More about them later.

I'm still surviving my vaccination shot. Just a little sore arm where the needle went it. Otherwise all is OK, and I'm glad I got it after all the closeby CoVid activity and with my friends' activity.

Tonight my streak QSO will be someone in the SST sprint, I'm sure. Right now I'm doing my laundry as I type. Actually the washer is doing it, not me, to be precise. All I did was load the clothes and push the start button. -30-


---

Sat Oct 9 8:20PM - Some interesting things happened today. First I went against myself and my thinking and got myself a CoVid vaccine shot. Hey, I'm still alive and typing away. I was a bit scared about the vaccine, but got even more scared the past couple days when two good friends of mine came down with the virus, and then my next door neighbor's brother's daughter got it also. That was even more scary since the brother is in daily contact with his daughter and he also visits next door daily. So I chose the lesser of two evils and got the first Pfizer shot with a second one to come in 3 weeks, and a booster later.

I also saw another of my young friends at Sprankle's today, and we had a little chat, as good as we can during breaks in her check-out line. It's nice to go in a store where you get to know and even become friends with those who work there. It's a little hard in my situation with only being able to visit while she is working. I certainly do my best to keep from interrupting her work and getting her in trouble. Anyway I hadn't seen her in maybe a week or more.

No input yet from my request for ideas about celebrating day # 10,000 of my streak come December. See yesterday's diary entry.

The streak QSO tonight was fairly easy in the AZ QSO Party. I worked on 20 meters WB7TJD at 0007Z. Took a couple corrections of my call letters, but it became a solid QSO after that. -30-


---

Fri Oct 8 8:15PM - I got an interesting email today from my friend Mark WU7F who's been a diary reader almost from day 1 of the diary. He wrote: "I was doing another check-in on your website and diary when I realized how close you are to the 10,000 days mark! I'm curious, do you have any special plans to mark that momentous occasion? I hope so!"

I hadn't really given it any thought. I remember in the early days of the streak, I would announce some times and frequencies I would be operating when I reached another 1,000 day mark (1000, 2000, 3000, etc.), but I quit that some time ago. Maybe I'll revive that for the 10,000 day mark. Email me and let me know what you think, or if you have any other ideas. I'll consider whatever you say if the streak makes it that far and if I'm still around. HI Or maybe that doesn't deserve a HI the way things are going in this country and the world. -30-


---

Thu Oct 7 8:20PM - I got in touch with another WPIT employee today, Christa. We exchanged brief text messages, then she had a dental appointment. Hopefully tomorrow we can exchange more info. I also sent Tom a bunch of pictures of my ham activity, trains, friends, etc. I hope now that I can expand the number of folks as Tom and Christa may have info on some other employees. I'm really getting into this now. I also saw both of my current young friends today.

I worked Eliza at N4F in FL again tonight for my streak QSO.

Incidentally I couldn't upload my pages last evening in case anyone wondered why there were no updates until sometime today. -30-


---

Wed Oct 6 7:52PM - A quiet but good day. I saw my young friend at Sprankle's this evening. It's unusual she works two nights in a row. I almost didn't go to the store, but my neighbor Bruce needed a couple things, so I went. I thanked him for needing something when I got home. Otherwise I might not have gone to Sprankle's. OK I said about a month ago I wasn't going to talk about good/bad days and such. However things have been so quiet otherwise there is not much else to talk about most days.

Time now to go get my streak QSO. If it is anything exciting or different, I'll append this entry with the info. -30-


---

Tue Oct 5 8:54PM - One of those up and down days with some very high ups and some pretty low downs. Sorry to make you curious then not go into detail, but that's how it is.

I will tell you one very high up though. I got in touch with another old WPIT employee. We were great buddies at the station just like it was with Charlie. I'm looking forward to a large exchange of info with him in the near future. I guess I'll tell another up also. I saw my young friend at Sprankle's Supermarket this evening. OK, got to run now to get my weather, then wait for a pizza delivery. -30-


---

Mon Oct 4 8:13PM - Another pretty much nothing day today. At least nothing out of the ordinary. My QSO tonight to take me another step closer to 10,000 days in the streak was a 1x1 call from FL, N4F manned (womaned??) by an (x)yl Eliza. That's a bit unusual, I guess. -30-


---

Sun Oct 3 8:10PM - As is the case most every Sunday evening, my streak QSO comes quickly in the SST Sprint. Tonight it was my probably most worked station in the sprint, N7US, Jim out in IL.

I'm getting more into finding some of my old co-workers at WPIT, but not having much luck as it's been 30 years since I've seen most of them. I'm going to keep trying. I know where a couple of them have worked and/or are working and I'm going to explore that this week and see where it gets me.

OK, time to take the clothes out of the dryer and fold them now. -30-


---

Sat Oct 2 8:44PM - The wild week closed out on a mild note today. Nothing really good or bad happened. It was just the usual lineup of usual things. I got a quick CA QP streak QSO from W6C on 20M. Oh, I did upgrade my iPhone to the latest iOS #15. That went smoothly. I'm glad of that. I always fear major updates or upgrades to electronic gadgets. Although almost all I've ever done did go smoothly. -30-


---

Fri Oct 1 9:05PM - Wow, what a week, and it's not over yet. That's scary. HI I've had so many ups and downs that it feels like I've been riding a roller coaster or an elevator continuously. At least the downs have been few. I think that line is from the Ray Price song "You're the Best Thing That Ever Happened to Me". I'll have to check that later. Back on track now. Of course visiting with Charlie as I described in last night's diary entry was the biggest up of the week. There were a few more nice ups today also. I had two nice visits each with my young friends Jasmine and Haylee. The last one with Haylee was a little embarrassing though. I better explain that since I've said it now.

I hadn't seen Haylee for a while until I went into Sprankle's market this evening. I picked out a couple items that I needed and got in her check-out line. She is studying to be a vet, and I had some info to pass on to her that may be helpful to her. Anyway I was talking while she was ringing up my order. We never have much time to talk because the lines are always busy so we hurried to pass the info. While doing that, I forgot to pay for the order and I guess she forgot to ask me because we just exchanged "see you later" and I left. After I was home for a while, It dawned on me that I hadn't paid so I walked back to Sprankle's to embarrass and make a fool of myself. To make a long story short, Haylee was extremely gracious about the matter and I was very apologetic. I used an old saying about my mistake, "it's no use being stupid if you don't do stupid things now and then." Anyway it all turned out well. I said I'd think about it a while, then forget it. She kindly said "just forget about it now." The way she treated it was very professional and very kind. I appreciated that. The vet info I had for her was incomplete and I told her I was going to follow up on it if I could. Now I am definitely going to take care of trying to complete it after that.

There are other ups and downs left over to talk about, but I'm going to just stop here as it's almost time to walk Roscoe. -30-


---

Thu Sep 30 7:21PM - Not much of a day today. It's the last of a month day so I did most all of my EOM tasks. I still have to upload my September log to eQSL and LoTW and a couple other things which I will either do later tonight or tomorrow.

With that said, let me talk about yesterday. It was a great day for the most part. Mike arrived around 8:30AM and we talked a while before leaving for Pittsburgh and the Requin. We got our bit of lost driving out of the way quickly. We were busy talking and wound up on Rte. 422 West instead of 28 South. With that delay until we got back on track, we were 15-20 minutes late getting to the sub. Then we were using the sub's rig instead of our own, and figuring out the hookup and controls, that delayed us a bit more. Finally we got going, and slow going it was even though we were using 100 watts instead of our usual QRP 5 watts. We made only 11 QSOs or maybe it was 12?

When the 'sanitizing' break for the sub came at 1:30PM we packed up and left to go and see my friend from WPIT whom I hadn't seen in some 30 years. Driving in Pittsburgh is always confusing as it is, but neither of us were familiar with the route to Charlie's house. We did get there quickly though, and it was a delight to see Charlie again. Except for aging as with all of us, he looked pretty much the same as he did the last time I saw him. Mike and he quickly became friends.

Then started about 2 hours of going back in time to the 1970s and 1980s. We went through a picture book and list of most of the WPIT employees from that era and talked about all the folks. We had trouble remembering some of the employees as there were about 100 or so on the list. There were a lot of sentimental memories, letters, etc. from the time when our tenure at the station ended when it was sold and all the employees were released. One letter particularly moved me from Beth whose husband had a talk program on the station. She would answer the phone for him, and I would sit there with her while I had tapes running on the AM station. Doug, her husband was on the FM. She and I could and did sit and talk about just any subject you could think of. When I read her farewell letter to me out loud to Mike and Charlie, I broke up and cried. I knew we thought a lot about each other, but when she expressed it in writing and I read it, I couldn't hold back the tears. There were also many other nice parting letters and memories, but that one was special.

I keep virtually everything and I had a lot of items from the station that we looked over from listeners guides to program schedules, bumper stickers, time cards, and on and on. We had a lot of girls acting as secretaries, receptionists, office workers, on air personalities and it was interesting to try to remember them all. Some we just had names for, others maybe an unidentified picture. We did figure out most of them between me and Charlie, but some still elude us. After all it's been 30-40 years or more since we've seen them. One in particular was a Karen E---. I had some letters from her that seemed to indicate that we were pretty close, but I just couldn't picture her until finally just today I found a picture in a listeners guide I thought might be her so I called Charlie and he confirmed that it was her.

Another thing was our lunches. A few of the girls and I would have lunch together many times, and I have some of the menus we ordered and a couple pictures of the group. A couple of the men would join us also now and then. Usually I'd go around and write down what each person wanted after we decided which fast food place got our order for the day. Then either I or one of the girls and I would go out and get the food and bring it back to our lunch room in the station.

Or in the evenings when Charlie and I would be working together, he and I and sometimes another employee or two would order from a Pizza Shop called (I believe) Mama Pina's to have a pizza, onion rings, etc. delivered. The store and delivery person and we became really good friends, so much so that they were sad when we told them one night it would be our last order since the station was sold and we were all being released. It wasn't just because they were losing the business, but as I said because we had become friends.

I just took a break from typing to get my streak QSO from VE3QAM on 40 meters.

I could go on for many more "pages" about yesterday, but let me close with this and then a picture of me and Charlie. When we left Charlie, Mike and I went to Chili's for a meal, then a stop at Pet Smart where Mike picked up a few things for his new dog. Then to a Dollar Tree store in Kittanning for a couple more Dog and other items for Mike. After that Mike dropped me off at home and went home to his dog in Brookville.

Now the picture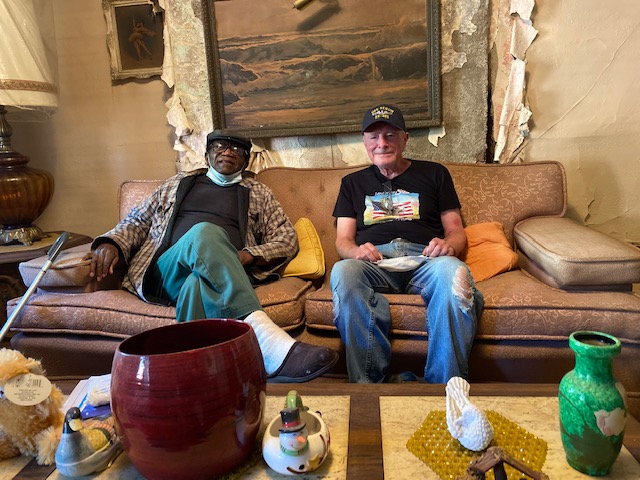 Of course that's Charlie on the left and me on the right. -30-


---

Wed Sep 29 9:09PM - An absolutely great day today that could make this diary entry book-length if I wrote it all down. Instead I'm just going to say tune in tomorrow when I'll have a "Readers Digest" story of the happenings of today. It's late now and I just got home not too long ago. So I'll just close here. -30-


---

Tue Sep 28 8:50PM - Not much to talk about today, so I'll talk about tomorrow. Mike and I will be heading to Pittsburgh to do a subpedition from the Requin. We hope to start a little after the sub opens at 1400Z and continue until 1730Z when the sub is shut down for an hour to "sterilize" it. This time we won't start back up again at 1830Z though. Instead we are going to leave at 1730Z to go visit a friend of mine from WPIT whom I haven't seen in person in about 30 years now. As for frequencies we'll try our usual 7041, 10117, and 14061 even though we will be using QRO power as I explained a few diary entries ago. We'll be using the sub call letters of NY3EC. Hope that covers it all. Hope to work you tomorrow. -30-


---

Mon Sep 27 9:10PM - A little late tonite for no particular reason. I was going to include a picture in the diary tonight, but I decided to postpone it until tomorrow night now.

I made a couple QSOs tonight for the streak. Again for no particular reason. I worked K4ABC in NC, then VE3FAC both on 40M. -30-


---

Sun Sep 26 8:18PM - Nothing much to talk about today, so I'll share a couple sunset pictures from last evening and a little story that goes with them.

As I do a couple times each day, I went to sit in the park. Usually one time, as it was last night, just before sunset, and after 15-20 minutes, a beautiful sunset started to be painted in the sky. It got better and better as time went by. I took a picture every time there was a change in the painting. All in all I wound up with 42 pictures in part one and two together. It did fade out not long after this picture was taken: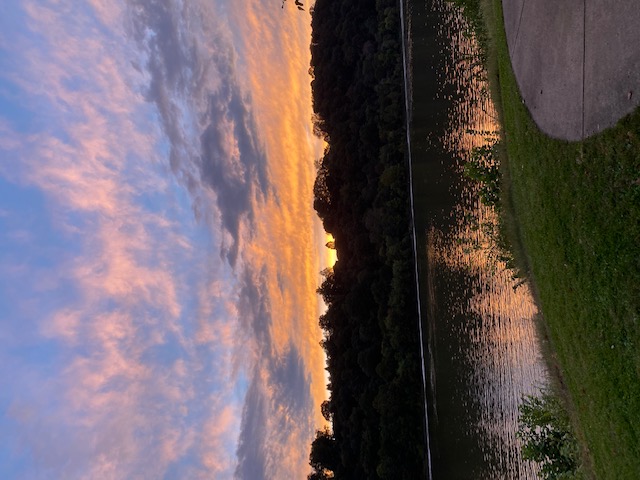 I walked down the park trail intending to go to Sprankle's Supermarket to see if a friend of mine was working that evening. Along the way I ran into a group of four teenage girls with a big dog. They were also taking sunset pictures so I stopped to talk with them. They were very friendly and we chatted for a while about the sunset and their dog. One girl said something about the dog's name that I didn't quite catch, so I asked her again. She said his name was Mingo. I asked how that name came about. She said he was a Rescue dog from Mingo County, West Virginia. I thought that was nice and told them so. Then I took one final picture and bid the girls so long. It was rewarding to see and talk to such nice girls in this day and age.

I then crossed the street, but when I looked back, a whole second part of the sunset started up, brighter and redder than before. I took some detours on my was to Sprankle's trying to find places to photograph this second round. It took up quite a bit of the horizon so I had to find some wide open places to get good shots. Here's an example of round two: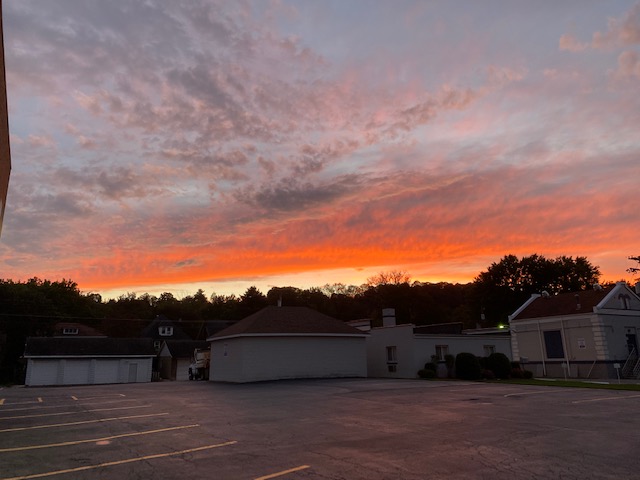 After the second round died out, I continued on to Sprankle's only to find my friend wasn't there. She had the day off, apparently.

Of course this being Sunday evening now, I'm doing my laundry right now, and I used the SST Sprint for my streak QSO with WG3J in DE on 40 meters. -30-


---

Sat Sep 25 8:13PM - Except for a beautiful sunset of which I got at least a couple dozen pictures that I'll share with Jasmine later, it was a day much like yesterday. My streak QSO was DX for the first time in about a week. I worked V31XX in Belize with just a couple calls and got a 579 which is usually an honest report. That was on 20 meters. Still no change in plans for next Wednesday as outlined in the entry for Sep 23. -30-


---

Fri Sep 24 8:34PM - Another day when nothing special happened. Just the usual everyday things. Please don't take that as a complaint because it isn't. Those everyday things are for the most part all good things, to be sure. Like chatting with my friend Jasmine for 5-10 minutes when she arrives home from school. Also going for walks around town. Sitting in the park and doing some thinking or meditating. Of course getting my daily streak QSO. Walking Roscoe up to five times a day. Visiting with Roscoe's owner, Bruce and chatting for a while. Working in the yard or garden. Those are the everyday things that occupy my time along with fixing and eating meals, of course. Not an everyday thing, but going shopping every couple days or so. -30-


---

Thu Sep 23 8:24PM - The bands were pretty active tonight with a lot of QSOs in progress. It was hard to find a CQ, but I finally did find and work K4JJW in NC on 40.

I had a busy day today. I helped Bruce with some computer work. Then I spent time with Art from the Requin, Mike, and my WPIT friend Charlie arranging a subpedition and visit with Charlie. All that will take place next Wednesday, the 29th. Mike and I will be operating on the sub with their equipment and call sign of NY3EC from about 10:00AM EDT until 1:30PM (1400-1730Z), then heading to Charlie's house. It should be a fun day, especially the visit with Charlie, whom I haven't seen in person since the early 1990s when WPIT changed ownership and all the employees including us were released. Ever since Charlie and I talked about getting together about 3 weeks ago, I've been going through my old WPIT memorabilia and going on a timetravel of the mind back to 1969-1993. Sure a lot of good memories, and I've found a lot of things I want to share with Charlie on our visit. -30-


---

Wed Sep 22 8:58PM - I had a nice visit today from newly found ham here in town, Jim N3SE. Jim is just learning CW and hasn't been active on it yet which is why we never met on the air. Tom WB3FAE heard him on the air late one night and told me about him. He seems to be very interested in learning and using CW.

Other than that again nothing out of the ordinary here, except we had a tornado watch for Armstrong County this evening. No tornado, but torrential rain. Think I'll go get my weather readings now and come back and let you know just how much rain we did get. Well over an inch, I'm sure. 1.70" in my rain gauge and still raining. -30-


---

Tue Sep 21 8:25PM - The last day of Astronomical Summer. Sad. Sigh. Can the horrible demonic Winter and its s#$w be far behind? Well, at least October and most of November are pretty good around here most years. Sometimes even December is passable, at least.

Today was the day to take Roscoe to the Vet for his annual check-up, shots, etc. He passed everything just fine. That was good to hear.

My QSO tonight took a little bit of time to make, but I finally got an answer to my CQ from Jake N9FGC in IN on 40 meters.

I'm playing phone/text tag with Art from the Requin and Mike to decide our next subpedition. Art said the sub will be open on Monday the 27th, but Mike can't make it Monday for whatever reason and wants to make it Wednesday the 29th. That's where we stand right now. I'll let you know when a date is decided on. We've changed our policy on our subpeditions. Since we activate the submarine for its benefit to keep the radio room alive, and not so much QRP and the NAQCC, we are going to use the ship's radio equipment at higher power than our QRP rigs. We think it is somewhere in the 75-100 watt range. We did that before on the Museum Ships on the Air weekends and it worked out well with the sub's not overly efficient whip antenna, and we hope we'll do well with that setup from now on for our subpeditions. We'll also only use the ship's call of NY3EC. In case you don't know, that call came from the ship's call when it was in active service in the Navy which was NYEC. Then the 3 was added to make it a legal ham style call. -30-


---

Mon Sep 20 2021 8:45AM - That's not a typo, it's 8:45AM. I received an interesting email about the early days of the County Hunters Net and want to share it here. I think it will be of interest to county hunters, present and especially past. I know a lot of hunters from the early days of the net in the mid-late 1960s are now gone, but hopefully some are still around and will enjoy this info although it is sad.

The son of one of the county hunters who was with us from the beginning emailed the following which he gave me permission to post in its entirety:

"Hello.
You mention my mom, k1uzg, Barbara Mikkelsen, as a mobile operator participating in the County Hunters Net.
I am her son. I was licensed in 67 as wa1jms, and now use my Dad"s call, k1uzk.
We had the opportunity to travel in the US for two summers. As my Dad drove, my mom used the TR4 mounted in the car to work the net. I remember us getting off the highway, towing our trailer, and driving down some tough dirt roads to cross into a new county.
I am writing you because Monday, 9/13/2021, my Mom passed away at 90 years old. She kept her license active to the end.
Thanks for giving her such pleasure, and my family good memories.
Carl Mikkelsen (Jr.) k1uzk"

Sun Sep 19 2021 8:11PM - Not much happening again today. My Las Vegas Raiders won their game against the Pittsburgh Squealers, er Steelers today. I enjoyed that.

As usual on a Sunday evening, my streak QSO came from the SST when I worked N5KB in IA on 20 meters. -30-


---

Sat Sep 18 2021 8:23PM - My late afternoon early evening pipeline to Finland worked this evening on 20M. I worked OH8WW fairly easily in the SAC contest for my streak QSO.

Other than that, it was somewhat of a boring day today. I can't even recall anything I did out of the ordinary, except do some weeding around and pruning of my rosebushes. We had some kind of fireworks display this evening. I wanted to try to get some pictures with my iPhone, but every time I heard them and went outside, they stopped and I figured they were over. That happened 3 or 4 times before they finally were over for real. -30-


---

Fri Sep 17 2021 8:56PM - I was just updating my Propagation page and the time got away from me so I'll make this short so I can get my weather readings on time or thereabouts. It was a pretty nice day today with mostly sunny skies and a high of 86 on my remote unit.

My streak QSO tonite was WW5W on 20 meters. It didn't last long as the band changed, but long enough to be a QSO to extend the streak another day. -30-


---

Thu Sep 16 2021 8:29PM - Looks like we may not be going to the sub next Wednesday. Two more folks who work on the sub have come down with CoVid, and the sub is now closed. For how long, we don't know, but it may be a while till the powers that be decide what to do about the situation. That also means a delay in visiting my WPIT friend. I was really looking forward to that. I've really gotten into my WPIT history with him. I've got a lot of papers from my time at the station, as well as tapes/CDs of my on-air work and other things. -30-


---
stat-counter.org