---
Sat Nov 27 6:47PM - Another quiet day with a couple highlights. I learned from Mike that he found a dog sitter for tomorrow so he'll be coming down for a tag team contest effort tomorrow in the CQWW DX Contest. I checked the bands around 1930-2000Z today and found them in pretty good shape, especially 20 and 15 which were still open, but mostly NA, Caribbean, and SA. I did work OH8X on 20, but that is not unusual. I often work him and other OH stations after the rest of EU has faded out. I only worked one other station, VP9I, as I was just listening for the most part to size things up for tomorrow.

Other than that, I was mostly on the computer and my iPhone watching some TV on Pluto TV on the phone. I like the old show "Facts of Life" and watched an episode of that. I also listened to some more WABC airchecks.

Late in the afternoon or early evening, I was getting a little lonely and decided to go to Sprankle's and see if any of my young friends were working. Nakoma was there and wasn't too busy and no one was in line behind me so we had a chance to chat a little bit about Thanksgiving and a couple othe things. That brightened up my day. I'm glad I decided to go.

Time now to get my streak QSO. Hopefully a quick one in the CQWW DX Contest. -30-


---

Fri Nov 26 8:02PM - Today was even quieter than yesterday. I don't think I communicated with anyone today except the usual daily text message exchange with Jasmine and my brief contest QSOs this evening. It was very cold today, not getting out of the low-mid 30s and quite windy so I stayed inside all day except to get the mail. Oh, and to replace the bulb in my porch light which burned out last night.

In case you wonder about no mention of any Roscoe walks, Bruce is now able to walk Roscoe without my help.

Pretty much like yesterday, I was on the computer and iPhone a lot listening to music, airchecks, and playing games. I also decided to edit my diary entries to cut down the size in the Diary Archives by taking out a lot of the personal non-ham stuff. Not all of it because you say you enjoy reading it for whatever reason. Besides all that, I did some house cleaning.

Conditions in the contest were horrible this evening. I wasn't heard at all by any of the Caribbean and Central American stations I usually work easily. However 20 was dead and that pushed a lot of stations onto 40, so the DX stations all had huge pileups, plus unlike the ARRL DX test, the DX can work each other also instead of just W/VE stations in this CQWW test. I did manage a couple QSOs for the streak though, working K5WA and K5TR on 40. I may get on during the day tomorrow and check things out to see what it might be like for Sunday if Mike can come down for a one-day tag team effort.

I guess that sums up the day except to add that there was some (shhhh) s#$w today that stuck just a little in some places. If you're new to the diary, and may not know (although I think it's pretty obvious) what s#$w is, it's a placeholder for an obscene word I don't use in the diary or anywhere else if I can help it. Just replace the symbols with an N and an O and you'll see what I mean if you didn't know already. -30-


---

Thu Nov 25 7:37PM - Thanksgiving Day in the USA. It was a very quiet day for me. I only had contact with one person and that was via text messaging. It was Jasmine (tnx). We exchanged brief Thanksgiving Day greetings. Well, also an email from Mike N4VBV with some Thanksgiving wishes. Tnx also.

I never left the house at all. I spent most of my time on the computer and my iPhone. I did have turkey. I made myself two turkey sandwiches from the sliced turkey I bought at Sprankle's Tuesday evening when I went to see Haylee. I told her that would probably be my Thanksgiving meal. Also a pretty big bowl of mashed potatoes. I was going to go to Sprankle's again and get some stovetop stuffing, but they were closed and I didn't feel like walking a couple blocks further to Family Dollar.

If that sounds pretty dull, in a way it was. However it gave me a chance to honor the holiday in the way it was meant to be honored. I thought of all the things I have to be thankful for from the past couple years. I think my friendship with Jasmine tops the list. Despite the big age gap, we spent a lot of good times together. Also helped each other out with some things along the way. Also my friendship with Mike ranks right up there too. I really enjoy it when he gets a chance to visit and do ham radio and train stuff along with a lot of other things as well. Also Roscoe and his owner Bruce are someone to be thankful for.

There are some things besides people also. My new iPhone has given me countless hours of use and pleasure from the use. Thanks Jasmine for urging me to get it. Also my Apple watch really keeps me on my toes with my exercise regimen along with other things. I got it because Jasmine has one and I saw how neat it was.

My young friends at Sprankle's are some other folks to be thankful for. It's nice to go in a store and get a warm greeting from the employees. I think they enjoy my greeting to them also from the big smile they give me. Then it's nice to chat with them a bit although we can't do much chatting since they are almost always busy ringing up orders, etc.

I'm also thankful for my health. Most of the time, I don't feel my 76 years, but instead maybe in the 50s or so.

There's more but those are the highlights. I hope you have a lot of things to be thankful for also, and were able to take a little time (or a lot of time like me) to dwell on them today. You'll feel better for it. Now I've got to put a proper closing here so the day's entries don't run together like they did yesterday. Thanks to Mike for pointing it out. Speaking of Mike, we took a couple of different picture poses at the sub yesterday. Let me fix and post them.

Before all that, let me comment on the streak QSO. It was tough tonight. I thought I'd quickly grab a DX station setting up for the weekend test, but they weren't hearing me till finally PJ2/WI9WI worked his pile down after going to split and I got him easily after just a few tries. That was on 40M.

One more note, then the pictures. My cousin Judy just left a Thanksgiving greeting on my voice mail. So that's one more contact. HI

Now the pictures in this almost endless diary entry.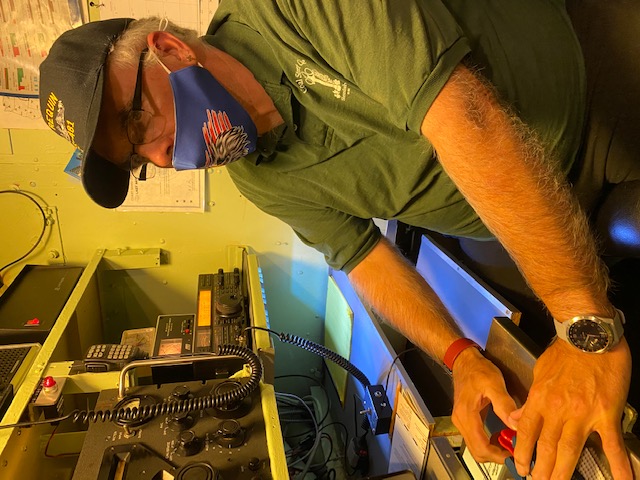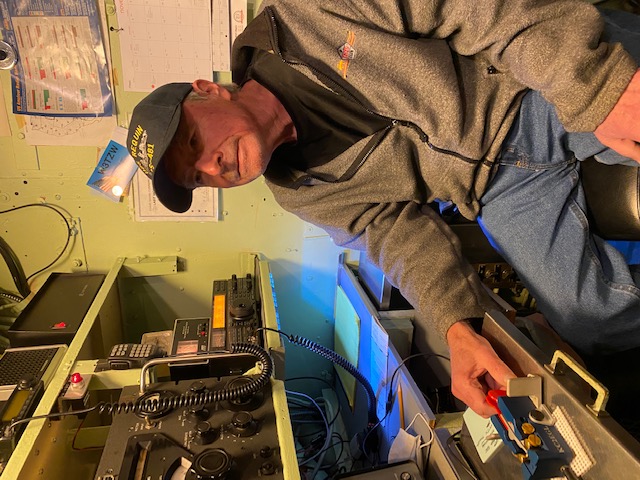 Of course, Mike on the left and me on the right. I was also wearing a mask, but took it off for vanity's sake. HI. Is that grey hair I see under those caps? And I wonder what I was thinking about in that pose? I'm sure Mike knows.(inside joke)

OK, now the closing tag. -30-


---

Wed Nov 24 8:07PM - Mike and I as usual had a good time. Today it was on the USS Requin in Pittsburgh. We arrived there about 20 after 10AM (1520Z) and got set up quickly. Activity seemed good, and we started working stations quickly. Activity ebbed and flowed diring the 5 1/2 hours (minus an hour for disinfecting the sub) or so we were there. We made 23 QSOs all in all. I made 9 and Mike made the rest. Along with that we had a large crowd of people taking the sub tours. I didn't count, but must have been at least 100 folks passing through. All of them friendly, and many surprised to see real live people in the radio room. A lot recognized Morse Code and we got a nice variety of questions about this and that. When it got close to time to go, we reluctantly shut down and headed to the Pittsburgh Mills. During the 1 hour time we had to leave the ship, we spent most of the time in the Science Center gift shop. Mike was looking for a Requin patch, but they didn't have them any longer. We were also looking for a Requin tee shirt. They had some, but we thought a bit pricey and weren't sure of the sizes they had. I also looked for a present for Jasmine, but didn't know what would be suitable so I didn't get anything.

After we left the sub, we stopped at Lowe's in the Mills to get a couple things or in my case, finding out they didn't have what I needed. Then off to Chili's for a big meal. Mike had a salmon dish and I had a chicken salad. Then on to home and a bit of fooling with my phone and TV which didn't accomplish anything at the time, but suggested a couple things. Then to the shack for my streak QSO (with C6AGU), after which Mike had to head home to check on his dog Jayden. -30-


---

Tue Nov 23 8:08PM - The bands were much more active or propagation was better than last night. There were a lot of strong signals on 80 meters especially and a few on 40 including some DX getting ready for the CQWW DX test. I didn't work any DX but did have a 14 minute rag chew with N3JJT on 80 meters.

Not a lot going on today. I did do a couple outside walks and some shopping as the weather wasn't too bad although not very warm either. I went to Sprankle's this evening just to see if any of my young friends were working as I wanted to wish them a Happy Thanksgiving. Haylee was working, but very busy. We did get to exchange greetings and chat a bit though. I confessed to her that I really didn't need anything and just wanted to wish her a happy holiday, but I thought I'd better buy something anyway. I got a smile as she seemed to get a kick out of that. Kind of brightened up my day.

Tomorrow should be a bright day as Mike and I will be going subpeditioning to the Requin as I detailed in last night's entry. I hope conditions are good and we can get there on time this round. HI. I think we've decided to eat at Chili's in the Pittsburgh Mills on the way home. Then we're going to see about hooking my iPhone to my Vizio TV so I can watch my phone screen on a big screen. Should be a fun day.

I also got ambitious today and raked the leaves around my house. I don't have any trees except a little pine tree but the neighbors' trees kindly(?) donate their leaves to my yard. At least it gives me some mulch for my garden area over the winter. -30-


---

Mon Nov 22 8:05PM - The bands tonight were horrible up to a certain point. I found very few signals on 80 or 40. Just a couple of Net stations on 80 and virtually nothing on 40. I thought for sure I was going to strike out in the 0000Z hour and would have to try again later tonight or during the day tomorrow. However, finally after almost a half hour of trying this certain station every several minutes, I finally connected solidly on 80 meters, and I exclaimed to myself, "How about that? How about that?" You see, the station was LZ3ND, the very first time I've ever worked Bulgaria on 80 meters, and the first new band-country since December 24, 2017. Wow!! Hard to believe, but I copied 3WWP perfectly and was certain of the K because he has worked me several times on other bands and didn't ask for a repeat. Nick is a very good operator and I wasn't totally surprised he did work me although it took a while with the previous tries. I did get several AGN ? the previous times I called him, so propagation must have increased just enough to boost my signal enough for him to finally get it. That's the most exciting ham radio moment I've had in a long time, maybe going back to that December 24, 2017 date when I worked SM4OTI on 80 meters for country # 61 on that band.

That kind of blocked out anything else interesting that may have happened today.

It was confirmed tonight that Mike and I will be going to the Requin in Pittsburgh for our annual day before Thanksgiving subpedition. Barring delays, we should be on the air with QRO power at 10A (1500Z) using the sub call of NY3EC. Bands and frequencies will depend on QRM, QRN, QSB, etc. Probably mostly 40 and 20 with a check of 30 now and then. Frequencies will be 7040, 10117, 14060 +/- 2 or 3 kHz as needed. We'll stick it out as long as activity warrants, but at least until 1:30P (1830Z). Why QRO, you may ask? Because it has now become an activity to use ham radio to promote the submarine for Art and the Science Center instead of promoting QRP. -30-


---

Sun Nov 21 8:18PM - Another kind of up and down day today like a couple days ago. I'll only dwell on the ups again.

I actually got on the air this afternoon for the first time in a while. I wanted to fool around with the noise limiter on 40, 30, and 20 and it was better to do that during the day. I works pretty much like it did on 80 last night. The noise gets knocked down a couple of S units which helps, but still the S/N ratio doesn't change much. It seems as we thought all along that it can only handle one of my several noise sources since they all have different waveforms. Bottom line is it helps, but not as much as I would like.

I went out this evening looking for some Christmas lights to photograph, but only found a few. It is a bit early. I'll have to go out again after December first. Still it was more practice using the camera in the dark to photograph bright lights. I also played with the camera/phone today learning more about editing photos and videos. I learned quite a bit, and didn't even have my tutor Jasmine around to help. HI I hope to see her tomorrow and show off my efforts to her.

The usual stories on Sunday evening. I'm doing the laundry now. I got my QSO quickly in the SST Sprint, this time from John N0TA out in CO on 40 meters. I also did a bit of shopping this evening at Family Dollar while I was walking around town. Save on shoe leather that way, I guess. Or whatever soles are made from these days. -30-


---

Sat Nov 20 8:47PM - A very busy day today. Let's see how much I can remember of what I did to make it busy. HI

The busiest thing was helping Ange in his garden burying his fig trees for the winter. I retired from doing the fig tree work a few years ago for the most part, the hardest parts, that is. I still helped him by standing on them to weigh them down while he threw leaves and dirt on them. However today since I was feeling really good after a great week, I did a little more than that. I guess that took about 2 1/2 hours or so.

Next up I did some more work putting my iPhone pictures into albums. After some more various things, I then added more pictures to the iPhone walking around town a bit photographing Christmas decorations.

I came home a little before 7 (0000Z) and went to get my streak QSO. I figured it would be an easy one from the LZ Contest and it was. I worked S52AW on 40 meters. I had to send many repeats, but he stuck with me. That says conditions are still not the best on the bands as I usually work him easily on 40 and higher bands.

After that, I decided to fool around with my noise limiter, and got it working a bit better. Still far from perfect, but it does cut the noise down by about 3-4 S units. Still the noise is around S5-6, but every little bit helps. I still am not sure about how it affects the S/N ratio. I think it does help pop the signals out of the noise, but not all that much. I need some more tinkering with that. I do have it where I can transmit by powering it down to transmit, then switching it back on to receive.

Next to last, there was a fireworks display for something, and I went out and took about 3 dozen pictures of them. Maybe about 2 dozen turned out good. I didn't do any fooling with settings on the iPhone or I may have been able to do better. I'm still learning things about it after some 8 months. HI. Jasmine helps me a lot.

Finally before typing this, I made a couple quarts of milk from powdered milk of which I have a lot from the food bank I go to each month. And that's it for a busy day. -30-


---

Fri Nov 19 7:49PM - An up and down day today. I won't talk about the downs. Jasmine and I exchanged some pictures of the beautiful sunset last night taken from two different locations. Tonight I was either a bit late checking or there wasn't a nice sunset this evening.

Tonight was our town's light up night. I had forgotten about it until I heard the fire engine sirens. Then I decided to go for a walk and mail my checks I wrote for some utility bills today. The post office is right next to Sprankle's so I thought I'd stop in there and see if any of my young friends were working. Haylee was there and I got a nice greeting from her after we hadn't seen each other for a while. She wasn't busy so we got to chat for a little bit. The parade was just going by there as I arrived. I tried to take some pictures but they didn't turn out good. As I told Haylee, there was too much conrast between the bright fire truck lights and the dark background.

I worked some DX this evening for the streak. It was LZ3ND probably getting set up for the LZ DX Contest tomorrow and Sunday. Maybe I can work him again tomorrow evening for another streak QSO. It was on 40 meters BTW. I only had to wait through a couple other stations before I got him with a couple repeats of my call.

I wonder what tomorrow will bring, good, bad, or in between. -30-


---

Thu Nov 18 6:48PM - Thought I'd write this early for whatever reason. HI It was another good day like the past several have been now.

Not as warm as yesterday, but still nice with a high in the 50s early in the day, then falling the rest of the day till it's 42 right now. It wasn't all that windy and that helped it feel not that cold. I wasn't outside all that much. I did some in the house cleaning. Something I should do more often as Mike pointed out a few diary entries ago. HI HI

It was nice to visit with Jasmine for a bit after school today. I showed her a time lapse movie of last night's sunset and a couple other pictures including the one of the lights around the door. She was a little chilly so I let her head inside. We usually do our chats out on our front porches.

This evening we had another nice sunset, better than last night. I took some still pictures and another time lapse movie. I was wishing Jasmine had been there. We could have double teamed the sunset with one taking still pictures and the other time lapse. However about a half hour or 45 minutes later I was surprised to get a text message with 4 beautiful sunset pictures from Jasmine taken wherever she was with her aunt. So we did sort of double team the sunset. It made me feel good to know she was thinking of me. I sent her a couple of my stills and said I'd show her the time lapse tomorrow since it was a big file and would take too long to text to her.

Time for my QSO now. Maybe I'll post a couple sunset pictures, but probably not. Stay tuned later to see. HI.

For those who tuned in later, here are two pictures: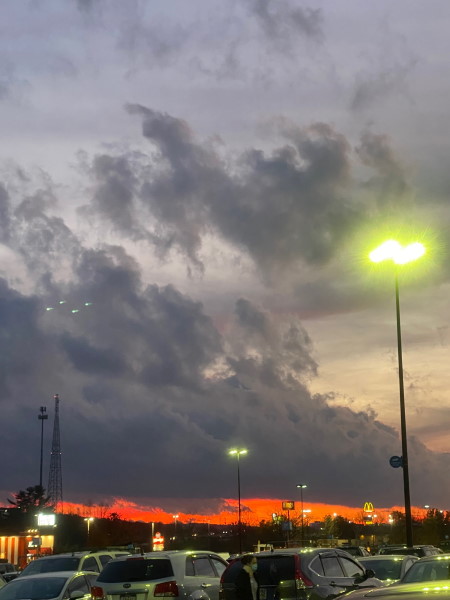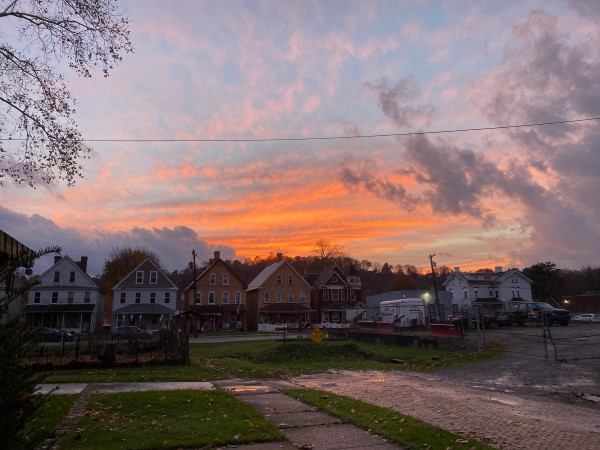 On the left is Jasmine's picture taken from one of our local malls it looks like. The other is my picture taken from in front of my house. I love the color in Jasmine's picture. The original shows it as an even more vivid red. -30-


---

Wed Nov 17 7:42PM - A beautiful day today in many ways. It was partly cloudy and mild weatherwise with a high of almost 70 (69 on my remote unit pending a check of my outside mercury in glass max/min thermometer at 9:00).

It was a nice day Jasminewise also. When she got home from school we spent some time together putting my Christmas lights around my front door. I enjoyed that a lot and she helped make the job easier by holding the lights as I put them up plus just with her company. Here's how the door looks now that it's dark.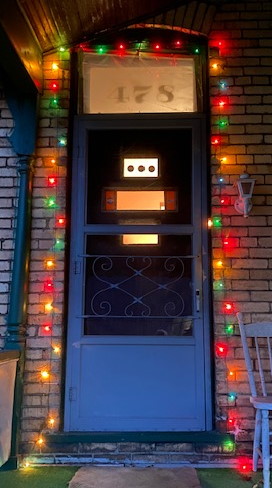 Pretty nice, huh? I used to meticulously line up the lights, but quit that a few years ago to give it a more "natural" look. Thanks, Jasmine.

After quite a bit of looking around, I had a fairly easy DX QSO with NP2J on 40 meters. Probably a station getting ready for the CQWW DX Test coming up before too long now. That will be a busy weekend. I might see what I can do in the Test on Saturday, then Mike will come down on Sunday for a tag team effort. After all that on Monday I hope Jasmine will be able to help me finish my Christmas trimming like she did last year. -30-


---

Tue Nov 16 8:23PM - It was a cold day today, but not as cold as yesterday in any way. The sun came out in the afternoon and the wind died down to make it pretty comfortable. Tomorrow we go back to early fall with a high in the mid 60s or maybe a bit higher. I had a very nice visit with Jasmine today after school. I'm going to put up my outdoor lights tomorrow and take advantage of the nice weather. Jasmine said she would help me after school if nothing comes up.

I had a couple good QSOs this evening. First with Tom W1PKX in MA whom I don't think I've worked before. Next a tail end call from Bob K8FN led to a 32 minute QSO. Bob and I have had many QSOs over the years, but not for a while now and it was good to get caught up on things. This was a good-feeling day for me. I'm going to celebrate with my neighbor with a sub sandwich from Vocelli's Pizza which I'll be ordering in a few minutes after I get my web site updates done. -30-


---

Mon Nov 15 7:46PM - Remember the old bit on the Tonight Show with Johnny Carson and Ed McMahon that went something like this if memory serves. Anyway it's close, if not exact. Johnny would say something like it was a cold day today in New York. Ed would then sneak in with the question how cold was it? Johnny would reply with something like this - it was so cold that I saw the statue of (somebody) in Central Park shivering. Or some other ridiculous thing like that. I think they also did it in summer with jokes about the heat.

OK, my version now. It was a very cold day today here in Kittanning. How cold was it? It was so cold that I didn't wait for Jasmine coming home from school. Not funny, but true and those who know me know how much I missed that.

Enough of that. Otherwise, the bands were decent this evening although not a lot of activity. I easily worked KP4YO Armando in PR on 40 meters. During the day I worked on organizing and editing some pictures on the computer. I only went outside to get the mail, put the garbage out, and walk Roscoe his usual 4 times (with one more yet to come). It's supposed to be a bit warmer tomorrow, then in the 60s on Wednesday. Hopefully I can see Jasmine and maybe go to Sprankle's to see if any of my young friends are working. We shall see what we shall see, as the old saying goes. -30-


---

Sun Nov 14 7:28PM - As usual on a Sunday evening, the SST Sprint provides me with an easy quick streak QSO and tonight was no exception, except I don't think I've worked this particular station in the SST previously. It was W8FN Randy in NC on 40M at 0002Z.

It was a quiet cold day today. I never even got out for a walk (except the brief Roscoe walks), probably the first time since back in spring unless it was a day when Mike was visiting and I didn't get out. I spent a lot of time on the computer and/or iPhone. A lot of it listening to WABC airchecks from the 60s and 70s. It's interesting how similar the WABC DJs sound to each other. I don't mean in content since they all have (or had) their own style. I mean in the tone of their voices. Perhaps the mikes were all equalized or it was in the recording of the checks. Nonetheless it has been, is, and will continue to be a great experience going back in time. I think I mentioned it previously that I'm sad that I didn't get to hear the daytime jocks live back then because the NY, Chicago, etc. stations didn't make it here in daylight or I didn't stay up for the all night jocks. I especially would have liked to hear Dan Ingram on WABC, or Chuck Greer also. As I check out different jocks, there are others too. I was able to hear Cousin Brucie WABC, Art Roberts WLS, Dick Biondi a few diff stations, Jack Armstrong mostly WKBW, Chuck Brinkman KQV, and others that don't come to mind right away after almost 60 years. Oh, there were also the KDKA jocks although KDKA wasn't a strict Top 40 style station. I speak of Rege Cordic, Art Pallan, Jack Bogut, Bob Tracey (think that was his last name?). Gee, I guess I could go on and on with a little more digging into my memory, but I won't do that now.

I hate to mention it which is why I didn't do it yesterday, I guess. However we had our first s#$w flurries of the season yesterday and today. No accumulation though, although we might get some the next couple days, before the mild weather returns on Wednesday (and hangs around for a long time, I hope.) -30-


---

Sat Nov 13 7:36PM - Tonight's streak QSO was DX for the first time in a while. I worked G6XX in some sort of contest on 40 meters. A fairly easy QSO with a couple repeats of my call.

I was busy and a little late with the diary entry last night. I wanted to post a picture of my flag which I was flying for Veterans Day. Here it is tonight one day late, but no less meaningful.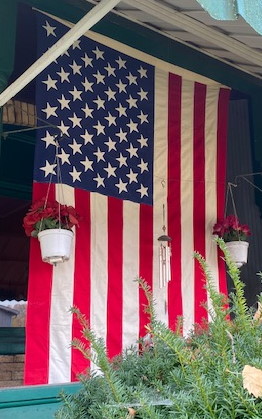 Of course as most of you know, that's the flag that draped my father's coffin back in 1964. I only fly it on special occasions like Veterans Day and the like. That's why it is in such good shape. I keep it folded properly and stored in a drawer when I'm not flying it. I have three very good friends who help do the folding, Bruce, Jasmine, or Mike. You also know those three from frequent mentions in the diary, so I needn't identify them further here.

It's getting closer and closer as you see from the countdown above. I'm talking about DAY # 10,000 in my streak of making a QRP/CW QSO each and every day. I'm getting more and more excited each day. Sure hope nothing unforseen happens to end it prematurely. That would be an ultimate disappointment in my life. At least tied with some other disappointments. -30-


---

Fri Nov 12 8:21PM - Another good day today. The weather was pretty nice although a bit windy which brought the wind chill down to a level that did seem chilly. In fact in late afternoon, I thought the wind would blow me off my park bench. HI

I had a nice hour long visit with Jasmine today. She's been so busy lately that I think that's the longest visit we've had since before school started in late August. School was closed today for a teacher's conference or something like that. Whatever it was, I took advantage of it. HI

Although I was late getting to the shack due to watching an old "Leave it to Beaver" episode with my neighbor Bruce, I got a quick QSO with K4QS in VA. I actually got a S9+20 report from him. He was +25-30 so I guess conditions were about perfect between us. However after about 12-13 minutes, he faded down into my noise in the matter of a minute or so and never came back up again.

I'm still doing a lot of listening to airchecks from old Top 40 stations and the Top 40 Jocks who worked there. Lately it's been mostly 77 WABC (if Mike were here, we'd both sing out the 77 WABC jingle right now. HI). It's so great to hear those jocks again or to hear some of them for the first time since originally they were on during the day when I couldn't get the NY, Chicago, etc. stations regularly. -30-


---

Thu Nov 11 7:58PM - It was a beautiful day today, perhaps the next to last one for a while. After an overnight rain, it's supposed to be sunny tomorrow before another mix of bad weather shows up for the weekend as an uninvited and unwelcome guest.

I went for several walks and sits in the park today to enjoy the nice weather. I guess that took up a large portion of my time today with no time for anything else except for my daily chores.

I had another little visit with Jasmine after school today. I always enjoy that and it helps me to keep feeling young hearing about her "exploits" as a teenager.

I had a nice ragchew with W8VLN in OH tonight. He was running 700 watts to a loop antenna and was at S9+20 for the entire QSO which lasted 27 minutes. He also copied me solid at S9 for the whole time. -30-


---

Wed Nov 10 7:46PM - It was rough again getting that streak QSO, but I persisted and finally found K4BSK on 80 and worked him to add another day to the streak. I got another good suggestion today about what to do when the streak reaches 10,000 days (if it does) on December 20. That's 3 or 4 now and I'm still mulling over which one (or more) to use. Stay tuned to see.

I've noticed an increase in the number of visitors to my web site lately. I don't really know why. Perhaps it has something to do with day 10,000 approaching, although if so, I would think it's a bit early for that. After all, there's no guarantee of the streak continuing that long. I sure hope it does, because I've put a lot of work and time into it and would hate to come up short. It's my only chance at a 10,000 day streak.

In other news, I've been cleaning house and getting rid of some "junk" that I'll never use again. I'm also finding some interesting items I thought were lost. One example is a phone number of an old girlfriend I haven't talked to in many years. The number is still active, but the voicemail I got didn't identify if it was her or not. I guess I'll see.

I was rewarded in a way today. Jasmine has helped me in many ways with my Apple iPhone. Today when I talked with her I was able to tell her about a trick I stumbled across and that she wasn't familiar with. It dealt with a way of activating the Apple watch we both have, without having to type in the passcode when putting it on the wrist. And that's about it for today.

Well, almost. I just want to close with some weather. It was another beautiful day today for sitting in the park in a tee shirt and feeling comfortable. We may have two more of those nice days, but then a preview of winter is scheduled for the weekend. Oh well, it is that time of year.

Oh, remember to honor our wonderful Veterans on their day tomorrow. Not many, if any, events here in this small town, but I plan to fly my flag. Diary readers know I'm speaking of the flag that was draped over my dad's coffin way back in 1964. -30-


---

Tue Nov 9 7:57PM - Again nothing much to talk about. Interestingly we haven't had a drop of rain in November so far, and the vast majority of the time we've had clear sunny skies or at worst partly cloudy skies. Very rare for what is usually the gloomiest month of the year. It might be interesting to do an analog forecast and check for similar starts to Novembers in the past and see if there is any correlation to how the following winters turned out. Even with computer records though that is a little more time consuming than I would like, but.....

I worked ND for my streak QSO tonight. Maybe my first ND QSO this year? Unless I got one in a contest. Maybe I'll check. It's my second ND this year. I worked AC9EZ/0 on a POTA outing back on June 22. Before that though, I have to go back to August 20, 2014 to find another ND QSO. My Excel log shows a total of 112 ND QSOs from my home QTH here. Maybe there are others in my portable logs, but they are separate and I'm not going to check now.

Back to weather for a moment. It looks like the nice weather will end this weekend with cold and s#$w mentioned on Sat and Sun. Brrrrr. No more sitting in the park for a while. And just when I had a nice talk with a young girl walking her dog today. Probably won't see her again. Oh well, that's life for me. -30-


---

Mon Nov 8 7:37PM - My noise was really bad tonight plus conditions seemed poor on top of that. I struggled to work VE3WH on 80M, but wasn't 100% positive of his call although the name and QTH matched QRZ as near as I could tell. I wasn't completely satisfied with the QSO though so I found and worked N9MM on 40M for a solid QSO. -30-


---

Sun Nov 7 6:39PM - Mike was here today, so you know it was a good day. He arrived around 9:45AM. For the first couple hours, we sat around listening to Dan Ingram, Ron Lundy, and Cousin Brucie. Ingram and Lundy were closing out an era of WABC on May 10, 1982 when WABC dropped its Top 40 format and went to Talk Radio. It was sad to hear real radio ending in NYC. As part of that broadcast from 39 years ago, there was a wonderful montage of the sounds of WABC featuring the music and jingles of the era. It was immaculately put together by several engineers and board operators and lasted some 36 minutes. All I could say at the end of it was a big "WOW". Having been in radio, I appreciated the amount of work that had to go into putting that montage together.

Mike adds: I wish I would have still been living in NYC at the time because hearing it live instead of recorded on the Internet would have been much sadder as it marked the end of an era. I grew up listening to them when I was a kid.

After that, we did something I wanted to do for some time, but really needed some help with it. That is cleaning my train layout. If dust is really for the most part human cells, we could easily have made a new person. Removing all the equipment, buildings, railroad signals, etc. took a lot of time, then we used my shop vac to pick up all the dust, etc. before putting all the objects back into place. We took pictures of the layout beforehand so we could know where everything went. It really looks nice and clean now.

Mike adds: John recreated the Dust Bowl from the 1930's in miniature. He needs to fire the maid he has now and hire a whole squad of maids because his dusting skills are horrendous. I had to go and dust myself after all that. I brushed off a miniature Sahara Desert from myself.

Next up we did some research on my noise problem. We took an old transistor radio and checked for noise in my house somewhere, and didn't find any. Then we went out and walked around the neighborhood and found several (16 Mike says) transformers making noise. We're certain that's where most of my noise, if not all, is coming from. We didn't check all 16 poles, but several of them did have broken ground wires which may contribute to the noise problem.

Next one of our favorite activities, eating. We went to Ponderosa in Butler and stuffed ourselves to the limit.

On the way back home we stopped at Walmart and Dollar Tree to pick up some things. Now here at home I'm sitting here typing while Mike takes life easy in a chair across the room and comes up with an occasional comment or funny insult for me to insert here in the diary. Next it's to the shack for a quick streak QSO from the SST sprint. -30-


---

Sat Nov 6 9:08PM - If your area observes Daylight Savings (Shifting) Time, remember to go back to Standard Time tonight. You know that I consider Daylight Savings Time a misnomer because no daylight time is saved it is only shifted from the morning to the evening. I like the old Indian thought on the subject. They say it is like cutting a foot off the end of a blanket and sewing it on the other end to make the blanket longer. So true. End of soapbox comments on that till next time we change the times in the spring.

My good week continued today as I saw another of my young friends at Sprankle's that I hadn't seen in a couple weeks. It was nice to see her again and she seemed happy to see me also. She has a Native American name that means roughly "Great Warrior" so I have to be good to her or else. HI

Of course the Sweepstakes provided an easy and quick streak QSO from KI9A at 0001Z. After that I changed all my clocks. Of course there will be at least one I'll find in the morning that I forgot. However I think all the ones I didn't change now change themselves automatically. We'll see. HI -30-


---

Fri Nov 5 9:08PM - I had a fun day today. Every year around this time I get a big dividend check for $1.00. I like to make a joke of it when I cash it at the bank. Some times the teller gets a kick out of it when I tell them I have a huge check to cash and I hope they have enough cash on hand to take care of it. I say that in all seriousness, then hand them the check. I got a good reaction from the pretty young teller today. She was wearing a CoVid mask, but I could read her thoughts in her eyes. I could see her laughing at it. We joked about it a bit more, then she asked if I wanted it in 100 pennies. That was the first time anyone came back to me with that. Too bad she had the mask on. Although what I could see of her face looked like she was a very pretty girl.

After that, Bruce and I went to Walmart to get some food for Roscoe and a couple things for me. I had trouble finding what I was looking for and I noticed a pretty girl doing some stocking work, and I waited for a pause in her work and asked if she could help me, and she said sure, she would see me at the section in just a minute. I went and waited, and she did come and help me out. Unfortunately(?) she was wearing a big diamond wedding ring, but we had a nice chat anyway while she was helping me look for the right size (36x29) jeans. She couldn't find a pair either and I said I'm jinxed with hard to find sizes like my 8 1/2 wide shoes. She said her husband is the same way. Anyway I settled for a 36x30 which should work as I have a pair like that which does work although comes down over my shoes a bit more than I would like. OK enough of that far afield story. HI

I got a quick QSO tonight as 80 meters was pretty good after the geomagnetic storm yesterday. Copy wasn't great but the QSO with WA4NLF in NC lasted 18 minutes. It seemed he copied me easier than I was copying him. -30-


---

Thu Nov 4 8:47PM - With an A index of 69 today, you would expect conditions to be poor this evening, and they were. However there was one strong signal on 80, and the owner found and answered my CQ, thank goodness. It was my friend whom I've met in person at various hamfests, Tom KA2KGP from Forestville, NY. So thanks Tom for extending the streak another day. Otherwise it would have been a real struggle with bands mostly dead.

It was a beautiful day, if on the cold side. I did get in a couple good walks and took some fall foliage pictures. The leaves weren't all that nice this year mainly because of the warm October. It was nice enough to sit in the park for a while, but not for very long at a time. I also got to see Jasmine again today for a few minutes after school. I showed her the foliage pix, and she gave me a tip on accessing the camera quickly on my iPhone.

All in all, I'd rate it a good day. Tomorrow I hope to do some shopping with my neighbor Bruce for various things for us and for Roscoe. -30-


---

Wed Nov 3 8:28PM - Conditions weren't all that good this evening, but I managed a nice QSO with Joe K3JN from Cresson, PA. Turns out he goes through Kittanning here on his way to the Butler Hamfest. So Mike and I may have seen him there sometime although I don't recall his call. That doesn't mean anything though the way my memory is at times. He agreed about the new location of the Butler Hamfest not being as good as the old one.

It was a cold day again today. I did go out for a walk, but didn't stop to sit in the park as I usually do.

I saw another of my young friends today whom I hadn't seen in a while. I'm talking about Jasmine who has been very busy of late with her senior year of high school among other things. It's so great to have young friends. It really makes an old timer like me feel young again. A ham friend of mine made a great point some time ago when we were talking about having young friends. He said he totally disagrees with the "Sun City" type of retirement villages where a bunch of old people live together. He said it is more beneficial to old folks to have young friends instead. Right On!! Other folks may disagree with that, but that's their problem. Perhaps they don't have young friends so they don't know how great it is. I'm just very thankful for my situation here no matter what other folks may think of it. So there! HI HI. -30-


---

Tue Nov 2 7:59PM - Ooops, time to go off to the shack. Back with a report of my streak QSO shortly (I hope).

Back with two QSOs, one on 80 from N9BSO in MO and one on 40 from K5WK in MS.

That's pretty much the story for today. I'm looking forward to Sunday now when Mike will be visiting. We were planning on going to a hamfest, but it has been cancelled. So we're going to have a "goofing off" day instead. The diary that evening may be interesting, so plan on checking it out. -30-


---

Mon Nov 1 7:41PM - A good day today and an interesting one. I did my October weather report and it turned up some interesting stats. It was the warmest October in my records going back to 1960. The mean temperature was 60.8 or 7.6 degrees above normal. The average daily low was 51.0 or 8.7 degrees above normal. Only the very unusual October of 1963 kept this years average daily high of 70.6 from being a record. It was 76.5 in 1963. In that year, we had only .29 inches of rain, and with mostly clear weather most of the month, the daily temperature range average was 35.9 degrees from 76.5 to 40.6 degrees. The normal daily range for October is now 22.5 degrees. The monthly low this year was 40 degrees, the first October in my records it never dipped below 40 degrees. The average October low is 28 degrees.

The good part was seeing one of my young friends in Sprankle's for the first time in a while. I decided to head there shortly after 5PM to see if any of them were working. It turned out Haylee was there in her usual check out line, so we got to chat for a bit till someone else got in line behind me. OK, now it's streak QSO time. Hope I can get a quick one. -30-


---
stat-counter.org