---
Sat Dec 14 2019 7:18PM - The bands were very poor again tonight, but I did manage a short, good, QSB-terminated QSO with W1OBJ up in MA to continue the streak.

About the only good thing to say about today is it's a good thing it wasn't s#$w, but rain. It rained on and off, mostly on, most of the day today with the temperature between 35 and 43. It looks like it will be a mix of rain and s@#w the next couple days now. Just enough to be annoying, no big storms. At least as the predictions go now. -30-


---

Fri Dec 13 2019 7:45PM - The bands took a couple steps backward tonight after being pretty good for several days now. 80 was the only band with signals and none of them strong. I did manage to get a QSO with WQ9H though after trying for a while with no luck.

Nothing much to write about tonight. I did get another Ebay package today with a building kit to add a store on my HO layout. Also I went for a couple walks/shopping trips to pick up some needed items. I'm not a believer in Friday the 13th, but I did have two batteries die today. One in my old mantle clock and one in a little timer I use to measure laps on my model railroad circuits. Maybe there is something to it. HI. -30-


---

Thu Dec 12 2019 8:03PM - That was one of my longest QSOs in a while tonight. I chatted with Doug WA4LJJ in KY on 80 for 48 minutes. Copy was virtually solid both ways the whole time with sigs at or above 599. Again I say it isn't propagation entirely making things hard on the bands. It's a lack of activity more than anything else. I guess everyone is scared away by the low sunspot numbers.

Not much going on today. I did get a couple of gifts in the mail which will go to my friends on Christmas. Still awaiting a couple others. It was a fairly nice day today after a brief s#@w flurry last evening that deposited about a half inch of the stuff on the ground, walks, and roads. -30-


---

Wed Dec 11 2019 7:43PM - After my streak of making my daily QSO in the 0000Z hour ended because of the ham radio meeting last night, I started up again tonight by working N3MLB at 0011Z on 80 meters.

Just a couple words about last night. First of all Mike and I left my house a little late to head to the meeting. Then one of those brief wrong turns slowed us a bit. Next it was off to Chili's for a meal, and the service, at least waiting for the check was a little slow. The big slow down was some kind of accident that closed the main road to the clubhouse, and we had to drive all over the country in that area to finally make it to the meeting which was underway when we got there a bit after 7:30. Had we made it at 7:00 as we hoped, I might have been able to use the radio room for my QSO. However when we arrived, all the rigs were being used and being a new member, I didn't want to try to "borrow" one, even for a few minutes. So the 0000Z streak ended.

However a couple other streaks were on the line also. The big main streak and the streak of entering every one of our NAQCC sprints. Those were taken care of after the meeting when my friend Jody K3JZD took me into the radio room and requested the use of a rig for me. The ham (I forget his call now as there were so many hams there I never met before or maybe met only once or twice some time ago) relinquished the rig and Jody helped me (or actually did most himself) figure out how to get a simple wire antenna connected to the rig, set it to CW, and then to 5 watts. As soon as that was done at 0208Z I got my QSO with a single call to NN9K in the NAQCC sprint.

Now let me see just how many days long the 0000Z streak was. It started on March 24, 2019 so that's 8 days in March + 30 + 31 + 30 + 31 + 31 + 30 + 31 + 30 + 10 in December or a total of 262 straight days if my math is correct. Not bad at this stage of a sunspot cycle near the minimum. And it wasn't propagation at all that ended it. I'll probably continue to try to get my QSOs in the 0000Z hour and see how far it can go. Then add the proverbial asterisk to the number to indicate the missing day. HI. -30-


---

Tue Dec 10 2019 10:38PM - It was a good day today with Mike. He came around 1:30PM, and we talked trains and watched train videos. Around 5:00PM we headed down to Chili's for a meal, then over to New Kensington for the ham meeting. On the way there, we ran into a road block and subsequent detour through these back roads that must have been built in the early 1900s. Finally we did make it to the meeting which took a little over an hour or so. After the meeting it was a pleasure to talk with Jody K3JZD, Marty (I forget his call), and Bob WC3O. Jody commandeered (so to speak) the radio room so I could get my streak QSO as well as a QSO in our NAQCC sprint. That was accomplished quickly after we figured out how to set up the ICOM (7300?) for CW, 5W, and connected to a simple wire antenna (40 meters dipole). I got NN9K in IL with a single call. Then we had a quick trip home where I am now typing this and Mike is on his way home. -30-


---

Mon Dec 9 2019 08:13PM - Tonight may be the end of my streak of making my streak QSOs in the 0000Z hour. Tomorrow evening I plan to go to a Skyview ARA meeting with Mike. The meetings start at 0000Z, so unless I impose on them to use their shack for my QSO, which I don't want to do since we are just new members, the 0000Z streak will have ended. Not the big main streak though. I'll have 22-23 hours to get a streak QSO for Wednesday. Hopefully we'll be home here in time for me to get a QSO in our NAQCC sprint to keep my participation streak alive for our sprints.

I received three packages from Ebay purchases today. Three Pennsylvania passenger cars that I bought knowing they needed some work which I performed today. They still need a bit more tweaking but they are speeding around my track right now as I type this. I also got some weights for some of my lighter HO rolling stock to help them run better. Still waiting for a scale to weigh the cars before I use them though. And a pack of smoke gaskets for my Lionel 736 Berkshire. I'll probably use one of them tomorrow although maybe not till Wednesday as I have a few things to do tomorrow.

It's 55 degrees right now. That's great for a third of the way into December especially since it's raining heavily and that could be s#$w if it was cold. Sun Dec 8 2019 01:50PM - It's an unusual time of day to be writing the diary entry, but it is a quiet day here, and I thought I'd take care of the pictures from the Trolley Museum. First of all, thanks to Mike for writing the diary entry about the Museum last night. Secondly, with 90+ pictures to choose from, it was hard to narrow them down for posting. I had to leave out a lot of good pictures to keep it down to a reasonable size here in the diary entry. I narrowed it down to about a dozen representing the different aspects of the Museum. So here we go now.



Here are the dynamic duo in front of one of the newest additions to the Museum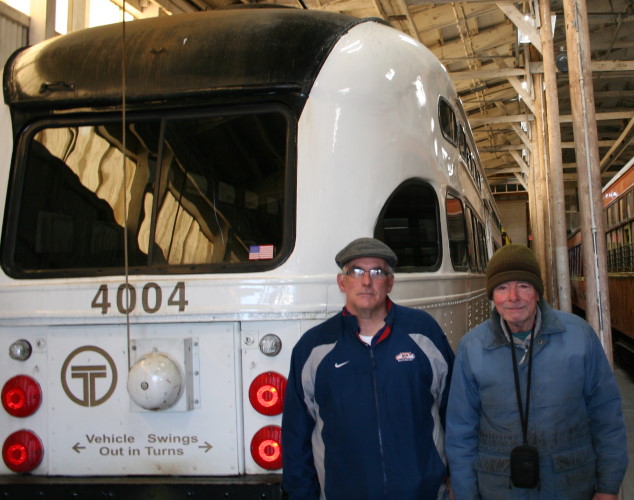 John standing in front of one of the two trolleys on which we rode (Santa and Yuletide)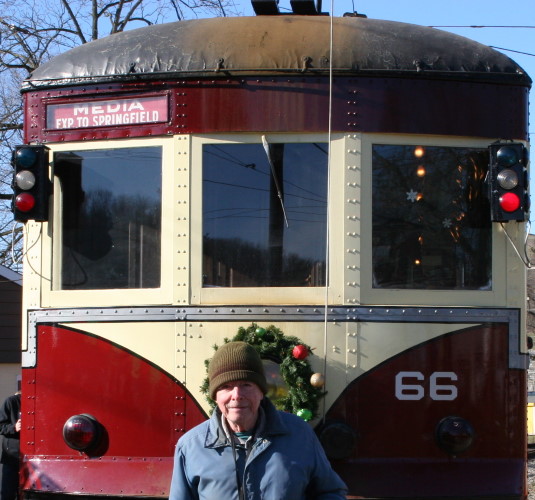 John, some jolly old fellow, and Mike. The host said you're never too old to have your picture taken with Santa, and as Mike and I walked up, I said, "and we're here to prove it"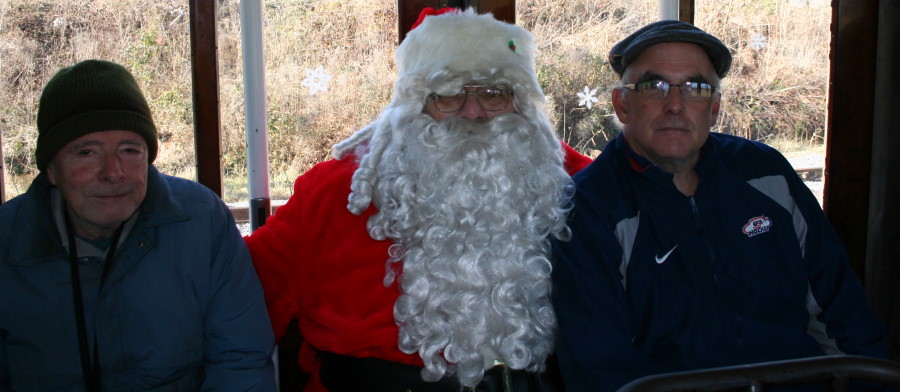 Here's a full side view of one of the trolleys we rode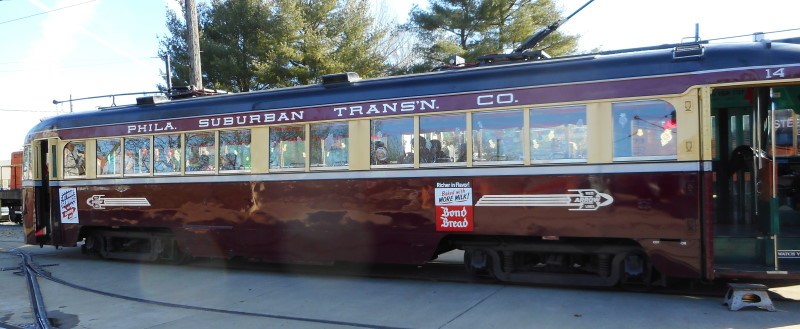 A view out the front window of the course we'd be riding on the Yuletide trolley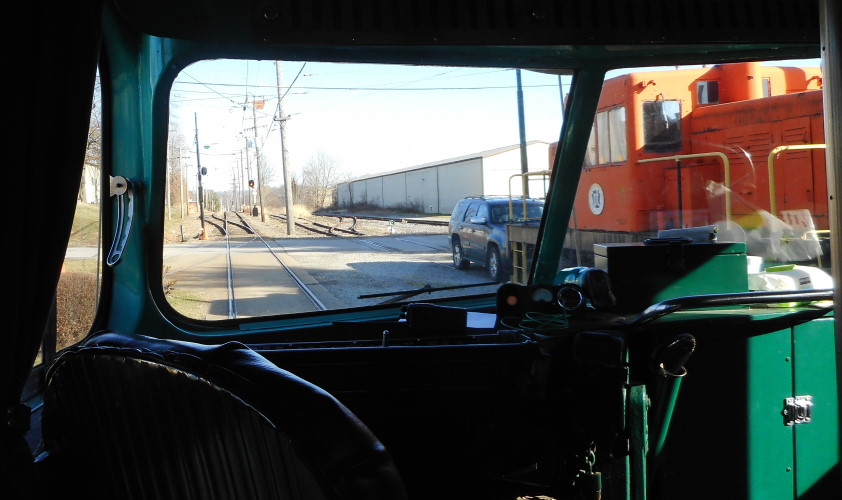 One of the trolleys similar to the ones I rode in Pittsburgh long ago. Kind of nostalgic seeing the Forbes Field one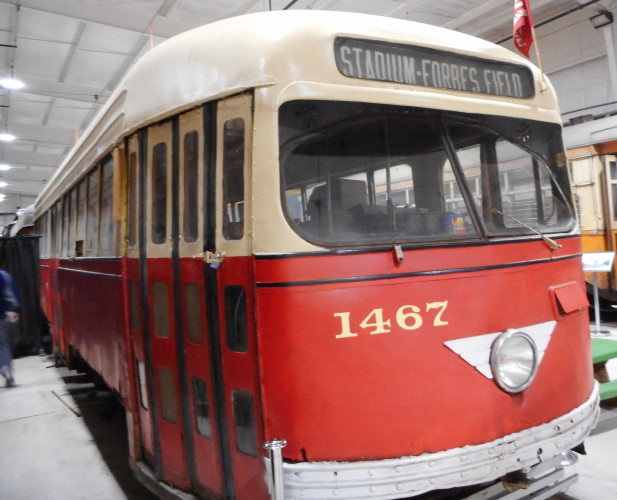 Another of the trolleys in the Museum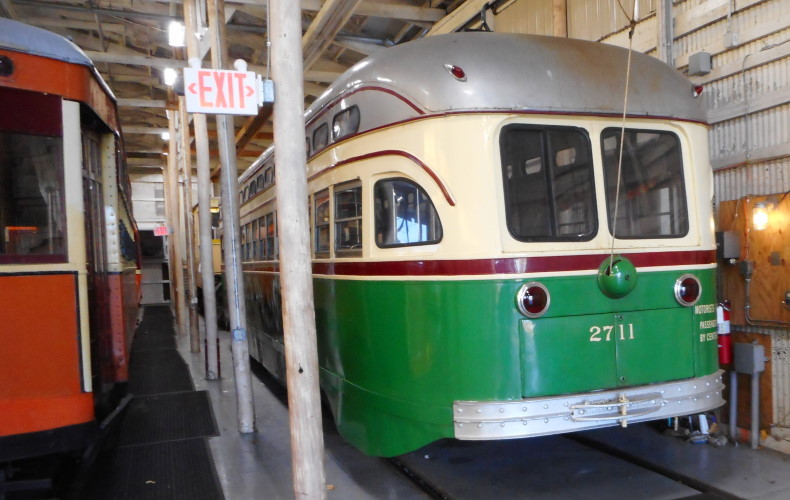 They also had two big model train displays there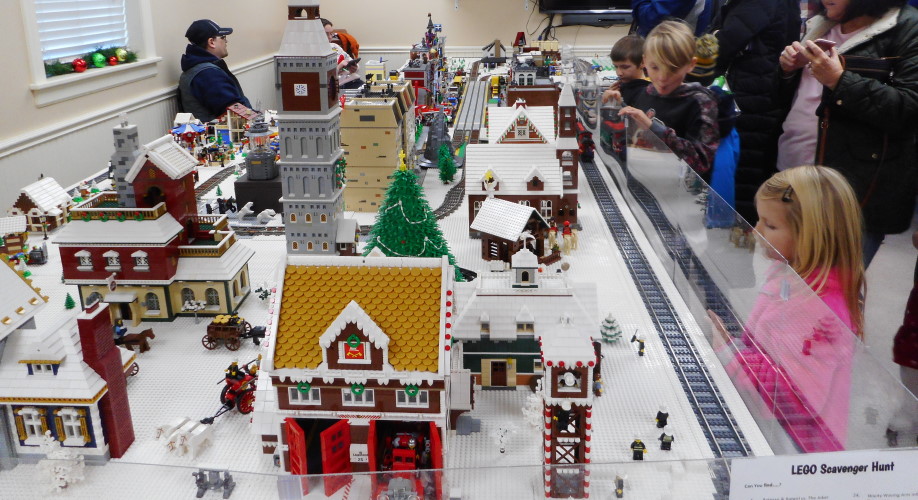 Two more general views of the displays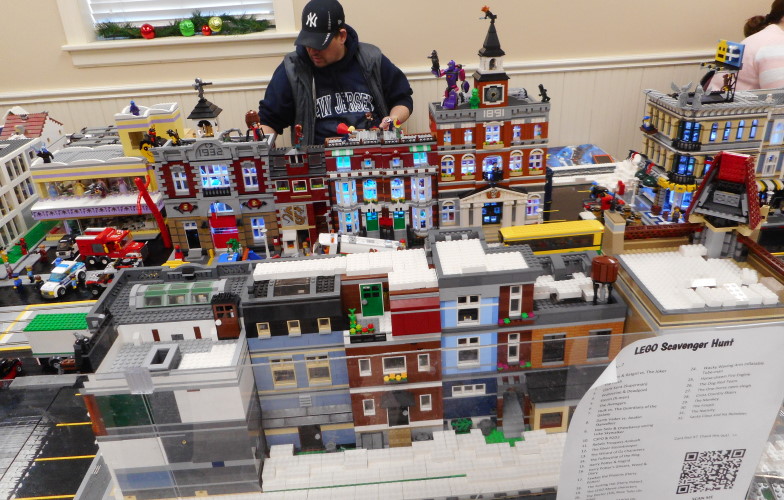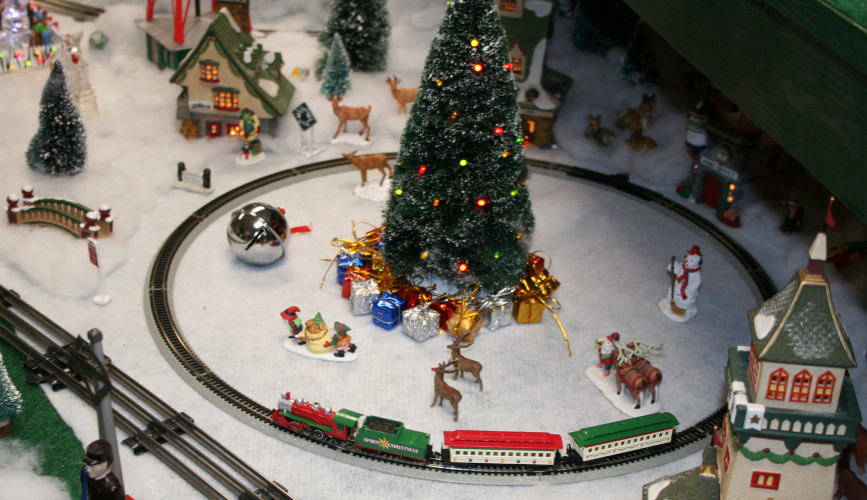 Kids (and the young at heart like Mike and I) will recognize the next two trains - The Polar Express and Thomas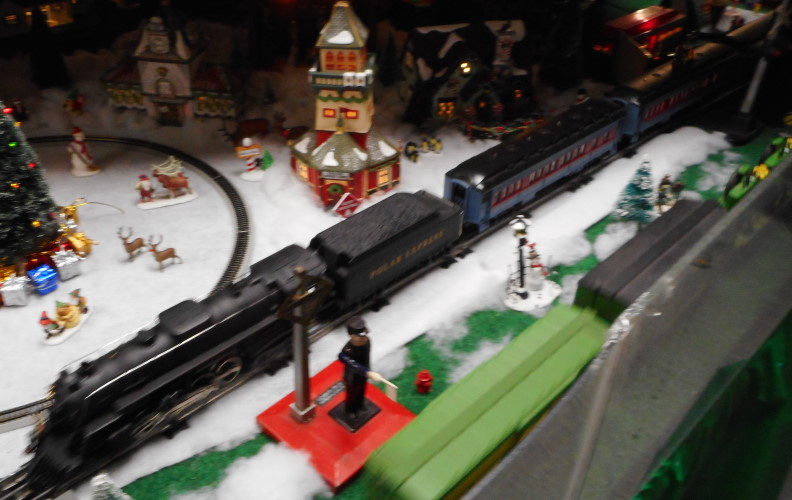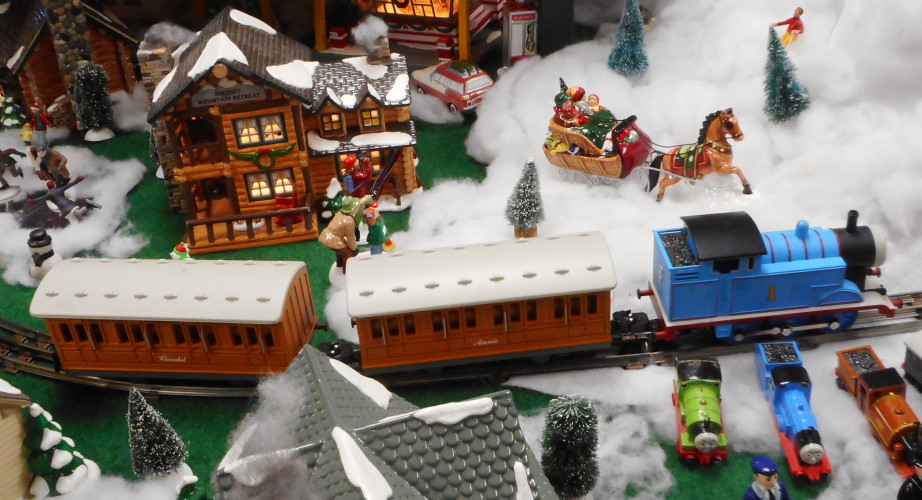 Nothing to do with trolleys or model railroads, but I enjoyed seeing this model of the Apollo 11 Lunar Lander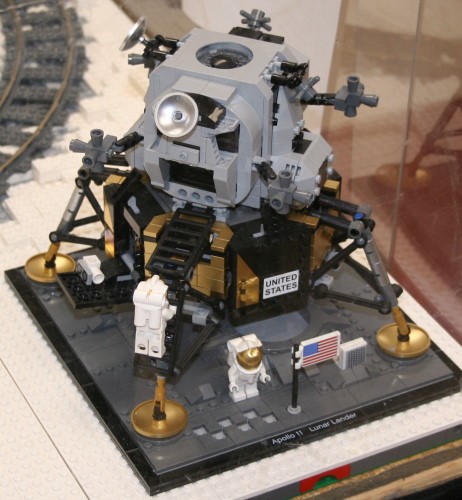 That's it. Hope you enjoyed the pictures and will go to see the Trolleys, etc. at the Museum yourself someday. -30-


---

Sat Dec 7 2019 08:22PM - I just asked Mike if he wanted to write a diary entry about our day at the Trolley Museum, etc., and he said yes. Then for tomorrow or the next day, I'll pick out some of the 90+ pictures we took and post them in the diary. So here's Mike now.

Good evening all. Our day started around 8:45AM when I arrived at John's QTH. We sat and caught up on a few things. Mostly model railroading. I brought my new set of New York Central Passenger cars to test run on John's O Gauge layout because it is much bigger than mine. These cars are 18" long. Much to long to try on my current oval setup. I gave John an early Christmas gift of my old NYC Pullman cars since they are much smaller than the new ones. After John walked Roscoe we headed out to the PA Trolley Museum. We thought we missed a turn on I376 for I79. We followed my GPS to get back on to I376 towards I79. As we exited I376 we noticed that there isn't a exit for I79 on I376 East bound. Who ever designed the road system in and around Pittsburgh needs to be beaten with a wet noodle. Pittsburgh has the worst road system that I have ever driven on. This comes from someone who grew up in New York City and lived in Europe and Korea.

We arrived at the Trolley Museum around 11:30AM which gave us 45 minutes to kill. We checked out one of their storage sheds with some very nice Trolley and Street Car pieces. After the quick tour of said shed (no not Cheryl's She Shed) we went back to the main building and picked up our tickets and I joined as museum member so I can attend the Trolley OPerators classes starting in March. We then headed over to the line for the Santa Trolley. We sat at the front of a packed trolley. There was singing of Christmas song's as we waited for Santas arrival so we could depart on our journey. We stopped at the halfway point so Santa could make his rounds to all the children on the trolley, John and I included. I struck up a conversation with the young lady who was driving the Trolley and the trolleys conductor. I explained how I plan on attending the operators course in March. They gave me a on the spot quiz to see if I knew what lever controled what. I think they were a little surprized when I gave correct answers for all of their questions. They trolley headed back to the main station. Just before we arrived at the station the trolley stopped so everyone who wanted a photo with Santa could get one. Yes John and I could not pass up the opportunity for a photo op. We told Santa that we were the oldest kids on the trolley. The master of ceremonies was more than happy to take photos of us.

We shortly arrived back at the main station so we could catch a ride on the Yuletide Trolley, which took us to the 'South Pole' which they have named the Wexford Station. We were barely off the trolley when the conductor pulled us aside and took us into the storage shed at that station and gave us a quick personal tour of a shed with some very nice museum peices. I think we were treated like royalty because of my interest in learning how to operate their trolleys. After our quick tour we boarded the trolley and headed back to the main station. After we arrived back I struck up a conversation with the trolleys operator about the electronic switching system which he graciosly explained.

After our trolley rides we went into the events building where they had a very nice Lego train and village setup. We then headed back to the main building where they had a very nice 0 gauge layout. We then headed to Best Buy so I could get a new media card reader to transfer photos from the memory card in my digital camera to my computer. After that we went for a late lunch early dinner at Applebees. You didn't think we were going to pass up on a meal while we were out and about, did you? We then headed back to John's QTH where we planned on an experiment with my new passenger car's on his layout. That ended quickly when one of my new cars could not negotiate the first curve. We sumized that I will need a larger radius curve for this passenger consist. Then it was off to John's shack to get his QSO for the day, which he had no issues in doing so with a contest on 160M. I followed by logging 3 QSO's from the contest. We also did some minor maintenace work on the couplers on the three passenger cars I gave him. All they needed were a good oiling. Now the couplers work flawlessly. John just got back from taking Roscoe for his last walk of the day. And I will be heading North to my QTH in a few.

Until next time this is KC2EGL Mike. 73 -30-


---

Fri Dec 6 2019 07:35PM - Of course the 160M Contest provided me with my streak QSO just about as soon as I tuned there after checking 80 and 40. Surprisingly, 40 had a few good signals. Some chasing DX and others rag chewing. I didn't feel like waiting around there though, so it was off to 160 at 0004Z where I quickly worked VE3KZ.

Tomorrow is trolley day as Mike and I visit the Trolley Museum in Washington, PA. The weather continues to look good with partly sunny skies and mid 30s temperatures. After that, we'll get something to eat somewhere then come back here for some model railroad projects. -30-


---

Thu Dec 5 2019 - I've been promising some Christmas pictures the last couple diary entries. Finally here they are.

First two views at approximate right angles of the tree with the first one also showing the window stencils.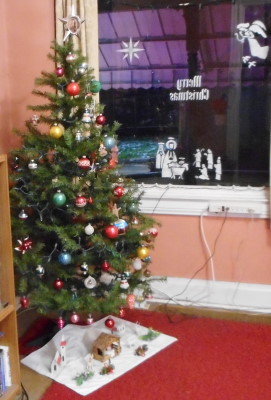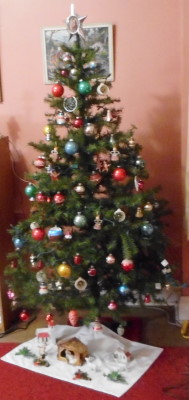 A close-up of the Manger scene under the tree. The real reason for Christmas.

The angels we made when I was in cub scouting many (many) years ago. There used to be more, but every once in a while we gave one away to some special friend or relative.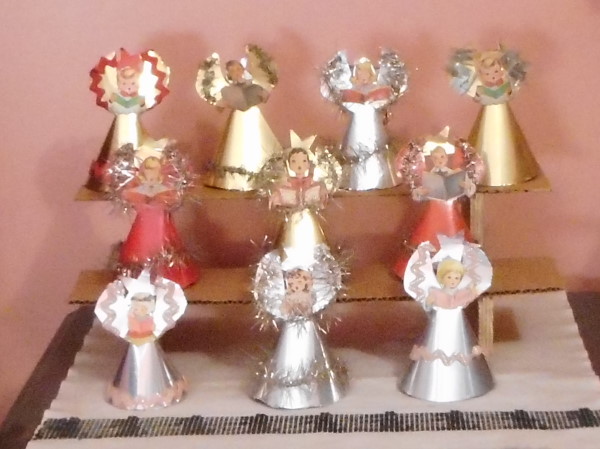 And I thought I'd throw in a picture of my HO railroad. The controllers near the bottom of the picture are L-R: My Digitrax DCC and Bachmann DC. The short piece of straight track is the programming track for the DCC. The other objects besides the locos and rolling stock are: A track speedometer that when in use connects to my laptop sitting on the chair. The computer mouse. Notepad. Track cleaning pad. Timer. Led light. One building which I hope will be the start of several more someday. Another controller for the switches.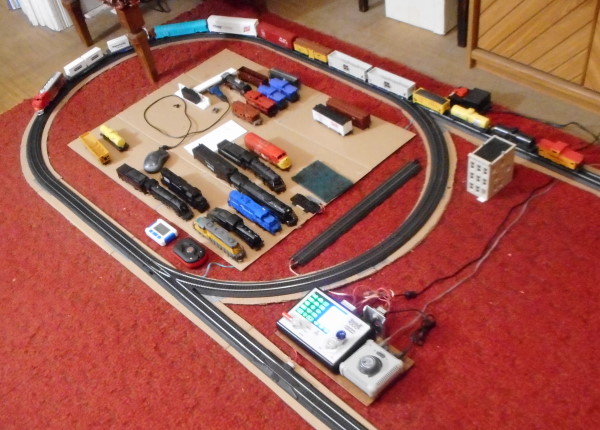 -30-


---

Wed Dec 4 2019 - Took a little longer to get my QSO this evening, but still made it well within the 0000Z hour as I've done every evening since mid-March. Once again a case of a lack of activity and not poor propagation was the reason for the delay. Once hooked up with W2IFB, we had a fairly solid 21 minute rag chew on 80 meters. Folks need to cease being scared of the alleged poor propagation and get on the air. Don't give up if you don't hear anyone. Try some CQs of your own. The band is waiting for your signals to propagate them somewhere.

I heard my friend Kam TI5/N3KS on 40 and called him a few times, but lost out to stronger stations. Then he wen't QRT before I had any more chances to call. I'm sure he would have heard me in the clear as he always does.

Not much going on today. I did take a couple shopping walks in between the s#$w flurries. I also stopped to get my Skyview ARA membership card laminated at a print shop here in town.

Still looks like nice weather Saturday when Mike and I go to the Trolley Museum. Sunny with a high in the upper 30s and no precipitation.

No Christmas tree pix today. Maybe in tomorrow's diary entry. -30-


---

Tue Dec 3 2019 07:52PM - Wow, a 40 minute solid rag chew on 160M with W3DF in MD. He was 599 pretty much all the way and said I was 579 to 589 all the way. So boys and girls, as I've been saying, the conditions are there if you just find the right band, right time, and someone in the location to which you have the best path.

Part of our discussion was about QRP rigs. He's getting one for Christmas, and said he looked at the KX3, but it was too expensive for him. He operates QRO and other modes. I said that yes, the KX3 is pricey, but for my MO which of course is QRP/CW only, it is a perfect rig, despite the price. I said if I was a QRO/other modes operator, I probably would have gone for a cheaper rig as a sidekick QRP rig, so to speak, instead of a mainstream rig as it is for me.

I finished my Christmas decorating today and now am looking at the tree across the room from me. I'll try to take a couple pictures tomorrow and post them here in tomorrow's diary entry. I also finished almost all my Christmas shopping today. I just have one or two little gifts left to get now. -30-


---

Mon Dec 2 2019 07:38PM - A busy day today with laundry, paying some bills, doing some Christmas shopping, and some Christmas decorating along with other things. I think tomorrow I'll try to finish my Christmas decorating. About all I have left is trimming the tree. I set it up this evening and just have to add the lights and ormanents. No, that's not a typo. If you remember the Party Line talk show on KDKA many years ago with Ed and Wendy King, Ed always referred to Christmas ornaments as "ormanents" to distinguish them as an entity unto themselves. I always think of that around Christmas time.

A fairly quick QSO this evening at 0009. I didn't find anyone calling CQ, so I called myself and it didn't take too long until Chris N3MLB answered me and we had a (2XQRP) 7 minute QSO. Amazing (or maybe not) that our QRP signals were S9 + 10 both ways. Yes folks, despite the sunspot minimum, conditions are (very) good over certain paths. So don't be hesitant to get on the bands. If you don't hear anything, call CQ. Somebody may be tuning looking for CQs to answer.

Mike and I have another event planned for this Saturday. We're going back to the Pennsylvania Trolley Museum near Washington, PA. Nothing ham radio related, but trains related. I think this is our 3rd, maybe 4th trip there, and it has always been enjoyable.

In case you're keeping track, I didn't have any Thanksgiving Dinner of any kind today. Just back to my fairly regular diet. -30-


---

Sun Dec 1 2019 07:25PM - An easy and solid QSO tonight with K3SEW on 80 meters. Propagation seemed pretty good this evening with a lot of stronger signals on 80 and even a couple on 40.

I put the November weather records in my computer today and for a change, the average temperature was below normal. Since January 2017, only 5 other months have averaged below normal, while 30 months were above by 5-10 degrees in several cases. There was a run of three below normal months from Dec 2017 - Feb 2018. Without those three the difference would be even more outstanding.

As far as the current weather, we got no ice and no s#$w at all last night. Only some rain, and not even all that much. That was perfectly OK with me.

I had Thanksgiving Dinner IV a little while ago. Now I think I'll diet the rest of the week.

I did a little more Christmas trimming today adorning my front picture type window with the traditional stencils depicting the true meaning of Christmas. Here's a picture: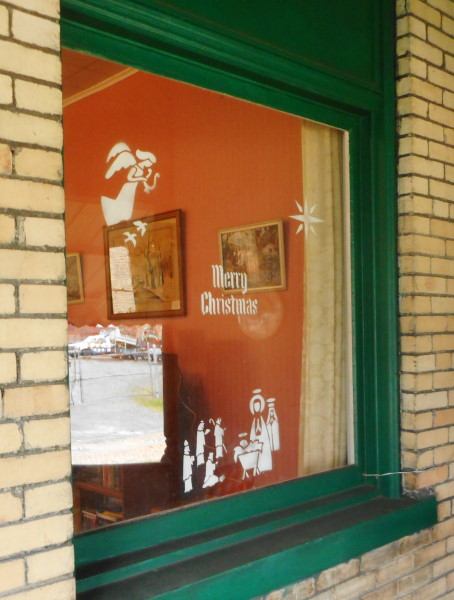 -30-


---

Sat Nov 30 2019 07:22PM - Have you noticed that the Solar Flux has crept up slightly the past month or so? If you look at my Propagation section of the web site, you'll see what I mean. For a very long string of days through late October, it was in the upper 60s. Since October 29, only 3 days has it been in the 60s. The rest of the days, it's been 70 or 71. Can it be we've passed the sunspot minimum or is this just a seasonal thing as the Earth closes in on perihelion in early January?

I don't want to say this too loud for fear of a jinx, but the weather forecasts have backed off on the freezing rain forecast for overnight. Now it's just rain with the possibility of mixing with freezing rain from 1 to 3 AM. So if it's true, that's good news.

Some Russian contest this evening with everyone working everyone else gave me my streak QSO when I exchanged info with W1KM on 80 meters. He had 85 QSOs when he worked me for his # 86. Of course, he was my # 1.

I had Thanksgiving Dinner III today from the meal that Ange brought me yesterday when he brought the grandkids over. So I guess it's time to diet now for a while. HI -30-


---

Fri Nov 29 2019 07:48PM - 40 meters! Yes, I actually had a regular QSO on 40 for the first time in a long while. I've had contest QSOs there, but not a regular rag chew. It was only 7 minutes long before the band changed, but it was still nice. Then I went to 80 and got an answer to my CQ there and a 17 minute QSO.

I had a very good time this morning. My garden friend Ange brought two of his grandkids who were visiting for Thanksgiving over to see my trains. They were a sheer delight. The boy is about 5 and I think the girl about 8. Very intelligent kids with a lot of questions and comments on my trains. They didn't want to leave, but they did have to go after a half hour or so. The Ol' Station Marketplace used to be a Railroad Station and Ange told the kids they could walk over and see that sometime. The boy (Leo) said "we can walk with John sometime." I guess they really enjoyed the visit. That pretty much made my day.

Later I had Thanksgiving Dinner II at my neighbors with the food left over from yesterday.

The lady from the Ol' Station Marketplace told me today that the train sets at the auction she attended went for a lot more money than I wanted to pay, so she didn't get them for me, but said she would continue checking at auctions.

We've got some nasty weather predicted for tomorrow night including a chance of freezing rain. I hope we don't lose power. If you don't see the diary updated, you'll know why. -30-


---

Thu Nov 28 2019 07:41PM - I hope you all had a Happy Thanksgiving as I did here.

I promised a wrap up of our USS Requin subpedition. Mike arrived yesterday around 8:50AM or so. After I fed and walked Roscoe we headed for New Bethlehem.... err, I mean Pittsburgh. That's an inside joke for Mike when he reads this. Well, actually we got absorbed in talking railroads and took a wrong turn not far from Kittanning. We arrived at the sub around 10:00AM or so, and Art was waiting for us there. We went into the Radio Room, and got set up. Art had to go to the Science Center to work on the train display there. Mike and I ran the show as we always do, but we missed Art dropping by now and then to see how we were doing and sharing some humor with us.

The activity started with two quick QSOs. Mike was at the key and I was logging since as you know, the Requin has only a single antenna and thus only one band can be active at any time. After the initial QSOs, things slowed down and we wound up with only 3 QSOs for the first hour. The second hour was worse with only 2 QSOs. It took until the third hour for things to pick up and that hour yielded 8 QSOs including one eyeball QSO with one ham who works in the Science Center and came to visit us in the sub. I took over the key about midway through that hour. The final two hours gave us 3 and 2 QSOs respectively. That's a total of only 18 QSOs and a great number of unanswered CQs. We did have one ship to ship QSO when we worked NI6BB on the battleship USS Iowa moored near Los Angeles, CA.

As always, it was great to interact with the visitors to the sub and answer their questions. One of the most popular questions seems to be if we had served active duty on the Requin or other submarines. We hadn't and usually explained that we are ham radio operators and visit the sub several times a year to keep the Radio Room active. We enjoy it, and those who run the Science Center and the sub are happy that we do it.

We wound up staying the full five hours, and didn't wrap up until just before 3:00PM when Art said he would be back to see us off. We told him how we did. He told us that the sub would probably be down for maintenance in January and February. So we might not be back there until March unless we do something in December. I don't remember now just what Mike and I planned for December.

We then headed home in the pre-Thanksgiving traffic which was quite heavy. When we did get home, we spent time doing various things relating to ham radio and railroads. We ordered a pizza and devoured that. Some railroad videos, then Mike headed on home. Our next get together will be going to the Pennsylvania Trolley Museum near Washington, PA on December 7.

Back to tonight. I got one of those quick QSOs at 0001Z when I found and worked Bill VE3AUI on 80. I worked him 10 days ago on 160. The QSO succumbed to QSB and QRN tonight and ended after only 6 minutes compared to 32 minutes for the 160M QSO. -30-


---

Wed Nov 27 2019 09:23PM - A great day today on the sub and otherwise. Since it's late and I have other things to get caught up on, I'll chronicle today in tomorrow's diary entry. I should have pictures by then also.

Tonight getting my streak QSO was a bit suspenseful. Come 0000Z Mike and I ordered a pizza via pickup. So I wanted to try to get my QSO before we had to leave and pick it up and then eat it. The bands didn't look good and except for the usual net stations and DX chasers, there was nothing to be heard at all. As the time ticked away, it looked like maybe the 0000Z streak would end as a trip to the pizzeria and eating the pizza would kill at least 40 minutes. However at 0015 I found KC2LSD calling CQ at the low end of 80. He wasn't strong, but I called, and we had a 4 minute QSO. I was glad when he said conditions weren't all that good and he would let me run for now and try again some other time. We did exchange enough material before that to make it a good QSO though. -30-


---

Tue Nov 26 2019 08:05PM - A very rough night. I thought at least my 0000Z streak was coming to an end. However it was 160M to the rescue again. I found and worked Stu NV3N with only 14 minutes remaining in the 0000Z hour. Whew!

It was in the 60s today for maybe the last time till spring. I hope not, but... I took advantage and put up my outside Christmas lights. I also prepared a little inside for the inside decorations which I'll probably do next week.

Tomorrow we go to Pittsburgh to operate from the Requin as I mentioned in last night's diary entry. Looks like the weather won't be so good, but we'll be inside the sub so it shouldn't matter much. Some rain and high winds are predicted. I took in my porch furniture, plants (artificial), and wind chimes just in case. Anyway, hope to work you from the sub. -30-


---

Mon Nov 25 2019 07:37PM - Rough conditions again, but still I got my streak QSO in a 22 minute QSO with Dick WB3AVF on 80 meters.

It was a nice day today with a high of 56 according to my AcuRite remote unit. It was nice to go out with just a light jacket instead of the winter coat I've been wearing most of November. It should be nice the next couple days also but with some rain on Wednesday.

Speaking of Wednesday, I confirmed our visit to the USS Requin with Art from the sub a little while ago. So Mike and I hope to be operating there starting around 1500Z and going until 1800-1900Z if activity warrants us staying that long. As usual we have only one antenna so only one band at a time. Probably we'll be on 40 around 7041 most of the time, but we will try 30 around 10117 and 20 around 14061 now and then. The last couple times we were there we had some bad QRN on 20 right around our intended frequency so if it is still there, we may try down around 14031 as it seemed quieter there before. Give a listen and if you find and hear us, by all means give us a call. You can get a nice picture QSL of the Requin if you QSL to the QRZ address for NY3EC, the Requin's call. We will be using NY3EC for our activity. Hope to work you Wednesday. -30-


---

Sun Nov 24 2019 08:09PM - The bands seemed pretty quiet at 0000Z which is normal after a big contest has just ended. Activity did start to pick up slowly and it wasn't long before I found N1NDN calling CQ. I had to call him twice but we did get a minimal QSO to extend the streak another day. It's now just over 8 months since I failed to get my streak QSO in the 0000Z hour. I wonder if I can make that particular sub-streak last a full year.

I see my next door neighbor put up her Christmas lights today. I thought it was a bit cold out there for that. I've set my target for putting up my outdoor lights at Tuesday when it is supposed to be in the mid 50s compared to the low 40s today. I like to avoid the cold weather as much as possible. At least we haven't had any s#$w to speak of so far, but it probably won't be long. I think I'll activate my countdown to spring timer a bit early this year. Of course with 2020 being a leap year, winter will be one day longer at least as far as the calendar goes. I hope the winter weather won't be one day longer.

I did a bit of minor work on my old Lionel 736 locomotive today. I glued up a tiny crack in the tender frame and found a screw that matched the tender better in the process. I guess I lost the original screws a long time ago, and there were some makeshift ones holding the frame on. It looks a little better now. Also I did a little touch up painting as well. I also added a lockwasher to the little screw that holds the boiler door on. I still like the 736 best of all the dozen or so engines I have now. I think because of all the memories attached to it. I remember my dad and I lying on the floor in front of the fireplace (we hadn't gotten central heating back then) playing with the 736 and its consist. That meant a lot to me since I didn't have my dad with me all that long. He died when I was 17. Even while he was living we didn't have all that much time together because of his job delivering mail on a star route working from 5AM or so until 6PM driving some 220 miles a day with only an hour break between two runs and a half hour or so layover at one post office. Some great memories that also included going along on the mail route many many times. We would often go fishing during that layover at the Clarion, PA post office. We'd fish in Toby Creek and catch mostly bluegills.

I better close here before I get too nostalgic and go on forever. -30-


---

Sat Nov 23 2019 07:14PM - I never did get around to checking the bands for DX during the day today. I did hear a few DX stations this evening, but they weren't hearing me. Again I just settled for a USA QSO and worked K5GN on 40 to at least get the streak QSO for the day.

Otherwise it was another pretty much nothing day. I just don't like this time of year all that much. There doesn't seem to be a lot to do with the very early sunset limiting the hours of daylight. I did do a couple things today like going downtown for some shopping. I also fixed up one of my house plants which was starting to lean over quite a bit. I propped it up so now I don't think it will fall on my Lionel railroad. I also watched the Penn State / Ohio State football game for a while. Playing with my trains pretty much finished out the daylight hours

One other good thing today was receiving a couple of train DVDs and CDs in the mail from my train/ham friend Lane N8AFT. I haven't watched the DVDs yet, but I did listen a bit to the CD which has a lot of good railroad sounds from the days of steam on the Chesapeake & Ohio Railroad. -30-


---

Fri Nov 22 2019 07:21PM - Kind of disappointing this evening. I thought maybe 20 would be open late for the DX contest, but I heard nothing there. I did hear a few DX stations on 40, but all were very weak. So I just settled on working NN7CW for my streak QSO, then I shut down. Maybe I'll check 20 and 15 during the day tomorrow, but more than likely not. I just am not in a contesting mood these days with the lack of really good propagation plus my strong local noise.

So it was just another everyday day again with nothing really worth writing about. I can't wait till next Wednesday when Mike and I go to operate on the Requin again. -30-


---

Thu Nov 21 2019 08:22PM - 40M!!! DX!!! Yes, it's been a while now since I've gotten anything on 40M and the same with DX, but this evening I got 3 DX QSOs on 40M. The upcoming CQ DX Contest is the reason as stations get their equipment set up and tuned in advance of the contest. Also my noise was a bit less this evening and that helped. Who did I work? All portable calls: CT9/HA3NU, PJ2/NA2U, HI3/N4YDU. So that kind of made my day. I wonder if the lowering of my noise is going to last.

I forgot to talk about the battery last night. It got to the point where it was dropping off fairly rapidly. I lost four tenths of a volt after only about 10 minutes and it was down to 11.6 or 11.7 volts on transmit and about 12.0 or 12.1 on receive. So I disconnected it and went back to my main power supply. I put the battery on the charger around 9:00PM and left it charge overnight until 9:00AM. I measured the voltage with no load and it was 14.3 volts. I think I'll just leave it set now and see if it loses any charge that way. Unless Mike wants to test his LiPo batteries on the subpedition, I'll try it again there.

I moved my HO train layout today in preparation for putting up the Christmas tree around December 1st. I kind of like it the way it is now and may leave it like this and put something else in the corner where the tree will be after I take it down the first week of January or so. The lady who runs the Ol' Station Marketplace told me today she is going to an auction this weekend that has three train sets among the objects to be auctioned. I gave her a price I'd be willing to pay if she can get them for me at that price. I'm not sure just what they are, but at least two of the three look to be Lionels from the tiny pictures on her phone. -30-


---

Wed Nov 20 2019 08:05PM - Once again it looked rather dismal on the bands. There was more activity than usual but it seemed everyone was in a net, chasing DX, or calling CQ for another club of which I am not a member. Finally I did find a regular CQ. It was my friend Bob NR8M whom I've worked 20 times before. We had another of our usual good rag chews that lasted 27 minutes with virtually solid copy all the way.

Now at 8:30PM I'll be going back to the shack to try to get a QSO in our monthly NAQCC sprint. Hope I can find someone to copy through my local noise.

It was a pretty nice day today for this time of year with a high in the upper 40s and no precipitation.

Other than helping my neighbor fix his front doorknob and latch, I didn't do anything out of the ordinary. -30-


---

Tue Nov 19 2019 07:58PM - On quite a few evenings of late I have been pretty sure that my long streak of making a QSO in the 0000Z hour was going to end. However so far something always happens to keep that streak going and in turn of course keeps the big main streak going as well. I think it's a great example of never giving up and keeping on going. Tonight I just couldn't find any one calling CQ, and in between searching I called a lot of CQs myself with no answers. At 0032Z though, my friend NW2Z Robert down in NC answered my CQ on 80 meters and we had about a 20 minute chat. With my strong local noise, I often have to switch antennas to get the best signal to noise ratio. Tonight there was a big difference in antennas. I had a lot of trouble copying Robert at first using my 6 meter dipole on receive. That antenna often gives me the best s/n ratio on 80 so I use it a lot for rcv on that band. However tonight when I tried switching to my 10 meter dipole, Robert's signal jumped right out of the noise for about 95-100% copy the rest of the QSO.

I think it's getting close to time for recharging my battery. Tonight it started at 12.6 volts which meant that each of the last 4 nights, it's started one tenth volt lower. It then quickly dropped to 12.4 volts, then settled at 12.3 volts where it finished. For the first time it dropped below 12 volts on transmitting at 11.9 volts. So it's definitely slipping away after 15 evenings of an average of 30-40 minutes activity each evening. That should be plenty of power for a parkpedition lasting 4-5 hours when we go portable this coming spring. Not bad for a 1.4 pound battery that compares well with my 15 pound SLA behemoth, and will be much easier to carry around on a portable outing. -30-


---

Mon Nov 18 2019 07:56PM - This was one of those busy days that I like. I'm not much for sitting around doing nothing, and I certainly didn't do that much today. It started off with my laundry as most Monday mornings do. Next I had some business to take care of at the bank like my annual IRA distribution. Then this afternoon I decided with the nice partly cloudy mild weather with calm wind to rake the leaves in the back yard. Some cleaning up around the house of various things passed some more time for me. All that plus the usual walking Roscoe, eating, etc. pretty much filled up the day till 0000Z.

When I turned on the rig I found the bands even more empty than usual. About the only thing on 80 was a small pileup chasing some DX I didn't bother to find out who it was. 40 was empty also except strangely for a very strong FM5BH who was chasing some other DX. With 40 and 80 out of the picture, I went to 160 and bingo! My first CQ yielded a great 32 minute almost solid QSO with Bill VE3AUI. I may have to be using 160 a bit more often this winter if the other bands don't improve soon.

I think the battery is about due for a recharging. It started at 12.7 tonight and quickly faded to 12.6 then 12.5 where it stayed during the long QSO. I think I'll wait till it drops into the 11 volt range before recharging. It has internal protection against discharging too far as well as charging too much. -30-


---

Sun Nov 17 2019 07:54PM - I was surprised to hear (see) several good signals topping my noise level on 40 meters this evening. The couple I did ID were coming in on a N-S path. I called one, but he answered another PA station calling him. I hope the signals are an indication of things to come on 40. It's been a long time since I worked anyone on 40, or on any band but 80 for that matter.

Tonight on 80 it was WK0B in MN whom I worked. It was a little rough copy but we did exchange the basic info plus the wx to make it a legit QSO to add to the streak.

As for the weather, last night when I went out to get my temperature readings, the door to the shelter just about came off in my hands. One of the two hinges had come loose, so I latched it up as best I could for the night. I checked this morning and the two screws holding the hinge had apparently just rusted away over the years. So I got out my portable drill and drilled two holes through the hinge and door, and re-attached the hinge with a couple 6-32 brass bolts and nuts. I don't think it will come loose any time soon now.

Other than that, nothing much else out of the ordinary today. I kept an eye on some football scores, primarily my Oakland Raiders score. They won. I also followed the NASCAR championship race at Homestead, FL hoping Kyle Bush would win and he did along with the season championship in the process. So it was a good sports day for me.

I also played with my trains. I lubricated Mike's locomotive that he left here for me to use until he comes back again the next time which should be the day before Thanksgiving for our trip to the Requin. -30-


---

Sat Nov 16 2019 07:32PM - One easy contest QSO tonight. After I determined that the LZ contest was an open one, that is you didn't need to work LZ stations exclusively, I worked N9UA on 80 meters for my streak QSO. Otherwise it may have been tough as there wasn't much activity other than in the contest or the net stations.

I lost another tenth of a volt from the battery tonight despite only being active around 15 minutes. It closed at 12.6 volts. I think it shuts down somewhere in the 11-12 volt range, and the KX3 is good for lower than that. I'll have to check the LiFePo4 manual to see just what the shutdown voltage is. I should still have a few more days before anything happens.

Nothing much else going on today. I did go with my cousin to visit some relatives' graves in our local cemetery. Also I did some more wheel cleaning on my HO rolling stock. -30-


---