---
Fri Sep 25 2020 8:38PM - It's always nice to run into an old friend, be it in person, email, or ham radio. Tonight it was ham radio as I ran into Tom KA2KGP, a friend made several years ago via involvement in the NAQCC. We've worked many times on the bands and also met in person several times at various hamfests. We had a nice long chat although it was cut a bit short by QSB and QRN. I again used my bug for the whole QSO.

The railroad layout work went smoothly with Mike today. Only a couple quickly solved very minor glitches. Thanks Mike. He took a couple pictures of the new layout. Let me find one of them, and crop it to show here to compare it with the picture I posted last night.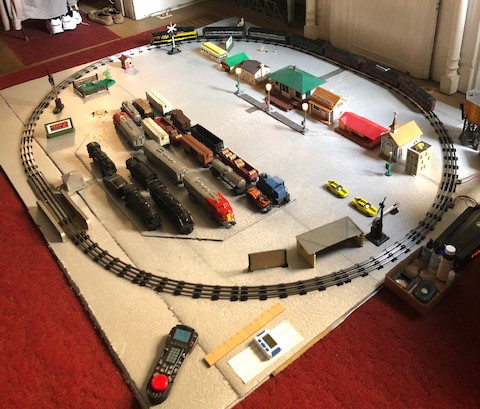 You'll notice mainly the much broader curves with the O72 track compared to the old O31 curves. All my locomotives and rolling stock seemed to like the more open curves and all ran much better, I think. Other minor changes involve getting rid of the switches, although I probably will replace them someday with new O72 switches. Also the relocation of buildings and accessories.

I got some good news today. My #844 locomotive is scheduled for delivery via FedEx on Sunday, moved up from next Friday to Monday, now to Sunday. I sure hope that is correct. I have had some deliveries from FedEx in the past that didn't quite turn out as expected.

After Mike and I finished the railroad layout, we did some other favorite things like ham radio where we both worked 9A/IZ3NVR on 20 meters, some computer games, and of course eating, today a meal from Wendy's.

Later in the day my neighbor Jasmine brought me over another nice meal. After I finished that, I had my regular of late evening walk, stopping for some groceries. -30-


---

Thu Sep 24 2020 8:35PM - The past couple evenings, I've been using the bug to call CQ. Tonight I used it for a full 20 minute QSO with NZ9R on 80 and I was pleased with how well I did. I didn't feel any rust at all on the fist, even after not using it for a full QSO for probably 4 or 5 years, maybe longer. I can't really check since I don't note what key I use in my log. Anyway it really felt good to use it again. I think there will be more bug QSOs in my future.

Another thing in the future, namely around October 2, will be the arrival here of a Lionel Legacy Union Pacific's Living Legend FEF #844. I went ahead and ordered it today.

Continuing with the future theme, tomorrow Mike will visit and we will tear up my old railroad layout, then lay down a new one with O72 curves for the #844 when it arrives, and any other future locomotives that require the broad O72 curved track. There still might be a Big Boy in my future.

Before I close, here's a picture of my current layout which I took today so I can remember how it looked.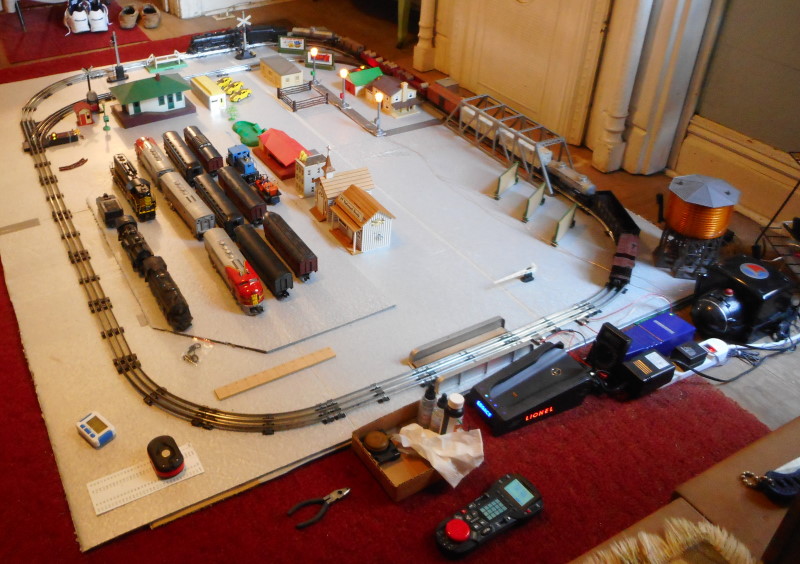 With the new layout, I hope to organize things better, and get some buildings that are nearer to true O scale as well as some other scenery, etc. Maybe even mount it up on a table some day. Stay tuned for developments. HI

Oh, the nice weather continues here with a 45 minute swinging session with Roscoe and a long walk early this evening. Should be the same way through Sunday before some needed rain comes along. -30-


---

Wed Sep 23 2020 8:24PM - For the first time this month, I made more than one QSO per day. After a quick 599 TU QSO with K1CX (wonder if he was a special event call or something, I'll look in a moment), I tried some more bug CQs as I did last night, but tonight I got an answer after just a couple minutes from N4PIR in NC. Copy was rough, but we did exchange some info about my streak and my web site along with rig and wx. Don't see any special event for K1CX, but it is listed in QRZ as a call for the Elitist Contest Club. OK.

My garden friend Ange took me up to visit my relatives' grave sites in our local cemetery today. I hadn't been able to get up there much lately since I don't drive and it's a long walk up a very steep winding road. So I thanked him for that and helped him do a bit of work in his garage.

I sat on the swing with Roscoe two times today. We've got to get in as much of that now before the nasty weather comes. I also walked quite a bit enjoying the nice weather.

Late this afternoon I got a good spaghetti dinner from the girl next door. We talked a while about how her school is going and some of the things she is studying there this year.

I think I've pretty much decided that I'm going to go ahead and order the Union Pacific #844 locomotive tomorrow, although I could always make a last minute change of plans. I wish there weren't so many different locos that I like or that they were less expensive so I could get a few of them at one time. -30-


---

Tue Sep 22 2020 8:44PM - I got a quick QSO for my streak tonight from Fred N9BSO in St. Louis, MO on 40 meters. So I thought I'd fool around for a while on the bands after that. I called CQ using my Vibroplex Lightning bug. Other than making a quick QSO with it in the bug category each month in our NAQCC sprint, I hadn't used it much at all for at least a couple years. I must say, it felt good to use it again, and I did very well in my sending with only one or two sloppy letters. For many years I thought I could never use a bug after using a keyer for so long, but it didn't take long before I could switch seamlessly between bug and keyer. The only problem tonight was I didn't get a single answer to my bug CQs in about a half hour of sending. Oh well, at least my primary goal of getting the streak QSO came easily.

Our string of nice days continued today and it looks like we have 4 or maybe 5 more coming before a string of showery days comes along according to the AccuWeather outlook. So Roscoe and I enjoyed about a 50 minute porch swing session today. I took a couple walks early this evening before it got dark around 7:30PM.

Other than that I did some house cleaning and ran my trains to pass the time. I also did some more thinking about which locomotive I'm going to buy. At the moment, the Union Pacific Northern #844 is at the top of the list. The UP Big Boy #4014 is a close second. If you can "admire" a locomotive, I do admire the 844 for being the only steam locomotive that has never been retired by a Class 1 railroad. It's been on UP's active roster since it was delivered in 1944. Until the late 1950s, it had a job delivering freight and passengers. Since then it's been excursions and other special events like double heading with the 4014 for the Golden Spike 150th anniversary celebration in May of 2019. Of course, the 4014 is very special itself. It was retired for many years on display in California until it was restored a few years ago and now joins 844 as the UP's two active steam locomotives. -30-


---

Mon Sep 21 2020 8:10PM - DX!! Not the most exotic, but not a W/VE station, so that's DX. The first DX in just over a month since I worked CM2XN on August 19. Tonight it was David XE1XR on 20, the 41st time our signals have crossed paths. It took a couple calls till he heard me, but then a solid brief QSO ensued.

Today we bid goodbye to astronomical summer on a chilly note. For the third day in a row now it's been more like mid October than September with a low in the upper 30s although we almost made it to 70 late in the afternoon. Another good day for walking though, and I again took a couple pretty long walks stopping off for some groceries along the way.

Nothing else of note today and it should be the same way the next 3 days as well until Mike comes to visit to work on upgrading my train track. I'm looking forward to that and then being able to run whatever locomotive I decide to get that can run on O72 curves. Still haven't decided. -30-


---

Sun Sep 20 2020 8:24PM - I'm going to forget how to rag chew. Eight of the last ten days, my streak QSO has come from a contest or a special event station. Just a quick TU 599 ** type of QSO. Tonight it was KM4FO in the SST contest.

We're continuing to get a preview of late fall weather here with lows in the 30s and highs struggling to make it to the 60s. I've added a couple blankets to my bed and kicked the furnace up a notch to take the chill off. I also replaced most window and door screens with storm windows. Really now, it's much too early to be doing all that, but......

It's actually good walking weather in the afternoons though, and I took a couple good long walks today. -30-


---

Sat Sep 19 2020 9:04PM - My new track arrived early this morning. However it will be until next Friday before Mike is able to come down and help me do the upgrade. I could do it myself, but it's always nice to have a second set of hands and a second brain, especially since one set is now 75+ years old. That will give me time perhaps to decide which Lionel Legacy Locomotive I want to add to my collection. With the O72 curved track, any locomotive should be able to negotiate the curves now, so my choice is no longer limited. Except for the price, that is. HI

As usual of late, 40 meters is the good band with very little heard on 30 or 20 in the 0000Z hour. Tonight it was an easy QSO with K2DSW in the Iowa QSO Party.

It was more like early October today rather than mid September. The low was 38 this morning and it topped out only in the low 60s. I wore a light jacket just about all day, inside and outside. -30-


---

Fri Sep 18 2020 8:40PM - A somewhat unusual QSO tonight. I heard VE2CSI calling CQ and answered him. He came back with just a 599, so I sent 599 PA. He said 73 and that was it. I didn't think he was anything special, but a bit later he sent Zone 2. He apparently was giving out QSOs from relatively rare CQ Zone 2, hence the short QSO. If I used spots or other such news, which I don't, I probably would have known. I think that takes a lot of fun out of ham radio. Anyway, it was a QSO and continued the streak another day.

I did work on my Santa Fe F3 diesel today. The commutator was really dirty so I gave it a good cleaning along with the brushes and brush holders. It still doesn't run as well as it once did many years ago, but it's better than it has been lately.

It was a cool breezy day today. Good for walking, so I took a couple walking shopping trips and got some items that were on sale to stock up on the groceries a bit. I didn't do any swinging with Roscoe though as he doesn't care for the wind and the breezes were pretty strong at times.

My Lionel track is due to arrive on Monday, but it may come tomorrow as it left the Pittsburgh mail center early this morning. We'll see. -30-


---

Thu Sep 17 2020 8:05PM - I could just refer you to yesterday's diary entry for tonight's entry as today was pretty much the same as yesterday with a couple changes. For the third out of the last four nights I worked a Rte. 66 station for my streak QSO. Tonight it was W6P in St. Louis, MO on 40 meters.

Now it's been one more day since my Lionel track shipped, although USPS tracking doesn't show any progress from yesterday.

It was another nice fall day today (it is meteorological autumn now since it started on September 1) and I took a couple good walks and sat on the porch swing with Roscoe for almost an hour. I thought about going fishing when I walked by the river. It seems that ever since I got my lifetime fishing license a few years ago I kind of lost interest in fishing. Maybe I'll get enough interest to go before the weather turns bad this late fall. Probably not, but who knows.

I also ran my trains quite a bit today. I may have to work on my old Santa Fe F3 diesel. It was running poorly today, but all the others ran just fine. -30-


---

Wed Sep 16 2020 8:20PM - Once again the Rte 66 Special Event stations provided me with a quick streak QSO at 0001Z. This time W6M in KS. 40 had a lot of activity again tonight with virtually nothing to be heard on 30 or 20.

My O72 track was shipped today from Hobbyspeed in Indiana, PA. I ordered enough to make a full 6 foot diameter circle. Then I already have enough straight track to make it into a 6 x 8 oval. After that I'll decide what I want to add to it in the way of scenery, buildings, sidings, etc. No hurry on that. First I want to get a Lionel Legacy steam engine, be it a Big Boy, UP 844, Pennsy K4, or something else all together. I also like the UP 3985 Challenger, NKP 765, SP 4449, NS or N&W 611, and a few others. -30-


---

Tue Sep 15 2020 8:41PM - After yesterday's fun filled busy day, it was back to the normal routine today. It was a chilly day for this time of year with a high of only around 69. It was hazy with smoke from the West Coast fires making it here to the other coast and actually out into the Atlantic Ocean. The sky was close to a uniform white when it should be a uniform blue on a "clear" day as it was yesterday in the park pictures.

I got a usual quick streak QSO this evening thanks to Gary VE2GDI on 40. We've worked a few times now. -30-


---

Mon Sep 14 2020 2:02PM - Curse you Mother Nature for blowing over my antenna - Mike KC2EGL. That was the lowlight of today's activity in the park. The setup went too smoothly and something had to ruin it - Mother Nature did. As far as on the air activity went before the antenna collapse, it was slooooow. Mike got 3 or 4 stations on 20, I got 10 on 40 and one on 30. We worked CT, NY, ON, IL, GA, TX, NC, TN as far as SPCs go. Because of the antenna blow down and the slow activity we called it a day at 1630Z instead of our projected finish time of 1830Z.



Except for the strong winds, it was actually a beautiful pleasant day as shown here in a picture.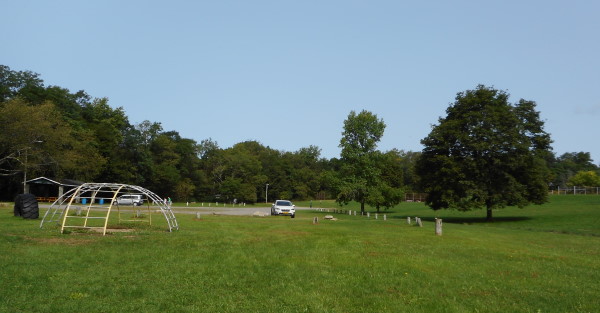 Another picture of the beautiful weather with my antenna in the foreground.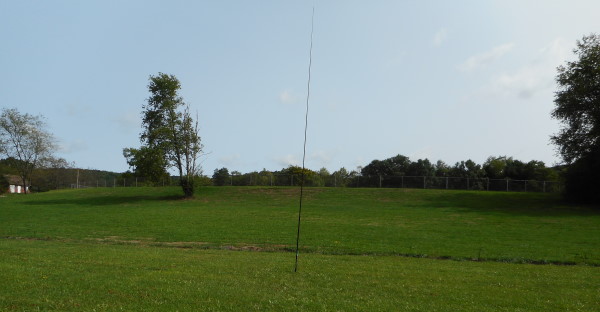 The base of my antenna with the 4 orange radials and the circuit board with loading coils and switches.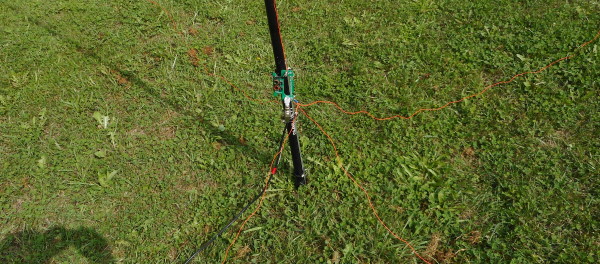 My rig, log, key, etc.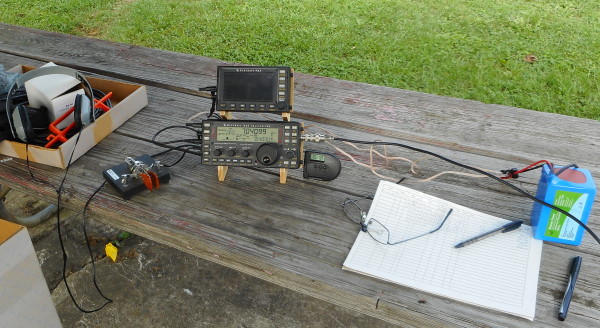 A distant shot of our pavillion.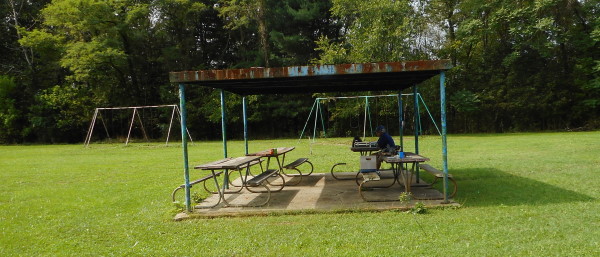 Mike sitting at his table waiting for some answers to his CQs.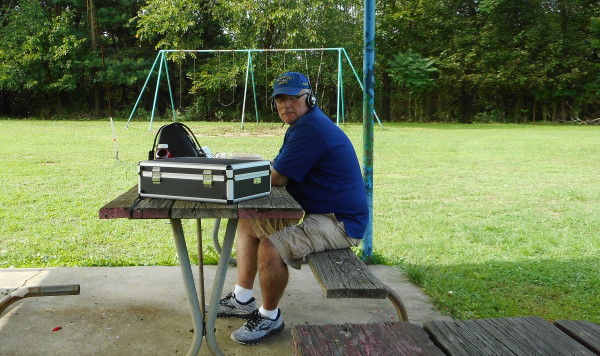 Hopefully our next outing which will be on Columbus Day for the NAQCC anniversary celebration will go better. -30-


---

Sun Sep 13 2020 7:10PM - Just sitting here awaiting Mike's arrival, and thought I'd write my diary entry. Really not much to write about beyond the usual daily routine. Hopefully (certainly) that will change when Mike gets here. In fact I think that's his car pulling up right now. Yep, it is, so I'll just cut this short here. Maybe add something later, or maybe not. HI -30-


---

Sat Sep 12 2020 8:40PM - The bands were busy tonight with a couple contests going on. However I didn't use them for my streak QSO. Instead I looked for a regular CQ and found one on 40 from KC1BMD. We worked for 13 minutes.

Nothing much to report on from today. I did a little railroad work. My trains were slowing down a bit on one section of track. I got out my rail pliers and squeezed the track connectors together. That seemed to help things. I should take the whole track apart and give the connectors a good cleaning. However I am planning to be upgrading my old round rail Lionel track with their newer Fastrack when I go to O72 curves so I can run a big boy on it, or perhaps a UP 844 or Pennsy K-4. I still haven't decided what will be the next locomotive I buy, but with the O72 curves, the track will be ready for anything I decide and I can still run my old locos as well. The best of all worlds. HI

Looking forward to Mike's visit starting tomorrow evening and continuing through Monday and our parkpedition. We're missing several events together this year with all the cancellations taking place because of health concerns. Hopefully 2021 will be better than 2020 so far. I guess we'll see. -30-


---

Fri Sep 11 2020 8:11PM - A quick QSO in the FOC contest with KZ5D extended the streak tonight. I'm not an FOC member, but non-members are welcome in the contest. Thanks FOC! A nice weather day again today. Roscoe and I sat on the porch swing for 2 full hours. He never gave any indication of wanting to get off so he must have really been enjoying himself. We probably could have gone longer but I had to get up and go. While sitting there, I figured out there are about 30 swings per minute so that's 30 x 120 or 3,600 swings. Whew!

Then this evening I went for a good long walk again enjoying the nice weather. I think September and May have the closest to perfect weather here. You get some thunderstorms in May and once in a while a tropical storm visits in September but otherwise they are generally quite nice.

It's supposed to be great weather for Monday and our parkpedition. See the entry for Sep 9 for details. Mike will be coming down Sunday evening and that will give us some extra time to play with trains, etc. -30-


---

Thu Sep 10 2020 8:22PM - After a shopping trip (stopping at 4 places) first thing this morning, the rest of the day was pretty quiet. I walked to the 4 places so maybe I wore out this old body a bit. HI No, not really as I'm still in pretty good shape for being 3/4 of a century old. Along the way I mailed my QSL package to the ARRL Outgoing QSL Service. My cards should be there on Monday. I confirmed 107 QSOs with the cards, all DX and virtually all requesting my card. Only a couple QSOs where I needed a prefix or something confirmed myself.

A quick QSO again this evening took care of the streak for another day. It was with KB4GYT and was our 7th QSO dating back to 1994. It seemed to me that we had worked before that but my log doesn't lie. HI

I also did some more work on my WPX records, culling out the /MM prefixes that don't really belong to any continent and making a separate page for them so I can keep my continent prefixes straight.

And finally I did some more house cleaning, mainly moving some more of my train equipment, accessories, and parts around.

Our Skeeter Hunt results have been posted, and our effort with N3AQC from Mike and I wound up 7th overall, 1st in PA, and 1st overall multi op. Not bad for the poor conditions we had. I guess conditions weren't that great elsewhere either, as I was surprised we finished as high as 7th. -30-


---

Wed Sep 9 2020 7:10PM - This was one of those great busy days with almost non-stop things to do. Let's see how many I can remember. HI It started off with laundering my bed clothes. Throughout the day I worked on sending a batch of QSLs to the ARRL Outgoing QSL Service. With my meticulous record keeping, that's a real job, but I've almost got it complete now and should get the package in the mail tomorrow morning. At least now, I've gotten caught up on answering a lot of cards that have been sitting around here for quite a while.

I rearranged my train room quite a bit today. I moved a lot of things that I don't use at all anymore or use sparingly to a storage room upstairs. One reason I did that was because I'm thinking of getting my telescope out sometime again and it was kind of stored behind a lot of train stuff. I was talking with the girl (young lady?) next door yesterday and mentioned the telescope in our conversation and she seemed interested in doing some observing, especially of Jupiter and Saturn when we get a good clear night. She's sixteen and school just started here yesterday so it will probably have to be some weekend.

Let's see. What else did I do today? Oh, I posted our Monday parkpedition that Mike and I will be doing. We're shooting for about a 1430Z start and will stay as long as activity warrants. We'll operate on 7041, 10117, and 14061 two bands at a time. If we get another op, we'll try to have all three active at the same time. We'll use the NAQCC club call of N3AQC.

I'm sure there were more things I did today and have forgotten now. HI Anyway this evening I got on the bands a bit late at 0011Z and immediately found and worked KB0HXL in MN on 40 meters. I also got caught up on some of my NAQCC awards, mainly the QSO-A-Day ones. -30-


---

Tue Sep 8 2020 11:20AM - I thought I'd get started on my web site history early today on its 24th birthday. I'm going to use the Internet Archive site to take some looks at the site as it was on earlier days. The first site picture that I can find so far is from July 2003 when the site was about 7 years old and looked like this.

NOTE: For this and following pages from the Internet Archive, some intended pictures and/or other graphics might not show up as intended. Also some intended links on the pages may or may not take you to other pages from my site at the time. I have no control over any of this. I am just grateful to the Internet Archive for preserving my web site history.

I may also have locally here some older views of the web site, although it may take quite a while to find them among all the things I have stored in this house, and there are a lot. Keep checking the diary entries for more site history as I find and organize it. -30-


---

Mon Sep 7 2020 8:13PM - I worked John K4BAI in the MI QRP Sprint for another easy quick streak QSO. Just a bit of info about John and me. This was our 231st QSO over the many years starting with a QSO on May 10, 1964 pretty surely in the GA QSO Party since I have it listed as my 10th contest I entered and the GA QSO Party usually has been and is now around that time of year. Although we mostly have worked in contests over the years, we have also had the occasional good rag chew now and then. A rough count shows 18 of the 231 were rag chews. That's a span of 56 years and 4 months give or take a couple days between our first and most recent QSO. Wow, I guess we are both getting old, but still pounding away on the keys.

Another thing that is getting old (how's that for a segue?) is my web site. It will celebrate its 24th birthday tomorrow (9/8) and begin its 25th year of existence. I'll unveil the new top banner with different colors and an updated number of years tonight.

As time permits over the next several days, I'll present a history of the site as best I remember it and maybe have some pictures of how it looked in the past. I'll start tonight with a short bit of info about how it got started back in 1996. My neighbor Eric (now KB3BFQ) and I were always interested in sports and recently he had become interested in ham radio also. We thought it would be fun to have some kind of a web site about our interests. He decided on hockey, and I was torn between auto racing which was my favorite sport at the time and of course ham radio. Naturally ham radio won out for me, in particular something about how I helped start the CW County Hunters Net with WA8EOH back in 1966. Somehow we found out about GeoCities, a web site hosting service that offered free web site space. We studied how to go about creating a site and posting it. Both our sites were somewhat crude at the very beginning, but they nevertheless were a start and both developed over the years.

With that little teaser, I'll close for tonight with the promise of more to come about the site. It will take some time which is a now and then a rare commodity around here, so don't expect something each and every night, but it will be here for sure. -30-


---

Sun Sep 6 2020 8:09PM - As expected, the TN QSO Party gave me a quick streak QSO at 0002Z when I worked K4VIG on 40M. I always liked the TNQP and did quite well in it a few years ago. Maybe some day my interest in contesting in state QSO parties will return. If so, I'll definitely do the TNQP.

Not much going on today except a lot of continuing work on my WPX totals and some train running. Tomorrow will be different though as I have a couple things planned. A shopping trip to Walmart for some breakfasts for Roscoe and some new shoes for me. Then after that on to my neighbor's brother's place for a hot dog / hamburger, etc. cookout. -30-


---

Sat Sep 5 2020 8:30PM - The bands were fairly good this evening and after listening around a while I found and worked KC2THY on 40 meters.

I worked on my WPX totals quite a bit today, and I'm getting close to updating my WPX page here on the web site with a lot of new and different stats about them.

Other than that, not a lot going on despite it being another very beautiful day with the temperature in the 70s most of the day and beautiful blue skies for the most part. I hope it will be like this when Mike and I get together for a parkpedition probably on the 14th. -30-


---

Fri Sep 4 2020 8:18PM - A nice preview of fall day. Well actually it is already fall meteorologically speaking. It was so nice I cut my grass today, sat on the porch quite a bit, one time with Roscoe, and took a long walk this evening. The grass had grown quite a bit after several rainy days of late took care of the drought conditions at least for now, but another string of dry days is coming starting today.

A quick QSO in the CWO contest this evening with K7TD on 20 meters. Sounded like a fun contest. If I was in a contesting mood, I might have stuck around a while and made some more QSOs.

Tentatively, Mike and I are going to do a parkpedition on September 14. More details as the day draws closer. -30-


---

Thu Sep 3 2020 9:09PM - Did we skip fall and go into winter. 80M certainly sounds like it. It was just full of good signals this evening and wasn't too bad last night either. I had two solid QSOs tonight, one 30 minutes with Wilbur KB1CL in MA and the other 20 minutes with Larry N3URO in PA.

Not much happening here today. It was a showery early day although only .05 inches of rain accumulated, then gradually cleared for a nice evening. I took one of my longer walks in a while this evening and it really felt good. Although I do walk in the house when it's too hot, too wet, too cold, etc. outside, it's not like walking outside in the fresh air. -30-


---

Wed Sep 2 2020 5:51PM - A few years ago in the diary I had a feature asking readers to send me questions as if they were reporters asking about my streak and other QRP/CW matters. Then I devoted a diary entry to each question that I thought was worthwhile answering, and virtually all questions were very good ones. I'm thinking about doing the same thing again to update my answers including the things that have changed, if any, during the time since the interviews were first done. So think about it, and watch for any announcements in the diary in the upcoming weeks.

One question that I will ask myself to give an idea of how the interviews work is "You must devote a lot of time each day to be able to make your QRP/CW streak QSO. Is that true?"

I find that an intriguing question and I did some research to back up my immediate answer which is: "Virtually every day I get on the bands at 0000Z since I use UTC days for the streak and the QSO is in the log before the 0000Z hour is over, usually before the hour is very well advanced, in fact." To back that up I analyzed my Microsoft Excel log which is very easy to do. As of August 31, there were 244 days in the year, and my streak QSO came in the 0000Z hour on 242 of those days or 99.2%. The two days that I didn't make it were days Mike and I attending the evening club meeting at the Skyview Amateur Radio Society and didn't get to my shack until after 0100Z. I'll list those days and times in a moment.

First let's go back and analyze 2019 also. Of the 365 days that year, the streak came in the 0000Z hour on 359 of those days or 98.4%. Now let's list the 8 days in 2019-2020 when the streak QSO was delayed:


Date         Time    Band  Reason
01/19/2019 - 0122Z -  80M - unknown
01/24/2019 - 0108Z -  80M - Attended Skyview meeting
02/04/2019 - 0142Z - 160M - Bands dead in 0000Z hour (folks watching the Super Bowl?)
03/23/2019 - 0118Z -  80M - Lenten fish dinner that evening
12/11/2019 - 0207Z -  40M - Skyview meeting
12/25/2019 - 0132Z -  80M - Annual Christmas lights viewing with Mike KC2EGL
01/22/2020 - 0321Z - 160M - Skyview meeting
02/19/2020 - 0321Z -  80M - Skyview meeting
That's it. All other 601 days the streak came before 0100Z. I think that definitely says that I do not waste a lot of time each day unsuccessfully trying to get the daily QRP/CW QSO in the log. Six of the eight non-0000Z hour streak QSOs came because I wasn't home in the 0000Z hour. One other I'm not sure why it was late and only one day were the bands unworkable in that 0000Z hour.

Yes, as I've always said, QRP/CW does work and work well. If you want to emulate my streak, don't be concerned that it will take up too much of your time, just go for it and find out for yourself what I say is true.

Maybe someday I'll delve further back in my log and have some more figures on the 0000Z hour QSOs. It won't be hard with Excel. -30-


---

Tue Sep 1 2020 7:00PM - I just checked on the summer temperature records as I said I would do. This year was the third warmest summer in my records going back to 1959/60 at an average of 74.8 degrees. And unlike a lot of times when someone says such and such is the second place record but never tell you what is first, I will tell you. 2011 and 2016 tied for first at 75.3 degrees. I was watching the Penn State weather tonight as I always do, and it was interesting to see while several stations had their warmest summer since the late 19th century, nearby Pittsburgh had only the 23rd warmest summer, and the 40th warmest August. A couple other figures here. July was our 2nd warmest at 78.5 degrees behind 2011 with 79.0. August was fourth warmest at 74.6 behind 1980 at 76.3, 2018 at 75.8, and 1995 at 74.8. Those are all mean temperatures, i.e. the sum of the average maximum and average minimum divided by two. I didn't check the max and min records (yet).

And that will do it for this entry. If I work anything really out of the ordinary for my streak QSO, I'll mention it in tomorrow's diary entry. -30-


---

Mon Aug 31 2020 8:22PM - And another month bites the dust. Conditions on the bands in August were up and down as they have been forever now (well, it seems like forever). Some nights in August the streak QSO was a piece of cake, other nights it was like a rotten apple trying to find a good chunk of apple. Well, after writing a description of band conditions for hundreds of diary entries, a new description is sometimes needed now and then. Tonight it was rough, but fairly quick. I called a couple stations who were booming in, but one didn't hear me, the other one did and sent K3WWP? then disappeared after I verified my call. Next up was WD0BC who gave me a 339 and we exchanged enough info to make it a legit QSO.

It was another nice day today to close out meteorological summer. The high was 75 with partly cloudy skies and a nice breeze. I did some outside work and took a little longer walk this evening before it got dark. It's pretty dark by 8PM now and getting darker earlier more and more quickly as we approach the autumnal equinox when the rate of change is the greatest.

Of course I was busy doing my end of the month chores today, and tomorrow it will be the first of the month chores. It will be interesting when I do the August weather data analysis along with the summer analysis. A few places in PA are already reporting this as the warmest summer on record with some records going back to the late 1800s. Of course mine only go back to 1959/1960 so statistically I have a better chance of this being my warmest summer in my records. I'll try to remember to let you know in tomorrow night's diary. -30-


---

Sun Aug 30 2020 8:40PM - A different day for a change. After walking Roscoe this morning, my neighbor and I departed on his trial run of his two school bus routes. That took a couple of hours and it was good he checked the route as there was one detour on his route that wasn't listed on his schedule and it looks like the detour will be in effect for some time so the schedule will have to be adjusted accordingly. There were also a couple other little things that may need adjusting when he talks with the bus scheduler tomorrow.

On the way home we stopped at the store and got a couple zucchinis and flour and a while after we got home, we made our first attempt ever at making zucchini bread. After some trouble grating the zucchini, things went very smoothly and the bread turned out great.

Tonight for my streak QSO, I worked another streaker, Danny N4DT who has a streak going of 4 years and 8 months now with his QRP setup down in SC. Congrats to him and I hope his streak lasts as long as mine is now.

Tomorrow it's all my end of month work in addition to being laundry day as well. So it will be a busy one again. But that's good. I love being busy with this or that. -30-


---

Sat Aug 29 2020 8:24PM - Thanks to the KS QSO Party for a quick streak QSO tonight. I just emailed Mike a while ago in response to him mentioning the KS QSO Party and said normally we would be working some KS stations from the Skyview ARS clubhouse this weekend, but along with many many other events, their swap and shop was cancelled. Hopefully next year.

I did some more work on my trains today and ran them quite a bit. It was a nice weather day after about 2 1/3 inches of rain the past couple days and nights. Lower humidity and temperatures were the order of the day. I went for an outside walk this evening for the first time in a few days now. And that pretty much covers the day.

Tomorrow will be a little different. My neighbor (Roscoe's owner) is a school bus driver and he's going on a trial run of his route tomorrow morning and asked if I wanted to come along. I said sure, that will be something ouot of the daily ordinary things here. -30-


---

Fri Aug 28 2020 9:00PM - What drought? We had 1.49 inches of rain today that should pretty much take care of the drought. For the most part it was a medium rain with only a couple short periods of downpours. That way most soaked into the soil instead of running off.

40 meters was good again tonight, but it was easy to get my QSO tonight when I worked WA3CKA at 0001Z on 40 meters. I tried some CQs after that on 40, 30, and 20, but didn't get any additional QSOs.

With the rain it was mostly an inside day except for the Roscoe walks in pauses in the rainfall. I ran my trains a lot and watched some train videos on the computer.

I also updated my main web site banner getting ready to start the 25th year of the web site come September 8 when I'll post the new banner. -30-


---

Thu Aug 27 2020 9:06PM - It was tough getting a QSO tonight but I made it. 40 was in very good shape, but I just couldn't get anyone to answer my call or my CQs. The closest I came was a Cuban who sent something like A3WWP?, but never came back to my repeats. Finally I did wind up with a nice chat with Bob K0RKH in IL on 40. It lasted about 22 minutes.

We had some more rain today. A line of storms came through late this afternoon, but it seemed in a hurry to get through Armstrong County. I watched it for a while on radar and I'm sure it speeded up through our county and only gave us some wind and .20 inches of rain which will help our drought situation a bit. We should get more from Laura's remnants on Saturday also.

I visited the Ol' Station Marketplace today for the first time in quite a while. I bought a couple buildings that I might use on my railroad if they are close enough to scale. One is a church, the other a bank. I also got around to reinstalling my streetlights after redoing the layout a few days ago. -30-


---

Wed Aug 26 2020 8:46PM - When I first turned on the rig and checked 20 and 30 I heard nothing but a couple very weak signals. I said OH OH, this doesn't look good. However when I got to 40 it was hopping with several strong sigs. The second one I saw/heard was calling CQ. I answered and wound up with a very good solid interesting 42 minute QSO with Greg W1GF. A lot of the conversation was about QRP and QRP DX in particular. Greg has worked "them all" and got to thinking about trying to do it again with QRP. He never worked QRP before. At one point he reduced his QRO which was peaking over S9 to QRP 5 watts and only dropped to S7 and S8, almost S9 on the highest peaks. He found that interesting and said he was going to start a QRP WAS with our QSO. I always enjoy it when I can interest other hams in CW and/or QRP. Good luck Greg. I'm sure you will succeed admirably.

Otherwise not much to write about today. Just an ordinary day on the computer, playing trains, walking Roscoe, etc. Not that those activities are boring or anything like that, just regular things I do a lot because they are interesting and NOT boring.

Oh, I did do one different thing today. I watched the movie "The Polar Express". I watched it several years ago at a friend's house, and never again until today. My renewed interest in trains is what sparked the desire to see it again. Although a lot has to do with the train, it also has an enjoyable and somewhat heartwarming plot. I think I may just watch it again in a few days. -30-


---

Tue Aug 25 2020 8:38PM - We got some more rain today as a near severe thunderstorm blew through this afternoon. And I mean BLEW through. I don't have an anemometer, but I would guess the winds were around 40-50 MPH for a few minutes and blew my recycling bin about 20 feet or so between the houses here. It all dissipated quickly though a few other storms in the area passed us by with just a slight glancing blow. We get passed by a lot of storms here prompting the saying around here that our 'precipitation shields are up'. We just hope they work as well for the s#$w and freezing rain in the winter. We only got about a quarter inch of rain today, but every little bit helps the minimal drought situation here.

The bands were good this evening with strong signals on 40 through 20 although not a lot of action on 30 or 20. In fact 20 was pretty dead except for a couple signals up around 14050-60. But after I worked KN4RBN in NC on 40, I thought I'd just try a CQ or two in the dead portion of 20 and to my surprise I got a quick answer from W4CI down near Orlando, FL. Both were solid QSOs although not very long as the other hams had to run quickly for one reason or other. -30-


---

Mon Aug 24 2020 8:07PM - That was quick. Nothing on 20 or 30 in a quick check, but several sigs on 40 including one very strong one. I listened to see who it was and it was AF2F/W4 operating from IOTA NA67. Got him on the first try and the streak continued at 0002Z. That was good because my neighbor and I are going to get a couple sub sandwiches from Vocelli's Pizza in a little bit.

We got a little more rain today and it was variably cloudy all day and warm and humid. The humidity peaked at 99% when it was foggy this morning and never got below 45%. The high temperature was right at 90 degrees. Actually the humidity display is only two digits so it probably was 100%. Now I wonder about the temperature readout. OK, I just looked and I see there is room for and an unlit 1 so it would show 100+ if we get that hot. Also an unlit minus sign if (when) we get below zero this winter. I hope I never see that minus sign lit up.

I did some more work on the train layout today, putting some of my buildings back in place. I also ran the trains quite a bit. -30-


---

Sun Aug 23 2020 8:26PM - It seems like the bands change just about every evening or at least every 2 or 3 evenings. As an example the last couple nights 20 meters was pretty much dead. Tonight I saw a lot of activity there on the PX3 after I got my streak QSO on 30 meters with KM4CU in FL. So I thought I'd throw out some CQs and see if I'd get any answers on 20. It only took 2 or 3 CQs before VE2GDI answered me and we had a nice little solid 10 minute chat.

Earlier today my neighbor and I went on a shopping trip to Family Dollar and Dollar General and stocked up on some food. Along the way we drove back to our 3 or so years old Junior/Senior High School. He drives school bus and sees it all the time, but I had never seen it before since I don't drive and it is up on a hill a couple miles away. It's a very beautiful, very big building with some very nice sporting facilities surrounding it.

Also today I moved along on my railroad layout. After thinking about it a few days, I finally decided to leave the cardboard layout and simply add the insulation board on top of the cardboard. That is working beautifully and it seems to run quieter now. I'm glad I didn't just jump in too hastily and wind up with something I didn't like. I've always been that way. Always plan things out before you do anything. I had a friend at WPIT who thought the same way, and we saved a lot of time, effort, and aggravation by planning things out before we did them.

We had an unusual occurance today. Quite a bit of water fell from the sky. I think it's called rain or something like that. It's hard to remember since we've only had .06 inches of rain since the 4th of August. Today we got over a half inch. The lowest August precipitation was 1.5 inches back in 2017. We still have a shot at breaking that record this year. Despite today and some rain the first couple days of the month, I still think we are under the 1 inch mark. I'll know better when I get my daily total in my 9PM weather instruments check. -30-


---

Sat Aug 22 2020 8:31PM - It's nice to have an easy time getting my streak QSO now and then. Tonight was such a night with the OH QSO Party in progress. I was done at 0002Z after working W8CAR on 80. It took longer to write the QSO in my paper log than it did to make the QSO.

I finished logging all my WPX info today and now I'm going to analyze it and print up a couple tables. I let Excel take a quick count of my total band-prefixes and the total is 8,366. That is a band-prefix is working, say K3WWP on 80, 30, and 15 which would count as 3 K3 band-prefixes and so on. I think I'll tweak the Excel spreadsheet and add a column to count on how many bands I've worked each prefix. It will be interesting to see how many, if any all-band prefixes I have. I'm counting from 160M through 6M or 11 total bands. I have very few prefixes on 60 and 6 meters, so there may not be any 10 or 11 band totals for any prefix, but I'm sure there will be several 9 bands not counting 60 and 6. We'll see.

I did some work on the railroad today. I'm changing my layout which is now on several pieces of cardboard on the floor. Mike gave me some leftover insulation boards, and I can fit my layout on two of them which will leave only one seam instead of the several I have now. Then it will be easier to transfer it to a table top or bench when I get around to doing that. I still need another day or two to make the transfer on the floor from cardboard to insulation board. -30-


---

Fri Aug 21 2020 8:32PM - The bands were about the same as last night, but I had trouble finding someone CQing and no one answered my CQs. Finally I dropped down to 80 meters and found a special event station that I worked. It was K3S in MD. Let's see what it was for. The 58th Anniversary of the Nuclear Ship Savannah's first cruse.

I'm getting close to the end of my WPX work. As I said, I'm working backwards and am now down tothe prefixes starting with a number. Next up is Sweden's 8S prefixes. Some countries are much easier than others to get through. Some seem to issue a special prefix if someone drops a hat somewhere in their country. It's not a bad thing, but it creates more work when checking prefixes for that country. Some Eastern EU countries are like that, namely Croatia and Bulgaria come to mind but there are others also. The same countries in many cases also issue a bunch of different postage stamps.

I'm finally taking some time to delve deeper into the Lionel Legacy Operating System. It sure can do a lot of things with a train and a lot of the commands are not overly obvious and need a little study to learn them. But that's what makes it fun, especially with the handheld cab unit. There are apps that will run the system also, but I prefer the more hands-on approach using the cab remote. Feels more like I'm really running the train when I have to think a bit. I guess kind of like running a steam engine vs. running a diesel in the real railroading world. Steam engines require a lot more work than diesels where you simply sit at a console and push buttons. That's rather a simplified explanation but those into trains will know what I mean, I'm sure. -30-


---

Thu Aug 20 2020 9:08PM - The star band tonight was 40 meters. It looked like there was some big contest going on. At one point I counted at least 20 peaks on the PX3 in the 40 kHz bandwidth on the screen. 30 and 20 on the other hand were pretty much dead although I did hear two weak EU stations on 30, a PA and DL. My QSOs came first from K4JJW in NC, and then N2BZD in NJ, both on 40 meters. BZD and I had a 35 minute long visit talking about various things including last Sunday's Skeeter Hunt. A really great solid QSO.

The weather was nice again today with lots of Sun and still somewhat cool although it was a bit warmer than the past couple days. Still low humidity though. I did some more porch sitting and yard (sidewalk) cleaning. Our grass is mostly brown with only .06 inches of rain since the first few days of the month. Still the crabgrass grows like crazy with its deep roots. -30-


---

Wed Aug 19 2020 8:36PM - The bands were really poor this evening for the most part. There was a lot of QSB so sigs did come up at times, but still... I did manage a QSO with Steve W2XU from ME on 40 meters. Copy was pretty good for about 19 minutes although it was rough at times. He was interested in my attic random wire since he lives in a place where he would like to try something in the attic. So I referred him to my web site as I did with Don last night. I tried some CQs after that, and did get an answer from someone too weak under my QRN to be readable. I hate when that happens and apologize to him and to anyone else to whom that happens.

Today was like yesterday in other ways also. A nice sunny somewhat cool day with some walking and porch sitting. Also I worked more on my WPX file. I'm now down to the EA Spanish listings. I lost my Internet for about 3 hours this afternoon as Windstream had some kind of problems, but it is fixed now. It sure is missed when it isn't working. HI Fortunately Windstream is a very good provider and I can't even remember the last time it was down, it's been so long ago now. I guess that sums up the day now. -30-


---

Tue Aug 18 2020 8:39PM - I spent a lot of time today working on the WPX entries and totals in my Excel log. I'm working backwards alphabetically and I have all the prefixes from Z-M done now, and am about to start on the Ls next with all the LZ###XXX Bulgarian Saints stations.

It was a beautiful sunny mild day today and I sat out on the porch quite a while, and also did a little lawn work as well to enjoy the weather.

For the streak tonight, I worked CM2XN on 20 with a single call at 0006Z, so I then tried some CQs on 40 and after a while I got an answer from Don K4NAX in Indiana. We had a nice long chat. He was also using a KX3 rig. He was interested in my antenna setup so I referred him here to my web site, and he also asked about the Skeeter Hunt so I told him I mentioned it in the diary. So maybe you're reading this right now, Don. HI. -30-


---

Mon Aug 17 2020 7:33PM - I'll start off with the wiring pictures Mike took and emailed me.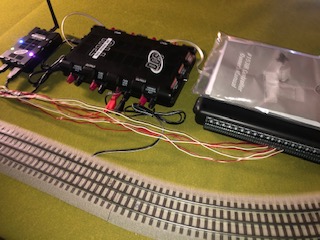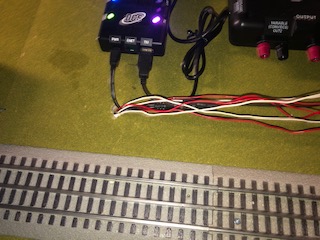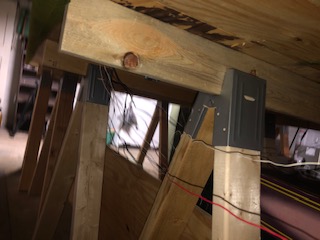 L-R are his control units consisting of Wireless Interface, Track Interface Unit, Accessories Interface Unit. The first two pictures show the interconnecting wiring on top of the layout and the third shows the wiring among the supporting sawhorses. Eventually the control units and the wiring on the layout table will be moved to a shelf or table mounted under the table and all units and wiring will be out of sight underneath. Before 'neating' it up, we want to be sure everything works as it should. I think that's a good description. Mike isn't here to correct any mistakes. HI

It was a busy day today with laundry, paying some bills, a lot of computer work, some garden/yard work, and a walk to the grocery store among some other things including helping my neighbor fix a loose latch on his screen door.

That will stand as my entry. If anything out of the ordinary happens when I go to the shack to get the streak QSO, I'll mention it in tomorrow's entry. -30-


---

Sun Aug 16 2020 9:06PM - A day spent here with Mike today. Besides watching (train) videos, eating, and working some DX here at home, our main event was operating the Skeeter Hunt from Kittanning Community Park from 1 to 5 PM. Except for Mike tripping and falling one time (no serious injuries), the setup went pretty smoothly for a change. I was all ready to operate when the starting time arrived. That was somewhat unusual as we are usually a bit late in getting started in these outings. I had 20 meters and it was really hopping at the start. After 10 minutes I had 9 QSOs. After 30 minutes it was 17 QSOs. Then things started slowing down eventually grinding to a halt. By hours I had 23, 4, 3, and 1 QSO(s) for a total of 31 QSOs in 12 SPCs. Mike had 40 meters and he made 20 QSOs in 8 different SPCs. Our total was 51 QSOs in 20 SPCs. By comparison last year we had 69 QSOs in 25 SPCs. So things were down this year and we probably won't finish second overall as we did last year.

We quit about 5-10 minutes before the sprint ended, tore down our setup, and came home. We then went to Wendy's for a take out meal. After that we emailed our Skeeter Report to Larry W2LJ. Then after more train work (play?) and some ham radio, Mike headed home.

While Mike was still here, I got my streak QSO from Ger, HK7AAG on 30 and Mike worked him after I did. -30-


---

Sat Aug 15 2020 9:16PM - We finished up some train work at Mike's this morning. We figured out the one dwarf signal problem that severely plagued us yesterday. It involved a lot of tweaking of the sensitivity control. We also replaced a broken bumper at the end of one siding. Then we ran a train continuously to make sure the signal was working properly. Next we watched some train videos, and headed back to Kittanning.

Here I put away the things I took to Mike's. Then we watched some more videos, played a couple of Sherlock Holmes games, emailed a couple of our ham friends, and got a dinner from Vocelli's. I also walked Roscoe a couple of times. He was very glad to see me back home again.

While eating our dinner, we decided we'd better go check out the Kittanning Community Park to make sure it was still OK for our Skeeter Hunt outing tomorrow. While up in the park we also took a couple of walks on one of the trails totalling about a mile and a half.

At 0000Z it was up to my shack for my streak QSO. I worked W5FB in VA on 30 meters.

Mike is going to send a picture of the completed wiring of his layout which I will post in a future diary entry. -30-


---

Fri Aug 14 2020 8:25PM - I'm at Mike's again tonight after a day of working on his train layout. I asked him if he wanted to write this diary entry, and he said how about he takes some pictures for the diary instead. I agreed and I'll post them either as an addendum to this entry later tonight or in tomorrow's entry.

I got another pretty quick QSO from here tonight with Mark K5OO in AR on 30 whom I worked a few days ago from my home QTH. I'll close for now pending the possible picture additions later.

And here are the pictures Mike took with commentary about them from Mike.



New York Central Hudson steaming around the bend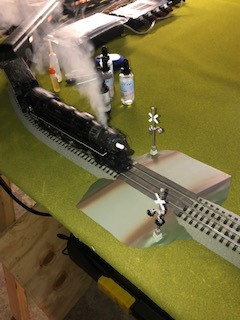 A lights out view of Brookville Junction Railroad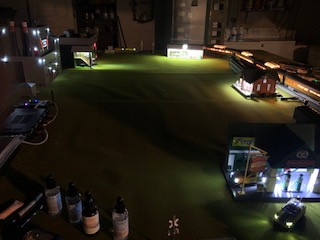 A lights out view of Brookville Junction Railroad from a different angle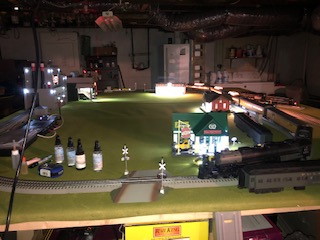 The Piggly Wiggly supermarket with two cars waiting at the RR crossing in background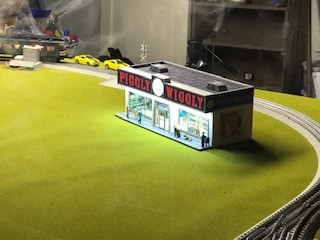 Dave's Garage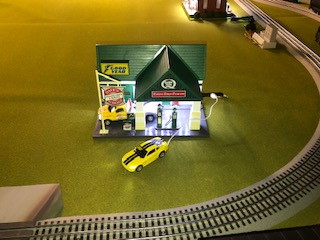 Power Plant and J. Shepherd and Son's Dog Food Plant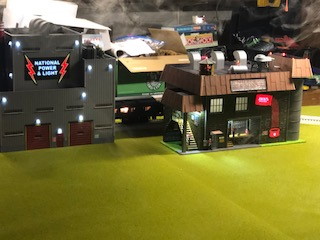 Last word from Mike about the layout, "Notice no wiring across the top of the layout, all underneath now."

Before heading to Lowe's for a couple needed items, we stopped off at Dr. Doolittle's Roadside Cafe and Creamery. We had some ice cream and walked around and checked out the rolling stock they have on display. -30-


---

Thu Aug 13 2020 8:23PM - I just got my streak QSO from Mike's place. A very quick one. I got to his shack about 0011Z, saw a big peak on the PX3. It was K9QVB/9 in WI. I thought he might be calling DX so I listened to another CQ from him, and it was just a regular CQ, so I answered him and with a couple repeats I had my QSO in the log.

Just before that, Mike and I did some work on his train layout. We wired up one of his buildings as sort of a test case. That went smoothly so tomorrow we'll finish the rest of the buildings and a couple dwarf signals. Before that we had a mushroom, peppers, and Italian sausage pizza. And before that continuing backward, we ran his trains a bit and watched a railroad video about the Cheyenne Steam Shop.

It's refreshing doing some different things for a change. Tomorrow we're also going to DuBois, PA to visit Dr. Doolittle's Roadside Cafe and Creamery which is a drive-in ice cream place with railroad rolling stock display which will be fun to see, not to mention eating some ice cream. -30-


---

Wed Aug 12 2020 8:59PM - Good bands again tonight with lot of activity. Good steady signals also. I had a nice 22 minute chat with Greg WK0B up in Fosston, MN on 30 meters with solid copy both ways. We talked about a variety of subjects in that time before his wife called him away. At least that's one thing I don't have to worry about here. HI

Not a lot else going on today. I took care of some donations today among other correspondence via regular mail. Took a walk to the PO to mail them, and walked a longer way coming home. It was nice for walking with the temperature around 87 degrees at the time with a little breeze blowing. It had been in the low 90s earlier in the day. It was also garden watering day for Ange's and my gardens. So I was outside quite a bit including of course Roscoe's walks. Now I've got to go out again and get my weather readings, so I'll close here. -30-


---

Tue Aug 11 2020 7:51PM - Just waiting to head to the shack to hunt for my streak QSO. I'm still working on getting my WPX records up to date. For any of you who may not be familiar with WPX, it's an award for working different amateur prefixes. I don't really care all that much for the actual award, but keeping track of all the prefixes I work satisfies my love of statistics. A prefix is the first letter(s) and number(s) of a call. My prefix is K3 for example. Pretty straightforward except when it comes to portable stations like VP9/K3WWP or K3WWP/VP9. In those cases, the prefix would be VP9 since the operation took place from Bermuda and the prefix of portable stations is always that of the country of operation. Something like K3WWP/4 becomes K4 since the operation took place from the 4th call area. That's just a brief summary of WPX. It can really get fascinating and is yet another way to encourage folks to get on the air more. You can see more info in the AWARDS section of my web site.

As I was going through my Excel log, I found a couple of errors in logging the prefixes. For some reason I had T46RRC logged as a T48 prefix and had to change my log accordingly and also my web site log as well. There were a couple others also that I forget now. Well, off to the shack now and I'll finish this later.

The bands turned out good tonight. All except 20 which was pretty dead. 80-30 had quite a bit of activity. There was even a strong France station on 80. I tried a couple times but lost out to other stations. I probably could have gotten more than my one QSO in our NAQCC sprint but I quit at one despite hearing several stations on 40. My one QSO was with (X)YL Cathy NQ1B up in VT. I worked her several years ago when she had a N5WVR call. Now I'm off to submit my sprint log. -30-


---

Mon Aug 10 2020 8:37PM - The bands were back to normal tonight. It was a struggle to find and work someone, but the bottom line is, I did. It was K1GHL up in Vermont on 40 meters. We had a pretty solid 7 minute QSO till he got a phone call and had to run. Otherwise the bands were mostly dead here. I'd say I heard a total of maybe 10 stations on 40 through 20 meters.

Ange is home from vacation so now I only have to help water his garden instead of doing it all myself. That's a relief. However he said he's going to be away for another week in September. It should be cooler then and hopefully wetter with some rain.

It was 94 here this afternoon, and I had to walk to the store to get some gravy. Why? You ask. Well it was time for Roscoe's flea and tick medicine pill and he wouldn't eat it. Putting it in gravy worked before. However we never got to try it. Bruce got a taco salad and chopped up the pill into the ground meat from the salad, and with some effort, it worked.

It was interesting walking in 94 degree weather. I used to love going out in the weather when it was in the 90s or even the few days it hit 100 or more here. But nowadays at my age, I don't do that much any longer. I was glad to find out I can still do it today. Outside of a little sweating, it didn't bother me at all. I don't think I'd like to do it as often as I used to, though. HI -30-


---

Sun Aug 9 2020 9:11PM - Note the late time. That's because I had a great hour of ham radio this evening. Four QSOs in just over an hour. One DX with KP4TF and three medium chats with K5OO, KB1THM, and W3NA. The first two on 30, one on 40, and finally one on 20. The last 3 on my CQs. I think that's the most QSOs I've had in the 0000Z hour outside of contests in a long long time. Conditions weren't all that great and there wasn't much activity. I just happened to click with those four folks at the right time and on the right band. Felt really good when usually of late I've been struggling to get just my one streak QSO. That doesn't leave much time to write the diary, but nothing much else of note happened today except for some work on my American Flyer train layout. Maybe I'll talk about that tomorrow. Now almost time to take Roscoe out. Sad to see that not long after 9PM it's already quite dark out. Where did those late light nights go so fast this summer? -30-


---

Sat Aug 8 2020 8:56PM - The WAE contest provided the streak QSO again this evening. Tonight it was EF1A whom I got on just one quick call after trying 3 or 4 others who didn't hear me at all.

Really nothing much else to report today as it was only the usual everyday things that occupied my time. I'm looking forward to doing some different things when Mike and I get together later this week. -30-


---

Fri Aug 7 2020 8:22PM - I kind of forgot about the WAE contest this weekend and was surprised at first to see all the peaks on the PX3. I never did like the WAE contest all that much because of the QTC feature. I figured it would be too much of a problem for the EU stations to copy my QTC list and didn't like slowing them up. Fortunately very few stations asked QTC?, and to those that did, I just said no. Other than that it is a good contest all in all. Anyway I worked TM6M after trying a few other stations without any luck.

Not much going on today. I did walk downtown for some groceries. I haven't done that much the past few months. I worked on my log, specifically on my WPX records. I'm trying to find out how many different band-prefixes I've worked. I have the totals for those I have verified, but not for just worked. I'm enjoying that. Those of you who are regular diary readers know I love working with stats. -30-


---

Thu Aug 6 2020 7:54PM - Just getting ready to head to the shack to try to get my streak QSO and make it day # 9,500. That number and the 26 year mark almost collided.

I hope the bands are good tonight and I can get a quick QSO as I have some other things I want to work on before bedtime. Nothing important that can't wait, but it will be nice to get them done.

I just heard from Mike via email about our plans for the following weekend (13th-16th) for working on his trains and then doing the Skeeter Hunt on Sunday. More about that as the days draw closer. Now off to the shack.

Conditions continue to be very poor here, but I did manage to eke out not one, but two QSOs nevertheless. After a long search, I finally found a good CQ from AG4WY and worked him pretty easily. Then when we finished, I got called by N9ZXL and had a ruff 9 minute QSO with him. The QSB and QRN were very bad. It's now 8:33PM so that didn't take too awfully long. -30-


---

Wed Aug 5 2020 8:35PM - Quite a good day today all around. This morning we took Roscoe to the vet for his annual checkup and shots. He got a good report. Then when we got home, I watered Ange's garden and then mine. Then I did some computer work, mainly updating my streak report. It is now totally updated to the 26 year mark.

Later Roscoe's owner Bruce called and said Roscoe wasn't feeling well. I went over and he was pretty sluggish and didn't seem to want to do anything. We figured he was just having a reaction to the shots he got earlier, and we let him rest while Bruce kept an eye on him. I checked again a little later and he was still about the same. When I came back over here, the girl next door came to my door with a casserole for me. I asked if she wanted to look at some more old jewelry etc. that we overlooked yesterday. Well, we wound up spending about an hour together looking at a lot of the 'junk' I have accumulated over the years. She seemed very interested in everything we looked at. She has a very level head on her shoulders unlike a lot of girls (and boys) these days. I even showed her my ham radio setup. We tried to contact Phil KP2M with no luck. He was working one EU station after another. I guess he had his beam pointed to EU as I never got so much as a ? from him. After she finished her visit, I helped her carry some things she picked out over to her home.

Then I went back to check on Roscoe. This time he was at the window looking for me and jumped down as soon as I got on his porch. So I knew he was feeling better. I took him out for a walk and fixed his supper. He seems back to normal again.

The bands this evening were normal again also. At least normal according to the last 10 days or so, meaning they were poor. A little better perhaps as I did hear a few more stations. I did manage to work KM4CU down in FL on 30, but it was a rough QSO. Still the streak goes on. -30-


---

Tue Aug 4 2020 8:23PM - The average time to get my streak QSO the last two evenings is 30 seconds past 0000Z. Tonight it was Kevin KE1VT on 30 meters. The bands seemed poorly, but still the QSO came easily.

I did some work on my streak report in the QRP section of my web site today. I have all the text updated to the 26 year mark. I still need to update some stats at the end of the report though. That will take a little more time as I have to juggle my Excel log to figure out some of them. The ones that are updated have an asterisk before them.

I received my American Flyer fastrack in the mail today. That was quick as I ordered it around 11AM on the 2nd. Wow, that's less than 48 hours! It only came from Indiana, PA which is about 25-30 miles from here, but still that's speedy service. It came from the Hobbyspeed store which Mike and I have visited several times now and gotten to know the folks there, especially Brett. The track works good, but there was one joint that kept separating. I wired the joint with a paper clip and it works fine now. I get a good steady speed all around the oval now unlike with the old original American Flyer track.

One more good thing today. The girl next door celebrated her 16th birthday a couple days ago, and I told her I'd give her some of my late mother's old jewelry if she wanted it. Although it was old-fashioned in a sense, she went through it all and took around 20 pieces or so. She really enjoyed looking at it all and picking out what appealed to her. I was glad she took so much since I would never be using it. -30-


---

Mon Aug 3 2020 8:36PM - It didn't take long for the streak to reach 26 years this evening. Not long at all. I tuned in 20 and 30 and heard nothing a couple minutes before 0000Z. Then went to 40 and saw a few big peaks on the PX3 panadapter. I tuned in the strongest and it was WW2OK calling CQ which ended at 2 seconds after 0000Z. I called and got an answer calling me by name. I didn't recognize the call and asked for his name. He said it was Merrill. Hmmmm, must be WK2G whom I've worked many times with a new call or maybe a special event call. It was WK2G and after a short chat of 6 or 7 minutes, he referred me to the QRZ listing of WW2OK, and I just checked it out now. Turns out it's a calll of the USS Oklahoma Memorial ARC in Tulsa, OK celebrating the 75th anniversary of the end of WWII. Because of the virus, club members were allowed to use the call from their home QTH, after bigger events were cancelled. The QRZ listing is quite interesting. I won't quote any of it here, but you may want to check it out.

OK, on to the streak now. August 4th completes 26 years of daily QRP/CW QSOs here since it started on August 5, 1994 when I worked KG9N/C6A. I haven't missed a day since. That's 9,497 straight days. A total of 70,978 QSOs or an average of 7.5 QSOs per day, a figure enhanced my many contests over the 26 years. On non contest days, it would be between 1 and 2 QSOs per day. I'll have a lot more to say about the streak when I get around to updating the streak pages in the QRP section of my web site here. It will probably take a few days to get it done.

It was a busy day otherwise with laundry, watering Ange's garden (where are you, rain?), garbage day, doing some web site updating, and so forth. Almost time now to get my daily weather report. That's an even longer streak, helped out by my mother and aunts when I was away at school. It goes back to a partial year in 1959, then full time from January 1, 1960 to present. That's around 60 years. Wow! -30-


---

Sun Aug 2 2020 8:44PM - Whew! Whew! I was thinking for a while the streak might be in trouble. Of course I would still have 23 more hours to get a QSO, but I sure had trouble getting one in this 0000Z hour. Constant scanning of 80 through 20 showed no promise of getting a QSO. Almost no one calling CQ except for a few very weak stations who weren't hearing me at all when I called them. Plus no answers to my CQs. Finally though I found a strong CQ from WA9FCA in KS on 30 meters and worked him easily at 0029Z. Hey, that wasn't all that long, but it sure did seem long when I wasn't getting anyone.

The worst part of all is if the streak did end, it would have been just one day short of the 26 year mark. That would have been doubly bad for sure. Now I am down to needing just one more day to reach that mark.

It was another quiet day around here with nothing really to talk about. Oh I did cut my grass in the back yard today and did some weeding around my garden plants. That's about it. -30-


---

Sat Aug 1 2020 8:08PM - Some days are virtual lead pipe cinches to get my streak QSO. One such day was tonight with the NA QSO Party going full blast. I easily worked Jeff KU8E on 20 meters. I should have asked Mike if he wanted to do the NA QP as a Tag Team event as we did in January, but I didn't think of it until too late. Actually I was thinking it was next weekend. I used to really get into the NA QP at one time. A couple different times I got over 500 QSOs in 10 hours for a rate of 50+ per hour, the best I've ever done in any contests. Lately though I just haven't been that enthusiastic about most contests. I guess it's old age catching up with me. HI.

We had a somewhat rainy day today which is good because Ange is on vacation and without the rain I would have had to water his garden. So far so good and it looks like I may be off the hook until maybe Wednesday as we have rain predicted through Tuesday.

I did some train work today. I took all my American Flyer track apart and cleaned the connecting pins. I was getting spots on the track where the train would slow down. Now it seems much better although I only had time to run a few laps so far.

I put the July weather into my Excel spreadsheet today. We had the following interesting records. The average low was 66.2, the highest it has been in my records. The low for the month of 58 was the highest for any July in my records. Likewise the lowest daily mean of 71 tied 2011 for the highest of any July. No record, but it was a dry month with only 1.84 inches of rain, 2.45 inches below normal. The average high of 90.9 and average mean of 78.5 were close to records, but 2011 and 2012 beat them out. Despite it being a near record warm month there were very few daily records set. Just to mention a couple, highs of 96 on the 5th, 98 on the 10th, and 96 on the 27th tied or set records. Highest daily averages of 83 on the 9th and 10th, 81 on the 27th, and 80 on the 31st tied or set records. An interesting month. -30-


---
stat-counter.org