---
Mon Jul 13 2020 7:36PM - The StatCounter 'glitch' was explained today by the Founder and CEO Aodhan Cullen. He doesn't say exactly what happened more than there was a data collection error at their site. Then another message this morning that the lost data can't be recovered, but they have 'estimated' the number of visitors for the missing period. I'm still keeping FreeVisitorCounters though as a backup in case StatCounter goes down again. I doubt very much it will because Aodhan and his group have an excellent organization.

It was a nice day today with a high around 80, low humidity and a nice breeze. I did some outside work including cleaning up the back yard a bit along with my brick sidewalks.

Conditions were very poor last evening and it was a struggle to get my QSO. I finally got WB2MSB on 20, but it was a very poor contact. We just barely exchanged enough info to make it a QSO. Still I hung around and got another one just in case from K5OGX in AR on 30 meters. Hope things are better this evening when I go to the shack in just about 15 minutes now. -30-


---

Sun Jul 12 2020 7:35PM - I've been having several little glitches in this and that the past couple days. I'm not going to describe them here, except for one. Ever since day one, I've been keeping track of the daily visits to my web site. The best counter I've found was StatCounter. However it stopped working yesterday for no reason that I can figure out. So I installed a new counter today to try it out. It's called FreeVisitorCounters and is completely free with no ad banners or anything like that. The stats are not as detailed as those of StatCounter, but sufficient for me. If StatCounter starts working again I'll go back to it, but at least I'll have interim stats until it does, if it does. All of that is really in the background as far as visitors are concerned, but I thought I'd just mention it to let you know of some of the problems one encounters when running a web site. It's not as easy as just getting, for example, a Facebook page, but doing all the design and operating work myself gives me much more flexibility. The only outside work is the site that hosts all the pages that I design, which is Cahaba Internet run by my ham friend Bill WA4FAT down in Alabama. Bill is kind enough to only charge me for registering my domain name of k3wwp.com. All other hosting services he provides free for me. Thanks Bill.

It's getting close to time to head to my shack to try to get a QRP/CW simple antenna QSO for day # 9,475 in a row. It will be a full 26 years for the streak in about 3 weeks now if I make it.

Some of you ask about my garden now and then. I haven't reported on it in a while now. It's been slow this year for various reasons including very low rainfall. My tomato plants are coming along with several large green tomatoes on the Better Boys and several small green ones on the Siberians. I have some flowers on my pepper plants and a couple of tiny peppers just starting where the flowers fell off. Only two of my bean seeds sprouted this year and the one is about 4-5 feet high now while the other one only 1-2 feet. I don't know what went wrong with them this year. I just hope to get enough beans to have seeds for next year as I really like the Speckled Butter Beans that a friend sent me several years ago. As far as flowers, I had a lot of roses back in June but they are slowing down now. My daylillies just started blooming a few days ago and I'll have a lot of them this year. -30-


---

Sat Jul 11 2020 8:34PM - The IARU HF Championships brought the bands alive this evening, but I had trouble working any of the DX stations save for one. I had an easy QSO with 9A0HQ, but none of the other DX stations I called seemed to hear me at all. I did get a couple ?, but I'm not sure if they were for me or someone else. Strange. I wasn't planning to get more than one QSO anyway, but since that one came quickly, I thought I'd see how I would fare with the other DX stations. The answer was not very well at all. The SF has been down in the upper 60s again for some time now. Perhaps that has something to do with it.

Not much happenning around here today. It was nice to get back to my regular daily Roscoe walks again though. I think he liked it too. It was quite cool today until late in the afternoon due to overcast skies and light rain. That made it nice to walk.

Mike sent some pictures of our 'adventures', so maybe I'll pick out a few and post them here in the diary the next couple days. -30-


---

Fri Jul 10 2020 8:31PM - Here I am back home again after spending a couple of days with Mike KC2EGL at his new house in Brookville. As I mentioned in the previous couple entries without going into much detail, we worked on getting his ham radio antenna installed and also on his model train layout.

The antenna installation went quickly while we were awaiting on a lumber company to deliver material for the train layout. The only problem during the antenna work was a short somewhere. With the help of a VOM, we traced it to one coax connector. We soon had that fixed and it was time to try it out again. This time it worked well, tuning nicely on the bands we checked. A final check came in the form of making contacts. We worked WA2USA on 30 meters and decided it was working.

When we finished the antenna, the lumber still never arrived, and after visiting the lumber yard and finding they could only deliver part of Mike's order yesterday, we decided to let them deliver that and then changing our plans, as soon as it came, we headed off to the Kinzua Bridge Park whick we were going to do today. In case you don't know, Kinzua is the site of a high-level former railroad bridge that was destroyed pretty completely by an F1 tornado. That was back in 2003. At one time the viaduct was the longest and highest railroad structure at 2,053 feet long and 301 feet high. The viaduct was never fully rebuilt and only part of it exists today as an overlook at the area around Kinzua. And a great view it is. For more info, do a Bing search for Kinzua bridge park.

After we got back home and had a meal of subs, we constructed the sawhorses that would be supporting Mike's train platform. However we had to do that all over again this morning after Mike decided and I agreed that the current height of the sawhorses was really too high at four feet. So as soon as I got up, I tore all the eight or so sawhorses apart. Then I had breakfast with Mike. After that we cut each of the 30+ sawhorse legs down to about 3 feet. Then we reassembled the sawhorses. We arranged them in the pattern intended to hold the plywood. Then we struggled to get the heavy sheets of plywood up on the sawhorses, and grimaced when a couple of them collapsed, and we had to struggle again to reassemble them and get them back under the plywood. Whew! Next we installed some metal brackets to hold the sheets of plywood together, did some tweaking of the position of the now 10' x 10' plywood sheet and also the height of a few of the sawhorses. That was about as far as we could get with the materials we had. Next would be a foam insulation or homasote sheet that goes between the plywood and the train tracks and a sheet of grass on top of that. However the homasote won't be delivered till next week, and then we'll pick up from there some day that week.

Meanwhile after Mike drove me home today, he hung around a while and we played computer games, watched train videos, ate, played with my trains, and checked the ham bands. Before all that though, I had to go over and see my friend Roscoe. Bruce said he really missed me and kidded that the next time I go away, I would have to take Roscoe with me.

I had a little trouble getting my streak QSO this evening, but finally LZ3ND heard me after a few repeats of my call. Last night at Mike's I continued the streak with PJ4/KU8E on 20 meters. That makes only a small handful of QSOs I've made for the streak away from my home QTH. Still all QRP/CW and simple antennas though. -30-


---

Thu Jul 9 2020 8:40PM - After a couple little glitches with a coax connector, Mike and I got his antenna installed today. We then tried it out and worked WA2USA/P at some park that I didn't catch the name or number of on 30 meters. Then this evening we worked PJ4/KU8E on 20 meters. So the antenna works well.

The train project didn't go as well thanks to a local lumber yard that delayed in delivering materials and then after they did come, they said one item was on back order and wouldn't be here until next week. So we did as much as we could today and will do a little more tomorrow. A full report later. -30-


---

Wed Jul 8 2020 5:55PM - In a couple hours, Mike will be arriving. We'll have a pizza and do a couple other things like get my streak QSO. So I thought I'd write the diary entry a bit early today.

I'll have more in the diary about some projects we have planned for the next couple days as the projects come to completion.

It was a bit less hot today after a high of 98 yesterday. My AcuRite or I guess more accurately, my La Crosse Technology remote unit shows a high of 93 today and 91 right now. The humidity is a relatively low 41% which keeps the heat index lower than it could be. In fact it's only 92 right now, just about the same as the temperature. Ooops, just dropped to 40%, then back up to 41 again. HI. -30-


---

Tue Jul 7 2020 8:53PM - I completed a couple tasks today. The last one just a few minutes ago. I filled out my application for the 13 Colonies Award. For the fifth year in a row I worked all 13 coloniew plus WM3PEN, but never worked or even heard GB3COL. I didn't get any new band-colonies since last night so those totals in last night's diary entry are complete for this year.

I finished changing over all my American Flyer couplers today. Now all my locos and rolling stock have knuckle couplers.

This was our warmest day of the heat wave so far at 97 on my AcuRite remote unit. I'll see what the 'official' thermometer shows in a couple minutes. Actually it cooled off quickly as a kind of front passed through earlier this evening. It went from 96 down to 78 right now. However the humidity rose from about 40 to 66 percent now. There was rain all around us, but none here although I think I hear a couple tiny drops on my porch awning as I'm typing this. -30-


---

Mon Jul 6 2020 8:30PM -Since I got NJ to finish the 13 colonies, I decided to see how many band contacts I could make with the colonies stations. When I worked NC on 30 tonight, that made a total of 23 as follows: 80 - 4, 40 - 10, 30 - 5, 20 - 4. I've worked K2M PA on all 4 bands, K2J NC and K2K NH on 3 bands. I must congratulate the NH stations - They're Everywhere, They're Everywhere. Those of you, like Mike KC2EGL who know of the Chicken Man radio spots will appreciate the reference, I'm sure. They really are. I've heard two of them on the same band a couple times, and I don't think there was one time I went to the shack so far that I didn't hear at least one K2K NH station.

My knuckle couplers for my American Flyer trains arrived today and I have all but one old link coupler switched to knuckle now. It wasn't too hard to do except one stubborn one on one of my tenders. I finally got it though with a lot of effort. Now things look more realistic with the knuckle couplers.

Our heat wave continues here with a hight on my AcuRite remote showing 95 degrees. The humidity remains somewhat low, thank goodness. My house also remains decent when I open it up at night and close it down during the day. Right now it is 80 degrees inside and that is as high as it has gotten so far.

Oh the K2M I worked on 20 this evening was operated by my friend from Skyview, Bob WC3O. -30-


---

Sun Jul 5 2020 11:53AM - DONE! To borrow from the completion of the Transcontinental Railroad in 1869. That was the one word message sent by telegrapher W.N. Shilling to signify the completion on May 10, 1869. I use it now to signify the completion of the 13 Colonies event when I worked K2I NJ at 1550Z on 20M today. I still need GB3COL to have a complete completion, but at least I now have the 13 colonies and WM3PEN in my log. It was a very easy QSO after all the futile tries earlier this month. It only took one call plus a repeat after he sent K3W?. That's a relief now. I'll wait to send my log entries to see if I might luck out and get GB3COL. I've never gotten it yet in all the years I've been trying and in fact I think I only heard it one of the years. -30-


---

Sat Jul 4 2020 8:40PM - I just finished folding my flag with the help of my neighbor after flying it all day today. It's the flag that draped my father's coffin way back in 1964 and it's very special to me. I only fly it on patriotic holidays since I don't want anything to happen to it.

I'm coming to the conclusion that NJ has only one CW operator in the 13 Colonies event. So far I've only heard NJ twice and both times the pileups were awesome and split operation was necessary. It was quite strong on 40 a couple evenings ago, and this evening was pretty weak on 20 and was not hearing me at all. But I'll keep trying as long as it takes. I'd hate to come up one short, but I guess getting 12 plus WM3PEN is not bad for my simple QRP CW setup. Still it would be disappointing to not complete the sweep this year as I've done the past several years. -30-


---

Fri Jul 3 2020 7:19PM - Still looking for K2I NJ to complete working the 13 Colonies stations. Well except for GB3COL. K2I had a huge pileup last night and I gave up trying to work him. Maybe I should have tried longer as I haven't heard a sign of K2I today. I think I heard all 12 plus WM3PEN that I've already worked. Of course there is still a lot of time left for me, but I would like to close it out as soon as I can. Maybe the 0000Z hour later tonight will prove to be fruitful. I hope so.

I was going back through all my portable operations records today and putting the results in an Excel spreadsheet. I didn't realize how many opeations I've done. Most all of them except for a few earlier ones involved Mike KC2EGL. Some earlier ones were with WY3H Tom. Also a few later ones with Tom WB3FAE when Mike wasn't with us.

It was a good day to do that as our heat wave continues. It hit 92 today. Fortunately the humidity hasn't been too high yet although it may increase over the next few days.

I don't have air conditioning, but keeping windows open at night and closing windows, drapes, and curtains during the day has kept the house comparatively cool so far. -30-


---

Thu Jul 2 2020 3:54PM - Thought I'd do an early entry today and report on my 13 Colonies quest. I didn't find any more stations yesterday until the 0000Z hour last evening. In that hour I got off to a good start. I started with K2C RI 40, K2H MA 40, K2K NH 80 (new band), K2J NC 40, K2F MD 80 in the 0000Z hour. Then K2M PA 40, WM3PEN PHILA 80, K2A NY 40, K2D CT 40 in the 0100Z hour. A little while ago this afternoon K2L SC 20. That's 9 of the 13 colonies plus WM3PEN so far. I still need GB3COL, NJ, VA, GA, DE. Hopefully I'll get at least a couple of those this evening. I haven't even heard any of them so far.

One thing I should point out for those of you who don't know me all that well. I NEVER use spotting of any kind to find stations to work. I simply tune the bands, and look for peaks on my PX3 panadaptor, then tune in to the peaks and listen to see who it is. I prefer to do all the work myself rather than have someone else do the work for me. If you use spotting, that's all well and good. It's just my personal thing not to do so. If I did use it, I probably could have all 13 colonies already, but it wouldn't be as rewarding to me. End of soapbox. HI -30-


---

Wed Jul 1 2020 7:41PM - Well, here we go with the second half of 2020. We can only hope and pray this half will be better than the first half.

I started off on my 13 Colonies quest this afternoon by working K2K in NH. 12 to go now plus WM3PEN and GB3COL. I never have worked GB3COL in the previous several 13 Colonies events, although I have gotten all 13 colonies and WM3PEN in each of them. K2K was the only station I heard today. Perhaps I'll find others when I go for my streak QSO at 0000Z. I think that is a wonderful event to honor our great country and since I found out about it, I have participated every year and will continue to do so as long as it is held.

It looks like we are in a heat wave for the next week with temperatures around 90 each day and very little chance of any rain. We could use the rain as we only had about half our normal amount in June. It was about 2.5 degrees above normal in June.

Almost time to head for the shack now, so I'll close here. -30-


---

Tue Jun 30 2020 8:28PM - Of course with the Canada Day contest starting this evening, it was a cinch to get a quick streak QSO which I did with VE3CX on 20M. I remember when this contest was nowhere as big as it is today. Now it is just like a big contest such as the WPX, FD, etc. Well maybe not that big, but I think you get the point I am making which is that it is really growing as the years go by. It used to be that I could finish pretty high in the scores with my simple setup. K8UCL and I used to battle each other for the top QRP score. Unfortunately Corb passed away before we had too many years to battle. We became good friends due to the RAC contests. Just before he passed, we were going to set up a two man QRP operation in some contests, but that never came to pass.

After FD ended, my next big 'project' with Mike is going to his house up in Brookville PA where we'll spend 2-3 days together setting up his ham station and his model railroad. That should be on July 9, 10, 11 if all works out right. I'm looking forward to it. I was just thinking today when the last time was that I spent the night away from home. I think it was in 2003 when I spent a couple days with my late cousin Virginia on the weekend after Thanksgiving. I remember that was when I did the CQWW DX contest portable from her home. That was a lot of fun as she lived outside the valley here and conditions were so much better there. I might have set an all time high personal score except for a couple of things. First I spent a lot of time visiting with her. Second I didn't have the best equipment. I used Eric KB3BFQ's old QRP+ rig, a makeshift antenna, and logged on paper instead of computer. If you'd like more info on that outing, look in the CONTESTING section of my site on the Stories page and go to the 2003 CQWW DX story. -30-


---

Mon Jun 29 2020 1:09PM - I thought I better get my FD story written before all the memories fade in my old failing memory. To show what I mean, Mike and I planned on taking a series of pictures of our setup, etc. We never thought of the plan again until after we tore down Sunday afternoon. However if you go to my Diary Archives via the link above, then to 2019 and go to the entry for June 25, 2019, there you'll find pictures of our setup which was pretty much identical to this year's setup. Well, except we are a year younger in those pictures.

As mentioned in previous entries to bring you up to date. Mike arrived Friday evening so as we wouldn't be as rushed getting set up Saturday morning. As it turned out, it didn't take us all that long to get set up anyway, but it was nice to spend time Friday evening playing trains, checking the bands, playing computer games, etc.

After we got set up and started in action, we found the bands pretty poor and had trouble even finding stations let alone working them. The problem was especially bad for Mike on 20 meters, while 40 for me was bad, but not as bad. When we finally threw in the towel sometime around 9:30PM, I had only 60 QSOs and Mike had just 9.

I got started around 8:20AM Sunday morning and found conditions improved over Saturday. Still not great, but I was finding more stations and working those I found more easily. Mike joined in about a half hour or so later and found things better on 20 also. I stuck with 40 meters until just after Noon when I thought I'd see if my 40 meters vertical woulld load up on 15 meters. I thought it might since of course 15 is the third harmonic of 40. I bypassed my 40M bandpass filter, and saw a lot of signals on the panadapter. I hit the auto tune button on the KX3 and got a low SWR, about 3:1 or so. I called AG9A and got an immediate response from him in IL. The QSOs came rapidly, but I had to use the KX3 tuner to get a low SWR every 5 to 10 kHz. I finally just set the tuning every 5 kHz and the KX3 memories remembered the settings as I tuned the band. The setting varied across the band dropping to a 1:1 somewhere in the middle of the CW band and rising to 2:1 to 3:1 as I moved away from center. Anyway whatever the setting, I was racking up the contacts. With a 10 minute break to walk Roscoe, I made 21 QSOs in the 1600Z hour and then, including 2 on 10M, I made 27 more QSOs in the 1700Z hour. Actually 15 was sounding pretty much like 40 as to the stations I was working. With a few longer skip stations (TX, AZ, MO, OK, etc.), I was working mostly the NE quarter of the USA.

Mike made 41 QSOs on 20 vs. 9 Saturday in about the same amount of operating time. At one point he changed antennas and got even better results with his jumper dipole.

After we finished at 2:00PM and tore down our setup, we decided we might as well submit our results. So we combined our dupe sheets, and used the web autologger to submit all the required info which the ARRL acknowledged via email. After we got everything back to normal, Mike visited for a few more hours. We played computer games and watched train videos until he had to leave and head home. It was a great weekend despite the less than optimum conditions.

As a post mortem, when I was putting my log from GenLog into my Microsoft Excel log, I noticed there were three dupes in my 40M QSOs. I think maybe the latest version of GenLog changed the way it handles dupes. I'll have to look into that. So I resubmitted our FD report to ARRL with the three dupes removed. After that we wound up with a total of 230 QSOs and a claimed score of 2,280 points in the 2B category. Oh, we both used our KX3 rigs and PX3 panadapters at 5 watts output. The only bonus points we got were for battery power and submitting via the autologger. -30-


---

Sun Jun 28 2020 9:17PM - Much better conditions today than yesterday. Mike thought we might have approached 600 QSOs had yesterday been like today. I wasn't that optimistic though. I figured maybe 400 to 500 or so. It's all a moot point now though since we wound up with just 231 QSOs which was still not bad considering conditions that we outlined yesterday.

I just spent time looking through my FD log and it's late now so I think I'll postpone my report on FD till tomorrow.

Conditions were good on 40 this evening and I had two nice streak rag chew type QSOs with Steve K2KRG and Art K8CIT. -30-


---

Sat Jun 27 2020 10:14PM - Now here's my "partner in crime" with tonight's diary commentary on the first day of FD. Take it away Mike.

This has been the worst field day conditions wise. I worked 20M and had no luck what so ever. I went the first two hours without a single QSO. I thought I had narrowed it down to a bad antenna. I swapped out antenna's during a break due to a torrential downpour which lasted around an hour. I had started out using a Barker WIlliamson window antenna set for 20M. It worked flawlessly the past 2 years. Found a wire had broken off at a connetor. So I installed a new connetor hoping that would fix the issue. This was during our troubleshoooting before the festivities started. Well as luck would have it, it did'nt work

So back to the rain delay. I put up my trusted old multi band dipole that I have used many times during park peditions and other field day events. Shortly after we got back to operating I finally logged my first QSO. I actually celebrated. Normally I would have around 100 QSO's logged by the time we would shut down for the night. I am way behind in that department. The QSB was the worst I have ever seen (or heard)it. Plus the skip on 20M seemed to jump around quite a bit One moment I would hear stations in Tx, AR, and MO. then suddenly I would hear CA and WA, followed by Fl and Ga. Very strange conditions here in WPA today. John was well below his numbers as well. We decided to call it a night due to the poor conditions and some of the neighbors who are celebrating the Fourth of July a week early.

We will give it another shot in the morning. Until next time de Mike KC2EGL.

Thanks Mike. I used FD to get my streak QSO just after 0000Z. I worked long-time contester K1GU in TN using my call K3WWP instead of N3A. I also worked him earlier with N3A. What Mike said about conditions in FD is absolutely true. He could have added my local QRN problem as another reason for the poor showing. It was a solid S6 on 40 and few signals would peak over it, and when they did, the peaks were very short duration. If you didn't work the station right away, he'd probably be gone before you had another chance. Oh well, no matter, it's always nice to get on the bands with Mike, be it FD, parkpeditions, Skeeter Hunts, FOBBs, etc. Mike suggested we do this fall's PA QSO party as a tag team. That sounds good to me and if all goes well, we will do it. -30-


---

Fri Jun 26 2020 9:19PM - Mike is sitting across the room from me. Do you have anything to add to the diary? "We operated some trains. Went and got my QSO for the day. Some details later. We went for a nice stroll until the artillery of fireworks started a week ahead of the Fourth." I just said to Mike it was so much nicer when fireworks were illegal here except on the Fourth itself.

As for my QSO, it came almost immediately after I sat down at the rig. I heard and worked KW9M on 30 meters. Then added a QSO when N5JJ answered my CQ on 20 meters.

Now we are both looking forward to FD tomorrow. -30-


---

Thu Jun 25 2020 8:49PM - Strange bands this evening again. 30 meters started out like last night with several good signals on the panadapter. I thought it was going to be easy to get my streak QSO. However like someone turning off a switch, all the good signals disappeared except for super station KC1XX. I did manage to find NM1I just above my noise and he answered my call. But he gradually faded away during his first transmission to almost nil. I went back with a quick exchange, but never heard him again so I couldn't count that as a QSO. I then went to 20 meters and found K1NVY booming in. I answered him and was suprised that he was in Seattle, WA. We had a six minute QSO till 20 kind of faded away also. Anyway the streak continues.

I did some FD preparing today. I updated GenLog to the latest version which counts "D" FD stations as point stations for this year because of the virus which will have many stations operating as home stations. I got out my portable antenna and some other pieces of equipment I'll be using. Mike will be coming down tomorrow evening. It will be good to get together again.

Otherwise it was the usual daily routine of walking Roscoe, working with my trains, mostly the American Flyers, and so forth. -30-


---

Wed Jun 24 2020 9:03PM - It's been a little longer day than usual. Well, to be accurate I should say I've been awake a little longer than usual today. The day has been the same length. I had to get up early to help take Roscoe to the groomer. She did a great job on him and he looks and I'm sure feels better now with shorter hair and toe (paw?) nails. Especially with what I'm sure will be warmer weather coming soon. It hasn't been all that warm overall so far this summer.

Wow, was 30 busy this evening. At one point when I was in a QSO, I saw about 8 or 9 strong signals on the panadapter screen. In contrast, there wasn't much at all on 40 or 20. I worked K4UX in VA and W1ZIY in MA. W1ZIY answered my first CQ after I closed with K4UX. In contrast, I had no luck this morning hearing Glenn K3SWZ on his parkpedition. In fact there was virtually nothing at all but noise on 40 meters at that time, and I listened about a half hour. -30-


---

Tue Jun 23 2020 8:05PM - At last I have a few bits of news to write about here in the diary. The bands were pretty dead all around this evening. Fortunately Kam TI5/N3KS was booming in on 20 when I turned the rig on a couple minutes before 0000Z. I waited for 0000Z to come hoping Kam wouldn't go QRT before them. As soon as it turned to the new day, I called and worked him easily. We've worked many many times. Let's see how many. This was our 23rd QSO, of which 14 were from Costa Rica and the rest from Maryland. Actually more than that since he is usually the op at TI7W in contests. I've got 10 QSOs with TI7W.

Tomorrow morning will be a bit busy. We'll be taking Roscoe to the groomer for an 8:30AM appointment. Then later in the morning I hope to be home in time to look for long time diary reader and email friend Glenn K3SWZ who is going out on a parkpedition in York County PA around 11 AM around 7050. I hope conditions are favorable and we can make it.

I received two certificates from Larry W2LJ for last year's Skeeter Hunt, one for me and one for Mike for our operation as N3AQC. Let's see if I can scan one and post it here.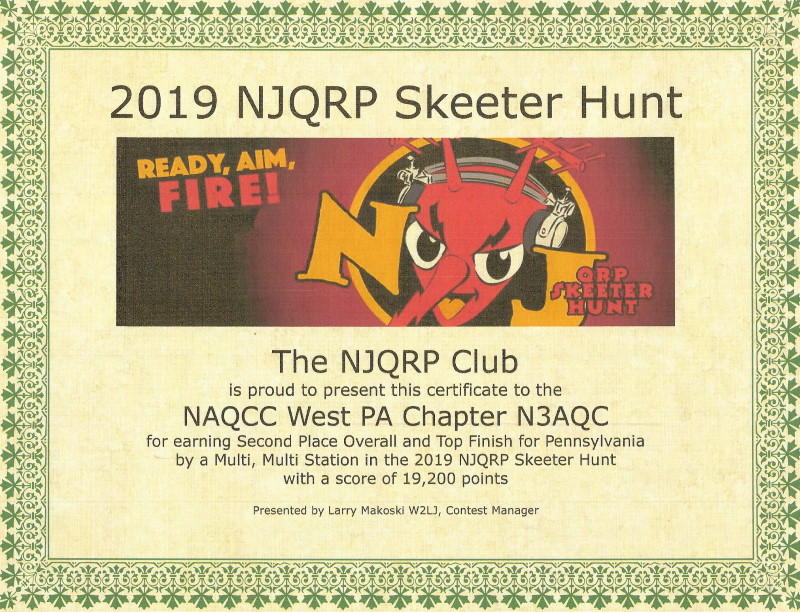 OK, just checked and that turned out good. -30-


---

Mon Jun 22 2020 8:34PM - There was kind of a reversal in the bands this evening. It was 20 with a lot of activity and 30 had almost no activity. There was even a strong Russian on 20, but he was quite busy and after calling once and failing, I just moved along. There were good signals from New England on 20 and I worked WA1VUG in MA for a solid but short 589/589 8 minute QSO.

It was a very warm humid day today. I think the most humid day yet this year. It really felt like the heart of summer. So it was mostly an indoor day playing with trains and the computer, only venturing out for a brief shopping trip this morning and Roscoe's usual five daily walks. Well four so far then the last one coming up at 9:30. -30-


---

Sun Jun 21 2020 8:41PM - The bands were so-so this evening. Very little on 20, but 30 was busy. I got a couple QSOs on 30. KA4FDM in MD and K4ABC in NC. Both 10-15 minute rag chews. Otherwise the day was so-so also. Nothing out of the ordinary except Mike reminded me about getting us a number for the Skeeter Hunt in August which I did. We will be # 130 using the NAQCC club call of N3AQC. I reserved the call from Steve today also. So we're set for that. Mike will be coming down Friday evening to work out our FD plans for the next day. Actually we pretty much know what we're going to do. It's just a matter of some tweaking. -30-


---

Sat Jun 20 2020 8:53PM - The bands were good again this evening with lots of activity especially on 20, both in the AA contest and otherwise. I found that my Asiatic Russia pipeline is not working yet. RA9P was booming in with not any trace of flutter yet he didn't hear me calling him at all. He just went on calling CQ so it wasn't QRM beating me. He just plain wasn't hearing me. It was interesting that he was sending his age as 15. They still breed hams young, at least CW hams in Russia.

I first worked K8WV on 40 in the WV QSO Party to secure the streak for another day before I went to 20. Then after 20, I called CQ on 30 and had a nice QSO with Steve K2KRG for 26 minutes. He asked me about the QRP streak, and then we talked about the high bands and our FD plans.

It was a little hotter and more humid today on this first day of astronomical summer. The high was about 85 and the humidity is now 55%. -30-


---

Fri Jun 19 2020 8:37PM - I had to resort to 80 for my streak QSO tonight. I heard nothing on 17 or 15, 20 was busy with the All Asia contest and I couldn't hear any Asians strong enough to try to work. I did call an RT8 or RT9 station but he was very weak and very busy. 30 and 40 had several stations but all were in QSO with someone, and when I tried a CQ, I got no answers. So it was down to 80 where I worked Cliff K3CRM in DE for 11 minutes.

Not much else to talk about today with nothing happenning besides the usual routine things. -30-


---

Thu Jun 18 2020 8:40PM - Today was largely spent on working on my computer. For a very long time now, I have had two antivirus/antimalware programs working together beautifully. However today for some reason they had a disagreement and no longer got along. It took a while studying Windows 10 Task Manager to figure out why my computer was moving at a snail's pace. Once I did figure it out and uninstalled one of the programs, it now runs like a gazelle again. Very strange why the sudden change. I may, out of curiosity, try to figure it out sometime.

The bands continue in short skip in the evenings. Very strong local signals on 20, a few signals on 17, but nothing on 15 this evening. I had a solid 25 minute rag chew on 20 with Phil WB2DHY in VA till QSB finally set in.

Only about 9 days till Field Day now, and I'm looking forward to operating it with Mike KC2EGL from my front porch with temporary portable antennas as we've done the past couple years now. Conditions may be better this year than last, but always big contests bring out good conditions. -30-


---

Wed Jun 17 2020 9:03PM - I don't recall if I mentioned it, but I ordered another American Flyer locomotive back on Sunday. It came today, so a lot of my day was spent running it after giving it a good cleaning and lubrication. Actually it ran well right out of the box, but I figured I'd do the maintenance anyway. I'm pleased with it and now that I have 2 AF locos, I will have a spare if the other one needs some work in the shop. This is an AF 290 to go along with the 322.

The bands were in short skip again this evening. I worked Ohio on 15 meters and heard other close by stations on 15, 17, 20, and 30. I worked N4KER in VA on 30 for a solid 11 minute QSO.

Nice weather again today. I cut my grass in the morning and watered my garden a little later in the day. I finally have a second bean plant sprouting. They sure are slow this year. I've got quite a few flowers on my tomatoes. The roses really produced a lot of flowers this year. -30-


---

Tue Jun 16 2020 8:36PM - I couldn't find much to work this evening so I grabbed VE2SPEED again on 20. I worked him a couple weeks ago. Then I tried some CQs on 20 and 30. I got an answer on 30, but never could pull his call through the QRN and QSB. It was WB0 something. The suffix may have started with a C. The signal seemed to fade just when he sent the suffix. I got the prefix good a few times, but.... Sorry whoever you were.

Then I hung around and got in our semi-annual NAQCC QRPp sprint briefly and worked AB9CA with 900 mW. That reminds me, I better go and reset my power to 5 watts or I'll wonder why nobody was hearing me tomorrow evening. HI -30-


---
stat-counter.org