---
Tue Sep 18 2018 08:32PM - My noise was stronger tonight and sigs on 80 didn't seem as strong as the past few evenings. I couldn't work anyone on 80 so I went to 40. Signals seemed better there and I found KI0F calling CQ, so I tried and got him for a 9 minute QSO. QSB was bad but it was about 90-95% copy both ways. And the streak goes on unabated for yet another day.

I mentioned I wanted to talk about a couple things here in the diary, and I'm going to take care of one of them right now as best as I can. That's the history of my rigs and antennas. Let's deal with the transmitters and transceivers first. From 1963 when I got my Novice license until 1999 (August 31, I believe), I used nothing but homebrew transmitters. First was some junky little thing that Larry KN3WWW and I put together. I don't even remember much about that now as we shared it and didn't use it very long. I found a nice circuit in the (1962?) ARRL Handbook that used a 6AG7 crystal oscillator feeding a 1625 final amplifier. It had an input of 75 watts to the final which produced probably around 50 watts output at best. That served me well through my brief Novice career which ended in mid-September 1963 when I got my General license. It looks like my first out of Novice band QSO was on September 14, 1963. I continued to use crystal control with a couple crystals around 7050 or so. It looks like from the frequency entries in my log that I didn't get a VFO until November 1963. It was a Lafayette VFO but I don't recall the model number now. I do have a lot more documentation of things around here, but I'm only writing this from memory at the moment. Maybe I'll flesh it out with more specific info sometime. I continued to use that setup until I became inactive in the early 1970s due to work, etc.

In the early 1980s I again got out the old transmitter which was showing its age. For some reason my power levels during the early 1980s varied between 5 and 75 watts according to my log. I'll have to do some more thinking (research) to figure out just why. It was still basically the same xmtr/vfo setup though. I did modify the VFO quite a bit to make it more stable and to add the new 30 meters band to it.

Another off the air period followed until 1993. As I've mentioned that was when Eric (now KB3BFQ) was instrumental in getting me back on the air again with the old transmitter now rebuilt as a 5 watts (and less) QRP rig. Now it used a 6Y6 tube as the final instead of the old 1625. The 6AG7 that once served as an oscillator before I got my VFO still served as an intermediate amplifier between the VFO and the 6Y6. That setup served me until I finally bit the bullet and purchased a commercial xmtr (xcvr) - a Kenwood TS-570D on September 1, 1999.

And since it is now 9:00, I think I'll end there and save the rest of the story till another time. -30-


---

Mon Sep 17 2018 07:57PM - Just an opening paragraph now, then I'll finish when I come back from the shack. Florence only gave us an inch of rain today, and I don't think she'll add much more overnight tonight. Back even before she made landfall, I predicted we'd get 1-2 inches of rain from her. Then I narrowed it down to around 1.5 inches and it looks like I might be very close.

I received our (Mike and me) Skeeter Hunt certificates in the mail today from Larry W2LJ. Florence dampened them a bit, but they look very nice as shown here.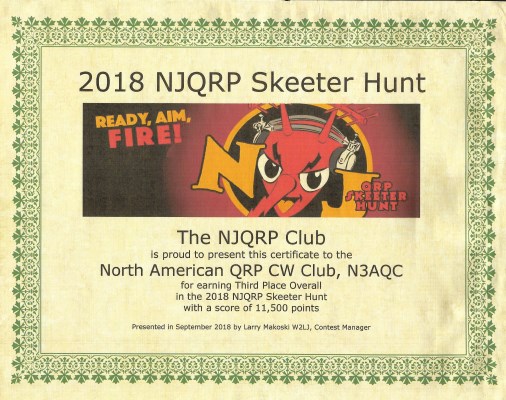 Thanks Larry. You do a great job with the Skeeter Hunt every year.

DX DX DX - Yes, I worked some DX this evening. There was a super path between here and Ecuador on 20 meters, and I had a little chat with... yes, you're right, Alex HC2AO. He gave me an honest 589 and he was 599 + 10 DB here. We commented on the great conditions and exchanged rig info. He was running 100 W to a 6 element beam at 75 feet if I remember what he said correctly. Then he added he was reading my blog (diary). I think that's the most solid QSO we've had among the many times we worked. True armchair copy both ways.

I had a couple other things I was going to talk about in the diary tonight, but I think I'll put them off until another night. -30-


---

Sun Sep 16 2018 08:32PM - Well, I did some more 'fix it' work today. I fixed a sticking cellar door by planing it down a bit. The humidity has been so high around here lately that everything is swelling up or even feeling a bit clammy here and there. I don't think the indoor humidity has been below the mid 70s in well over a week or more now. I also fixed a loose (rusted) post on my back stairs railing with a simple bracket I had in my junk box. I think it was from some old piece of electronic gear I've had forever.

It looks like 80 meters will continue to be the band of choice for some time now if I continue to get on in the 0000Z hour for my streak QSOs. 40 and higher haven't been good at all lately in that hour and I haven't checked the bands at other times of the day except when Mike was here a few days ago. The higher bands did seem decent that day during the afternoon. Tonight on 80 it was a great chat with Dave AA3EJ about our old ham gear going back to the 50s and 60s. I haven't talked about my old gear here in the diary for some time now. Maybe I'll do that sometime this week. -30-


---

Sat Sep 15 2018 08:10PM - See the date/time stamp to the left. I finally got around to writing a snippet for my Komodo HTML editor that inserts it automatically like I had it on the old computer. There are still a few more minor fixes I need to get around to doing yet. Which leads me into a topic.

I love fixing things. Any kind of thing that breaks or doesn't work as it should. I really enjoy the challenge and I'm actually happy when something does break. I loved getting the new computer up and running here the past month or so. I told you about fixing my pedometer a couple entries ago. Today it was the little model train I bought when Mike and I took our train ride back in July. It was running very slowly if at all even with a brand new battery. So I tore the engine all apart and looked everything over. After a couple 'fixes' that didn't really work, I tore it down even further, especially the motor compartment. I found a lot of dirt in there which looked like it came from some lubrication. I cleaned that off, especially on the commutator and the 'brushes'. Ever since it's been running fine. I've got it going round and round over across the room right now, and except for the battery slowly draining, it is running nicely up to speed until the battery does drain.

Those are just a couple examples of my fixing. I love doing it when I don't have to buy any parts, but can either just repair the original parts or come up with a substitute from my huge junk box of all kind of parts. That is really satisfying, not to mention money saving. Of course some times things are just too far gone or the part just too complicated to recreate, but not all that often.

Ham radio? Oh yes, the NJ QSO Party provided me with a quick QSO on 80 this evening to keep the streak rolling along nicely. 80 has been getting better and better the past several days now, and many signal jump up out of my local noise and stay there. I don't even have to switch xmit and rcv antennas that much any more. I hope that lasts. -30-


---

Fri Sep 14 2018 8:35PM - A quick contest QSO this evening for the streak. I think it was in the Collegiate QSO Party as the station I worked, K1EEE gave a rather strange exchange of MCC EHP. If you know anything about that, let me know. OK, looking at the CQP website, I see at least that the EHP stands for Collegiate Employee High Power (EHP) – Includes faculty and staff at a college or university. I guess the MCC stands for a college. I can't think of which one it might be right now though. Oh well, anyway the QSO continued the streak which is all I really cared about.

Kind of a quiet day around here with nothing out of the ordinary going on. The weather was nice, not too hot, not too cold, with reasonable humidity. I've been watching Florence closely. With the 6+ inches of rain we got from Gordon, the ground should still be pretty saturated and if we get a lot of rain from Florence, we could have some flooding. However by the time Florence does get here, it will be considerably weakened and moving very fast so I figure we'll get maybe 1.5 inches or so unless things change quite a bit between now and Monday.

Just a note about the new poll just posted a while ago. I ran a similar poll a couple years ago, and the choices this time around are based on the ones that got the most votes the last time I ran the poll. So I left out a lot of other possible choices. If they were one or some of yours, sorry about that. -30-


---

Thu Sep 13 2018 8:28PM - My local noise seems to be abating a bit the past couple nights. It was down about 1.5 to 2 S units tonight on 80 meters. It's still at S8, but that's better than being 5 to 10 over s9 as it had been. I had a nice chat with Dick KD3KO tonight on 80. My last three streak QSOs now have been on 80 meters. 40 thru 20 weren't bad this evening either, but only a couple strong signals on each band. Guess it's the low sunspot syndrome whereby everybody thinks the bands are no good and no one even gets on to check.

After a couple cool days here, it warmed up nicely again today getting into the upper 80s. In fact in glancing at my AcuRite remote unit just now it shows a high of 89 today.

One button on my pedometer stopped working yesterday, so today I took it apart and looked at it. It was interesting working with all the tiny screws and parts. After I cleaned the contacts on the push button and the mating PC pad, it worked just fine again. I like doing things like that although as I get older and parts get smaller and smaller it is not as easy as it used to be. -30-


---

Wed Sep 12 2018 8:38PM - Mike N4VBV emailed and said my updated pages didn't show up last night or today. I think in my busy time last night doing several things, I just forgot to upload them. They were updated, but only I knew they were. HI. Anyway this should catch me up now. Thanks for letting me know these things. I need the help as my poor old brain ages.

Tonight it was the Rte 66 station W6P who gave me my streak QSO again, but on a different band so I didn't feel bad working him so soon again. Tonight it was 80 meters. I had heard him on 40 earlier, then he switched to 80 and I got him right away. Otherwise there was a lot of activity on 80, but all nets or rag chewing. 40 had only W6P and a couple very weak stations. Nothing at all on 30 or 20. -30-


---

Tue Sep 11 2018 7:55PM - Almost time to head to the shack, but first I'll get the diary entry started.

I went through my rainfall records today to find the greatest 2 and 3 day totals. Since I knew the totals had to be in the upper 5 inch range I looked for the years in which the greatest daily precipitation was more than 2.75 inches. That's because I have two one day totals of almost 6 inches plus the 5.5+ inches 2 day total this past weekend. Then I narrowed it down to the months those 2.75" totals came in and took it from there. I'm not going to drag this out because I just had a great long rag chew with Marv K9VPL and it's getting close to the time to get my weather records and then walk Roscoe. So I'll just list the top 5 2 and 3 day precip totals here:



Two Days:
6.35" Sep 17/18, 2004 (Hurricane Ivan)
5.69" Sep  9/10, 2018 (Gordon)
5.59" Jun 25/26, 2006 (Training TS)
4.85" Aug 11/12, 1984
4.22" Sep 29/30, 2015

Three Days:
6.46" Jun 25-27, 2006
6.35" Sep 17-19, 2004
6.23" Sep  8-10, 2018
4.86" Aug 11-13, 1984
4.59" Sep 28-30, 2015
I had a lot of fun figuring those totals out. It wasn't all that hard using my Excel weather spreadsheets.

OK, going to run now and finish my web updates, get the weather, and walk Roscoe. -30-


---

Mon Sep 10 2018 8:15PM - It took over 24 hours for my plea to take effect, but the rain is just about over finally. There may be a light shower or two yet to come, but the worst part is over as Gordon heads up through NY to New England. Let's see... 0.54 + 3.75 + 1.75 = 6.04 inches of rain since Saturday morning. Actually more than that because it rained some more after I glanced at the rain gauge earlier today for the 1.75 inches. I won't have the final total(s) till I get the 9PM readings. That 3.75 inches yesterday is the third highest daily total since I started measuring rainfall in 1962. Just .01 inches more than a 3.74 reading in 2015. Less than almost 6" totals in 2004 with remnants of Ivan and 2006 with a training thunderstorm from SW to NE Armstrong County all day. When I get time, I'm going to go through my records to see what the highest two and three day totals might be.

DX! Yes, I worked some DX tonight. First I worked one of the Rte. 66 SE stations quickly, so I went looking for some DX and found XR208D on 20 and worked him fairly easily with a couple repeats needed. Let's see what that SE Chilean station is for. QRZ says, "in commemoration of the "First National Board of Government"." apparently 208 years ago. SE stations in general are always good for the QRP station to work since to get the most coverage for their events, they generally use good ops with big stations. So unless they attract too big a pileup, I'm generally able to work them easily for my streak QSOs. T'was so tonight for sure. -30-


---

Sun Sep 9 2018 7:09PM - Rain, rain, go away!!!!! Gordon is a very unwelcome visitor in Western Pennsylvania today. Since yesterday we've had over 4 inches of rain with more on the way. At least, so far it has been a steady fairly uniform rain which gives the rain a chance to be absorbed by the ground. There hasn't been a lot of puddling or runoff so far. The ground is close to being saturated now though, and that may change as we get more rain overnight.

It didn't stop Mike and I from getting together and having another good day. We started by going to the Ponderosa in Butler for our first Sunday morning buffet in maybe a couple years now. Then we headed to the Unionville Fire Hall for the BCARA hamfest. The rain didn't stop them either. They moved the fire trucks outside and let the exhibitors set up inside the fire hall. There weren't nearly as many vendors or exhibitors as usual though. Despite that it was nice to visit with the BCARA members and others who visited despite the rain. I won't list everyone we saw there for fear of letting someone out, but it was nice talking with all of you. Thanks for coming and visiting.

I'd also like to publicly thank Mike. Without him, since I don't drive, I wouldn't be able to attend all the interesting events we go to. There are others who drive me places also. Again I won't list them, but thanks to you all also.

After the hamfest, Mike and I came back here and chased (successfully) some DX. 20 was in pretty good shape and we each worked a few stations. I worked DR18WRD and UR3IDD/MM. Mike worked those two also and he added F5IN as well, and maybe 1 or 2 more. I can't remember now. We then played some computer games, after which we went to Wendy's for a late afternoon meal. On the bands some more, but they weren't as good now. Then Mike headed home.

Now I'm watching the rain, wondering when it will stop. There are places over in Ohio where it stopped but they seem to get filled in before they get here. It sure is nice to have radar these days to follow the precipitation. A big difference from years ago when all you could do was look out the window.

One final item. Mike told me the Skeeter Hunt results have been announced and our park operation as N3AQC wound up third place overall. We were top multi-multi station and tops in Pennsylvania as well. We only missed by a handful of QSOs and a couple SPCs of being first overall. I was quite surprised as I didn't think we did all that well. I guess conditions elsewhere were not that great either. -30-


---

Sat Sep 8 2018 10:02AM - Today on my site's 22nd birthday I'd like to talk about some of the history of the site.

As you, I'm sure know, my friend and then neighbor Eric was responsible for renewing my interest in ham radio after I retired from WPIT. We put my station back together and on the air, and a little later he got his license as KB3BFQ. One day in 1996 we got to talking about starting a web site. He wanted to do one about sports, hockey in particular. I had a choice of two subjects. I was very into NASCAR auto racing then. In fact he and I were doing reports for a local TV sports show. Mine about NASCAR and his about hockey. We weren't air personalities, but just provided the show host with info to talk about. Anyway, my other choice was ham radio which is what I decided on. We both signed up for a free site on GeoCities.

In September 1996 we debuted our sites. Mine was on September 8 and dealt basically with the history of how I helped to found the CW County Hunters net with WA8EOH in May of 1966. Of course it grew over the years to have much more info with the basic theme of promoting QRP, CW, and simple wire antennas. One thing I used to do was talk a little bit about propagation conditions just about daily. That evolved into this diary feature in which, as you know, I talk about many subjects, but with the main emphasis on ham radio, of course. My first diary entry was on April 23, 2006. Actually there were two entries that day. It didn't become a one every day feature until sometime later on May 15, 2006 when I wrote the following:

"Monday, May 15, 2006 - On other sites you'll hear them called blogs. Well I don't like that term. It sounds something like a contraction or nickname for the Balrog in "The Lord of the Rings." Those of you who have read this wonderful trilogy by J.R.R. Tolkien know that the Balrog is the embodiment of pure evil. Since LOTR is perhaps my favorite book of all time, I'll avoid any reference (even though it is imagined) to Balrogs or blogs and call my blog simply my Diary. Incidentally I will probably never watch the LOTR movies as I see no way they could ever come up to the high standards of the book.
Since this is the first entry in my diary, I'd like to tell you what I have in mind for it. First of all it is a place to talk about current news of my site and the NAQCC. Therefore I'm leaving the news items below on this page for a while. Speaking of retaining items, I plan to keep only the latest 30 days or so of items on this page. So if you should somehow find this interesting, keep that in mind when you check in here. If you don't check in regularly you'll miss some classic items. Whoa, back to reality, John. Probably nothing ever posted here will come close to being 'classic' in any respect, but a few hams here and there may find something of interest in my comments.
Here you'll also find random thoughts mostly about CW and QRP, but I may also stray afield and even comment on some non-ham radio matters.
This is an experiment for now, and I'd like to know how it is received by you, my visitors. When I first started this web site many moons ago, I had some daily propagation comments as I'm sure those of you who have been regular visitors (thanks) for a long time now will remember. When I dropped those, I received a lot of email saying how they were missed. So perhaps you (for some reason) enjoy my comments on things. Email me and let me know how you feel about this Diary idea.
Here's an example of the kind of things you'll be reading here. Tonight my QSO to continue my streak turned into an enjoyable rag chew with a 91 year old ham. Along with much other interesting info we exchanged, he mentioned how glad he was to have ham radio and especially CW. He told me he is losing his hearing and has trouble copying SSB transmissions, but he can still copy CW perfectly. That immediately struck me and made me wonder how those hams today who for whatever reason dislike CW will do if their hearing goes as they get older. Something to think about. I'm even more glad now that I'm a KNOW CODE ham. -30-"

Below that entry were a couple site maintenance items as mentioned. It wasn't long before I started my diary archive so folks could peruse older entries if they so desired.

Other features came and went as the site was fine-tuned over the years to what it is today. A detailed contest calendar listing all contests that featured CW/QRP was eventually trimmed back to just a brief listing of my favorite contests because of the great proliferation of contests. I also put less emphasis on my links pages since with a wonderful search engine like Bing, it is easy to find info that way rather than resorting to links. There were other minor changes as well. One thing I'm proud of is having changed or updated something on the site virtually every day of its existence, whether it be propagation info, my streak QSO table, this diary, or other items.

The overall design of the web site changed over the years as well as I experimented with different layouts. The best way to describe that is through a wonderful site called the Internet Archive. There, many web sites are regularly scanned and pages from those sites are stored in their servers for folks to view.

After GeoCities, I went with my Internet provider Windstream (nee Alltel) as my site host. Then my friend Bill WA4FAT offered me free space through his Cahaba Internet service along with the URL of k3wwp.com. That was in 2014 and gave me much more bandwidth than Windstream.

Here now are links to the Internet Archive where you can see what my site looked like over the years on my various URLs. My GeoCities address was taken over by another web site when I abandoned it, and the archives only show pages from that site as far as I can tell. Here are the others though with the approximate year range:

http://web.archive.org/web/*/http://www.alltel.net/~johnshan/ 1998-2009

http://web.archive.org/web/*/http://home.alltel.net/johnshan/ 2003-2009

http://web.archive.org/web/*/http://home.windstream.net/johnshan/ 2009-present

http://web.archive.org/web/*/k3wwp.com/ 2014-present

Keep in mind some pictures may be missing, and not all links on the archived site pages work. Otherwise I think the method of navigating around the Internet Archive is intuitive, so I won't describe it here. If you're not sure of anything, please ask.

That brings us up to today's 22nd birthday. Hope you found (find) it interesting. -30-


---

Fri Sep 7 2018 8:46PM - Tomorrow my web site becomes 22 years old, and then I start my 23rd year of promoting the most wonderful aspect of ham radio - operating CW at QRP power levels (5W or less) using simple wire antennas, mostly indoors. I'll have more to say about that tomorrow on my site's birthday.

I spent a lot of time today cleaning out a ton of old emails, a lot of which were related to NAQCC business or to my various guestbooks I've had over the years. I decided with this new laptop computer, I want to keep it trimmed down to only things I really need even though it has a 1TB hard drive plus two external hard drives totalling about 2.5TB more. Along the way I found out just how great Microsoft's File History is with Windows 10. I accidentally hit a wrong key and started to delete a whole folder of emails before I noticed it and hit cancel. I actually lost about 3 folders of emails. No problem with File History. I just went into the File History program and restored an earlier version of the MailStore Home data files and got everything back immediately. Wish I'd had File History with my old computer, but it was Windows 7, not 10.

As for the streak, 40 was almost as good as last night with somewhat fewer if equally strong signals. The last three evenings now I've had 3 rag chews with New England stations, tonight WA1OIR in MA, last night K8LSB in CT, and before that K1OV in CT. Their powers respectively were 800, 300, and 500 watts. However after finding I was running QRP, WA1OIR lowered his power from 800 to 8 watts and was still solid copy above my strong noise.

It looks like we may have a repeat of September 2004 as far as rain goes. Then we had 3 inches on the 8th/9th from Floyd and then on the 17th/18th over 6 inches from Ivan. This year it is Gordon this Sunday with 3+ inches predicted, then next Sunday a chance of Florence bringing a lot more rain although that is by no means sure as of now. -30-


---

Thu Sep 6 2018 8:48PM - Conditions seem to be improving on the bands since we've entered the fall (meteorological) season. While engaged in a 34 minute rag chew with Marc K8LSB in Ct, I was counting signals on the PX3 screen and most of the time there were at least a dozen up to 15/16 that were well above my noise level. That is when receiving on my 15M dipole. On the random wire, there were only maybe 2-4 or so. I'm getting more and more adept at switching xmt and rcv antennas as time goes by.

So far every day this month our high temperature has been 91 or greater, but that's coming to an end as of tomorrow. A cold front is coming or has come through which will lower the humidity and temperature to more seasonal levels and it should stay that way for a while now. -30-


---

Wed Sep 5 2018 7:52PM - Thought I'd get this started now, and then add on to it if I get my QSO in the 0000Z hour. If I don't, then I have the CW Ops Mini Sprint in the 0300Z hour later tonight.

It was another hot one today. My AcuRite remote shows a high of 96 again. So we have another shot at a 97 if the outdoor thermometer doesn't track perfectly which it did do yesterday, by the way. It also showed 96 when I got the 9PM readings. I always watch the Penn State Weather World broadcast, and they had a feature showing this to have been the most humid summer in records going back to the mid 1900s. I don't have humidity records here except for some from the AcuRite unit so I can't do any comparisons here, but it sure did feel humid all through the summer.

OK, off to the shack now.

I thought I'd add some comments since conditions were kind of strange. There was almost nothing on 20 and 30, but 40 had several signals that broke through my noise. I heard N2EI Skip and called him and got a 599 report, but the band then suddenly died and even W1AW which was well over S9 lost a lot of strength and was about the only signal left now. I wasn't sure of the N2EI QSO so I kept listening, and all of a sudden the band came back again about 10-15 minutes later. I had a rock solid 20+ minute QSO with Mike K1OV in New London CT. Then at the very end of the QSO, his signals started to get a bit fluttery and dropped fairly quickly into the noise. Strange up and down conditions on 40, to be sure. -30-


---

Tue Sep 4 2018 8:10PM - I'm glad I talked about the lack of DX last night in the diary. Tonight the first signal I saw on the PX3 was J68HZ and I worked him. It wasn't easy. I had to send my call 7 or 8 times, but he was patient and got it right in the end. That doesn't increase my DX percentage any though, but it does keep it from falling any lower.

For a good many years, in fact from 1959 through 2010, the highest temperature recorded here in September was 96 degrees on many different occasions. Then in 2011 we finally topped that when it hit 98 on September 3 of that year. That has remained the only September high that ever did top the 96 limit. I mention that because once again today the temperature topped out at 96 degrees. I thought sure we might have hit 97 or 98, but at least on my AcuRite remote it didn't. Possibly when I check the thermometer in my shelter, it will show 97, but it usually tracks very closely with the AcuRite remote sensor. At any rate it definitely was hot and fairly, but not excessively, humid as well. It looks like tomorrow will be more of the same so maybe we can top 96 then. -30-


---

Mon Sep 3 2018 8:10PM - The streak struggles on. Tonight it was W7LXN in AZ on 30 right at 0000Z. That says something there about conditions. Skip is usually not that long at this time of night on 30 meters. The lack of sunspots and solar radiation just does not build up the lower layers of the ionosphere to where you can get short skip on a band like 30 meters. The sigs then bounce off the higher layers weakly at longer distances. Myron was only about S4 to 5 here and I was an S3 out there. But it was a good QSO and the streak moves on.

I'm kind of surprised about DX though. I really believed I could keep the percentage of days I worked DX above 99%, but that hasn't happened and I'm now down to about 98.9%. I think two reasons account for that and one is not propagation. With my high local noise level, I just haven't felt like getting on the bands all that much. Those are the two reasons - lack of activity and the noise. It's now 6 days since I worked any DX. Maybe I should start a no-DX streak. HI -30-


---

Sun Sep 2 2018 8:41PM - Well, whaddya know? I actually made 5 QSOs this evening....in the TN QSO Party. That's the most QSOs I've made in one day except for the day at Skyview since my strong local noise started a few weeks ago. I probably could have made more, but it got tiring switching antennas from xmit to rcv to deal with the noise. I have to listen on one of my higher band dipoles to get a better S/N ratio on 40 (and 30 as well). It's not so bad on 20 where my 20M dipole has a decent S/N ratio and I don't get much improvement by switching antennas on receive.

I did some more work on my WPX numbers today. I'm comparing the list of prefixes that qualify for the CQ WPX Award which is created from the LoTW database to the list of prefixes I have in my database. I know my list is accurate, and I can't figure out why there is a big discrepancy in numbers between the two lists. I'm going to have to study things a bit and see if maybe there is a date limit on which ones count for the award or some other such qualification. I don't really intend to update my WPX award so there is no hurry in doing so. -30-


---

Sat Sep 1 2018 8:12PM - Well, all of my EOM/FOM duties worked out fine with the new computer. Nothing really changed as far as most duties were concerned. For example my August weather records were just a matter of being on a new computer but still using the same Microsoft Excel spreadsheet. Same with my Natural Gas usage. My finances are still the same on Microsoft Money Sunset Edition. Pretty much the same with some other duties as well. The only real difference was preparing and uploading my adif files to eQSL and LoTW. Now I had to do it all on Excel. Before I ran an SQL query in Access, then finished up with Excel. So I'm happy with the way things went. Maybe September will be a better month than August was.

Incidentally August was another warm month here. The minimum averaged around 6 degrees above normal and the maximum about 4 degrees above. One interesting stat stood out. On every day in August, the maximum was at least 80 degrees. That never happened in August before, and maybe not in any other month. I'll have to check when I get some time.

Another quick streak QSO (0003Z) this evening thanks to the Alabama QSO Party and N4WE in Morgan county. That was on 40 meters.

I see when filling out my streak table on the home page that my percentage of DX days has now dropped below 99 percent at 98.96. Oh well, I haven't really been trying too hard to work DX with all the other things that happened during August taking up a lot more time than usual. Maybe this fall I can work on bringing the percentage back up again if conditions and my strong local noise permit. -30-


---

Fri Aug 31 2018 8:08PM - It never ceases to amaze how a contest can "open up" a band no matter how poor conditions have been. The CW Ops Open tonight brought a lot of hams out of their hideaway and 40 and 20 were full of tall spikes on the PX3 screen. I picked one out, found it was Geo K5KG and worked him with a single call, no repeats. Now if we can only get these contesters to get on when there aren't any contests, that would be great. I guess most are just dedicated contesters, and there is absolutely nothing wrong with that at all, but....

I'm sure glad August is over (UTC wise anyway). It has not been a good month with the DX streak ending, my computer crashing, etc. However clouds (some of them) do have a silver lining. I really like the new HP Envy laptop computer and also the new Microsoft Office 2016 I got to go with it. I spent a lot of time today working with my Excel log, mostly checking my USACA records. I found a few discrepancies in my totals that I will be fixing. I think possibly it's because with Excel there is a little more human intervention on my part rather that just the automated SQL queries I used when the log was in Access. I've always believed that no matter how good computers are, the human brain is just a little bit better.

I wonder now what September will bring. I know one thing I'm looking forward to is the BCARA hamfest next Sunday (9th) in Unionville, PA. That's always a nice little friendly hamfest with some interesting bargains. And before we go there, Mike and I are stopping off at Ponderosa in Butler for their Sunday Breakfast Buffet. We haven't had one of those in a long while now. We used to go to them regularly till the Ponderosa here in Kittanning closed a couple years ago. -30-


---

Thu Aug 30 2018 10:00AM - Just to take care of a couple matters. First the batteries were very low in my AcuRite unit. I had replaced them in the remote unit a couple weeks ago, but not in the indoor unit. The indicator for the indoor unit is very small and doesn't really attract attention when the batteries are low, so I missed it. It had nothing to do with the storm as far as I know.

Second I got an interesting email from my friend Bob K2YGM about the PX3 panadapter. Here's an except from the email:

"Something clicked in my head about some of your words and explanations which you have made over time... One thing in particular is the stringent set of rules you impose on yourself with regard to your operating characteristics.
You clearly state that you do NOT use spotting networks, Reverse Beacon Networks, when looking for stations to work in your daily quest to satisfy your streak..... I thought to myself, gee thats wonderful that you impose those basic standards upon yourself, which of course makes your accomplishments much more respectful to others.
Then out of the blue, you make comments about your PX3 and how wonderful a piece of equipment it is, in that it shows you immediately when a signal appears on the band, and exactly what frequency this signal is located at.....
I would say that the PX3 is in the same category as a cluster, or reverse beacon network in that it immediately alerts you to another ham stations activity, although it doesn't identify who it is...
In that I have been a fan of yours for many years, and read your blog almost daily, it just struck me as being odd that you swing from one set of rules to another.."

And I responded:

"I like questions that have a simple answer.
You see, I'm sure, that spotting, reverse beacons, etc. are things that are based on the work of other people. With the PX3, I still do all the work myself. It just makes it easier and quicker. Basically the PX3 is just another filter. Instead of using a narrow bandwidth filter that allows me to hear only one signal at a time, the PX3 is a very wideband visual filter that allows me to see a large portion of a band at one time."

So there are no two set of rules at all. It's based on who does the work, me or someone else.

I thought others might be curious about the matter so I posted the info here. -30-


---

Wed Aug 29 2018 9:12PM - Thanks to the "POTA Man" N9MM for this evening's streak QSO on 40 meters. Other than him, there were no workable signals anywhere on 80 through 20. I did hear a few stations, but all were either extremely weak or involved in long rag chew QSOs. I was thinking I may have to try the CWT later this evening between 0300 and 0400Z.

This has been a bizarre month for me with the DX streak ending, my computer crashing, just to mention a couple things. Now this evening my AcuRite remote weather station died. Strangely it was right in the middle of a severe thunderstorm, although that may have been just a coincidence. I put new batteries in my indoor unit and it came back to life. So maybe the batteries were dead. I haven't measured them yet. Still a strange coincidence with the storm. BTW it dumped 1.23 inches in a little over an hour and had some of the most vivid lightning I've seen in a while now. The finale to the lightning was really something with very loud thunder. Less than a second between the flash and the noise so it hit somewhere within a 1,000 or so foot radius.

More work on my computer log and my web pages today. I updated the stats in my WAZ and WAS pages. I'm liking the Excel version of the log more and more as I continue to work with it.

OK, almost time for Roscoe's last walk of the day, so I'll close here. -30-


---

Tue Aug 28 2018 8:45PM - Just when you think the bands can't get any worse, they do and are that way tonight. BUT, I did get my streak QSO, and DX at that when I worked NP4AW on 20 meters after 40 minutes of futile listening. The only sigs before that which came up over my noise were a regular birdie on 14016 and someone I didn't ID who gave a report to someone and said his name was Bill. It did take a couple repeats of my call to work NP4AW but he got me solidly and gave the traditional 599 report. He was only about s5 here and I imagine I was maybe an s2 or s3 at best down in PR.

I spent a good part of today working with my Excel log. It's quite a bit different going from Access to Excel, but I can do just about anything in Excel that I could do in Access after a bit of thinking and writing some macros. I updated my WPX totals on the WPX page in the Awards section today. I also updated most of the stats on the DXCC page. It was a little slow going at first, then I accelerated as time went on. I think it will work out just fine with Excel. And it's fast on this new computer. Everything is, in fact. -30-


---

Mon Aug 27 2018 12:13PM - I had to resort to the County Hunters Net today to get my streak QSO. I don't like to use nets among other things like spotting, reverse beacons, etc. and never do. Today I did though as the Solar Storm / CME really messed up the bands today as well as yesterday. I notice the bands are coming back slightly today. I even heard DL2DX on 20 although he was much too weak to work. Anyway my CHN QSO was with Bill K0DEQ. We go all the way back to the 1960s. It was an easy QSO with his mobile setup from Izard County, AR. So the big streak goes on.

Now some more about Skyview yesterday. It seems they are always making improvements to their radio room to bring it up to big contest station standards. So each year we have to learn a couple new operating items. Bob WC3O always makes it as easy as possible for us by setting things up so we can basically just "plug and play" with our QRP (KX3) rigs. I really like one new feature they have for this year. A computer driven antenna switching system. With a switch box at each operating position, any antenna can be connected to the position. There's also a lockout featere whereby it is not possible for to positions to connect to the same antenna at the same time. There's an LED indicator showing which antennas are currently in use. If you push the button for an in-use antenna, the light in the button flashes and no connection is made. There are also a few other changes this year like new dipoles for 40/80 plus a two tower phased vertical antenna for 80 meters. The new antenna switching setup really makes operating a breeze. I can imagine how big a help it is in a multi-op contest situation.

Now here are some pictures. The first row shows L-R: K3WWP KC2EGL WB3FAE at their operating positions.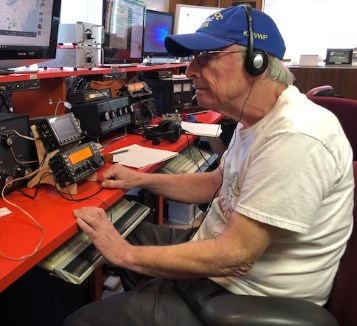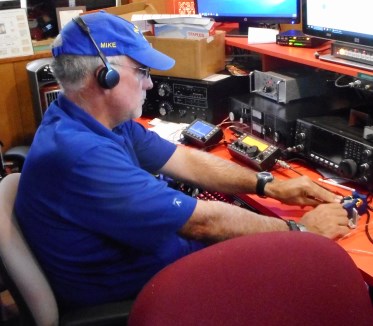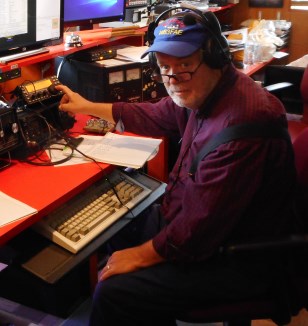 The next row shows the three ops plus Bob WC3O from Skyview. Then a shot of my operating position with my little QRP station dwarfed by their equipment. On top of the big amp is the antenna switch I was talking about.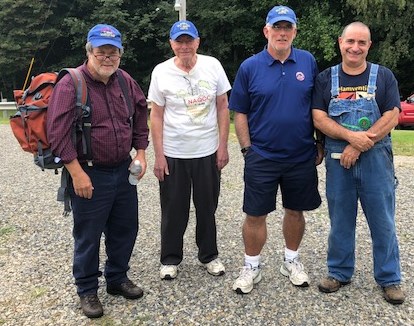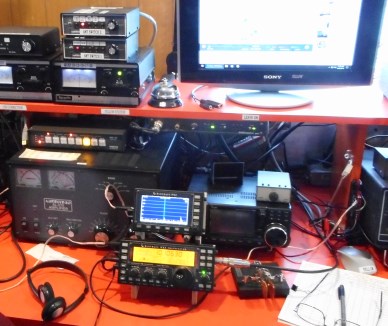 After Skyview of course Mike and I had to hit one of our favorite eating establishments - Appleby's. I had a shrimp and onion rings platter and Mike had a big! bacon cheeseburger. I told him it looked like a Dagwood sandwich. Then to Dick's for a new pair of shoes, and home. Of course no DX so we took care of a couple chores like submitting Mike's Skeeter Hunt log to our NAQCC QSL manager Gary and looking for info on bandpass filters for when Mike and I (and others) operate Field Day or do parkpeditions. We've always been impressed by the filters at Skyview. There is no cross-band interference at all with them in the circuit, and we'd like to duplicate that. We found some filters on-line and hope to have them at least by our October venture in the park for the NAQCC Anniversary event. -30-


---

Sun Aug 26 2018 7:18PM - An ill-timed solar storm really messed up our day at Skyview. Except for the KS QSO Party, we only made 4 QSOs, none of them DX. However in the KS QSO Party among me, KC2EGL, and WB3FAE, we made something like 30 KS QSOs. So were conditions really that bad or did folks just not get on because of the storm and the current sunspot minimum??

Still it was fun fellowshipping with Mike and Tom plus all of the Skyview members and visitors to the hamfest. The club members are a really great bunch and most all are interested in QRP/CW or at least don't put it down the way some members of other clubs do.

With the horrible conditions and/or lack of activity, I'm thinking it may be difficult to keep my streak going tomorrow. I'll find out how things are this evening in about 35 minutes from now. More about Skyview in tomorrow's entry plus a couple pictures. -30-


---

Sat Aug 25 2018 8:28PM - Thanks to the Ohio QSO Party for a quick streak QSO this evening from K9TM in Lucas County. Now I can have a relaxed day at Skyview tomorrow.

We've decided to use our own calls at Skyview. The last few times we used N3AQC and publicized it, we didn't get all that much response. So we'll just have fun showing off our QRP rigs and what they can do using CW. We'll have 3 KX3s and 2 PX3s there. We'll have at least 3 ops - me, KC2EGL, and WB3FAE. Maybe more although no one emailed to say they would be there. We'll split up our time calling CQ around the QRP "watering holes" and tuning the bands looking for DX to work. No specific time schedule other than we should be there from around 1230 to 1800Z or so and at least one of the 3 or more stations should be active pretty much all the time. We're guessing only 40, 30, and 20 will be sure things plus there may be something on 17. I doubt we'll see anything on 15, 12, or 10 although with their big antennas, who knows?

Give a listen and if you hear us, give a call. We'd love to work you, and you'll be doing your part to perhaps show some skeptics that QRP really does work, even near a sunspot minimum. -30-


---

Fri Aug 24 2018 7:35PM - I was talking to Tom WY3H via landline yesterday. Among the things we talked about were my streaks. That reminded me that I hadn't updated the main streak story in the QRP section of my site. I just finished (almost) doing that. There are a couple of stats that I haven't gotten to because they take a bit more work now that my log is in Excel instead of Access. I made a little note on the page to remind me to update those two sections. Otherwise everything is up to August 4 when the streak reached 24 years. The reason (excuse?) I haven't updated it since then is that was just a day after my computer crash and getting that back in order has taken a lot of my time since then.

Only 20 minutes now till I head to the shack to try to extend the streak yet another day. There are some contests this weekend like the Ohio QSO Party that should help if I get pressed for time with our visit to Skyview on Sunday. That's going to be a lot of fun doing the QRP/CW demo for the hamfest visitors. Mike KC2EGL and Tom WB3FAE will definitely be there along with me. Perhaps a couple other of our NAQCC WPA Chapter members will show up too, but I haven't heard from any of them as of now. -30-


---

Thu Aug 23 2018 8:17PM - A quick streak QSO tonight, and it was DX! HC2GRC (op HC2AO) at 0004Z on 20. Only took a couple of repeats of my call to make the QSO which was easier than a couple other stations I heard him working. Of course Alex knows me well from our many QSOs and familiarity helps in making QSOs. That's why regular contesters do well in contests, more so than the casual contesters.

I learned today that a very good ham friend of mine had a fall several days ago and is in the hospital. I'm speaking of VA3RJ/VE3JDR, ex VE3BMR. Dave and I first worked over 50 years ago on June 6, 1968. I'm sending him a get well card in the morning telling him he better get well soon so we can have a belated 50th anniversary QSO. Dave is probably in my top 5 of hams I've worked the most often. We worked 89 times as VA3RJ, 1 time as CK3JDR, 92 times as VE3BMR. We also talked via computer phone back when phone over computer was in its infancy. -30-


---

Wed Aug 22 2018 10:33PM - Mike was here for our 4th Wednesday pizza night and just left a few minutes ago. The bands didn't have much to offer as usual, so after I got my streak QSO from Merlin KD0V on 20, we decided we weren't going to find any DX. We came downstairs and played some hidden object games on the computer and discussed our plans for Skyview on Sunday. We'll leave here around 7:30AM and should arrive there around 8:30AM to start hooking up our rigs to their antenna farm for our QRP/CW demo for their hamfest. I don't know if anyone besides me and Mike will be there from our NAQCC WPA Chapter or not. Tom WB3FAE said he would be there, but I haven't heard from him for sure. -30-


---

Tue Aug 21 2018 8:23PM - Another rough night on the bands, but once again I came through with a QSO, working Mike AA4MC in South Boston, VA. Thanks Mike. I really wasn't too worried tonight with the CWT sprint coming up tomorrow. I'm sure had I still needed a QSO then, one of the many fine ops who get in those sprints would have provided a QSO.

I didn't do any computer repairs or updating today for the first time since the crash. Instead I did something I've been wanting to do for a while now. That is, indexing my 10,000+ digital photos. At one time I used Microsoft's Windows Live Photo Gallery which I loved. Then I got involved in too many other projects to keep the index updated. Now I find that Photo Gallery is no longer around being replaced by Microsoft's Photos App. It's very good also, but doesn't quite work like the Gallery. So I went looking for some other program that worked similar to the Gallery. I found XNView MP which is very similar to Gallery. What I like about Gallery and XNView is that they don't move photos around on my computer, but merely keep an index to where they can be found. So I'm having a ball going through the photos making sure they have been categorized. Sure brings back a lot of memories. I found all were up through mid-2013, so now I'm categorizing the ones between then and now. It's a snap to do so with XNView just like it was with Gallery. Just open a photo folder and highlight a file or group of files and put a checkmark in a category from a list I developed in Gallery. Or I can easily create a new category. I'll probably finish that tomorrow then look for something else to do. Actually it was kind of nice having all the computer repairs/updates to do the past couple weeks. -30-


---

Mon Aug 20 2018 8:16PM - This is the first day since the computer crash that things were pretty much back to business as usual. I was actually bored a couple times without any urgent computer work that needed doing. I even fooled around with a couple new computer programs to pass the time. This HP Envy laptop is really a great little computer well worth the price I paid for it.

Things were almost back to normal on the bands this evening also. The local noise seemed down just a little bit and propagation was good enough that I saw quite a few signals rising up out of the noise. I easily worked Hank K1PUG on 30 at 0003Z and copied him solidly - something that has been a bit hard to do of late with the noise and low signal levels. Unlike the computer situation though, I don't think the situation on the bands will last.

I almost forgot about the Skeeter Hunt pictures, but here we go.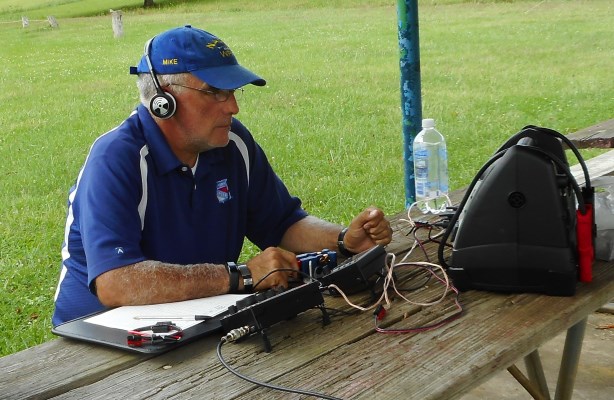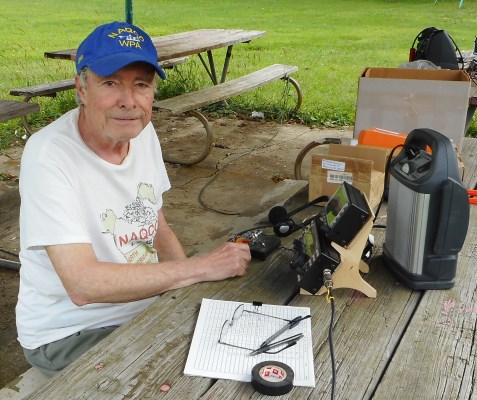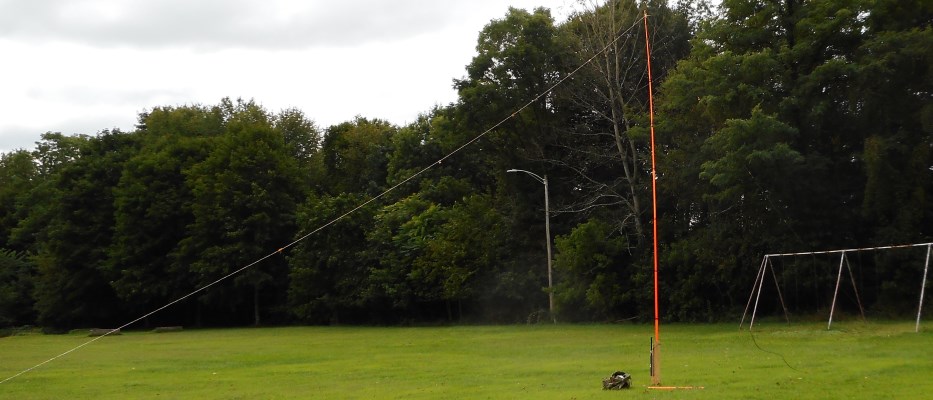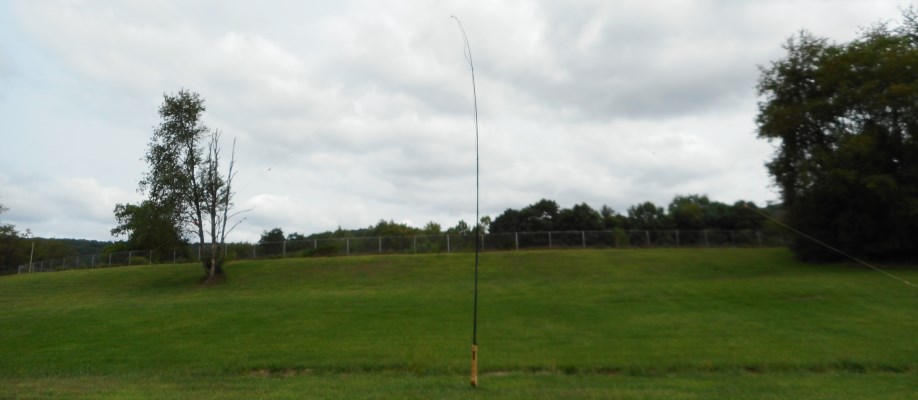 It's pretty evident to all but first time diary readers that's Mike and me in the top row. Below that first Mike's antenna, then mine. Can you tell I was having a good time and that Mike was busy concentrating on making QSOs? -30-


---

Sun Aug 19 2018 8:56PM - A fun day, but a bit frustrating as well. Fun because it's always fun operating portable especially with Mike. Frustrating because the bands were not all that good, especially my band which was 20 meters. I really struggled to make 21 QSOs in just under 4 hours. I chose to use 20 in hopes that 40 would give Mike better results. It did and I was happy to see him come up with 32 QSOs there. We did a little better overall than last year, but not as good as the few years before that.

At least the weather was beautiful and our setup went smoothly for a change. We were easily up and running at the start of the contest. I don't feel like doing it right now, but I have a few pictures to post. I'll try to do that in tomorrow's diary entry.

I still have the noise problem here at home. It was nice to have a S0-S1 noise level out in the park, and it kind of spoiled me for the time being. I did manage to keep the streak going this evening when I worked Wayne WA9VEE on 40 meters at 0034Z. -30-


---

Sat Aug 18 2018 8:25PM - The bands are really dead this evening. Except for one workable station, I only heard 4 or 5 very very weak unID stations on 40. Nothing at all on 30, 20, or 17. The workable station? A big contest station in the CVA contest - N8OO in Louisiana. A fairly easy QSO involving just a couple repeats. The big main streak is getting to the point of being as hard as the DX streak was the last month or so.

I made still more progress on the computer update/repair today. I started up the Microsoft Windows 10 File History. It's really a slick idea and easy to set up and use. I now have all my important stuff being backed up on my 2TB external hard drive. Now not only can I restore any lost files, but if necessary I can go back to an earlier version of a file. I have it set to keep older versions of files for 3 months. It runs a backup once an hour of files that have been updated. Like this diary file should be backed up with these changes the next time it does a back up. I think I understand pretty much how it works, but I am going to study it a bit more. It's a great feeling of security already though. -30-


---

Fri Aug 17 2018 8:35PM - Well, there still wasn't too much on the bands tonight. There does seem to be a bit of a pickup in activity the past couple nights though compared to the previous couple weeks. Or maybe I'm just getting better at dealing with my local noise by juggling antennas between receive and transmit. Anyway I worked David XE1XR easily on 20. He was booming in - by far the strongest signal on any of the bands from 40-17. So that keeps my percentage of "DX days" the same as it was last night.

Still working on getting the new computer to the point I want it. I really like it the more I use it. I think it is the fastest computer I've ever had with the 12GB of RAM and the Intel quad processor. I've pledged something to myself. That is to have a better backup system than I've ever had before. I've learned some of the flaws in what I had been doing and I'm going to address them this time.

I'm looking forward to the Skeeter Hunt on Sunday with Mike. We'll be doing it from Kittanning Community Park using the NAQCC club call N3AQC. We'll do the full four hours from 1700 to 2100Z if activity warrants us staying that long. I guess we'll be using only 40 and 20 meters which are probably going to be the only open bands. I hope ypu'll look for us, find us, and work us. -30-


---

Thu Aug 16 2018 8:35PM - The bands seemed a bit better tonight. At least there were several signals on 40 that broke through my noise level including AD9Y whom I worked easily.

Today's computer chore was reinstalling my financial program. I use Microsoft Money Sunset Edition, and have used it for years along with the regular Microsoft Money before that. I was worried that it might not run on Windows 10 after reading several forums stating they had trouble with that combination. However it installed flawlessly here and runs flawlessly. I still have to find and import the data file. I think it may only be on my old computer's hard drive though as it is stored in the Program Files folder and Best Buy can't copy files in that location because of legal stuff. So I started a new file as of August 1, and will continue that way until (if) I can get the data off the old computer.

I recall several years ago, one of the Windows operating files became corrupted on one of my computers. At that time, I brought our computer club computer home and hooked my computer into it's hard drive and copied the necessary file to my computer. That fixed things perfectly. If I still had a desktop I could probably do what I did then by hooking my old hard drive as a second drive in the new desktop. However, I'm not sure how to connect the old drive to my new laptop.

One thing about all of this is that it is challenging, and I love challenges and I learn a lot trying and eventually mastering them. I'm coming along nicely with the new computer now. I'd say it's about 90+% up to the place the old one was when it crashed. There are still a couple things that need working on, but I'll get them. -30-


---