---
Fri Oct 19 2018 08:39PM - This is getting to sound like a broken record, but again tonight it's the same story of poor conditions, strong local noise, and yet another day added to the streak. Tonight I worked old friend Paul KB4GYT. We haven't worked all that many times, but they were always good QSOs with a lot of info exchanged. Our first QSO was back on May 25, 1994. In our QSO, Paul said he found good conditions earlier in the morning today on 20 and 17 to Europe and the Middle East. I'm going to have to get out of my habit of only getting on the bands in the evening, and start in again checking during other parts of the day. It just seems there are so many other routine (boring?) things to do maintaining a big house all by oneself, and that leaves little time for getting on the bands or other fun activities.

One thing I did do today was to finally get my little aircraft receiver I won as a door prize at a hamfest a couple years ago, mounted in a little box. I did some listening today and heard a few planes, but it was very hard to understand what they were saying. Now if they would just use CW. HI -30-


---

Thu Oct 18 2018 08:14PM - He wasn't getting any answers to his CQs and I hadn't worked him in 11 days, so I went for 6D50I on 20 meters and got him with a couple repeats for my streak QSO at 0005Z. There was nothing to speak of on 40 and 30, and only the regular net stations on 80.

It was a brisk day today. It's like we went from August to November weather over the last 10 days or so. I think we'll get our first frost overnight tonight. It's a good thing I cleaned out my garden. It's been in the mid to upper 30s the past few mornings, but not down to the frost level. I did manage a couple good walks today despite it being only in the low 50s or so. -30-


---

Wed Oct 17 2018 08:26PM - Same old story tonight. Poor conditions, local noise, etc., but I got my QSO albeit a rough one. Thanks Bob KC8MFF from WV on 80 meters. I've worked Bob about a dozen times before, but it took a few repeats for me to get his call. On the other hand, he seemed to be copying me better than I was him.

Well, no more garden here for this year. I pulled my remaining pepper and bean plants today. The peppers did the best of all my plants this year. They produced abundantly with some nice big peppers. I gathered about a dozen from my remaining three plants. The beans came in a distant second and the tomatoes had a really bad year for whatever reason. Perhaps the up and down hot/chilly, wet/dry weather. No consistency at all. -30-


---

Tue Oct 16 2018 08:17PM - Something different this evening. For the first time since October 11 I made a QSO on a band other than 80 meters. Forty was pretty much dead, but there were a few pretty good signals on 30 meters and I worked one of them - KV5V in Salado, Texas who was running 100 watts. A lot of QSB, but we managed to stay hooked up for about 9 minutes before our signals faded too much to copy any longer.

Today was grooming and nail cutting day for Roscoe. He looks a bit different now with the hair cut, but getting it done now should let him have a thick coat by the time the cold #$%@$ weather comes along this winter. -30-


---

Mon Oct 15 2018 08:51PM - I did another fix-it job today. I had an old cordless drill that had batteries that never charged any longer. So I decided rather than going through the hassle of trying to find a new battery pack for it, I would rig it up as a corded drill using a 7Ah gel cell I bought for a buck or so at the Ol' Station Marketplace a few months ago. It wasn't hard to do, but with my old hands and eyes, it took longer than it would have several years ago. In fact that applies to a lot of things I do now. HI

I also went through my collection of about a dozen headphones and checked them with a couple of web sites that specialize in providing the audio/tones to check headphones. I wanted to find the best one for listening to music on my computer and another set that provided the loudest audio for my KX3. A pair of Heil Pro Set 3 headphones that Mike gave me some time ago proved the best for music, while a generic set I got somewhere long ago was the best for the KX3.

It's hard to believe according to some predictors we are still not at the sunspot minimum and won't be for maybe another two years. I hope that is wrong because the bands are bad enough right now without getting any worse. Anything above 80 meters is virtually useless in my favorite 0000Z hour now and even 80 is not that good. It's taking longer and longer into that 0000Z hour to get my streak QSO whereas before I could virtually get my QSO within 15 minutes at most on any band up through 20 or 17. Although I still see some in the first few minutes in my latest log page, I also see 30, 52, 23, 27, 52, 51, 55, 33 minutes into the 0000Z hour on that page. It gets kind of frustrating at times looking for someone to work. My CQs go largely unanswered lately so I resort to S&P a lot. I see only 5 out of 22 QSOs on the same log page came from my CQ. Oh well, anything worth having is worth working for, I guess. And the QSOs are taking a good amount of work.

Well, I'm past my 9PM weather readings now, so I'll close and get this uploaded along with my home and propagation pages now. -30-


---

Sun Oct 14 2018 08:33PM - I think the bands were about as bad as I've heard them this cycle. Just about nothing on any band above 80 and only a few moderate signals on 80, one of whom I did manage to work - W8DVE in MI - to keep the streak going.

It was another quiet day today. I did quite a bit of work on my genealogy looking through old census records. I found some exact street numbers where my late ancestors lived. I think I'll look up the houses tomorrow if the weather is nice enough and see if they are still standing. A lot changes in almost a hundred years. -30-


---

Sat Oct 13 2018 08:12PM - That was quick, as I knew it should be. My streak QSO in the PA QSO party came after I just listened around for a few minutes, then decided to work WQ3N in Clinton County. It took just a single call - no repeats of any info. On 80 meters - I didn't hear anything on 40, 30, or 20, party or no party.

It was another cold depressing day. Well, depressing because of the weather, I should say. Otherwise it was a good average day. Nothing out of the ordinary to talk about.

Tomorrow I'll have to come up with a new poll for the web site. It's almost impossible to come up with any new polls after my run of well over 200 of them. I'll probably try to find one I haven't used for a while and repeat it. That's what I've been doing a lot lately. -30-


---

Fri Oct 12 2018 08:42PM - It was a sad day today. A partial end to my garden. I pulled my tomato plants which only had about 5 tomatoes total left on the 7 plants. This was a very poor year for gardening, especially the tomatoes. I don't think I harvested more than 60 or so tomatoes. Compare that to one year several years ago when I got around 700 tomatoes. Of course I had more plants then, but really not all that many more. My peppers and beans are still producing, but are coming to the end also. They both did pretty well this year although still not up to par.

The bands were pretty much at par this evening compared to the past couple poor months. It didn't take too long to have K3JN in Cresson, PA answer my CQ on 80 meters. I have been through Cresson on a trip to see the Horseshoe Curve many years ago. I also watch the railroad web cam at Cresson now and then. I really love trains here, and miss not having rails going through town here as they did years ago. The tracks were only about a hundred feet from my home, if that far. Then there was a spur that ran up to a brickyard even closer than that. Those were the days! Maybe I'll talk more about those times in a later diary entry. -30-


---

Thu Oct 11 2018 09:22PM - It seems like it's just one thing after another going wrong here the last half of the year. Tonight it was my AcuRite weather unit. I got it going again after putting new batteries in the units, but the problem was more than that as I had to fool with the units after putting in the new batteries. I think when replacing batteries, it is necessary to shut the units down completely and then start them up again, like rebooting. I'll fool with that again tomorrow.

The bands were horrible again tonight. It was a struggle to work W8BJO on 80 meters after he answered my CQ there. But it is a good QSO and keeps the streak going.

Referring back to last night's comments about DX-less streaks. I checked today and the last time I went 11 days without DX was from 26 Dec 2012 to 11 Jan 2013 or 16 days.

OK, time to move on and walk Roscoe now. -30-


---

Wed Oct 10 2018 09:17PM - After a streak of 11 days with no DX, I ended it quickly by working 6D50I, a Mexican special event call, at 0000Z on 20 meters with one call and one repeat. I guess I have to go back at the very least 5 1/2 years to find a similar no-DX streak. I may just check that when I have some more time.

My ARRL Centennial paddle was acting up tonight and I spent almost an hour after I worked the XE station trying to figure out what was going on. I cleaned the contacts but that wasn't the problem. I checked the cable and plug. Nope. I think it boiled down to the paddle lever tension springs. As near as I can figure out without further checking, the circuit is completed through the springs, and apparently the connection between springs and levers got dirty. I moved them around a bit and that seemed to fix the problem. I may look at it more closely when I have time.

Speaking of time, I better close this entry now. It's almost time to walk Roscoe. -30-


---

Tue Oct 09 2018 09:03PM - Horrible conditions on the bands this evening yet the streak struggles on. First I worked Hugh NC1M in MA on 80. We had a solid two way 14 minute QSO despite the poor conditions and him running a KW to my 5 watts. We could have gone on even longer, but I wanted to run and try to get at least one QSO in our NAQCC sprint. I did, but it wasn't easy. I heard nothing on 80 or 40, but 20 was the saving band. I only heard part of a couple exchanges. I heard GA 644 which I knew was John K4BAI and also a number that started with 78. A little later I did hear VE3DQN well enough to work him, which I did for my total of one QSO. Maybe had I stayed longer I could have gotten a few more, but it really wasn't worth the effort and aggravation. At least I've still never missed one of our regular NAQCC sprints.

Almost an all-time high temperature record for October yesterday. We hit 90 degrees, just shy of 91 set 11 years ago back in 2007. It was only 88 today. I think tomorrow will be the last of these summer like days in October though. All indications are that the cool Canadian air masses are going to invade us and stay for a while, at least into the foreseeable future. Oh well, it was nice while it lasted. -30-


---

Mon Oct 08 2018 07:10PM - Our parkpedition went very smoothly today with only a couple very minor glitches not even worth mentioning. Mike took 40 meters and I alternated between 30 and 20 with 30 being the better band. I made 17 QSOs there versus 7 on 20 with about an equal amount of time spent on both. Don K3RLL stopped by the site but didn't do any operating despite our offer to him to use our rig(s). He'll be heading back to FL for the winter at the end of the month so it was nice to see him before he departs.

The bands were very up and down with signals anywhere between eardrum shattering and a quiet whisper. I got RSTs from 599 to 229. I was surprised to work Oregon (KC7DM) on 30 meters just before 2PM local time here. My contacts were from 17 states and 1 province. 17 with NAQCC members, 7 with non-members.

We used our brand new just received band pass filters and they are fantastic. We never heard a single dit from each other.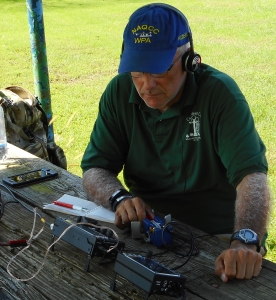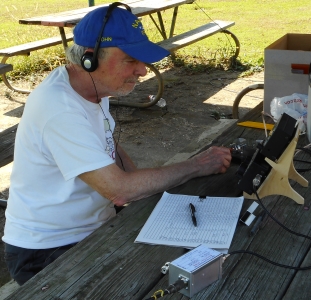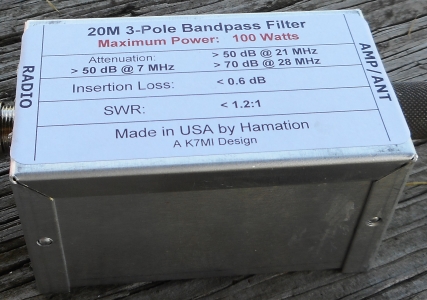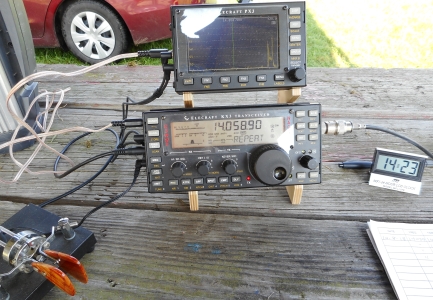 L-R Above: Mike KC2EGL, John K3WWP, one of our new bandpass filters, K3WWP's KX3/PX3 setup.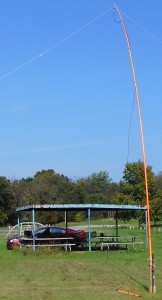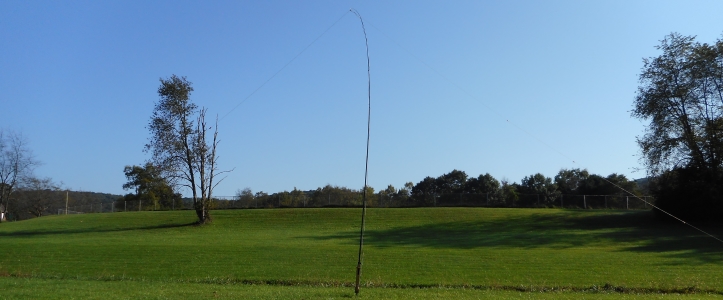 L-R Above: Mike's antenna mast with our operating pavilion in the background, John and his antenna mast, John's antenna and mast.


The four hour session passed very quickly and we want to thank all of those who took time to contact us. You are the ones who make these sessions even more enjoyable beyond the fun Mike and I have together. -30-


---

Sun Oct 07 2018 08:37PM - My noise didn"t stay away very long. It's back again tonight although not quite as strong as it had been. Anyway I got my streak QSO from Lee K5LY on 30 meters. I also heard some DX, but they weren't hearing me at all except for one P? from XQ3SK which might have been me he was hearing down in Chile. As an example of conditions, PV8ADI was only about an S4 on 40 meters tonight, and he is usually at least S8 or S9.

Tomorrow's the day of our parkpedition. Mike and I will be ready to activate N3A around 10AM (1400Z). I heard today from Don K3RLL and he said he would stop by to see us. Maybe we can get him to do some operating also. -30-


---

Sat Oct 06 2018 10:04PM - A bit late tonight. My neighbor went to Walmart and asked if I wanted to come along. I did. I needed to stock up on one of my favorite snack foods, Turkey Spam. I also got some ink for my printer.

Because of that I never did get to the shack till a couple minutes past 0100. I wasn't worried though since this is the weekend of the CA QP. Which leads me to one of two openings I had planned for the diary entry.

1. I think I know who has one of the best receiving setups in CA. I must have called 7 or 8 CA stations and never got any kind of reply from them. Then it was K6NA who got me after just one repeat.

2. When I finally got to the shack tonight, I got a shock and a pleasant surprise. My local noise was down some 2 to 3 S units and after building the xmt/rcv switch a few days ago I didn't need to use it. I hope the noise reduction is not just a brief anomaly and lasts for a good long while. -30-


---

Fri Oct 05 2018 08:25PM - My streak QSO this evening was an interesting one. It was a special event station in GA - W4O. He didn't give any info on the air, but referred folks to QRZ for details. I got a pleasant surprise when I looked it up. It was honoring Oliver Hardy of Laurel and Hardy. More specifically, the 30th Annual Oliver Hardy Festival in Harlem, GA. I really have always enjoyed the Laurel and Hardy films along with other films of that era like Our Gang. Incidentally did you know that Laurel and Hardy made a cameo appearance in one of the Our Gang films? The first person who emails me telling me which one gets instant immortality by being mentioned in one of my diary entries. HI

We had a sneak preview of fall weather today. The high was only 70, which is still above average, but felt nice and cool because the humidity was also a bit lower than it has been. Tomorrow it's back to summer though, and that will last at least another week.

I took advantage with a couple walks and a couple "sits" on the porch, one by myself and one with Roscoe.

Other than the above, I also studied the design program, Sketch Up for quite a while. I love learning new things, and I never really delved into CAD type programs before. This one is really neat. -30-


---

Thu Oct 04 2018 08:34PM - It was a struggle this evening as the better conditions of last night weren't present this evening. Even the usually strong net stations tonight....weren't. I did hear a very weak CQ from W9BZ, but didn't answer because I didn't think I'd be able to copy him. Lo and behold though, I called CQ higher in frequency, and he answered me. I managed to copy RST, QTH, and name on the first round, but after that, QSB and QRN got the best of the deal. He seemed to copy me OK and gave me a 449. I generously gave him a 339. Anyway the streak goes on.

Another decent day today although interrupted by a couple of short but heavy showers a couple hours apart. Actually it wasn't windy with the showers and it was nice otherwise so I sat on the porch and just watched it rain. I haven't done that in a long time and I must say it was very relaxing. Maybe I should do it more often when conditions permit.

Other than that, another uneventful day here. A little shopping, a couple walks between the showers, and my usual daily computer work. -30-


---

Wed Oct 03 2018 08:37PM - Conditions seemed a bit better this evening or there was just more activity than last night, maybe both. It only took 10 minutes this evening vs. 52 last night to work someone - Marv K9VPL in IL on 80 meters. After we finished, Jason N3YUG called me so I got a bonus QSO this evening.

It was another nice weather day with a high of 79 and not a lot of humidity. I'm at 9.94 miles on the pedometer after three nice walks today and will go over 10 before I hit the sack around midnight. Not much else out of the ordinary today although I did get together my portable kit for our parkpedition on Monday. Looks like we'll have an almost summer-like day - dry and low 80s. Not like several years ago for our Columbus day outing when it was so cold we had to quit early as our fingers got too still to key properly. I won't forget that day. I think we made only one QSO before we quit very early. -30-


---

Tue Oct 02 2018 09:16PM - It took me 52 minutes to get a QSO this evening, then when I did, it was a nice long chat with Les K5LG in AR on 40M. So, that leaves me only a short time before it's time to take Roscoe for his last walk of the day. There wasn't much happening today to write about anyway. It was another warm humid day for early October. Not too bad for walking so I put just over 8 miles on the pedometer so far. The bands were in pretty good shape this evening, but there just wasn't much activity. Maybe everyone is watching the BB playoffs? HI. -30-


---

Mon Oct 01 2018 08:40PM - As it is every first of a month, today was a busy day, more so because it came on a Monday. Being a Monday, it started with doing my laundry. After that, an enjoyable walk with Roscoe. Walks with him are always daily highlights. Next it was off to the bank, church, and borough office for my financial things. That was about a 2 1/2 mile or so walk. Thank goodness the weather was just about perfect for that kind of walk. Back home again for lunch.

The early afternoon was a little less hectic. Another walk with Roscoe, then a bonus walk with him after which we sat on the porch swing for a while. Next up I labeled the switches on the antenna switching unit I pictured here in the diary a couple days ago. I listened briefly but didn't hear anything interesting. When I was sitting on my porch a little later, I noticed that the bush in the front yard had really grown back after I cut it back severely earlier in the year so I gave it a bit of a trimming to get rid of some of the scraggly growth. After that it was something else unplanned. My neighbor's brother came to cut his grass, and he always lets me use their mower to cut mine, so I did that. That pretty much covered the day except for a final long walk. Just looking at my pedometer shows almost 10 miles of walking today.

As far as ham radio goes, it was another 0001Z QSO this evening with another WA5 station. This time it was Darron WA5TCZ whom I hadn't worked in quite a while. It was good to hook up again and chat for a while.

Now it's almost time to get my weather readings. Oh, September turned out very warm and wet. The average low of 61.1 was 8.8 degrees above normal and a record for September. The same with the daily mean average of 70.6 6.7 degrees above normal. The average high of 80.0 was 4.4 above normal but not a record. That was 81.6 back in 2016. Rainfall was 10.36 inches, a record. Also a record for the first nine months of a year was set with 47.36 inches. There were more records too, but I won't list them here. -30-


---

Sun Sep 30 2018 08:21PM - A quick streak QSO at 0001Z from WA5RES in OK on 30 meters. I didn't even listen much. Just kind of turned on the rig and quickly scanned 20 and found nothing there so I went to 30 and there was WA5RES calling a general CQ. I answered him and he came back right away.

My "fix-it shop" was open today among all the usual end of month things. I fixed a lamp for my neighbor Bruce for whom I fixed his mailbox lid yesterday or was that the day before? Time marches on faster and faster as I age.

I did get most of my end of month chores done today. I did upload my QSOs to LoTW and eQSL last night as I said I would. Today I closed out my financial records for September and prepared for my banking / Post Office run tomorrow morning. I've got all my calendars turned over to October. Really about the only thing left is to put my September weather data into my Excel files. I even logged all the LoTW matches that came in from my upload last night. I haven't done the eQSLs yet though. Maybe after I do these web site updates or maybe not till later. -30-


---

Sat Sep 29 2018 08:05PM - Thanks to the TX QP, a quick 0000Z streak QSO this evening on 20M with K5XR who was S9 here and oddly the only TX station I heard on 20 in the few minutes I listened. Now I'm going to get my September log uploaded to LoTW and eQSL since I don't plan on getting any more QSOs this month. This will be the second time doing the preparation and upload with the new computer using Excel instead of the Access/Excel combo program I used with the old computer so it will probably take a bit longer still than usual.

Our NAQCC 14th anniversary celebration is coming up the second week of October. Mike and I will be operating N3A from the Kittanning Community Park on Columbus Day October 8. We've been doing that for several years now, and I'm looking forward to doing it again this year. I hope the weather is good unlike last year when we had to operate from my house instead of the park. -30-


---

Fri Sep 28 2018 08:35PM - Well, whaddya know. I actually worked some DX this evening. Friend Kam down in Costa Rica. Kam always seems to copy me, no matter the time, band, or conditions. Tonight it was 0030Z, 30M, very poor conditions. He was my first QSO on my newly completed manual T-R switch. Seems like going back in time to the days of separate xmtrs and rcvrs before i designed and built QSK circuitry a long time ago. This time around it's to switch receive and transmit antennas to deal with my local noise problem. Here's a picture and description.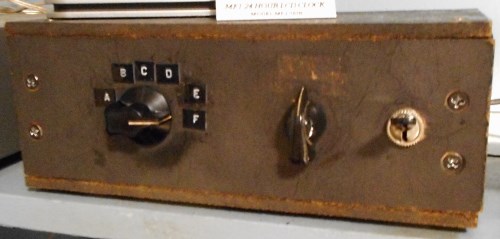 The rotary switch on the left is for choosing a xmit antenna. The middle rotary switch is a duplicate for choosing a rcv antenna. The toggle switch at the right chooses which rotary switch to connect to the KX3. If it is up, that's for transmit and it connects the left switch. Down is for rcv and it connects the middle rotary switch. That makes it easy to transmit on one antenna, then immediately switch to another antenna that gives a better s/n ratio for receiving. I still have to make labels for the two added switches.

Other than finishing the switch today I also helped my neighbor repair (refasten) the lid on his mailbox. So I got a couple of "fix-it" fixes today. HI.

I also enjoyed the cool less-humid weather we had by taking a couple fairly long walks. -30-


---

Thu Sep 27 2018 08:24PM - Poor conditions again this evening, although perhaps a bit better on 80 than last night. Nonetheless, I got an answer to my very first CQ on 80 from Ken W9STG in IN. It was rough copy both ways, but it was a QSO to keep the streak going another day.

It was a nice day today with partly cloudy skies, cool temps, and low humidity. Pretty much a typical fall day here. I did some edging around my front sidewalk. Inside I did a little bit of prep work for my new xmt/rcv switching setup. Other than that, just routine things like walking Roscoe, etc. occupied my time. -30-


---

Wed Sep 26 2018 08:53PM - Very poor band conditions this evening after being decent for the past week or 10 days now. No real strong signals anywhere. Even tnose chasing some DX in a medium sized pileup didn't have the usual strong signals. I thought I was going to have to wait till later this evening in the CWT sprint to get my streak QSO. I called a few weak stations who didn't hear me at all and one who heard me, but couldn't copy through his QRN. Finally I found KB0HXL in MN calling CQ around 3560 and he did hear and answer me. Even though signals were very weak (S1 and S3) on both ends we had a nice chat that lasted 13 minutes until QSB did us in.

Not much going on today outside of the usual things except I did a bit of work on my computer desk. I've always had it so the screen faces the wall and I sit between desk and wall which leaves all the wiring exposed out in the room. I never did like that but it was hard to fix when I had the desktop computer with the main unit sitting on the floor. Now with the laptop all except the power and phone lines just run from unit to unit on the desk. I found a nice sheet of wood and fastened it to the desk and that hides all of the wiring. I think it looks nice now.

I guess that about covers the day. Wonder what tomorrow will bring now. -30-


---

Tue Sep 25 2018 07:58PM - Just getting the header ready for the diary entry before heading up to the shack. Since it's Tuesday that means should I not get anyone this evening, I have during the day tomorrow to get someone in one of the two CWT sprint periods. That's nice to fall back on, but I hope to get someone tonight so I don't have to think about that during the day tomorrow. OK, be back to finish the entry, hopefully in just a few minutes.

I did get a fairly quick (0010Z) QSO from K1LKP who answered my 40M CQ. Before that though I called 3 or 4 fairly strong stations without getting so much as a QRZ? or ? from them. Then after the LKP QSO, I found H88A on 20 working split and tried for about 10 minutes to get him without any luck. I would have liked that prefix. I also heard David XE1XR pretty strong on 20, but my desire to work DX just for the sake of working DX has diminished greatly since the DX streak ended, so I didn't even try to work David. I'm thinking about eliminating the DX columns from my streak table on the home page of my site, and just mention here in the diary the DX that I work. Maybe I'll do that tomorrow.

I gathered up a couple switches from my junk box today for the antenna switch I mentioned in the last entry. I got the solder cleaned off the terminals and that's as far as I got with the project. -30-


---

Mon Sep 24 2018 08:41PM - Another of those fix-it days I talked about a few entries ago. First my new laptop was rocking a bit on its laptop cooler. That was an easy fix. All it took was a strip of wood under the back edge of the cooler. Yesterday I cleaned my kitchen windows and could not get them to close properly after that. I gave up, and then this morning I worked on that. Adjusting the parting stop and the sash stop took care of that. On to some computer work next. When my computer crashed last month I lost a neat little html/php combo page that allowed me to update my on line log very easily. Today I finally got around to re-creating the setup. Then there is another future project helping my neighbor fix a broken lid on his mailbox. I dug in my junkbox and found a couple of brass hinges that are just the right size plus the nuts and bolts to hold them on. We'll get to that maybe tomorrow or wait till the weekend as he works during the week. All in all a very satisfying day topped off by the neighbors on the other side of my house sending over a nice big bowl of homemade beef and vegetable soup.

The satisfaction continued on the bands this evening with a quick streak QSO from K2IWQ who answered my 80 meters CQ after a few times. His signal was so good I didn't even have to switch xmt and rcv antennas as I've had to do a lot lately with my local noise. I'm planning on rigging up a circuit that will make the xmt/rcv antenna switch much easier and quicker. I've got the design in my head, but haven't gotten any further with it yet. -30-


---

Sun Sep 23 2018 10:39AM - OK, I had a good night's sleep and am rarin' to go now. I got my streak QSO somewhat easily from Paul KW7D who is on the air a lot (understatement). Actually he was practically the only station I heard on any band from 30 through 17. I did hear a couple other very weak stations, but Paul was the only one I figured I had a chance to work. We have worked a few times before and recognition helps in making QSOs in adverse conditions. It did take a couple repeats before he got my call right, and then we had a brief QSB-shortened QSO. And the streak goes on another day.

Yesterday was a fun day with Mike as always. He arrived around oh I think it was 1 o'clock or so. We shot some clocks (killed time) with computer games, ham radio, planning of future events, and so on until it was time to head to Pittsburgh around 4:30 or so. Mike made a few QSOs in the BW (FOC) contest. I just watched him do that and didn't work anyone myself.

We ran into some heavy traffic a little before arrving at Pittsburgh, then it dissipated. I don't know where everyone was going, but it wasn't to the ballgame as we had little traffic once we got in the city. We got parked quickly and walked a few blocks to the park entrance. It was Oktoberfest night at the park and everyone attending got a free mug (stein). I guess I'll just use mine as an ornament or drink some water from it. I don't do alcohol in any way shape or form. I only had two alcoholic beverages in my entire lifetime and that was at a Greek food festival in Pittsburgh many many years ago. I've got a picture of the mug after a couple other pictures and a bit more info about the game.

We arrived at our seats about 20 minutes before game time. There were a couple former Post Office employees sitting in adjacent seats so Mike exchanged war stories with them as I watched the preparations for the game. There was nothing really out of the ordinary in the game itself. Pretty much only routine happenings, but that didn't make it any less enjoyable. It was especially nice to see the Pirates win. The last few games I have attended with Mike or other WPIT employess when I worked there, I believe they lost. I'm sure of the last couple being losses anyway.

The game took about 3 hours to play which we think is about average for ballgames nowadays with all the peripheral "entertainment" in between every half inning. It would be interesting to compare average game times today with times of bygone eras. I'm sure they were much shorter back then. When it did end at 3-0 Pirates, we made our way through the walking crowds to the parking garage, then through the driving crowds to get out of the city. Once we cleared the city traffic, it was a quick 45-50 minutes ride back here. Mike then took off for home as soon as we arrived.

Now some pictures and short descriptions.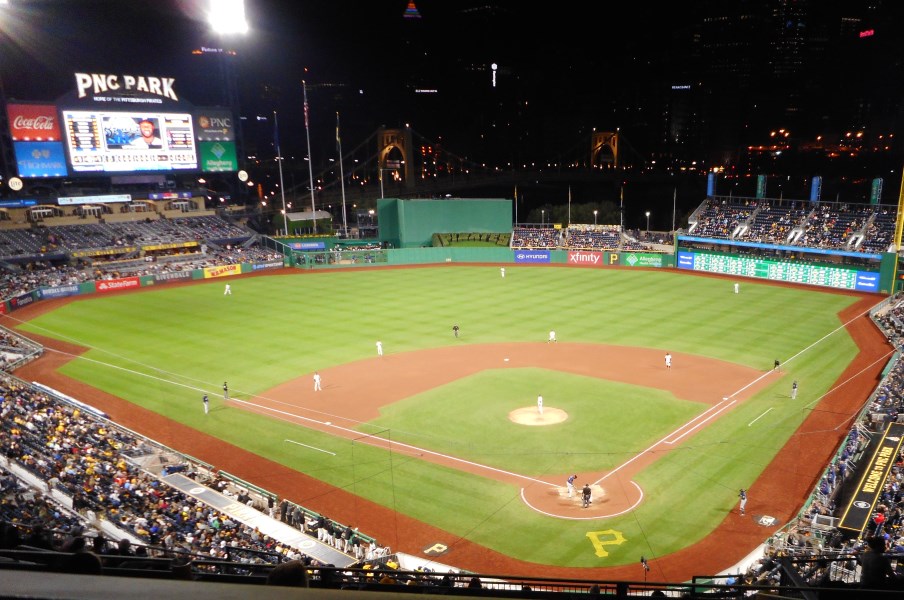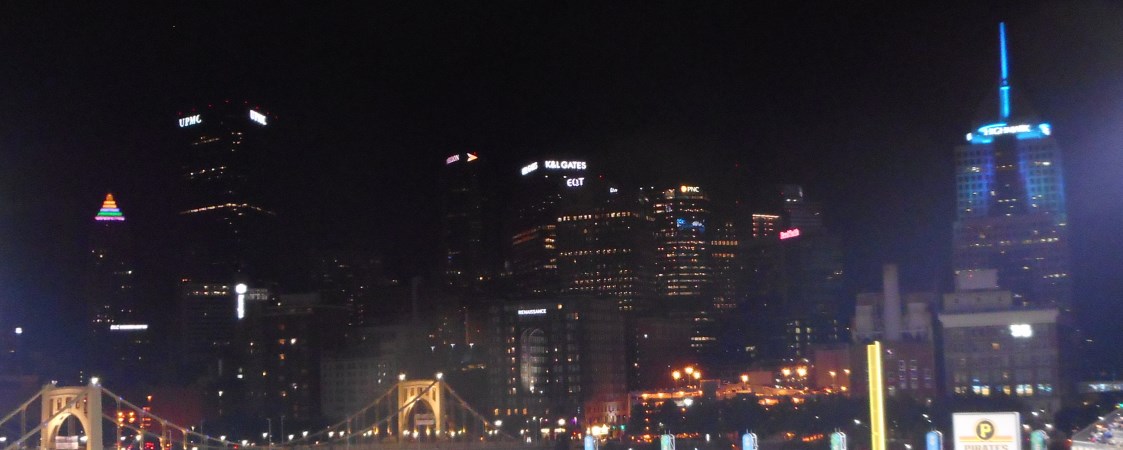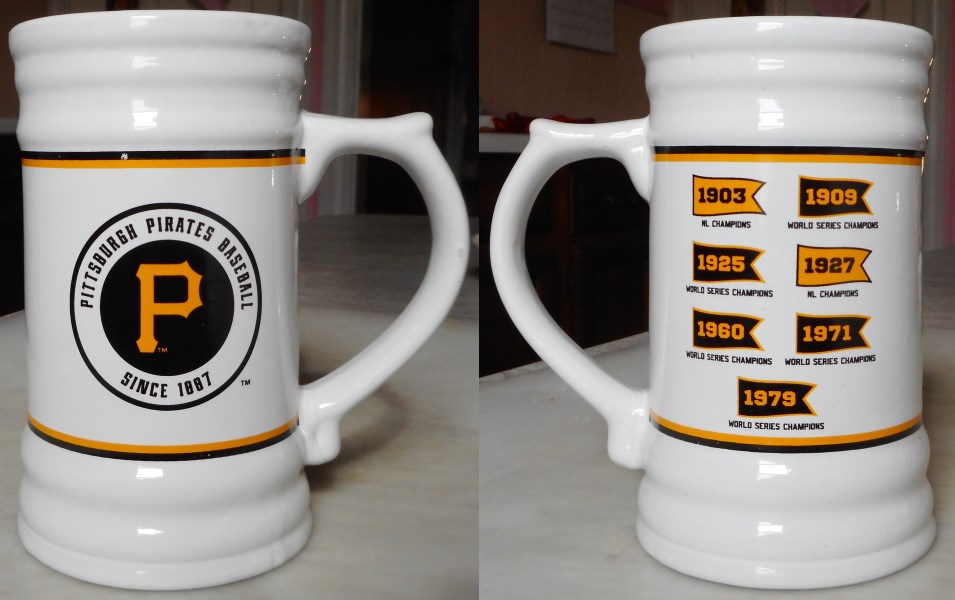 The top picture is our view of the field which is similar to our view at our last game earlier this year. We were a few rows lower than at that game and did have a railing in our field of view which at normal sitting height was right in line with the area between pitcher and catcher. Other than that the overall view was virtually the same.

The middle picture is a shot of the lit up Pittsburgh skyline. The building at the left with the multi-color pyramid shaped top is the Gulf Building. That top used to be a weather predictor and was red for good weather and blue for bad (rain/s#$wy) weather. I'm not sure what the multi-colored top now signifies. There also was a building that flashed out "Pittsburgh" in Morse Code. I don't know if that building is still there or not, maybe just hidden behind the other buildings. I'm going to do some research in Edge on the Internet to find out more about the buildings. OK, here's the lowdown I gathered from Wikipedia on my Edge browser. The Gulf Building story is here and the Grant Building with the Morse Code is here.

Finally the mug pictures showing the Pirate logo on the front and the years they were involved in the championships since 1903. -30-


---

Sat Sep 22 2018 11:52PM - Yes, 11:52PM and just got home from the ball game which the Pirates won over the Brewers 3-0. Nothing heard on the bands so I'll have to get my QSO in the morning or afternoon and then I'll write about that and the ball game. -30-


---

Fri Sep 21 2018 08:10PM - I think it's the first time ever I got my streak QSO in a FOC or BW QSO Party. But the opportunity was there so I took it. They do allow non-members in the Parties. I'll have to remember that for the future.

We had another 90 degree day today and are now reaping the rewards(?) of it with a line of TS just now moving through the county. Actually it isn't putting on much of a show. I'm not complaining, mind you. Just some wind gusts maybe 20MPH at the most and some light rain. Haven't seen any lightning nor heard any thunder. From the radar it looks like nothing worse than that coming either.

I still need to do some more work on my transmitter line-up over the years. I know since I went commercial in 1999, I used a Kenwood TS-570D, a Kenwood TS-480SAT, a K2, and now of course the KX3. I want to get an exact, or as close as possible, time line as to just when I used those rigs before I write more about them. Then I need to research the receivers which will be harder. Let's see, my memory says there were the following: SW-500, Knight R-100, Hammarlund HQ-110, Drake SPR-4, Icom IC-71A, and since then, the above transceivers. As far as antennas, not a lot of changes there as I just don't have the room for experimenting. I think my current line-up has been virtually unchanged since I became active again in 1992. Anyway more to come in future entries.

My entry tomorrow will either be early or late. Either before we leave for the ball game around 4PM or after we get home hopefully before 11PM. Hope they don't go extra innings. -30-


---

Thu Sep 20 2018 08:25PM - I got a big surprise last night. Just as I was finishing uploading my web pages, the doorbell rang and I went to see who it was. When I opened the door, for a millisecond or so I thought it was a pizza delivery man at the wrong address. Nope, it was Mike with pizza in hand thinking it was our fourth Wednesday regular pizza night instead of a third Wednesday which it was. After a second of two I recovered from the surprise and we partook of the pizza. I mentioned I was just getting ready for our NAQCC sprint but that I was only planning on making one QSO just to say I participated. We decided we'd both make two QSOs instead and went to the shack and each worked K2UFT in GA and K4KRW in NC. We submitted our meager logs and while Mike played computer I got my weather readings and walked Roscoe. Then I watched Mike play the Sherlock Holmes game we both like so much. All too soon the accidental, but enjoyable visit came to an end as Mike had to head home and get to bed as he had some early things to do today.

On Saturday, we're going to a Pirate ballgame at 7:05PM. On the way before that we'll stop at the Pittsburgh Mills for a meal.

Tonight the bands were about the same as they have been the past 10 days or so. That is not too bad, but still noisy with some QSO. I worked Lloyd K3ESE who answered my CQ on 80 meters. -30-


---

Wed Sep 19 2018 08:07PM - DX again this evening. KP4TF on 30 meters at 0003Z. So two of the past 3 days now I've worked some DX. Admittedly not very rare, but DX nonetheless.

This is the night of our NAQCC sprint. I'm not very enthused about it with my high noise level still in effect. I'll try to get at least one QSO and call it quits. Even if I don't get anyone, that counts for participating to keep my record of never having missed one of our regular monthly sprints.

I was going to continue the history of my rigs and antennas in this entry, but I think I'll put that off till tomorrow or later.

It was a nice day today. The first time in I don't know how long there wasn't a trace of a cloud in the sky at one point. So nice I did some outside painting of my back door steps. Also took a couple of nice walks and sat on the porch swing with Roscoe for a while. -30-


---

Tue Sep 18 2018 08:32PM - My noise was stronger tonight and sigs on 80 didn't seem as strong as the past few evenings. I couldn't work anyone on 80 so I went to 40. Signals seemed better there and I found KI0F calling CQ, so I tried and got him for a 9 minute QSO. QSB was bad but it was about 90-95% copy both ways. And the streak goes on unabated for yet another day.

I mentioned I wanted to talk about a couple things here in the diary, and I'm going to take care of one of them right now as best as I can. That's the history of my rigs and antennas. Let's deal with the transmitters and transceivers first. From 1963 when I got my Novice license until 1999 (August 31, I believe), I used nothing but homebrew transmitters. First was some junky little thing that Larry KN3WWW and I put together. I don't even remember much about that now as we shared it and didn't use it very long. I found a nice circuit in the (1962?) ARRL Handbook that used a 6AG7 crystal oscillator feeding a 1625 final amplifier. It had an input of 75 watts to the final which produced probably around 50 watts output at best. That served me well through my brief Novice career which ended in mid-September 1963 when I got my General license. It looks like my first out of Novice band QSO was on September 14, 1963. I continued to use crystal control with a couple crystals around 7050 or so. It looks like from the frequency entries in my log that I didn't get a VFO until November 1963. It was a Lafayette VFO but I don't recall the model number now. I do have a lot more documentation of things around here, but I'm only writing this from memory at the moment. Maybe I'll flesh it out with more specific info sometime. I continued to use that setup until I became inactive in the early 1970s due to work, etc.

In the early 1980s I again got out the old transmitter which was showing its age. For some reason my power levels during the early 1980s varied between 5 and 75 watts according to my log. I'll have to do some more thinking (research) to figure out just why. It was still basically the same xmtr/vfo setup though. I did modify the VFO quite a bit to make it more stable and to add the new 30 meters band to it.

Another off the air period followed until 1993. As I've mentioned that was when Eric (now KB3BFQ) was instrumental in getting me back on the air again with the old transmitter now rebuilt as a 5 watts (and less) QRP rig. Now it used a 6Y6 tube as the final instead of the old 1625. The 6AG7 that once served as an oscillator before I got my VFO still served as an intermediate amplifier between the VFO and the 6Y6. That setup served me until I finally bit the bullet and purchased a commercial xmtr (xcvr) - a Kenwood TS-570D on September 1, 1999.

And since it is now 9:00, I think I'll end there and save the rest of the story till another time. -30-


---

Mon Sep 17 2018 07:57PM - Just an opening paragraph now, then I'll finish when I come back from the shack. Florence only gave us an inch of rain today, and I don't think she'll add much more overnight tonight. Back even before she made landfall, I predicted we'd get 1-2 inches of rain from her. Then I narrowed it down to around 1.5 inches and it looks like I might be very close.

I received our (Mike and me) Skeeter Hunt certificates in the mail today from Larry W2LJ. Florence dampened them a bit, but they look very nice as shown here.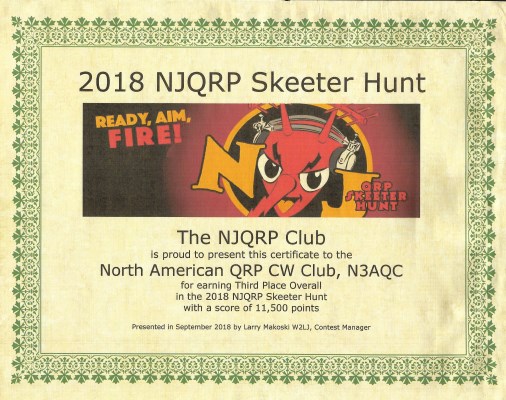 Thanks Larry. You do a great job with the Skeeter Hunt every year.

DX DX DX - Yes, I worked some DX this evening. There was a super path between here and Ecuador on 20 meters, and I had a little chat with... yes, you're right, Alex HC2AO. He gave me an honest 589 and he was 599 + 10 DB here. We commented on the great conditions and exchanged rig info. He was running 100 W to a 6 element beam at 75 feet if I remember what he said correctly. Then he added he was reading my blog (diary). I think that's the most solid QSO we've had among the many times we worked. True armchair copy both ways.

I had a couple other things I was going to talk about in the diary tonight, but I think I'll put them off until another night. -30-


---

Sun Sep 16 2018 08:32PM - Well, I did some more 'fix it' work today. I fixed a sticking cellar door by planing it down a bit. The humidity has been so high around here lately that everything is swelling up or even feeling a bit clammy here and there. I don't think the indoor humidity has been below the mid 70s in well over a week or more now. I also fixed a loose (rusted) post on my back stairs railing with a simple bracket I had in my junk box. I think it was from some old piece of electronic gear I've had forever.

It looks like 80 meters will continue to be the band of choice for some time now if I continue to get on in the 0000Z hour for my streak QSOs. 40 and higher haven't been good at all lately in that hour and I haven't checked the bands at other times of the day except when Mike was here a few days ago. The higher bands did seem decent that day during the afternoon. Tonight on 80 it was a great chat with Dave AA3EJ about our old ham gear going back to the 50s and 60s. I haven't talked about my old gear here in the diary for some time now. Maybe I'll do that sometime this week. -30-


---