---
Wed May 18 5:47PM - I was up in my shack doing something else this afternoon and thought I'd check to see if my noise was still there in the afternoon. It is, so maybe if it is going to be there all the time now, I might be able to get it checked out with the power company. When it was intermittent, if I contacted them, the odds would be in favor of the noise not being there when they came. I'll have to watch it the next few days and see what happens.

While I had the rig on, I thought I'd see what was on the higher bands. 20 didn't have much. 17 had one or two weak stations. 15 had several stations, and I worked two Germans DD5XX and DJ2DX fairly easily. 12 had nothing. 10 had one weak unID station. Probably had my noise not been there, the station count would have been higher. I'm sure the noise masked quite a few signals. It was nice to work my first EU stations in the afternoon in quite a while. Mainly simply because I haven't been getting on the air in the afternoons.

Next time on the air will be for my streak QSO in a little over a couple hours.

It was a chilly day today, but good for walking and not too bad for some park sitting and thinking. I just got home from the park a few minutes ago. I saw a small shower coming on the radar and figured I didn't need to get wet besides being a little chilly to begin with. HI -30-


---

Tue May 17 8:55PM - Really nothing out of the ordinary today. It was a bit chilly, but nice for walking and sitting in the park. Good day for thinking about things. Bands were as usual tonight. Very noisy and propagation not that good. Very few stations popped out of my noise. However K4VSV finally did so on 30 and we had a short chat. The 18th QSO we've had over the years. That's pretty much it. -30-


---

Mon May 16 6:10PM - Look like 4th place in the SST Sprint last night which is about where I figured with my noise being pretty bad. Also propagation seemed down a bit especially on 20 meters and there were fewer than usual stations strong enough to pop out of the noise.

As you see above, I need 67 QSOs to reach the 100,000 mark. If I get 30 in the SST sprints of May 20 and 23, that may mean that sometime in the SST of the 23rd is when 100,000 might be logged. That will put me close to 74,000 QSOs in the 10,150 or so days of the streak at that time also. I think I'll come up with a page of stats for all these landmarks. Maybe sometime in June depending on how nice or not nice the weather is. I don't want to miss any nice weather being outside enjoying it. We have precious few days of good weather around here. -30-


---

Sun May 15 9:11PM - Running late tonight because of the SST Sprint, so this will be a short entry. Conditions were their usual noisy self tonight and it was rough. My ears are full of QRN right now. I did manage to get 30 QSOs which is kind of a standard goal for these sprints. I figure making a QSO every 2 minutes is a pretty good achievement for my simple QRP station. The 30 QSOs came from 19 multipliers for 570 points which may be good for 3rd or 4th place in the QRP Category. I heard the one fellow who runs QRP with a beam so he'll probably beat me out along with one station in NC with a good contesting setup. After I finish my web site update I'll post my score. -30-


---

Sat May 14 8:39PM - After the great busy day yesterday, today seemed kind of quiet and I guess it was. I can't think of anything out of the ordinary that I did today.

The bands were noisy tonight, but some of the stronger contest stations broke through my noise. I managed to work RM9I in Asiatic Russia for my streak QSO. I can't remember the last time I worked Asia unless it was in the CQ or ARRL DX Contest in Nov/Feb. I'll have to check later and see out of curiosity. -30-


---

Fri May 13 8:46PM - Of course as usual a great day when Mike and I get together. Thanks Mike.

Mike arrived about 8:30AM or a little after. We talked a bit, then headed for Pittsburgh. It was an uneventful trip and we didn't get lost as we usually do. HI. We arrived and had to walk all around the Science Center to get to the Requin. When we got there, Art came out to greet us and we went to the radio room. I brought one of my programmable keyers with us so we could automate our CQs. However it wouldn't work with the sub's rig possibly because of incompatability between stereo and mono plugs. So it was manual CQing till we get that figured out.

It went pretty slowly today and we wound up with just 12 QSOs in 3 hours of pretty much continual operating. We use the ship's log and take pictures of it for our personal use. I have yet to transcribe my portion of the log.

At 1:00PM we packed up and headed off to Indiana, PA and the HobbySpeed store. Mike had some questions to ask about his Big Boy locomotive. It was nice to see Brett again, and also Ryan and a couple other employees. We became pretty good friends with them before CoVid struck. Hope that can continue now. After a visit there for a while, it was on to our next stop. Guess what for! Right, to get something to eat. I picked out Hoss's Steak and Sea in Indiana. I'm glad I did, because we had a great meal with a very ample salad bar. Oh, and maybe best of all, a cute waitress named Abby.

Next it was off to our last stop before heading home. Mike is an avid biker and there's a bike shop in Indiana we stop at when we're in that town. I'm not much into biking at all so while Mike talked with two of the employees there, I had fun playing with the two dogs that they have in the shop. After the visit there, we headed back to Kittanning, then Mike headed to Brookville to check on his dog, Jayden.

I went for a walk in the park to complete my Apple Watch activity goals which I did. I sat a while before heading back home. A few other little things and it was time to go to the shack for my streak QSO. I had a long rag chew with Mike AA4MC in VA on 30M. Like the other night, 30 was very stable for the entire 41 minutes of our QSO. It's nice to see 30 that way again after a couple years of very poor propagation on that band. -30-


---

Thu May 12 8:33PM - Kind of a busy day today. Besides the usual daily chores, I cut the grass in my back yard, went downtown for some shopping and banking where I got a graduation card and gift for Jasmine, sat in the park a few times, and some other things I can't recall now. Must not have been important. HI

Conditions were horrible tonight and I thought maybe Friday the 13th (UTC) might be a jinx preventing me getting my streak QSO. I don't believe in that stuff though, so I continued chasing 9A/UW1GZ on 20 and after maybe 15 tries or so, I finally got him to secure the streak for yet another day and also get another QSO closer to the 100,000 mark. Hopefully tomorrow on the Requin I'll get even a little closer, but I like to have Mike do most of the operating and I do the logging. -30-


---

Wed May 11 9:03PM - Just got my weather readings. It was 83 today on my "official" thermometer. It sure felt like it and it felt good. I took a couple walks and sat in the park for a while. That made it a good day. It was also good for a couple other reasons. I got to visit with Jasmine after school for a little while today which is always good. She is at a very busy time of life right now and I don't see much of her. I also got my food bank groceries today including a bonus box of vegetables including regular and sweet potatoes, onions, and rutabagas (I think that's what they are. HI). It was such a big box I know I could never eat it all so I shared it with my neighbor.

Then this evening I had a great QSO with K1OV Mike in CT on 30 meters. We had a solid 2X QRP 34 minute QSO and even dropped down to 1 watt for a while and it was still solid copy at that level. So all in all it was a good day.

Remember this Friday Mike and I will be operating from the Requin in Pittsburgh. A rough schedule that we are planning is to operate from around 1400Z to 1730Z alternating every half hour around 7041, 14061, and 10117 in that order starting with 40M at 1400Z. We'll be using the Requin equipment since the operation promotes the Requin and not us or QRP. It will be QRO around 100 watts using the Requin call of NY3EC. I think that covers the info. Any questions? Just ask. -30-


---

Tue May 10 8:52PM - Another beautiful weather day with a high around 80, no wind, clear sunny skies. Of course I was outside a lot today enjoying it.

A rather quick streak QSO tonight with CT3MD on 20 meters. He had me as W3WWP at first and never did send a corrected call after I sent K3 K3 WWP. So I logged him and then got an insurance QSO from K1ZJA on 40 meters. That's 109 QSOs to go to 100,000 now. -30-


---

Mon May 9 8:41PM - Perhaps the nicest day of the year today. Beautiful clear skies and bright sunshine. Mild temperatures. Just right for walking and sitting in the park with a touch of shopping thrown in. I did all of that almost to excess today.

My noise was bad tonight, but I managed a fairly easy QSO from ZP/OK2WX on 20 meters. He broke through my noise fairly well. He topped it by an S unit or maybe 2.

BTW there is no rain in the forecast here till Saturday so it should be a good week with Tues-Fri being much like today. -30-


---

Sun May 8 9:18PM - I hope all those eligible had a great Mother's Day. I'm not eligible, but I did have a nice day nonetheless.

Here's my SST Soapbox, "I had a good score going even with moderate noise, but then at 0050Z my serious noise kicked in and with 9 minutes left to go and needing 7 QSOs to reach 40, I was unable to hear anyone I hadn't already worked because I only needed the weaker stations and lost them in the noise. Oh well, still a lot of fun and 33 QSOs not all that bad with my QRP and indoor antennas." Let's see how many folks have beaten my score so far. I'm in second place to the fellow with the beam and high dipole antennas. I can live with that. HI. -30-


---

Sat May 7 5:23PM - Another wet gloomy chilly day today. Our total rain over the past couple days has approached 3 inches now. As of now though, it looks like it has come to its end. I hope so anyway. No walks today unless I go this evening.

I did a lot of computer work today along with indoor walking to pass the time. After having some trouble with my Excel K3WWP log, I did a little study and came up with a simpler and better way to count my number of verifications from LoTW, eQSL, and regular QSL cards. Then when I did that, I modified my QSL page here on the web site to reflect updated totals. I also added a category to the stats to count QSOs that have been verified by any of LoTW, eQSL, card, or 2 or 3 of the methods. The total QSOs verified one way or other is 37,079 of 94,146 or 39.4 percent. Now to find something else to pass the time until 0000Z and streak time. Then after that, I think I'll watch the movie about Douglas "Wrong-Way" Corrigan. I haven't seen it in many years now and was always interested in his flying feats including the biggie across the Atlantic Ocean to be one of the first to do it in such a small plane. -30-


---

Fri May 6 7:46 PM - To quote my SST Soapbox, "It's strange. Sometimes my QRP station acts like it is Superman and I can easily work anyone I hear. Other times it's like Superman with Kryptonite and it takes 3 or 4 calls to get someone if I get them at all. Today it was the Kryptonite version. Also my #1 noise was there part of the time which didn't help things out. I don't think I ever described my station here. I use a KX3/PX3 combo at 5 watts to an attic random wire (80,40) or an attic dipole (20). See k3wwp.com for my web site promoting CW/QRP operation."

That is so true. Sometimes my QRP can pass for a kw/beam station from the ease with which I can work stations. Other times an S9+30DB station can't hear me calling him. Mike thinks some hams have filters in their brains that filter out any signals that are not S9+. Of course there are many reasons for such behavior that I'm not going to go into right now. It's either elating in the first case or discouraging in the second case.

Even with the second case in effect today I did manage 27 QSOs good for third place so far. The first place winner beat me by 4 QSOs and a couple multipliers, but he used a beam and a 60 foot high dipole.

Although it has rained almost the whole day, it was a good day as I got to talk with Jasmine for the first time in a while now.

Oh, here are my total K3WWP QSOs by continent:
Con   QSOs
AF      781
AN       19
AS      600
EU    15986
NA    74367
OC      332
SA     2091
?        11
The question mark is for /MM stations for which I don't know the continent. -30-


---

Thu May 5 8:26PM - Not much to talk about today. It was just a normal quiet day. The weather was nice and I took advantage with some walks and a couple sittings in the park.

So since I'm nearing 100,000 QSOs, I decided to work on some stats to see how the QSOs were distributed among bands, countries, states, and other ways. Today I did by band. These are just my K3WWP QSOs, not the other calls I've used. There are 94,186 of them in total as of May 5.

Band    QSOs
160     3456
 80    17317
 60       28
 40    34301
 30     4447
 20    16690
 17     1079
 15     9334
 12      421
 10     7073
  6       40
Pretty much as expected with 40, 80, 20 leading the way with 15, 10, 30 next, followed by 160, 17, 12, 6, and 60 bringing up the rear. I think next I'll do it by continents. Thinking about it now, maybe by countries and states might take too much time even though my Excel log can do each one in a matter of a second or two. But transcribing the info here into the diary would take a lot of time. We'll see. -30-


---

Wed May 4 6:02PM - Well, either the SSTers are not as avid about eQSL as they are about LoTW or they haven't done their April SST QSOs yet for eQSL. I suspect the former. Over 200 LoTW matches yesterday to log, and only 70 eQSLs to log today. That was a relief. HI. Only took maybe a little over an hour today vs. maybe 3+ hours yesterday. I wonder how my LoTW matches stack up overall vs. eQSLs. Let me check. OK it's 24,705 (or 24,706 see yesterday's comment) for LoTW, and 14,422 for eQSL. That's number of QSOs verified for each service. And not to leave them out, I have 9,745 QSOs verified by regular QSL card. That figure might be a little low since I wasn't as thorough checking cards from my early days of ham radio. But it is in the ballpark.

It was kind of non-May today. Kind of dreary, chilly, and breezy. I did manage a couple walks though, but not as long as usual. Hoping for a better day tomorrow. I'd like to get to Sprankle's and see how my friends are doing there. I haven't been there for a while now.

We did go shopping for Roscoe today. We got his flea/tick pills and heartworm pills along with a collection of snacks and breakfasts. Speaking of Roscoe, it's time now for his 4th walk of the day, so I'd better get going. -30-


---

Tue May 3 7:42PM - Kind of a good day all around, especially for ham radio. I checked and logged all my LoTW matches today. My log shows 24,705 matches while LoTW shows 24,706. So there is a discrepancy of one QSO. I had that one other time in the past and it took a while to figure it out, but I did. I don't know if I want to bother or not this time. Knowing me as a perfectionist, I probably will. HI.

Tomorrow I may tackle the eQSLs. It seems that those who enter the SSTs are avid LoTW users. I bet over 90 percent as a rough estimate of my SST QSOs in April showed up in the LoTW when I uploaded my log a couple days ago. Whew! Tomorrow I'll find out about how avid they are about eQSL.

While doing the LoTW matches today, I found a very nice one. My Andorra station, C31CT is now officially veried for a new overall veried country. I'll update my DXCC table in a day or so, or maybe later tonight. Who knows?

More good ham radio news. Mike and I will be doing a subpedition from the Requin on Friday the thirteenth of this month. That is unless something changes. Art from the sub will let us know if it does. Also we'll be doing Museum Ships on the Air from the Requin the first Saturday in June. Sounds like a lot of fun coming up.

Time to head to the shack now and get my streak QSO. -30-


---

Mon May 2 9:22PM - Well, I finished up my delayed EOM/FOM work today, and had time left over for a couple of walks and park sittings as well.

The bands were good tonight and my bad noise disappeared after a couple minutes revealing many signals on 40 through 20 meters. I made a couple QSOs on 40 and listened around for a while on the other bands. It was interesting to hear Andy HB9CVQ booming in on 20 meters at S8 to S9. I could have worked him easily but I've worked him so many times I thought I'd let some other folks work him. He really wasn't getting all that many calls though. Maybe a lot of folks felt the same way I did.

Think I'll go walk Roscoe now, then come back and finish updating things here. Bruce is out somewhere tonight, so we won't be watching old TV shows (MASH, Leave it to Beaver, etc.) tonight. -30-


---

Sun May 1 6:56PM - Wow, here it is May already. It's interesting how the passage of time accelerates as one gets older. I don't really understand the physics behind that, but more and more I believe it is a true phenomenon.

Anyway I'm writing this entry early tonight so I won't have to rush later around the SST Sprint, Roscoe's walk, etc. I did get caught up on a lot of my end of month work today, and now I have some first of the month things left to do which I'll now put off till tomorrow.

It was a rainy day today to start off the month of May. Still I went strolling through the park today in the merry merry month of May as the lyrics from an old song go. I also went down to Sprankle's but none of my girls were working today.

I uploaded my April QSOs (291 of them) to LoTW and eQSL today. Now I've got to log the matches in my K3WWP Excel log. That will be a task that will take some time since I do it manually. Someday maybe I'll write some programming to make the task easier. Meanwhile that will help pass some time until the SST Sprint.

Just as I was about to post this, we had a shower move through that produced a nice rainbow. I got a couple hurried pictures of it that I'll send to Jasmine and also post one here: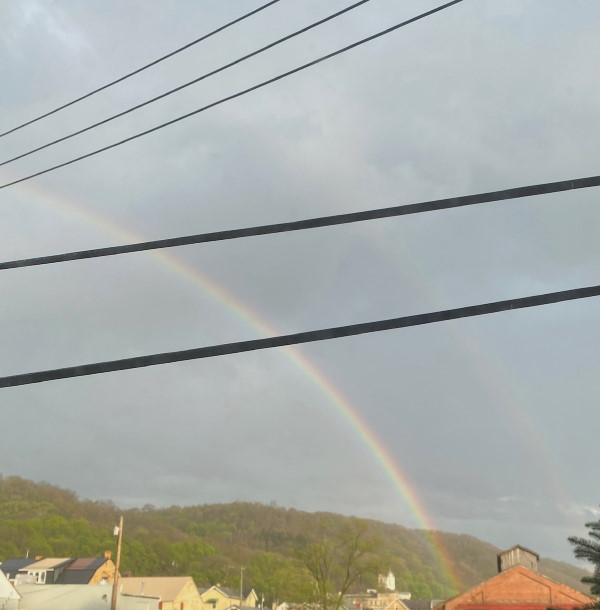 Note the features of the rainbow. The main brightest bow, a secondary larger fainter bow, the lighter sky inside the main bow, the darker sky between the two bows, and some faint hard to see extra bows just inside the main bow. Very nice. Wish I'd had more time to take even better pictures. This was actually taken through a somewhat dirty window. -30-


---

Sat Apr 30 8:07PM - I was lazy today and lax in my end of month duties, so I guess it will be a very busy day tomorrow getting caught up. Oh well, that's what I get. HI

I think maybe right now I'll try to get my April QSOs logged in eQSL and LoTW, so I'll just cut this short here. Nothing much to report anyway. -30-


---

Fri Apr 29 6:03PM - Horrid conditions for the SST Sprint today. I only made 23 QSOs in 16 multipliers. I was very surprised that so far, that is good for second place in the QRP Category. My horrid conditions were due to my regular noise being present for the full hour in full force. Maybe other folks had the same or worse conditions. Anyway the 23 QSOs put me 23 closer to the 100,000 QSO mark as shown above. Mike is guessing that #100,000 will come in FD. I'm guessing earlier than that. Let's see. There are 9 SST Sprints in May and I've averaged about 32 QSOs in the 15 sprints I've entered so far. That would be 288 QSO in just the sprints in May which would put me way over 100,000. If there were only the sprints I would need to enter 7 to reach the 100K mark. But there are other days as well. Let's say 2 QSOs per non sprint days. Going by that, I would reach 100K on May 23. So that is my guess. Wanna take a shot at it? Just email me with your guess.

Otherwise it was a nice day today. Gradually warming up with some nice clear skies. It was 63 today. I took a couple walks and sat in the park a couple times. Well, about 100 minutes till 0000Z and streak time. Maybe I'll get in another walk? -30-


---

Thu Apr 28 8:52PM - Not a lot to talk about today. It was kind of a quiet day. The weather started out cold at 30 on my remote unit, but was less cold late in the afternoon as it hit the mid 50s. Not bad for walking or sitting in the park which I did a couple times along with a little shopping.

My bad noise was absent again tonight and I had a couple nice QSOs, one a 2xQRP with N2CI in NJ. The other was with K1ZJA in NC who answered my first 30M CQ. He was using a K4D, the type of rig I used at the QTH of WB3FAE a couple weeks ago. It sounded great, but then, it's an Elecraft so what do you expect.

I was just thinking about when I might hit the 100,000 QSO mark. It shouldn't take that long with the twice weekly SST Sprints, a Requin subpedition, maybe the CQWPX contest at the end of May if I don't have it by then. Anybody reading this want to make a prediction of the day I'll reach the 100K mark? Maybe I'll have a little prize for the one who comes the closest. Not a promise, but we'll see. -30-


---

Wed Apr 27 9:14PM - A busy day today getting caught up on a ton of correspondence and some other work around the house. It was a cold day so a good day to stay inside. I only went for one walk early this evening and did some shopping while I was out.

The bands were pretty good this evening and my main noise was absent for a happy change. I worked old NAQCC friend Jock N1JI on 30 meters, then called CQ on 40 and got an answer from W1GF up in Maine. -30-


---

Tue Apr 26 9:03PM - A personal note to start - Happy Birthday Mike!

I had a great 42 minute QSO for my streak QSO tonight with Harry WA1GXC in RI. We are a lot alike in many facets of ham radio and talked about a lot of them. I won't go into details or this diary entry will be as long as our QSO.

The bands were good and my worst noise was absent. Hope it left forever, but I'm sure it was just resting.

As you see near the top of this page, I'm closing in on the 100,000 QSO mark counting all my contacts using K3WWP and several other calls I've used like a second call I got for a few years in Pittsburgh, the NAQCC calls, NY3EC on the Requin, and a few more. Someday I'll count all the QSOs and list them by calls, but not now. -30-


---

Mon Apr 25 8:48PM - Another preview of summer day today, and I spent a lot of time outside walking, sitting in the park, shopping, sitting on the porch, and working around the outside of the house.

Tonight conditions seemed good on the bands and a lot of signals were overriding my noise. I made three QSOs, one each on 40 (N5DY), 30 (WA1HGJ), 20 (LZ2HR). I chased 9K2NO on 20, but couldn't break the huge pileup he had. Then I heard LZ2HR and got him on my very first call, no repeats. Probably could have gotten the 9K2 station without his pileup since he was about the same strength as LZ2HR. Oh well, I don't need Kuwait although it would have been nice to work another one. -30-


---

Sun Apr 24 9:18PM - I was going to write this before the SST Sprint when I had more time, but I got distracted with a couple other things. So this will be brief. My noise was there for the SST, but I did manage 36 QSOs which was a moral victory, but only third place in the QRP Category at the moment. That's about all the time for now. See you tomorrow evening. -30-


---

Sat Apr 23 8:34PM - Well, earlier this week we had Winter with cold temps and s#$w flurries. Then mid week we had spring with moderate temps and flowers blooming. Today it was Summer today with temps in the low 80s and bright warm sunshine. Then in a couple days it may be Autumn with fall like temperatures. No falling leaves though. HI. A full year of seasonal weather in just about ten days. Very interesting and maybe somewhat unique to have four seasons in such a short time. If it wasn't so much work taking so much time, I'd go through my weather records dating back to 1959 to see if there were any similar happenings.

I went out and enjoyed the weather today walking, sitting in the park, doing some outside work around the house, and I just got in from sitting on the porch. Tomorrow is supposed to be similar to today so I may replay my activities.

My noise is still there tonight, but some sort of contest was going on and I quickly worked KR2AA for my streak. I don't know what the contest was but I heard the exchange being RST and serial number so I sent 599 1 and he was satisfied. HI. -30-


---

Fri Apr 22 8:50PM - My noise was in full force most of the day today. It ruined my SST effort this afternoon to the point I only made 23 QSOs working those stations strong enough to fly above my noise level. There were a lot more right at the noise level that popped in and out, and I suppose a lot more never made it out of the noise. Still it was a lot of fun and a challenge to my skill. I copied a couple stations I would have to give an honest 229 RST if that good.

It was also hard to find a QSO tonight, but fortunately old friend Dan KB6NU in MI was above my noise and we had a solid 25 minute 2X 599 QSO.

Well, got to walk Roscoe shortly and do a bit more site updating, so I'll close now and get my temperature and weather 9:00 readings first. -30-


---

Thu Apr 21 8:46PM - Except for cutting the grass, today was pretty much like yesterday, so I'm not going to run through it all again in this entry. Also the noise behaved about the same tonight, except I only made one longer QSO instead of two.

Mike did add the following about our tag team efforts. I added it to the contest results page, but will repeat it here also. "We stopped the tag part of tag team contests when we started to have collisions. It got too dangerous. HI HI". -30-


---

Wed Apr 20 8:41PM - Not much to talk about today. The biggest happening was cutting my grass for the first time this year. It felt good getting the exercise and it looks nice now. It was around 50 degrees which was just about ideal for such work. It was also nice for walking and I did quite a bit of that. A little chilly for park sitting, but I did some nevertheless.

I also worked on my contest results page and am pretty close to finishing it now. I didn't realize Mike and I had done so many contests together either using N3AQC or N3A. We also did many tag team efforts where we both work the same station or try to, using our own calls one after the other. It got the name tag team when we used to both use the same rig and "tagged" each other to switch seats at the key. That got kind of old fast so we now use the same rig but each of us has a keyer and headphones hooked to the single rig. We still call them tag team contests though.

My noise was kind tonight. It didn't start up until I was just about ready to QRT after making two QSOs for the streak. I worked WB8BIL in MI on 30 (kind of short skip) and K2HYD in VA on 40. -30-


---

Tue Apr 19 8:49PM - A decent day today but still with pesky s#$w flurries and cold temps. Looking forward to Sunday when it is predicted to be a summery 82 degrees. Kind of like Winter, Spring, and Summer wrapped up in just a few days.

When I was getting my walking exercise today, I got to thinking (I think a lot while walking when I'm not praying) that I haven't updated my contest results page in a couple years now. So I devoted some time today to updating and revamping it. It's still a work in progress though as I have some more ideas and data to incorporate into it. One main thing is I'm putting my SST Sprint results on that page rather than here in the diary from now on. Take a look if you're interested in contesting or just curious. -30-


---

Mon Apr 18 7:03PM - This was a good and busy day. I got a lot accomplished, and I'll tell you about only a couple of things so as hopefully to not be boring. Well, there was one thing that was not so good. We had off and on S#$w flurries all day and the temperature didn't get out of the thirties during the daylight hour. My remote shows a high of 42, but I'm pretty sure that was during the night or very early this morning. The s#$w didn't stick, but it may if it continues after dark.

I got all my second half of the month bills taken care of and took them to the post office. Then I went to the bank to order some new checks. On the way there I ran into Teela from Sprankles who was out sprinkling ice-melt on their sidewalks. That gave us a chance to chat a bit about our Easters and a couple other things. After my business at the bank, I went back to the PO to get a book of Forever stamps.

After I got back home, I took a look at my bed lamp which had developed a bad switch after 60 years or however long I've had it now. I explored some ways of trying to fix it, but none were practical. So I bit the bullet and ordered a new one from Ebay. It should be here in a couple days.

Throughout the rest of the day till now I did some other little things I won't elaborate on.

I think I'll update my SST results table now. I'm holding on to first place in the QRP Category for the latest Sunday evening one. The fellow I thought might beat me out didn't. OK, here goes now:


Date QSOs Mults Score Finish Entries Notes
2/14  33    18   594      4      9
2/21  26    21   546      1     12
2/28  27    20   540      2      9
3/ 7  26    21   546      4     10
3/14  33    26   858      1     13
3/21  36    25   900      1     12
3/25  28    18   504      3      9
3/28  38    25   950      1     13
4/ 1  18    13   234      3     11    Only put in 1/2 hour.
4/ 4  42    29  1218      1     12    All time record QRP Category score among all participants. 
4/ 8   1     1     1     DNE     9    Made one QSO (CT7AUP) from the QTH of WB3FAE with his new K4D. Didn't enter score.
4/11  37    22   814      4     12
4/15  21    15   315      3      9    Plagued with my full force noise.
4/18  36    29  1044      1     10

I'm getting to like these SST Sprints more and more. I'm thinking maybe of trying the CWT Sprints now also. Only thing I don't like is transfering the QSOs from GenLog to my main Excel log. I've got it pretty much down to a system now, but still takes time. Maybe I can refine my system even more and save some more time. I've just got to get un-lazy to work on it. HI -30-


---

Sun Apr 17 9:17PM - Hope you all had a great and blessed Easter. I did here.

Interesting SST tonight. Very good conditions made it hard for me to beat the QRO stations and I didn't get a lot of QSOs on the first call. I did manage 36 QSOs in 29 multipliers for 1044 points. That's good for first place in the QRP Category for now, but I doubt it will last. I figure one station down in NC if he ran QRP will beat me out. We'll see in a couple days.

Don't have time to write much more, but thanks Mike for confirming the Holy Land Contest was the one in which we didn't get a single QSO. Also he said the year was 2013 when we did our multi-contest run. OK gotta run now to walk Roscoe. -30-


---

Sat Apr 16 8:21PM - This is often known as the weekend of many contests. Several years ago, Mike and I tried to figure out how many contests we could work that weekend. I think it was 7 if memory serves, and we made contacts in all but one, The Holy Land Contest. That was fun. Maybe Mike will read this and add some comments which I will add to tomorrow's diary entry.

Tonight I just used one of the contests, the MIQP to get my streak QSO from K8QKY.

Otherwise, it was a good day too. My neighbor's brother had Easter dinner today and as usual invited me along. I ate in moderation instead of stuffing myself and that was good. We had turkey instead of the traditional ham since another neighbor gave us a turkey for Christmas I believe, which we didn't use but froze it instead then.

The weather was a bit chilly today, but I got in three walks nonetheless. I sat on a park bench and did some thinking about things and played some games on my iPhone. I thought there might be a nice sunset tonight, but it never really developed all that well, just a few pastel red clouds.

I guess that about covers the day here. -30-


---
stat-counter.org