---
Fri Jan 27 6:29PM - I spent a good part of today playing with my new high speed Internet connection. I like it. It doesn't make everything lightning fast, but then I didn't expect that. It does make viewing big videos more smooth with less interruptions while the stream catches up. Some bloated sites load in faster. There is a noticeable increase in upload speed since the upload is symmetrical with the download speed now. Of course the overall speed of doing something on the Internet doesn't depend solely on some local fiber optic lines from the local provider control point to my computer. It depends on the speed of my computer which is now almost 4.5 years old and showing signs of old age. It also depends on the server where the site I'm viewing is located. An old slower server contributes to the slowdown just like my old computer here. Also the connection between there and here may still travel all or part way over something not as state of the art as fiber optic lines. Then some sites are loaded with commercials and other such garbage which contributes to the slowdown also. Having said all that, there is still an overall increase in speed when everything else is optimum also. Let's look at results from Speedtest from OOKLA. Previously my download speed via copper was about 12 Mbps at maximum. Now in a half dozen or so random tests I've run on fiber optics, the highest I've seen is about 812 Mbps. For upload it's about 0.65 Mbps vs. about 921 Mbps. Quite an increase. I'm happy.

OK, almost time to stop playing computer and head to the shack for streak time. Wonder what will await me there tonight? -30-


---

Thu Jan 26 7:56PM - Well, I got my fiber optic Internet connection today. It wasn't smooth for one reason. About halfway through the installation, the installer got a call to check on a telephone pole that was knocked down by a car. He was the closest to the accident, so he had to go check it out. He said he would be back, and he was, a couple hours later. The actual installation went very smoothly except for the interruption. The installer and I had an interesting chat while he was working about the history of the Internet and computers. He was a lot younger than I am, so we covered two eras of the history. Very interesting. So far, so good on how the new setup is working. I don't notice a big change in speed, but I haven't explored any real download intensive sites. The service is now symmetrical - equal download and upload speeds. Something I haven't had before so there should really be a big difference in upload speed. I'll see when I upload these updated web site pages in a little bit although they are really too small to probably notice any change.

Other than that, nothing else interesting went on today. I got two QSOs for the streak this evening, KC0MYY on 30 and VE3USP on 40. -30-


---

Wed Jan 25 7:52PM - I think it was Mark Twain who said something like this about the New England weather. If you don't like it, just wait a little and it will change. Correct me if I'm wrong. I don't feel like researching it right now. Anyway that was sort of like our weather here today. We started out with a delay of the precipitation during the night. Next it s#$wed off and on this morning going from heavy to light before a dry slot moved in and put a stop to it in the early afternoon, even bringing out some clear skies, sunshine and low 40s temperatures. Later some rain showers moved in and lasted a while before stopping. Now we're in a lull until who knows what comes next. At least it was a mixture that didn't include anything serious.

Tomorrow I'm supposed to be getting my twice delayed fiber optic Internet upgrade. They really narrowed down the time when they called about it today. They said they would be here sometime between 7AM and 7PM. That's narrowing down??? Might as well not have called. Oh well, I guess it will be nice when I get it. Then my computer will probably die and I'll have to get a new one. I hate to think of that because of all the info I'll have to transfer.

I've kept my streak of getting two or more QSOs per evening going by working KA2DDX and W8BJO, two folks I've worked several times each before. -30-


---

Tue Jan 24 8:02PM - Interesting QSOs for the streak tonight. I worked W1AW/5 on 40 in OK, then W1AW/2 on 40 in NY. I have to get the full details on the W1AW special year long event. I only glanced at the info a couple weeks ago. It sounds similar to what they did in 2014 for the 100th anniversary of the ARRL. That is operate each week from 2 different states the first half of the year, then do it over again the second half of the year. I think I'll just look that up now. Yes, I've summed it up pretty accurately. Throw in some USA possessions and territories as well. The event is called Volunteers on the Air, another -OTA acronym named event. You can do a Bing search for ARRL W1AW Volunteers on the Air to read all about it. I guess I missed the first two weeks, and only got one state the third week. I'll try to get all 50 states, etc. as I did in the 2014 Anniversary event. I guess I can get those 5 missing states for their encore activity the second half of 2023. It should be as much fun as 2014 was.

The only thing out of the ordinary list of chores today was a shopping trip with Bruce to the PO, bank, and Dollar General. I got a 66+ dollars collection of groceries so I'm set for a while now when the s#$w comes the next 7-10 days or so. It's interesting how few groceries 66 bucks buys these days thanks to the inflation rate we now have the last year and a half or so.

Tomorrow no plans except to watch the ugly white stuff accumulating for 1-3 inches. That will be the only real snow since Christmas time and we didn't have much then. A real weather blessing. Now tomorrow will be a good day to stay inside. -30-


---

Mon Jan 23 8:20PM - Busy on 80 with 3 QSOs and 1 on 40 tonight. N1W on 40 for another WRTC QSO. I think 2 of the 3 on 80 were first time worked QSOs, WB3GXN and WA1SCI, but with 95000 QSOs it's hard for my old memory to keep track of everyone I work. All QSOs are in my Excel log though so I'll know for sure when I transfer the info from the four QSOs there in a few minutes. The last QSO was with W7FW, the 7th time we've worked according to him.

Nothing special going on here today. Just the usual walking Roscoe, getting ready for the weekly Tuesday garbage pick-up, redding out a drawer, and other stuff like that. I was supposed to get my Internet upgraded to fiber optics today, but never heard from Windstream. I suppose I'll have to call them again.

Tomorrow a grocery shopping trip to stock up a bit as we'll be getting some of that white stuff I hate to talk about over the next few days. -30-


---

Sun Jan 22 8:12PM - A bit busy on the bands for the streak this evening. I was watching football and was a little late getting to the shack, but I wasn't worried because the SST Sprint was going on and would provide a couple quick QSOs. I say a couple because I'm going to see how long I can go getting two or more QSOs per day now. I wish I'd started that on the first of the year, but I didn't and my first 2+ QSO day was the fifth, and I now have 19 in a row. Tonight I did get two SST QSOs, one on 80 and one on 40. I didn't have anything else urgent to do, so then I called CQ and worked WA1YNJ in NH. When that QSO ended, W2XS John called me, and we had a 23 minute QSO. He was using his KX2, and we talked about it for a while. I had been thinking in the back of my mind about getting one I could use as a backup here at home and use it as the rig of choice for portable ops. It seemed ideal for that purpose from what I had read and what John told me about it tonight. Well, except for one thing. It is not designed for use with the PX3 Panadapter. John says it may work with the PX3, but some features are compromised. I'll have to study that further. I've become so used to the PX3, I would really miss it, especially for backup use here at home. It might not be so bad for portable work since most of time out in the field, I call CQ on one frequency and don't need to tune around the bands looking for signals.

Looks like a crazy WX week here. Seems every forecast is different, and even the same forecasters change their mind every time they issue an update. There is one consensus though. I don't see any real major storms in any of the forecasts, but that could change also, of course. -30-


---

Sat Jan 21 5:25PM - I hesitate to say this for fear of jinxing things, but I'll try. Since the computer crash and subsequent self repair yesterday, my computer is performing like a brand new one right out of the box. It's as fast as it's ever been, and that's good because on Monday I'm going over to fiber optics for my Internet connection. Actually my Internet today was so fast I had to do a speed test to see if for some crazy reason I was already getting the increased speed of fiber optics. I know it couldn't be and it wasn't because I have the new router still sitting in its box waiting to be installed Monday. Sometimes I think this whole modern electronic world is as strange as it is wonderful.

Still over an hour till streak time tonight. I wonder what conditions will be like this evening. They were good last night after my early diary entry then and I made 4 QSOs easily. One of them with my friend Bob NR8M. In the course of our QSO he mentioned he had just worked Curacao on 30. I guessed correctly it was PJ2ND whom I had worked recently on 40 and 17. So after our QSO and just before I QRT I checked 30 and worked PJ2ND with just a single call. Nothing rare or unusual in the way of DX, but I got a kick out of it anyway. Next time I work Bob, I'll tell him about it. -30-


---

Fri Jan 20 4:25PM - I had another computer crash today. The Microsoft built-in diagnosis and repair brought it back to life, but I don't know for how long. It is running very slowly. Some programs are working, but a few don't seem to be. If the diary is not updated, suspect my computer and don't be concerned. I think I am going to try to buy a second computer and get it set up before this one goes completely. I don't know if I'll make it in time or not. Now let's see if my Filezilla program will upload this diary page. If it does, you'll see it. If it doesn't, I'll be the only one to see it right now. -30-


---

Thu Jan 19 8:36PM - Busy night for me on the bands. I got 5 QSOs with PJ2ND, N3JJT, W3ZRW, N4IY, and K4TNE. The first four on 40 and the last on 80. A lot of my QSOs lately have not been on 80 as the higher bands have been better in the 0000Z hour.

To digress for a moment, It is sounding and looking like summer. The lightning is flashing and the thunder rumbling as a line of thunderstorms is paying a visit. Unusual for mid-January, but it's been an unusual winter so far. Now I hear the heavy rain accompanying the storms. It's not like summer temperatures though. It's 41 degrees in that department.

I thought of something while in the shack. I'm sure there are a number of first time visitors reading the diary, and there are some tips that I try to give to readers. I do it one time and never repeat them for newer readers. One is that I have a rotary switch going to my 6 antennas which makes switching bands very easy. It also does something else. For example if I'm on 40 meters working someone using my 40 meters antenna, I can often quickly switch to one of the other 5 antennas on receive and get a much better signal/noise ratio enabling me to copy easier than it was on the 40M antenna. If you have multi antennas and can switch among them quickly give it a try. If you have never done so, you may be surprised at the difference in reception. You just have to make sure you switch back to the correct antenna on transmit. Sometimes I forget and then I either lose the station or it doesn't really make any difference. I have made quite a few QSOs using the wrong antenna on transmit.

Time to go out and see how much rain we got today and be thankful it wasn't s#$w. I think it may be near an inch as a very rough estimate. -30-


---

Wed Jan 18 7:47PM - I got a DX WRTC station for my streak QSO this evening - LZ0WRTC on 40 meters. Other than that, a trip to Walmart was the only thing out of the ordinary routine. It was time to stock up on dog food and treats for Roscoe. Plus I picked up a new pair of jeans for myself.

Just watching the Penn State Weather World now to check on a potential winter storm next week. I may have to practice my anti-s@#w dances. So far they have been working well this winter and we can only hope it continues that way the rest of the season. -30-


---

Tue Jan 17 8:03PM - I got a mix of QSOs this evening for my streak QSOs. I worked W1AW/0 in KS on 40 for their VOTA year long activity. Then K4W for another WRTC station, followed by a couple rag chew QSOs to close out the hour. Not much more to report. I did call my ISP to find out what was going on with my fiber optic upgrade. They said they should be out on the 23rd to do the upgrade.

Another spring in January day today with a temperature of 50 right now. That's the high for the day, in fact. Some s#$w coming along next week, but still not a lot predicted. If we make it through January (apologies to Merle Haggard), that means winter will be 2/3 over and done with, and we can see spring at the end of the tunnel.

That's it for now. -30-


---

Mon Jan 16 8:43PM - A Mike visit means its a good day. He arrived around 10:30 this morning, and set to work preparing a hashbrowns omelet for me. Nice to have someone cater a meal for me. It was very good and I complimented the chef.

Then we went to my shack and explored the bands. We each worked 4 DX and 3 POTA stations, E77DX, HB0CVX, ON4VT, SP0WRTC, K4NYM, K5SJC, K0BWR. It was good to get on the bands at that time, 1700-1820Z and find out what conditions were like at that time. There were openings on all bands up through 10 meters. I'll have to try to get on during that time frame more often.

Then we did some work on our portable antennas, replacing the 4 radials with some more substantial ones.

I needed some printer ink and Mike was good enough to take me up to RiteAid for that. Then he headed for home to see how Jayden was getting along.

I just got back here at the computer from my shack where I had a long rag chew with K4LXY and a WRTC QSO with N9W. -30-


---

Sun Jan 15 7:29PM - Just a little "Heads Up" to start my diary entry. I think there is more to the computer crash I mentioned. I think I may be having to get a new computer before too long now. So if you don't see any updates on the web site, it's almost certain I am working on installing a new computer.

Other than working (fighting) with my computer, there was nothing else worthy of mention here in the diary. Of course with the SST Sprint this evening, I got two easy QSOs to keep the streak alive. Tomorrow should be different with Mike visiting. He said to expect him here at 10AM, and he'll fix a hash brown omelet for our breakfast before we get to some projects. -30-


---

Sat Jan 14 9:14PM - The day started with a computer crash. Fortunately, it was a crash the Microsoft operating system with a little help from AVG was fixed automatically although it gave me some quality worry time.

The day ended with a long phone call from a cousin in which we worked on a lot of family history info.

So it's been a long and tiring type of day and I'm closing this entry now. -30-


---

Fri Jan 13 7:33PM - I hope nothing dire happened to you on this Friday the 13th. It was just another normal day here. I'm not much into this superstition stuff except as a joke. I didn't do anything outside my normal daily routines here.

The bands had little to offer tonight despite the high SF. I probably should have checked 10 and 12 during the day, but I didn't. For my streak QSOs tonight I worked a couple of the WRTC stations on different bands, N0W on 40 and N5W on 20. I heard a CQ7 WRTC station on 80 but didn't break his pileup as I didn't feel like waiting. He wasn't hearing the stations working him all that well or I might have waited longer.

Looking forward to seeing Mike KC2EGL on Monday. We are going to work on our portable antennas, specifically the radials which seem to need a little heavier wire. -30-


---

Thu Jan 12 2:58PM - It's a real gloomy day here with one saving grace, it's raining and not s@#wing with a temperature of 47, ideal "bad" weather for January when you consider the alternative. I'm just sitting here with not much to do so I thought I'd close out my mini-discussion of remote station operating with a quote from Don VA3BOW that sums up the matter very well.

"Hi John,
This is just an observation. I was in Florida several Winters ago and to communicate as a ham I was using my laptop to make remote SSB contacts via our club's station in Mississauga, Ontario, just West of Toronto.
I contacted a station in Oregon. When I told him that I was in Venice, FL he replied that he would swing his yagi antenna in that direction. I replied that my antenna was near Toronto, Canada and that I was using the Internet and our club station to make contacts.
Remote station operation does help old retired hams with limited power get out to the world but, as you say, it does lead to some confusion.
73 and God Bless you in 2023.
Don
VA3BOW"

And that sums up the good and bad of remote operating. It helps keep CW activity on the bands, although this example is for a SSB operation. That's good. The bad is the confusion it causes in figuring just where the other end of your QSO took place. If you're a stickler for accuracy, that's a sore point. If you just get on the air to make contacts, it doesn't really matter, I guess. End of topic. Thanks for the couple comments you sent on the subject. Let's move on to some other topics now.

In a QSO a couple days ago, the topic came up about 75 watt rigs we used in our Novice days. Then the question followed, why did the FCC pick 75 watts as the power limit for Novices? We had no idea why it was so. Does anyone reading this know why? -30-


---

Wed Jan 11 9:11PM - The time stamp shows that I'm running late, so this will be a short entry about a long day. It started getting up early at 7 AM to take Roscoe to the groomer. While he was there, Bruce and I did some shopping at two Dollar Generals and one Family Dollar. So we're both pretty well stocked up on groceries for a while now. The grooming turned out good and back home again for a little while. Then Bruce's brother came and he and I took Roscoe to the vets for a checkup and his annual shots. He got a good report except for one anplasma (?) infection for which he has to take some pills. Back home again for a couple hours before going to the food bank to pick up my monthly box of food further enlarging my stockpile of groceries. Whew! End of the real busy part of my day. Still a couple Roscoe walks and my streak QSO to take care of.

80 was really good tonight with S9+ signals all over the place. I made 3 good rag chew type of QSOs with solid copy just about all the way in all 3 QSOs. That brings us to typing this entry before taking Roscoe on his last walk. -30-


---

Tue Jan 10 3:12PM - Unusual time to write the diary entry, but... I actually got on the bands in the afternoon or to be more specific in the 1800Z hour. I had been wanting to do that for sometime now, but always something else came along to distract me. So today after I shaved in my bedroom/shack, I sat down and fired up the KX3 and headed to 17 meters. Right away I heard what sounded like DX from the way he was operating split. I waited a bit and he ID as PJ2ND. I set up for split, gave a call and he came right back to me. Later on I heard him on 15 also, but he never heard me at all after trying a dozen or more times. He always answered someone else. Oh well, no big deal. Meanwhile, I decided to call CQ on 17M. Bingo, the first CQ netted a response from Mike AC5P in Oklahoma. We had a nice 35 minute rag chew on a variety of subjects before he had to QRT to help his wife with some groceries. I listened around a bit more on 17-10 meters. Didn't hear a thing on 10 and 12, a couple stations on 15, and back on 17 I heard, but didn't try to work MD0CCE and CT7AUP (?) quite strong. So the high bands are open folks. Give them a try. Probably you should get to 12 and 10 earlier in the day though.

Maybe tomorrow I'll try again, although it's going to be a busy day with helping take Roscoe to the groomer and later the vet. In between doing some shopping for groceries, and later to go pickup my monthly box of food from the food bank. Whew! -30-


---

Mon Jan 9 7:58PM - Worked some real DX tonight - Mars. OK, those who know PA know there is a town called Mars in adjacent Butler County. I worked N2MA from there. He is also a member of Skyview, but Mike or I never ran into him that I know of at the club. Conditions weren't good and we didn't have that long a QSO due to QRN and QSB, so I'm going to try to follow up with an email to him. I looked in QRZ and saw he started in ham radio the same year as I did. Also he has similar interests in CW, DX, and Contesting. In fact, I think I have worked him in an SST Sprint or two.

Other than that, not a lot happening today, so I'll just close here. -30-


---

Sun Jan 8 8:20PM - Another quiet day today with only two projects. As I do every Sunday, I did my laundry. After that, I took all my Christmas decorations from the second floor up to the attic. Then this evening for my streak I got a QSO in the SST Sprint from WK0B and a short rag chew hampered by QRN and QSB with N4EW. Tomorrow I hope to get hooked into Windstream's fiber optic Internet service which should speed up my connection several times at no additional cost.

Midweek will be a busy one with 2 trips for Roscoe to the groomer and a little later to the vet for his shots and a general checkup. Later that same day a trip to the food bank for my monthly box of food. -30-


---

Sat Jan 7 8:32PM - Well, the holidays are officially over at the Shannon house as of today. I took down all the Christmas decorations today and got them up to the second floor on their way to the attic tomorrow. It's a sad time, but also a glad time because it means we are that much closer to starting the three beautiful seasons of Spring, Summer, and Autumn. It won't be too much longer till we reach the halfway point of winter. It looks like we are going to have good weather up until then at least, according to the 3-4 weather forecasting services I monitor regularly this time of year.

That was about the only serious project I tackled today. Nothing much else going on. This evening I had another 4 QSO session. Started with another WRTC station, N5W in TX on 40. Then a couple of somewhat rough short rag chews with WB0CFF in MN and KC8JNL in MI. Then I finished up with a 41 minute rag chew with N5MPM here in PA on 80 meters. 80 was pretty busy tonite compared to the past couple nights. I saw many s8-s9+ peaks on the PX3 screen. That panadapter sure has been a big help in saving time finding my streak QSOs. A visual band display certainly beats tuning across a band hoping to run into and hearing a signal. -30-


---

Fri Jan 6 6:44PM - Pretty much a nothing day today. I thought briefly about taking my Christmas decorations down, but never did get to it. Maybe tomorrow.

I watched some sports videos today to pass the time. I got a kick out of some of the funny moments in football ones. My favorite was one where the center apparently forgot the snap count and everyone moved but him. Then the official came up with a classic line something like, "Illegal motion offense, everyone but the center"

About ten minutes to streak time now. Wonder if I'll get a quickie QSO or a long rag chew or something in between tonight. -30-


---

Thu Jan 5 5:27PM - I just took a half hour or so to analyze my weather data from 2022 that I entered in my weather spreadsheet yesterday. Generally overall 2022 was a cold year compared to the last several years according to my data.

Let's look at some of the stats on which I base that.


STAT                       VALUE              DESCRIPTION
LO GDR                      41                LOWEST SINCE 1975 (TIE)
DEP RANGE                  +17 TO -28 IN DEC  PERHAPS HIGHEST RANGE FOR A MONTH (NEED MORE CHECKING)
AV YR MIN                   42.1              LOWEST SINCE 2014 (40.1)
AV YR MAX                   63.4              LOWEST SINCE 2018 (63.2)
AV YR MEAN                  52.8              LOWEST SINCE 2014 (51.0)
LO YR MIN                   10                LOWEST SINCE 2014 (8)
DAYS MAX 32 OR LESS         30                HIGHEST SINCE 2014 (37)
DAYS MAX 90 OR MORE         23                LOWEST SINCE 2017 (18)
DAYS LO 0 OR LESS            6                HIGHEST SINCE 2015 (12)
DAYS PREC .01" OR MORE     142                LOWEST SINCE 2010 (138)
DAYS PREC .04" OR MORE     116                LOWEST SINCE 2010 (116 TIE)
AV FALL MEAN                54.3              LOWEST SINCE 2014 (53.8)

Such nomenclature tends to be somewhat confusing unless you deal with weather stats a lot. Things like "low high temperature", "highest minimum temperature" at first sound like contradictions in terms till one stops and thinks about it. So if you have any questions about the terminology, let me know. I think most all terms above can be figured out. Maybe a couple need explaining. GDR is greatest daily range, i.e the daily range is the max temp minus the min temp (82-58=24). DEP is the departure from the normal mean temperature. FALL is Oct 1 through Dec 31.

It seems that 2014 was the last year like 2022 as far as temp goes. 2010 the last year it was on the dry side.

Well, I interrupted my writing here to do some things, and never got back to the computer until 8:45PM. So I'm going to cut off the weather info for tonite, add a bit about the streak, and then close here.

The bands were good tonite, at least 80 was very good. I had two LONG solid QSOs. First a 35 minute one with Howard K4LXY, followed by an even longer one of 48 minutes with Art W8XW. Both very interesting.

The weather is hanging tough in the mild dry mode. It can continue that as long as it wishes. I wouldn't mind setting records for the warmest, driest January and February, but I'm sure that won't happen. -30-


---

Wed Apr... I mean Jan 4 4:08PM - We're having another out of season spell of weather here. No s@#w and mild, almost warm temperatures. It's predicted to last through at least next week, hopefully longer. It's 55 right now and hit 60 yesterday. It's interesting to note the humidity has been stuck at 99% on my LaCrosse remote unit for the past 3 full days or so. I've never seen it hit 100%, so I'm guessing the 99 is really fully saturated at 100%. Anyway I haven't been recording humidity except the past 3 or so years, and I don't recall such a long string of saturated days like this.

I thought I'd comment on remote operation as I promised a few days ago. When you look at it in a certain way, every QSO could be considered a remote QSO. There are the following objects involved in a typical QSO:

1 Operator 1
2 Modulating or Keying device
3 Transmitter
4 Feedline
5 Antenna
6 RF Signal
7 Antenna
8 Feedline
9 Receiver
10 Demodulating device
11 Operator 2

There is some sort of connection between each of the steps. Operator 1 connects to a microphone, key, computer, etc. through his body one way or other. Then that device connects to a transmitter through a wire, wi-fi, etc. The output of the transmitter connects through a feedline of sorts, normally a wire, but it could be a microwave relay, etc. Then the RF signal departs the antenna and goes on its way depending on various factors to somewhere, where it encounters another antenna, and the steps occur in reverse till it gets to Operator 2.

Each one of the steps can be considered a remote connection in a certain way. I guess the only connection that isn't a remote one is an eyeball QSO where the two hams talk face to face and shake hands.

The only difference seems to me to be the distance involved in one of the connections, usually the one from the first modulator, key, or computer to the transmitter, i.e step 2 to 3. That may be anywhere from a few inches to hundreds of miles. I don't know what the cutoff distance is between a local and remote connection to have it be called a "remote" station QSO.

Therefore, I don't consider there being anything wrong with remote station operation except for the debate of how to determine the QSO for a remote station. I belive the QSO should be considered to be with the location where the transmitting station is located since that is where the RF portion of the QSO originated and ham radio is about making 2 way contact via RF. End of my opinion. Feel free to disagree, but don't expect a quick return to any comments, especially if it should unintentionally on my part open a can of worms, in which case I reserve the right to just drop the whole topic completely without another word. I have too many other things that are much higher on my importance list than this. -30-


---

Tue Jan 3 8:06PM - The major project today was getting my 2022 weather data into my weather spreadsheet. Every year it seems to become more of a project, but I finally did get all the data in, and I got printed out what I need to print out. All I have to do now is really take time to look it over and pull out some interesting facts. I think 2022 was a cooler and drier year overall. At least it seemed that way as I was glancing at the data while recording it.

I really didn't do much else today. Roscoe's new leash arrived today, and I tried that out a couple times. It seems to work good. It's one of those auto-retracting ones. It gives Roscoe 26 feet of running / walking distance.

The bands were about average tonight. I made one QSO with WK3A in MD, and that was it. I had a lot of other CQs go unanswered. -30-


---

Mon Jan 2 8:33PM - Kind of a busy day today mainly because things didn't go right. I was putting my December weather records into my Excel Spreadsheet, and all of a sudden my computer took on a mind of its own and decided to crash. Fortunately with the aid of whatever Microsoft and Hewlett Packard did internally to help it reboot itself, it was completely cured, and now is working fine again. I didn't even lose any of the data I had installed before the crash. That was the first time I can recall this laptop crashing. Sure gave me a start. Another fortunate thing was that I had saved the weather file right before the crash.

I know many of you comment on my weather info in the diary so here are some data about December 2022. It was a close to normal temperature month with an average of 33.3 degrees or 0.4 degrees above normal. A dry month with only about 2/3 the normal precipitation 2.19 vs. 3.29 inches normal. We set a handful of records: The greatest monthly range of temperature from 66 on the 30th (daily high record) to -3 on 23/24th for a 69 degree monthly range. The following are all daily records: 0.85 precipitation on the 15th. High minimum temp 45 on the 7th. Low maximum 10 on the 24th. High average 53 on the 30th - tie with 2019. Least daily temp range 4 on the 18th - tie with 2014. Greatest daily temp range 41 on the 23rd and 38 on the 29th. A few more records than recent months as we had quite a range of weather in December.

80 meters was good this evening and I made 4 QSOs. Two 1x1 calls, W2P and N9W, one very brief QSO with AA2ZW and a long rag chew with John K3MD on a variety of subjects including that he was once a VP and Pres. of the nearby Skyview Club I talk about in the diary.

With all that, I never did get all the 2022 weather in the computer. I hope to do that tomorrow if nothing else happens to prevent it. -30-


---

Sun Jan 1 7:45PM - A few first of the month chores wound up taking up a lot of time today. Mainly my financial dealings. Not that I have that many, but as I age, it gets a little trickier taking care of them. HI. It was another nice weather day today. Not a bit of s#$w to be seen anywhere. It got up to 50 late this afternoon with some sun. The bands were pretty busy this evening. I didn't feel like just getting a SST QSO though. Nor did I feel like a long rag chew. So I found something in the middle ground, a POTA contact on 30 meters. My first 30 meters QSO in 2023 and the first one in quite a while actually. I was thinking of getting the December weather in my weather spreadsheet, but don't feel that ambitious. The December weather isn't so complicated, but I also have to compile all the 2022 weather this month. That usually takes a while. So I'll probably just fool around doing not much of anything the rest of the evening. HI. -30-


---

Sat Dec 31 5:36PM - Not only is this a time for my End of Month / First of Month tasks, but for my End of Year / First of Year tasks as well. I took care of most of the ham radio tasks today like uploading my eQSL and LoTW data for December, updating other web site data, and other such things. The other big task is updating my weather data for December and for the full year of 2023. Also smaller ones like changing my calendars from 2022 to 2023. I already did most of that and all I need to do is take down the 2022 ones and expose the 2023 ones I have hanging up behind them. Then there is the financial stuff to be done at the end of every month. Not much financial stuff involving the full year. I guess that about sums it all up. I'll leave the Christmas decorations up till sometime later in the week. I still have a couple people who want to drop by and see them. I don't know if they will or not, but it doesn't hurt to leave them up another week. I remember when I was a little kid, we would leave them up well into January. In fact I think one year we made it to early February or maybe just came close. HI.

Hey, it's warmer now than it's been all day at 52 degrees. This great weather is supposed to hold till at least next Thursday. I love it. The only thing is that Canada is not releasing any cold blasts, and the pool of cold air up there without any sunshine is just going to get colder and colder. When they do send it down here we could get a really cold blast in February like happened way back in 1899 with the coldest temperatures ever recorded in many locations in the USA. If you're interested in weather, look that up on the Internet. It makes for interesting reading. I see there are still 4 states at a glance in which the coldest ever temperature took place on or around February 10, 1899. That's an amazing long lasting record of some 124 years. Several of the states had that record broken in some recent cold waves, but I think it is still remarkable. That is the only time it was below zero in Florida to show how deep into the south the cold advanced. As an aside, glancing through the state records for cold, it looks like the longest lasting record is -47 in New Hampshire in 1885. Very interesting, especially with my lifelong interest in meteorology.

Happy New Year everyone. Don't forget to make and keep those resolutions, especially if they are health related. You won't regret it.

Oh, finally a last note. As I've done for the past MANY years I'll do my NY superstition again and put some coins out on my windowsill overnight. That was started and told to me by my late cousin if I recall correctly. Supposedly if the coins are still there in the morning the year ahead will be good financially. I'm not superstitious at all, but hey, it's not hurting anything and is a bit of fun to help in the new year. And it's worked every year, too. 73 in '23. -30-


---

Fri Dec 30 8:15PM - One full day and it will be a new year depending on the time zone. 365 more days of adventure, joy, sorrow, and a group of other emotions as we wander down the trail of time, along the way hoping and praying that it will be a good year for us, our relatives, friends and really for everyone.

That's looking forward. The end of the year is also a time to look back on the old year. I would say it averaged out to be a normal year with the usual number of ups and downs, a lot of which don't belong mentioned here in my diary. One off-topic thing is our economy. The inflation is eating everyone alive. I did some rough figuring on the grocery items I buy regularly like bread, milk, meat, cereal, and so forth. I found a good many of the items have increased on average around 50% in price during the past 12-15 months or so which is the time period for which I figured. That's the end of any kind of political talk as I make it a point not to delve into politics in the diary and not all that much in my personal life either. This was a topic that needed mention though.

As far as ham radio in 2022, I believe I made more QSOs this year than the past couple. I can document that quickly from my Excel log to see if I'm right or wrong. Just a minute. 2018-917, 2019-422, 2020-989, 2021-940, 2022-2,105. Wow, I didn't realize it was that many more. That's the most since 2014 when I made 2,837. I'm impressed. HI. A lot of the increase is due to my entering many of the SST Sprints in the first half of 2022.

I believe one thing that decreased last year was the number of portable ops in the parks, on the Requin, at Skyview, etc. There were several reasons for that I'm not going into, but lets dig out some stats from my Other Calls log. Well, I'm way off-base on that. We actually made made more ops the past two years than the years before that. Here are the years and numbers: 2022-13, 2021-13, 2020-6, 2019-12, 2018-8, 2017-11, 2016-10, 2015-9, 2014-7, 2013-9, 2012-9, 2011-5. That really surprised me. My gut feeling that we hadn't gone out as many times this year was totally wrong. Not by a lot, but wrong nonetheless.

Of course the daily QRP/CW QSO streak remained strong for all of the 365 days, not missing a beat. I think I'll end my 2022 review here. I'll be updating my Yearly Stats page in the QRP section of the web site in a few days to find out some other interesting things about my hamming in 2022.

Also in a few days, I'm going to add to my thoughts about remote station operating. I think (hope?) you'll find them interesting and maybe unexpected. -30-


---

Thu Dec 29 7:52PM - I'm curious about something, and I'd like your take on it. Tonight for my streak QSO I worked AE3T who gave his QTH as Allentown, PA. Then he explained that he was in his home near Washington, DC operating a remote station in Allentown. Now as if callsign prefixes no longer really serve as station locators as they used to do, using remote stations makes it even more confusing as to what what state, county, or town you are working. I believe that QTH should be where the antenna is located from which you are receiving the RF signal. How the signal reaches the remote station from your home should having nothing to do with the equation. Or maybe if you are linking your home to the antenna site via RF, it should enter in? Are you maybe working the station on two bands at the same time, one (40?) from his home to the remote and one (30?) from the remote to your station. I'M SOOOO CONFUSED. And suppose someone gives me his home QTH as Mississippi, but never mentions he is operating a remote station in Georgia. I'll wind up with putting an erroneous entry in my log as QTH: Mississippi. What is the official take on what the QTH should be in this case. I would think Georgia, but I have no way of knowing if he doesn't tell me. The more I talk about this, the more confused I get, so I am going to stop here, and maybe carry on when I can think more clearly.

We had a great day today with a high closing in on, but not quite making it to 60. My remote unit shows 58. The official reading in my shelter at 9:00 may have hit 60, but usually it is always within a degree of the remote reading. Here we go talking about remote units again, geeez! Time to close this entry. -30-


---

Wed Dec 28 5:29PM - Two varied topics in this diary entry. First, I like to read about a dozen favorite comic strips each day. Not the modern contemporary ones, but classic ones like Peanuts, Popeye, Barney Google, and the like. I have found that the ArcaMax site I use to read them has just been getting slower and slower with an increasing number of ads, popup videos, and all sort of junk. If you perhaps use that site for comic strips, I found a better alternative, at least for a few days now it has been much faster to load. There are a couple of strips they don't have that ArcaMax does, but they also have Tiger that ArcaMax doesn't. That's the Seattle Times newspaper web site. If you are interested, just do a Bing search for Seattle Times comics and take it from there. If you do go there, look at the Wizard of Id strip. It has a reference to Morse Code!

Second a couple weather related pictures I took today. Two subjects I always love for pictures - S#$w melt and sunsets. It got up almost to 50 today and got a large portion of my backyard down to bare grass again. Also the sky broke up between clear and overcast just enough to provide a nice canvas for the setting sun. That's the first nice sunset in quite some time here. In fact the last sunset picture on my phone is dated November 10.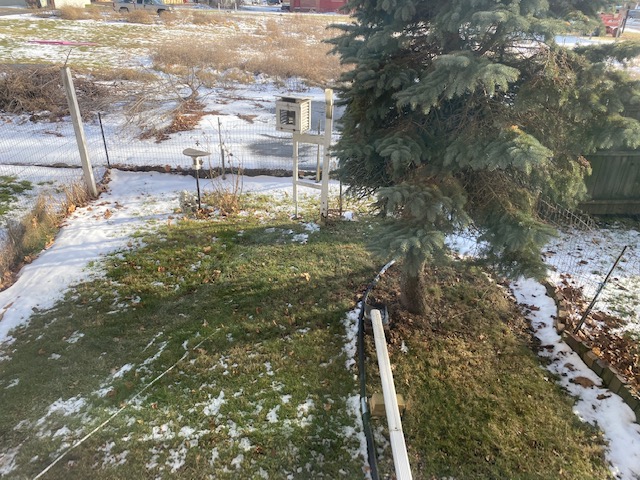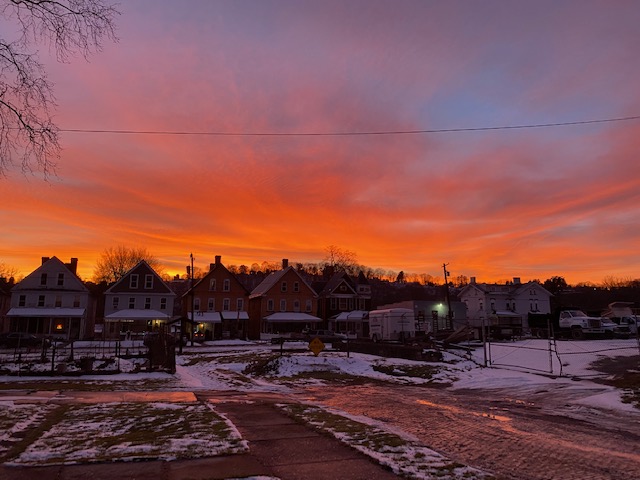 It won't be long before all the backyard is bare grass and it should stay that way well into January ultil Canada decided to dispose some of their cold white crap again. At least it's an unusually nice start to a month of January here if the predictions are correct. Usually we get a solid hit during the first couple days of January in a normal year. -30-


---

Tue Dec 27 8:14PM - Just finished a great 46 minute QSO with VE3WH for my streak QSO. Actually it was my second QSO. I also worked KQ4CCE before that. The long QSO dealt mainly with antenna talk plus a few other things.

It's gradually getting less cold here after the below zero encounter a few days ago. We touched 30 degrees today and had a little snow melt along with it. We should gradually make it to near 60 by next week at this time.

Not a lot happening here today to write about. Just one of those days with the ordinary little chores that need doing regularly but are not very exciting. So I guess I'll just close here. -30-


---

Mon Dec 26 8:11PM - I'm trying to type this while talking on the phone, and it's not easy. HI.

I had a good QSO tonight. Not that all QSOs aren't good. Maybe I should say different instead of good. Anyway, getting to it, I had someone answer my CQ with a pse QRS, which I gladly did, and we had a nice 13 or so WPM QSO. The slowest one I've had in a while. It was a little hard sending that slow, but I did it. I set the keyer speed to about 16 WPM and used Farnsworth spacing. I probably should have just used my straight key as I did with a QSO a few nights ago, but I didn't. It felt good to help someone out by slowing down. I usually do QRS if someone answers me slower than my speed, but this was the first time I got a request to do so in a CQ answer.

It's still cold but a little less cold. We got into the low 20s today and the wind was almost calm. We did have a bit of lite s#$w, but not enough to ruin the day. I even got to sweep some of the s#$w from my porch which blew there in the high winds of the past few days.

I said I'd post some pictures from our lights tour last night, so let's see if I can do that while I'm listening to my cousin on the phone. At least it's most listening on my part with an occasional "yes", "OK", "UhHuh", etc. Let's see what I can come up with.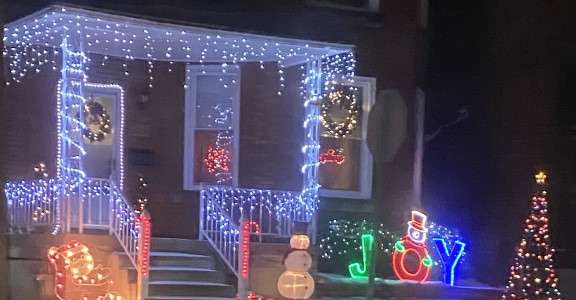 pix1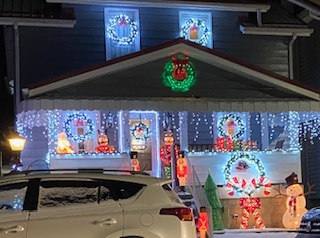 pix2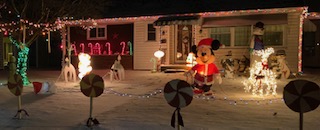 pix3

pix4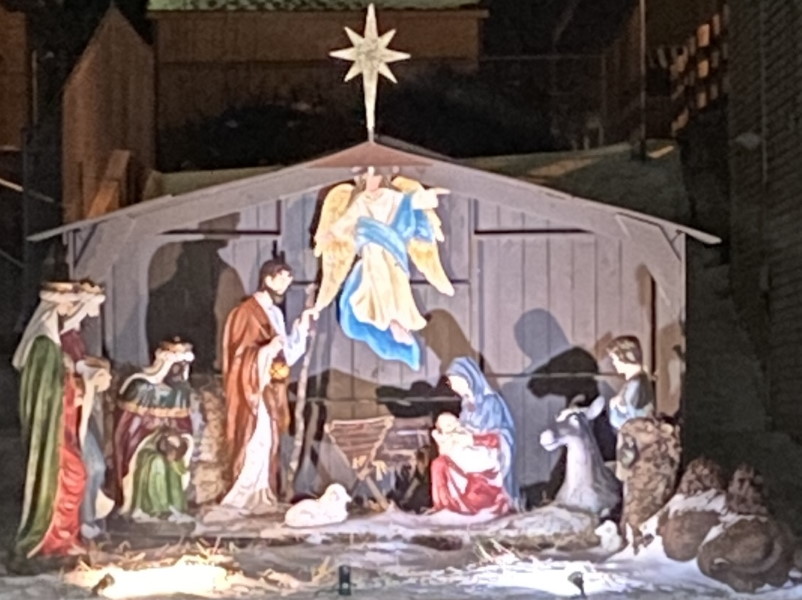 pix5


Well, that didn't come out too bad, did it? I could have cropped a bit better, etc., but you get the idea.

Now I got to get off this phone call, get my temperature, walk Roscoe, etc. -30-


---

Sun Dec 25 8:30PM - Actually I'm writing this yesterday (Dec 24). I was going to post it yesterday, but I wanted my Christmas message to stand alone for my diary entry. I hope you all had a great Christmas and spent at least part of it honoring the true wonderful meaning of the day and the event that it commemorates.

Now I want to talk about a couple other things. Of course, being Christmas, that means Mike KC2EGL visited this evening for our annual Christmas Night Lights Tour of the area around Kittanning looking at the Christmas displays and picking some of our favorites. Hopefully I'll have some pictures for the Dec 26 diary entry.

Of course writing this for the future, some things may change, but I'm trying to write as I think they should happen. I'll have spent some of the day visiting with Bruce and Roscoe, exchanging gifts and watching some TV Shows.

I got some Christmas greetings via email. Thanks to Mike N4VBV, a good friend who never forgets such things. Also to Tom W3TLN whom we see at hamfests around the area now and then. He emailed greetings and a couple of pictures of his trains setup and an old QSL card. He asked why I haven't said much about my trains lately. Well, honestly, I've had some problems with a couple of the engines and haven't had the time or the ambition to work on them and that kind of killed my desire to do much at all with my setup for several months now. Perhaps if it's a bad winter (hope not) I'll get back to working with them again. I hope that answers your questions, Tom and others who may have been wondering the same thing.

As we did with the ice storm a couple weeks ago, we made out well with this current wind storm. The worst of both storms pretty much passed us right by, and we're grateful for that. We got the bitter cold from this last storm, but it dropped to only(?) -4 on Friday evening, then reversed itself and rose from then on to +7 degrees Saturday afternoon. Only about an inch, maybe 2 of s#$w fell, but did blow around quite a bit in the wind to more than that in spots.

Now fall weather is going to come back for a week, getting less cold each day through New Year's Day when it may be in the mid to upper 50s. We could sure use that.

OK, enough of the confusing time travel in this entry. Back to normal on Monday the 26th, I hope.

P.S. I did watch Miracle on 34th Street with Bruce (& Roscoe) and had a sauerkraut and corned beef meal with them. -30-


---

Sat Dec 24 3:10PM - Now as I do each year:



MERRY CHRISTMAS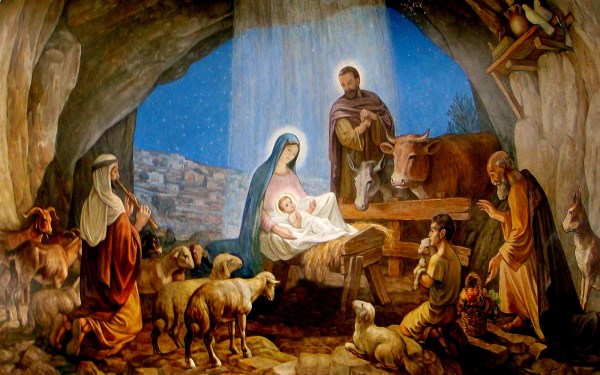 For unto us a child is born,
unto us a son is given:
and the government shall be upon his shoulder:
and his name shall be called Wonderful, Counseller,
The mighty God, The everlasting Father, The Prince of Peace.


Need there be anything more said about Christmas? I, for one, don't think so. -30-


---

Fri Dec 23 5:00PM - After a high temperature of 37 degrees sometime early this morning around 6:00 AM, it is now -4 degrees at 5:00PM. Not a record swing of temperature in one day, but nonetheless an impressive one of 41 degrees in 11 hours. It was a fairly uniform steady drop all that time. We got about an inch of s@#w although it's hard to be sure of an exact estimate because of the way it was blowing around in the wind. Yes, wind. Perhaps it wasn't as impressive as predicted, and I'm thankful for that, but we did have some strong gusts at times. I hope it doesn't try to prove that statement wrong and really blast us during the night. We don't need that at all. Too bad I don't have an anemometer to measure the wind so I could come up with an accurate figure. If I remember right, Mike has one on his weather unit up in Brookville. I'll have to find out what he recorded up there. The various weather services are still predicting gusts in the 40-50 MPH range through tomorrow. Let's hope they are wrong and the gusts are much lower than that as they seemed to be today.

Otherwise it was a pretty good Christmas Eve Eve. That's not a typo. It is the day before the day before Christmas, hence Chirstmas Eve Eve. I wished that to a couple friends today, Jasmine and Mike.

Bruce and I only took Roscoe out one time today. Bruce figured it was just too dangerous and Roscoe could go in the house when he needed to. If he would do his business quickly, it wouldn't be so bad, but he seems to like to just stand around oblivious to the cold until he starts lifting up his paws as he finally feels the cold. At almost 11 years old, he's too old to be doing that in below zero weather.

I only went out one time myself, and that was to kind of back up Bruce as he let Roscoe out on a rope. Well, I also went out to bring in my porch furniture and hanging baskets to save them from the wind. That was early today when it was less cold though.

I was looking through some old weather records today and also through my old diary entries. Bruce and I were curious about the coldest Christmas day here. It was -12 in 1983, and the high was all of -1 making it 36 degrees below normal for December 25th. As for my diary, I was just browsing it enjoying the memories from years ago. I started it in 2006. Strangely I found some of the pictures from the first couple years or so are not showing up. I have no idea why and will have to research that. Anyway, I'm thinking of reposting or linking to some of the older entries I found especially interesting. One in particular was how my interest in radio developed. OK I got in my entry today early. Now an all night vigil tossing and turning worrying about the stormy weather.

I just asked Mike about the wind speed up there, and he said "It's flat out nasty". His temp is -5 but he didn't give a MPH figure for the wind. -30-

Thu Dec 22 7:51PM - I'm sitting here wondering, along with a lot of other people around the area, what the storm is going to bring the next couple days. At the top of the worry list is not precipitation as much as the high winds which may bring down power lines and deprive a lot of people of vital electricity for the bitter cold that will follow after the storm for a couple days. Some forecasts are predicting wind in the 30s MPH range with gusts up to 55 MPH. Fortunately if true, no freezing rain is predicted, just a mix of rain and s@#w and not too much of that. I'm charging up my battery for the KX3 so hopefully I can keep the streak going thru the storm. If we lose power, I won't be able to update my web site. So be aware of that if you don't see any updates here on the site.

I'll keep all of you in my prayers that you make out OK with the storm.

Still on 40 for my streak QSOs. Tonite I worked WB8APR in CO on 40. Conditions were very poor here with QSB and QRN. I copied very little. Then another CQ landed WB4IEA in KY on 40 for a solid copy 2X QSO. Location is everything as the saying goes. -30-


---

Wed Dec 21 7:43PM - We actually saw the sun today and it actually looked pretty nice for a while today. It even got up to around 40 for a while. I think it is just softening us up a little for the blow going for the knockout this weekend. Lows around zero, highs in the low teens, windy, but not a lot of precipitation except rain before the big cold blow comes and some s#$w flurries after that. Still, I'm wary and realize that could change for the worse.

I got my Christmas preparation finished today, what little bit there was of it. I only got presents for a couple people and I plan on sending a card via text on my iPhone to someone. Mike will be coming down for our annual Christmas Lights Tour on Christmas night. I'll probably have a meal with Roscoe and Bruce next door before that. Anything else will come as a surprise to me. I hope you all are ready and prepared for Christmas and only have the things that necessarily come at the last minute to worry about now. Oh, I also got my calendars ready for 2023. I usually hang the new calendars up behind the present ones and have kind of an unveiling on January 1st. I either throw out the old ones or save them if they have special pictures in them. Kind of out with the old and in with the new ceremony, I guess.

Once again my streak QSO came on 40 meters. Actually because my rig was set for there from last night. I worked old friend Paul KB4GYT. I did go to 80 after that and found it better than last night, so I called CQ for a while and got an answer from KB4WJA, but lost him after a couple minutes due to a band change or some problem at his end. I hope it was a band change.

I thought I had another topic for the diary tonight, but I guess not. HI -30-


---

Tue Dec 20 7:44PM - We seem to be getting deeper and deeper into the doldrums of winter and it's getting more and more depressing. I can't wait till March and Spring if we make it through the misery of winter.

I did some more work on analyzing my portable operations over the years. Today I did the plain parkpeditions where we just went out to the park to have fun. No connection to events like contests, POTA, etc. I found 22 of them starting on September 2, 2009 and the latest one on September 14, 2020. We have gone out the past two years, but only for things like I just mentioned: contests, POTA, etc.

There have been these hams who participated along with me: K3RLL (14) KC2EGL (10) WB3FAE (3) K3JZD (2). If I count the ones that are involved with contests, etc., KC2EGL would be way out in front. Locations include primarily the Kittanning Community Park (19), with 2 at Moraine State Park and one at the QTH of WB3FAE. I made a total of 281 QSOs for an average of 12.8 per parkpedition. 135 on 40, 37 on 30, and 109 on 20. My highest total was 60 on 10/6/2013 using N3A as part of NAQCC anniversary week activities apart from annual Columbus Day NAQCC event by KC2EGL and me. The Columbus Day event is in a separate page of the spreadsheet.

For the first time in a while, I had to go to 40 meters for the streak QSO. There was very little activity on 80 meters except for net stations. There were a lot of them, but of course I didn't get into them. I caught Norm KC1BMD on 40 in Maine for our 9th or 10th QSO. -30-


---

Mon Dec 19 8:33PM - Well, this is one of a very few days in quite a while I didn't get my streak QSO in the 0000Z hour. It was only because just before 0000Z I got a phone call from a cousin with whom I haven't talked for a long time and we gabbed right up to the 0100Z hour. Then I found the bands pretty dead and spent 20 minutes in a fruitless search for a QSO until John W2XS who is familiar with my streak gave me a call to help me continue the streak, answered my CQ. Every once in a while I'll have someone call me and talk about the streak. So it all worked out one more day.

Otherwise it was a busy day with a shopping trip to stock up on groceries for over the holidays in case any bad weather feels like paying a visit.

I also did some work on the website, organizing the Guestbook a bit and editing some other pages that needed a bit of updating. -30-


---

Sun Dec 18 7:59PM - I've just had a busy crazy hour and a half or so. I went over to walk Roscoe and that went smoothly as usual. Then I got him his supper. That was normal. Then Bruce and I started watching the remains of the Raiders-Patriots game. As you may know from past diary entries, the Raiders are my favorite NFL team. Somehow they get involved in some very strange games. This was another fantastic finish game. If you're a football fan, be sure to watch it on TV, Internet, phone, etc., especially the ending. It would take too long for me to describe it here. I've seen a lot of interesting football games, both college and pro, and this one has to rank high up on my list. I think my favorite is another Raider game, the "Sea of Hands" game where Ken Stabler, while falling down in a tackle, throws a pass to Clarence Davis who catches the ball in the endzone among a sea of hands going for the interception. Another is the Flutie-Phelan 60 yard plus pass to the end zone game. The Frank Reich Bills comeback win. The Stanford-California "Band Finish Game. Several more I need to refresh my memory on, and when I do, maybe I'll do an entry just on them.

Meanwhile while the game is winding down, I get a text message from Ange (my garden friend) who needs some help with his cell phone, Internet, etc. That took a little while to get straightened out. At the same time, I'm thinking about heading to the shack to use the SST for a quick streak QSO so I can get to doing a couple other things that need doing. Whew!!

I did get N4BA in the SST, and am now getting this diary written along with updating a couple other web pages. Then I've got to get back to watching the 1951 version of Scrooge where I left off about 50 minutes into the movie. Oh, did I mention following the World Cup Final earlier in the day won by Argentina over France on penalty kicks 3(4) to 3(2)? -30-


---

Sat Dec 17 7:20PM - What happened to 80 meters this evening. Just one net station and 1 other station heard with any strength at all plus a couple too weak to even think about trying to work. But then I remembered the SP 160M contest and went there and got an easy contact from John VE3EJ to add another streak day to my total. Just a couple days now and it will be one year since the streak hit 10,000 straight days. Time sure flies.

Let's go into the time machine now and head back to December 19, 2021 at 9:16PM.

Here's my diary entry from that time about the 10,000th day of the streak. If you want to read more and see a picture go to the Diary Archives for that date. "Sun Dec 19 9:16PM - Well, there weren't any last minute details so I didn't need or do an afternoon update today. Things went just as planned tonight. Mike arrived around 5PM and we had a pizza, then passed time till 7PM or 0000Z came along. I got my streak QSO for day # 10,000 a few seconds after 0000Z in the SST Sprint. Then I went to my plan of CQing as outlined in recent diary entries. I made 16 more QSOs on 80 meters from PA NH IL NJ WI MN CT VA NY NC. Conditions were pretty good and even the weaker signals were readable with a little effort. We'll do it all over again tomorrow. Over the next few days I will be posting more info about the 10,000 days. I've already updated the main streak report in the QRP section, QRP Streaks page except for adding the QSOs of 12/20/2021 to the stats. More coming tomorrow and the next few days. Now QRT for tonight's entry."

It's nice to think back to that time of day #10,000. I really appreciated Mike coming down to be with me at that moment in my ham radio history. It would have been nice to have Eric KB3BFQ who suggested the streak in the first place those many years ago, to have been here also, but I wasn't really expecting even Mike to be here at the time until not long before the event. I thought I'd mention day 10,000 tonight since there is really not much else to write about today. -30-


---

Fri Dec 16 7:21PM - Today was the calm after the storm for many people in many areas. I feel sorry for them, and am very grateful that we missed out on the bad aspects of the storm. We wound up with 0.85" of rain, and that was it.

This is the weekend of the RAC Canada Contest. I was going to work someone in the contest for the streak, but then I ran into another old friend, Bobby AK4JA and wanted to say hello to him. Conditions weren't good enough for a long rag chew but at least we got together again for a few minutes.

Nothing much else going on today. I did get one of my presents I ordered just a couple days ago via the Internet. I hope the person I got it for likes it. I worked a bit more on my portable operations spreadsheet. I added my POTA opps to the file. I found 8 POTA opps, 6 of which were from Moraine State Park, 1 each from North Country Trail, and McConnells Mill, all in the vicinity of Butler, PA. I made 229 QSOs in total, and counting KC2EGL and WB3FAE, the three of us totalled 463 QSOs. Not all got logged on the POTA site as we had a little trouble at first figuring out how to upload our info. Now however, the site has been revamped and is much easier to use than when we first started our POTA opps. I see only a total of 410 QSOs listed. So that looks like only our very first POTA opp didn't get on the site according to our vs. their QSO totals.

I hope things next year allow us to do more POTA opps maybe from some different parks. -30-


---

Thu Dec 15 8:11PM - The big news today is the winter storm. However those of us here in Kittanning have a curious look on our faces as we ask, "What winter storm?" Yes, it ignored us and turned out to be an all-rain event just like a rainy day in May except for the temperature which stayed in the mid to upper 30s all night and through the day. Kudos to the NOAA/NWS folks who ignored all the dire predictions of other weather services who had us getting every kind of winter precipitation possible. NOAA/NWS predicted an all-rain event in their point forecast for Kittanning. I am very thankful for how it turned out. I had an inkling it was going to turn out that way when I got my midnight temperature reading showing 36/37 degrees and having risen from the 9 PM reading. I hope all winter storms turn out to be non-storms like this one. However there weren't many lucky folks like us. Adjacent counties of Indiana and Westmoreland did get slammed as well as many other close-by areas. I haven't had a chance to get a full report yet, but I may do that later tonight.

I took some time today to put together some statistics from portable operations I've done with Mike and other ham friends since around 2005. It's very interesting to my stats loving brain. It also brings back a lot of good memories from those operations like the one NAQCC Anniversary Event in the park when it was so cold we couldn't get our fingers to operate our keys/paddles correctly. I think I'll stop at that or I could go on for a long time talking about the memories. Maybe some other time in another diary entry.

I had three streak QSOs this evening. One was with my radio and trains friend Lane N8AFT. We exchange emails now and then, but this is our first QSO in a while and gave us a chance to exchange seasons greetings. -30-


---

Wed Dec 14 7:24PM - The eve of the first nasty sounding winter storm of the season. Sitting here studying several different forecasts trying to figure out what recipe is being cooked up for us with the ingredients of rain, s#$w, freezing rain, and sleet. Right now it looks like the storm might not have all that great an amount of moisture to work with. That could change before late tonight / tomorrow morning though. Right now it looks like mainly rain once we get through a mix of rain and freezing rain from maybe 4-9 AM bringing a coating of 0.2 inches of ice. I think that can be lived with. But if you don't see a diary entry tomorrow evening, you'll know something happened.

The bands were about average this evening, not as busy or good as about a week ago, nor as empty and poor as last night. I worked K4KDX in a somewhat QRN filled QSO on 80 meters. He is from NC. -30-


---

Tue Dec 13 7:26PM - Another day in the winter doldrums today. Very quiet times. Even the weather is not doing much, but please please don't change that. I don't mind it at all. Actually we have our very first winter storm supposedly coming to visit Wednesday night into Thursday bringing some or all of the following, listing in order of worst to least worst: freezing rain, sleet, s#@w, rain. Come on rain!!! The worst thing is it is starting so early this year. Generally we can count on December being decent with winter really setting in on the first couple or so days of January. Oh well, we can't do anything but accept it. Even moving to another part of the world doesn't really help as virtually every place has it's own bad weather be it cold, heat, flooding, drought, wind storms, and anything else you can imagine. I don't think there is a perfect weather spot anywhere although some are better than others.

I want to talk about a phenomenon I note in ham radio. I guess it's more of a quirk than a phenomenon. Many times I will get on the bands, it doesn't matter which ones, and call CQ. Maybe I'll call 15 times for example, and say to myself that I'll try one last CQ, and if no answer, I'll move on. Well, for some reason, many times that last CQ will get an answer from someone. Some wise guy pointed out that if I do get an answer, of course it will be on my last CQ because I don't need to call any more then. That's not what I mean at all. I mean that after so many unanswered CQs, this next one will be my last attempt. In other words I have already decided before I get an answer that I'm quitting after this next CQ, answer or not. Got it? Of course most of the time I quit without an answer, but it happens just often enough to be noticeable that I do get an answer on that predetrmined last CQ. One thing is that it is something out of the ordinary when it happens, and something like that is always memorable. Kind of like saying the next car to come down the street will be a Subaru. If it should happen it was a Subaru, the occasion will be more remembered than if it was another make of car. There's no rhyme or reason to it, but it stands out as noteworthy and interesting to me. I'm always interested in strange things like that in all fields of life.

Tonight I had another reunion with a ham I haven't worked in a while, Jim K4WOP in PA. Conditions weren't that good and it wasn't a long ragchew like with other "reunions" of late, but always good to hear from someone you haven't touched base with in some time. -30-


---

Mon Dec 12 7:56PM - Another quiet day here with not much to talk about. I broke a good size pileup chasing a POTA station this evening. I always enjoy doing that. Actually I worked him even before I knew who it was I worked. He never did ID or if he did, he was covered by the mob chasing him. I checked the POTA web site to find out it was AA9OM in K-7713. After that I worked VE3PID/remote in W8 land, followed by N2OT in NJ, all of that on 80 meters which looks like it is going to be my band of choice until we get out of the doldrums of winter.

While working the POTA station, I got to thinking about the geographical progression of areas to work in ham radio. I figure it this way.

Once ham radio got out of the early experimental days of the 1910s and 1920s, folks delved into seeing how many foreign countries they could work which developed into DX chasing which continues today as a very avid interest in our hobby.

Others for whatever reason concentrated on contacting as many USA States as possible. Working all 48/49/50 became another very popular interest for hams.

Now that we have satisfied our urge to work all the states, where do we go from here? I guess the next logical progression is to USA Counties. I don't think that ever developed into as widespread an activity as did DXCC and WAS, but there were many hams who really became avid county hunters striving to work all 3077 or so counties or to see in how many states they could work all counties. Once you got all 3077 or so, you tried to work each one a second time around.

OK, next up we branched back to DXing. Now it's another interest among a smaller group of hams who are just as dedicated as the county hunters, but smaller than the DXers and WAS chasers. I'm speaking of IOTA or Islands On The Air. Anything that was completely surrounded by water and passed a couple other qualifications was categorized as an IOTA.

Next up it was basically back on land with various small land areas, National Parks. Parks On The Air or POTA was born, and has become tremendously popular as folks love to be operating their stations from the outdoors in some beautiful park. And just as many enjoy contacting as many POTA stations as they can. Some pileups are really quite large especially if a new park is activated or one shows up that hasn't be activated more than a few times.

Now what's the next step in this award evolution? Summits On The Air or SOTA. Summits are basically just what it says. The highest point in an area subject to certain qualifications. Again it's a dedicated group of hams who pursue/activate the summits. Maybe somewhat similar in size to POTA although it's really hard to quantify the groups who pursue the interests I've listed here.

I made no effort to adequately describe the above awards. I just sat here and ad-libbed the above. It would be interesting to delve into the subject more, and come up with time frames when the awards first became available, rough estimates of just how popular they are, some of the interesting rules applying to each, and so on. I'm not going to be the one to do that though.

Several years ago, Mike and I got to talking about all the *OTA groups on one of our trips somewhere and we tried to come up with an *OTA for each letter of the alphabet. It wasn't easy, but we made it with a little stretching of definitions here and there. I think I made a list, but don't know where it might be now. I might have posted it here in the diary at one point. Anyway, let's see if I can recall a few of them. Airports OTA, Bedrooms OTA, Cabins OTA, Doghouses OTA, Eyries OTA, Farms OTA, Garages OTA, Hills OTA..... Well, you get the idea what we were up to, I think. Some of those I just made up now. I don't know if they were on the original list or not. -30-


---

Sun Dec 11 7:40PM - Well, I missed the 10M contest again today. Just got involved in too many other things. I did get an email from my friend Mike N4VBV describing his minimal effort in it today. It's a long email so I won't quote it all here. I'll just paraphrase it. He made 15 contacts, all QRP/CW. Most contacts were out west from these states: NM AZ MT SD ND HI CO UT and PEI in Canada. No DX stations in the 1300-1600 EST period. I guess the DX openings had died down by that time as they usually do as I recall. I like this sentence: "I did try some QRP SSB in the middle of my run, but no takers, so back to CW for more QSOs. It was more relaxing to go back to CW with no yelling, throwing carriers and QRM." So true, so true. He again added later that CW was so relaxing, he's going to have to do it again even though he's not a contester.

So at least I got a vicarious taste of the contest. Thanks Mike. He also appreciated my manger scene and agreed with what I said about it.

I did something today I'd been putting off way too long. I added one of my windstream email accounts to my iPhone so I can now get messages from it when I'm not at my laptop. If that works, I may add another account. The only down thing is the emails won't go through my Mailwasher program before they get to the iPhone. I'll have to look into that and see if I can get around it. You may know that Mailwasher displays emails right on the server before they ever get to my laptop, and I can delete them right from the server if I wish. Another layer of security in this dangerous Cyber World.

A quick and short streak QSO tonight from KB4WJA, Mike in NC on 80 meters. -30-


---

Sat Dec 10 7:37PM - I was going to check 10 meters in the contest today, but I never thought of it. By the time I got to the shack this evening, it had gone to bed already, at least for my setup here. Probably the KW Big Beam stations were still scratching out QSOs. I'll try to remember to check tomorrow. Probably should set a reminder on my iPhone or Apple Watch.

There wasn't a lot on the bands tonight, but I did get my streak QSO in short order from Bob K8FN and we chatted for about 25 minutes.

I mentioned some time in the past few days about my unofficial "50 years club" of hams with whom I've had QSOs 50 or more years apart. I added a few today from just glancing through my logs and my memory. Here's who I have so far. There are many more I know, but it's like looking for the proverbial needle in that haystack until I can come up with some programming to analyze my Excel log.



CALL    FIRST       LATEST      DAYS    YEARS
K4BAI   5/10/1964   6/6/2022    21211   58.11
K4AMC   4/18/1964   1/16/2022   21092   57.79
K4FOY   7/5/1965    12/8/2022   20975   57.47
WA8KAN  6/19/1965   6/19/2022   20819   57.04
K9UIY   9/20/1964   1/14/2021   20570   56.36
K0JPL   5/31/1964   4/7/2019    20034   54.89
WA8REI  8/25/1966   1/12/2019   19133   52.42
K4LTA   5/7/1964    7/1/2014    18317   50.18
FIRST = First QSO
LATEST = Latest QSO
DAYS = Days between QSOs
YEARS = Days converted to years and fractions.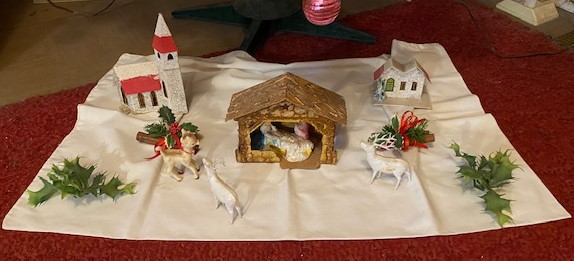 I put up my manger scene under the tree today to make it an official Christmas now honoring the true meaning of Christmas which has come to be forgotten by entirely too many people these days. I'll never forget. -30-


---

Fri Dec 9 8:02PM - What was one project today?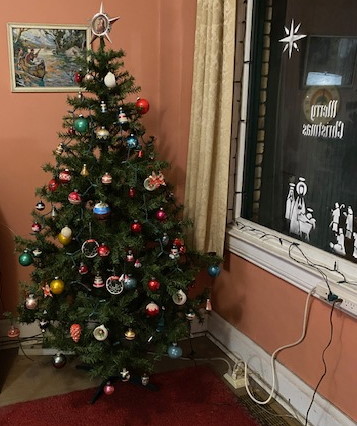 Yep, I got the collection of ornaments on the tree, many of them at least 70 years old. The tree is only about 25-30 years old. We got it when I decided it was too much trouble cleaning up after a live tree sometimes into summer when some long lasting needles were found here and there. I still think live ones are best, but we concede a lot of things as we get older. I still have to put the manger scene under the tree. I'll do that tomorrow. As I was decorating today, I was thinking how much more fun it was years ago when my mother, father, and two aunts lived here and we all did the decorating together. Then when my mother was the last of the four until 2001, she passed away in May that year, and it wasn't the same, but I kept the tradition going in pretty much the same fashion as always, and will keep it going as long as I can. I did cut back on a couple little things this year, but it's still pretty much as it was when I was a kid with a few exceptions. Then two years ago, my then neighbor and friend Jasmine helped with the decorating and I really enjoyed that. She's moved away now though, so it's just me again.

I had another good QSO tonight with Jack, W4TJE in Fancy Gap, VA along with two other good ones as well. I mention Jack in particular though as we got to talking about the name Fancy Gap, VA. He didn't know the derivation of it, but said he would try to find out and email me with the info. He really dis so, and I got the email as I was typing here with a link to some info. I'll read it later and maybe report in tomorrow night's diary page. So many times folks say they are going to email me and never do. I was glad when I got Jack's message.

I guess that's it for this entry. Have a good weekend. -30-


---

Thu Dec 8 6:05PM - An early entry tonight. I finished up my prefix data work and incorporated it into my Awards section - WPX page here on the web site. I found it interesting and not totally unexpected how it turned out taking such things into consideration as ham population per country and hence directly how many prefixes were needed to cover the population, the ease with which I work a country and hence the prefixes there, and the amount of special prefix activity there is in a country which determines also how many prefixes are available per number and letter.

There is also a table showing the number of prefixes worked per band. There is a pretty nice distribution per band with 60 and 6 being low because I don't operate those bands much.

I believe if you study the data a bit, you'll agree it makes sense.

Otherwise today I started decorating the tree, but didn't get very far, only the lights are on it now. Maybe tomorrow I'll do some more.

About 45 minutes to go now till I head to the shack for streak-time. Wonder what will come of it tonight. It would be nice to get some DX and maybe a new prefix after all that prefix work of late. -30-


---

Wed Dec 7 8:24PM - Well, I got my Christmas Tree down from the attic today. I said hello to my attic antennas while I was up there. HI. I hadn't been up there for quite a while, and glad to see all till looks OK. Now tomorrow I hope to bring the decorations down and start trimming the tree.

That was about the only project today besides drawing nearer to finishing my prefixes analysis. I have only to go through the Y and Z prefixes. I would have been finished, but the Ws really took a lot of work. They came in second behind the Ks in number worked. 1,097 to 820. Whew. The Ys have 118 to check and to add on to, the Zs 53, so I should be able to finish up tomorrow, I hope. I have 8,260 band-prefixes worked now, pending a final total from the Ys and Zs.

Another interesting QSO tonite, actually they are all interesting in one way or another. Tonight both of us were almost certain we worked before, but as you may know, my computer log is in a different room from my rig, and I log on paper in the shack and transfer to computer later. Dave K4FOY also does somewhat the same so we couldn't check in real time. I did check my computer log later though, and we first worked back in 1965 and a couple other times since then as well. So he's a member of my 50+ years club for folks I've worked 50 or more years apart. Someday that's another project to update that list which will be a real task complicated by the hams who have changed calls over the 50 years. Not only a real task, but just about an impossible one because of the call change. I have found about a dozen just casually without any kind of systematic search yet.

It was fairly nice today and I sat on the porch a little while before I got chilly and came in. Still it was nice to get the fresh air. -30-


---

Tue Dec 6 8:44PM - A busy evening on the bands, 80 meters in particular. I had 4 rag chews for a total of 1 hour and 16 minutes. One was a first time worked station, ND4K, and the other 3 I've worked before, 2 quite a while ago, and one a couple days ago. The recent one was Ken N3CU, and conditions were better for our QSO tonight.

I did more ham related stuff working with the prefixes again. I'm up through the VA7 prefix now, so the end is in sight, but still at a distance. I have 7,528 band prefixes in my prefix file now. It's interesting to see the distrubition among the starting letters and numbers. Also the band distribution. 20 is way out in front and will stay that way with 1,810 now and counting. 40, 15, and 10 are also above 1,000 prefixes. Low on the totem pole is 60 with 10, then 6 with 18. All other bands have at least 225.

I hope I can get back to my Christmas decorating tomorrow and get that finished. -30-


---

Mon Dec 5 8:16PM - Again, not a lot going on here in the winter doldrums. That's a good word to describe winter. It's such a dull season. Even Christmas can only brighten it up a little bit especially when you're old and pretty much alone.

At least we're very near the point of the earliest sunset and the evenings will gain a little bit of light, albeit very little at first then it will start picking up a little more as we move toward spring. Unfortunately up North it will still be dark most of the time and the pool of Arctic air will continue to get bigger and colder with occasional excursions down here into the states delivering that cold air and the resulting even worse than usual weather. Brrr!!!

I worked some more on my Christmas decorating today. Not much, but at least I moved along a little bit. Besides that, it was work on the prefix project. I now have the spreadsheet set up to automatically total the number of prefixes by letter and number, A-Z,0-9. Then combine them for an overall total. Also it sums up the number of prefixes by band. I'm working on the letter R prefixes now. There are a lot of varieties from Russia. I would imagine R will be a fairly high total even though I only have a few hundred Russian QSOs and they are split between R and U.

The bands were busy tonight, especially 80 and very few CQs as everyone was in QSO, it seemed. So I went searching on 40 and 30. I found K7DCG calling CQ on 30 and worked him for a nice, but a little rough QSO. He is in AR now, but before that, he lived a lot of time in his RV. This is the third QTH in the three times I've worked him. This is a permanent home now. -30-


---

Sun Dec 4 9:15PM - As you see from the time stamp, I'm running late tonight, so let me get in a short diary entry. Actually it's a good night for being late as nothing much happened today.

As for the streak, it was another similar situation to the past couple evenings. A quick contest QSO. This time in the SST. Then CQs and rag chewing on 80 meters. First it was N5MPM whom I met 10 days ago on 80. We had a nice followup chat tonight. Next a couple old friends with whom I've had eyeball QSOs in the past, Tom KA2KGP whom I've met at several hamfests in the past although not lately. We've also had 133 QSOs, a lot in our NAQCC sprints. Also Ken N3CU who lived here in WPA for a while before going back to East PA. He visited here at my QTH and he also did a subpedition on the Requin with us at one time. So it was an enjoyable hour on the bands again this evening.

Now it's almost time to walk Roscoe and watch some TV with Bruce. -30-


---

Sat Dec 3 7:35PM - I used the same tactics tonight for my streak QSOs. A quick 160M contest QSO with WF2W in WNY, then on to 80 for some CQs. The band wasn't as good as last night or maybe just not as occupied. I only got one QSO with Nate N8HWV in Green Bay. Nate was one of the hams I worked on streak day #10,000 back on Dec 20, 2021. Gee has it been almost a year now since I hit day # 10,000 in the CW/QRP streak. Another case of time flying and accelerating as I get older. HI.

Otherwise, it was a nice day except for a few rain showers, which beat s@#w any time. It hit 54 degrees earlier in the day but now is down to 39 similar to what it did here just a few days ago. It was nice enough for the shopping trip with Bruce I mentioned in yesterday's entry. I set a personal record on that trip with the biggest grocery order I've ever made. Or at least the most expensive. Maybe not the most groceries, but the current runaway inflation in the current administration ran up my bill to $81.58. Whew. I don't remember ever coming close to that figure, certainly since I've been shopping for just myself after my mother and aunts passed away. So it has to be inflation and not the amount of groceries.

Some more work on the prefixes got me through the Ks with a total of 1097 for that letter. Then I did the Ls for 325 more prefixes. I really didn't realize there was so much work involved. Previously I wasn't as thorough in counting band-prefixes, but only counted a prefix a few times no matter how many bands I worked it on. I'm not sure just what my standards were for that. Maybe I only counted verified prefixes? Anyway it is going to be complete now as I count each band-prefix for my records.

I took a day off from Christmas decorating. I hope to get back to it tomorrow although I do have a couple other things planned. -30-


---

Fri Dec 2 8:34PM - More decorating, more prefix work, quick shopping trip, usual Roscoe walks and usual other chores made up the day today to this point.

Let's start with a usual "chore", getting my streak QSO. Of course I went right to the 160 meters contest to grab a quicky there which I did with K8MFO. Felt like doing more than that, so I went to 80 and got three straight rag chews via CQ there from W4IDW, VA3AJB, both newcomers to my log, I believe, and someone I've worked many times, NR8M. That kept me occupied over an hour. I got a 599+15 report from W4IDW. I don't get many like that so 80 was apparently in very good condition although not overloaded with activity. I also got 599s from the other two rag chews.

As far as prefix work, going through the Ks is taking a long time, of course. I finished through KU4 today and hope to get all the Ks done by tomorrow.

Decorating involved doing the stencils on my window and hanging the wreath on the front door. I said I'm doing it slowly this year. I ran into a snag with the window. I ran out of spray snow, and had to go to Family Dollar to get a couple new cans. Fortunately my neighbor Bruce took me there and back on the way to his bus driving job. I picked up a couple other things since I had the ride. The new snow (artificial so I don't need to disguise the word) worked very good so I finished the stencils, even redoing the couple I had done before the other cans ran out. They were pretty messy since the snow was at the bottom of the cans. Then a little later I hung the wreath on the front door. It has somewhat of a story behind it also. I got it at the Ol' Station Marketplace which used to be a railroad station about a block from here. I've mentioned it in the diary a few times. It used to open every Thursday in the spring through the fall. I went there just about every time it was open. I bought the wreath there a few years ago. The marketplace was like an indoor flea market for lack of a better description. I became good friends with the ladies who ran it, a grandmother Gloria, daughter Chris, and granddaughter Jamie, and got some really good bargains. I tried to help them out by buying at least something every time I visited. There were a lot of things I got that came to be very useful. Anyway, to shorten the story, the grandmother passed away recently and the others didn't want to continue the store so they shut it down. The wreath and the other objects remind me of many good times I had shopping and visiting there.

Now a couple pictures of my progress.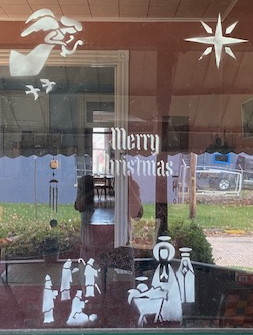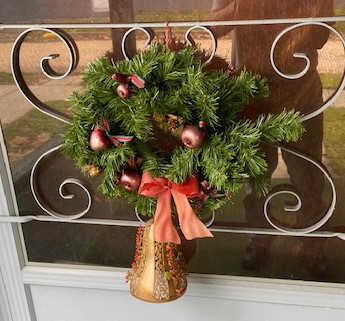 Tomorrow more decorating and a longer shopping/stock up trip with Bruce. -30-


---

Thu Dec 1 7:59PM - I've been wrestling with a decision for a while now. That is, what am I going to do for Christmas decorating this year? I thought about conceding to my age and cutting back. I went all the way from not doing anything at all, but that was really not a truly active choice, to just cutting back on a few things. The latter is pretty much what I've decided, and today I got off to a little start. I usually put up lights around my front door, but that's one of the things I'm eliminating. I don't like working in the cold on a stepladder so that was a good choice for elimination. So I started today cleaning out the corner for my tree. There is usually a table there which I take upstairs for the holidays. I didn't feel like carrying it up the stairs so I unscrewed the legs and stood it up in a corner. I put my wreath up on the front door. Also I got my angel choir set up. Let me show you that, and then give a little history of it.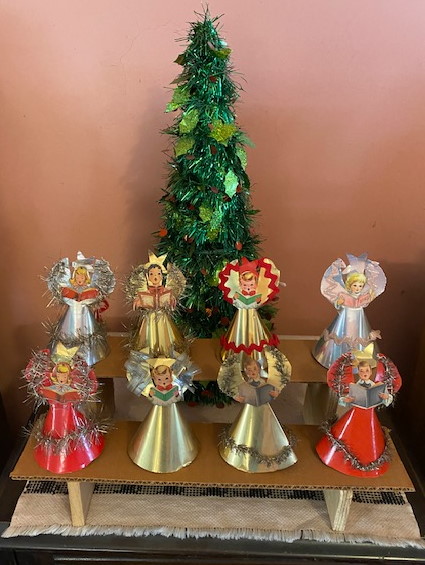 Those angels were made in cub scouting when I was "but a pup" as the saying goes. My mother was a denmother and she came up with the idea. We made a bunch for each of the scouts in her den. I guess I originally had a dozen or so, but they dwindled over the years down to eight now. Why? Because I have given one away now and then to special friends like Jasmine and one girl at Sprankle's among a couple others. In the past few years, I made the cardboard and wood stand they now stand on. The tree in the background is new this year. My neighbor Nancy who has since passed away, gave it to me several years ago, and I when I got it out to set up this year, it just kind of dawned on me that it would make a nice background for the angels as they sing. I think it works out nicely. I wish I'd thought of it a long time ago. That scarf underneath the stand is special also with a history. It is probably about 65-70 years old. It was knitted or crocheted for me as a gift from an elderly lady who used to live next door. She was in her 80s or so then and I was in the single digits in age, and we used to sit out on the porch for long spells when the weather was good. We'd talk about many things, but the most popular topic was the radio show, Party Line which I have talked about in the diary before and won't go into it now. You can't tell from the picture angle, but the black stripe on the scarf is a row of little dog caricatures. The things in that picture bring back a lot of memories, some very old and some new. Of course a lot are from when Jasmine helped with the decorating two years ago, but she has moved away now. Tomorrow I'll put the lights up around my window. They go on the inside so no cold or ladder involved. Then or actually before that I'll put the stencils of the manger scene on the window. That will be it, and then the tree and a few other things will come a little each day.

The bands were kind of poor tonite, or maybe just a lack of activity because the two stations I did work were both over S9, one in SD on 20, and one in Eastern PA on 80.

I was going to go downtown today, but didn't like the cold, and it is supposed to be some 15 degrees warmer tomorrow, so if all goes well, I'll head down there tomorrow for a shopping / stocking up trip. Maybe see a friend or two along the way. -30-


---

Wed Nov 30 7:43PM - Well, I got kind of ambitious today and got just about all of my EOM chores done. I still have to put the November weather in my Excel weather data spreadsheet. Can't do that till after midnight tonight. I also have to mail three bills tomorrow. Otherwise I have all my Nov QSOs uploaded to LoTW and eQSL, plus all the calendars changed over to December. Oh and a lot of other little things I won't list here.

I got the letter "I" finished in my prefixes today. Italy controls that letter and has quite a few prefixes of which I have worked 248. I should have quite a few letter J prefixes with 240 or so Japanese QSOs plus a mix of Caribbean prefixes and others from here and there. It's a lot of work, but I'm having fun going through all the prefixes I've worked over the years with CW/QRP. A lot of memories.

It started out warm today peaking at 54 degrees around 10AM when a cold front blew through from Canada. And I mean BLEW through. I don't have an anemometer but I would guess we had gusts in the 30-40 MPH range, maybe even over 40 MPH. It blew my neighbor's porch flag down, breaking the aluminum pole in two. It blew my other neighbor's garbage cans around after they were emptied, and I rounded them up. It also got one of the strings around my hanging flower pots all twisted up somehow. It almost blew me over when I took my garbage can in. I imagine there was a lot of damage around town, but I wasn't going to go out and walk around looking at it. The wind didn't last more than a few minutes at its peak, which was good. It's still a little breezy now and the temperature has dropped to 32, a drop of 22 degrees in about 10 hours. Thanks Canada. HI

My QSO tonight was another long one with a friend I haven't worked in a while now, Bob K8FN. I called CQ for a while, then Bob answered me and there was another station calling me at the same time. I don't know who because when I heard Bob, I wanted to work him. -30-


---

Tue Nov 29 8:06PM - One more day left before we move into the dreadful season of .... hate to say it .... winter. Then 90 days to wait till beautiful spring arrives. Hope we all endure it to see spring again.

It wasn't bad today. I did some hopefully final lawn cleaning today, and even sat on the porch awhile, in addition to going to Sprankle's to stock up on some food.

I also got through two more letters, G and H in my prefix checking. G had 189 since it is pretty much exclusive to the United Kingdom countries. H is mainly for Hungary, but also secondary allocations for some smaller countries, and places like Panama, Vatican City, and so forth. That added up to 348 prefixes worked for H. That's second place for all the letters I've checked so far.

Two streak QSOs this evening, both on 80 from VA. W4GRC and K4LXY. The K4LXY QSO lasted 23 minutes.

Tomorrow is the day for End of Month (EOM) chores while watching it rain outside. Maybe I'll get a head start and upload my November QSOs to LoTW and eQSL tonight since I won't be getting any more QSOs today. I'll see. -30-


---

Mon Nov 28 8:07PM - About the most out of the ordinary thing today was simply doing some redding out in my basement and putting away one of the containers I use for lawn waste during the growing season which has now virtually ended. I also worked on my continuing project of updating my prefix data. I finished the letter F today. Let me count the number of F prefixes and see how they stack up. Of course F covers France and a lot of former French possessions, and not much else. So I don't think there will be as many as some of those I listed in the diary last night. I was right, only 113 for the letter F.

I had another of those long rag chew type streak QSOs tonight. W2XS and I pounded brass for a full 45 minutes on 80 meters. Pretty much 2X solid copy all the way also. -30-


---

Sun Nov 27 7:25PM - Well, I never did get back into the CQWW DX test again. I just don't have the desire to put in big efforts like I used to at one time. Just getting old, I guess. Or another reason is I miss doing the tag team efforts with Mike like we used to do. I really enjoyed watching him working stations more than I enjoyed working them myself. Another reason is that having worked some 225 DX entities, there just aren't that many left to work easily. It's even hard to find something new to work amongst all the entities I've already worked. I suppose maybe I could use spotting, but that has never been my way of doing things. I prefer it to be DX hunting or searching and not having it handed it to me on a silver plate. Using spotting to me, is like fishing in a very small well stocked pond. There's not a lot of a challenge involved nor not much skill needed to succeed. Well, that's my soapbox message for tonight I guess.

It was a mild day today, but a wet one, so once again I didn't get out for walking other than the short ones with Roscoe. Without that, there wasn't much else to do either except the usual of late, work on my ham prefixes. With my love of math and statistics, I thought I'd expand on what I said last night and see how many band prefixes I have worked per number letter grouping. That is count the band prefixes that start with 0-9, A, B, C.......... It's easy with Excel as my log. Here goes through the letter E which is how far I've gotten with my checking so far.

0 -   0
1 -   0
2 -   6
3 -  39
4 -  81
5 -  37
6 -  80
7 -  17
8 -  43
9 - 107
A - 461
B -   0
C - 301
D - 321
E - 347

Of course, the absence of any B prefixes is easily explained. I've never worked China. In fact I have only heard it once or twice.

I guess that's it for tonight. It's just before 8PM and it has been dark for 3 hours already. That is disgusting. However on December 7, the sun starts setting a tiny bit later each evening. It doesn't advance much at first and it will continue to get colder for another couple months, but it's a tiny glimpse at the light at the end of the winter tunnel. -30-


---

Sat Nov 26 8:04PM - This is the 100th anniversary of the birthday of Charles Schultz. Know who he was? I would guess most people do. I'll let you know after the rest of this diary entry.

Perhaps I should have done more in the CQWW DX test last night. Conditions didn't seem quite as good this evening. Anyway I was just fooling around both evenings so it doesn't really matter one way or another. Again I got 4 QSOs like last evening. The pileups were diminished a bit, but still pretty fierce. Propagation didn't seem quite as good as last night. 3 of my 4 QSOs tonight were from zones 6 and 8. Only one EU (zone 15). Last night the reverse with 3 EU and one zone 8. I printed up 4 log pages as I was just about to run out. So if I do decide to hit the bands later tonight or tomorrow, I'll be OK with that as I am logging on paper since it is just a minimal effort.

Not much going on today except some more work on my prefix logging. Out of curiousity, I counted all the band prefixes I've worked from Germany. That is for example, these all count separately: DL6 on 80, DL8 on 80, DL6 on 40, DL8 on 15 and so on. I also added all my QSOs on the K3WWP log and all the ones on my Other Calls log to get a total of 101,312 plus the 4 tonight makes 101,316.

You probably already know this, but Charles Schultz was the cartoonist who created the Peanuts comic strip, one of my all time favorites. I have the vast majority of the strips in books of collections. I also check Peanuts and 14 other strips on the Internet each morning. Of course I like the older strips, Beetle Bailey, Popeye, Blondie, Garfield and that genre. It was nice to see this morning that all but a couple of the 14 strips made some mention of Schultz and Peanuts. He was highly respected among his contemporaries. -30-


---

Fri Nov 25 8:28PM - It was a pretty good Black Friday. I didn't get involved in any of the madness, and that is good in itself. My neighbor pointed out to me that Black Friday is probably not the madhouse it once was because of Internet Shopping nowadays. I have to say he is probably right about that. Why risk life and limb and whatever else when you can just shop from the comfort of your own home.

Actually there wasn't much out of the ordinary today. I did help my neighbor work on his van a little bit, and then we went to the bank as we both had a bit of banking to do. Home again and we finished up the leftovers from yesterday's big meal. I gained 3 pounds yesterday. I hate to see what that figure is for today when I weigh in for my daily weighing about an hour and a half before going to bed.

Conditions seemed good for the CQWW DX test this evening. Maybe too good as the pileups were tremendous. I fooled around for an hour and made just 4 QSOs all on 40 meters. Just couldn't break the pileups except for those 4 stations, and I got IQ8SN on just a single call, no repeats, just bang bang, TU. I may check tomorrow to see how conditions are holding up, but I don't intend to put in a full effort by any means. It was interesting to see 80M in real good shape with a lot of EU signals in the 0000Z hour. I might just check it again before going to bed. Maybe the initial pileups will be somewhat diminished by then and I can catch a couple EU stations. -30-


---

Thu Nov 24 8:14PM - Hope you all had a great Thanksgiving Day with plenty of things to be thankful for. As with all my holidays here as I get older, this one was a quiet one also. Really nothing special except a good meal with neighbor Bruce and of course Roscoe. That dog really loves his food and it's a wonder he doesn't weigh more than his 39 pounds which is above normal but not really that bad for his size and age of 11 years or so.

It was a nice day touching 60 degrees, but I didn't get much of a chance to enjoy it as I was waiting around for Bruce's brother to bring the Thanksgiving meal for us. Tomorrow it is supposed to rain, but then a few nice days after that. I hope I can enjoy them.

I did get a couple things done today. I renewed my smart phone service for another month. I think of all the months I've been doing that now, today was the smoothest and fastest it has ever gone. No glitches and everything just snapped right into place. I also ordered something from Ebay and that was fast and smooth as well.

My streak QSO was another long one running for 42 minutes with Tom N5MPM from a town about 70-80 miles from here on 80 meters. Conditions were just like last night, strong steady signals with just a touch of QSB at one point, but solid copy all the way. -30-


---

Wed Nov 23 6:04PM - A great day, as expected when Mike and I get together. Our session at the Requin went just great despite our late arrival due to traffic and our usual wrong turn along the way wherever we go. HI You'd think Mike's Subaru would know by itself the routes to our usual 3 or 4 places we go to. But I guess not.

I got to the radio room a bit ahead of Mike and figured out quickly how to get it set up. Mike usually does the setup. I started out on 30 meters as soon as I got set up and made three QSOs quickly. 30 acted that way for our whole session. A lot of activity and we didn't have to call many CQs before we'd get a QSO. 20 and 40 weren't so kind. We stuck right to the schedule I posted in the diary after missing the first 40 meters session. There was a lot of QRM and we had to QSY a few times to avoid it. We decided we are going to try a different set of frequencies in future portable operations and see if that helps the QRM situation. I made 9 QSOs in all to Mike's 12 for a total of 21, one of our better non-Museum Weekend sessions.Thanks a lot to 30, there weren't a lot of long QSO-less time spans. We kept pretty busy until shutting down at 2:30PM (1930Z). Of course there were the usual long streams of visitors passing thru with whom we got a chance to chat. It seemed like there were more young children than usual. It's always interesting to see their reaction to seeing real live operators on the sub. Of course many adults are surprised also.

We didn't take many pictures today because we always seem to end up with the same poses. However here is one that is a little different of me operating right beside the rig that we use now. It's the Requin's IC738 which is a nice rig except the passband is as wide as a barn door and is not great for CW use. It needs a narrow passband filter for sure. You can fool with the PBT and Notch controls to help a little bit, but not much. Then I've mentioned before and now maybe for the last time that since these Requin operations are for the benefit of the Requin and not QRP operation, we operate with the full 100 watts output of the rig. That counts for the log of NY3EC, not for K3WWP's strictly QRP operations.

Now off the soapbox and on with the picture. HI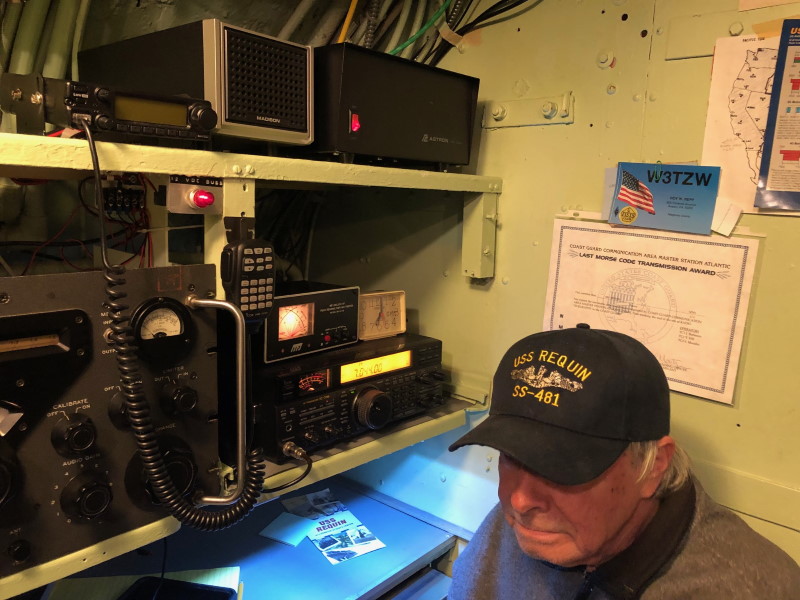 Another QSO with one of my long time ham friends this evening on 80 meters, Bob NR8M. 22 minutes of S9+ sigs both ways. Bob peaked at 25 over S9 and he said I was over S9 on peaks also.

I hope you all have a Happy Thanksgiving tomorrow and have a lot of things to be thankful for. I sure do. If I listed them all, I'd still be writing this same entry all night and all day tomorrow, at least. -30-


---

Tue Nov 22 8:32PM - A loooong streak QSO this evening with Howard K4LXY. It lasted for let's see, 52 minutes which has to be the longest QSO I've had in a good long while now. It was nice to sit there "pounding brass" for such a long period of time.

It was another nice day with sunshine and temperatures in the low 50s. I thought about sitting out on the porch, but time got away from me before I had the chance.

Other than that, as usual most days lately, not much going on worth the effort to write about. Tomorrow if all goes well, I will have the Requin subpedition to write about. Hopefully we'll have a lot of QSOs or at least a few very interesting ones. -30-


---

Mon Nov 21 7:34PM - A little nicer weather today. It started off at 14 and a few clouds and wound up hitting 45 in the afternoon with mostly sunny skies. I was tempted to go for a walk, but I didn't. Roscoe had to go to the vet this morning, so that took up a couple hours of time. It was a checkup visit and all turned out well for him, so that was good.

Otherwise still working on the ham prefixes which took up more time. Then of course the usual everyday things, and before long here I am writing my diary entry.

The bands weren't all that good tonight, but I did manage a couple QSOs. One was cut short by QSB, the other by QRM that was zero beat with the station I was working. Plus about equal strength signals. That makes it pretty hard to copy, especially the exact zero beat. Just a little note about an operating practice I use. I try to never call CQ on an even kHz frequency because some folks only seem to operate on even frequencies. Why, I don't know. I always call CQ on something like let's say, 3529.3 or 3529.7, never right on 3529.0 or 3530.0. I seem to have much less of a problem with QRM that way. However tonight I when I called on 3529.7, the station who answered me called exactly on 3530.0. Sure enough another station came right exactly on 3530.0 also and that was pretty much all she wrote, as the saying goes.

Finally barring something happening between now and then, Mike and I will be going to the Requin as we do every year on the day before Thanksgiving. We'll try to start shortly after 10AM (1500Z) and continue until 2PM (1900Z). We'll be using the Requin equipment meaning 100 watts and their vertical antenna. We'll alternate half hour shifts on 40, 30, 20, 40, 30....... as close as we can to 7041, 10117, and 14061 using the Requin call of NY3EC. I think that covers the info you need to look for us and hopefully work us. QSL to the NY3EC entry in QRZ, not to Mike nor me. -30-


---

Sun Nov 20 7:20PM - OK, Let's see what I did today. Not much. Still too cold this early in the season to do much outside beyond walking Roscoe. I did help Ange do a little work on his model railroad. That didn't take long. It's Sunday so I did my laundry. I continued to work on my ham radio prefixes file. I'm up through checking 6Y9 in Jamaica, then on to the prefixes starting with 7 in Japan, Algeria, and maybe a couple more? Tonight I used the SST to work KG4CRJ for my streak QSO. The bands sounded good with SST sigs on 80, 40, and 20. I almost, but not quite, decided to do a more serious effort in the sprint. Maybe next Sunday? That sums up my day. Think I might check some more prefixes now. Or maybe not. -30-


---

Sat Nov 19 7:29PM - Another of those not much going on days today. Sure hope we get some more good weather before winter sets in for good. I think it's six days in a row now of sub-40 temperatures. SIGH!!

So I did some more work on my web site and log updatings. Mainly right now I'm adding new prefixes I've worked over the past couple years since I've updated my WPX totals. I'm actually finding quite a few somewhat surprisingly. I also finished updating the "Honor Roll" page in the QRP section of my site.

Tonight I used the LZ DX Test for my streak QSO. It wasn't easy though. Most stations weren't hearing me at all. I had a KP4 station on 80 immediately get WWP, but after that initial quick copy, he never got anything at all beyond that. Strange. Oh well, I finally did work K4OAQ on 80 meters to extend the streak. -30-


---

Fri Nov 18 7:48PM - Ditto yesterday on the weather plus some s#$w showed up today to give a thin cover to the ground. Nevertheless I did get in some shopping with my neighbor Bruce. We went to Sprankle's where I got a couple things for him, and quite a few things for me. It was nice to have my friend Britain waiting on me. I went through her line the first time with Bruce's order, explained what I was doing and said I'd be back in a couple minutes after I check with him to be sure I got the right things. She said OK and she'd still be there. I did get the right things for Bruce and went back in and gave her the thumbs up sign which she acknowledged with a thumbs up and a smile. Then I saw Teela and greeted her. Then it was off to do my shopping. I filled up my cart with a lot of needed things and went back to check out. Britain was still there, and we chatted a bit while she was ringing up my order. I told her I had enough food now to hibernate and it was good weather for it. After our little chat and I was checked out, we each said see you later and Bruce took me home then left for his school bus run. That was the highlight for the day and nothing much else was worth writing about till this evening.

I went to the shack at the usual time and the bands weren't all that hot. It took a while to work someone, but AC1AE was calling CQ and I worked him for a short QSO with QSB and QRN. Then I worked Phil KP2M on 40 also. That got me thinking and wondering if he is my most often worked DX station. In turn that made me realize that I haven't updated my "Honor Roll" page here on the site in a long time. That's the page where I "honor" those who have made the effort to copy my QRP signals most often. I am going to work on that tonight or tomorrow and update the totals. I see when I entered the KP2M QSO that it was the 75th time I've worked Phil which should be among the top numbers for DX stations. It shouldn't take long to do the updating with my Excel log. I'll just set a filter for those on the honor roll now and update their number if necessary. Then set the QSO number of all stations to the minimum number to make the honor roll, and see who needs to be added to the list. Of course I have one more filter to set, that is my power level to 5 watts or less since the honor roll is only for QSOs I made with 5 watts or less. Should be a fun way to pass some time on these cold days. -30-


---

Thu Nov 17 8:11PM - Another cold day today. I think it's four straight days since we've seen the good side of 40 degrees now. At least I'm getting some inside chores done, but I'd sooner be outside walking, sitting on the porch, sitting in the park, and the like. I think those activities will be few and far between for the next few months now. SIGH!!!

I got some more work done on my county hunting records now. I had a note here on how my totals increased, but I seem to have thrown it away with some other papers. I see in my diary entry a couple days ago my QRP total worked counties was 1909 and my overall total was 2,256 including those worked with more than 5 watts back in the 1960s and 1970s. Now the totals on the web page are 1946 and 2276 so 37 more QRP and 20 more Overall were found going through my K3WWP log. I forget now which were the top states in increased totals, but I recall TX and SC were two of the top states. I only so far have done the worked totals. I have yet to do the verified totals. My old totals only included regular QSL cards. Now I want to add LoTW and maybe eQSL veries to the totals. I need to check and see which veries the county awards will accept now even though I am not really interested in applying for any more county awards. Just as long as I know where I stand, I don't need to have some organization tell me where I stand. -30-


---

Wed Nov 16 5:27PM - Well, it was cold enough to be January today, but at least we didn't have any more s#$w to deal with. Virtually all that fell yesterday is now gone except where some kids were building a s#$wman in that big empty lot in yesterday's picture. The high was only 38 today.

I spent a lot of today working on fixing the county totals in my K3WWP and USACA spreadsheets. I've checked all states through RI now. I found 24 more QRP counties I worked but didn't put in the USACA spreadsheet till today. Overall I added 10. I also found a couple errors like having an Orange County in Oregon and the like.

I also did some various chores around the house. Then of course my daily exercise regimen, walking, climbing stairs, walking at a faster rate than normal, and just in general moving around subject to the nagging of my Apple watch. HI. Hard to describe just how it works, but basically it's a minimum of 450 calories on the Move ring, 70 minutes of exercise on the Exercise ring, and getting up and standing once every hour and moving around a bit for each of 10 hours minimum, but I always wind up with 15 hours. Also on the watch pedometer connected to the fitness app which measures the above, I try to do a minimum total of 15,000 steps now. It's all very interesting and beneficial, I believe. If you look in the diary archives for February 14 and 15, 2022, you can see pictures of the Apple watch apps and a little more thorough description. That is, if you are interested. Some of the goals mentioned have been changed since then. -30-


---
stat-counter.org